Organizing kids toys when you don't have a playroom can be a challenge during the best of times. Below are some tip and tricks for finding more space for all those toys!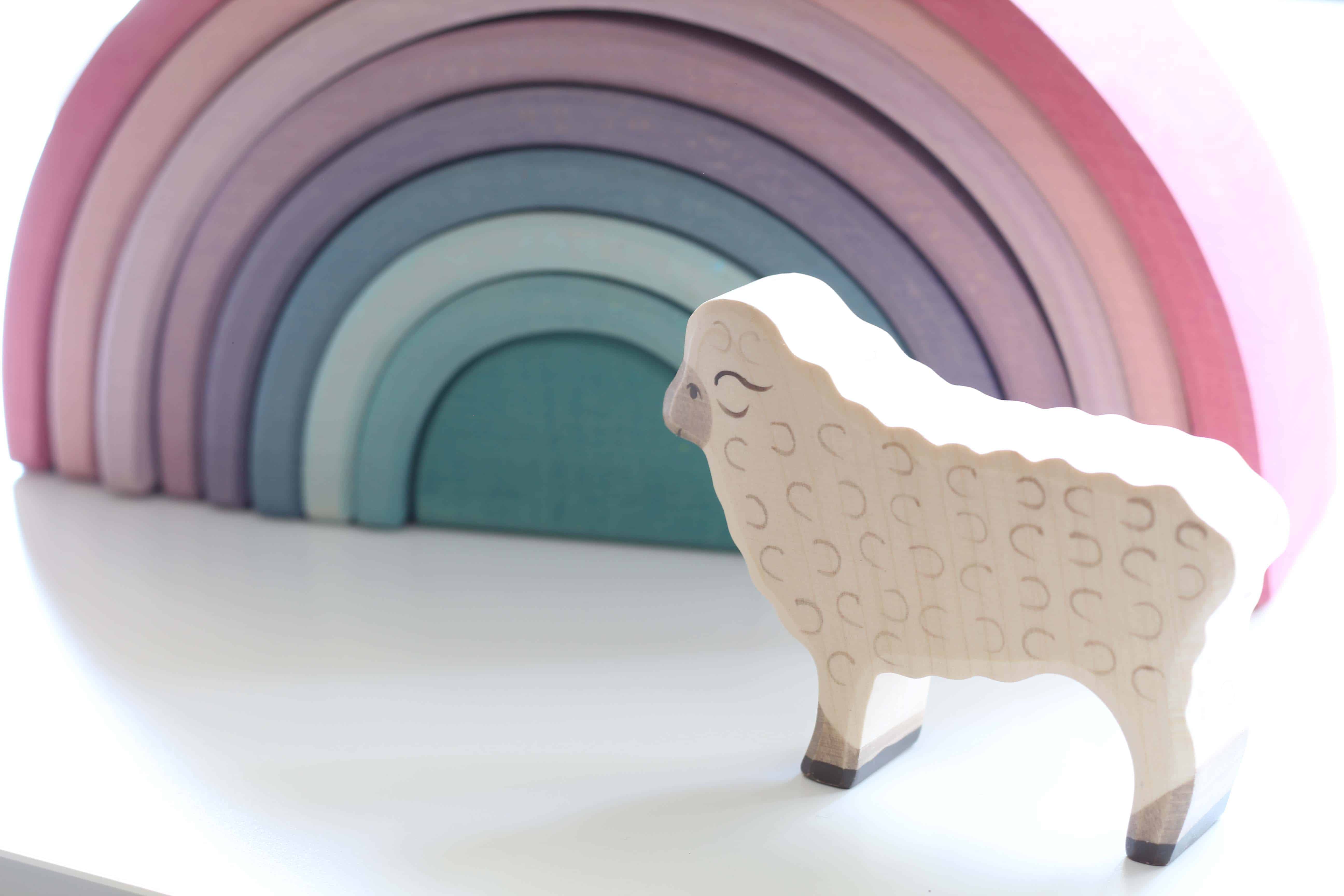 A couple of years into my parenting journey I began to have a reoccurring dream that all the toys in our home just disappeared one day. Oh, you've had that dream too? Then you're in the right place. 😉 Like most parents, I want my children to have a magical childhood filled with imaginative play and free time to explore what they love.
But sometimes the toy clutter gets to me. Especially since the four of us live in a two bedroom home, which means no designated playroom space. I love our home and I honestly wouldn't trade it for all the playrooms in the world, but that doesn't mean I don't sometimes wish for just a smidge more space as I survey toys strewn across every inch of our living room.
Since I know my house isn't going to magically expand, I've developed some tricks over the years for storing toys in a smaller home. Whether you live in an apartment, condo, or small house, I hope these tips (dare I say hacks?) give you some ideas for stretching the creative storage in your own home.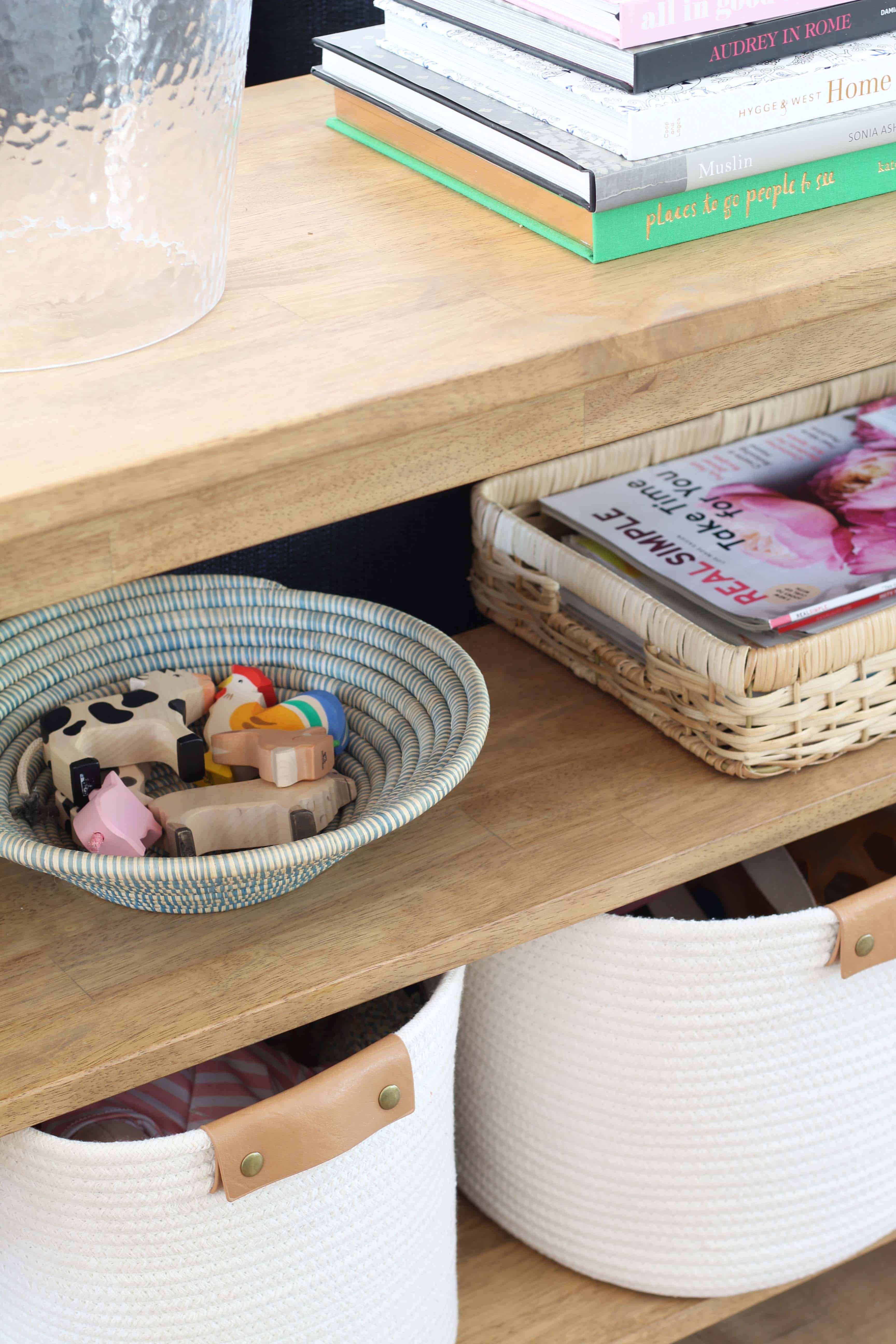 Embrace Toys Into Your Decor
One of the easiest and most basic solutions I've found for storing toys when we don't have a playroom is to just embrace them into our decor. That statement might be a little confusing, but I do literally mean I've had to learn how to incorporate toys into various parts of our home decor. A good example of this: I've found that rope bins, like the ones with leather handles above were easily added to a console table used behind our sofa.
They hold a decent amount of toys that get played with daily (think magnet tiles, blocks, dolls, books) while keeping them corralled and out of sight. They are also soft and easy for little kids to pull off the shelf without worrying about sharp corners or hard edges.
I also love to use small accent baskets for smaller toys. The woven african basket above holds our collection of wooden animal toys. I do make an effort to keep from tucking everything away in bins because I do believe the old adage about out of sight out of mind is true when it comes to how much something is played with.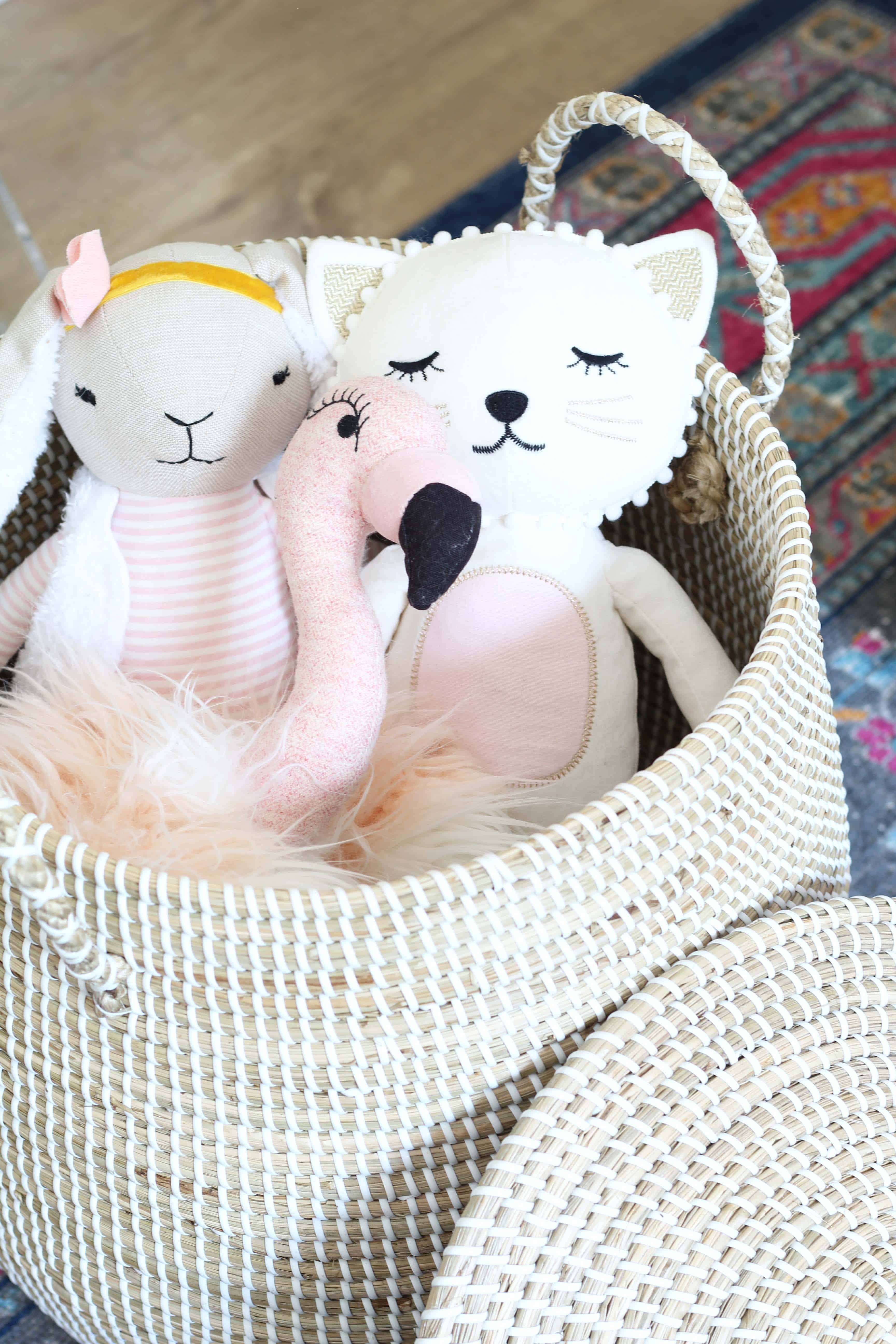 Use Large Lidded Storage Baskets
Large lidded storage baskets are great for so many things – laundry hampers, plant baskets, linen organization…. and they hold a whole lot of stuffed toys. We use these mostly for stuffed toys, but also have a few that do double duty as a dress up bin. We also have one that holds bulky toys like dump trucks, fisher price toys, etc. These types of baskets tend to be a little more of an investment, but you can find good deals on them at home stores like Homegoods and TJMaxx if you check for them regularly.
The beauty of lidded storage baskets is that they look great in any room and will grow with a child's room from nursery all the way up to college. They are also light weight and simple to use. I've found that the easier something is to clean-up, the more likely it is to become a regular habit. Kids don't like complicated clean up routines (who does?!) so having a basket you can throw all the toys into and pop a lid on appeals to kids and parents alike.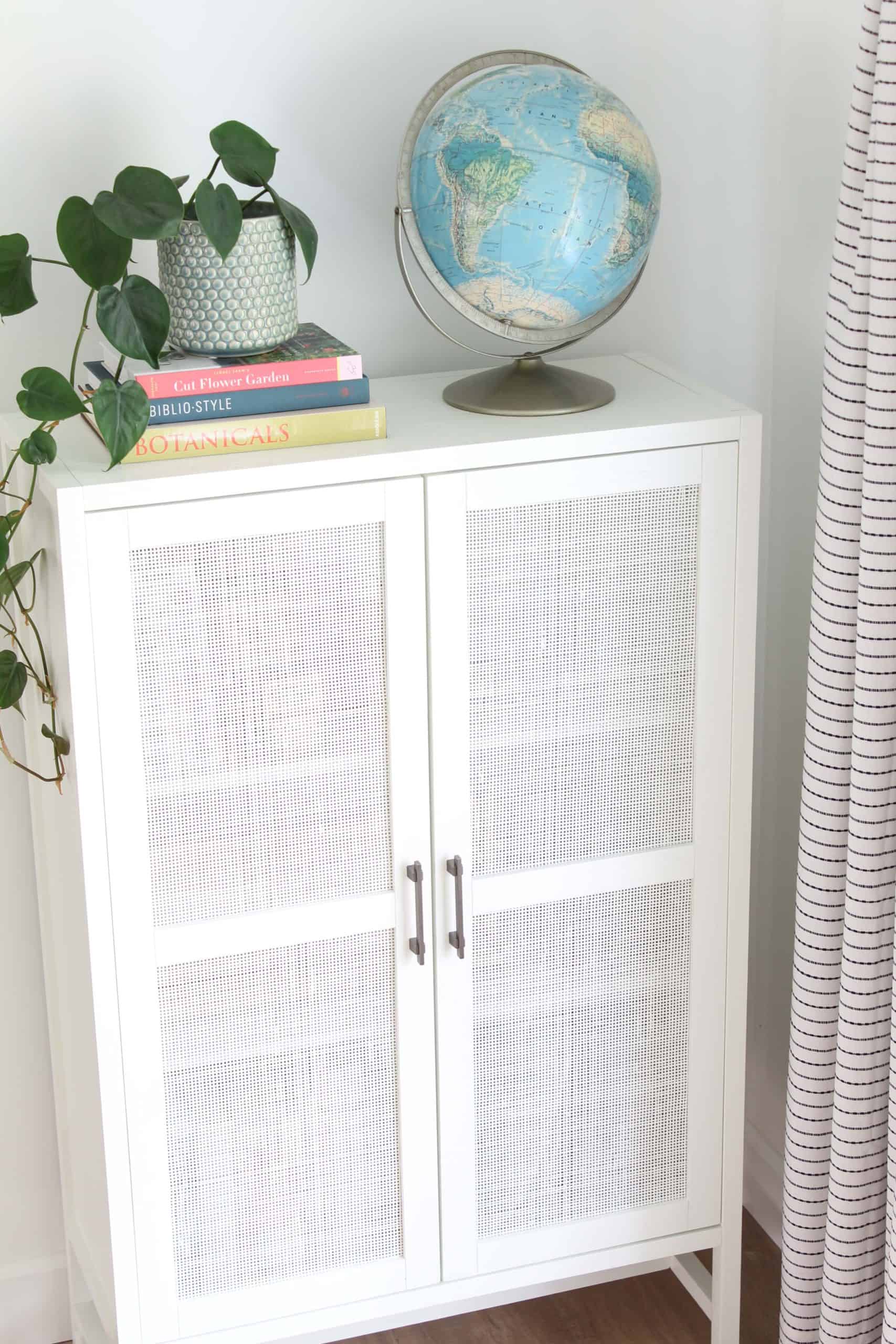 Utilize Cabinets That Don't Look Like Storage
This cabinet is our homeschool cabinet and it's located in our great room/dining room. What I love most about it is that you would have no idea what it was from looking at it when it's closed. It fits in pretty seamlessly with our decor while being centrally located in the room we spend the most time in.
While we use this to store all of our homeschool supplies, this could just as easily hold toys, crafts, board games, or whatever else you need to store. A cabinet like this in your living space could go a long way towards making up for a lack of playroom storage. You can read more about how we use this cabinet here.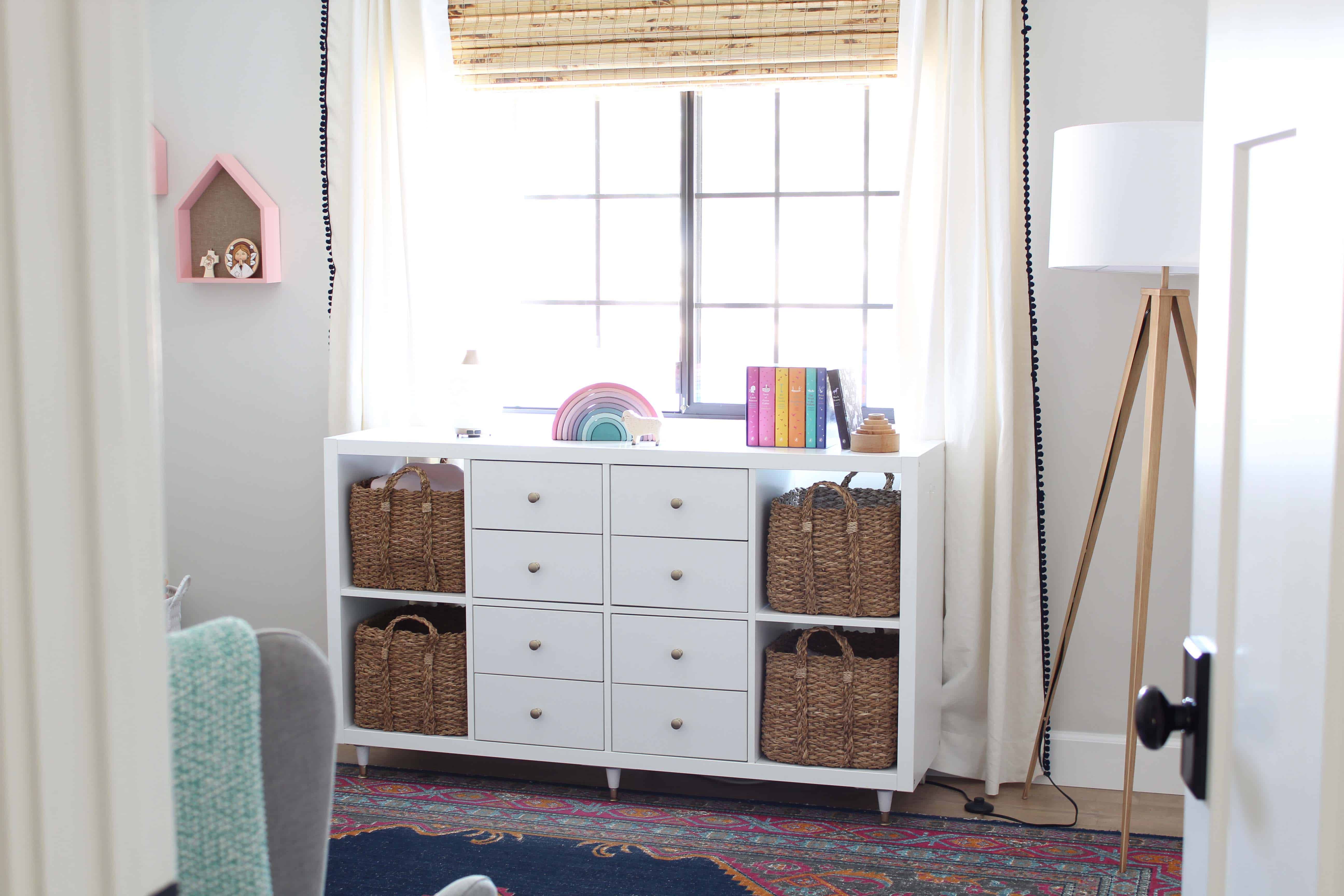 Use Furniture That Combines Storage
To me, this is one of the best kept organizing secrets. If you can get your furniture to pull double duty for you – especially in a kids room, you're golden. We converted an Ikea kallax into a dresser for our daughter's room when she was a baby. We bought the drawer inserts at Ikea (sold separately from the kallax) and added them to the middle for clothing storage.
The outer four cubbies are used for storage. This storage has ranged from baby gear, to toys storage to its current incarnation as bookshelves and toys storage. You can see it in our original nursery here and in a toddler room here.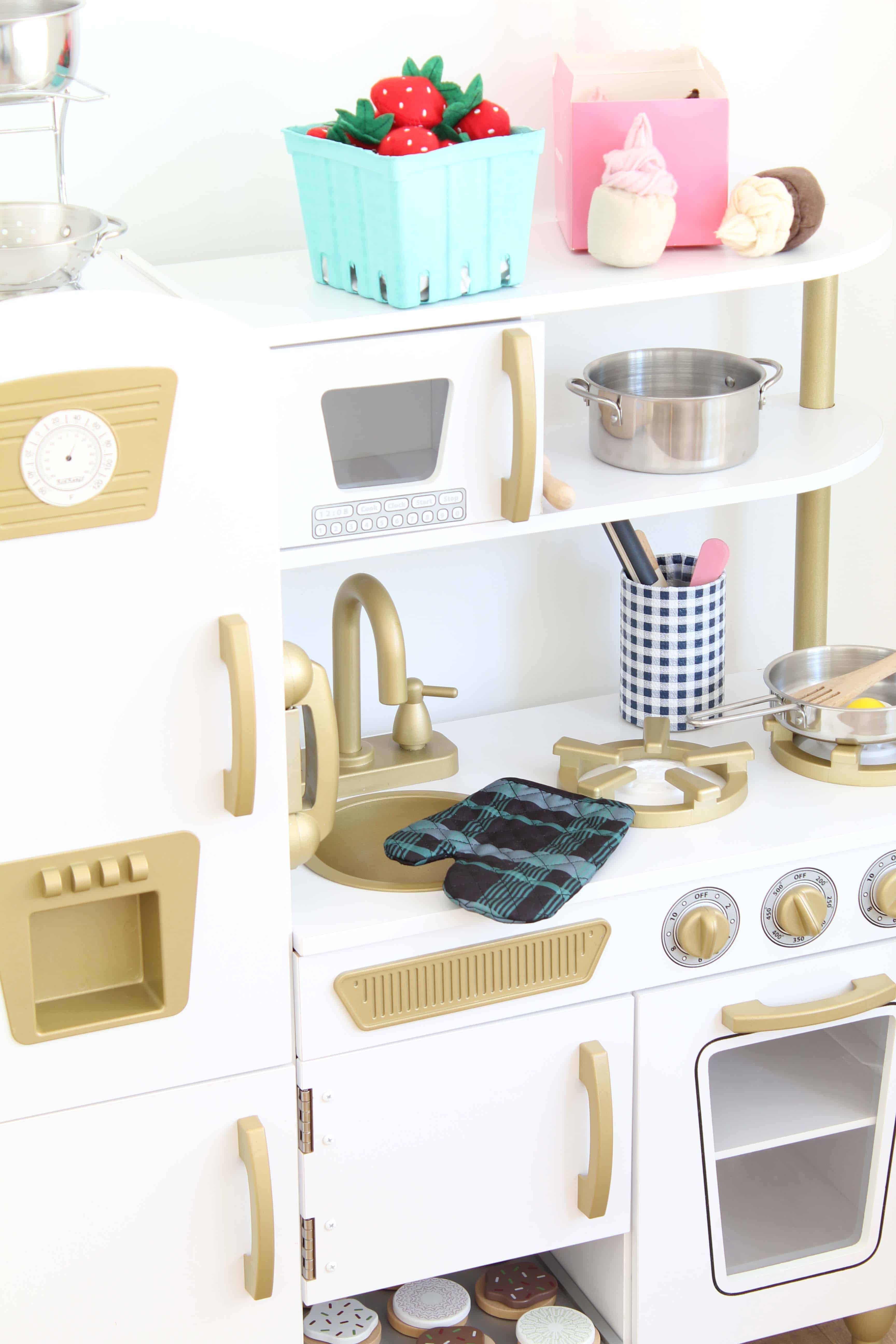 Consider Keeping Big Items In Main Living Areas
We have a couple of big ticket toys that take up some significant real estate in our home. One of these is a play kitchen. There really isn't any other place for it to go but our living room. Instead of trying to hide it, and because we want our kids to actually play with it, keeping it in the main living space makes the most sense. I did make an effort to pick out a play kitchen (and tweak it a bit) that would blend in with our decor somewhat.  You can read about its makeover here. 
We have small children right now who love playing with it. I know they won't be little for long, so for now embracing it is the best option. Another thing to keep in mind: play kitchens hold A LOT OF STUFF.  It's kind of like a mini cabinet unto itself. So feel free to utilize that extra storage too!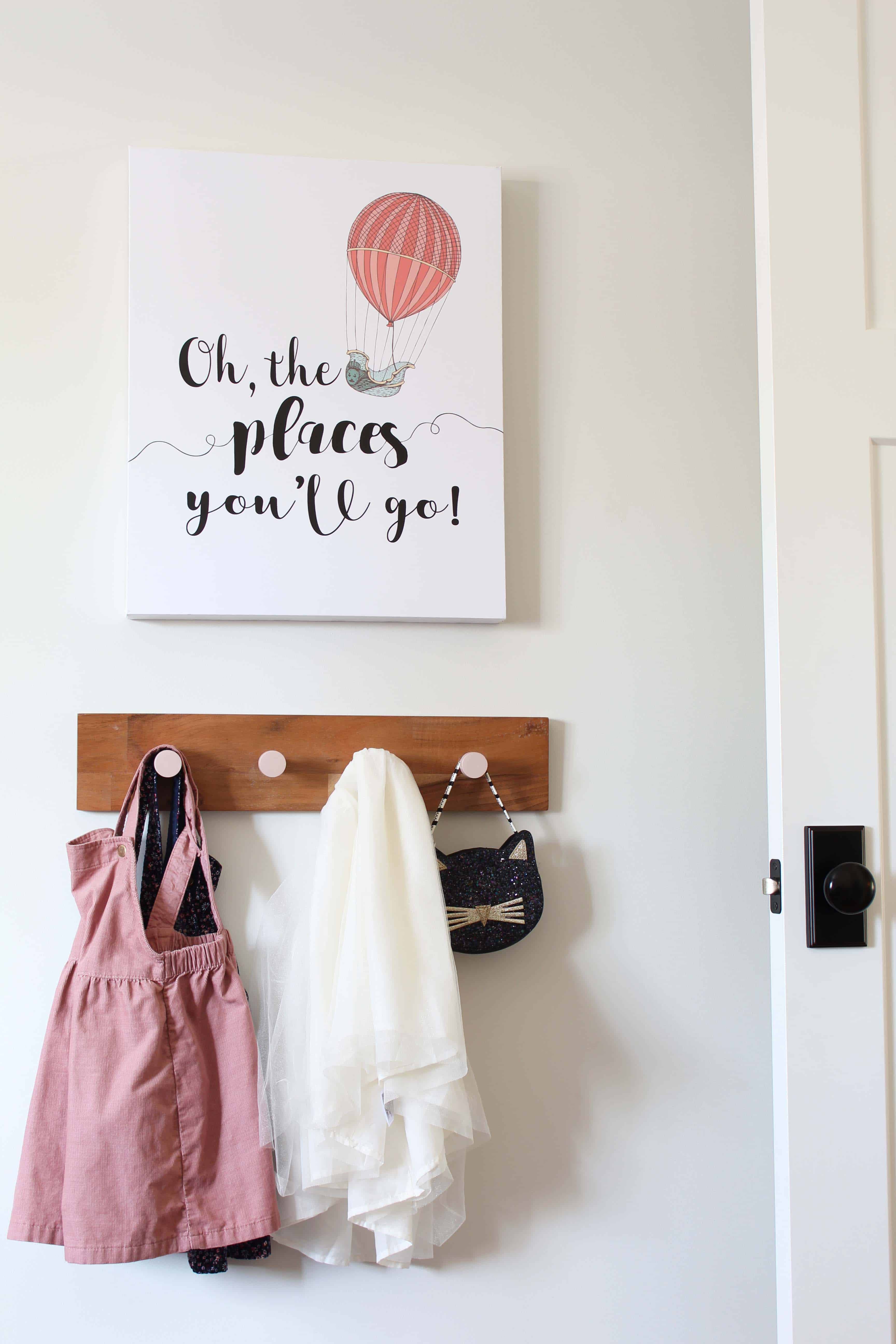 Go Vertical When You Can
Lastly, don't forget to go up! Vertical storage is the most underutilized storage out there. Some great ways to use that vertical wall space:
Peg racks and wall hooks are great for storing dress-up clothes, backpacks, and anything else you can hang.
Wall shelves are great for book and toy storage. Added bonus, they create instant wall decor! More books storage tips here.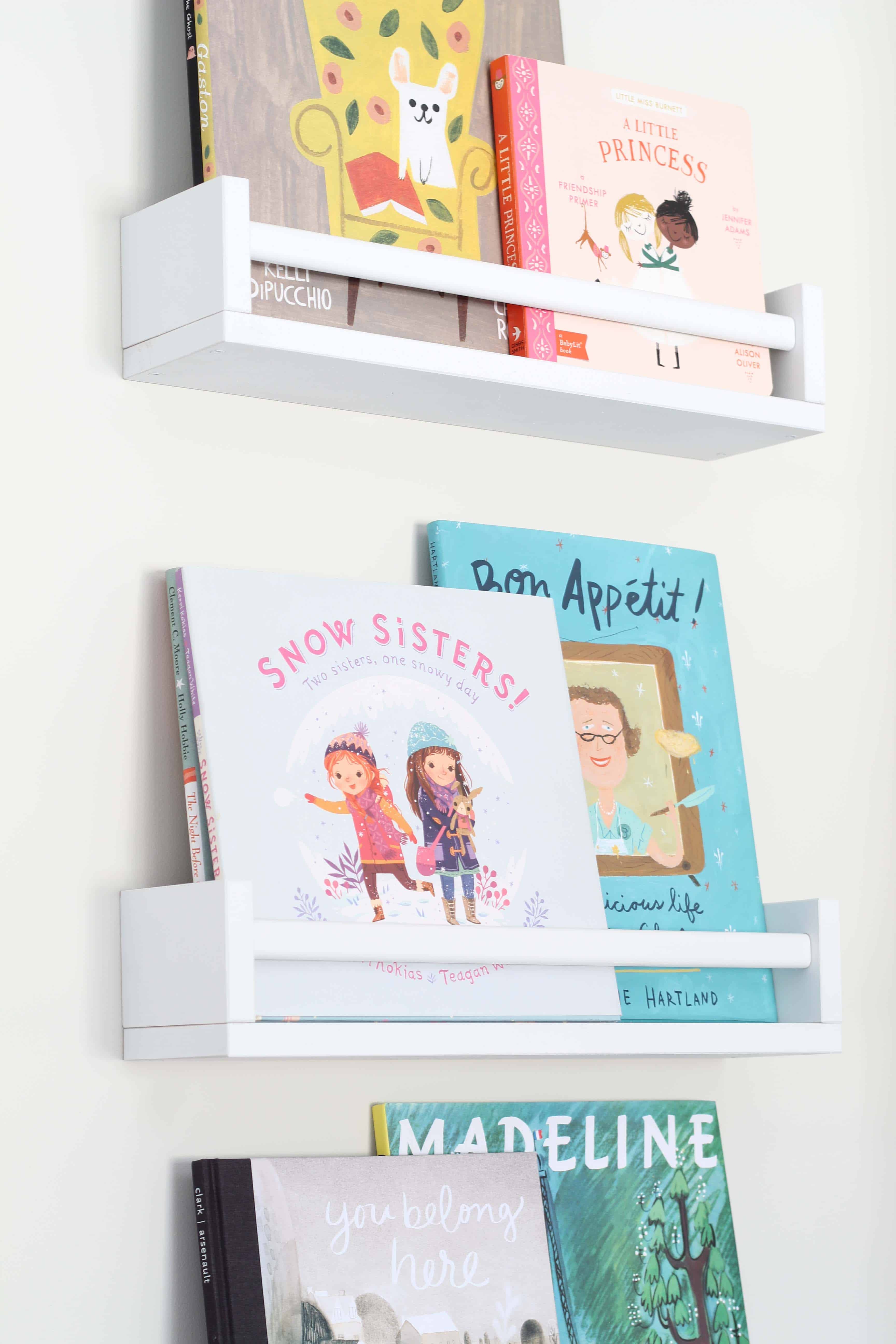 I hope these ideas have sparked some new ways to organize those toys and bring joy to your home!
Shop The Post

This post contains some affiliate links for your convenience. Click here to read my full disclosure policy.
Want to save this post? Pin it here!