Small items and little odds and ends can sometimes be the bane of home organization. Here are 5 smart ways to organize small items!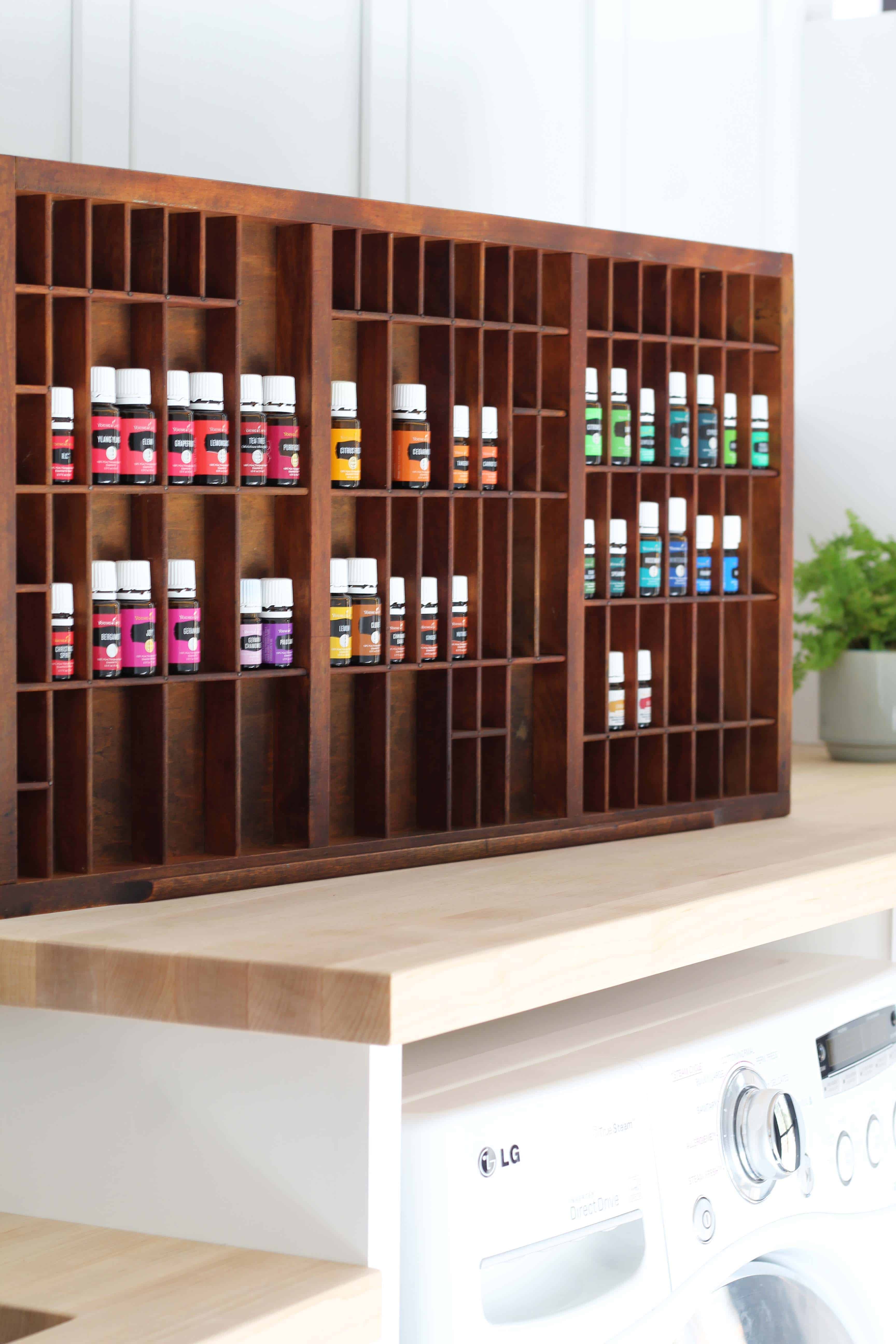 Smart Ways To Organize Small Items
This past week brought an abrupt change in temperature to our part of the mountains. All of a sudden it seemed like fall might actually be coming after a long hot summer. One of the things I like to do between seasons is a mini home clean-up. Before I switch anything out for fall or winter, or "cozify" our home, it always seems like a good idea to do a general clutter round-up and quick cleaning.
As I was cleaning and putting things away this past week, I noticed how many small items a home seems to contain. It's almost unavoidable, after all, small home items are a necessary part of the everyday life. I thought it might be fun to do a round-up of the different ways we store all of those small, seemingly mundane items, and perhaps, even make them pretty to look at. 😉 Here are 5 smart ways to organize small items that I use all the time: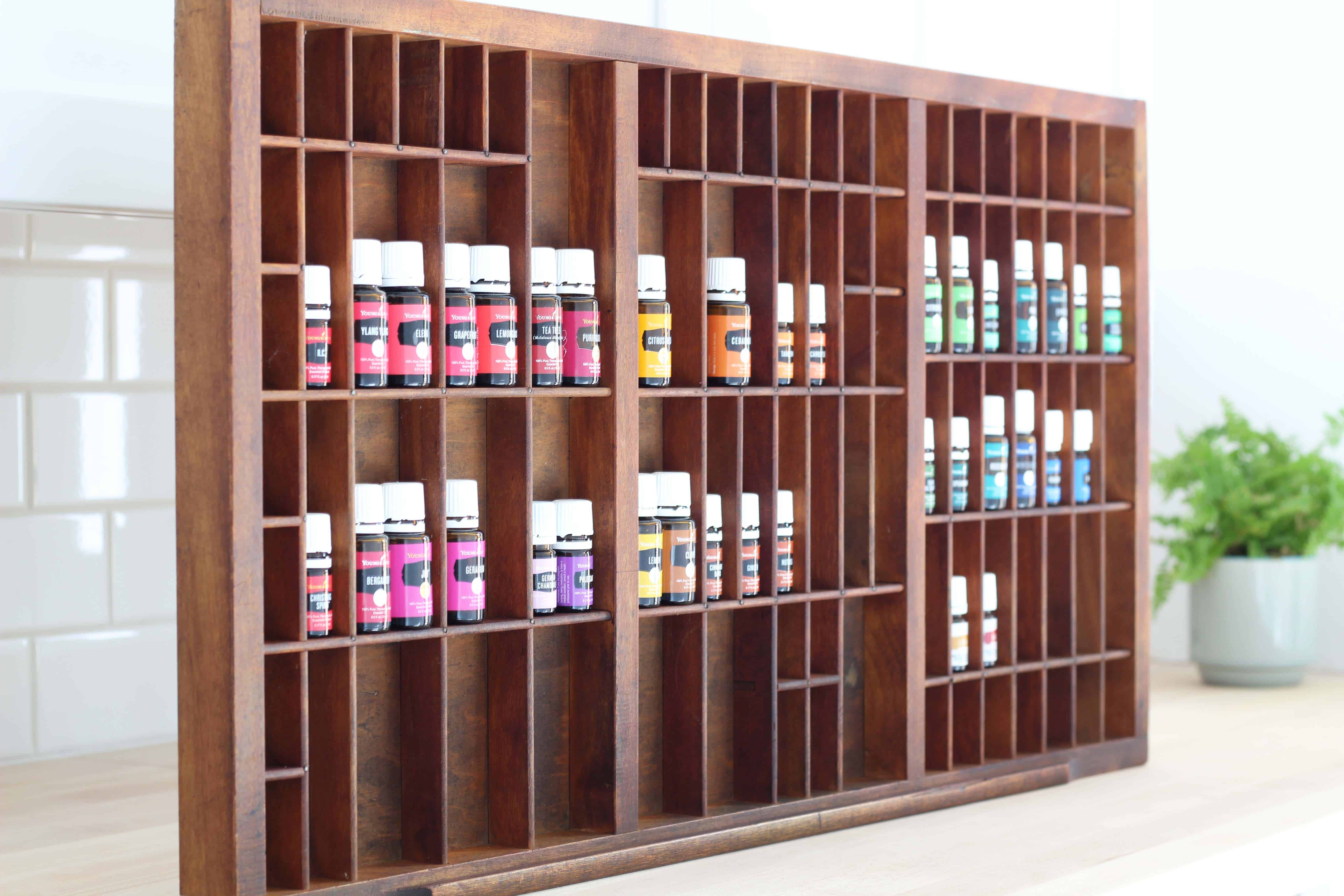 Repurposed Vintage Items
I bought this old typeset drawer almost 10 years ago while antiquing in a small town. I knew I could use it for something and I loved the look of it, but had no idea how I was going to use it. It languished in our garage for longer than I'd care to admit, until I had an epiphany one day. It would be perfect for storing and organizing little bottles. For the past couple of years it's held my essential oil bottles – organized by rainbow color of course. 🙂
There are so many things about this storage solution that I love. One, it's always fun to repurpose a vintage item. Two, it adds effortless character to your home and is always a conversation piece. Three, the possibilities for what you could use it for really are endless. It could be used in a craft room to store small craft supplies, in a sewing room to organize thread spools, or even in a child's room to display little knick knacks and treasures.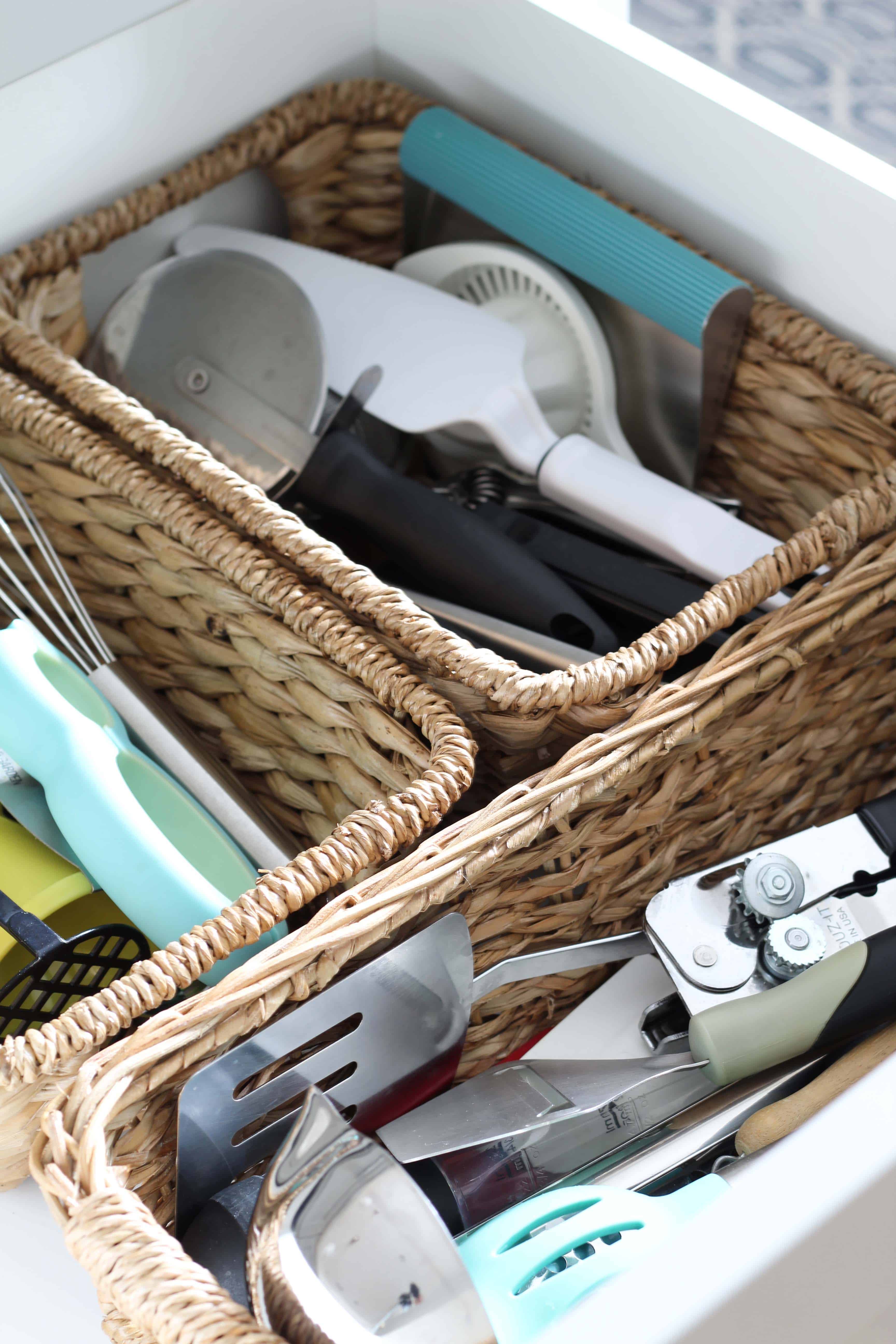 Shallow Baskets In Drawers
Baskets, oh baskets how we love you. In a continuing ode to my love of baskets: baskets used as drawer organizers. Hands down one the best ways I can think of to use baskets in your home.  Look for shallow baskets at thrift stores, (people donate these all the time) just make sure you know how deep your drawers are so you know how tall the basket edge can be.
I love to use these in our kitchen, especially in those catch all cooking utensil drawers. For years the two drawers we used for all of our cooking utensils (think awkward items like spatulas and potato mashers) were just open drawers with all of these items haphazardly thrown in. While easy, not necessarily conducive to finding what you were looking for right away.
After one too many dinner preps where I rifled through said drawers trying to find some obscure kitchen gadget, I knew there had to be a better way. Enter the drawer baskets. So simple, yet so effective. Organizing items by type or size (or whatever method you want) instantly turns a drawer from kitchen chaos to a drawer you're actually happy to open.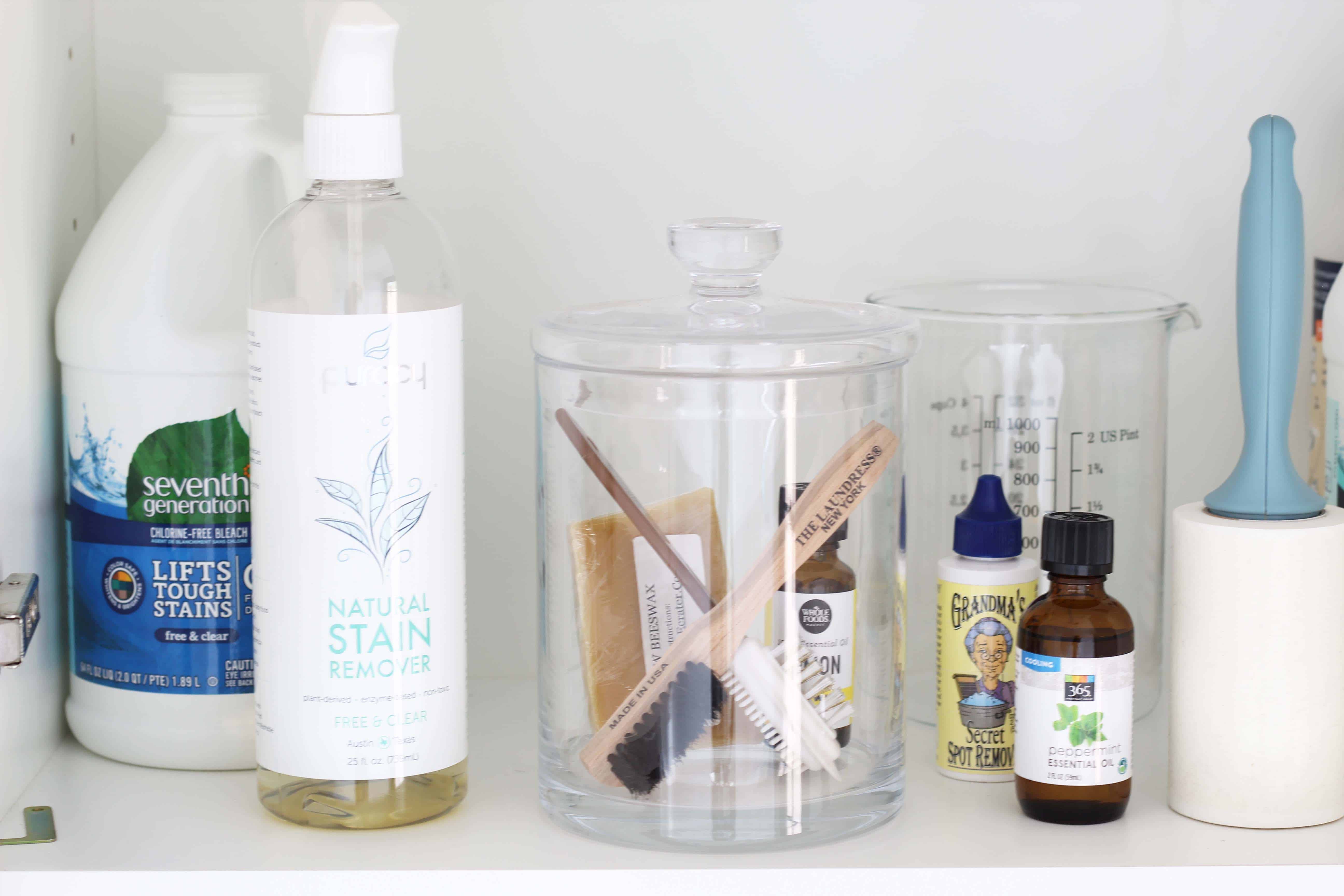 Clear Canisters
Clear canisters are another great way to store small household items, especially things you use regularly and want to be a able to see easily. I have a set of glass canisters (of which only two are left since they seem to break easily) that I use around our home for this purpose. The main place I'm using them right now is in our laundry room to corral laundry brushes and other small cleaning odds and ends.
And more good news? Did you know they make canisters like these in acrylic now? I had no idea! Total game changer when it comes to how you could use them. Crafts rooms, children's playrooms, so many new possibilities when you don't have to worry so much about them breaking.
Plastic Basket Organizers
You might remember this junk drawer makeover from a few months ago and the fact that a plastic nesting basket set was the key to all its glory. You can find sets of baskets like these all over the place, Home Goods, TJMaxx, even at your local Walmart. They come in a variety of styles, shapes, and colors,  and are great for organizing a drawer full of small items. They add a great pop of color to a drawer and make it look pulled together with 10 minutes of minimal effort.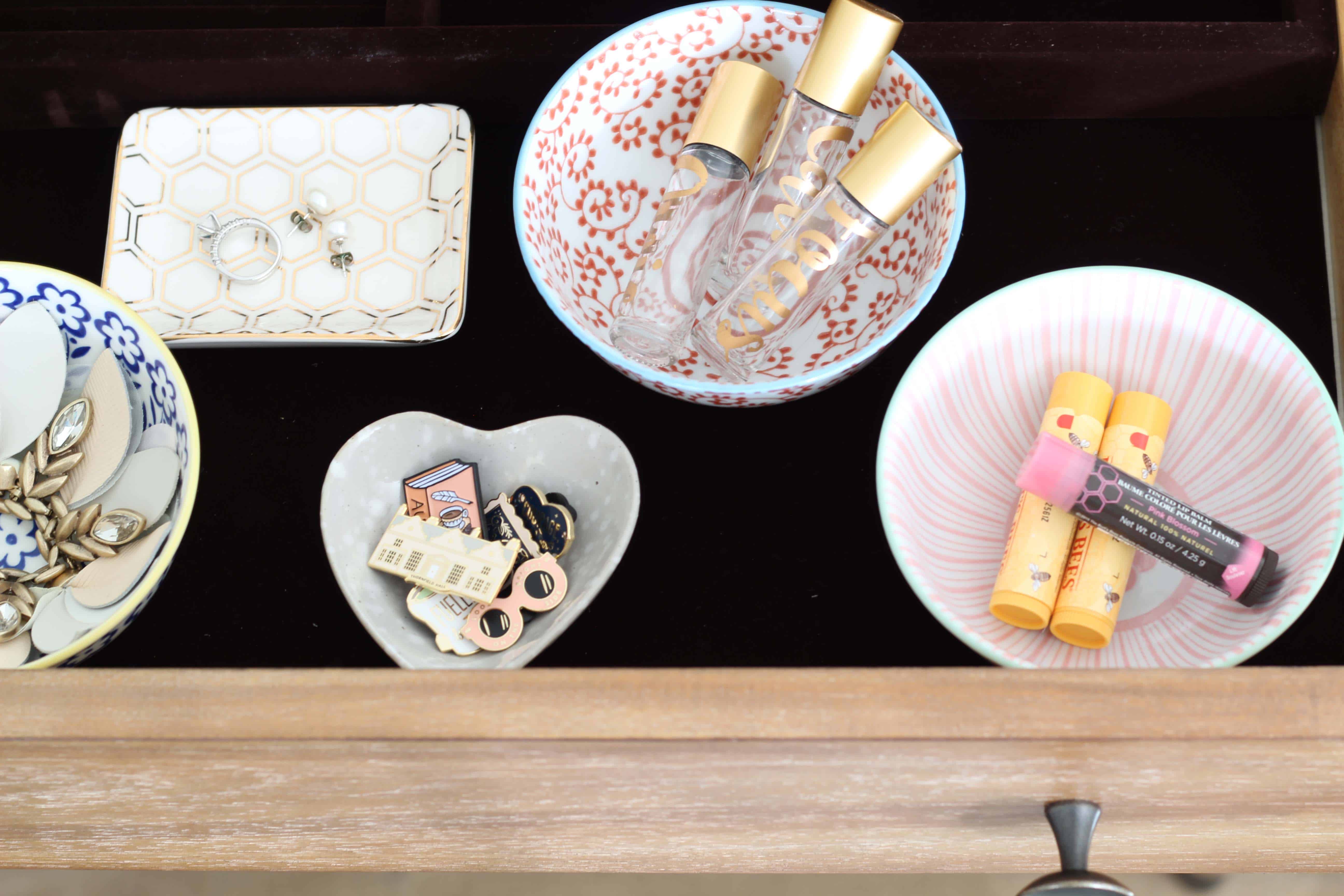 Small Decorative Bowls
Using small decorative bowls to organize in drawers is one of the ultimate cute and smart ways to organize small items. It's an underrated and underused method in my opinion!  Pinch bowls or dessert bowls work great for this purpose.  I love to use these in our bedroom drawers to organize jewelry and other small things like chapstick, enamel pins, and essential oil rollers. It's amazing how grouping something together in a cute bowl can instantly make it beautiful and practical to use.
What about you? How do you keep all the small items in your home under control? I'd love to hear about your solutions!
This post contains some affiliate links for your convenience. Click here to read my full disclosure policy.
Want to save this post? Pin it here!