This simple & sweet hot chocolate bar is a fun way to celebrate the colder weather. It's also perfect for just about any winter holiday from Christmas to Valentine's Day!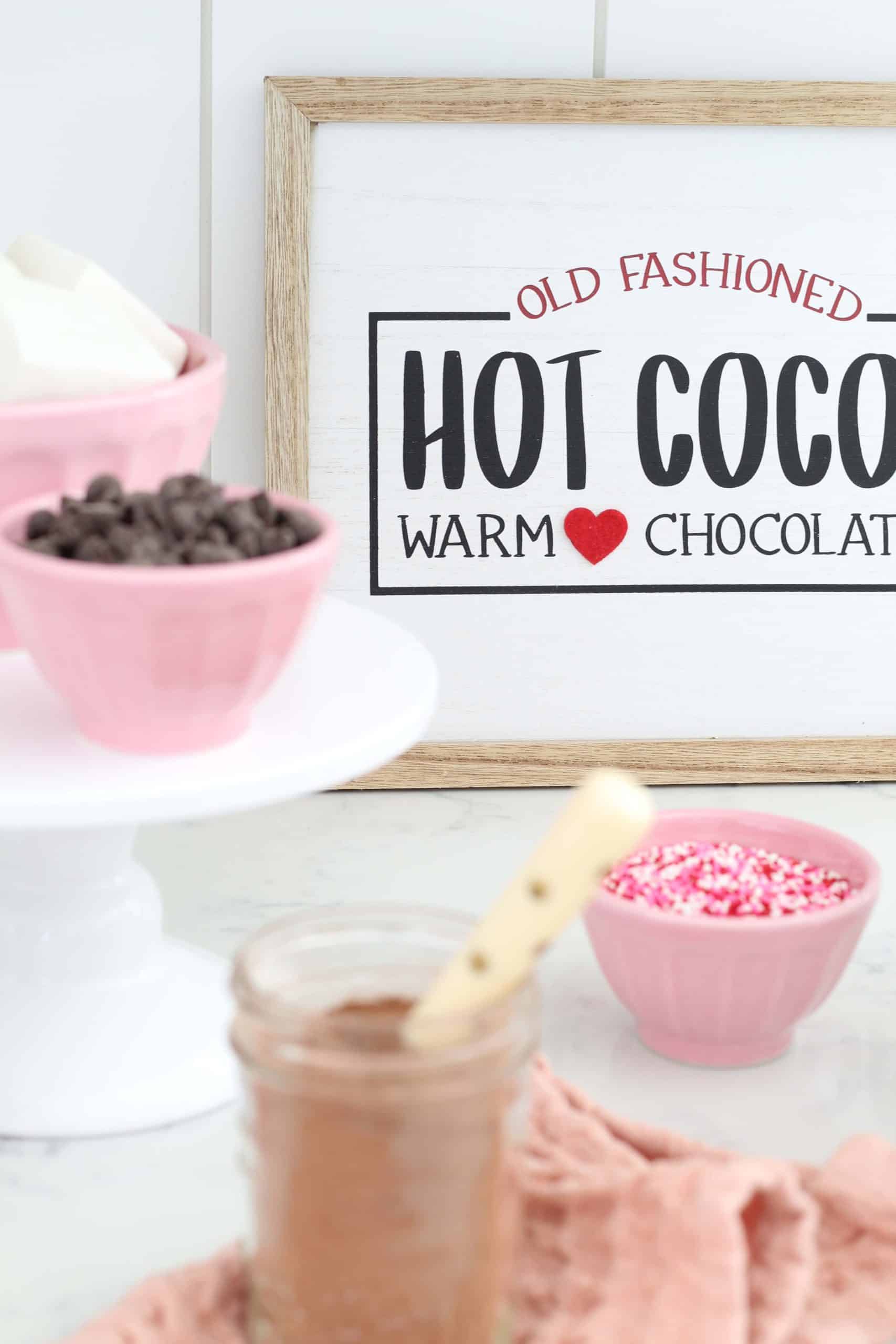 A Simple & Sweet Hot Chocolate Bar
It's January, and I don't know what it's like where you live, but in our neck of the woods, January means, snowy, cold, hot chocolate making weather. And I'm here for it. Yum. 
We are hot chocolate drinking connoisseurs around here, so a hot chocolate bar is a natural way for us to add some fun and festivity to the everyday. After all, who doesn't love an a little impromptu party? 
This hot chocolate bar can also be easily tailored to pretty much any holiday or special celebration. Obviously, the Christmas season and Valentine's Day lend themselves to it easily, but I also love the idea of using it to celebrate a birthday!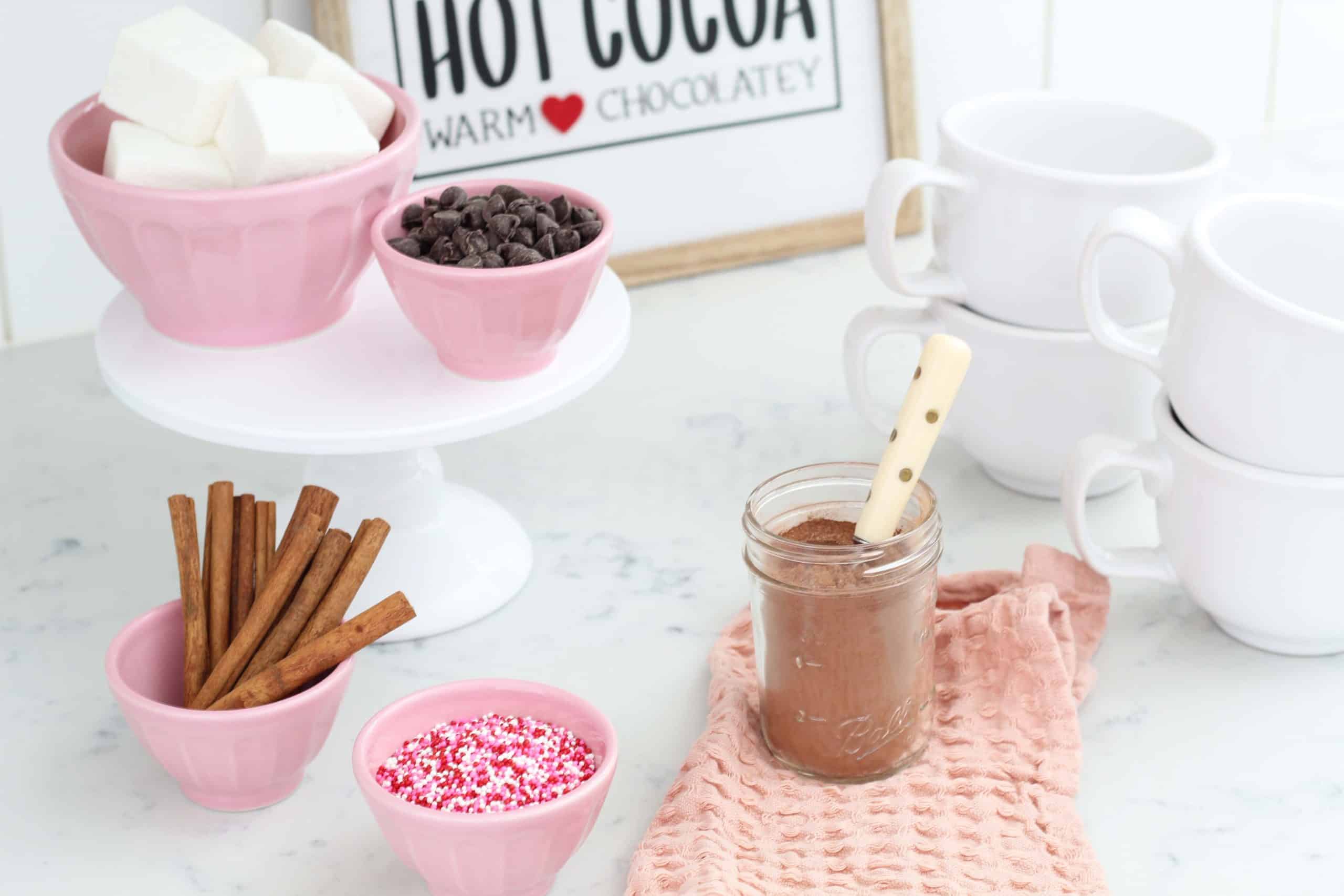 Picking A Theme
Don't get scared away by the word "theme." By theme I just mean a general idea of the direction you're going. A theme can be as simple and easy as using a certain color bowl to serve toppings in. In this case, pink. 🙂 If I was doing a Christmas theme, merely changing the bowls out for red ones or bringing out Christmas mugs would do the trick. It doesn't have to be complicated to be special! 
I also love the idea of investing in one specific piece that, when it gets pulled out, pulls everything together. Our "Hot Cocoa, Warm ❤️ Chocolatey" sign does the trick. Pulled out and propped along the wall, it doesn't take much effort, but it makes everything else around it look instantly fancy. P.S. our sign is from the Target dollar section, a good place to check for them during the winter months!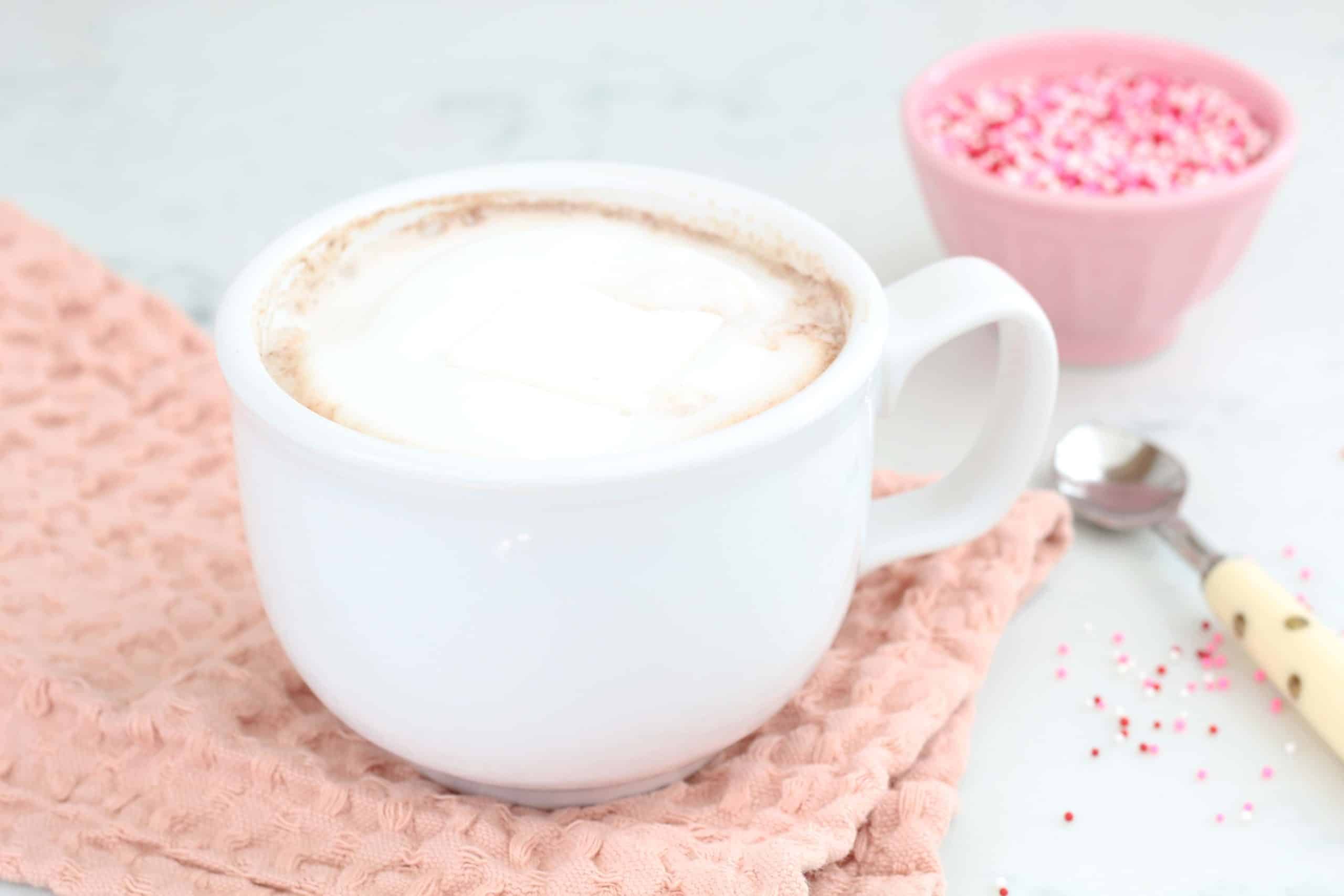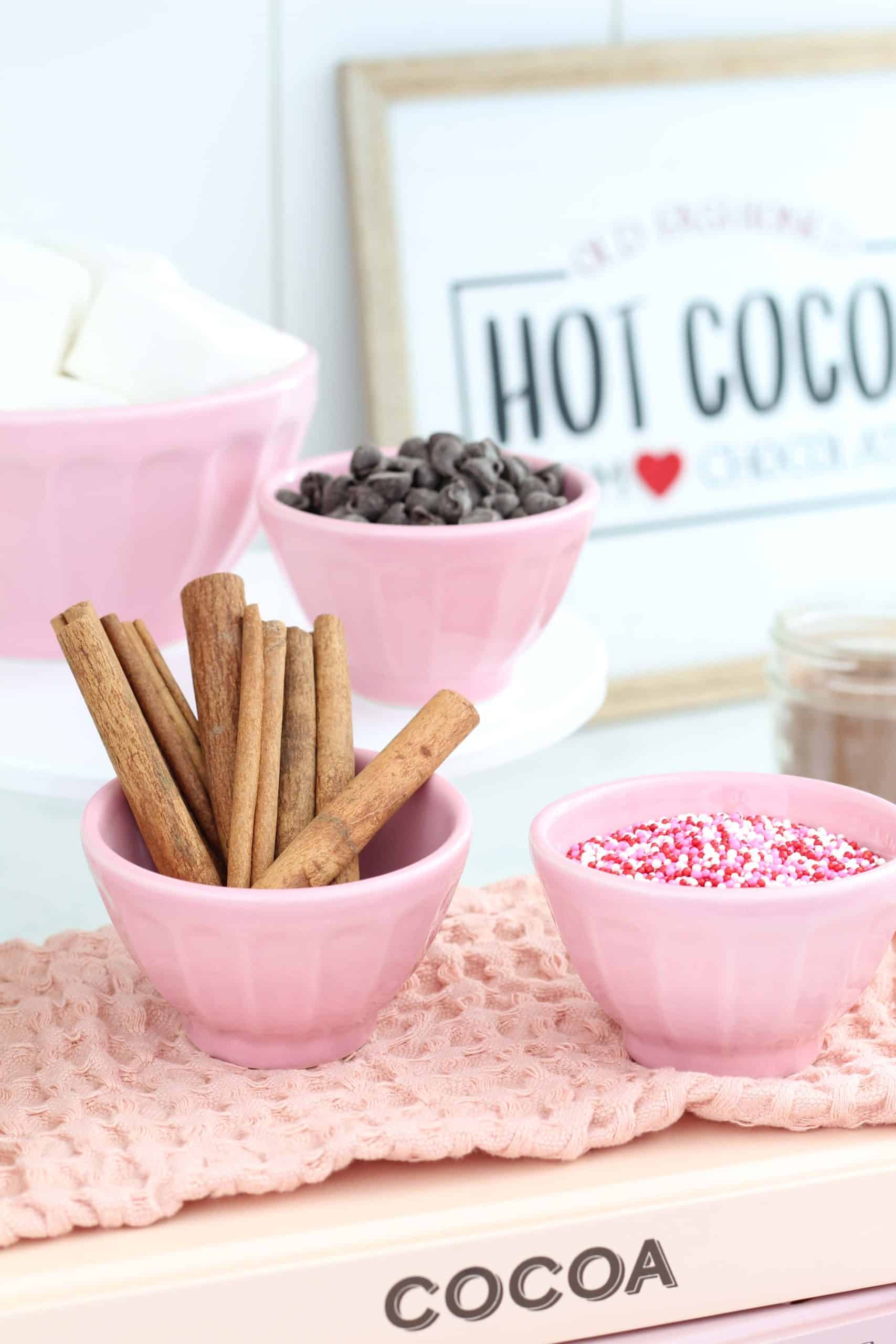 Using Cute Serveware
Again, this doesn't have to be anything fancy. I look at it as a chance to pull out some cute bowls, my cake stand, and dessert spoons. I know myself, and I'm a lot more likely to do something if it's easy to prep. A simple ball jar is great for storing the hot cocoa powder (and looks cute for serving too!) We use our everyday white mugs for serving the cocoa in since they go with just about anything. 
Using a cake stand to display toppings is a great way to add some height and also works well if you want to utilize a small amount of counter space or a bar cart for your hot chocolate bar. If you don't have a cake stand, think outside the box. Something as simple as a stack of cookbooks could be used instead. Cute and practical!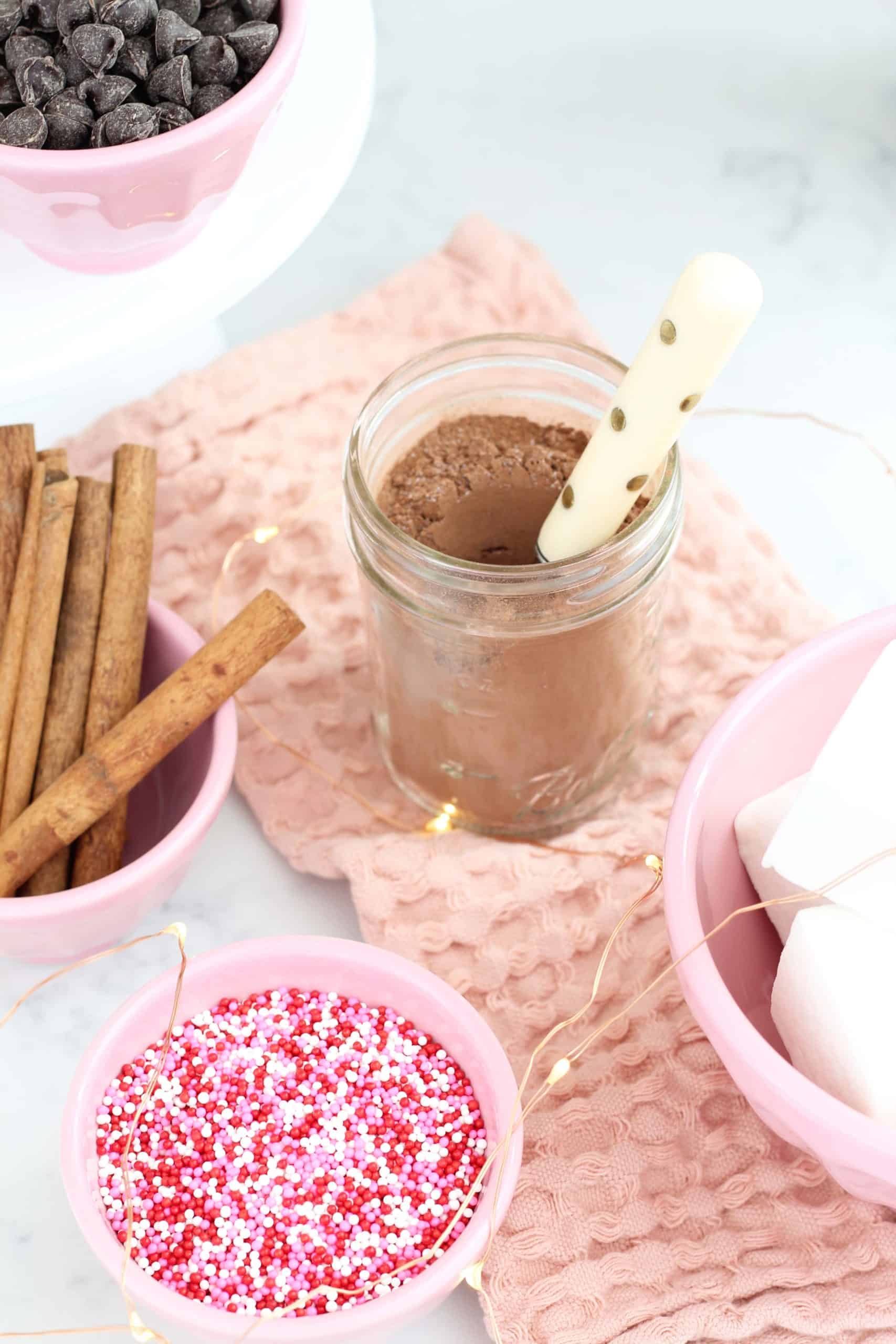 Choosing Hot Chocolate Bar Toppings 
Toppings. What is a hot chocolate bar (or any kind of food bar) without toppings? Here are some of my favorite hot cocoa toppings: 
Sprinkles are another easy item to swap out for a theme or holiday, for example pink sprinkles for valentine's day, read and green ones for Christmas, etc. And if you are looking for a way to up your hot chocolate making game, this milk frother has saved me hundreds of dollars in Starbucks trips.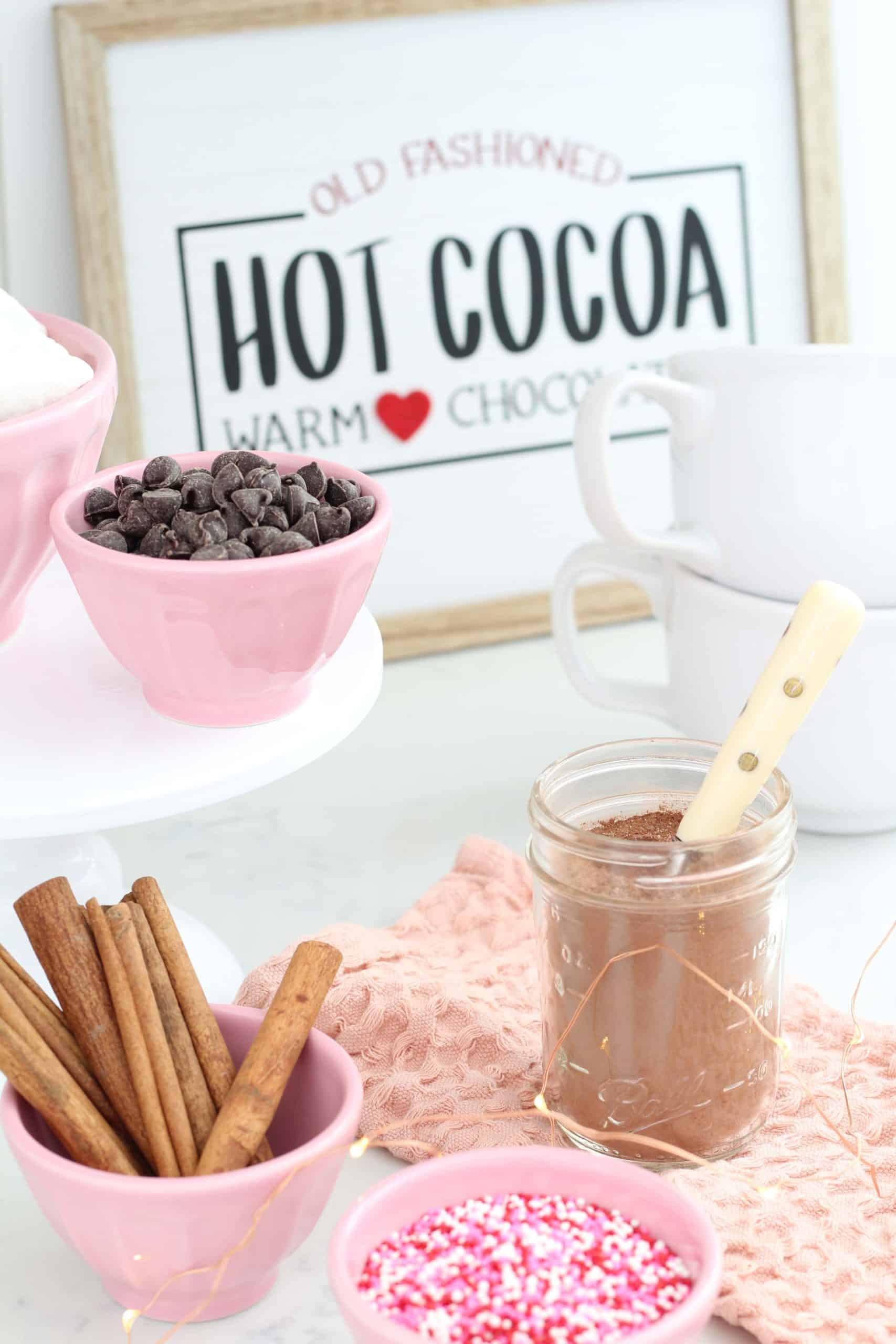 I hope this gives you some inspiration for your next (or first) hot chocolate bar! And remember, you don't need to wait for a holiday to do something special, so go ahead and celebrate those everyday moments!
Shop The Post

This post contains some affiliate links for your convenience. Click here to read my full disclosure policy.
Want to save this post? Pin it here!