Welcome! Come on in and take a tour of our light & bright dining room ready for summer!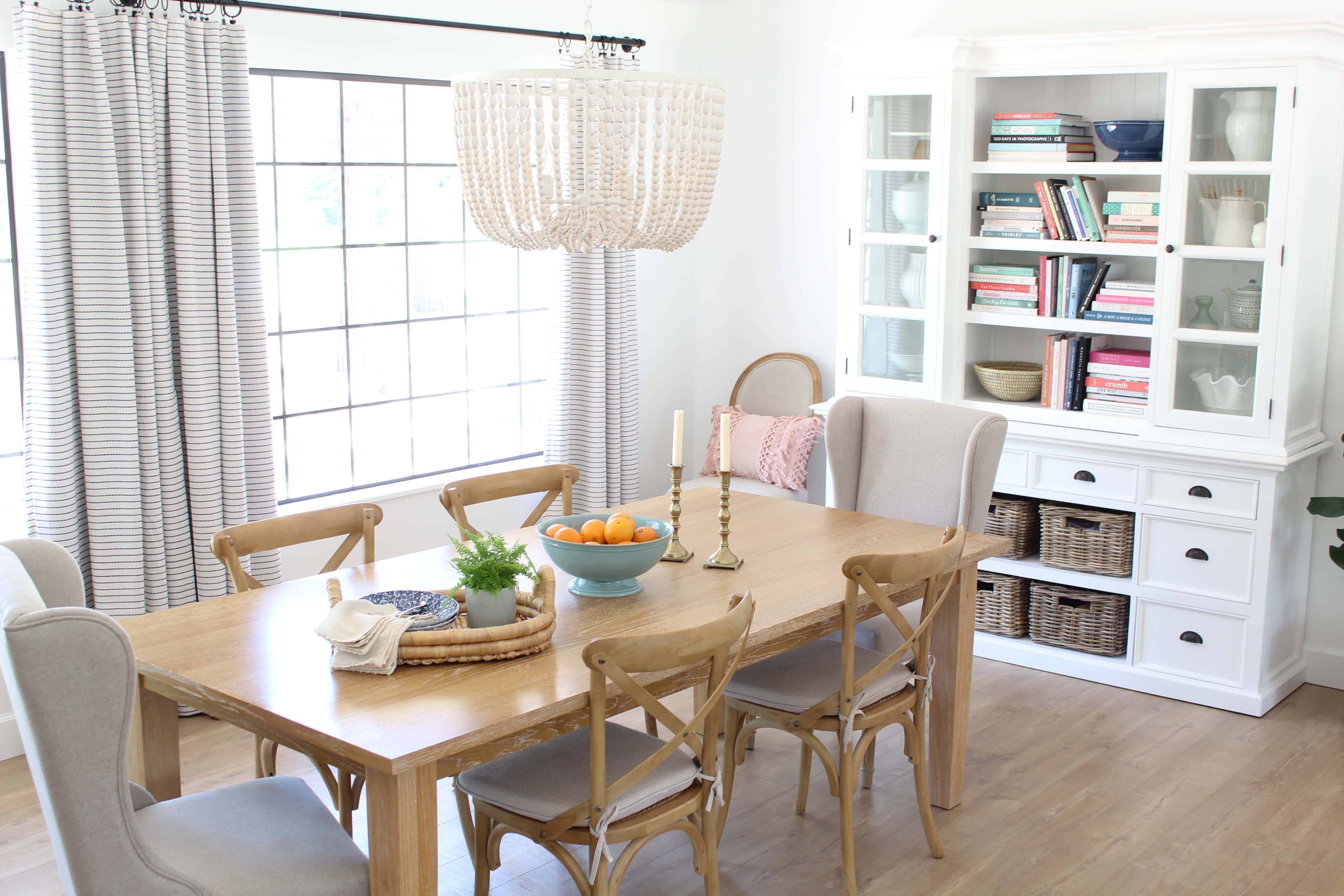 Hello! Welcome to our home, and if you're stopping by from the Int'l Bloggers Club blog hop, so glad to meet you 🙂 I've had this post partially done and bouncing around in my head for quite a while now. I finally got motivated to finish both the post and a couple of items in our dining room up when I saw the theme for this month's blog hop was "iron."
A Light & Bright Dining Room Tour
While it was a theme I definitely had to think about a little bit, it dawned on me that finishing up the curtains in our dining room/great room might be the perfect way to incorporate it. The windows in this room are great, and they let in a beautiful amount of natural light all day (yay!) The one thing that they were not, was easy to find a curtain rod for. I knew I wanted some sort of black iron pipe curtain rod for both sides of the room, which in and of itself is not hard to find. What was hard to find was one in the ridiculously long length that was needed in order to cover both windows.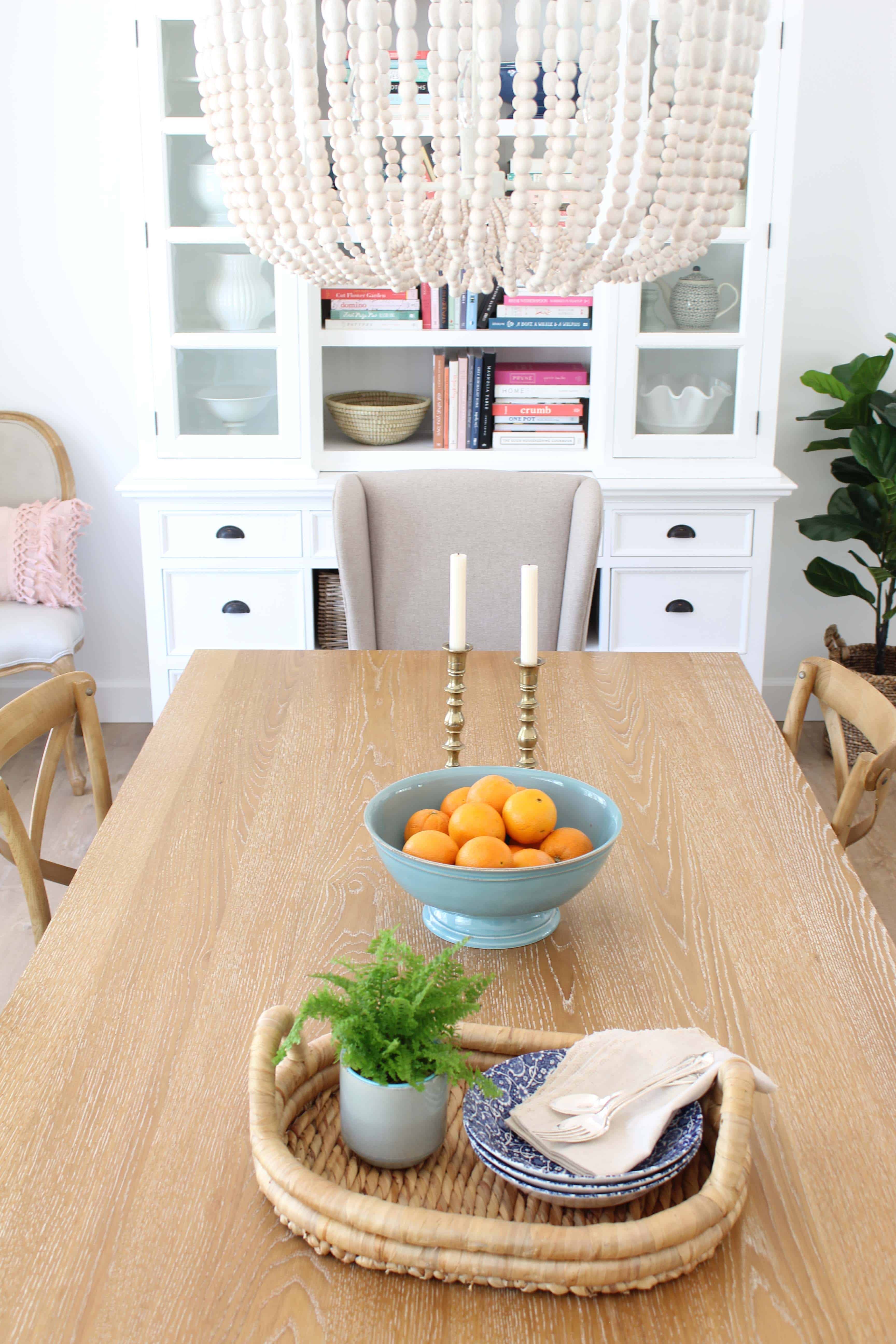 Affordable Iron Pipe Curtain Rods
After a lot of searching and price comparisons we ended up going with a set of these French drapery rods because of both the price and aesthetic. Unfortunately, they seem to sell out on a regular basis, so we had to wait over a month for the second one to arrive for our other window.  For the price, it was worth the wait, just be aware if you buy these!
We got the rods on this dining room side up in December (you can see them in our Christmas tour here) and I threw up some curtains I had on hand to get us some privacy (these windows face the front of the house.) While I wasn't loving the curtains that I put up initially, they were serving a purpose and I had bigger fish to fry when it came to our home renovation. Like working bathrooms. And a strong desire to get our kitchen in so we could stop cooking on a camp stove out in the garage. You get the picture.  😉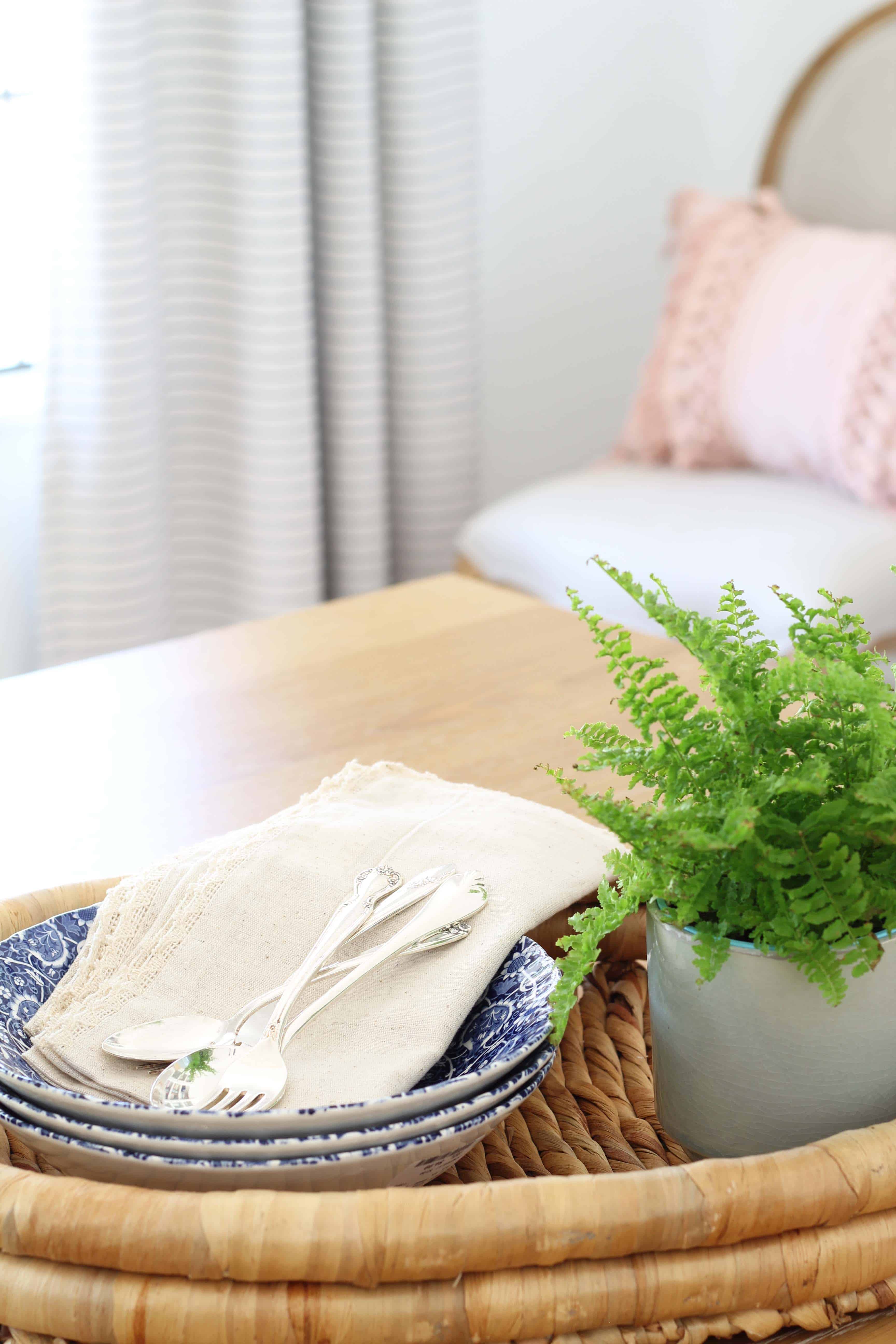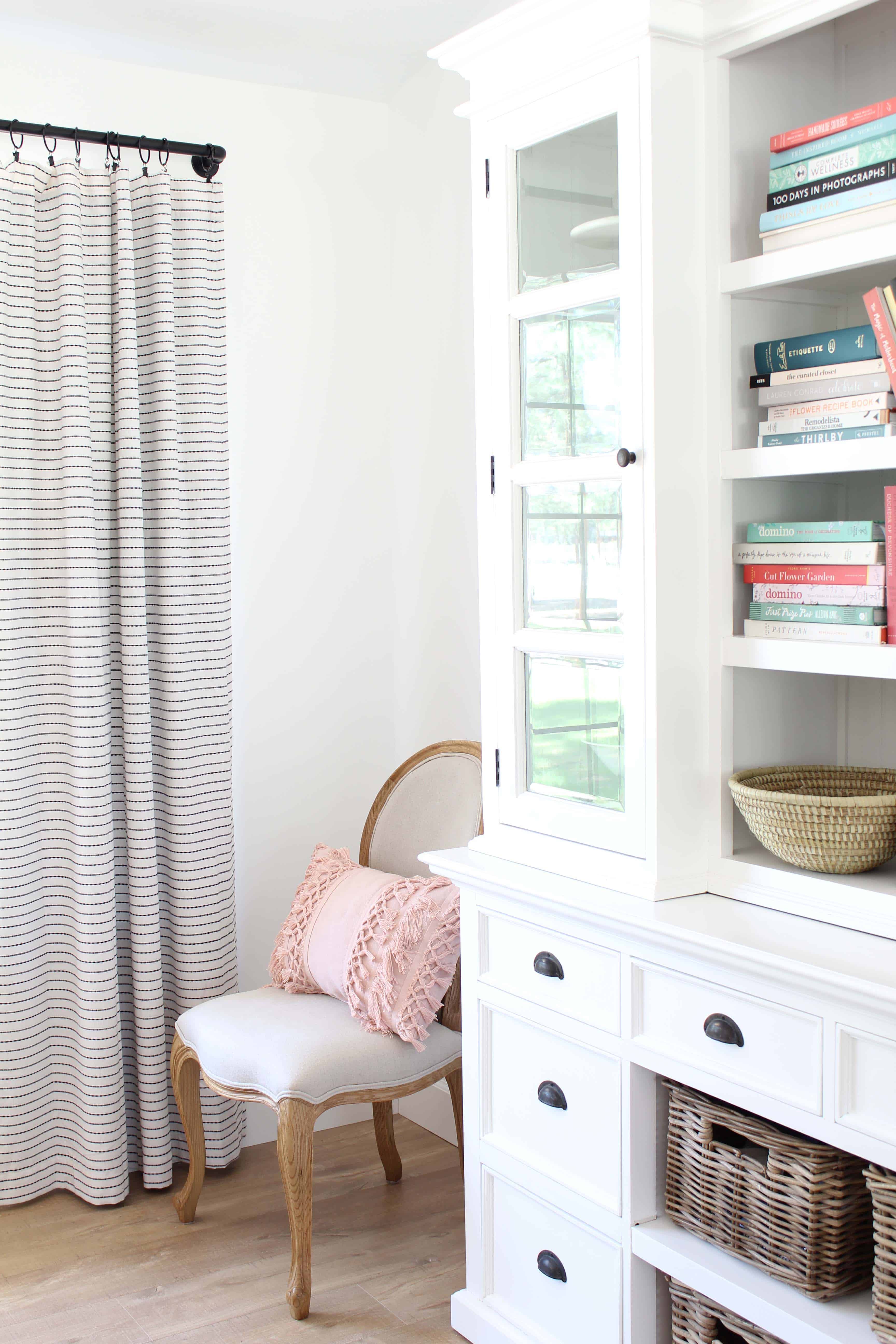 New Curtains & Drapery Clips
After living with the gray/green temporary curtains for 4 months, I was ready to start searching for a more permanent solution. We have a lot of big windows and I knew it was going to take quite a few panels to cover them all, so economy was the name of the game when it came to choosing some. I won't tell you how many different panels I tried and returned over the course of the last few month (because it makes me look a little obsessive) but suffice to say, it was a lot. After a lot of input and debate, we ended up getting these navy striped curtains as well as these super affordable black drapery clips.
The draper clips are great for a bunch of reasons. One, I think they instantly make $30 curtains look more high end. Two, they make opening and closing curtains so much easier than just a pocket rod curtain. Three, they add length to your curtains if you're in-between lengths and need to add an extra inch or two.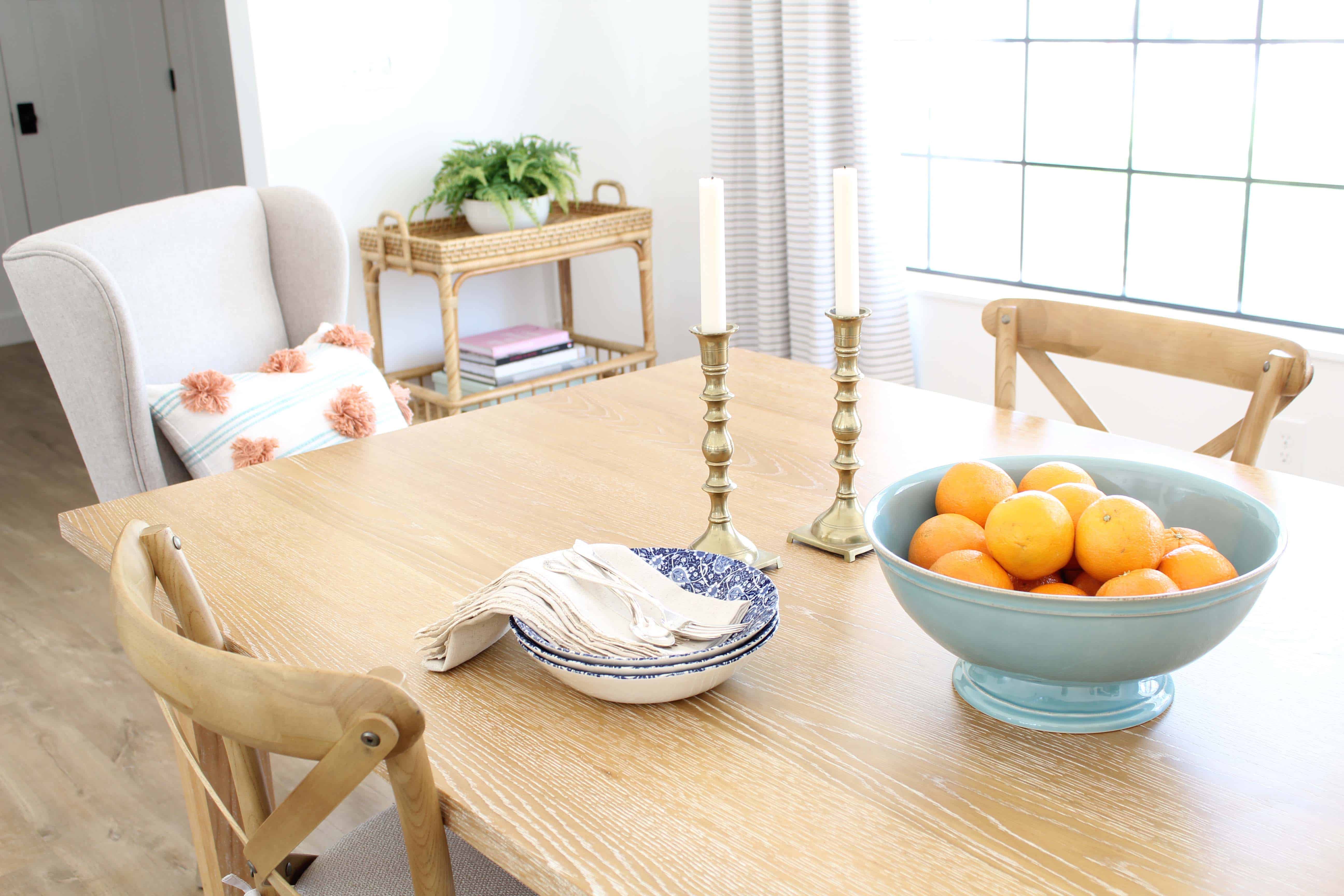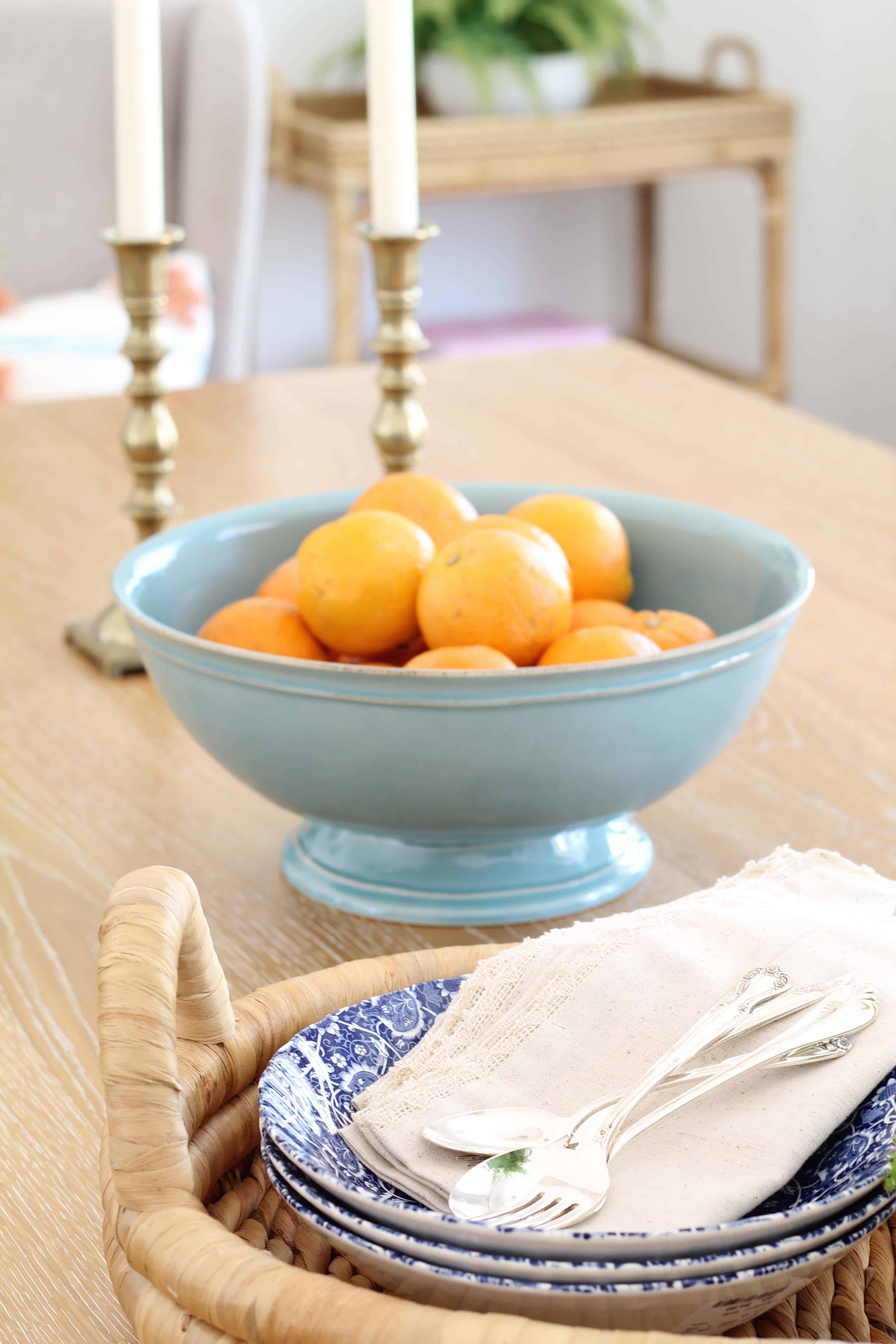 Overall Thoughts
We've had the curtain rods up for a few months now, and I would whole heartedly recommend them. So far they've held up great and I love that they have middle supports and appear to be made of quality material. The finish hasn't chipped anywhere that I know of, and they haven't sagged in the middle at all (always a potential problem with longer rods.)
I'm happy with the overall look of the curtains, and you really can't beat the price. The one downside was that out of the 10 panels I ordered, 3 of the panels that came were significantly shorter than the rest. Not good when they're all up next to each other. I ended up exchanging them and getting some that were the right length. This seems to be common problem I noticed with a lot of the curtains I tried, not just this brand.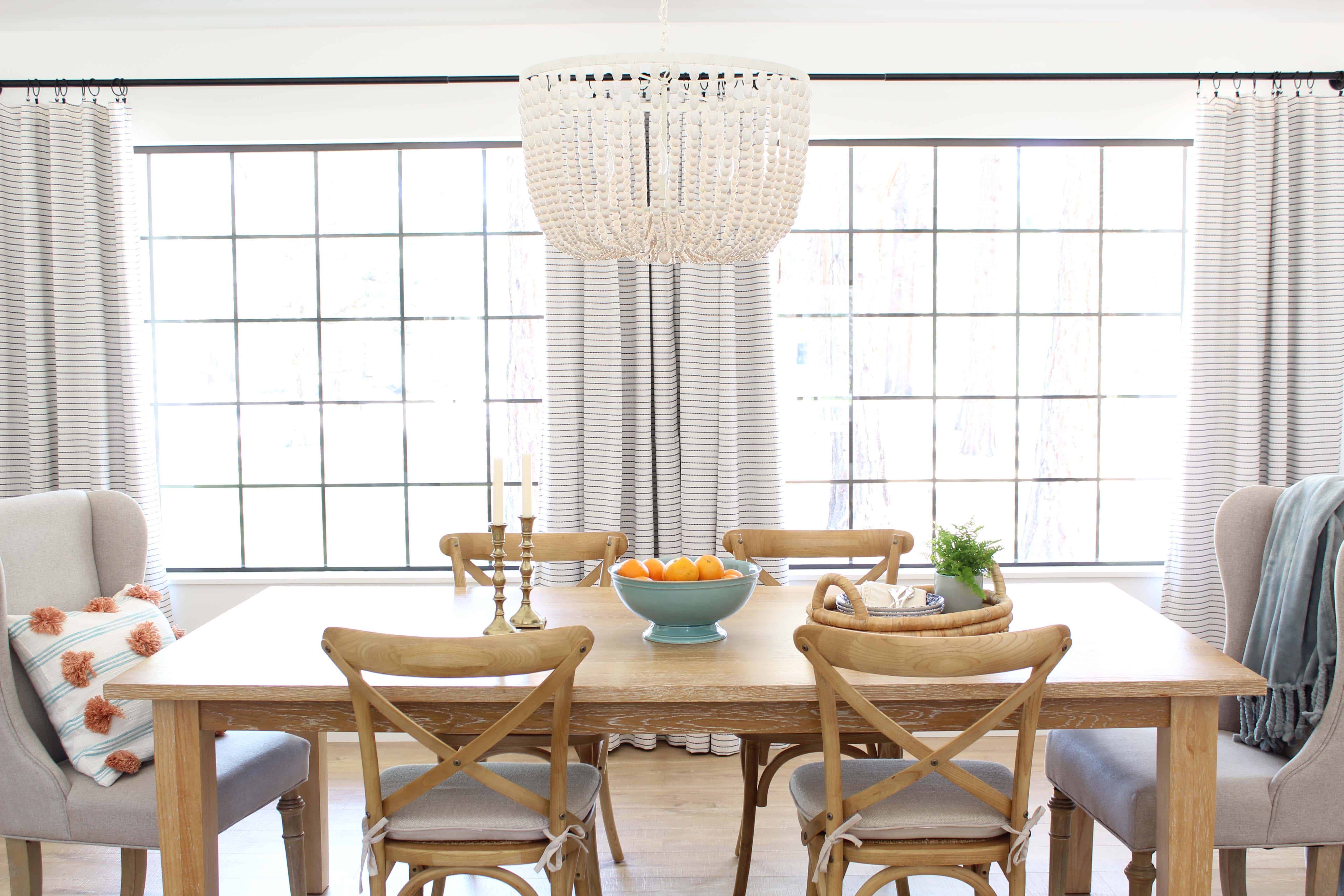 So three cheers for finally getting our dining room somewhat pulled together! There are still some things I would like to add or tweak, and I'm always moving things around, but that just gives me something to look forward to. 🙂
Thank you so much for stopping by!
P.S. If you liked this post you might also enjoy our Scandinavian Farmhouse Kitchen Reveal.
This post contains some affiliate links for your convenience. Click here to read my full disclosure policy. 
Want to save this post? Pin it here!