Vintage and antique armoires, while beautiful, can get spendy. Here are some tricks I used to make a vintage armoire out of a thrifted cabinet!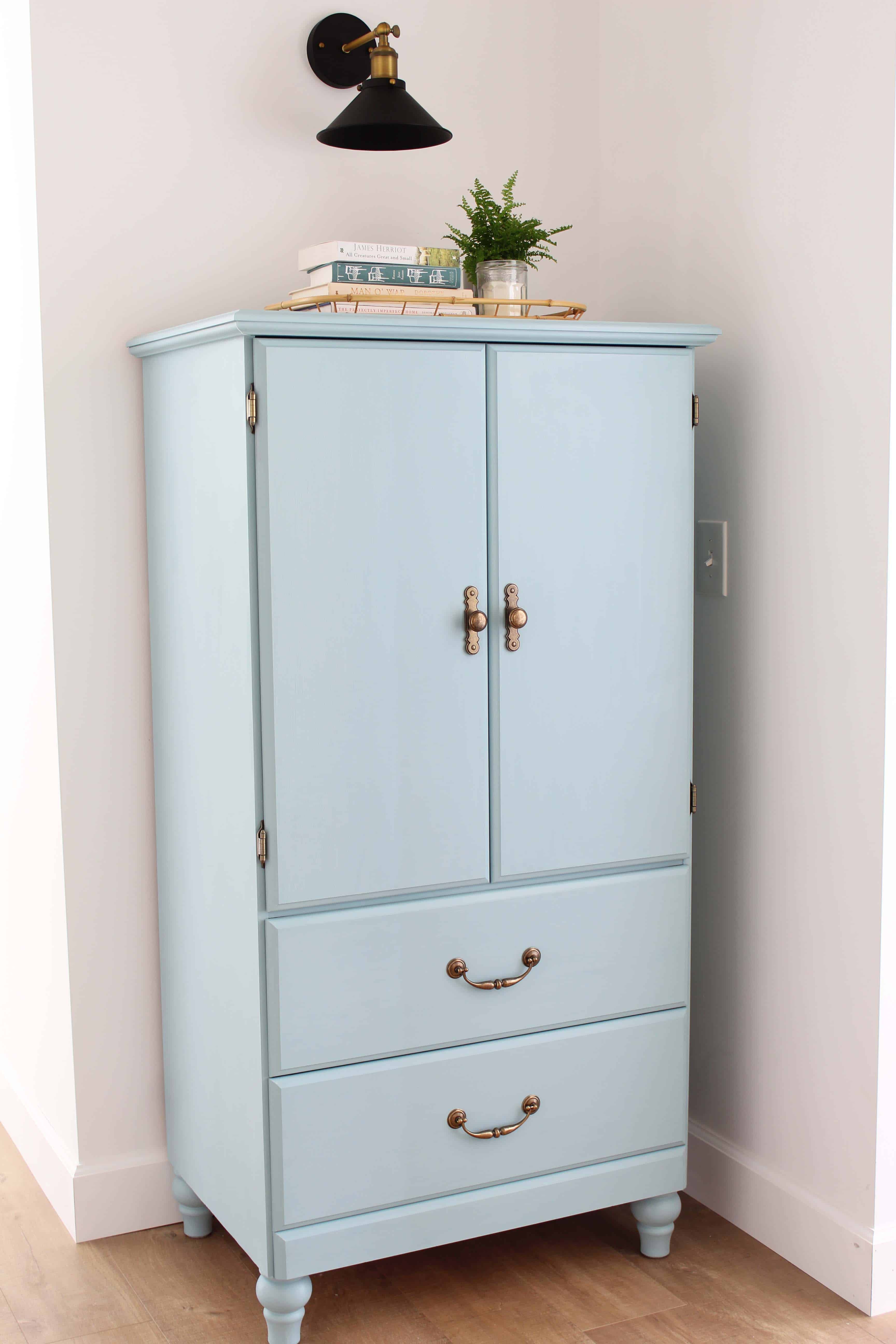 Last week I did a post on how I  Arrange A Stylish Bookshelf  with all of the books we seem to collect around our home. While I love all of the storage our living room bookshelf provides, we still had a lot of books leftover to store even with all of the purging I did before we moved. Since we live in a two bedroom house, extra shelves in a home office or spare bedroom weren't really an option. Enter the armoire.
Once we had things semi unpacked, I realized we had a little nook in our hallway just off of our laundry room that would be the perfect space for a bookshelf or armoire. I debated between both options and ultimately decided to look for an armoire because it would allow for storage besides books as well as being enclosed (which would keep things a little neater looking). And so the hunt began….
Make A Vintage Armoire Out Of A Thrifted Cabinet
We have exactly one furniture thrift store in our small town, which you would think would make it hard to find good stuff, but the opposite is actually true. Our area of Oregon is growing pretty rapidly, which means people are moving around a lot. Which equals lots of donated furniture!
Following the same guidelines I use when I shop at Goodwill, I popped into our little thrift shop once or twice a week for a couple of months to see if anything came in that would work for my armoire. It took a little longer than expected, mostly because I was looking for something with a very specific width that would fit our little nook.
Eventually I found the TV cabinet pictured above for $25 (minus the legs, we added those!) I've read a lot of stories about people finding fantastic solid wood furniture that's this great antique or vintage find. This is not one of those stories. This cabinet was in decent shape, but it's not quality. It's made of particle board with veneers and had little to recommend it at first glance. But it was the right size and I knew painting it and adding some legs could do wonders.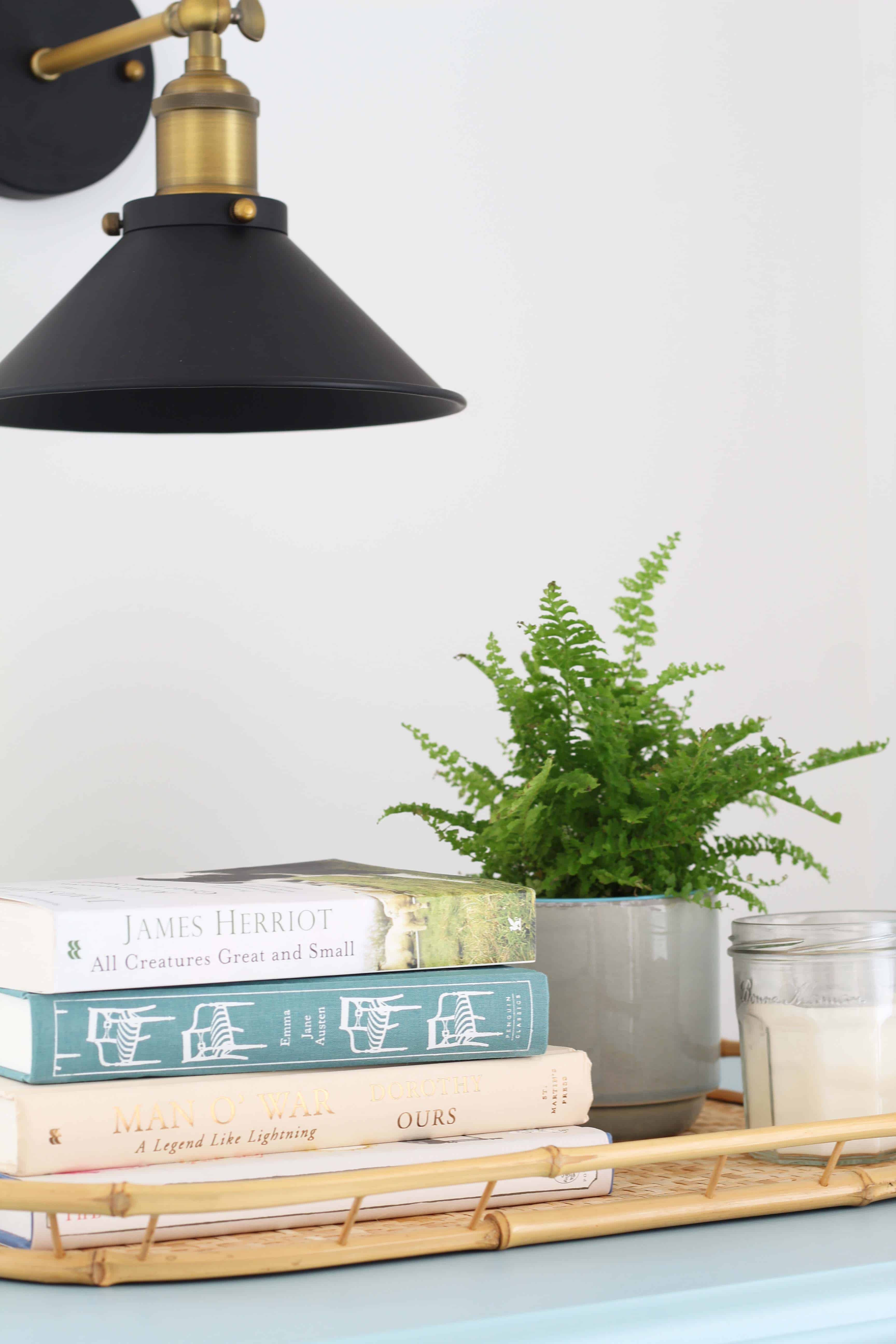 How To Make A Cabinet Look Like An Armoire
There are a couple of things that I think elevate any cabinet and can turn it into an armoire (even if it didn't start it's life out that way 😉 ).
Paint – The first of these is paint. Paint can do wonders. It can cover ugly veneer or stained wood so that all someone looking at it sees is a beautiful pop of colorful furniture.
Adding Legs/Feet – I forgot to take a picture before the legs were added to this TV cabinet, but take my word, it made such a difference! Adding legs or feet to a cabinet instantly adds character and elevates the piece (both literally and figuratively, ha!)  I bought these wood feet for our cabinet.
Add New Hardware (if needed) – Adding new hardware can completely change the feel of a piece of furniture. I actually bought some new knobs for this cabinet, but after living with them for a couple of weeks decided I liked the old original hardware better. Hardware can make something feel more modern, vintage, country, you name it – especially once combined with paint. My favorite places to find unique hardware are  Anthropologie  and World Market.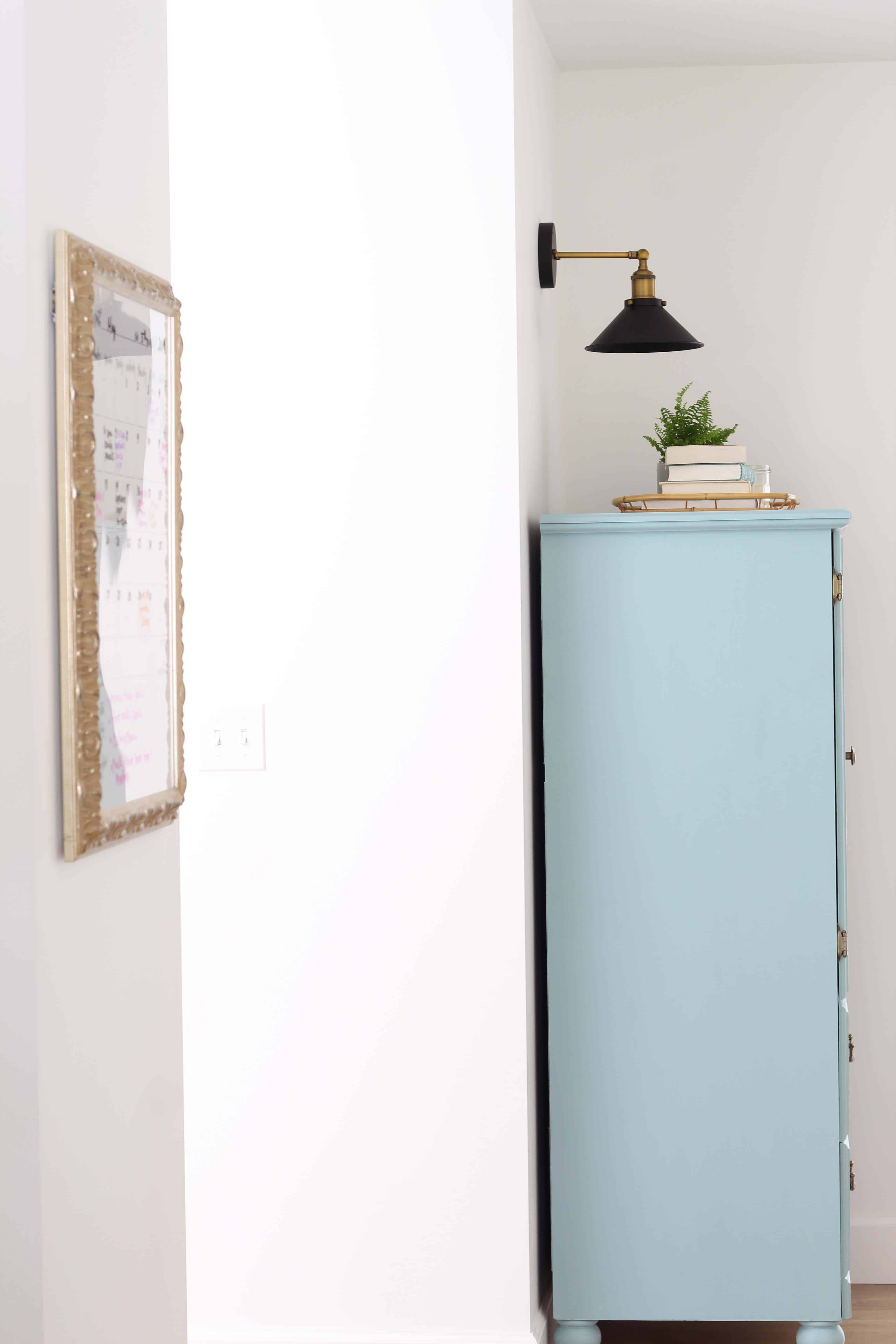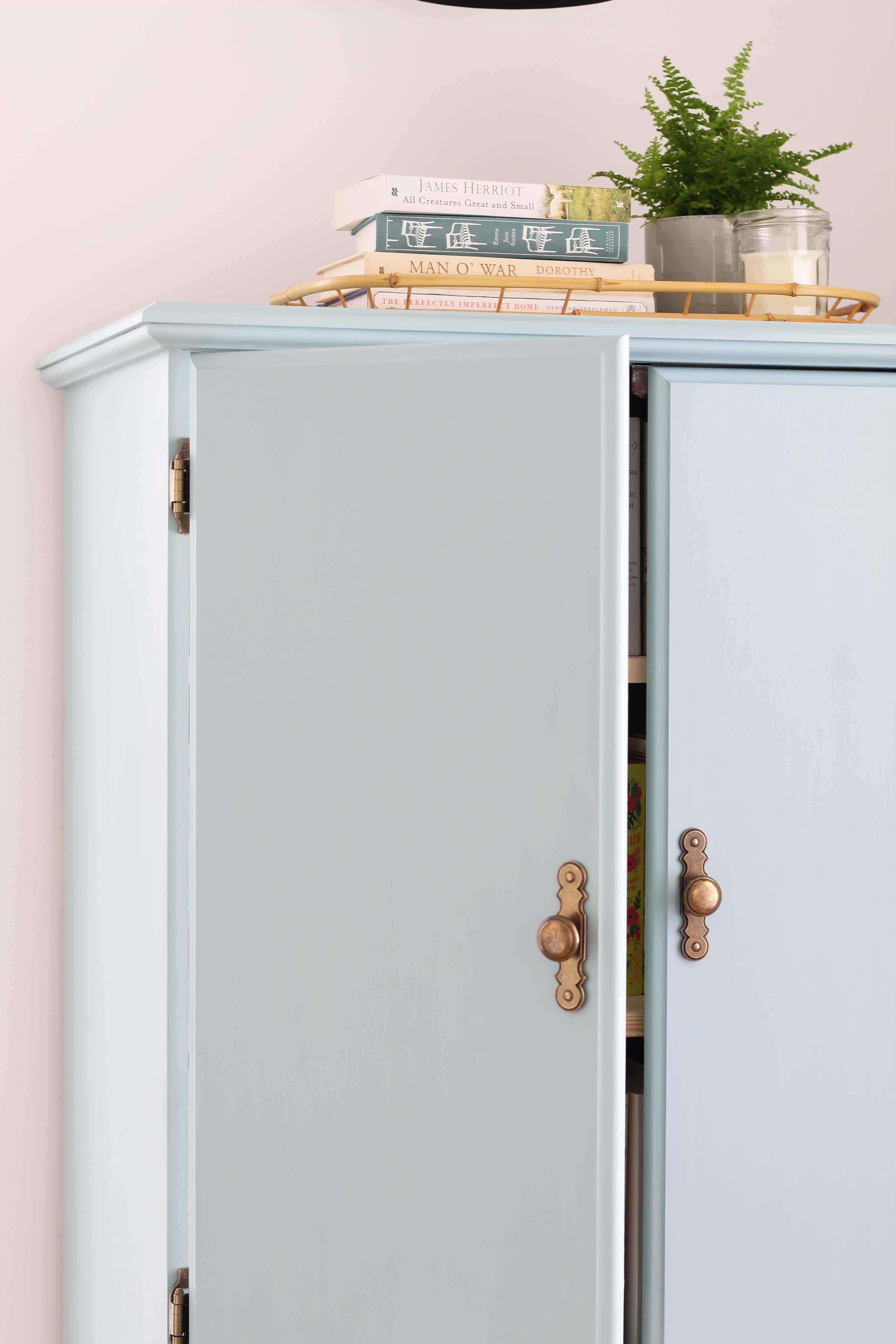 What To Look For In A Thrifted Cabinet
Looking for a cabinet you can turn into an armoire is about seeing the potential more than anything else. I looked for a cabinet that had cabinet doors on top with drawers below. There are so many variations of this out there for furniture, so really all you need to do is look for this combination in the size you need. Paint, finish, hardware, all of that can be changed. You can't change the size, so that should be your first priority.
As I mentioned above, this armoire was an old TV cabinet. It still had the outlet holes in the back as well as a bunch of hooks for electronics. Don't get put off by that kind of stuff. Just remember all of that can be removed, patched, or painted over. We actually ended up adding shelves to ours so that the top part could function as the book storage I had envisioned. Don't be afraid to make a piece of furniture work for your specific needs!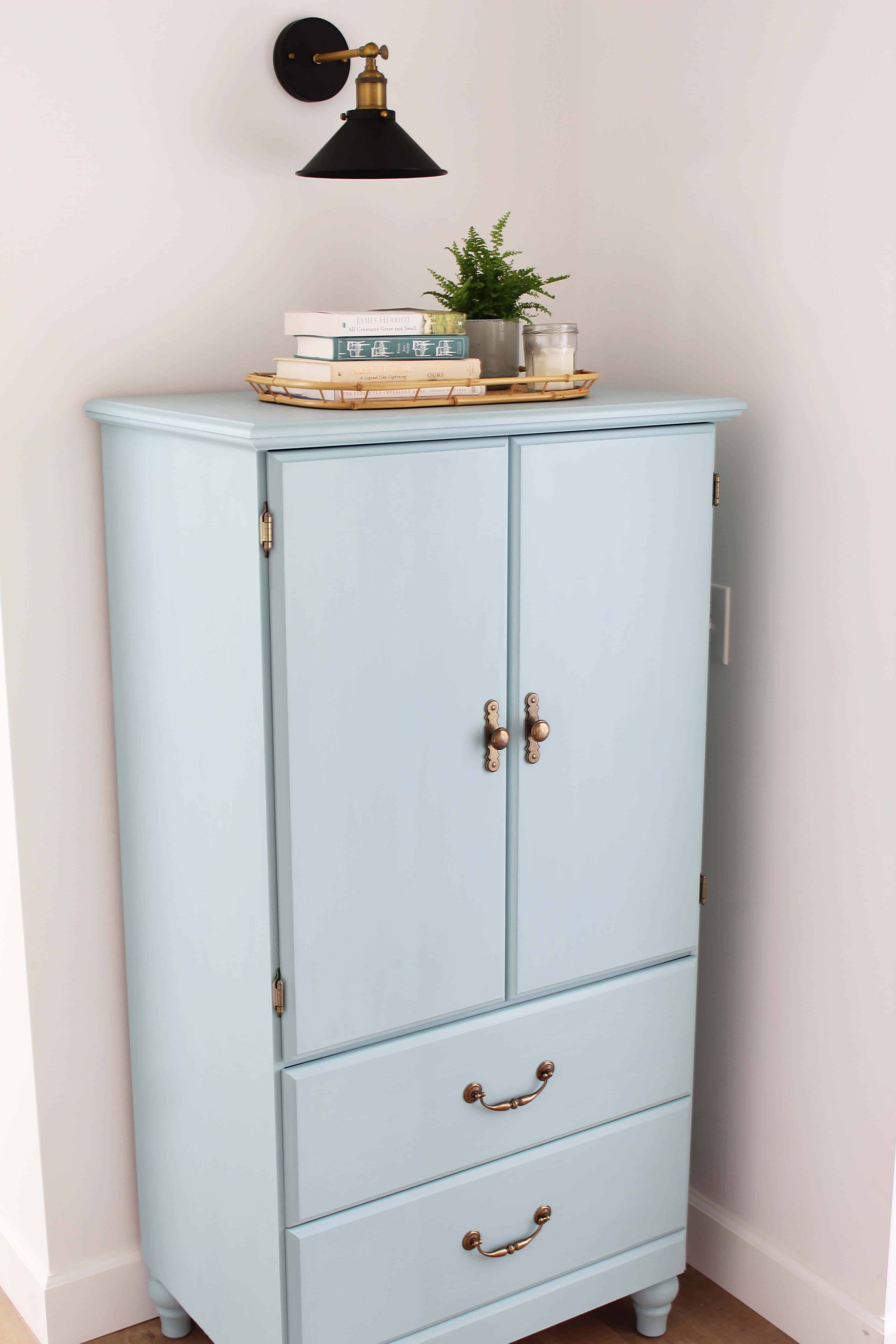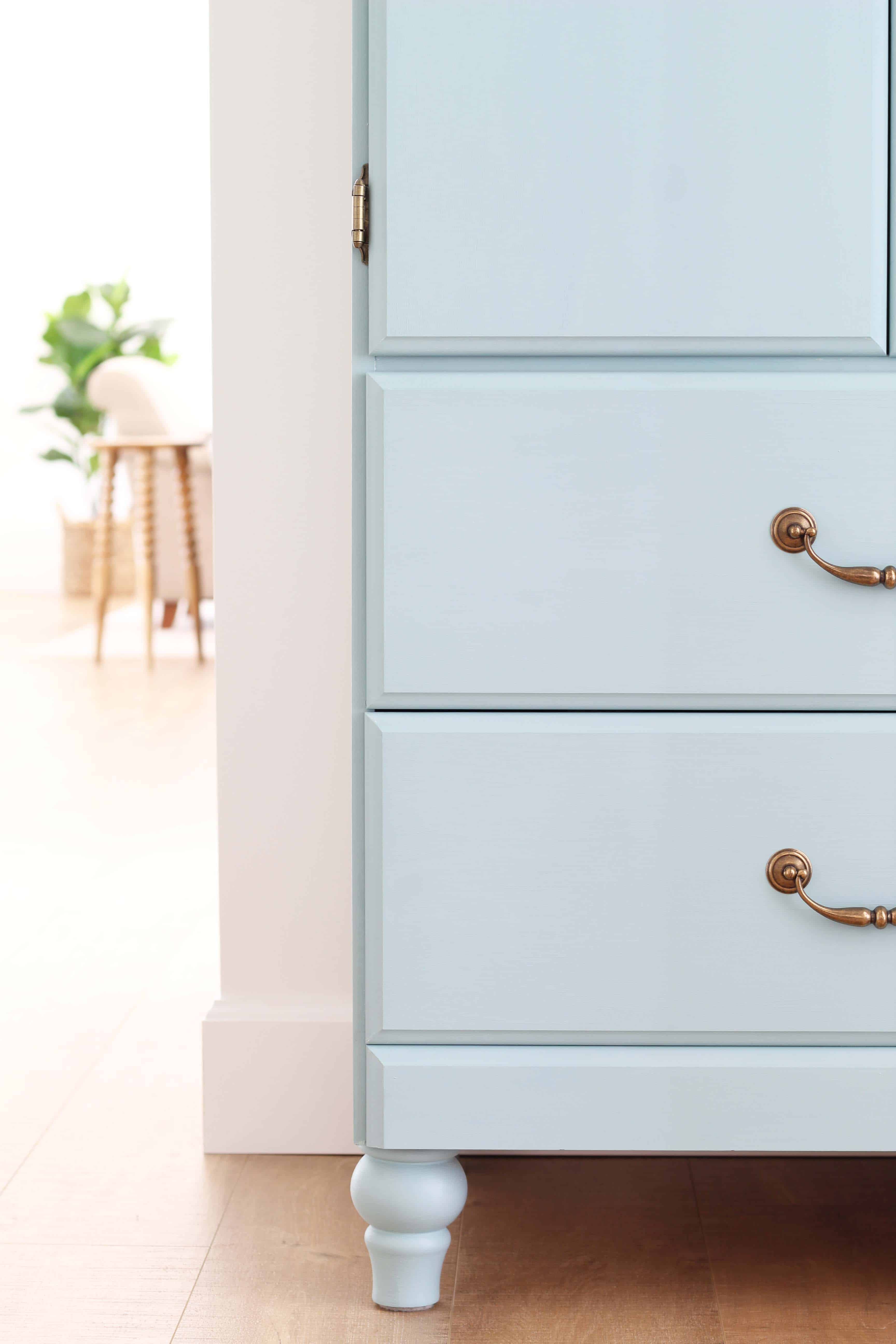 Lastly, remember that the whole goal of making over furniture is to make it look better than what you started with. When you think about it like that, it takes most of the stress out of a project. After all, making something that serves a purpose and looks good in you home should be fun!
Post Sources
Kilz Chalk Paint (Blue Juniper) // Chalk Paint Brush // Wax Furniture Sealer (clear) // Drop Cloth // Wood Furniture Feet // Black Wall Sconce
This post contains some affiliate links for your convenience. Click here to read my full disclosure policy.
Want to save this post? Pin it here!