Take a tour of this baby girl's nursery for tips, tricks, and ideas for planning a small nursery space!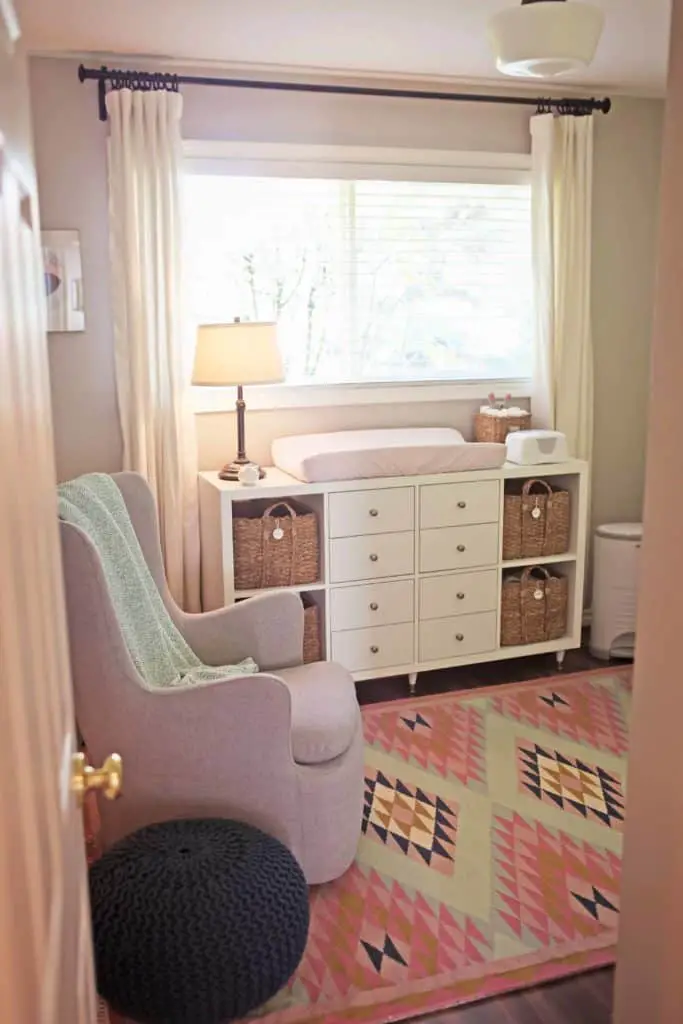 When I was pregnant, nothing helped me feel more in control of the major change that was coming in my life than being prepared and organized. Many would call this nesting, for me it's how I've always dealt with stress. I know I can't control everything life throws at me, but what I can do is be prepared for the things I know are coming; having a baby definitely fell into this category.
So where did I focus this overzealous need to be prepared? Into the nursery. Sure, I read baby books, took all the recommended maternity classes, and meticulously wrote out a birth plan (which was almost immediately irrelevant once it came to the actual birth), but the nursery was the one tangible place I could plan away to my little OCD heart's content.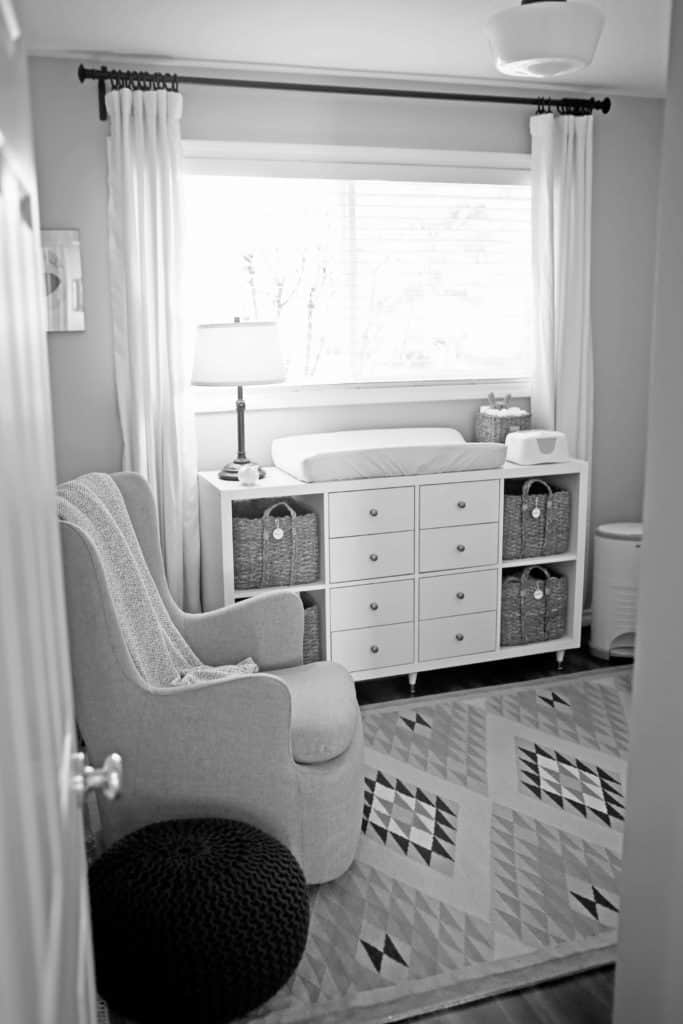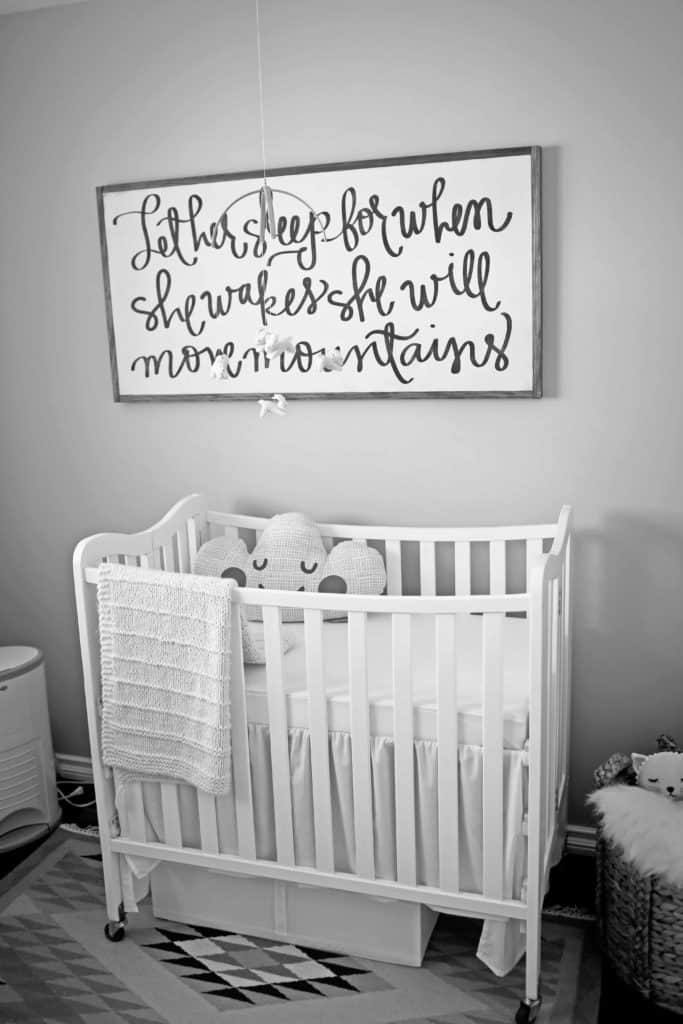 A Small Nursery Space
We live in a ranch style house, and the actual nursery room is quite small (8 ft x 9 ft). So there was only room for the basics – a crib, changing table, and glider. The good news is that decorating small spaces can be so satisfying, it's like putting a puzzle together trying to marry form and function in such a small space.
The biggest challenge was actually the crib, the room wasn't big enough for a standard size crib, so we ended up solving that problem with a mini crib from Amazon. Mini cribs are about half the size of a normal crib, which really helps when you're strapped for space!
The bookshelves are actually spice racks from Ikea painted white. Going up vertically with the book storage freed up floor space and allows the books to double as art.
The changing table is the Ikea Kallex with legs from Home Depot added to it (since a regular depth dresser wouldn't fit).
The glider is from West Elm (definitely wait for one of their 20% off furniture sales!), and the LuLu & Georgia Elodie rug added the perfect pop of color to the otherwise neutral palette.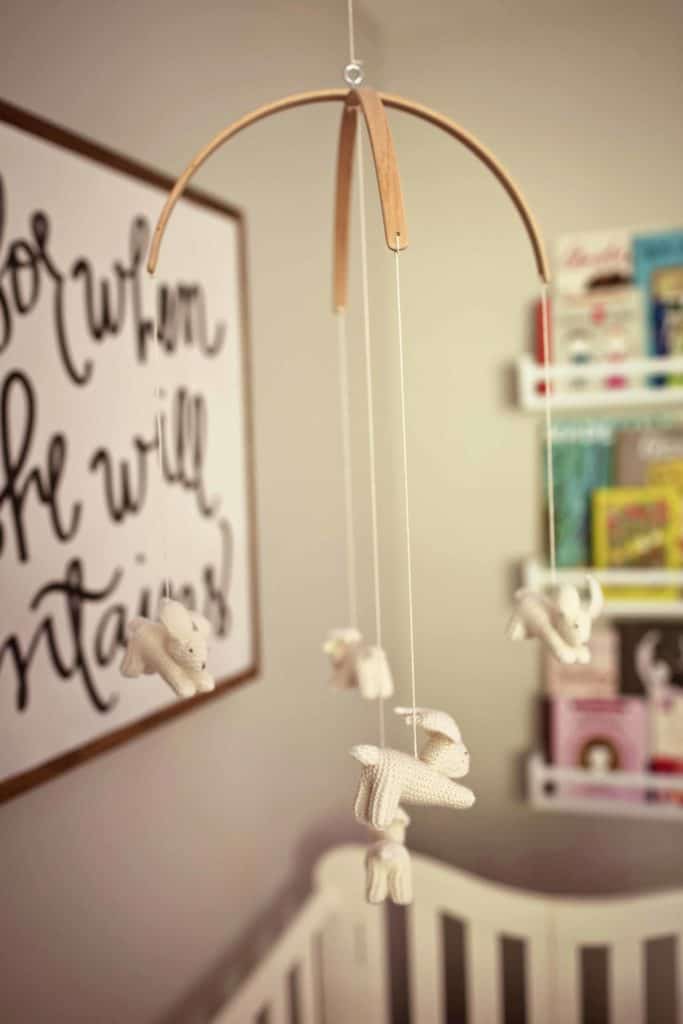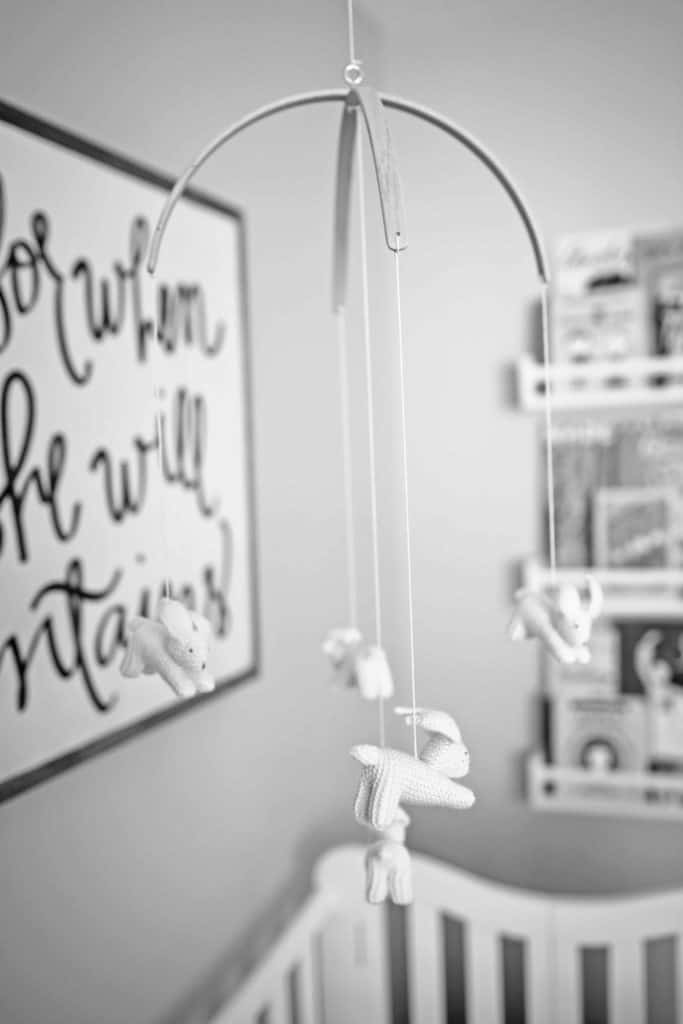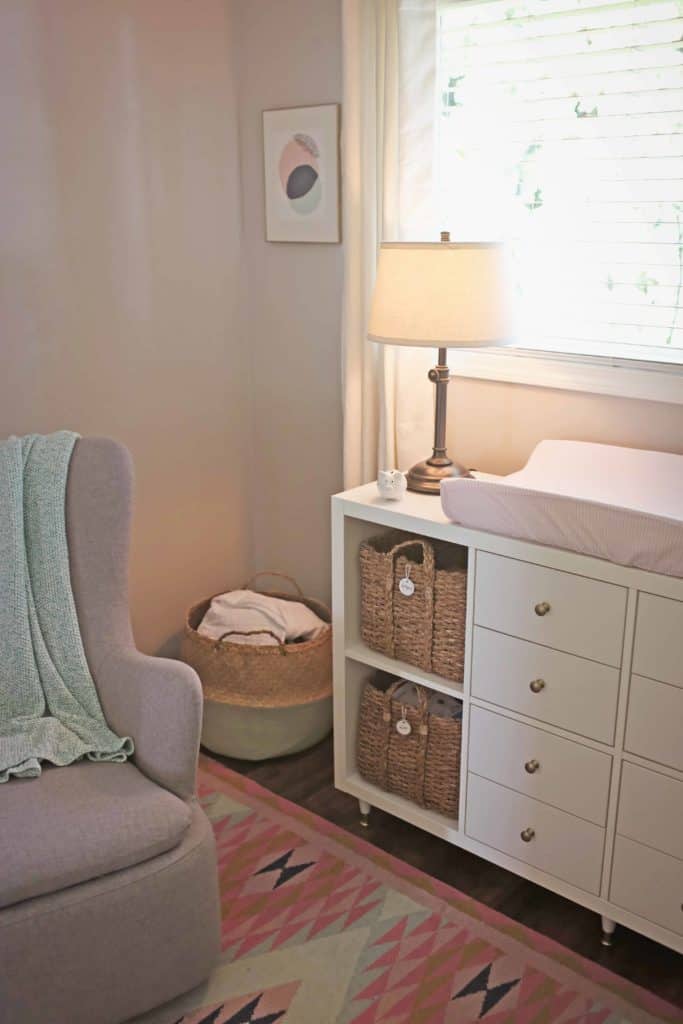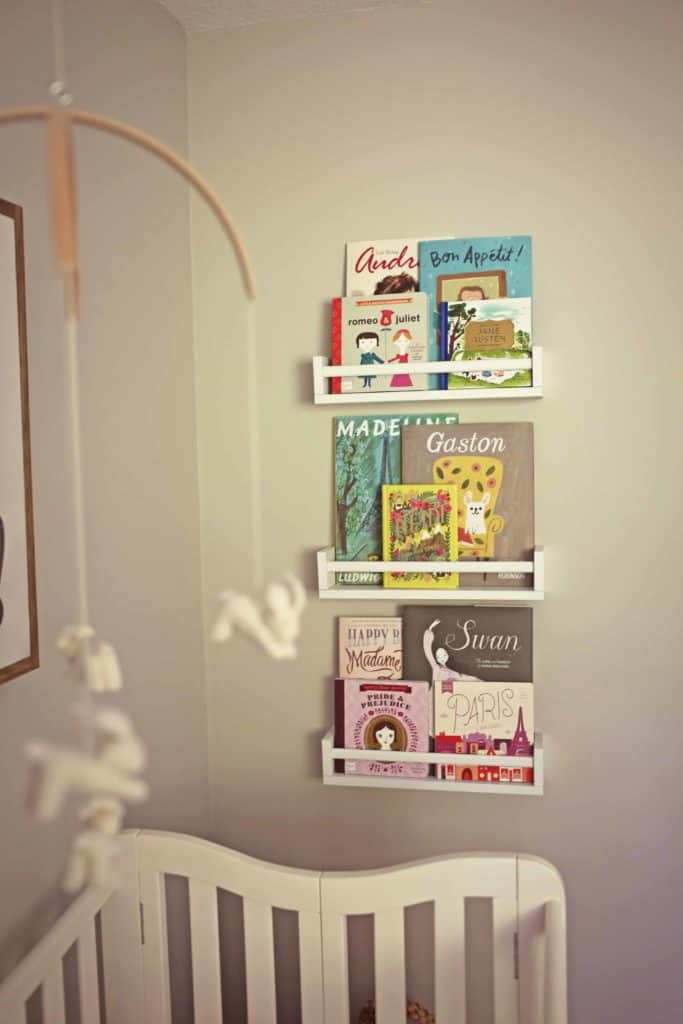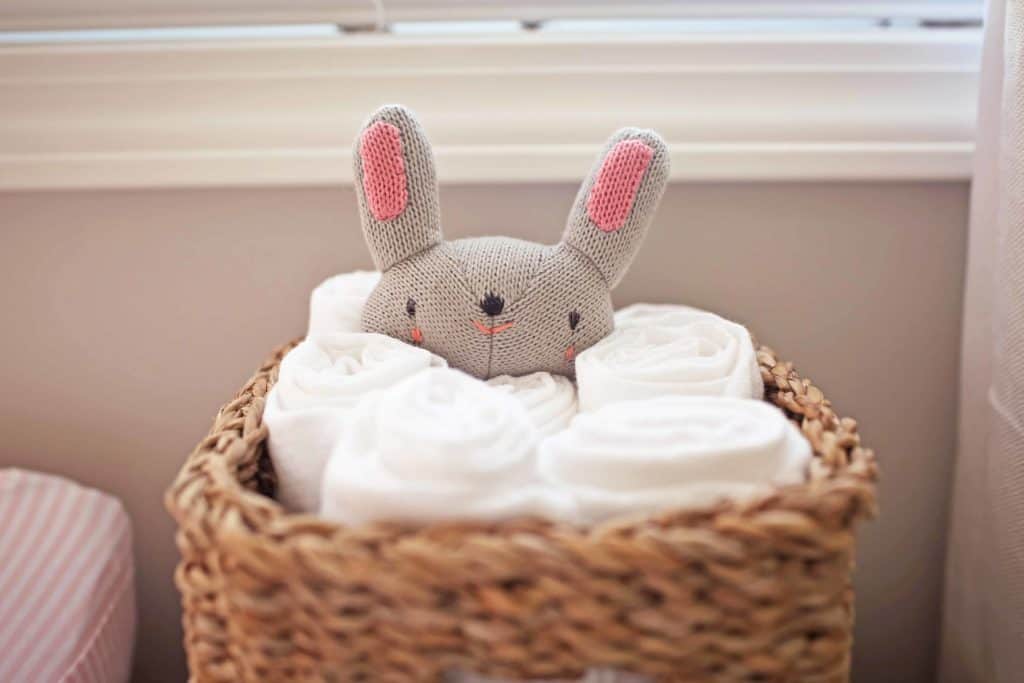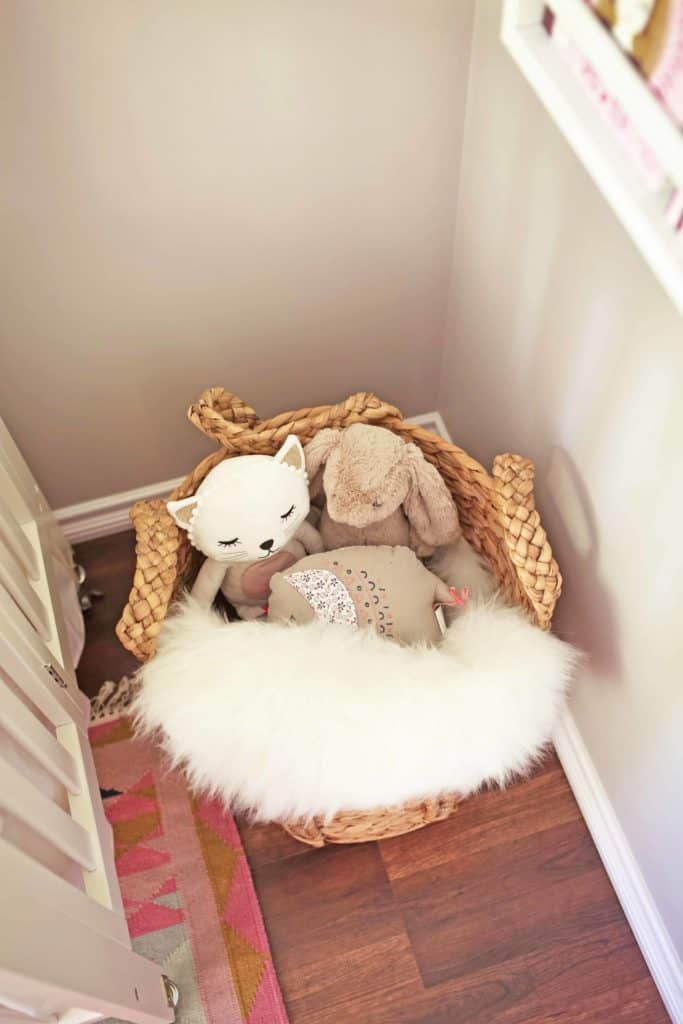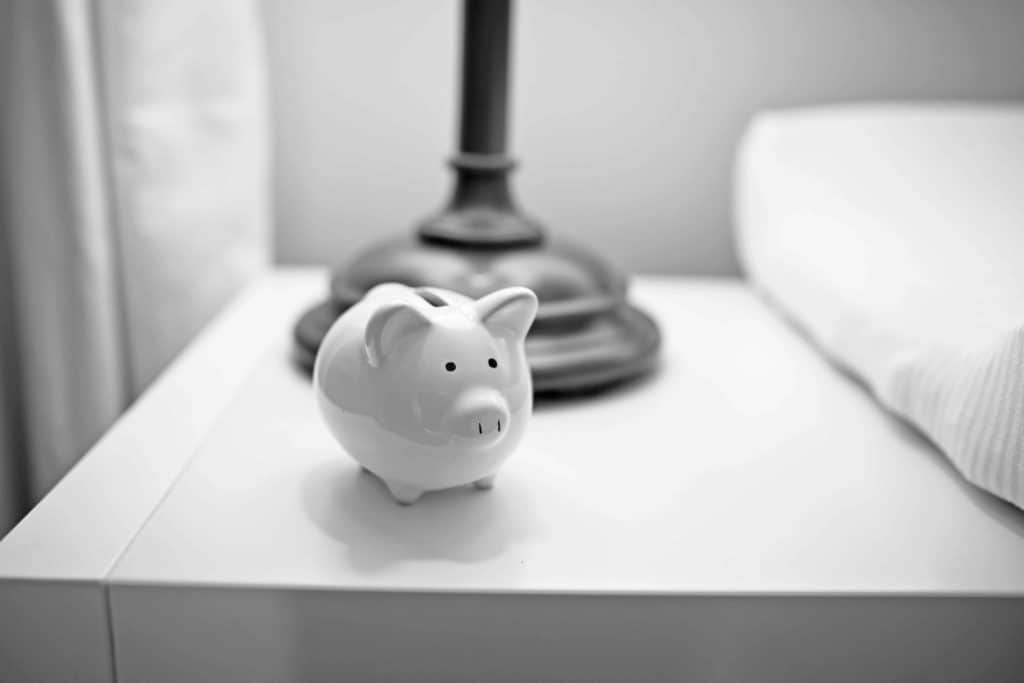 We've been using this nursery for well over a year now, and I have to say, all the planning was worth it. I haven't really had to make any major changes to make it function better (although I have added some navy pom pom trim to those curtains since these pictures were taken).
It's small but mighty and definitely one of the hardest working rooms in our home!
If you want to see more details about how I organized this small space, check out the How to Organize a Small Nursery  post.
Photography by Elle Images
Post Sources
[slide-anything id='214′]
Want to save this post? Pin it here!