Don't have a dedicated homeschool room? Need ideas for how to organize all that stuff? Take a peak below for some homeschool cabinet organization ideas!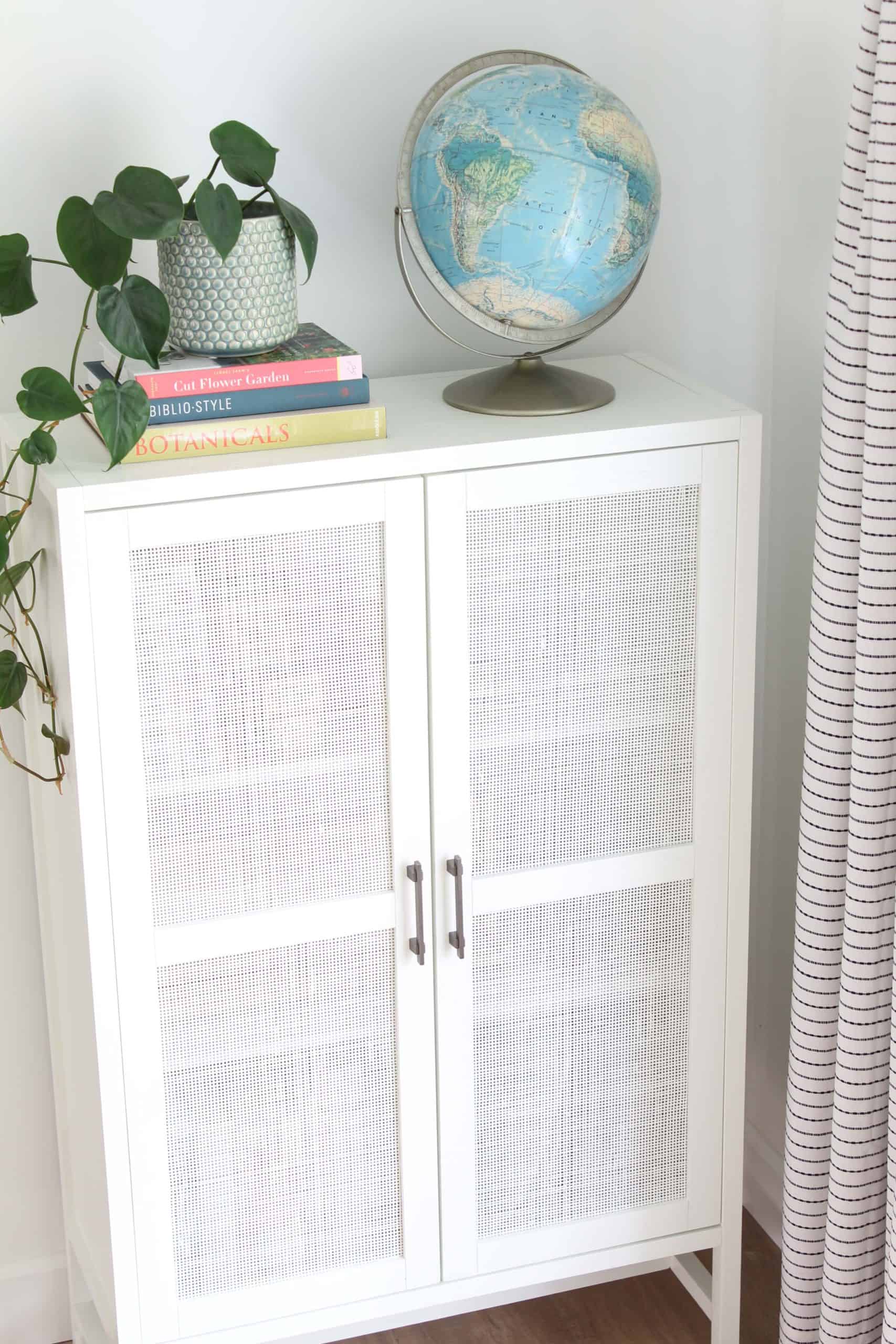 This year marks the beginning of our homeschooling journey as a family. Our oldest daughter is starting school this year, so this is my first foray into the homeschool realm. 
That being said, I am not a veteran homeschooling mom, so take my ideas with a grain of salt ;). I'm sure I'll be tweaking things and trying new ideas out as we progress. I hope this post is helpful in someway whether you're doing traditional homeschool for the long term, or just for the foreseeable future!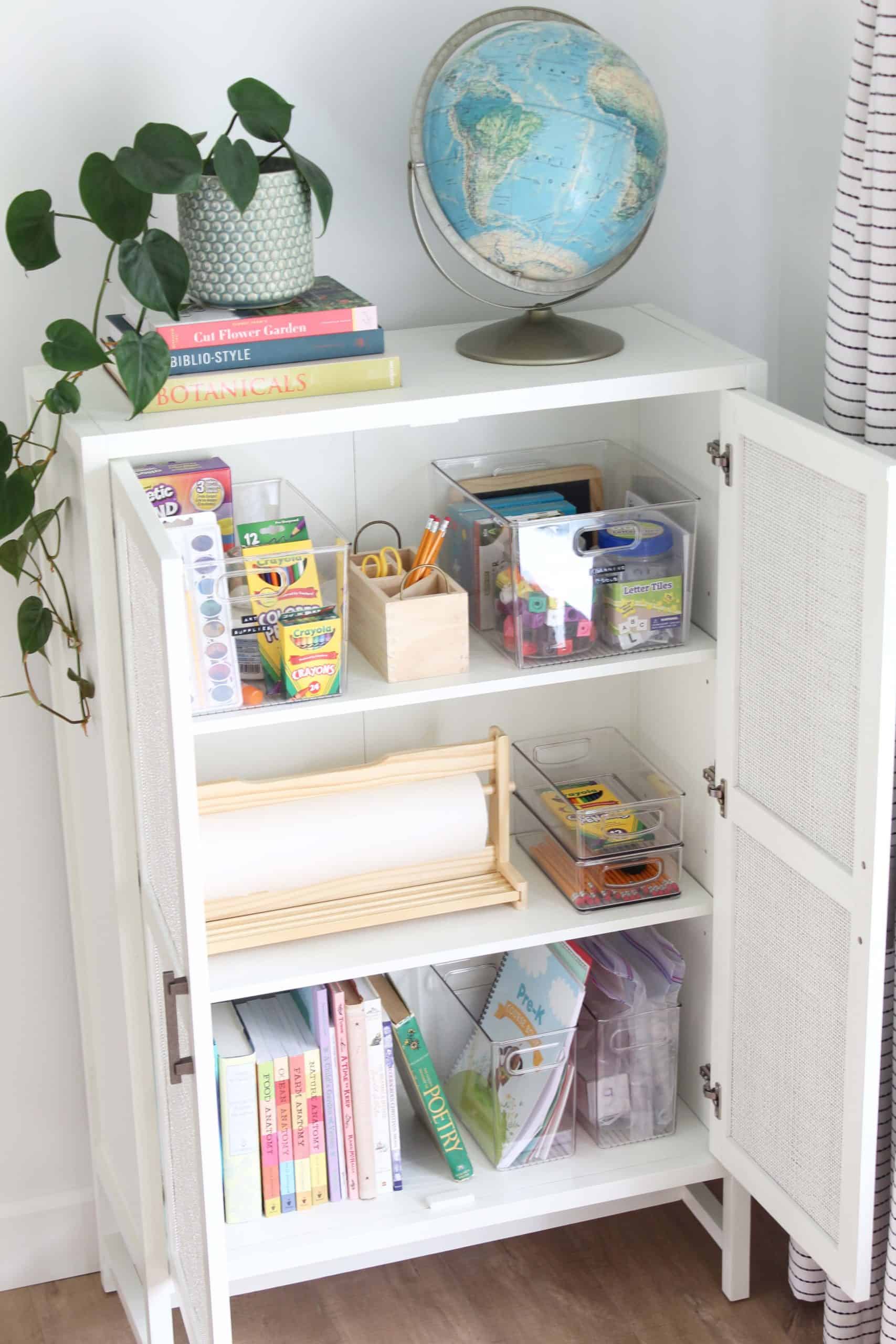 Homeschool Cabinet Organization Ideas
I'll start with the cabinet itself. My initial idea was to try and find a second hand cabinet I could makeover the way I did with our library cabinet . Then quarantine happened and everything shutdown, including our local thrift store. And any donations they get. After a few months of trying to find something used for this very specific space with very specific dimensions (this is located in the corner of our dining room), I started looking for an affordable cabinet I could order online.
It was surprisingly hard to find a smallish cabinet that had a narrow profile and was still able to hold all the things. Which this cabinet will definitely need to do since we don't have a dedicated homeschool room and will be doing our homeschooling at the dining room table.  I ended up ordering this cabinet because it had the perfect dimensions for our space and also fit in with the rest of our dining room/great room decor.  
Post Sources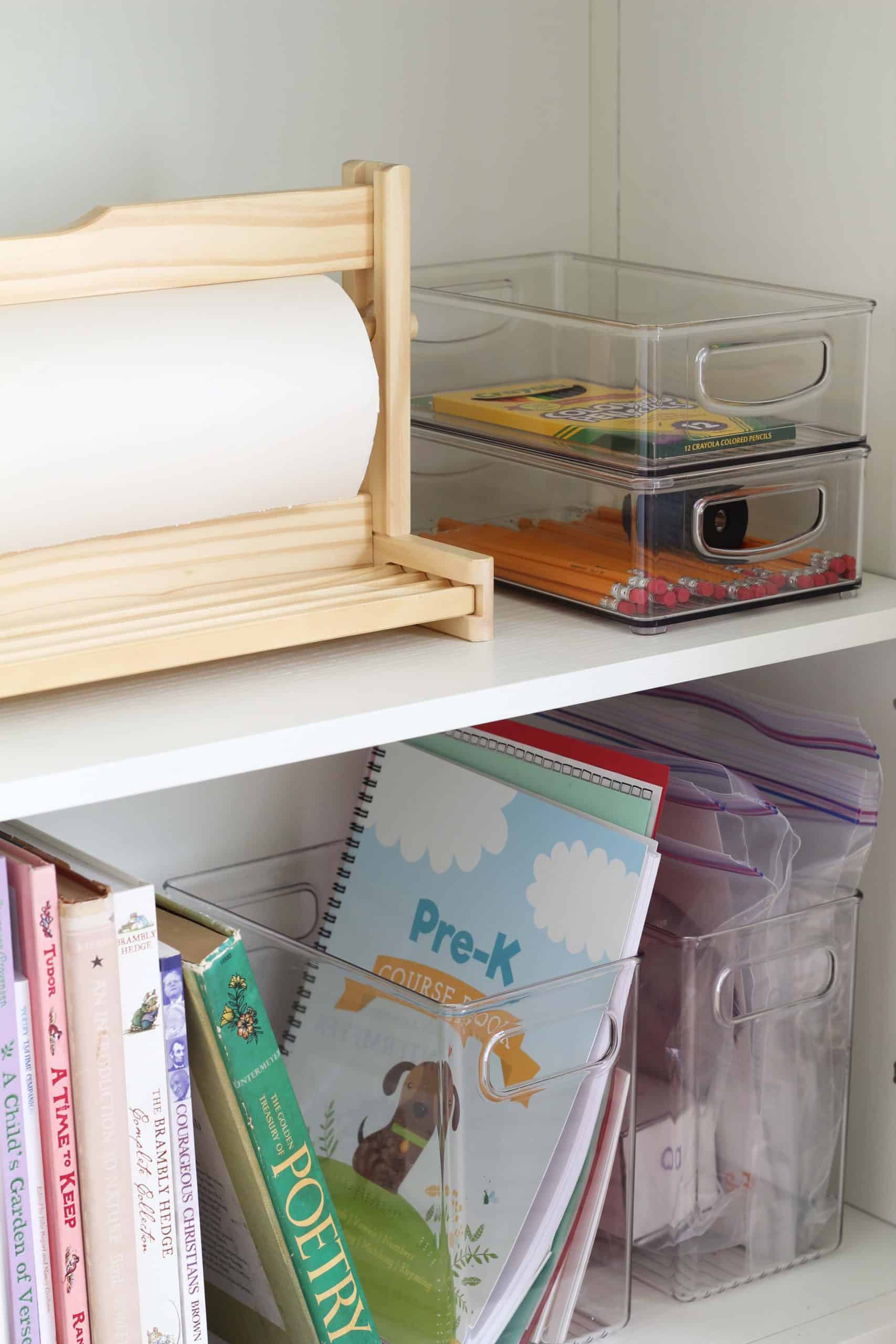 Organization By Shelf
Ok, so onto the actual organization. There are three shelves in this cabinet so it was natural to break them into their own zones for the different purposes they will serve. 
Art supplies & Learning tools
Art paper & School supplies
Books & Course materials
The top shelf was a logical place to put art supplies and learning tools because I'm *trying* to keep the art supplies as out of reach of little hands as possible. We'll see how that goes. I used clear bins to separate the art supples and the learning supplies. And because I love a good old school label, added a couple of those for good measure.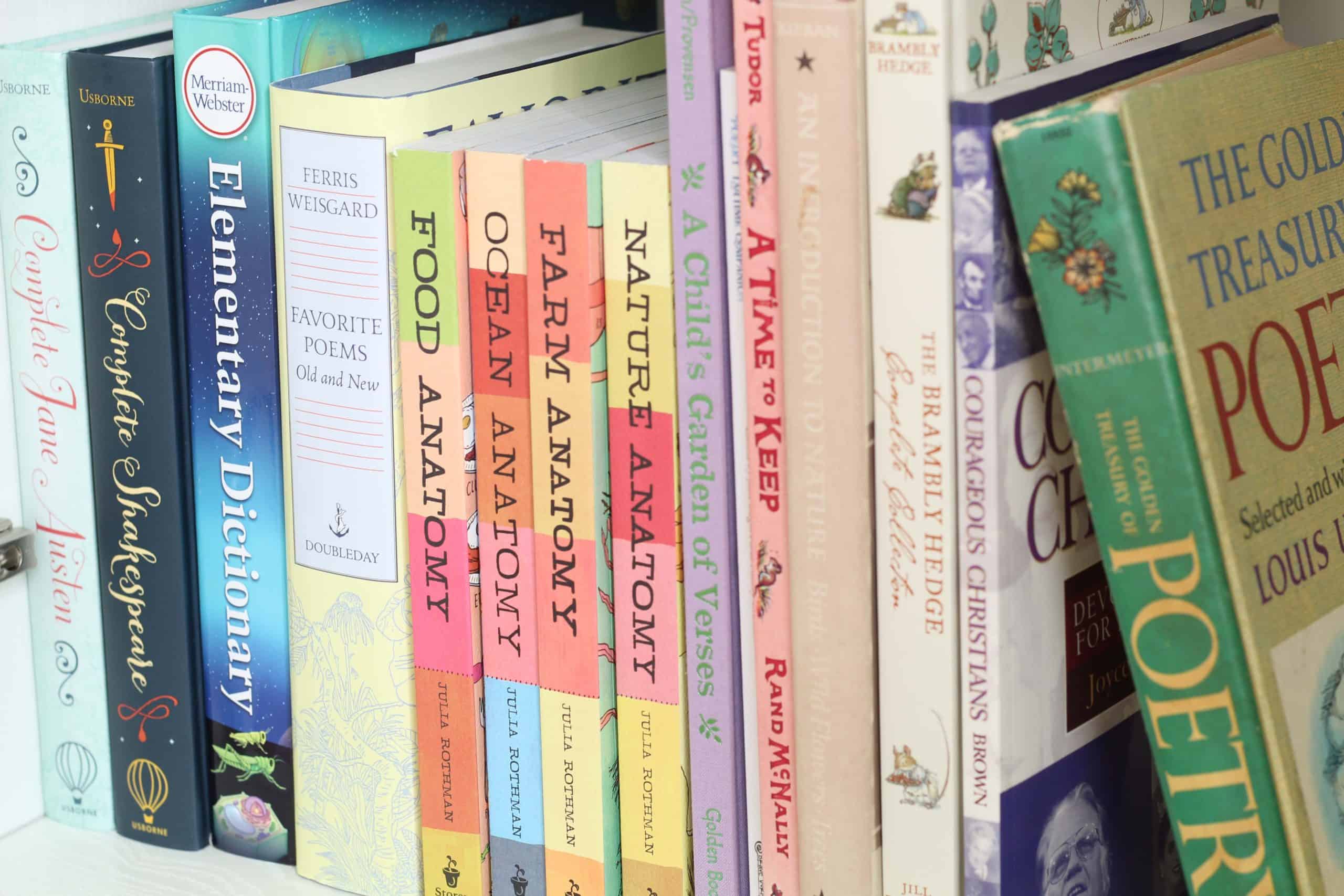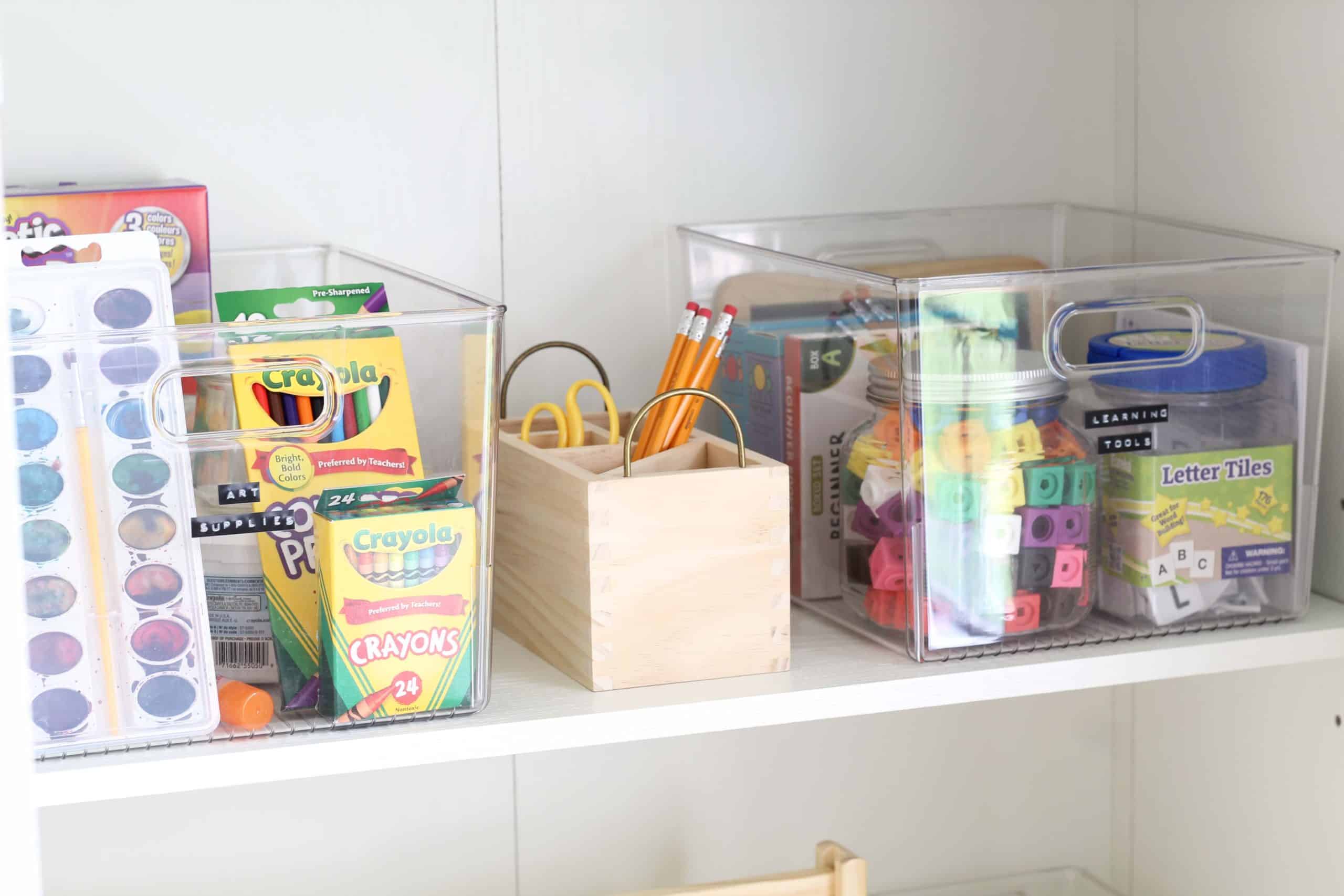 I'm using a wooden butcher paper dispenser I bought years ago at Ikea, but if you don't have access to an Ikea there are a bunch of different versions available online. 
The two clear bins next to the paper have actually been changed already since I took these pictures (see what I mean about tweaking?) and you can see what I replaced them with below. I ended up using a couple of widemouth ball jars to hold pencils, erasers, and pencil sharpeners and corralled them all with a small milk crate. It made everything easier to get to. Side note – these small milk crates are so affordable and handy for organizing just about anything around your house, I love them. 
I also added some gold library style bookends to keep the books from crashing down every time we pulled one out to use. 
Course materials and books are stored on the bottom shelf in these upright magazine bins.  They're easy for kids to grab themselves and separate course materials by child if you need to. 
Post Sources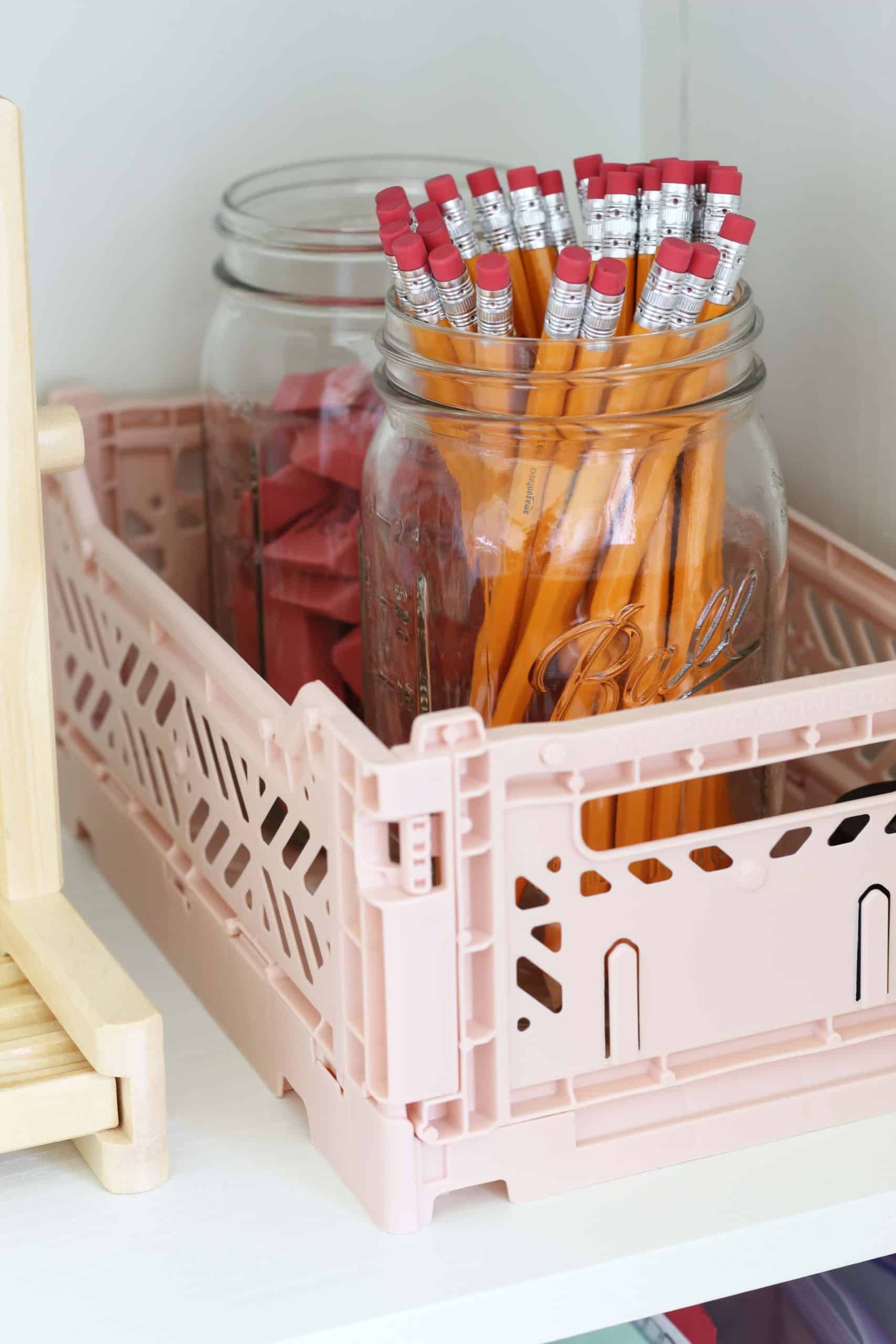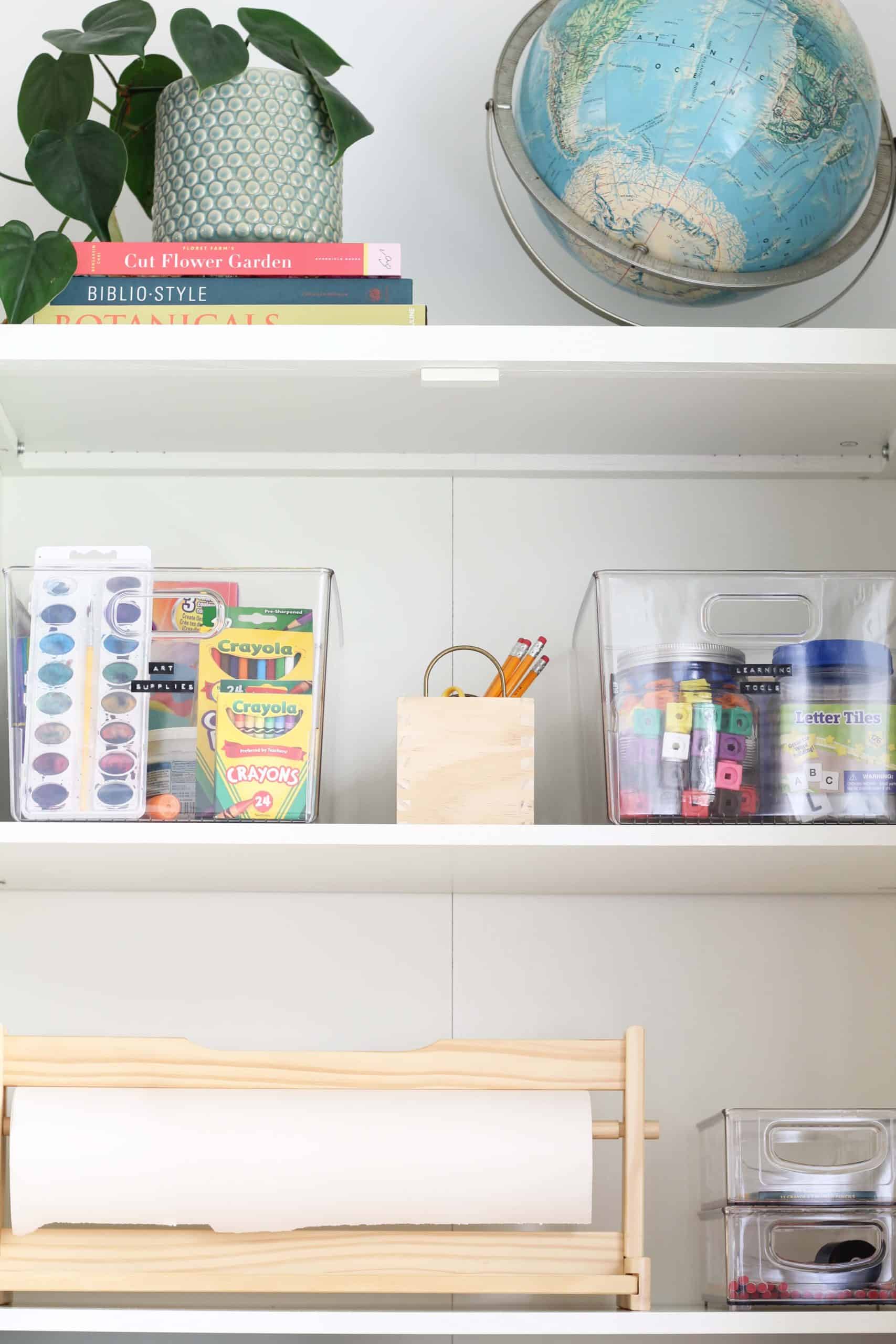 Using Bonus Space
One of the best parts about a cabinet this height is the bonus space it affords us on top. Since it's only 52″ tall, we can easily put our globe on top as well as some books and a plant. 
What I love most about how this project turned out (besides the much needed storage space) is how well it fits in with our existing decor. I honestly think it would look great just about anywhere you need extra storage, an office, dining room, bedroom, etc. The size is unobtrusive and perfect for a small corner, and the rattan paneled cabinet doors keep it from looking like a utility cabinet was plopped down in our dining room. I'm chalking it up as a win all around!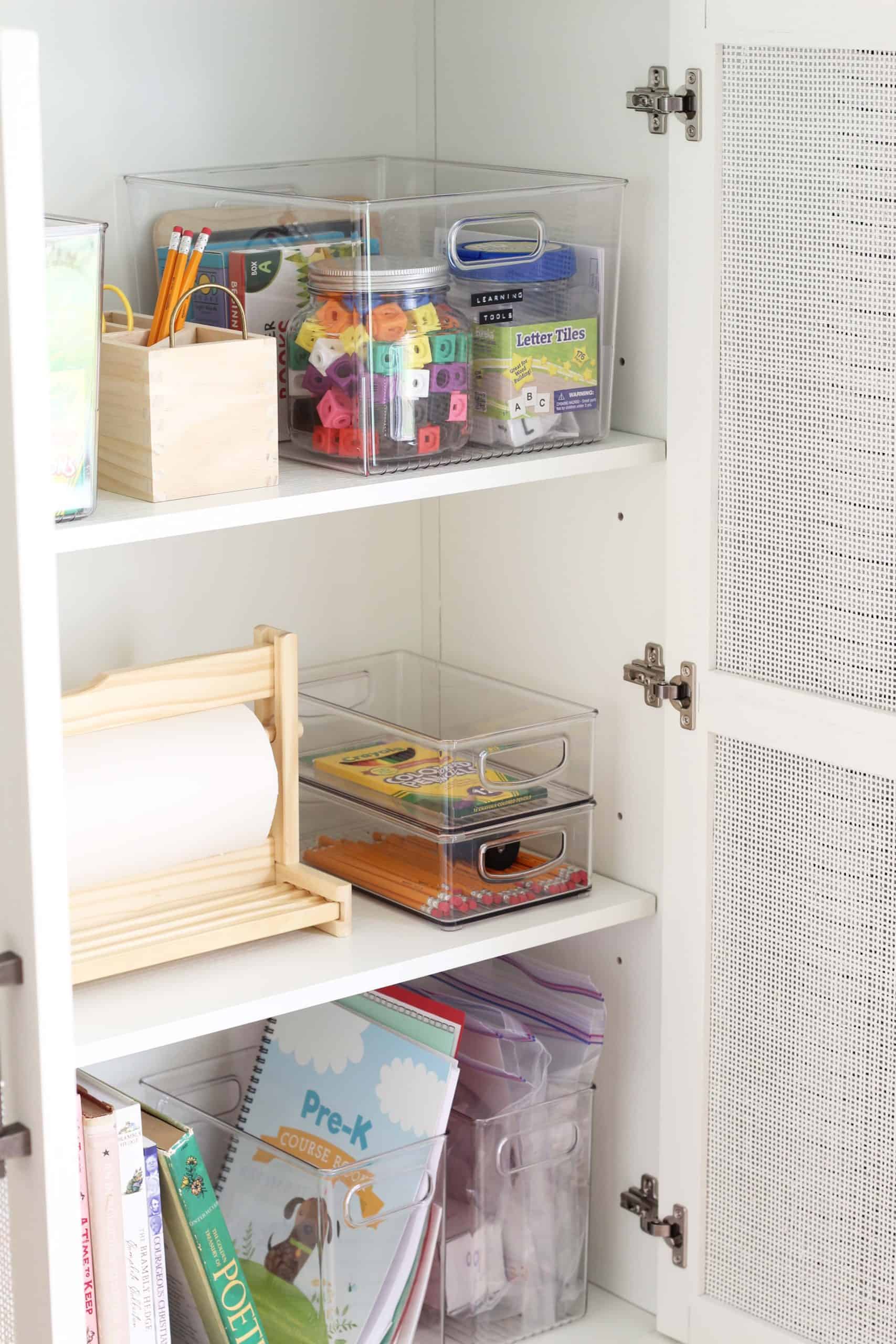 If you have homeschooled and have any more ideas to throw my way, I'm all ears! Thanks for stopping by! 
Post Sources

This post contains some affiliate links for your convenience. Click here to read my full disclosure policy.
Want to save this post? Pin it here!