This is an honest (unpaid) review of our Crate and Barrel Lounge II sofa.  After all, buying a sofa is a big investment!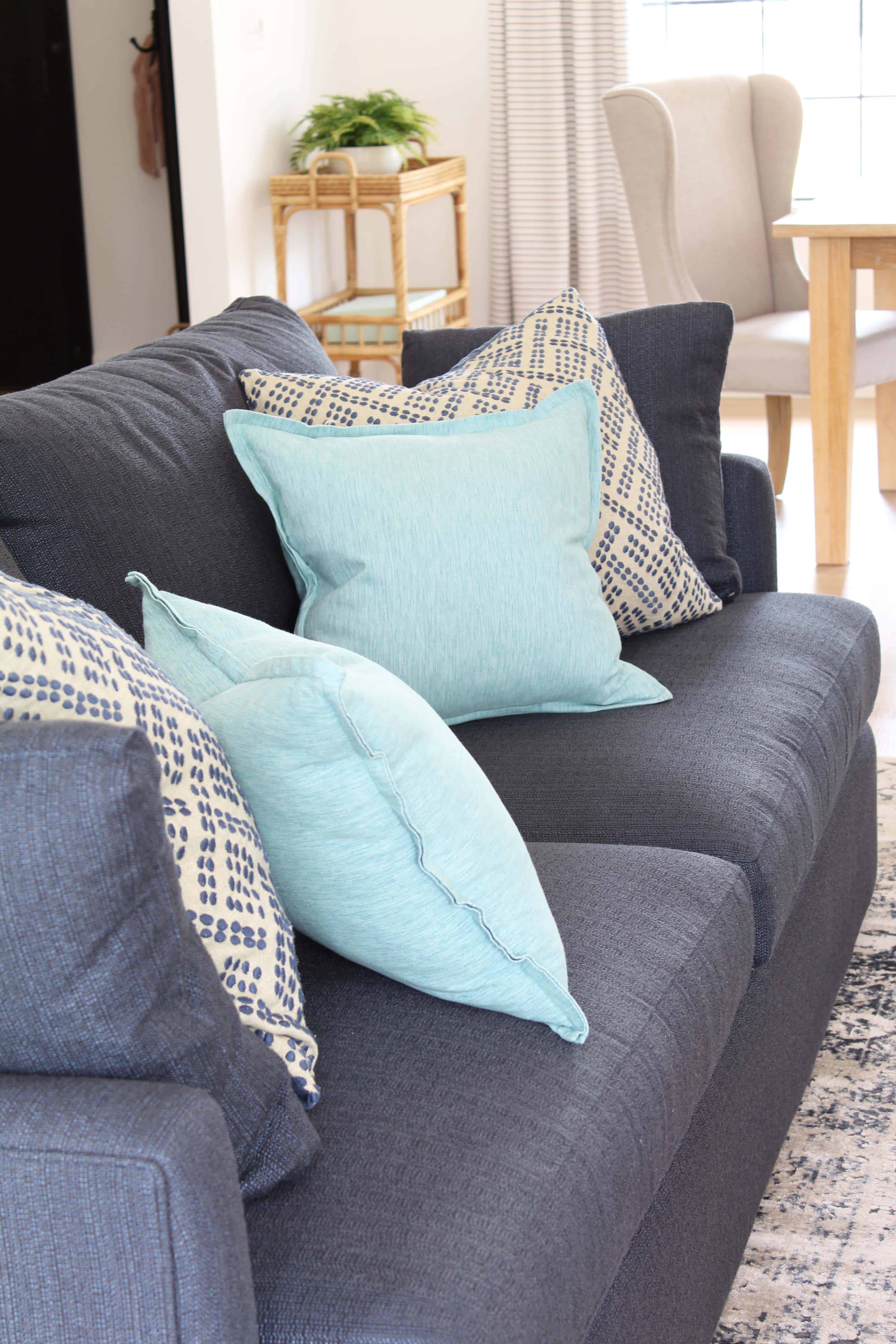 Let me start by saying that this post is not sponsored in way, just an honest review of the Crate and Barrel Lounge II sofa we bought!
While we were in the throes of selling our previous house and buying our current one, one of the things that became clear to me was the fact that we would probably need a new sofa. I'll preface this by saying that this was more of a design/function want, not a true need. We would have survived with our old sofa just fine for a while, but it would have been a behemoth to move and I knew the market to sell it used was way better in a major city than it would be in the small town we were moving to.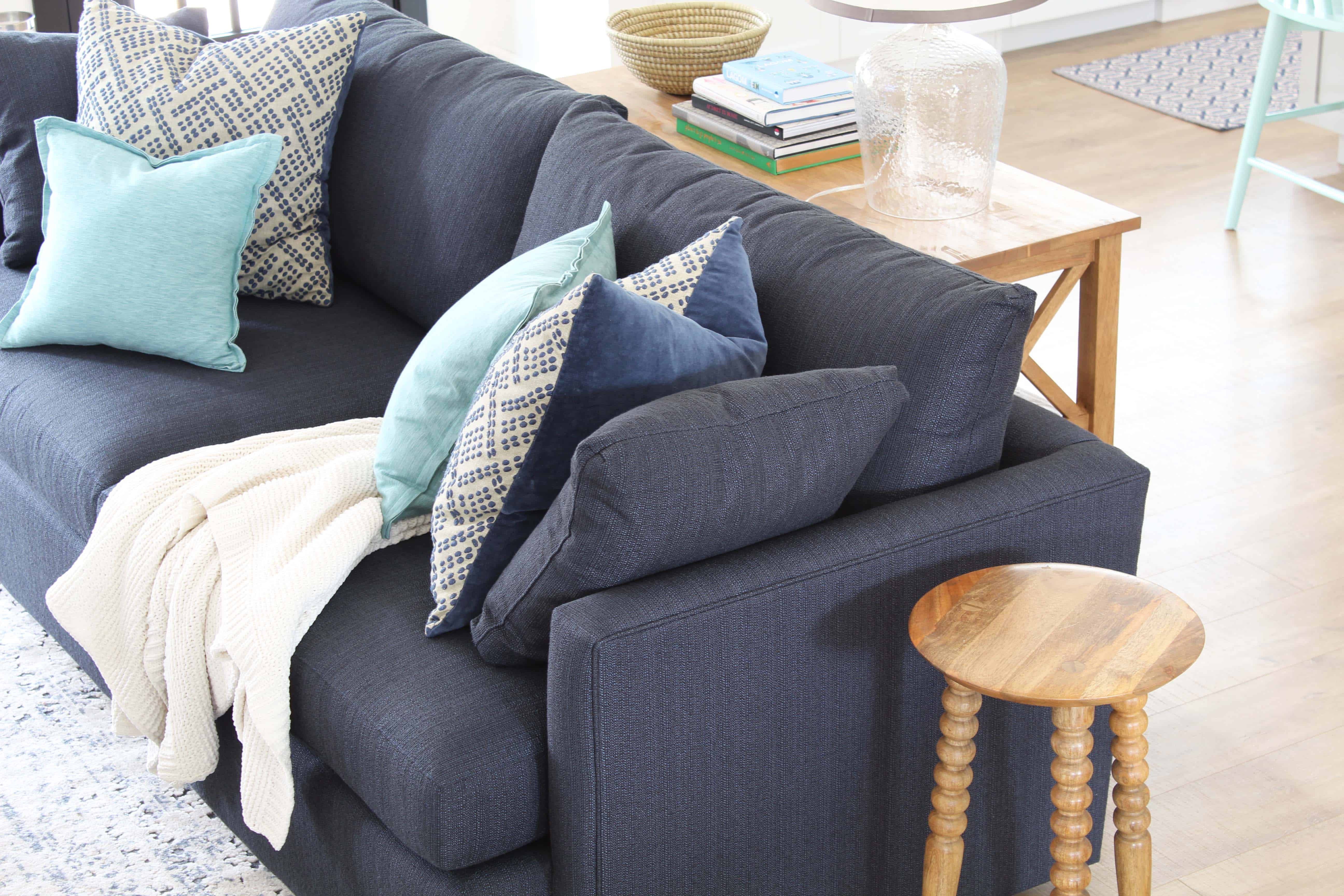 Sectional Vs. Sofa
When we bought our current home we went from having two separate living areas in our old home, to having on large multi-use great room. While I loved our white slipcovered Pottery Barn sectional, I knew it wasn't ideal for our new house for a couple of reasons. One, it was a sectional and our new, open great room didn't really accommodate a sectional. It would end up cutting off access to doorways as well as the general walking pattern through the room. It was also white, which was great in our other house, but I was afraid with predominately white walls in this home it would just be too much white.
So in the interest of getting all the money out of it I could, I sold it on craigslist before we moved (you can see it in our old living room here). On a side note, I sold it to a lovely lady with four boys and a fifth on the way, and I am still in awe of both her energy level and the fact she was buying a white sofa.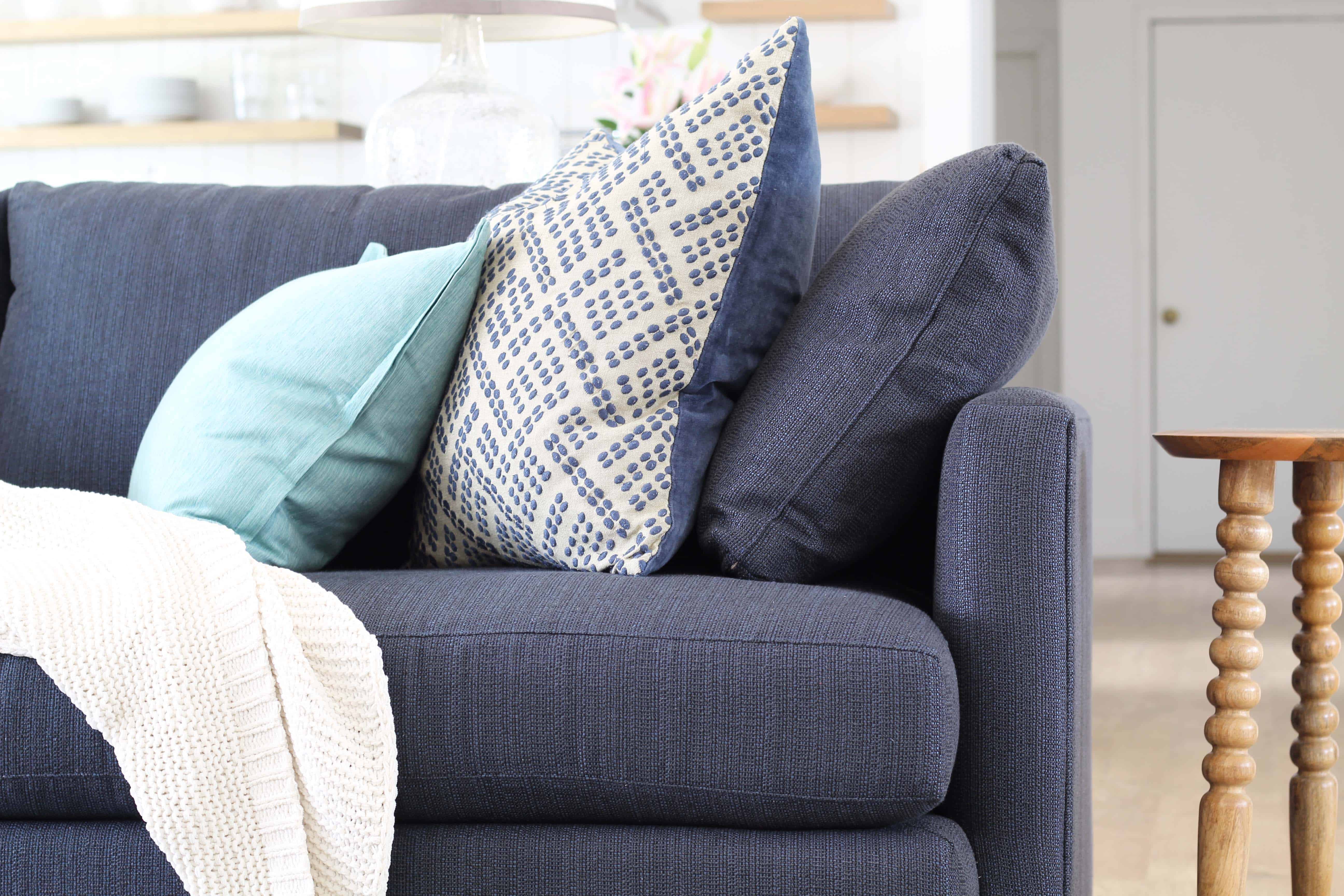 Do Your Research
Since a sofa is almost always a major purchase for the home (and was for us!) I did a ridiculous amount of sofa research before we bought anything. One of the major ways I do my research is through online reviews. Reviews from real people who have spent their money on an item are always a great way to get the scoop on something before you buy it. I will say though, one of things that always bothers me with most reviews is that people write them right after receiving an item. This isn't the most helpful with something like a sofa, after all, you want to know how it wears! So hopefully this review helps you if you're in that same boat!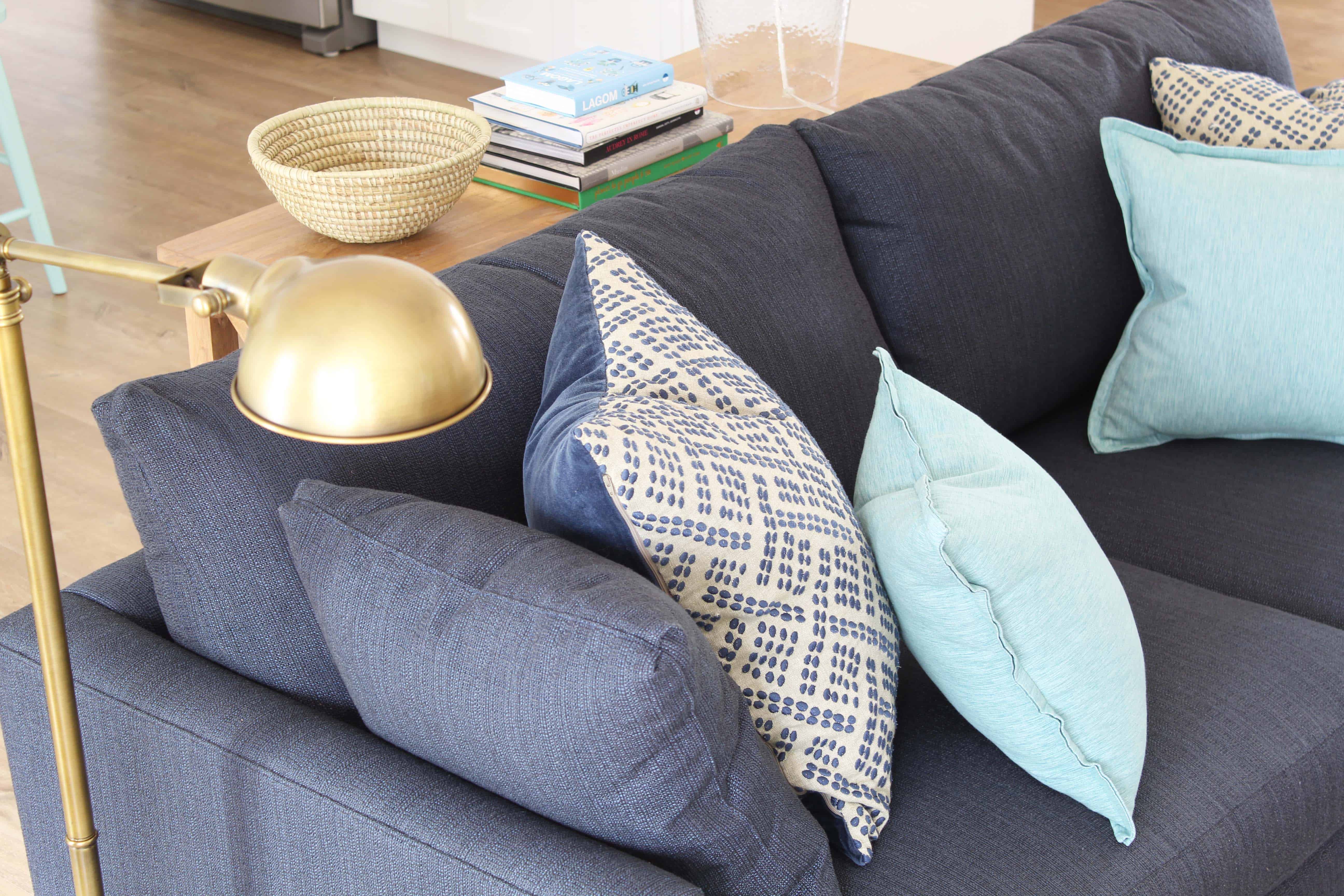 Crate and Barrel Lounge II Sofa
We have been using our Crate and Barrel Lounge II sofa for 9 months now. There are a few different sizes and configurations for this sofa, so make sure you check all of them out to see what works best for your home! We ended up getting the 93″ Lounge II Petite Sofa,  partly because it fit our space the best and partly because we didn't like how deep the regular model of the Lounge II was. The size and depth is very generous on this sofa, so the petite version is still on the deep side (41 inches) when compared to other traditional sofa depths.
Here are the criteria I set for the new sofa before I started searching:
Needed to come is customizable colors and fabrics
Have different size options
Have basic, clean lines
Be comfortable (ha!)
The Lounge II ticked all of these boxes! In most of the reviews I read, people had bought either the cement color, or the steel color. Both are great neutrals and come stock, so they don't have to be special ordered. We wanted a sofa with some color, preferably darker for wear with kids and to help bring some contrast to our living space. We ended up getting our sofa in the fargo midnight color, which is pretty much an inky navy blue color. This was a special order color, so it was non-returnable which is always a little nerve racking!
Order Fabric Samples
We were fortunate to have a Crate and Barrel store in the Portland area, so I was able to go to their showroom and see fabric samples in person as well as take some home. I highly recommend ordering fabric samples from their website before you buy anything. It will give you a chance to see how the fabric looks in your home with natural light.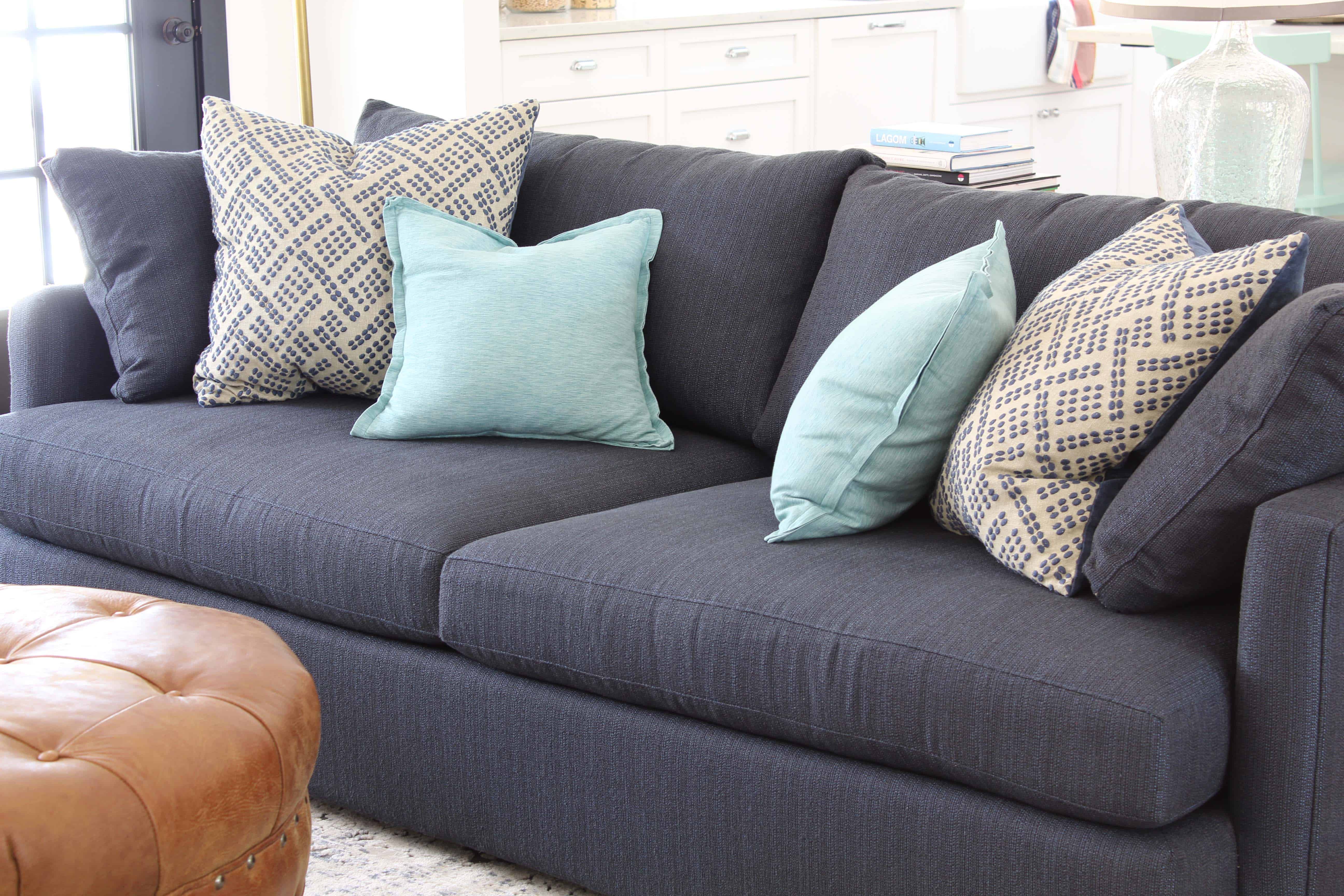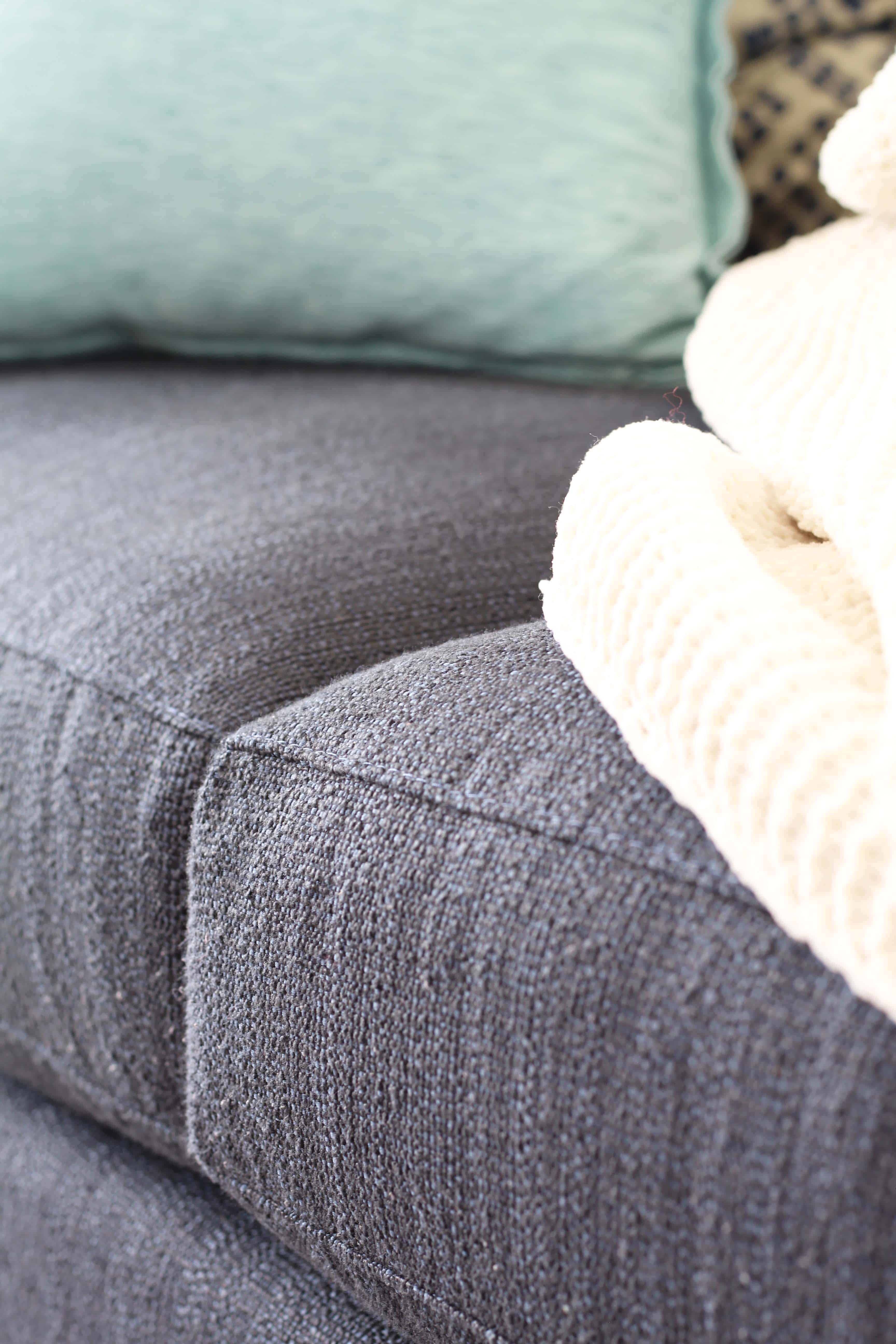 Positives & Negatives
Let's start with the positives:
We love the size, it was great to have the option to order a 93″ sofa (versus 83″ which is also available)
I love the cushions. Both the seat and back cushions are down blend which makes them really soft! Plus they are easy to take off and fluff up after a week of leaning against them. They also have removable zippered covers.
The design is great. This sofa has a modern, simple design, but one that feels classic so you don't have to worry about it going out of style anytime soon.
It comes with it's own set of matching throw pillows, which is kind of a nice touch.
Negatives:
It may be that I'm comparing this sofa to our last Pottery Barn comfort sofa, but the back seems a little short. I'm 5'3 and my husband is 5'9, so we aren't overly tall people. It is marketed as a "lounge" sofa, so maybe it's meant to be slouched in? Whatever the reason, I wouldn't consider this sofa if you need a lot of head and neck support when you're sitting up straight.
There is some pilling. This was probably one of the main complaints I saw in the reviews on the website for this sofa. I think a lot of sofas have this issue and it really depends on the type of fabric that's used. The main stock fabric for this sofa (which we ordered, just in a different color) does pill. I've really only noticed it on the front side of the seat cushions. I tried to get a view of it in the picture above. I use a sweater shaver  to get rid of the pills. Again, not something that bugs me a lot right now, but I do worry about how that fabric is going to look 5 years from now.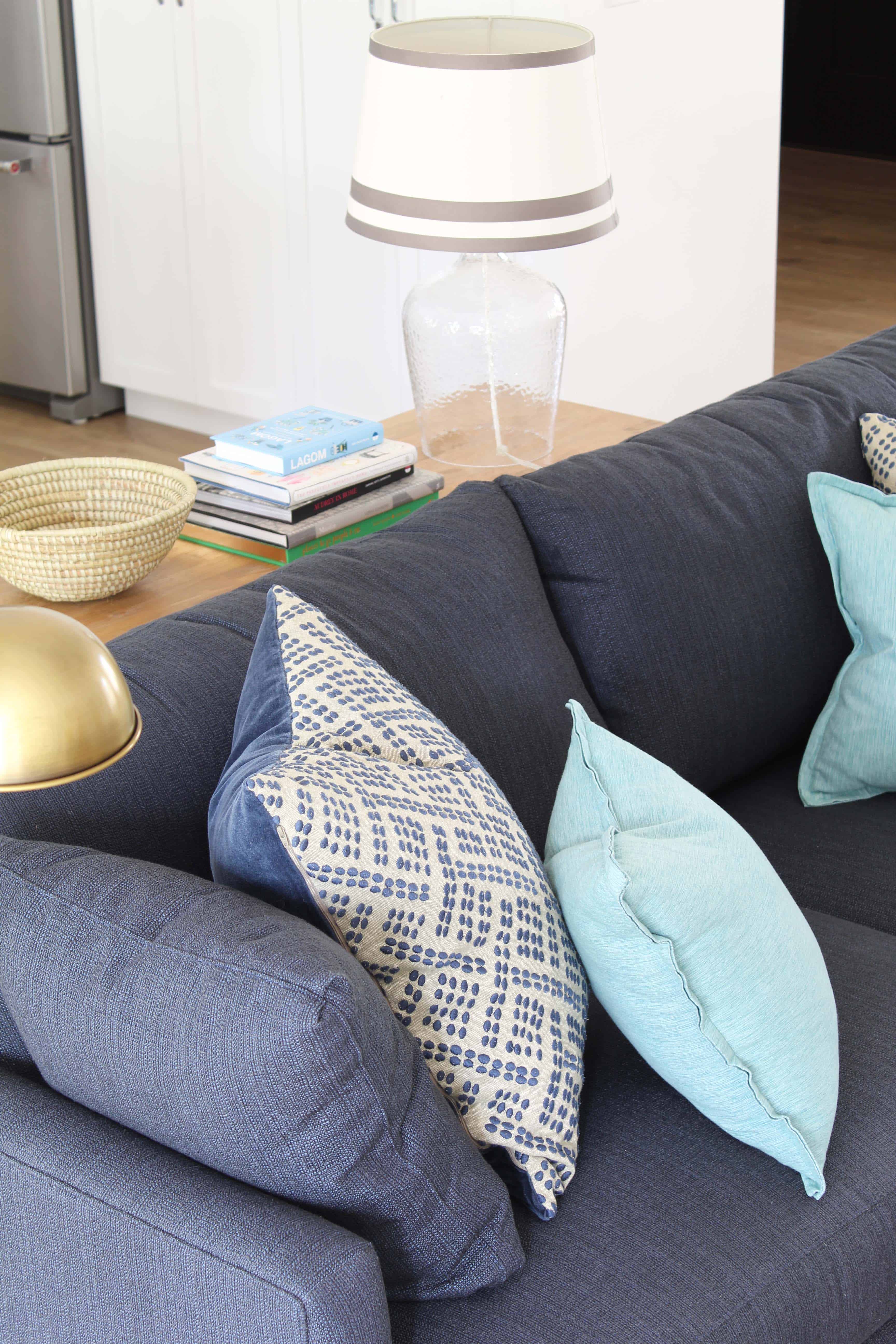 Would We Buy It Again?
Overall, we love our Crate and Barrel Lounge II Sofa, and would buy it again. I think there are pluses and minuses to almost any piece of furniture you buy, so it really comes down to your lifestyle and what works for you and your family. When it's possible, trying out a sofa before you buy it is ideal. If it's not possible, then check around and see what kind of return policies different retailers have, and if there is a trial period.
Shop The Post

This post contains some affiliate links for your convenience. Click here to read my full disclosure policy.
Want to save this post? Pin it here!