Having trouble figuring out where to start organizing?  These are the top 20 items we use to organize our whole house.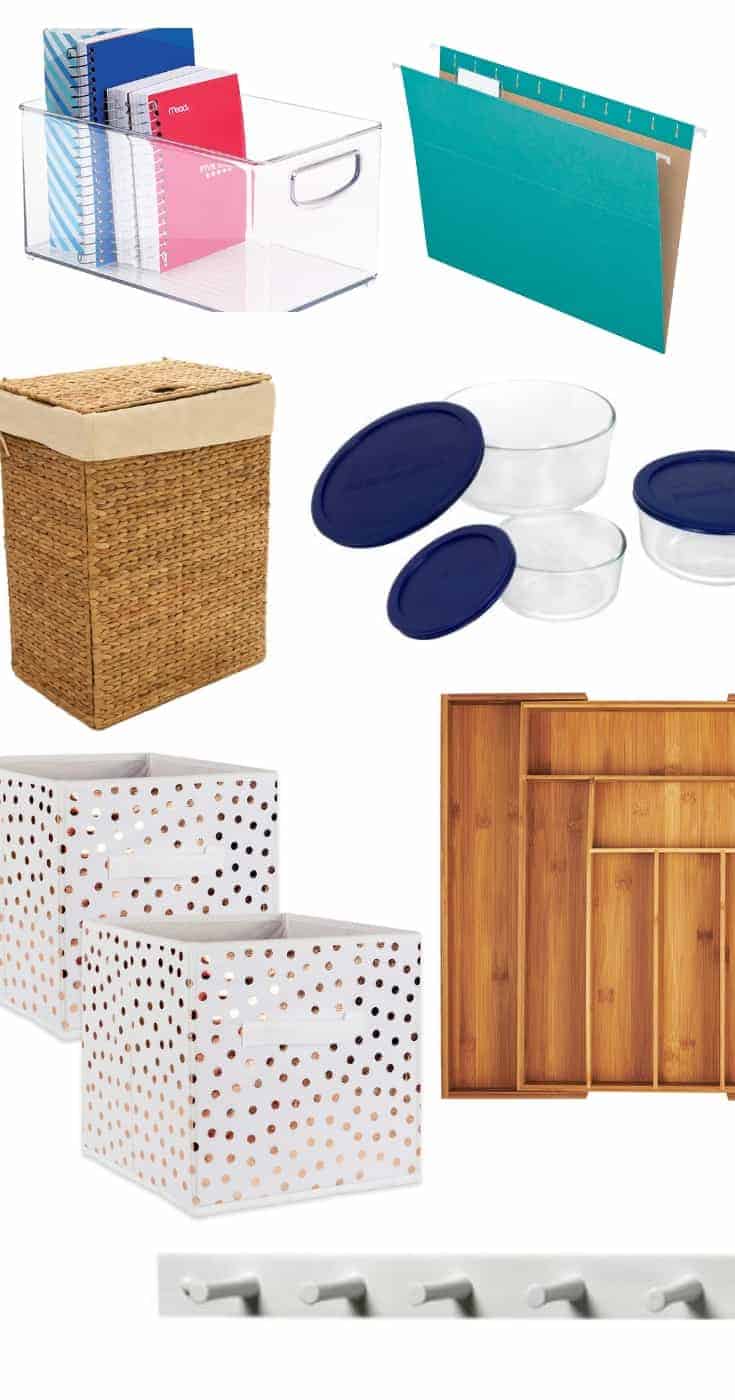 This post contains some affiliate links for your convenience. Click here to read my full disclosure policy.
Organizing your home can sometimes feel overwhelming and just a little bit impossible. I know the feeling.  A project that seems so big you just don't know where to begin can be a daunting start to a New Year's resolution. Whomp. Whomp.
While there isn't any magic product that's going to clean up your house for you, there are so many great organizational items out there that can help you on your decluttering journey.  This round-up of organizing products are all things we own and use in our home (some we even loved so much we bought them twice!)
Decluttering Is A Must
A note on decluttering before we get started on the organizational items: Decluttering is a must. I'm not a professional organizer, but I know from years of moving and trying to organize things that it's impossible to get completely organized when you just have too. much. stuff.
Trying to cram one more item into an already overflowing closet or drawer just never works. In order to know what you have so you can see it and use it, editing down your possessions should be your first step. Once I have everything edited down, finding the right product to organize a space becomes so much easier and more efficient.
Now onto the fun stuff! 😉
Home Organization Items We Love
Clear Kitchen Organizer Bins – We use these bins mostly in our kitchen pantry and fridge. They keep things corralled and in the right spot while still allowing you to see what's inside the bin.
Aqua Hanging Folders – When we moved this fall, we lost our home office space. In our new home we have an "office cabinet" for paperwork. These hanging file folders come in a pretty aqua color and keep all of our bills and receipts organized.
Foldable Wicker Hamper – I'm a firm believer in laundry hampers being in every bedroom. The best part about this hamper (beside the fact it's wicker) is that it folds down flat for storage if needed.
Glass Food Storage Containers – About 3 years ago we switched to all glass food storage containers. We've never looked back. They clean up great, always look new, and can be easily reheated in the microwave or oven.
Polka Dot Fabric Bins – The rose gold polka dots are what first caught my eye with these fabric bins. I love using them in our daughter's nursery to contain all the random baby clutter that seems to accumulate.
Bamboo Kitchen Utensil Organizer – We had this bamboo utensil drawer organizer in our last house and love it so much we bought the next size up for our new kitchen. It makes your flatware feel fancy 😉
White Wood Peg Rack – This white peg rack is solid wood, works well with so many decor styles, and keeps all of our brooms, dusters, and mops organized in our garage.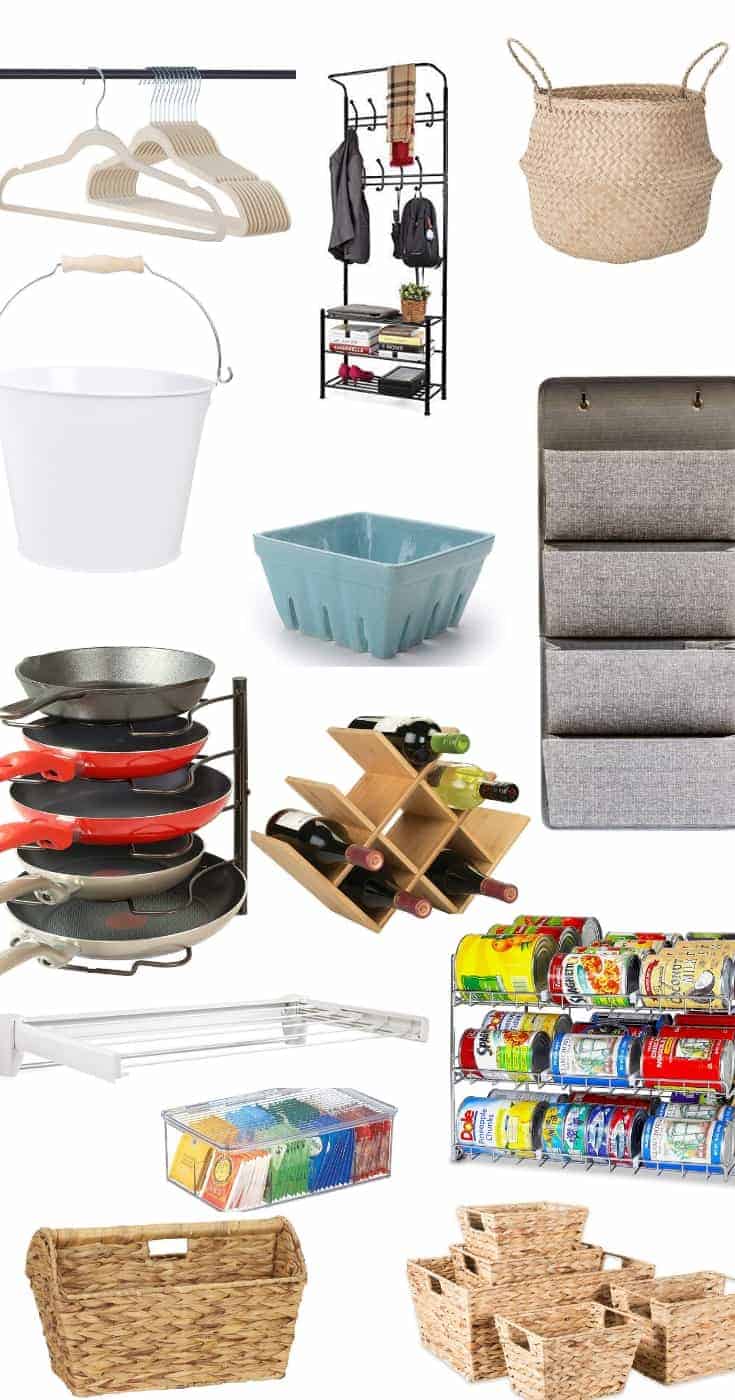 Items So Nice We Bought Them Twice
Non-Slip Velvet Hangers – The slim profile of these velvet hangers frees up space in any closet all while  keeping slippery clothing in its place.
Entryway Coat & Shoe Rack – We just bought a similar version (it was sold out so I found the next closest one) for our laundry/mudroom. If you live in a colder climate, having a designated space for coats, hats, and boots is a must!
Seagrass Belly Basket – This plain seagrass belly basket is a work horse. Keeping extra towels handy for guests, sorting laundry, corralling toys, you name it and this basket has done it in our house.
White Metal Bucket – Perfect for keeping everyday cleaning supplies in one place and ready to use. Plus, it doesn't hurt that it's cute!
Ceramic Berry Basket – Great for storing produce, but my favorite way to use this is by our kitchen sink to hold wet sponges and scrub brushes. The slits on the bottom allow water to drain out allowing it  to work like a mini drying rack.
Gray Fabric Closet Door Organizer – We use this hanging on the door in our nursery for extra storage space. You can see it in use  here.
Pot & Pan Lid Organizer – Keeps your pot and pan lids from falling all over the place every time you open your kitchen cupboard. Enough said.
For Small Spaces
Bamboo Bottle Organizer – Great for organizing wine bottles, but we use ours for organizing stainless steel water bottles and travel mugs.
Retractable Clothes Drying Rack – We have a laundry room for the first time ever in the home we just moved into (yay!), but it's not huge. The best part about this clothes drying rack is that it folds down when not in use.
Stackable Can Rack Organizer – Maybe I'm weird, but seeing all of our canned goods lined up and tidy makes my heart happy.
Stackable Tea Organizer – I love tea, which means stacks of tea boxes everywhere. This organizer keeps them visible and within easy reach.
Water Hyacinth Storage Baskets – Probably my number one favorite. Baskets are just so versatile and hide the not so pretty stuff.
Wicker Magazine Rack – Another item that we bought to help with the no home office situation. I keep this by a reading chair in our bedroom as a sort of mini work station. It easily holds a laptop, notebooks, pens and paper.
I hope this gives you some ideas for new ways to organize a space in your home! Sometimes using something pretty and practical is all the motivation we need to get started 🙂
Interest in more? You might enjoy these:
Making Home Goals for the New Year 
5 Tips for Making Your Home Cozy 
Want to save this post? Pin it here!