This modern floral laundry room makeover combines traditional, functional elements with a few whimsical touches to create a laundry room where we actually want to spend time!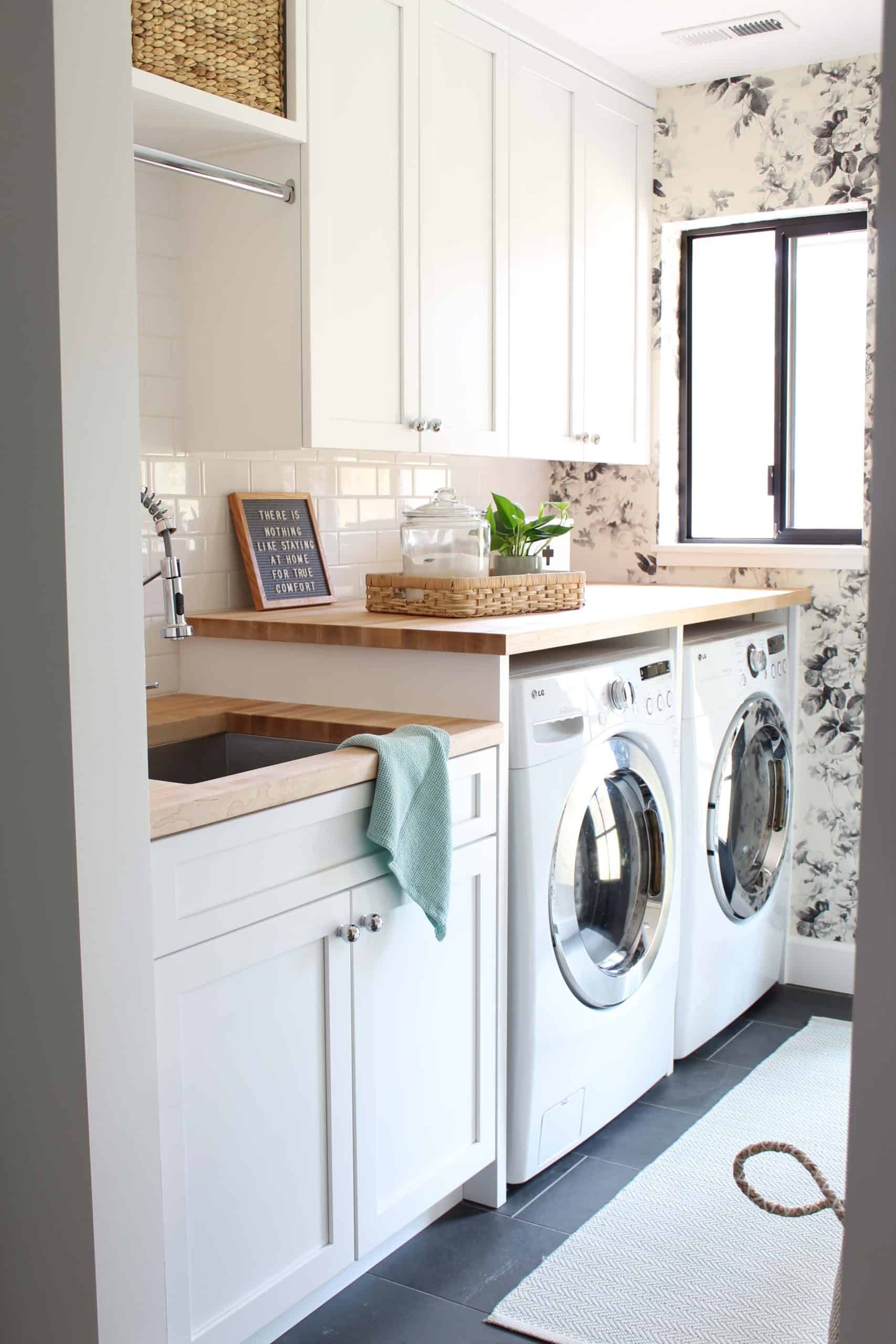 Modern Floral Laundry Room Makeover
Our laundry room is about as officially finished as it's going to get. It's a small room (as most laundry rooms are) but man, it took a while to get to this point. Mostly because I didn't want to rush it and end up with something I didn't love. Sometimes renovations can do that to you – you just want everything done so you can get on with your life. That and when you're doing a lot of it yourself, life just gets in the way.
Adding to the pressure was the fact that this is the first home we've actually had a laundry room in. In our last house we had the washer and dryer out in the garage. So learning how we needed a laundry room to actually function took a little bit of time. I didn't want to spend money and put a bunch of effort into finishing it and then go to use it and realize I'd created a room that while pretty to look at, wasn't a workhorse for us.
Laundry Room Before
If you've been following along for a while, you may remember the laundry room before from way back when. You can see a full  before house tour here.  It was a great space with good bones, we just wanted to add some more storage and a place to sort, fold, and hang dry laundry. Making it a bit lighter and brighter in the process was an added bonus. 🙂
This laundry room is also located in the center of the house. This means you not only see it from a bunch of different angles, but walk past it at least a dozen times a day. Adding to its central location is the fact that it supplies the main source of natural light for our back hallway and the entrance in from our garage. So maximizing the natural light that flows out of this room was key.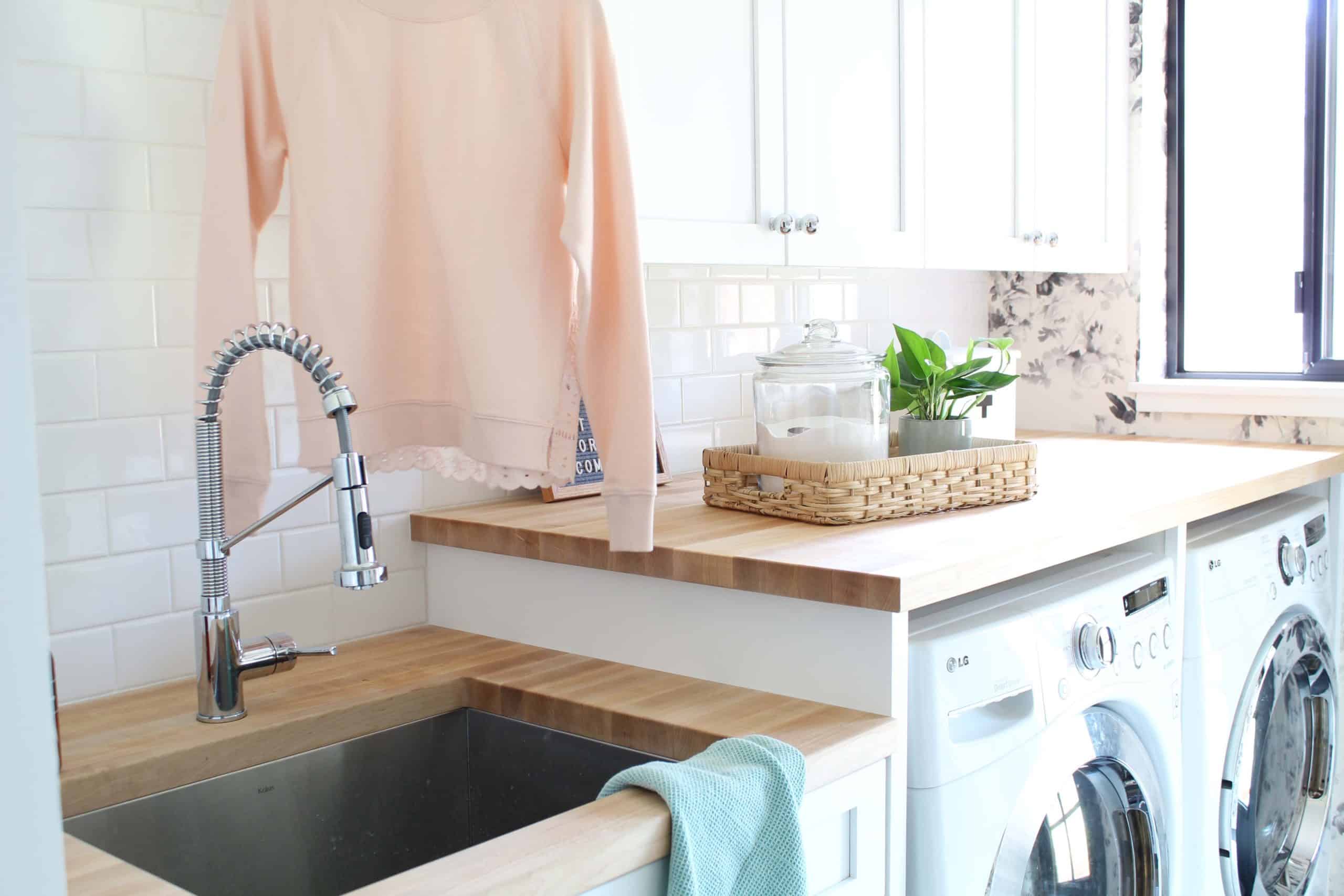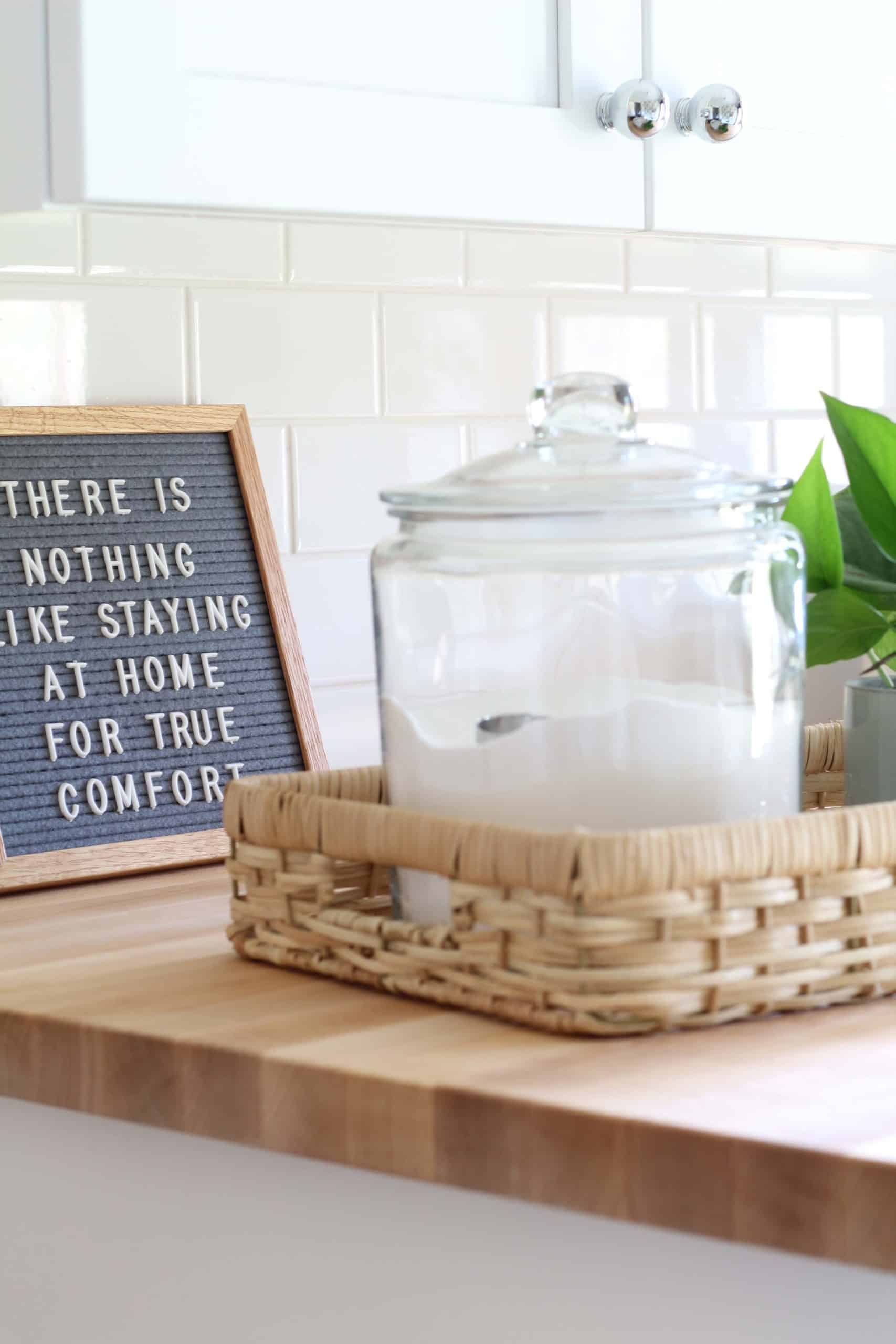 Traditional Materials
We used a bunch of traditional materials that I knew we wouldn't get tired of. One was the white subway tile backsplash that we tiled late last year ourselves. It was our first attempt at tiling anything and a laundry room seemed like a pretty safe place to mess up. I'm so glad we took the plunge and did it ourselves. We used the leftover tile from our bathroom renovation and traditional bright white grout to minimize any mistakes. It adds so much to the room and sets off the wallpaper better than I could have hoped.
For flooring we used large scale dark slate tile. I knew slate was a pretty safe design choice since I wasn't sure what I was going to do for a wall treatment when it was being installed last year. Maple butcher block countertops round out the traditional elements in the room and help add some warmth to a space that has a lot of cooler tones going on in it.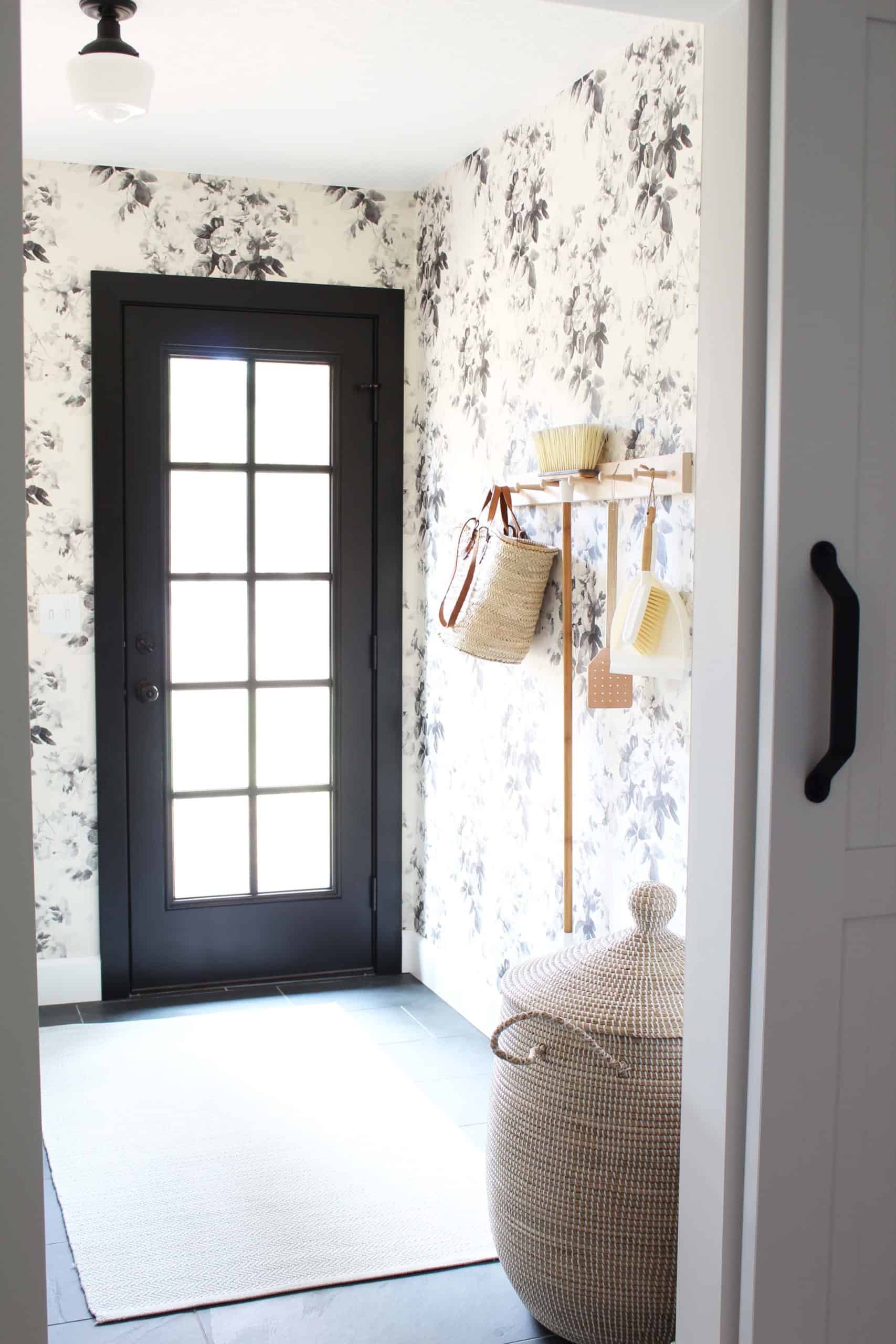 Smoky Rose Wallpaper
Adding wallpaper to any room almost always makes it the focal point. This room is small and can be seen from so many different spots in our home, so it seemed like a prime location to try out some bold wallpaper without it being overwhelming. Picking out the actual wallpaper was so much harder than I thought it would be. I had never done anything with wallpaper before and it just seemed like such a daunting task for some reason.
I kept coming back to this smoky rose wallpaper (more affordable option here). It was just so pretty and seemed to compliment our dark windows and doors while still bringing in the light and bright I was craving. It is a traditional paste wallpaper (not peel & stick) so I waffled for a while before making the commitment because I knew it would be up there for a good long while.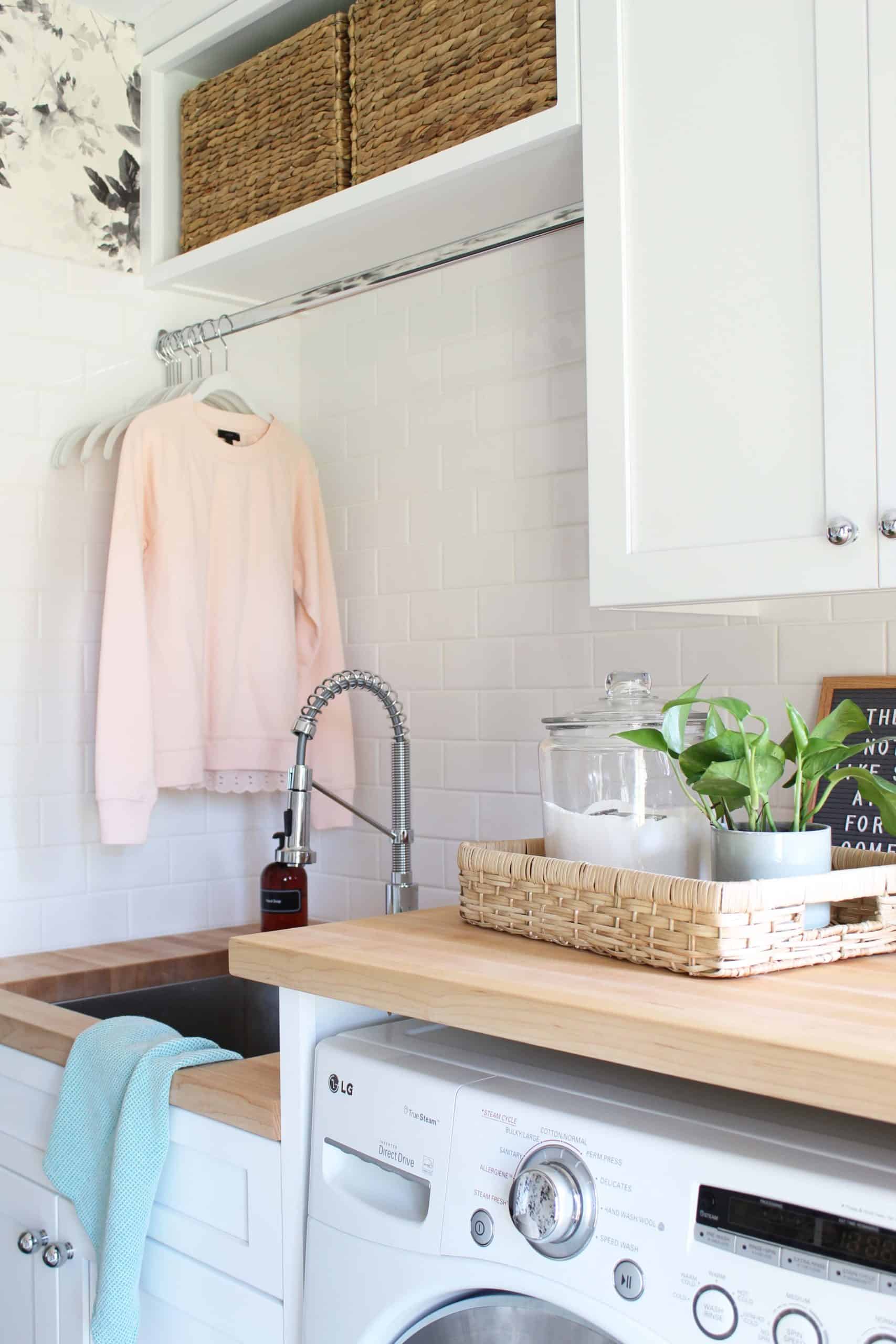 Letter board // Glass Laundry Soap Canister //Seagrass Baskets // White Velvet Hangers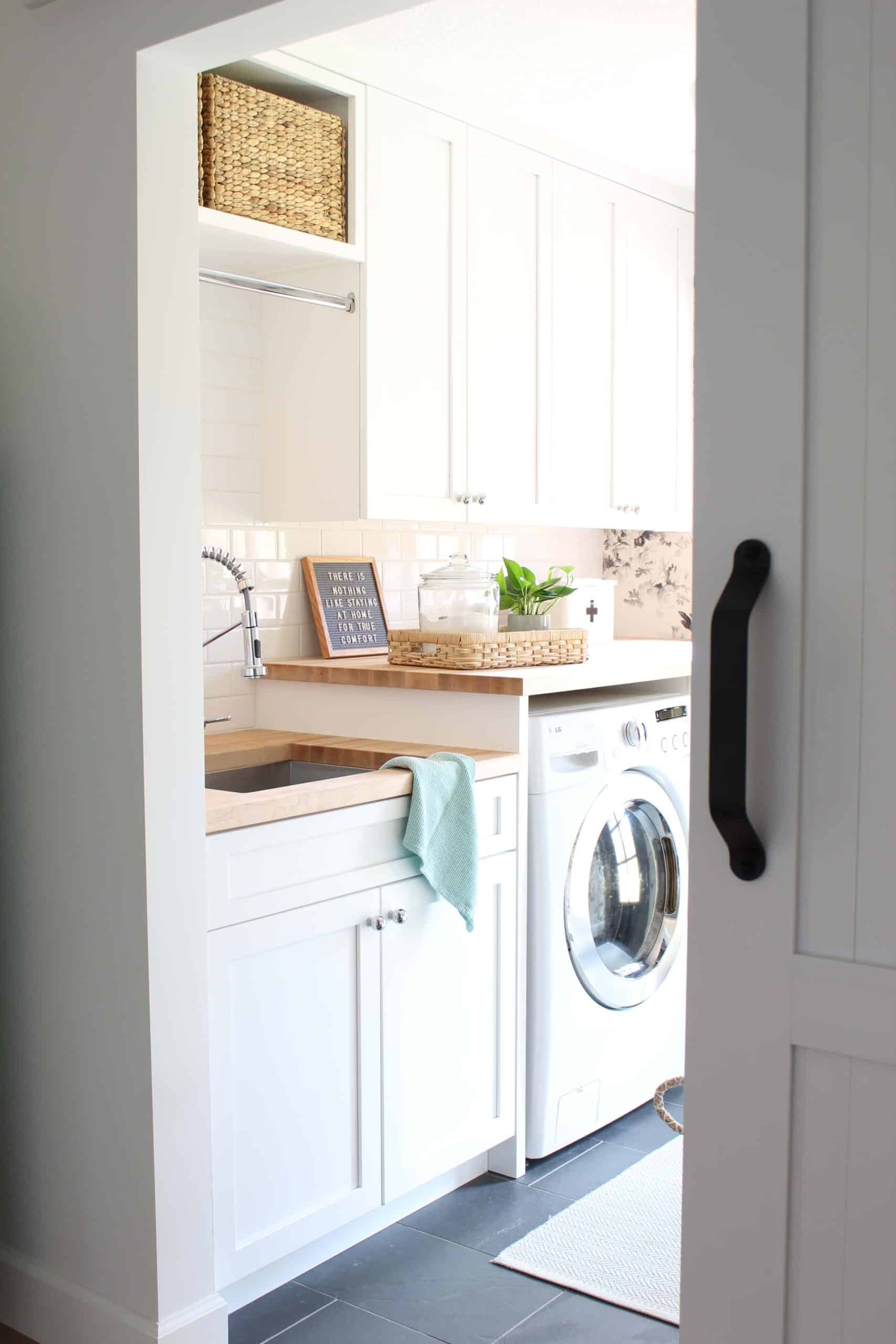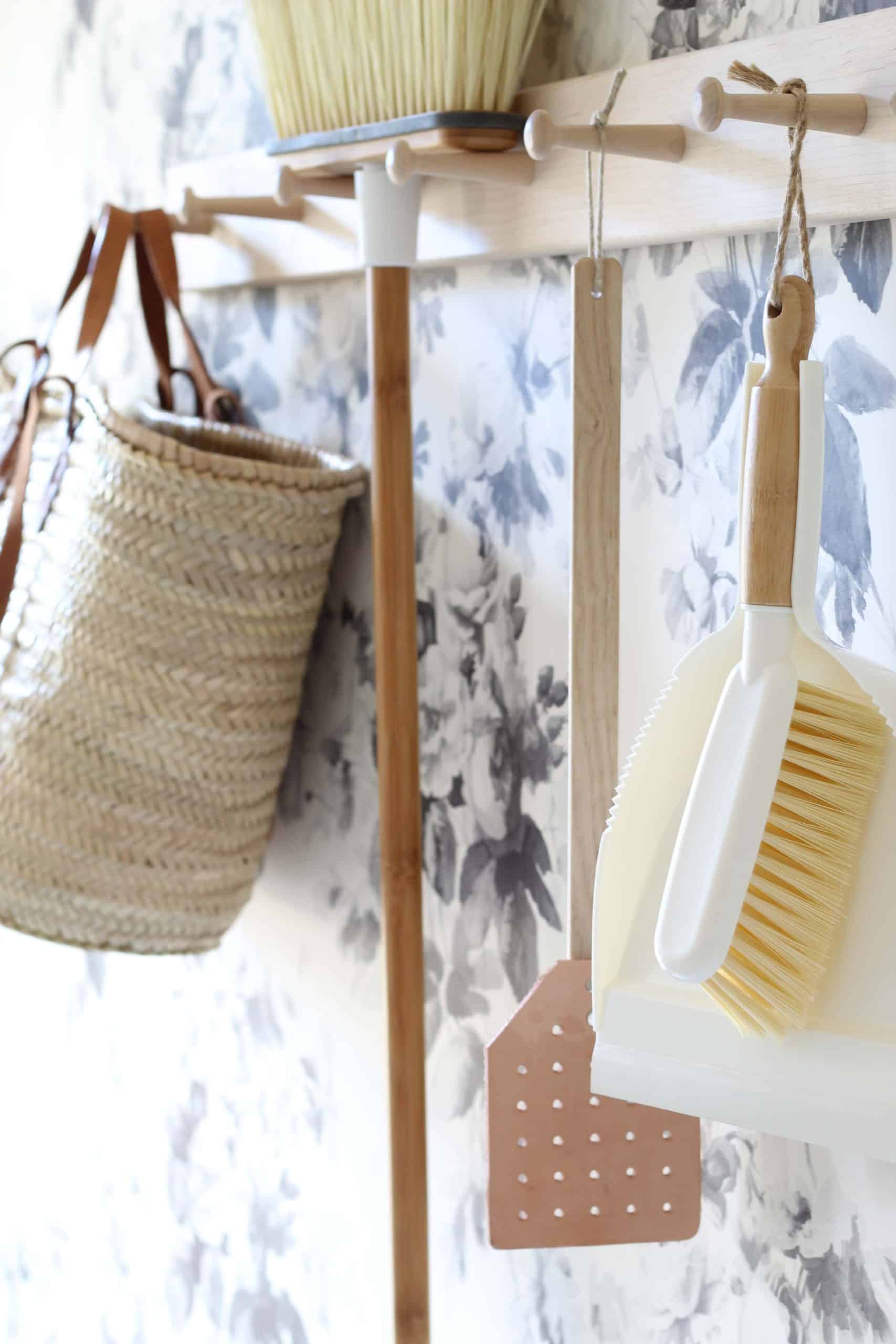 Straw Market Tote // Broom // Fly Swatter // Dustpan
Functional Elements
Adding function to this room was obviously one of the key goals in this makeover. We added a ton of storage with built in cabinets over the washer and dryer as well as a hanging rack over the deep laundry sink.
The above shaker peg rack was a simple way to add easy, accessible storage for our brooms, dustpans, dusters, etc. that were out in the garage up until we had a spot for them. Having them inside makes quick clean-ups just a little bit easier and more convenient.
I try to keep the butcher block countertop as clutter free as possible so it's always ready for laundry sorting and folding. But we do keep our basic laundry supplies as well as our first aid kit out for convenience.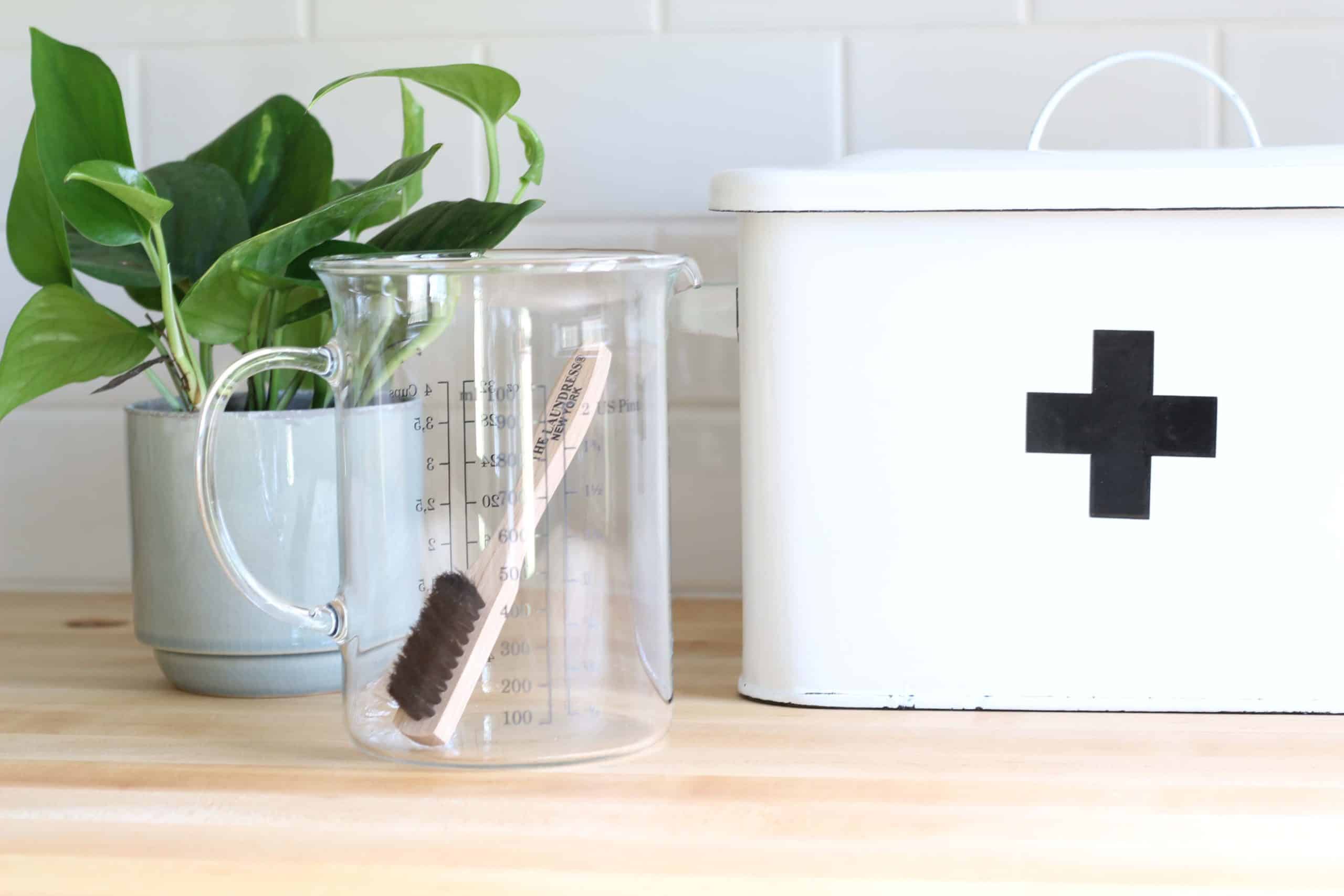 Enamel First Aid Box // Laundress New York Brush // Glass Measuring Cup // Similar Plant Pot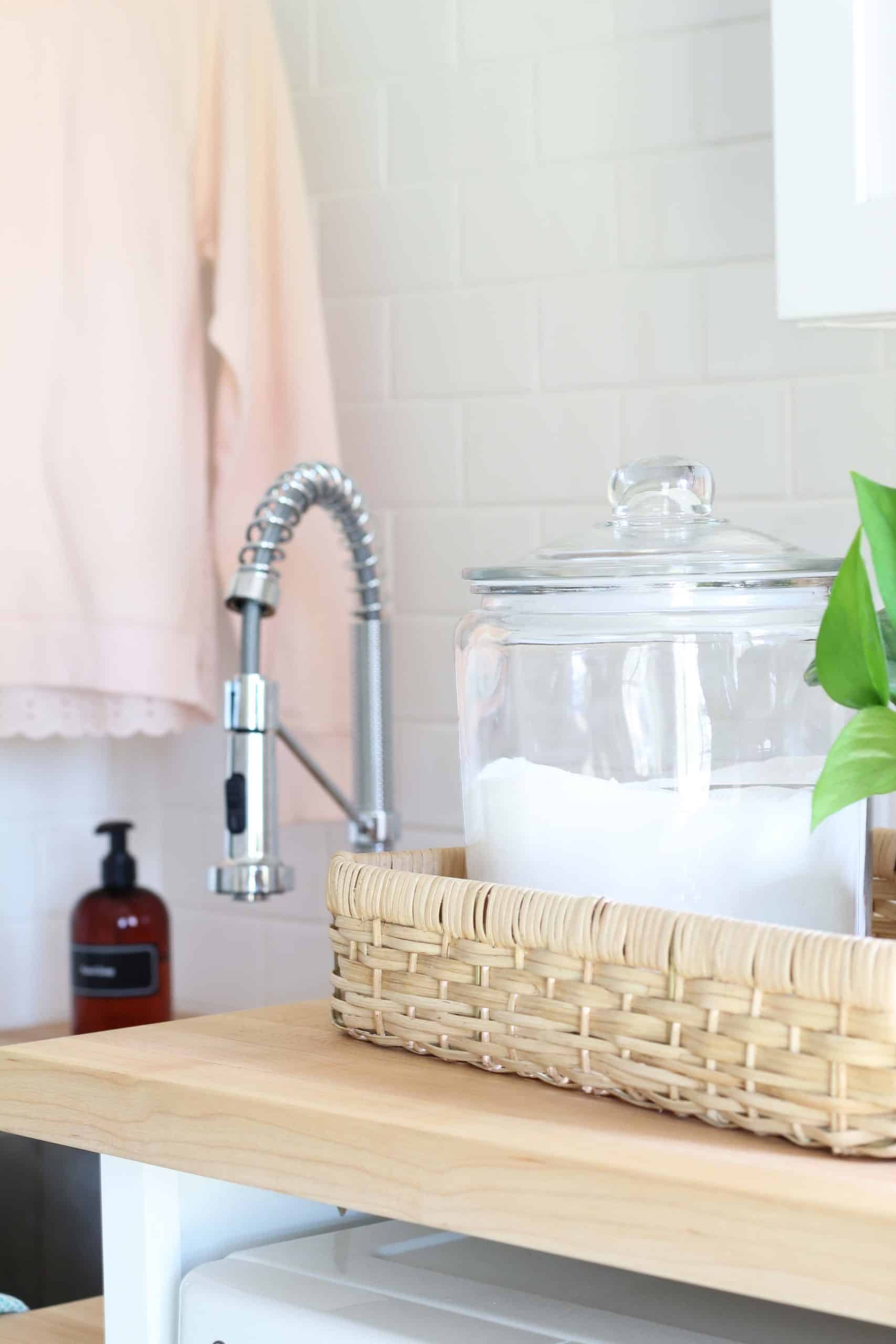 Is it weird that a laundry room could bring me so much joy? Maybe. But it does and I'm so glad we took our time with it so we could make it exactly the way we wanted it. And if you're going to walk past something dozens of times a day, why not make it pretty to look at? 🙂
Shop The Post

This post contains some affiliate links for your convenience. Click here to read my full disclosure policy.
Want to save this post? Pin it here!