Plants bring so much life to a room, both literally and figuratively! Below is a round-up of my favorite ways to decorate with plants around our home.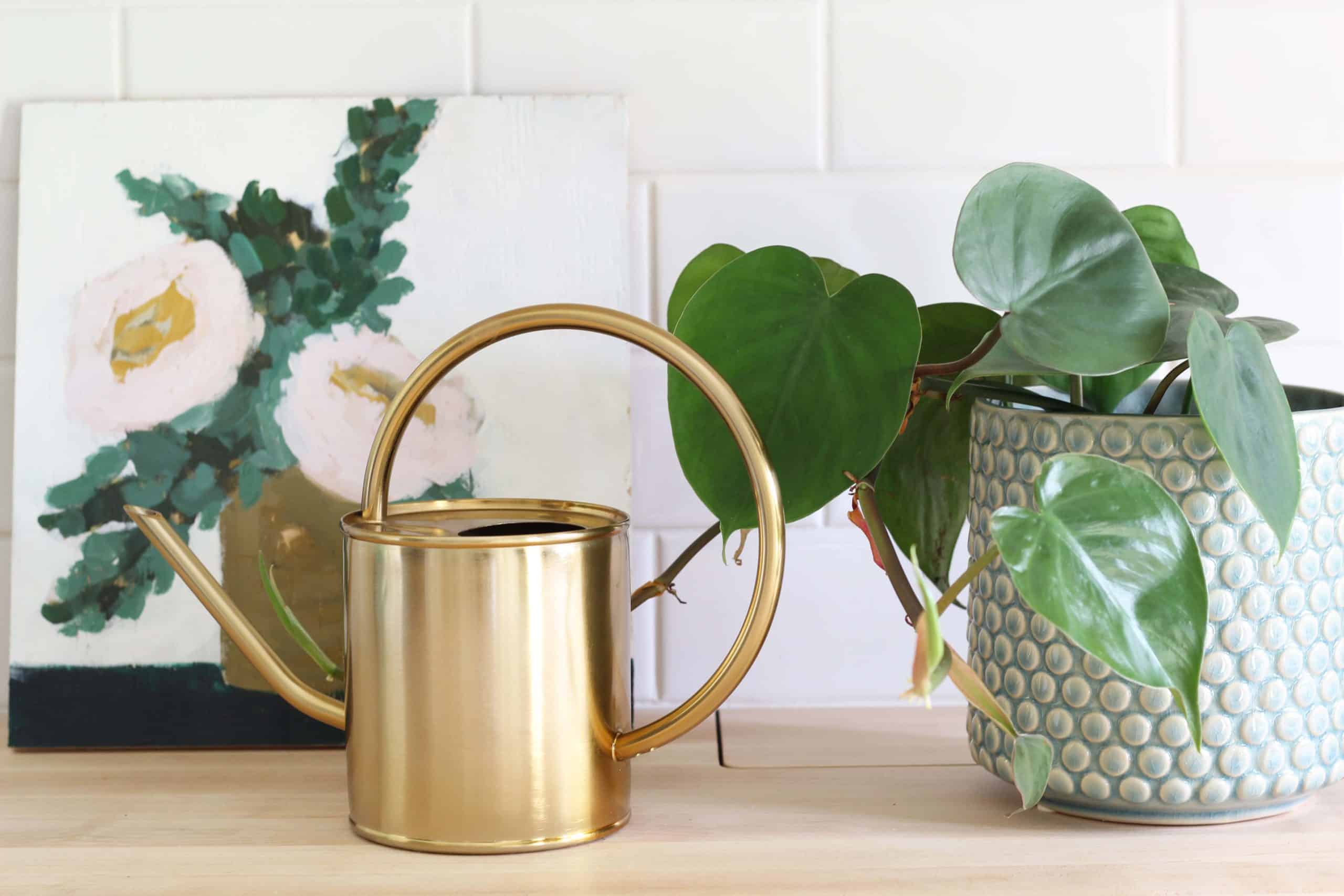 Heart Leaf Philodendron // Polka Dot Plant Pot // Original Art
When I wrote a post a few weeks back about the things we'd gotten rid of in our home, I talked about my desire over the past year to add more live plants to our home. Plants add so much life to your home! Aside from producing oxygen, they have also been shown to absorb indoor air toxins, lower stress levels, and even reduce fatigue, sore throats and colds! Quite honestly, plants are just good for your soul.
I've always been an avid outdoor gardener, but never a huge indoor plant person. Probably for a couple of reasons, one, I grew up in western Oregon where you just look at a plant and it grows (serious optimal outdoor gardening conditions). Two, indoor plants just seemed like more work for various reasons, they were always getting some weird fungus or rot, or mites.
Now that we live in the high desert/mountain region of Oregon, to say that outdoor gardening has become harder would be an understatement. Cold nights and hot days combined with harsh winters do not lend themselves to a productive outdoor garden. I would say this is the thing I miss the most about where we use to live. To help make up for the missing garden in my life, I made it my goal this past year to add more real plants to our home. The more I learned about house plants, their benefits (and beauty!) the more I was hooked. Here are some of my favorite ways to decorate with plants!
My Favorite Ways To Decorate With Plants
String of Hearts Plant // I Love You Planter // Wooden Dish Brush // Amber Spray Bottle 
I've always had a faux plant in our kitchen, so adding a couple of live ones was an easy place to start. We have a lot of open shelving, so I feel like adding a plant here and there among the dishes and kitchen items is an easy way to incorporate some greenery into the kitchen.
The string of hearts plant by the sink was my Valentine's Day gift this year. You'll find string of heart plants come with a few different common names. They are a succulent that has heart shaped leaves and is a fairly hardy indoor house plant. Mine was pretty small to start with, but it's got some new growth going and appears to be flourishing.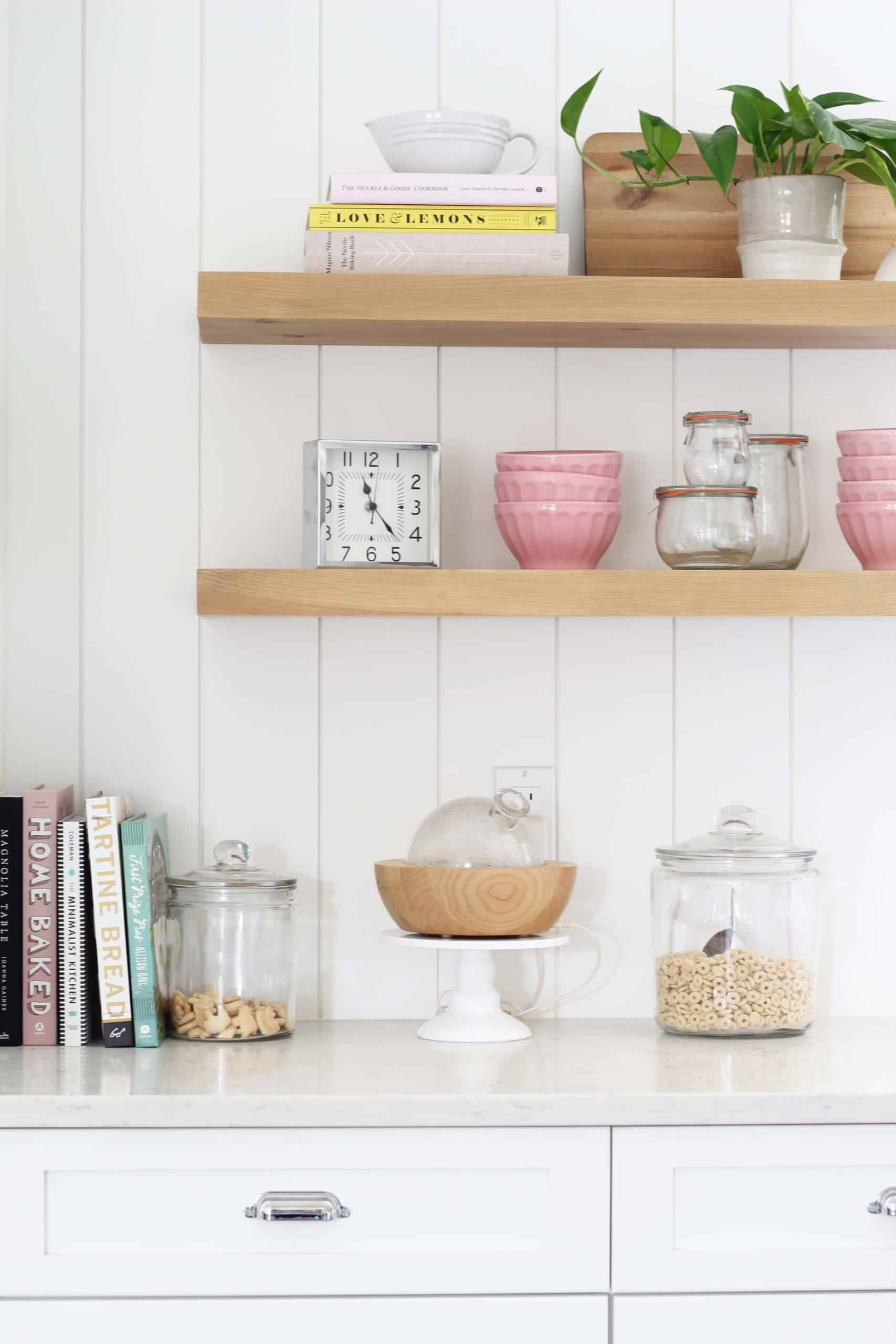 Pink Bowls  // Wreck Jars // Le Creuset Juicer // Pothos Plant // Small Glass Canister // Large Glass Canister // Tartine Bread Book // Home Baked Book // Minimalist Kitchen Cookbook // First Prize Pies Book // Magnolia Table Cookbook 
Hardy House Plants
Of all the plants in our home the pothos is by far the hardiest. It does well in low light and doesn't require a ton of watering. I will say that heating vents have definitely been the enemy when it comes to keeping my plants happy. Our heat pump runs pretty continuously in the winter months and I've found out the hard way that house plants don't like drafts – either warm or cold. I try to keep them clear of the vents and spray mist them with water every few weeks to up the humidity factor.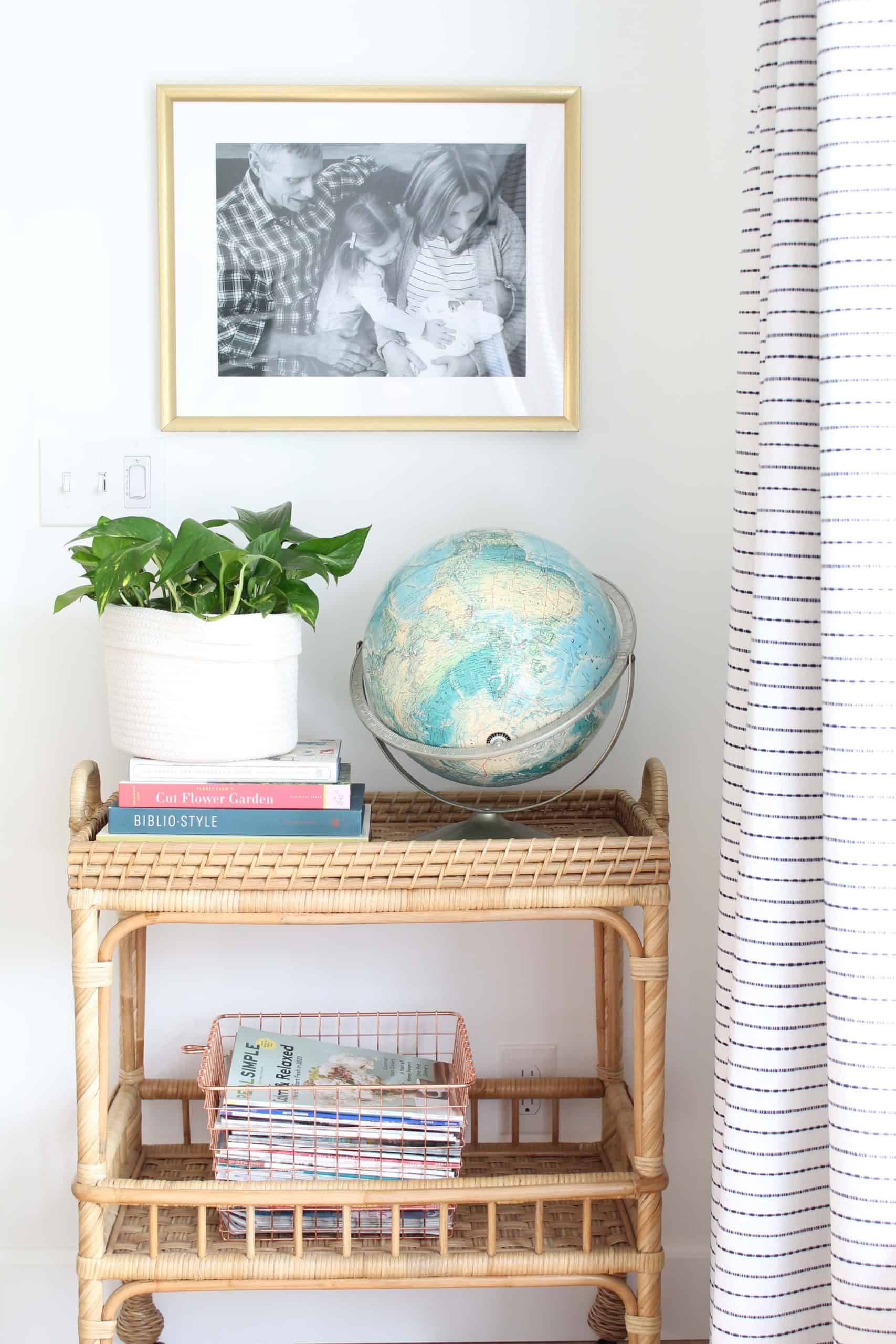 Pothos Plant // Similar Woven Plant Basket // Magazine Copper Wire Basket
Use Something Unexpected
I love using containers that are outside of the expected ceramic pots. A woven rope basket is perfect in our living room since a) it's unbreakable (hello little toddler hands!) and b) adds some texture that you might not get with a regular ceramic plant pot.
As far as waterproofing it in case the pot leaks, I just lined the inside of the rope basket with a plastic bag. Then I just set the plant pot inside of the bag. When watering I always take the plant out of the basket to water it in the sink and let it drip dry for a while before putting it back.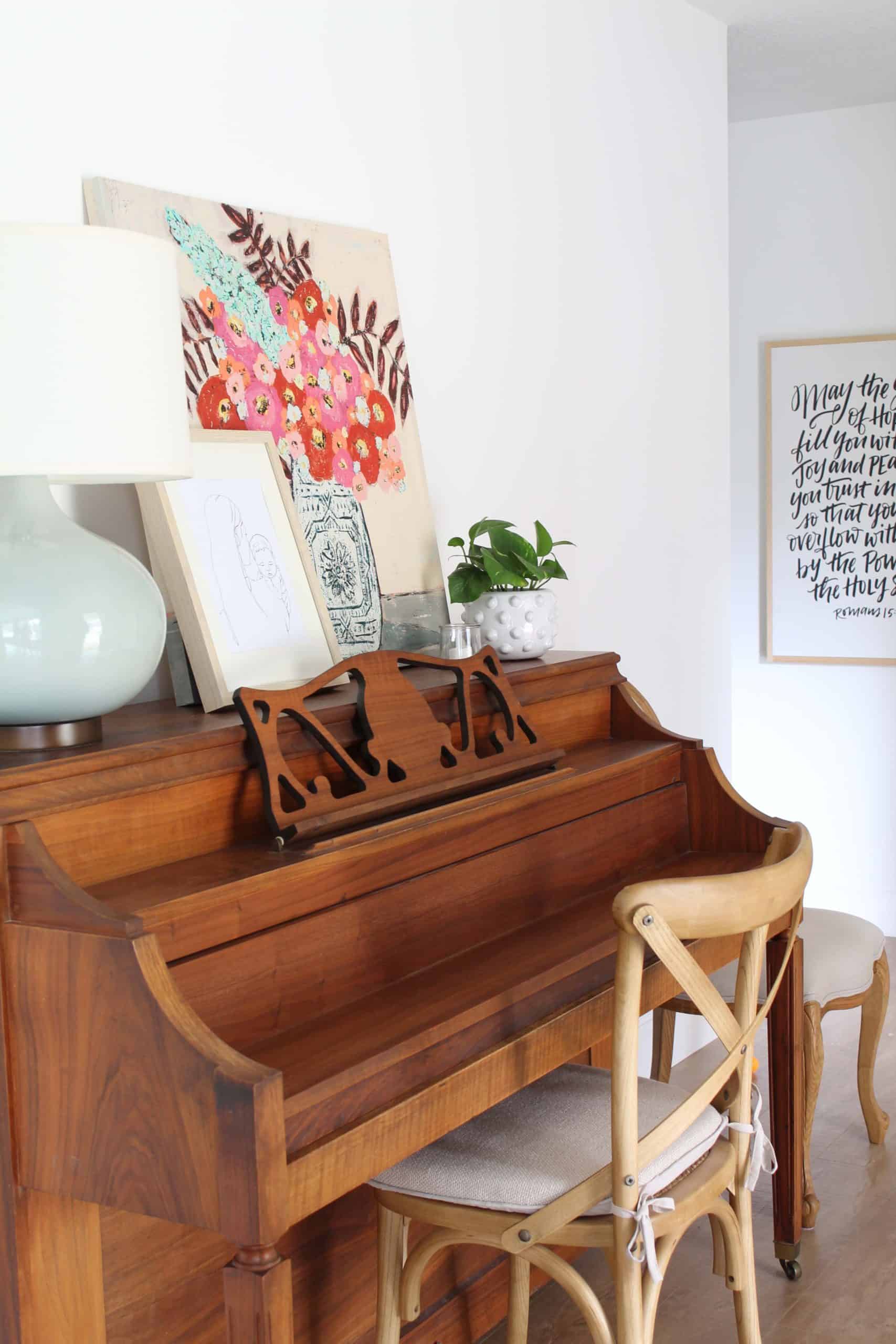 Pothos Plant // White Raised Dot Planter // Aqua Lamp // Floral Art // Mary & Baby Jesus Art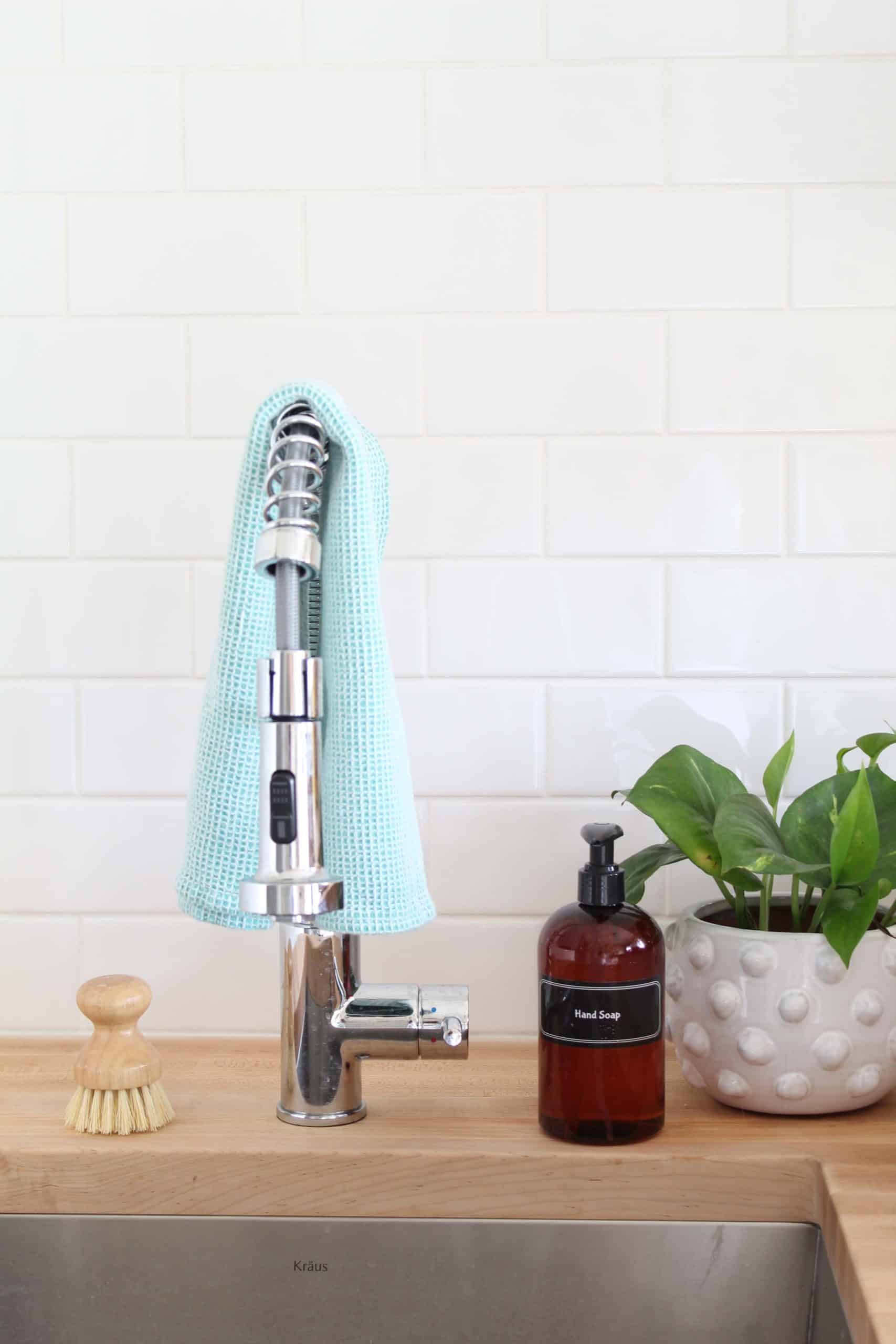 Wooden Scrub Brush // White Raised Dot Planter // Pothos Plant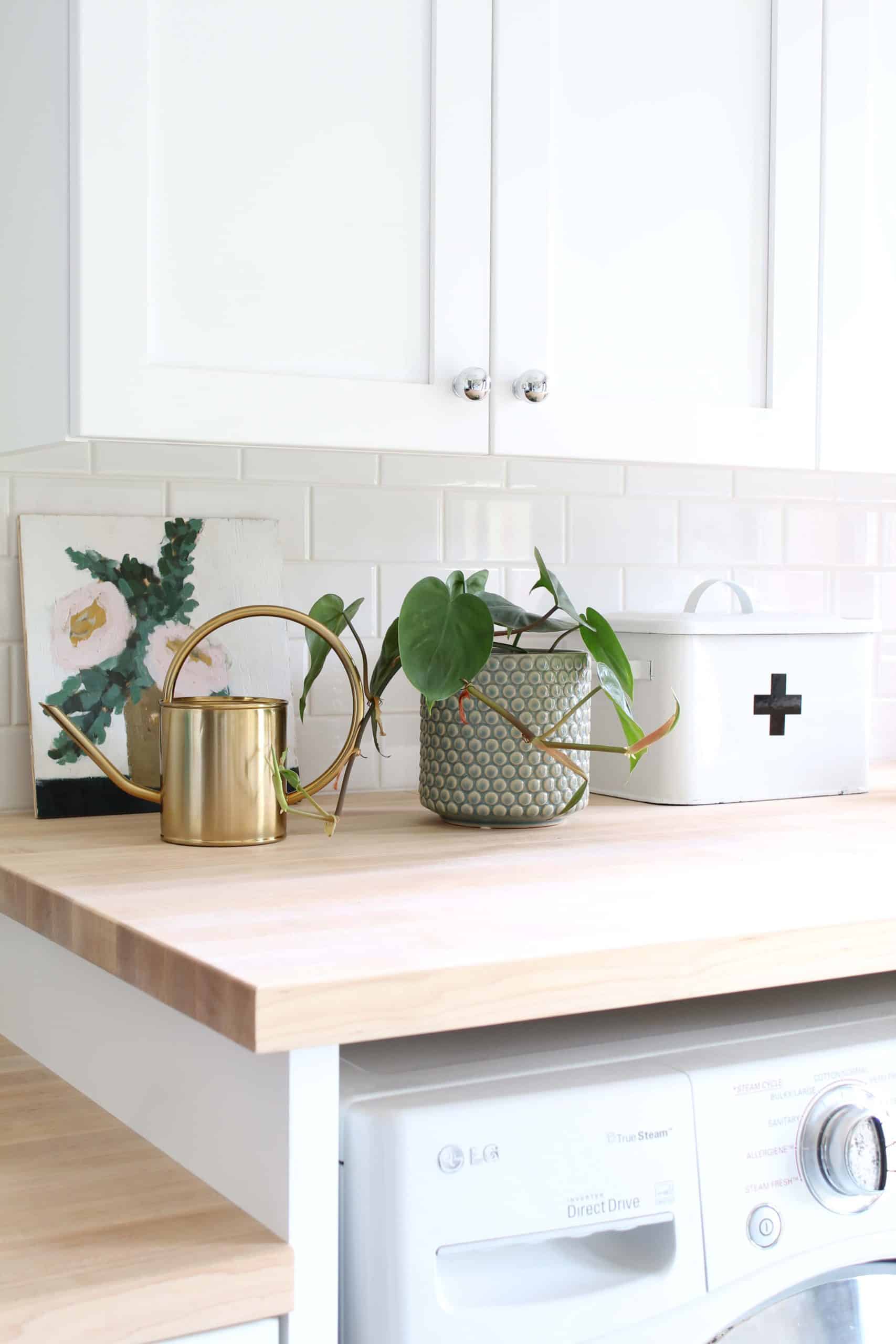 Heart Leaf Philodendron // Polka Dot Plant Pot // Original Art // Brass Watering Can // First Aid Box
Our laundry room by far has the most plants in it, partly because of the great natural light and partly because it makes me happy to look at them while I fold laundry. It's also the place where I bring the bigger plants and give them a good soak in the laundry room sink.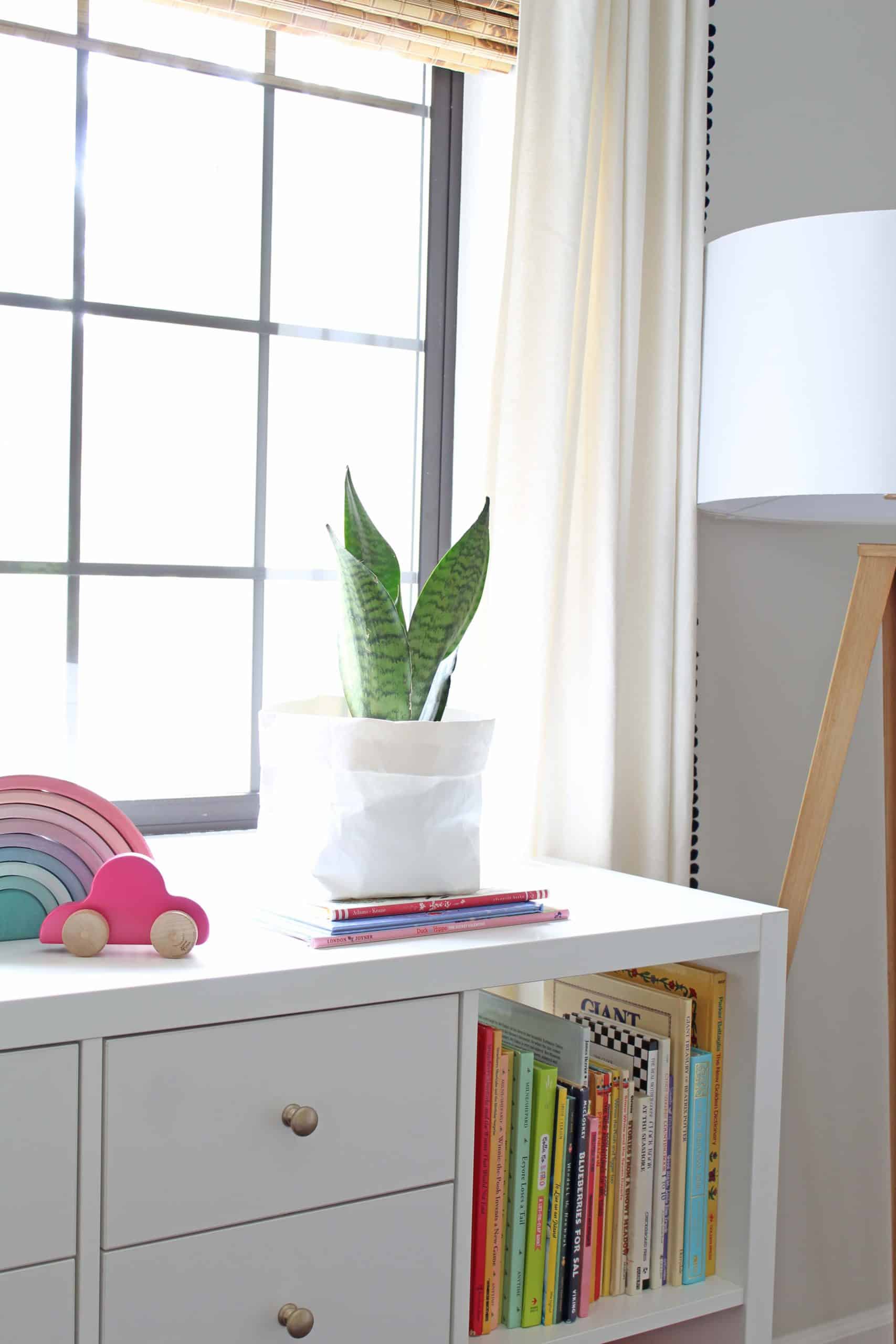 Snake Plant // Washable Paper Bag 
Ceramic Plant Pot Alternatives
The above snake plant in my daughter's room is in the running as well for hard to kill house plants. It needs very little water and has sustained lots of touches from little hands. It makes a great plant for a bedroom because of it's ability to absorb excessive amounts of carbon dioxide. Who doesn't want cleaner air in their home?
Since a toddler resides in this room I chose to put the snake plant in a reusable paper bag rather than a traditional pot. If you haven't used a reusable paper bag before, I cannot recommend them enough! They are great for all kinds of household things from plant pots to pantry storage. So far it's been waterproof and durable for our snake plant.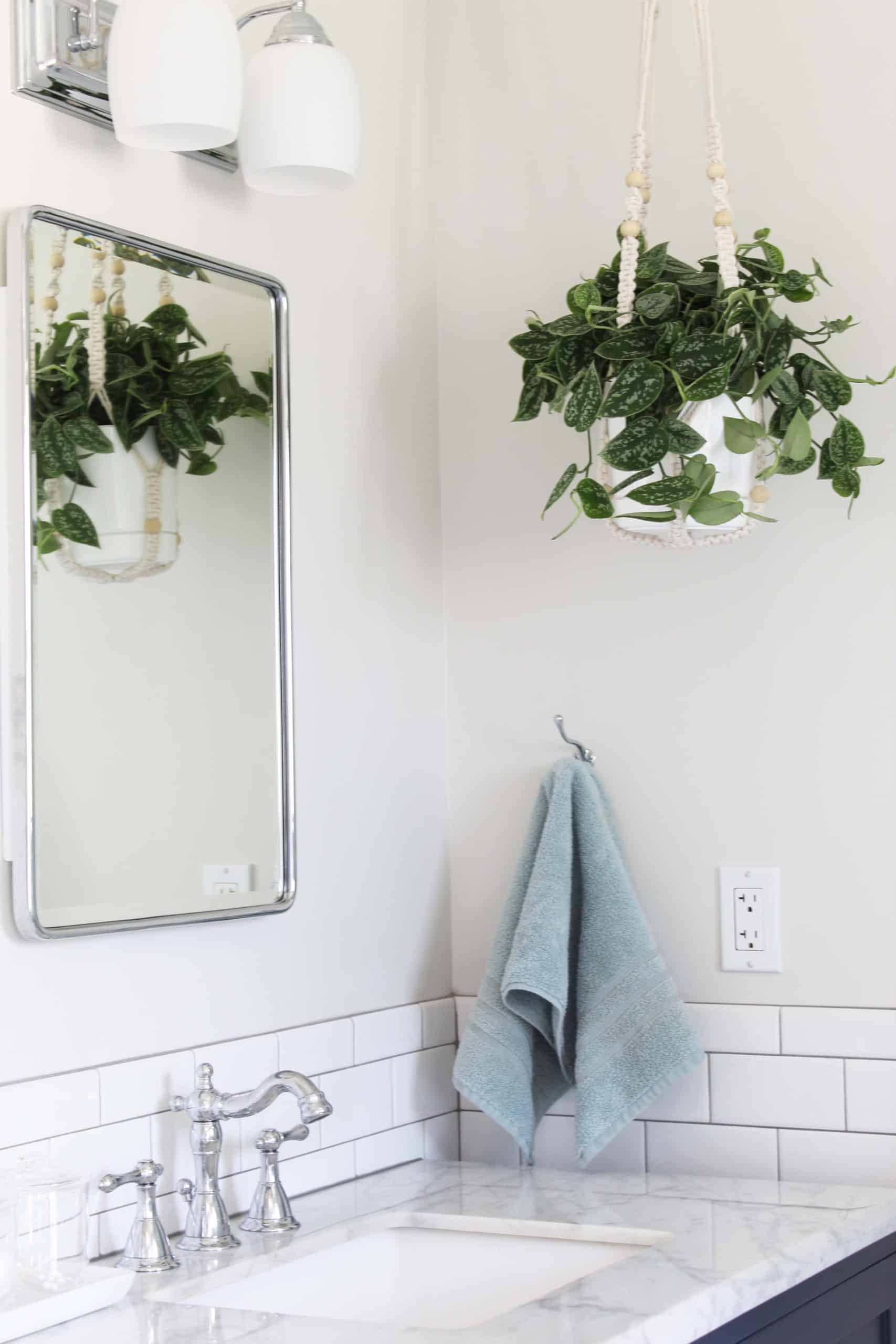 Macrame Plant Hanger // Silver Philodendron // White Plastic Pot
Hanging Plants
Hanging a house plant was something that took me a while to get on board with, and now that I have I wish I had done it sooner! A hanging plant in our small(ish) master bathroom allowed us to keep the counter space free for everyday use while adding some life and interest to an otherwise small space.
For me, it's worked best to use a lightweight plastic pot rather than an ceramic pot when it comes to hanging plants. It's easier to take in and out of the macrame hanger to water and is less weight on the ceiling hook you'll have to install.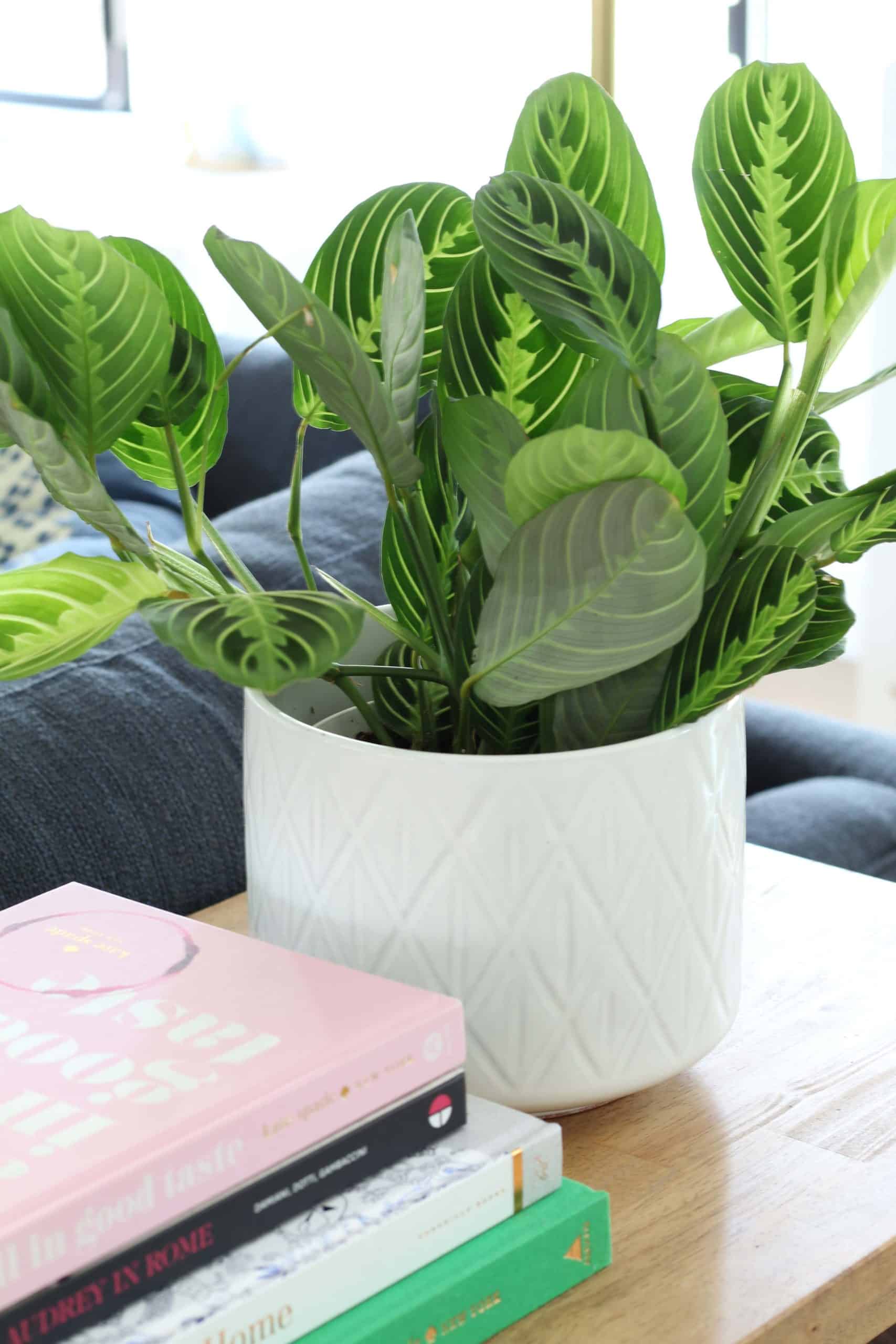 Prayer Plant // Modern White Plant Pot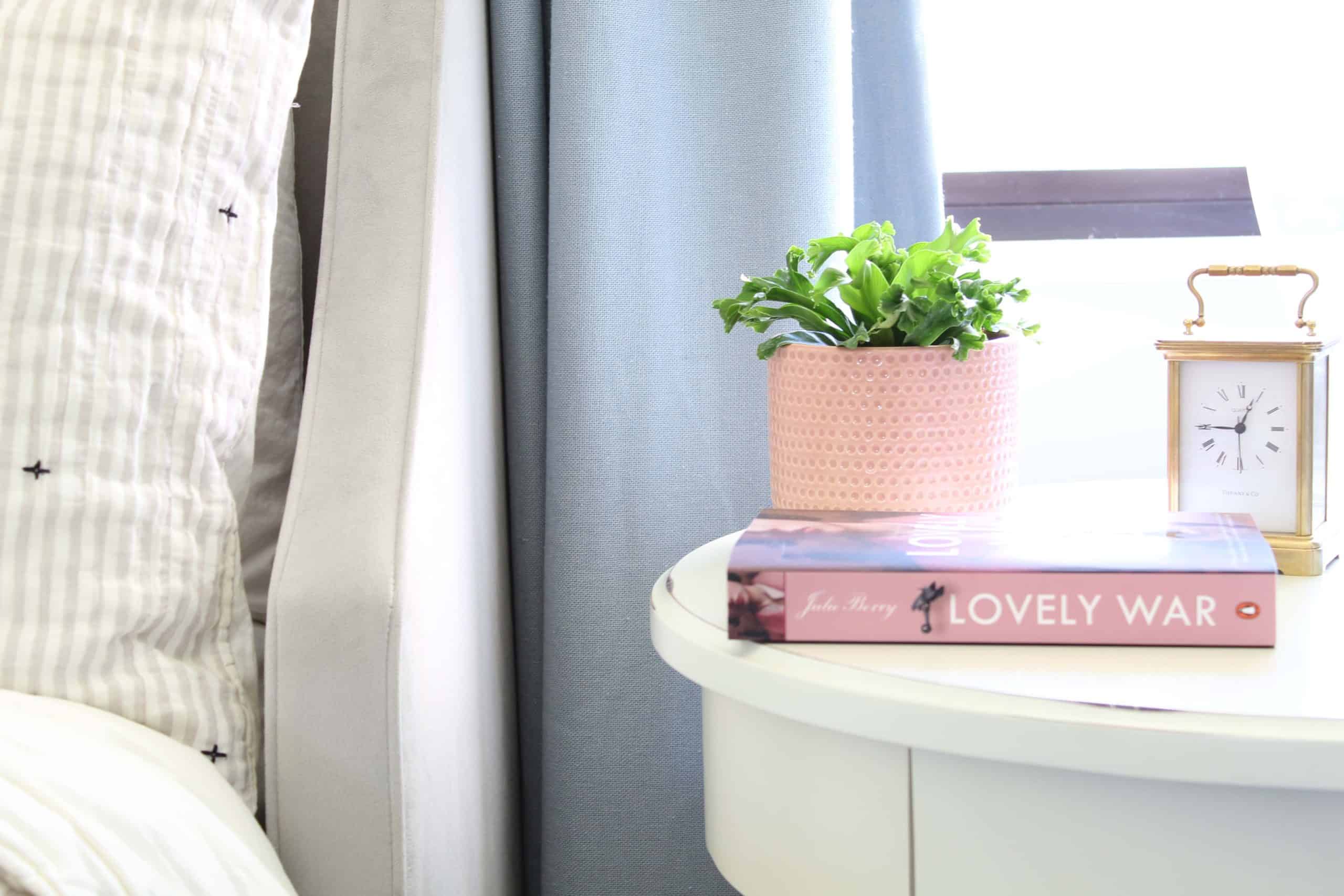 I've come a long way since my no house plant days haven't I? I can officially say that adding live plants to our (new to us) home has made it feel not only more homey, but also more alive. If you have a space in your home that seems blah, or somewhere you don't like to spend a lot of time, try adding a plant. It won't solve everything, but you might just be surprised by how much it helps!
This post contains some affiliate links for your convenience. Click here to read my full disclosure policy.
Want to save this post? Pin it here!