Welcome to week 1 of the One Room Challenge, I'm so happy you're here! Below you'll find out more about our one room challenge project along with before pictures and plans!
Hello! If you're a new visitor coming from the One Room Challenge I'm so glad you're here, and if you're a returning reader welcome back! My name is Tiffany and I blog about anything home related including renovations, decorating, crafts, recipes and other projects going on in my life.
As you may have guessed from the above, I'm participating as a guest in the  Spring 2019 One Room Challenge.  If you haven't heard of the One Room Challenge, it's an online event where bloggers (or instagrammers) can participate in sharing a room they transform over a six week period. The One Room Challenge has been around for fifteen seasons now (yikes!) and they hold the event twice a year, once in the spring and once in the fall.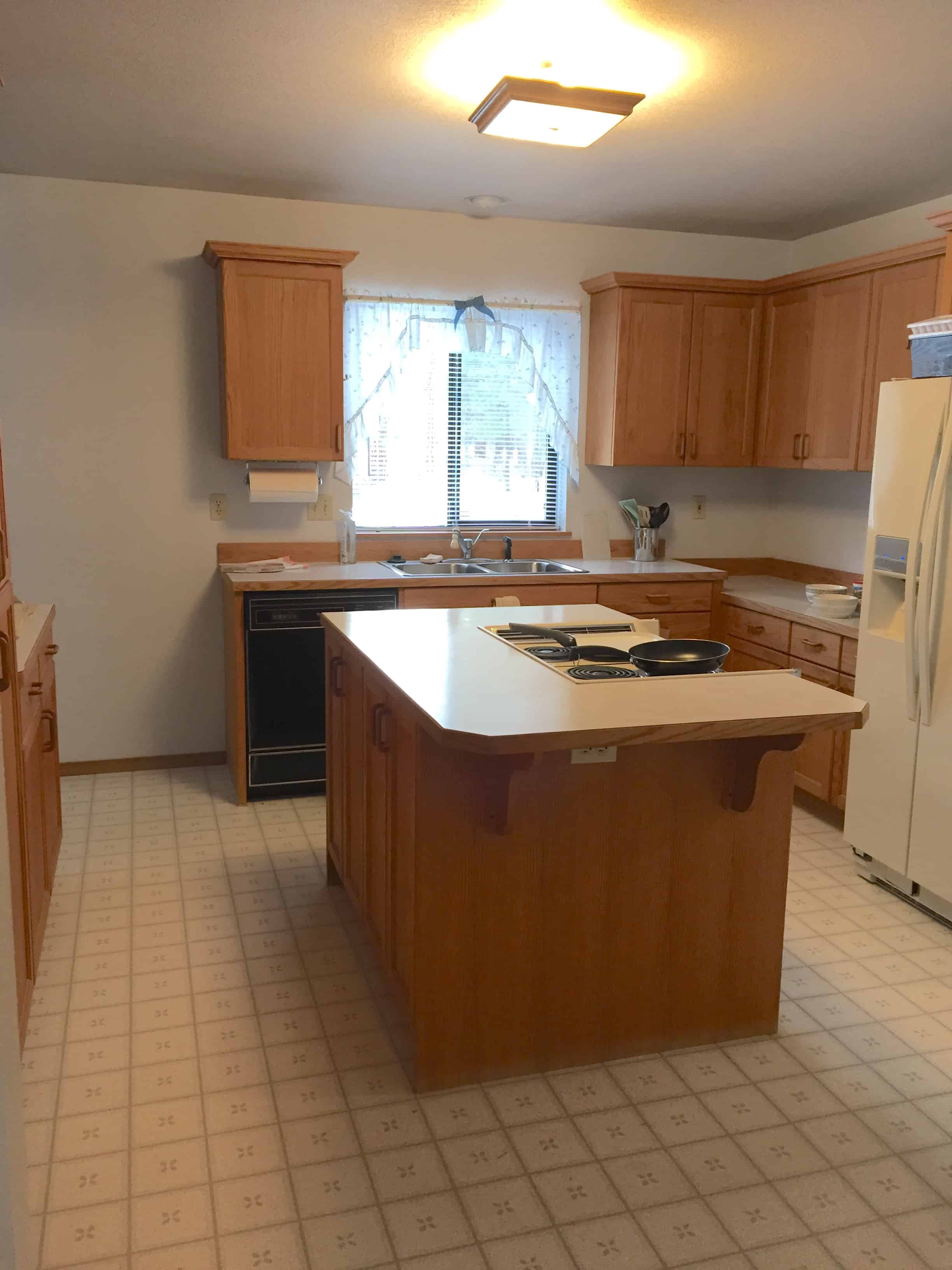 Kitchen Before
Our Kitchen Renovation (So Far)
So, on to the fun stuff! We moved last fall from the Portland, Oregon area to a little town in central Oregon. There were a variety of reasons for the move, the biggest being we wanted to raise our family in a small town and get away from the hustle and bustle of a larger city. Upending your life and moving is always a stressful decision, but the timing was as right as is was going to get, so we took the plunge! You can see a  before tour of our whole home here.
Which brings us to our One Room Challenge project, our kitchen. We did a major gut job renovation on our whole house before we moved in last fall. The basic bones of the house were great, but we realized the layout would serve our family better if we made some major key changes. One of those was opening up a wall between the main living area and the kitchen. As you can see in the before picture above, the wall separating the kitchen and living area is to the left in the picture. In the progress picture below you can see what the kitchen looks like after the major renovations (as viewed from the living room with the wall down).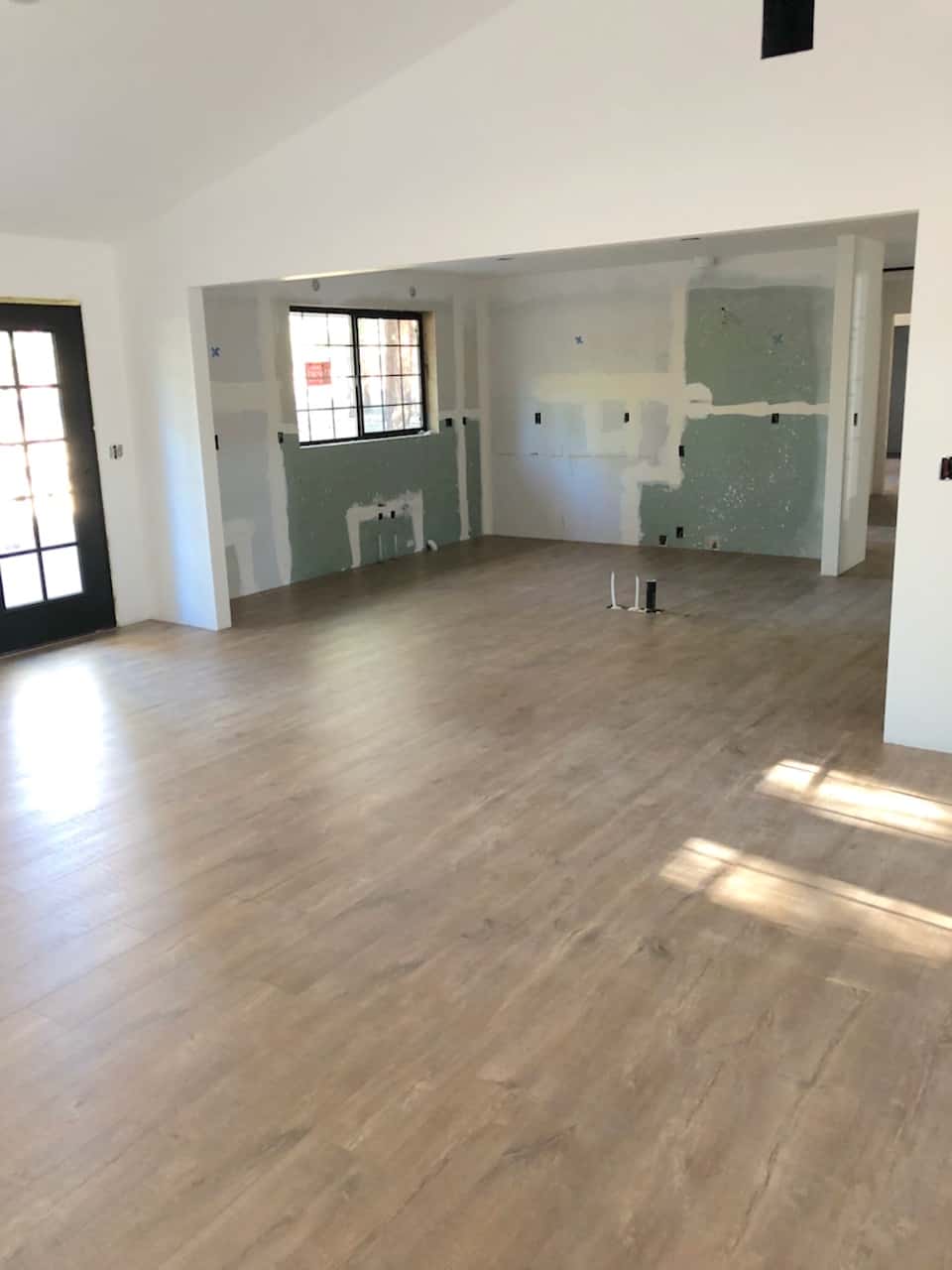 Kitchen Renovation Plans
While we did have all of the major renovations (like taking down walls and opening up hallways) done before we moved in, to save money we planned on doing a lot of the finish work ourselves, which includes doing the kitchen on our own sans general contractor. So after we moved in we set up a makeshift kitchen in the laundry room and got to work….until we couldn't.
My husband and I joke about this being the kitchen that just didn't want to be built. I won't bore you with all of the details, but we've had numerous setbacks along the way, everything from plumbing being in the wrong place to cabinets coming damaged (or not coming at all!) All of which has led us to the point we're at now: finally getting to a place where there may be light at the end of the renovation tunnel!
We currently have our cabinets in and are working on the countertops. We have a lot of the major kitchen "pieces" waiting to be installed, it's just a matter of putting everything together in the right order (meaning you can't install the fun stuff until you have all the major items like electrical and plumbing done). Which I'm more than ready to do!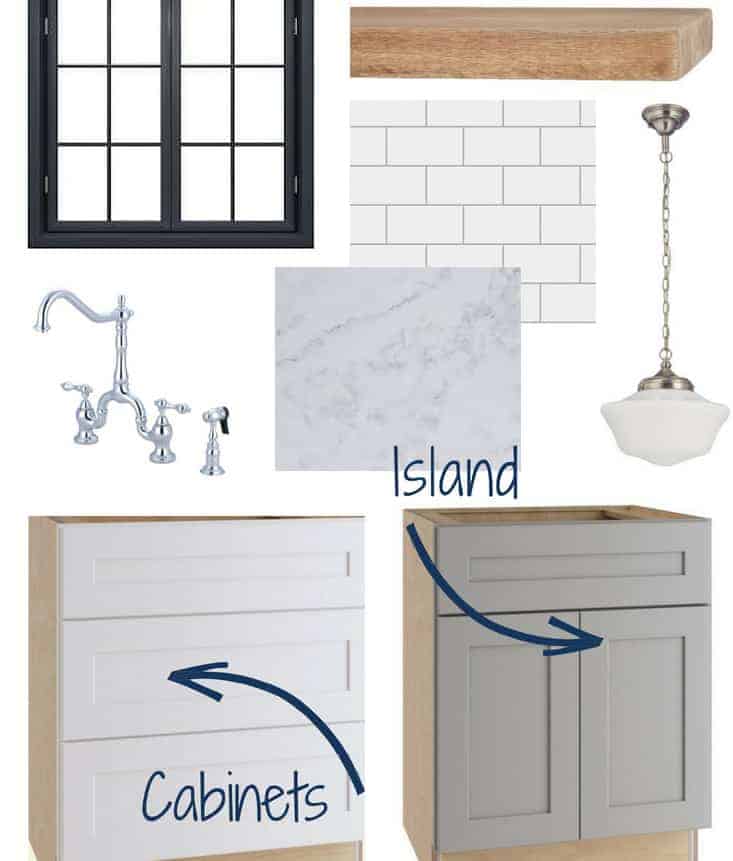 Kitchen Design Board
What now seems like forever ago, I made a  kitchen design board  to help me narrow down the look I was going for in our future kitchen. For me design boards help take some of the anxiety out of design planning because they allow me to see all of the elements in one place together. While I've stuck really close to the original design board, I am changing one major element in it: the backsplash.
In what has turned out to be a blessing in disguise, all of the extra time from setbacks has given me a chance to really get a better feel for our home and what works in it. While I love the original idea of subway tile, after using it in both of our bathrooms quite a bit I want to try something different. Stay tuned for future posts and I'll let you know what I've decided on!
Thanks so much for stopping by and don't forget to visit the other One Room Challenge participants!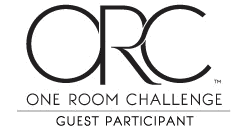 Want to save this post? Pin it here!