Come on in and check out our master bathroom renovation! This small bathroom remodel helped us maximize our space while keeping things light and airy.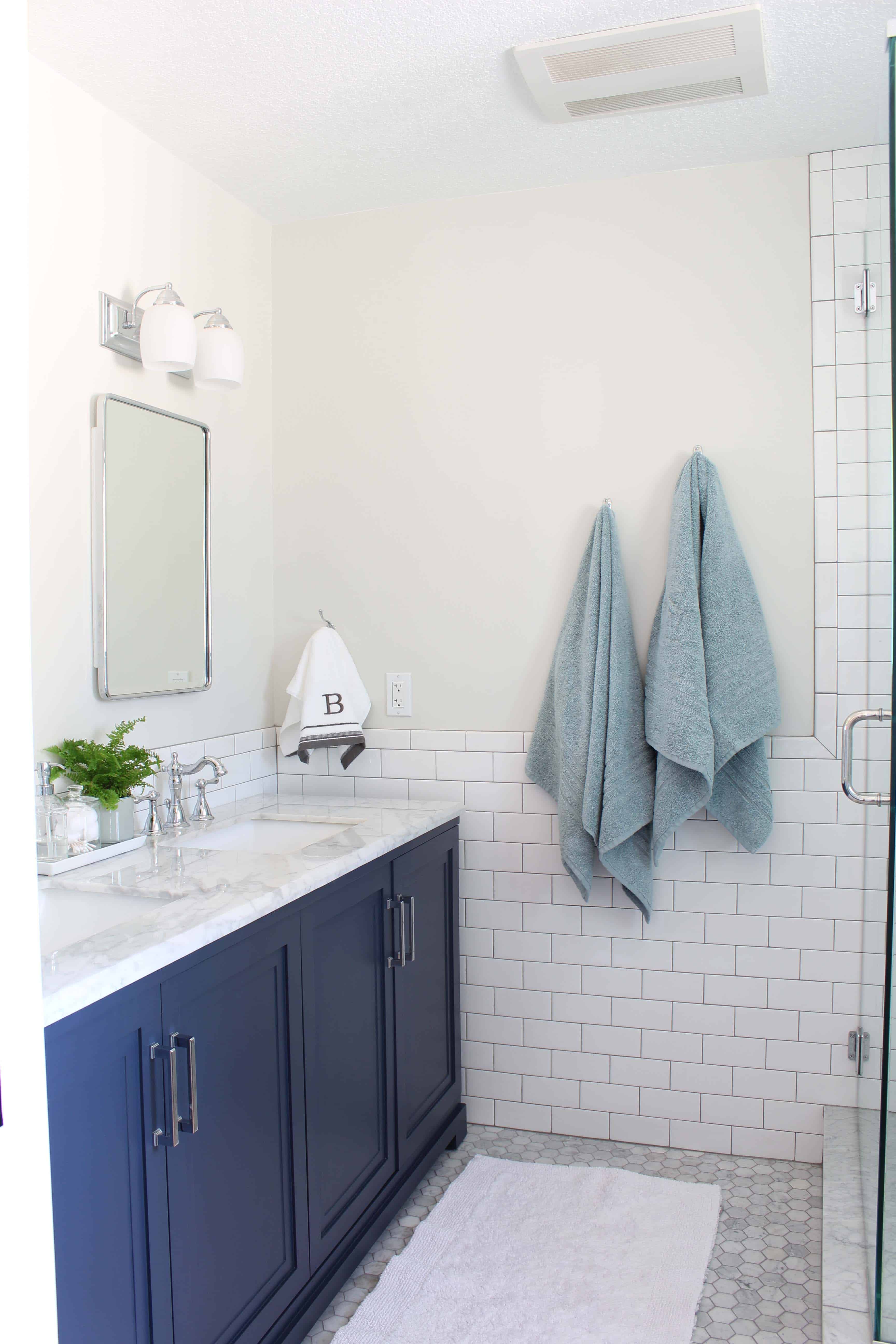 Our Master Bathroom Renovation
When we first bought this house, we were thrilled about a lot of things, but having a master ensuite was definitely right there at the top of the list. Depending on what area of the country you live in and how far your money goes in your particular housing market, you may or may not think this is exciting. For us, what some might consider a smallish master ensuite in need of renovation was music to our ears.
I wish I had taken a few more before pictures of this bathroom, but the space was tight and it was hard to get good ones with my iPhone when we did our walk through. It was a functional bathroom, but one that we knew we could make so much more functional and put our own stamp on design wise.
Bathroom Before
This is the view of the left side of the bathroom looking in from the master bedroom doorway. You'll notice it's a one sink vanity with what looks like a bump out in the wall. That wall actually adjoins the laundry room and that bump out housed the hot water heater on the other side. By moving the water heater out to the garage and taking that space back we were able to straighten out that wall and gain enough space for a double vanity.
This is the view of the right side looking in from the doorway to the master bedroom. There was a built in shower with a wall separating the toilet and shower (the toilet is hidden behind that open door). To gain extra space, we removed the shower insert and wall as well as installing a pocket door into the bathroom.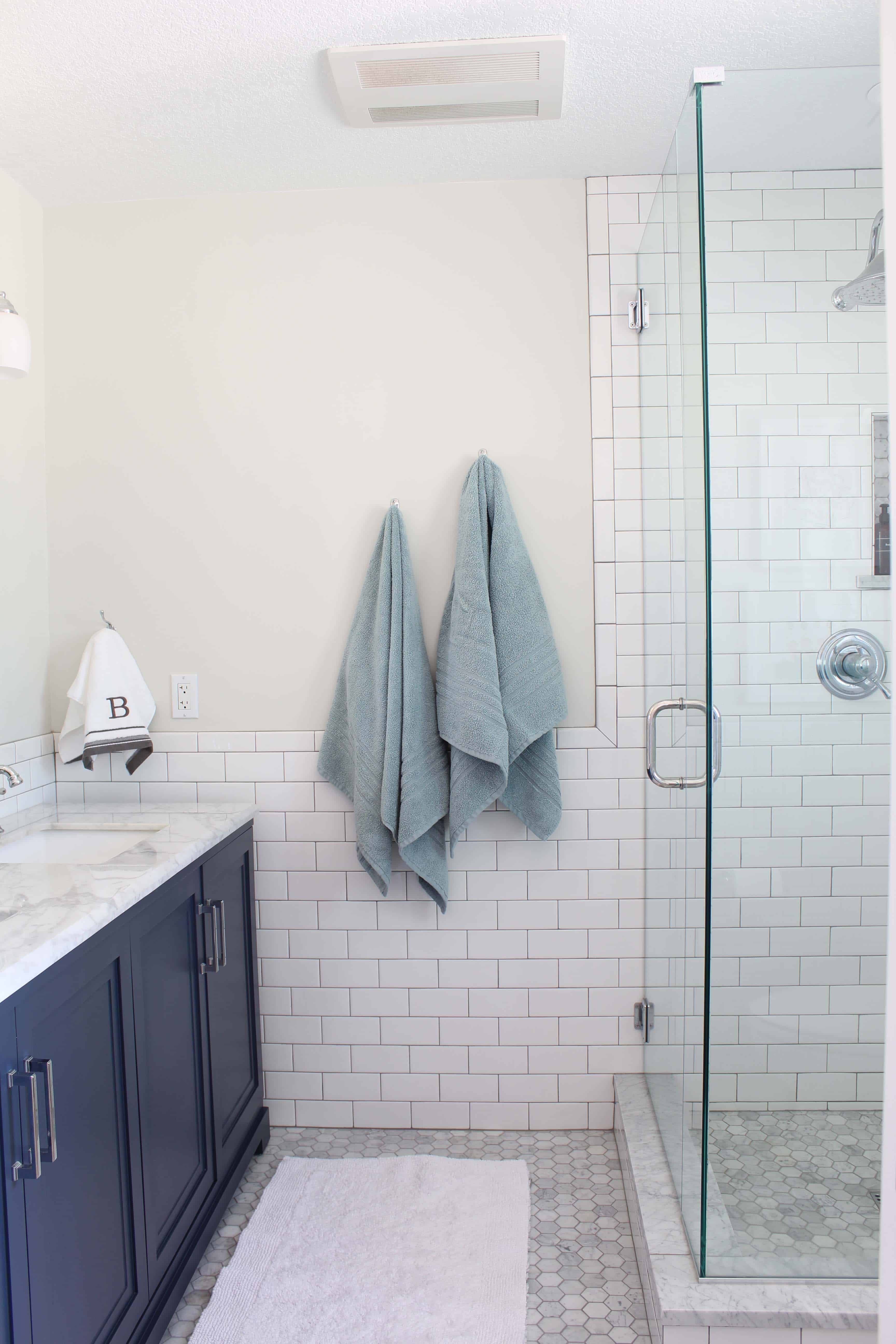 Those four big impact changes added so much space to this small bath! It also opened up the bathroom visually, which (in my opinion) is the only way to get a bigger feeling space without actually moving walls. The other major way we did this was by using glass for two sides of the shower surround. While it does mean extra squeegeeing after showers, it's so worth it 😉 .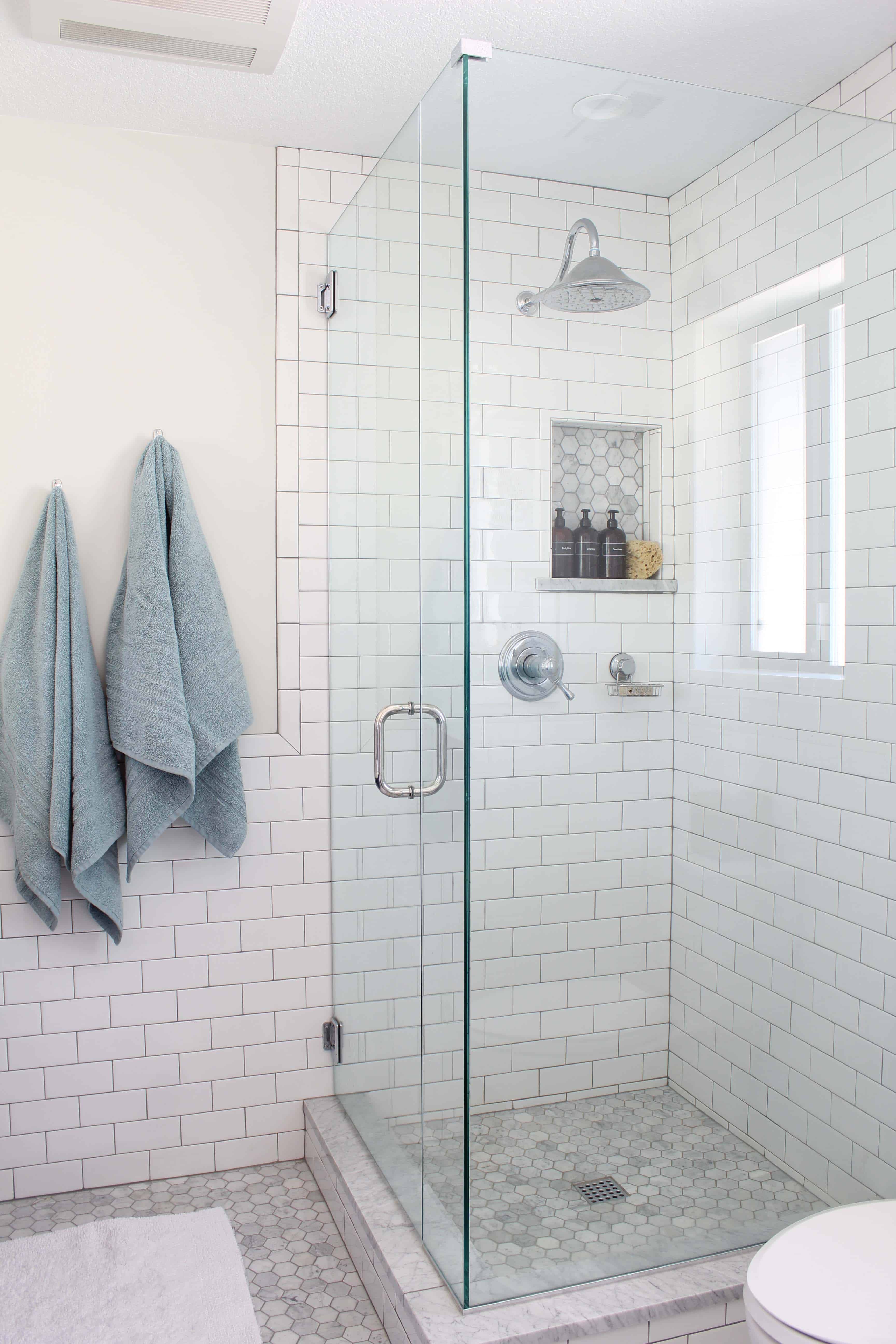 Material Choices
Since this is a relatively small bathroom, we knew we wanted to add a lot of character and texture through our tile choices. We had subway tile in our last house for 10 years and I never did get tired of looking at it. While I know it's a popular choice nowadays, I don't think you can go wrong with something you truly love. Don't let what everyone else is doing (or not doing) sway you too much!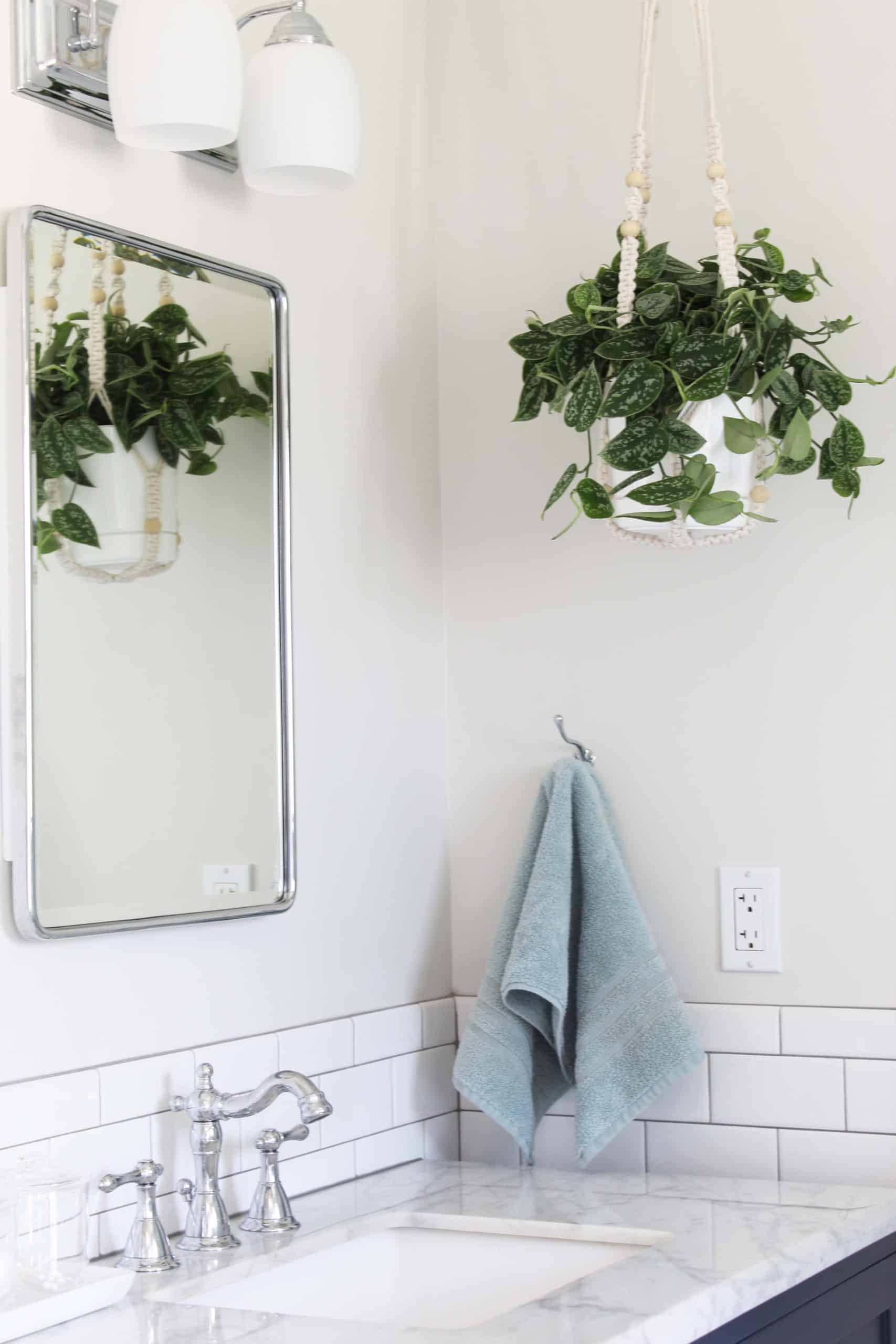 One of the other major design elements I knew I wanted was a colorful cabinet that was dark enough to offset all of the light and airy tones in the room. We ended up settling on this Martha Stewart Living Vanity  which reads a little more navy/inky blue in real life than it does in these pictures. The vanity might just be my favorite part of this bathroom.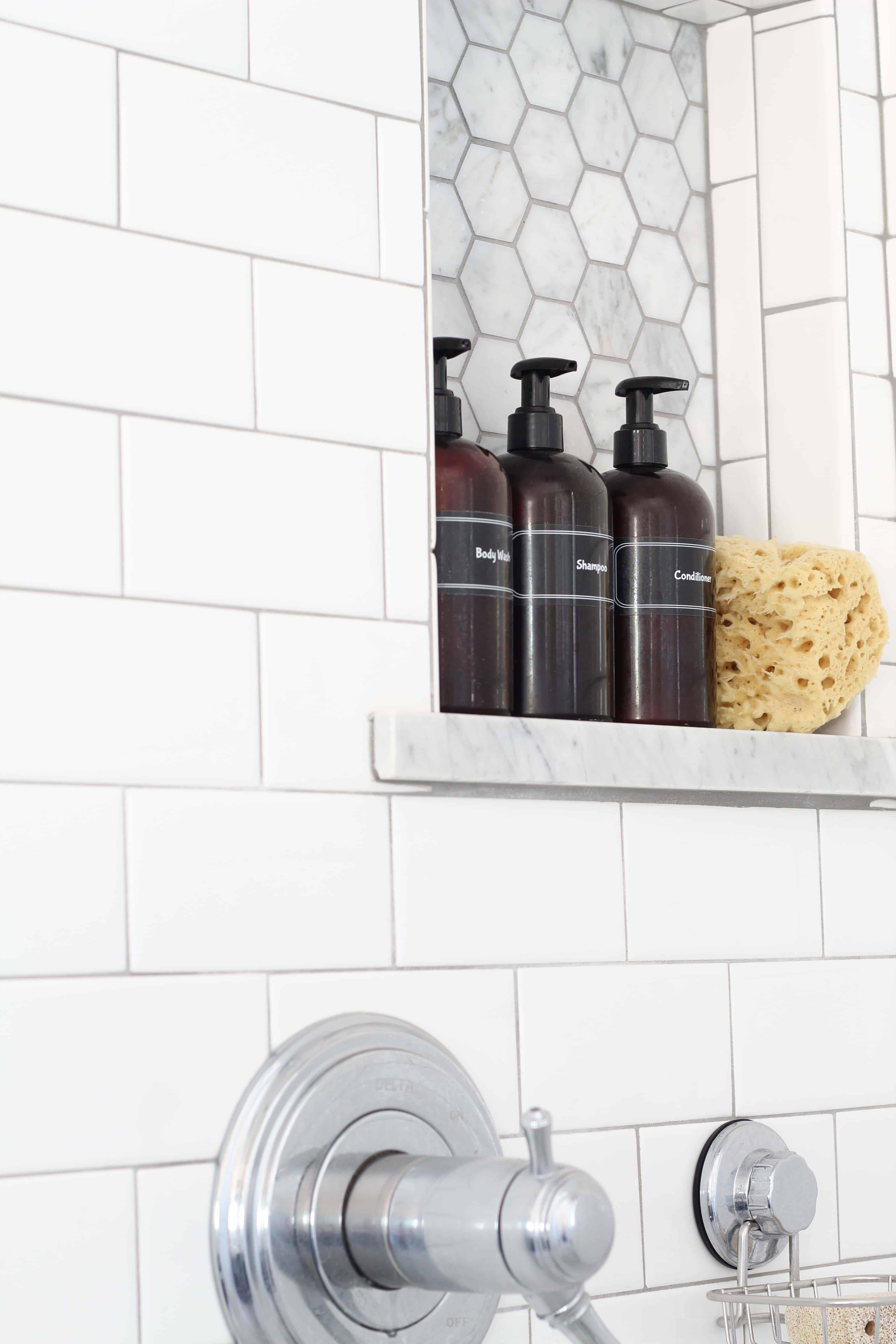 If you're looking to streamline the look or amount of bottles in your shower, I'm a big fan of these amber pump bottles as well as this set. We buy our shampoo, conditioner, and body wash in bulk and just refill as needed. It helps reduce our plastic use and looks so much cleaner than having six different shampoo bottles on our shower floor! If you're looking for a little extra space for soap, razors, etc. we use and love this vacuum soap dish holder as an easy install option.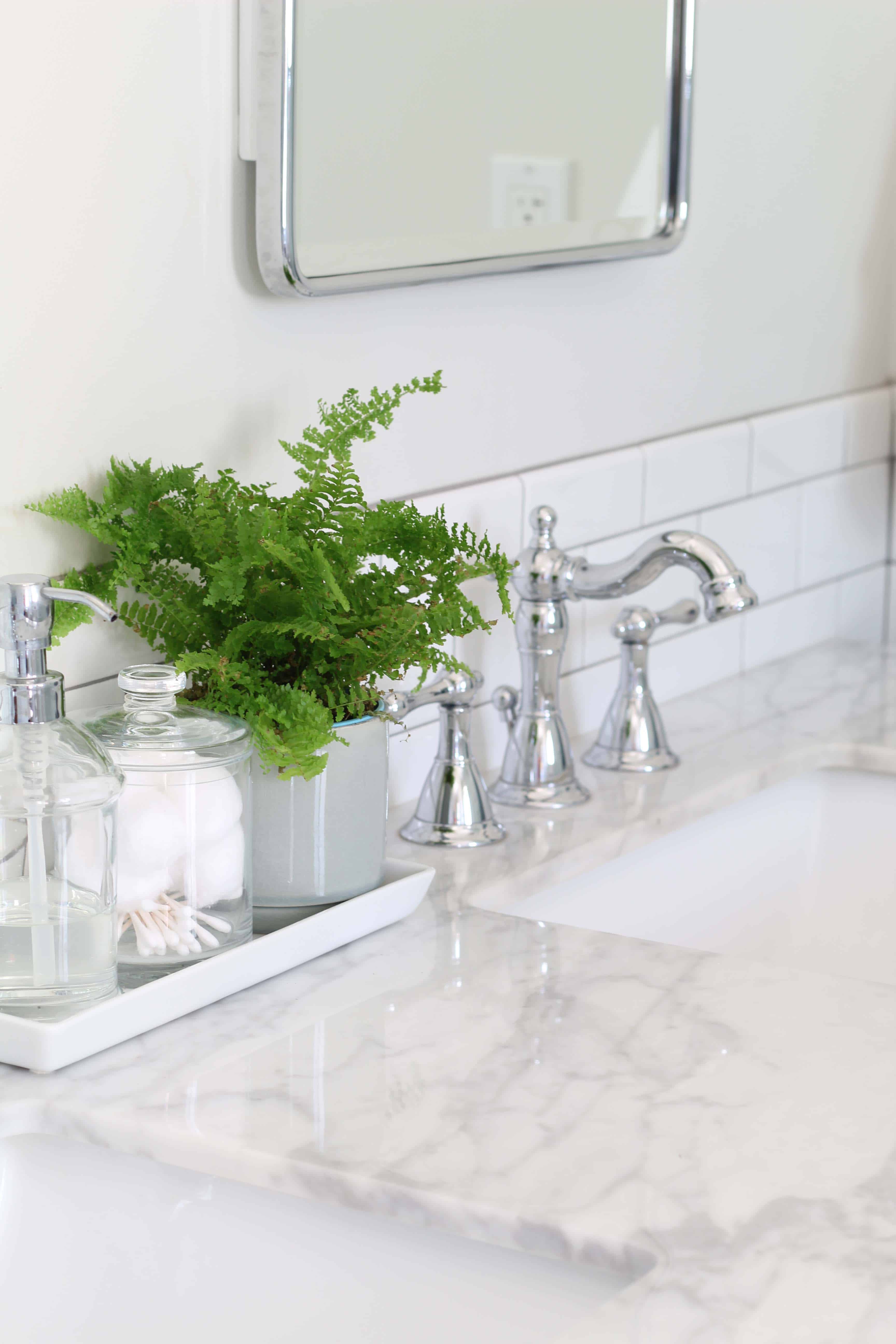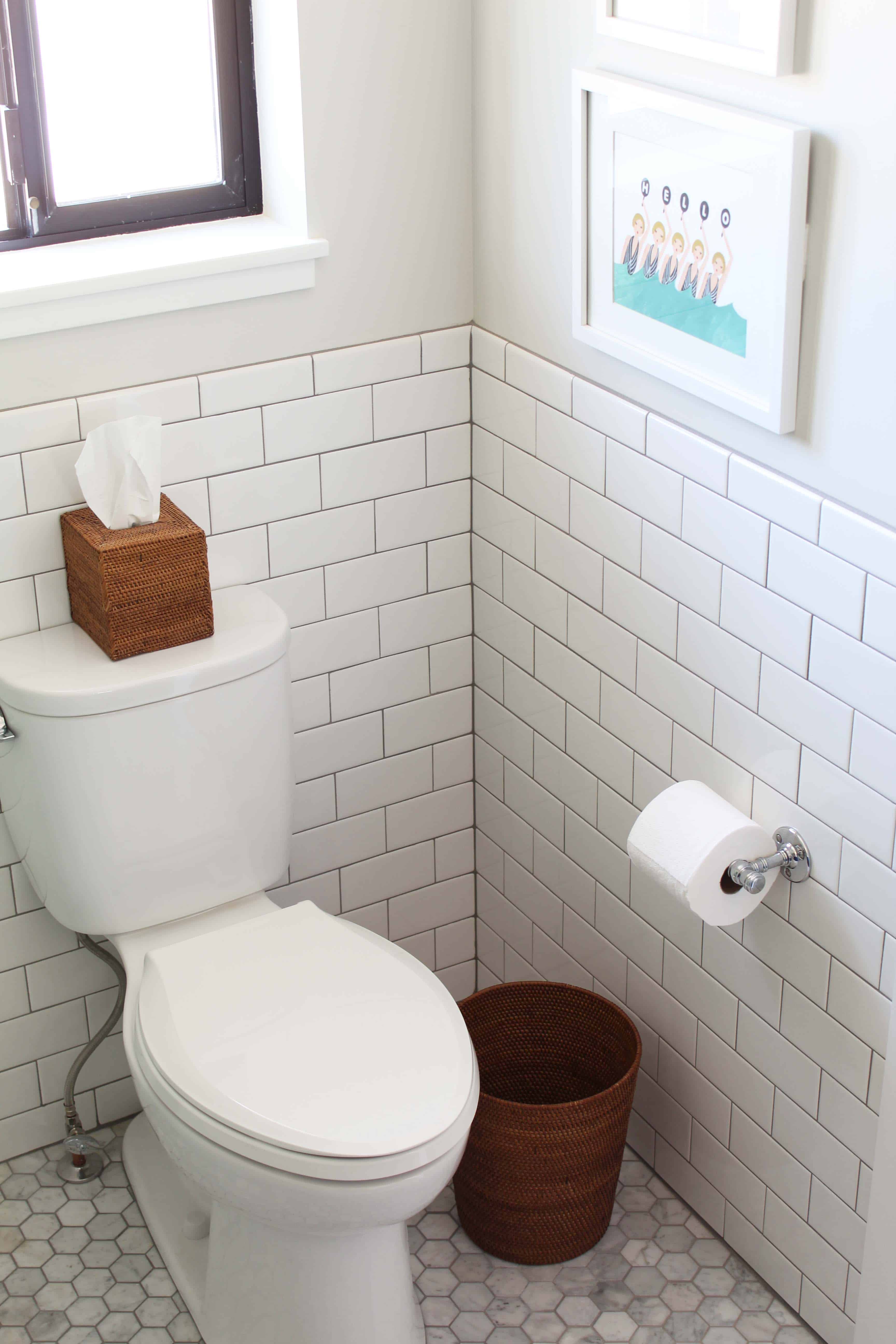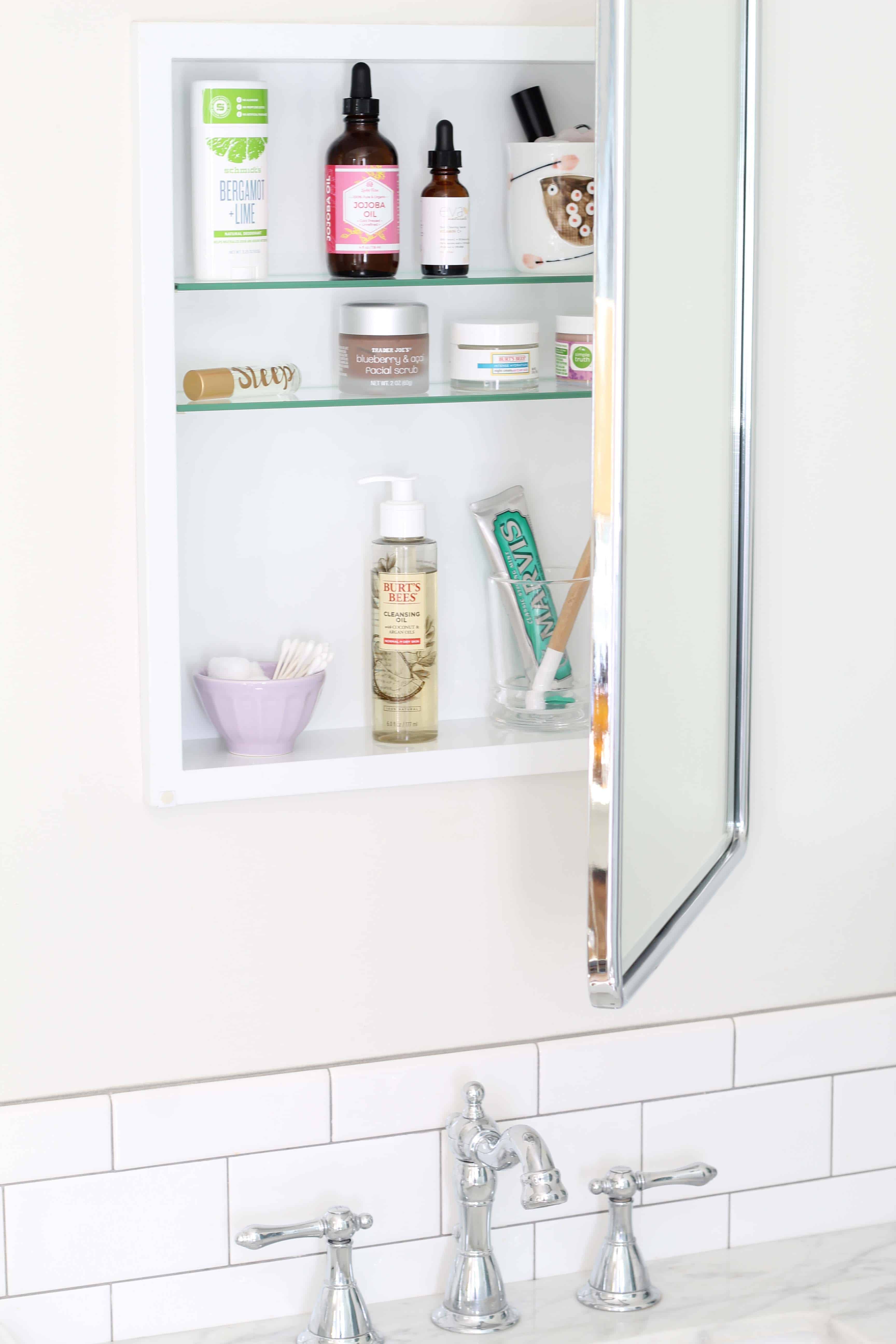 Vintage Medicine Cabinets
Rather than do a large mirror over the vanity we opted for two vintage looking recessed medicine cabinets. While they were a more expensive option compared to a traditional mirror, the limited storage space in the bathroom and the fact that the vanity has no upper drawers made us realize the extra space would be especially welcome. I have zero regrets about choosing these. If you're interested, there's a full organizational post on them here.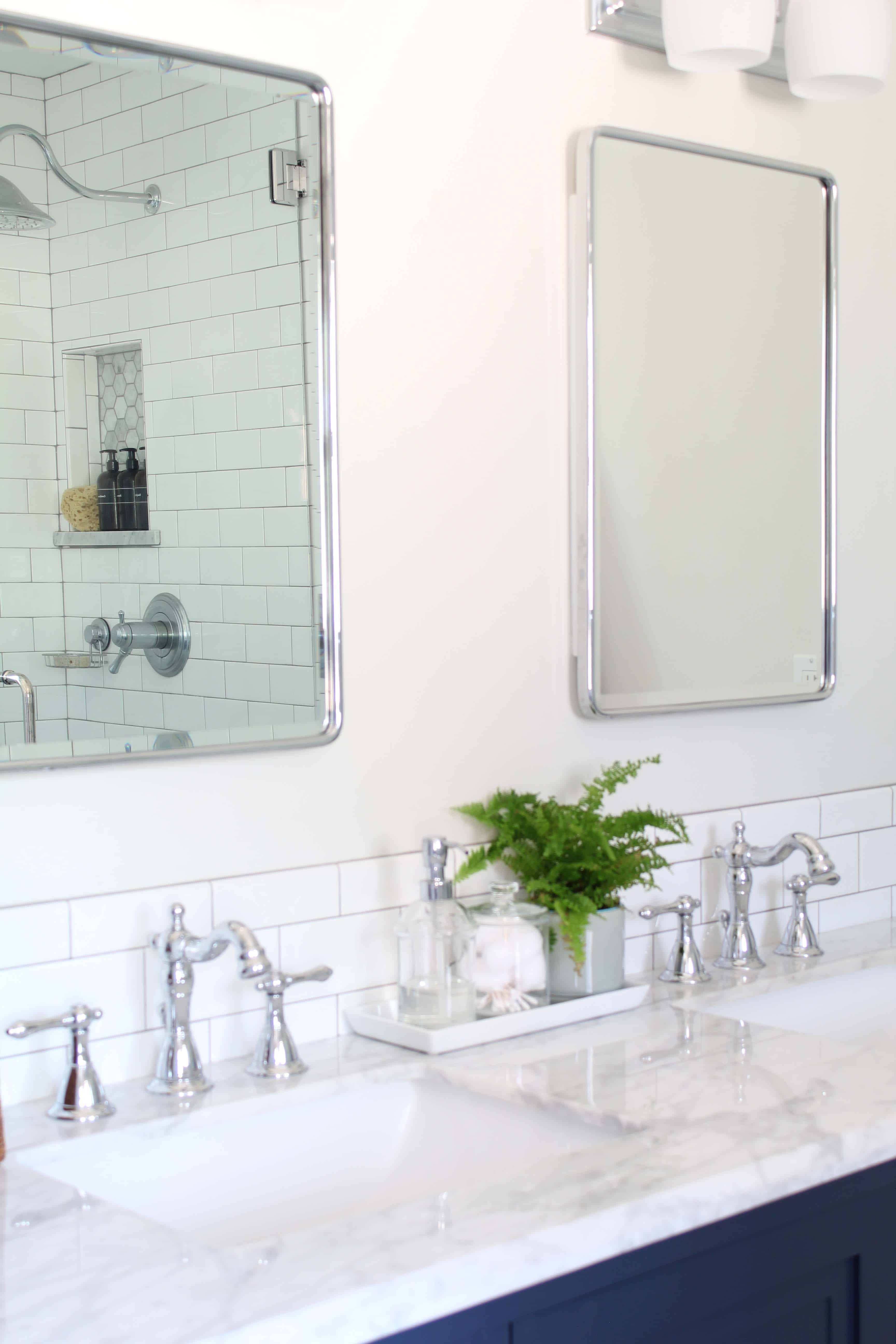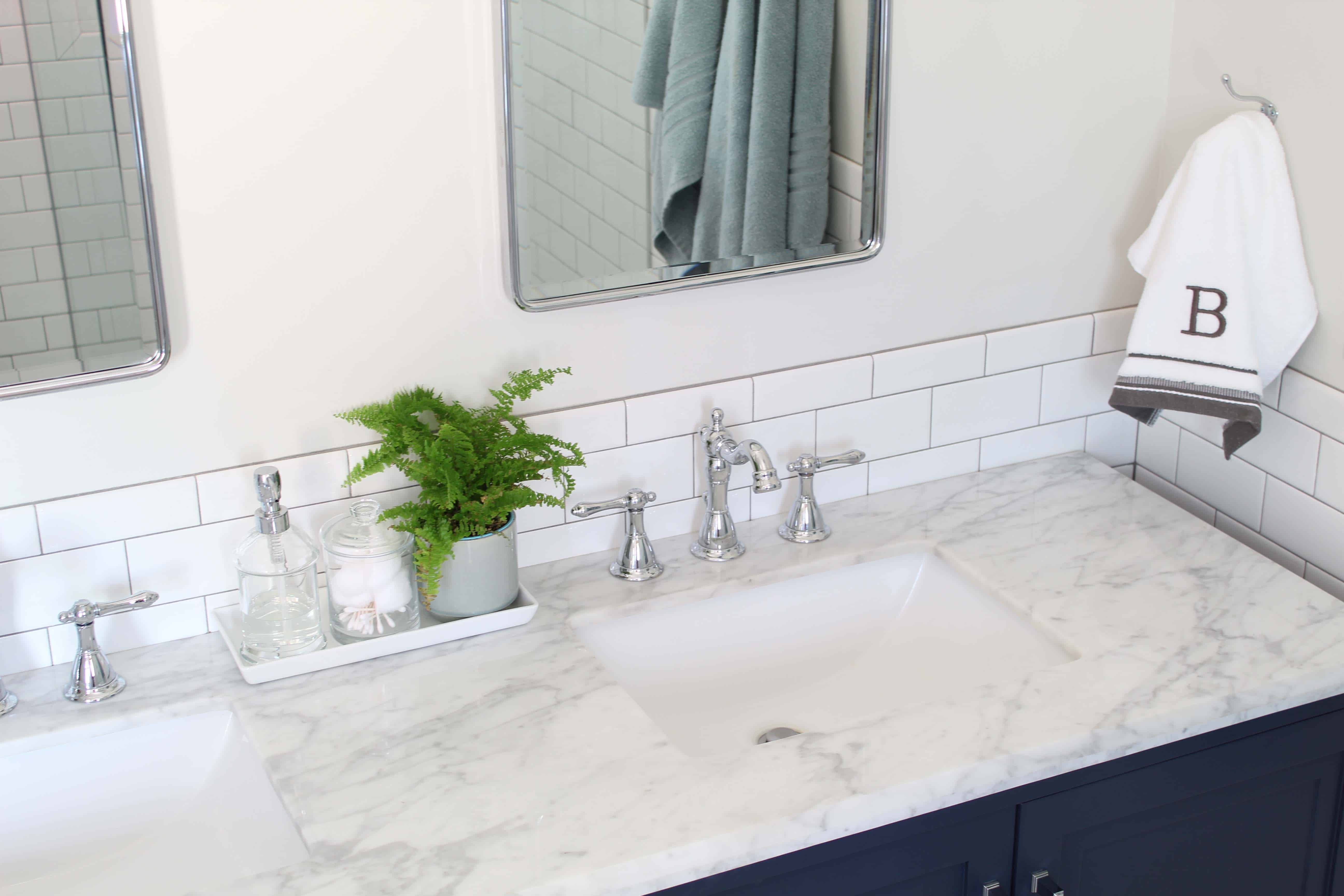 While there were quite a few hiccups throughout the project (aren't there always?) and it took us longer than expected to finish everything up (I'm looking at you trim work) it was so worth it. Renovations are exhausting and frustrating, but the end results leave you feeling so grateful…..tired, but grateful. 🙂
This post contains some affiliate links for your convenience. Click here to read my full disclosure policy.
Want to save this post? Pin it here!