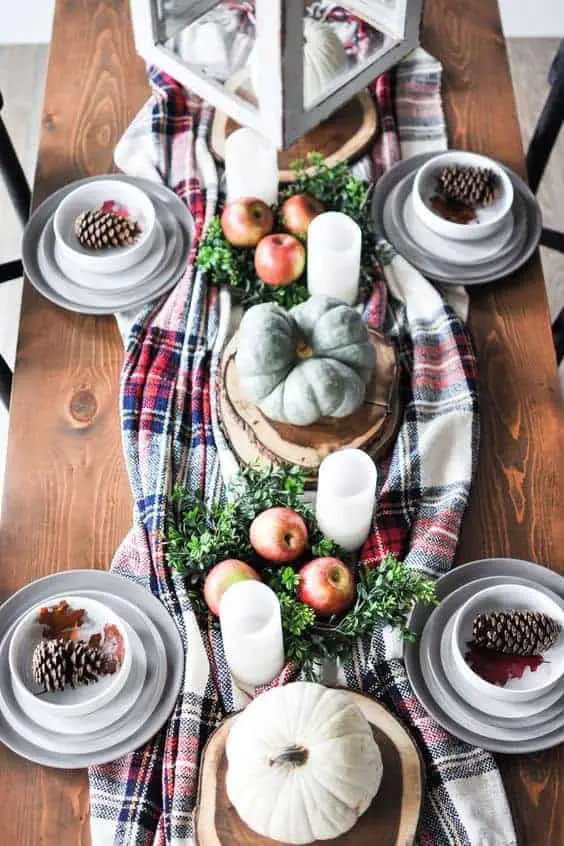 In honor of what seemed like the longest week I thought I'd do a little Friday favorites round-up. This time of year has so much design inspiration everywhere. I think it has to do with the obvious fact that we focus so much on getting our homes ready for the holidays, but also because of all of the natural elements that come with this time of year – the pumpkins! the candles! the snow!
Isn't the above tablescape amazing? I think what I love most about it is the transitional elements. It almost feels like a combination of a Thanksgiving and a Christmas tablescape pulled into one. The pumpkins and leaves keep it feeling fallish while the tartan blanket and pinecones add the perfect touch of Christmas without feeling over the top.
Here are some other items I'm loving from around the interwebs:
Is anyone not talking about Target's new Hearth & Hand line with Chip and JoJo? I unintentionally went to our local Target on the launch day and was pleasantly surprised at the number of items still in stock. It really is a cute line – simple, clean, modern lines with a touch of traditional Christmas. My favorite picks were the nesting houses, the juniper wreath, and the striped pot holders.
[slide-anything id='498′]
Boxwood Avenue is one of my favorite blogs to follow and she is currently participating in the One Room Challenge. Her dining room is turning out so dreamy, I want to move in!
I just order these cozy blankets for christmas gifts and may have added one to the cart for myself. #buffalocheckforever
We've been contemplating getting rid of our cable tv lately – the bill just seems to keep climbing. I've been researching different streaming services and am excited to try out Sling TV (my husband not so much). I'll report back on how it goes.
I hope you all have a great weekend, and thank you so much for stopping by!