Cooler weather and more nights at home can only mean one thing…fall! Check out these simple ideas on cozy fall touches for your home.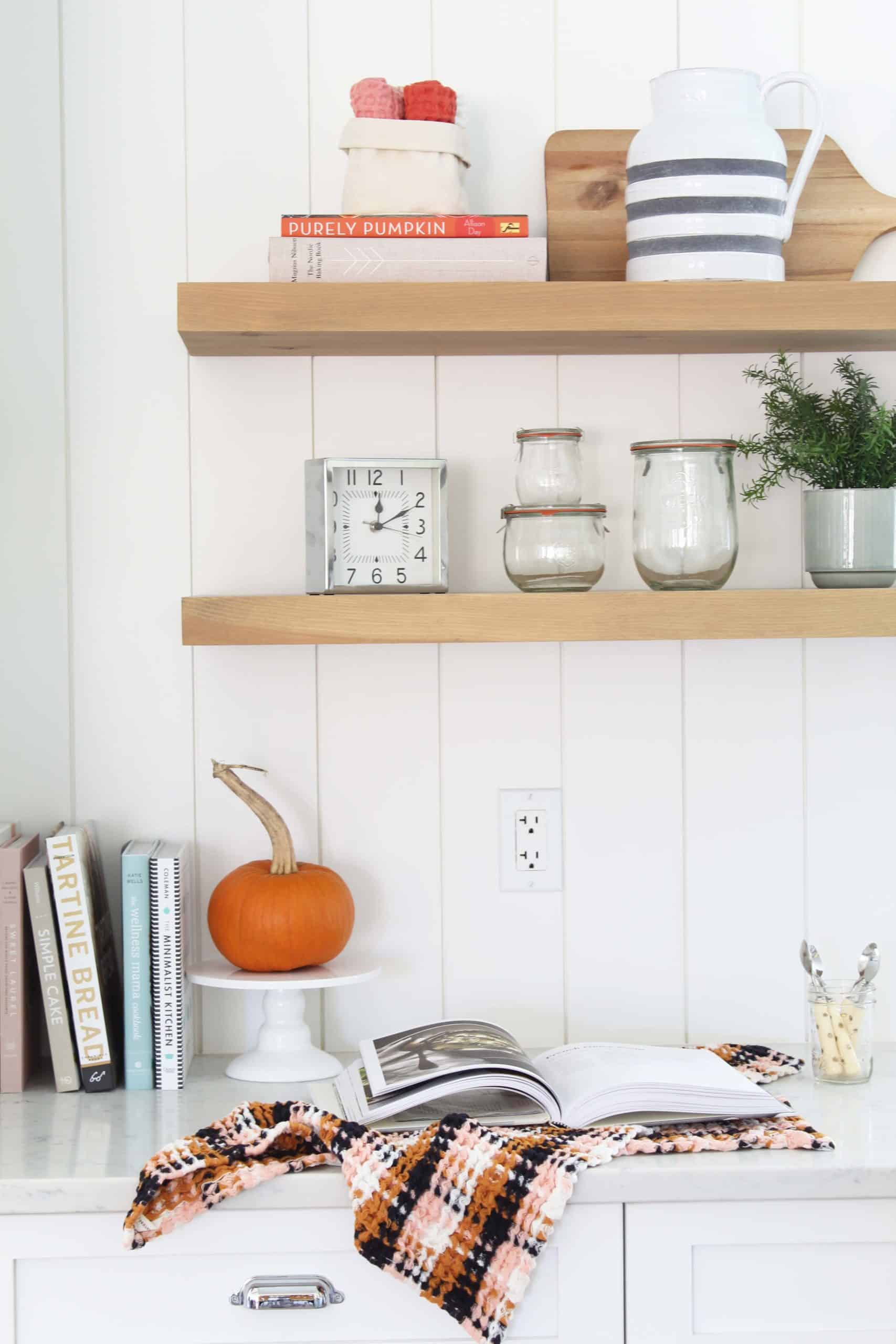 Since it's now officially fall and the first day of October, it seemed appropriate to do a little tour of the cozy fall touches I've been slowly adding to our home over the past couple of weeks. Fall decorating kind of snuck up on me this year with all of the house projects we've been trying to get done before the cold weather and snow sets in. The picture above is from last year's fall kitchen tour.
Cozy Fall Touches For Your Home
I love fall decorating and normally I go all out, but this year called for some simpler touches and a few fall decorating ideas that I hope will transition well into winter. I love the idea of celebrating a season as opposed to just a holiday this year. It gives us the chance to enjoy things a little longer rather than just ripping down fall decorations to get to Halloween and tossing all the Halloween decor right away for Thanksgiving…. or maybe I'm just tired this year?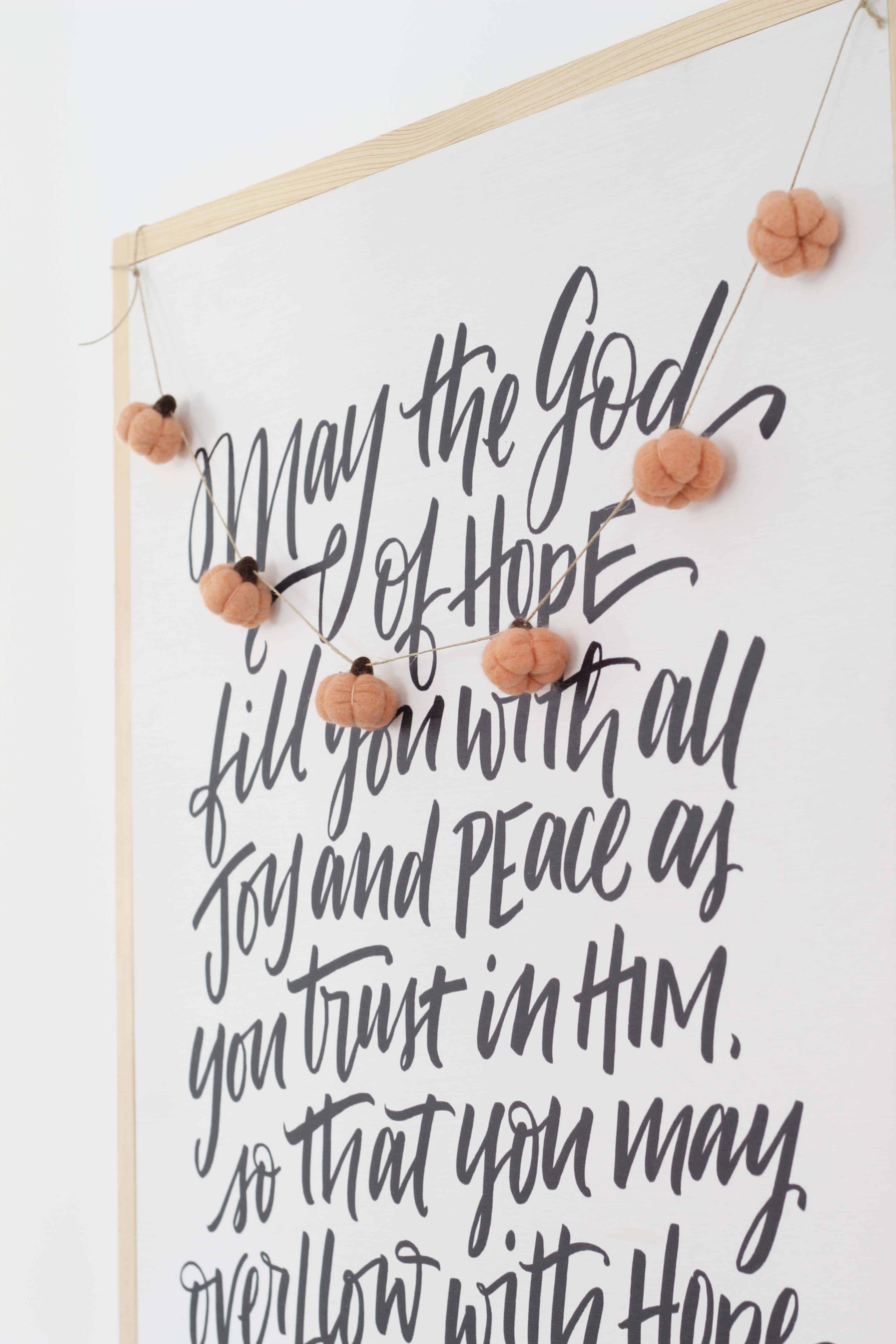 I made this little felt pumpkin garland with my daughter last Saturday morning and I'm loving how it turned out. It was super simple to make and I love how it plays against the black and white of the word art.  I bought felt pumpkins and used a large gauge needle with twine to string them.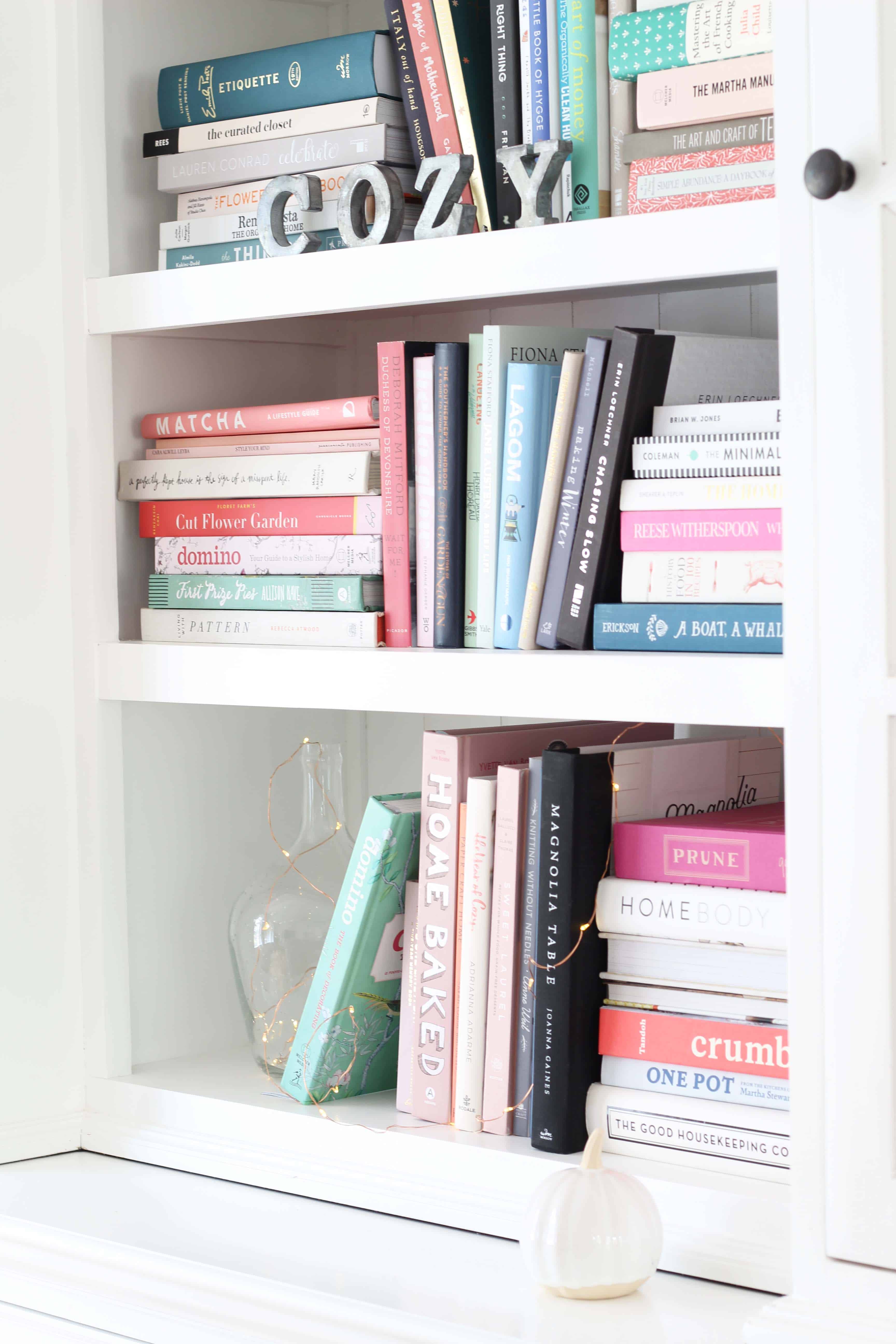 Add Little Details To Everyday Items
The bookcase in our dining/great room is a focal point no matter what the season. I kept it simple by adding some fairy lights to the glass vase as well as a cute little white ceramic pumpkin. Making art with words is one of my favorite ways to add a little whimsy to our decor that also has meaning. The zinc cozy letters seemed perfect for this time of year and something that could easily transition into the Christmas season and the rest of winter.
Post Sources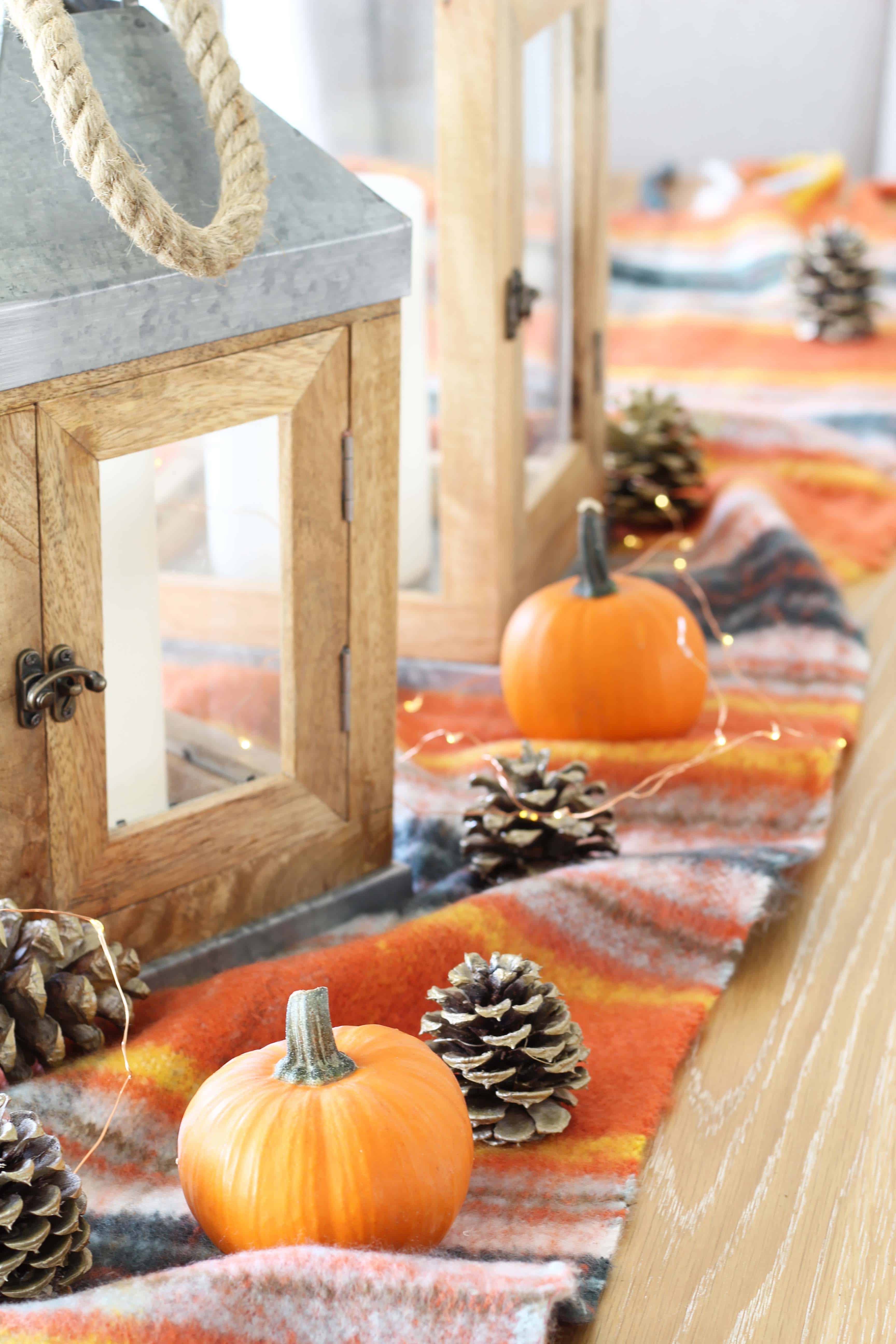 I made this cozy and simple fall tablescape in a matter of minutes with just a blanket scarf, mini pumpkins, pinecones, fairy lights, and a couple of lanterns. Using a scarf I already had and pinecones from our backyard made this a super simple way to add a huge dose of fall to our home. See full tablescape post here.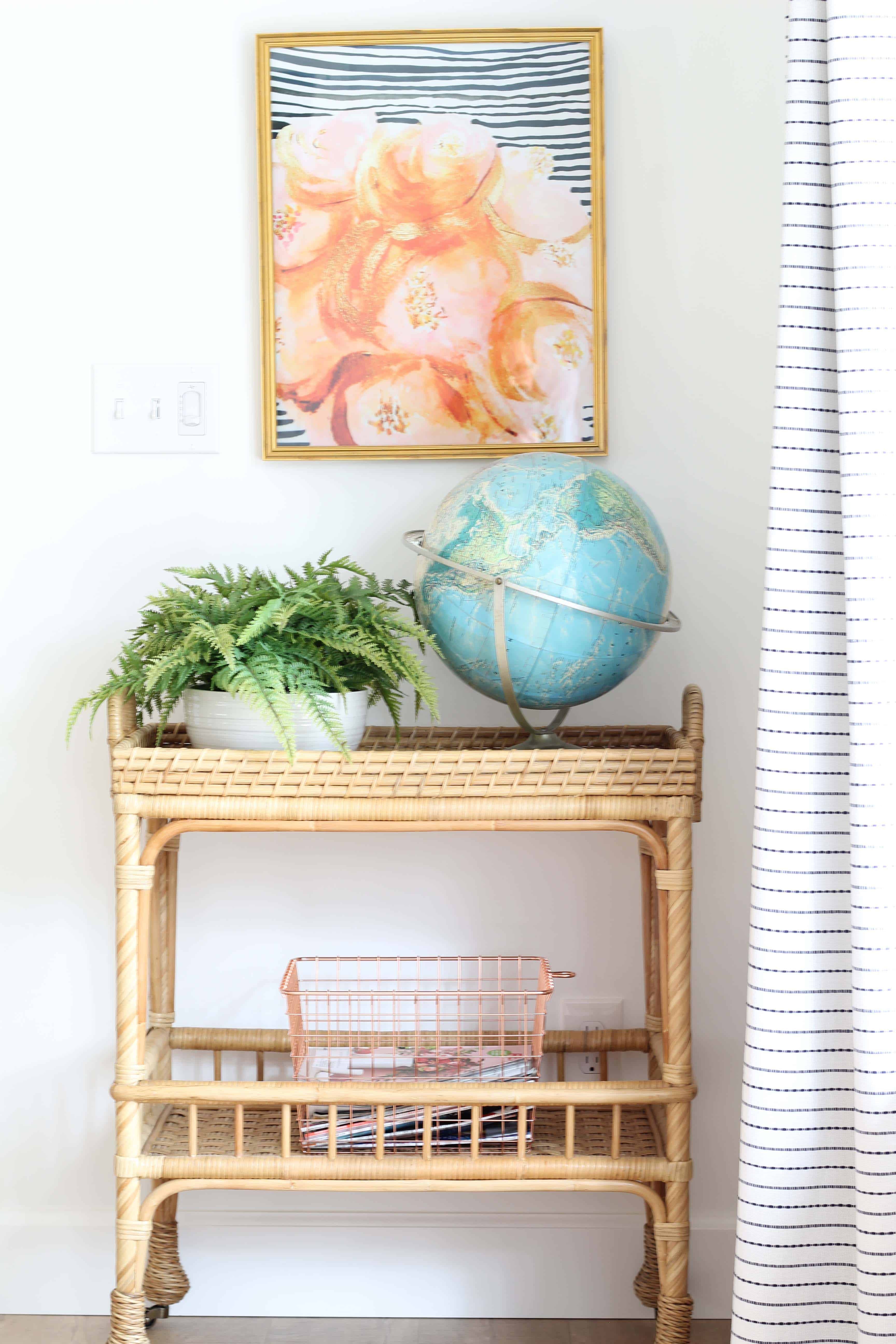 This little corner is opposite of the bookshelf on the other side of our dining room table. I finally got some art up on the wall this summer and I think I'm going to keep it up throughout the fall. The orange and peach tones work well with the copper magazine basket and I like that it adds a pop of color to this little nook.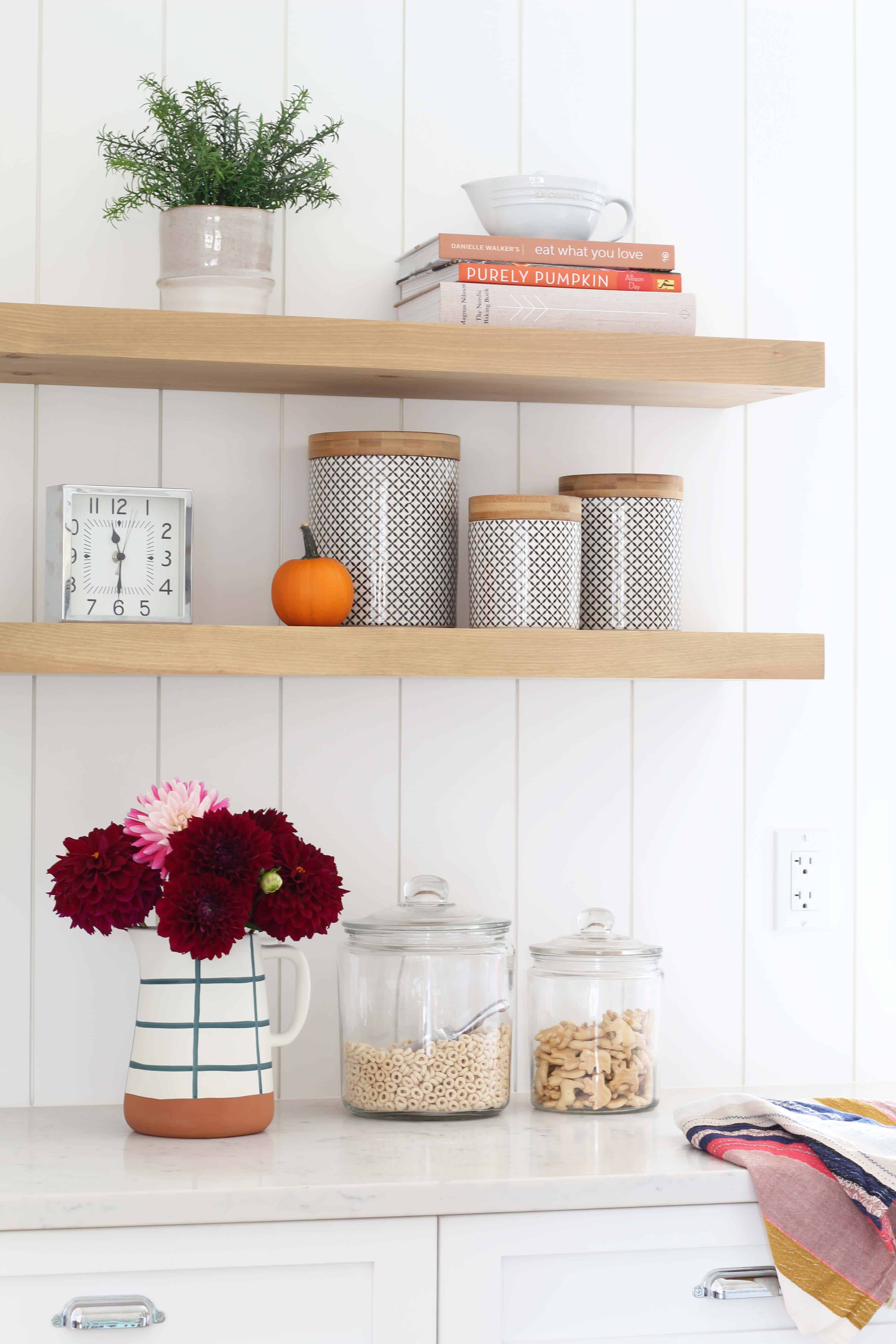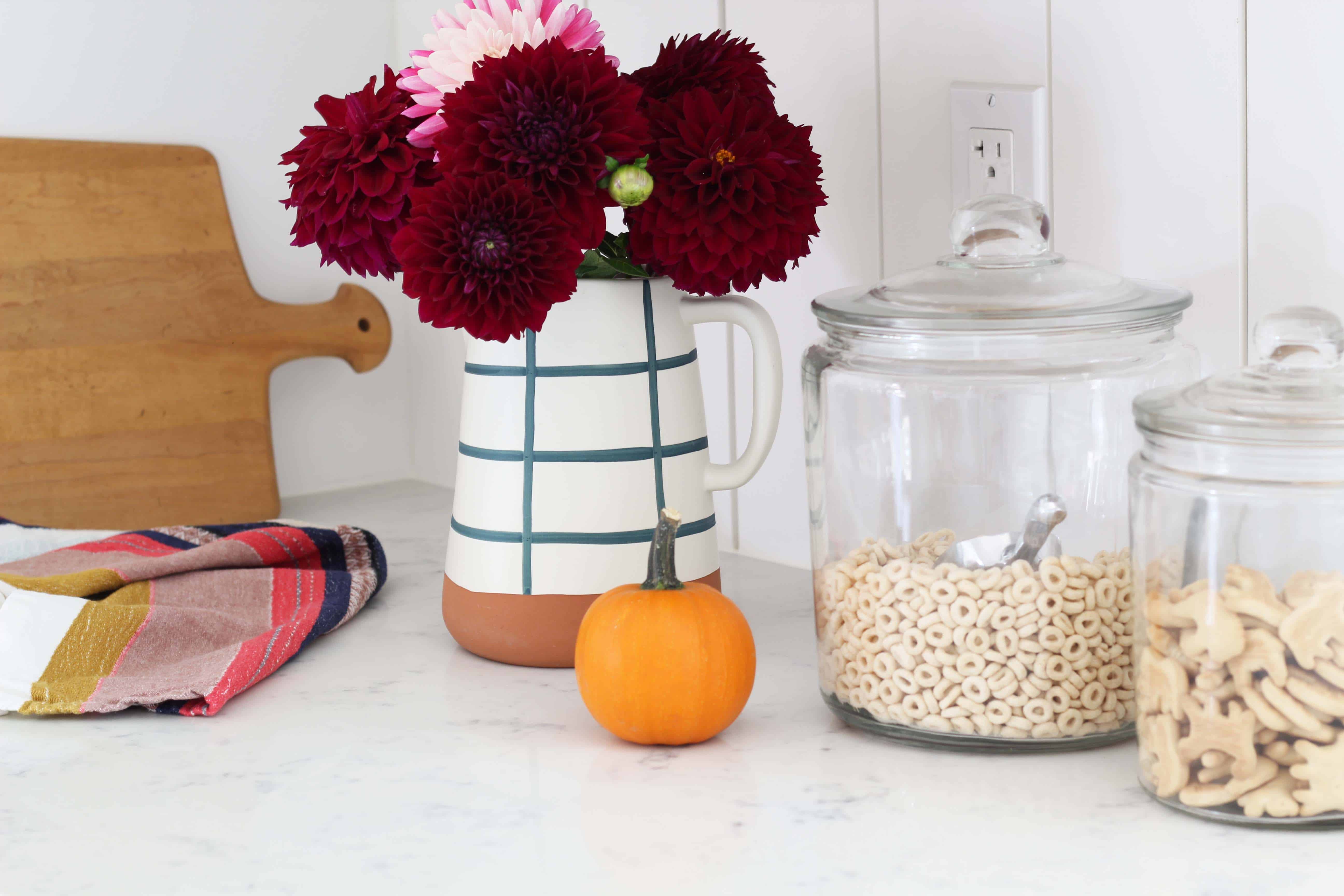 Use What You Already Have
And of course, my favorite, easy way to bring fall into our home is through flowers and a few mini pumpkins tucked in here and there. I cut these dahlias from my mom's garden when we were visiting this past week (isn't the color perfect?) Pair a pitcher of flowers with a pumpkin and I honestly don't think you can go wrong.  😉
My other favorite way to decorate by season is with cookbooks. I might have a slight cookbook obsession, but honestly it's one of my favorite things to switch out at the beginning of each season. Flipping through them and finding recipes to try or old favorites to make is always a highlight. Plus, if you have a shelf to display them on or a basket to collect them in on one of your kitchen counters, you have instant seasonal decor! I also find that if they're out and readily available, I tend to use them more.
Use Seasonal Appliances
And who can resist a cute dishtowel with gourds all over it? We eat soup at least a couple of times a week for meals during the fall and winter months, so bringing out the dutch oven always means colder weather is just around the corner. I normally make a double batch of soup so it can be eaten for at least two meals. Keep some ready bake rolls on hand in the freezer, toss a salad, and you're ready for a cozy fall night in!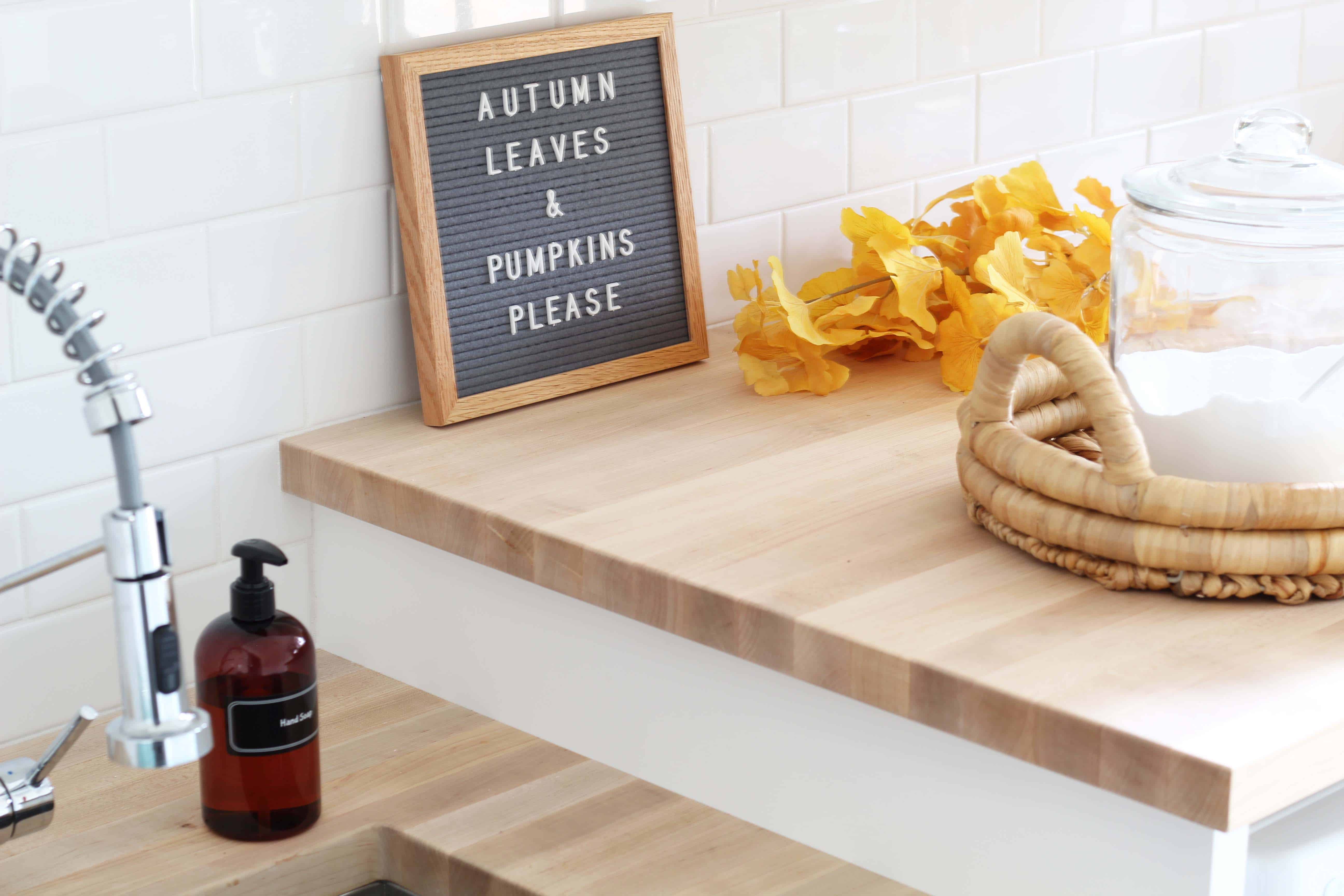 And last, but not least, a little peak at the laundry room (you can see a full tour of our modern floral laundry room here).  I have been keeping my letter board in here and thought it would be fun to add a little fall cheer to look at while I do laundry. 🙂
Happy fall nesting!
Post Sources

This post contains some affiliate links for your convenience. Click here to read my full disclosure policy.
Want to save this post? Pin it here!