Welcome to our peppermint twist Christmas kitchen tour! I hope this gives you some easy ideas for adding some simple Christmas touches to your kitchen!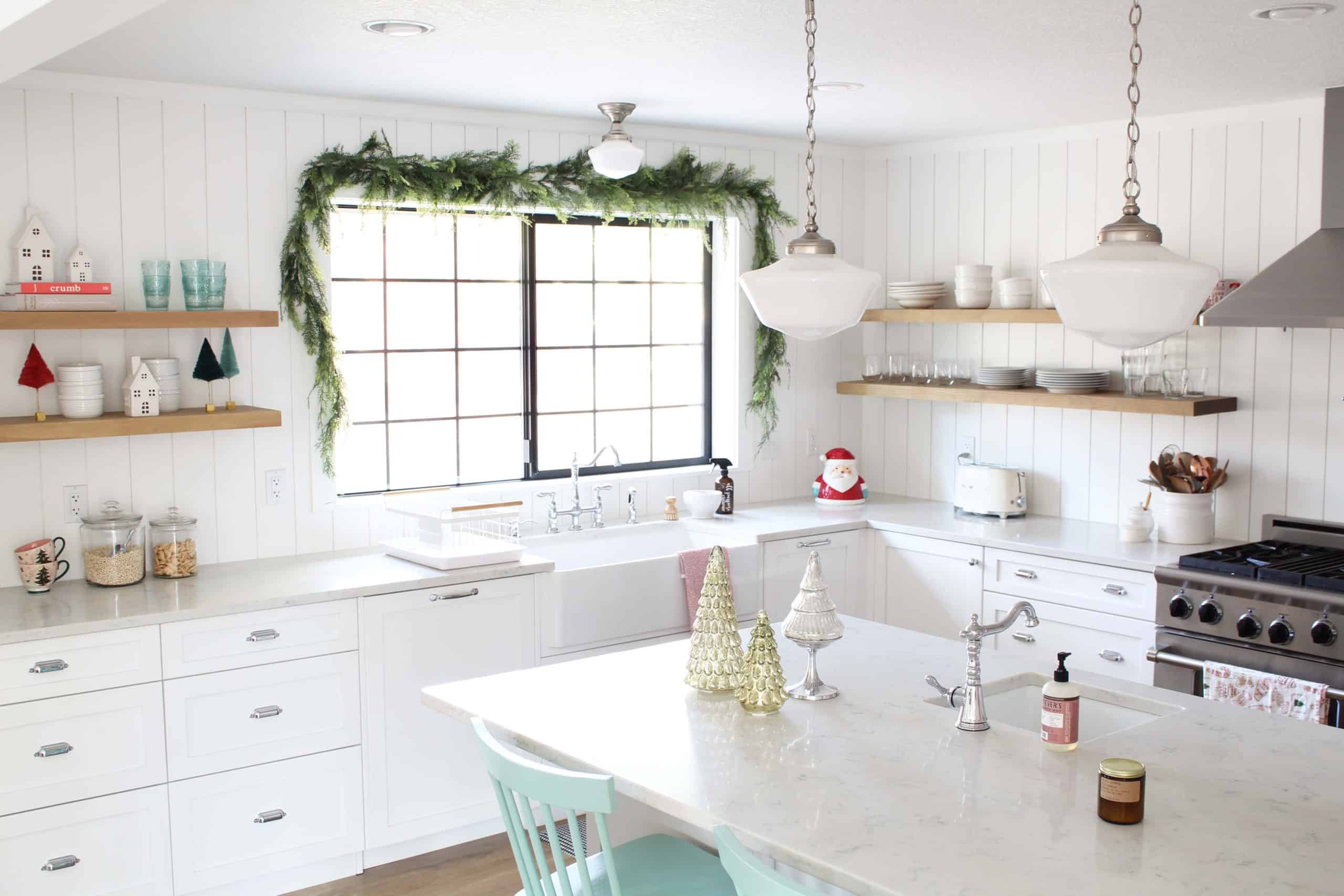 With the beginning of December just around the corner, I'm officially kicking off Christmas decorating around our home. Yay! There is nothing like Christmas decorations, greenery, and festive family meals to make your home feel cozy for the Christmas season!
Our kitchen is probably my favorite place in our home to decorate for Christmas. The open shelving, neutral palette, and all of the natural light it gets make it a treat to add some holiday cheer to.  I had fun this year using some colorful cookware, ceramic Christmas houses, bottles brush trees, and cookbooks to add some Christmas decor while still keeping it functional enough to actually cook in, ha!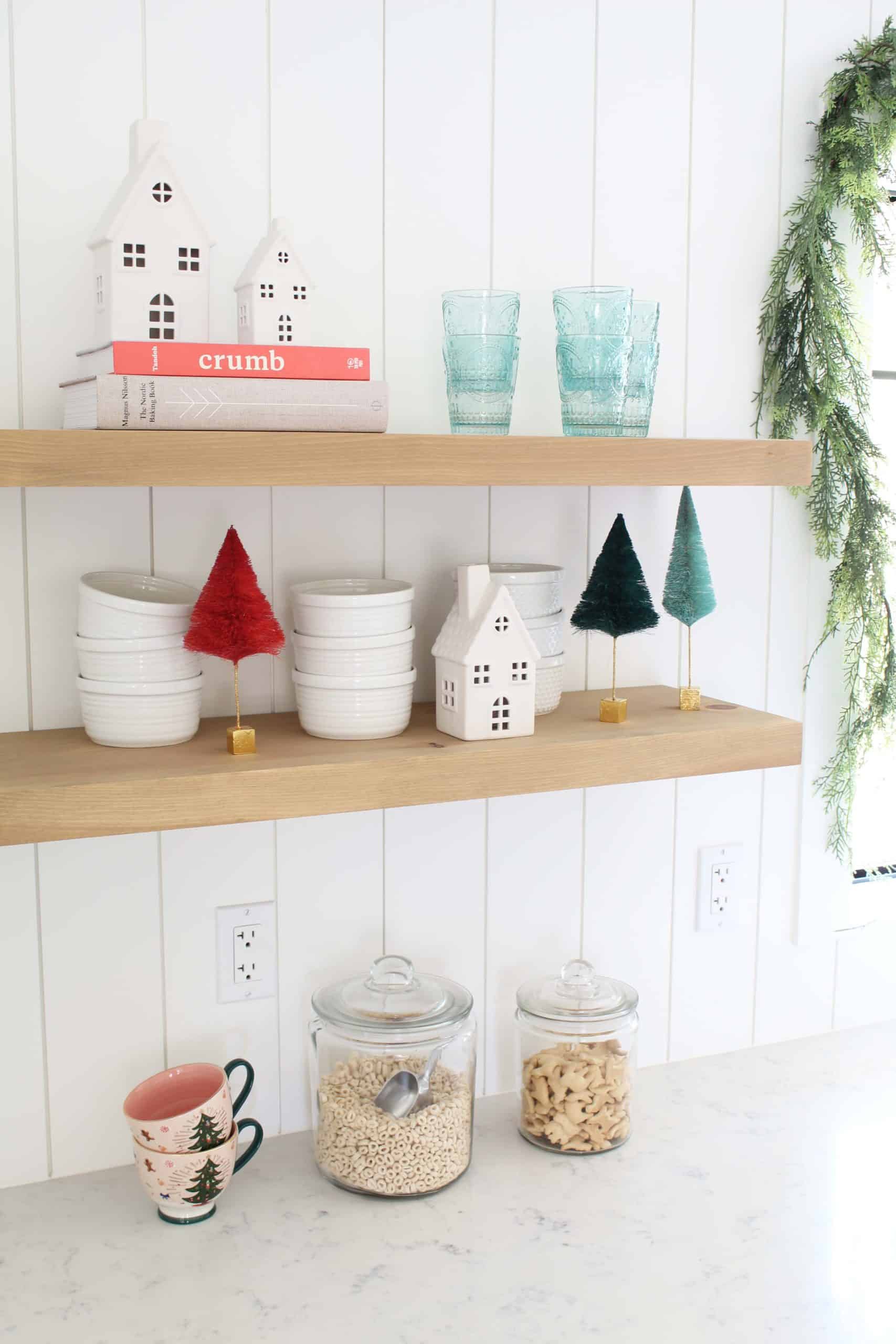 Village Houses // Similar Bottle Brush Trees // Christmas Tree Mugs
Peppermint Twist Christmas Kitchen Tour
My overall favorite shelf to decorate is the above corner shelf. I change it out fairly regularly with some seasonal decor and it makes me smile each time I walk by it. I've mentioned it before, but changing out some of my favorite cookbooks is one way I love to give a nod to the season while still keeping it practical.
I added some small white ceramic village houses from Target this year and it was such a simple way to make this corner of our kitchen feel a little extra homey and cozy. The colorful bottle brush trees are something I've been pining after for a couple of years. I love the touch of whimsy they add for something with such a small footprint! Even if you don't have open shelving, they would still work great on a countertop creating a little vignette.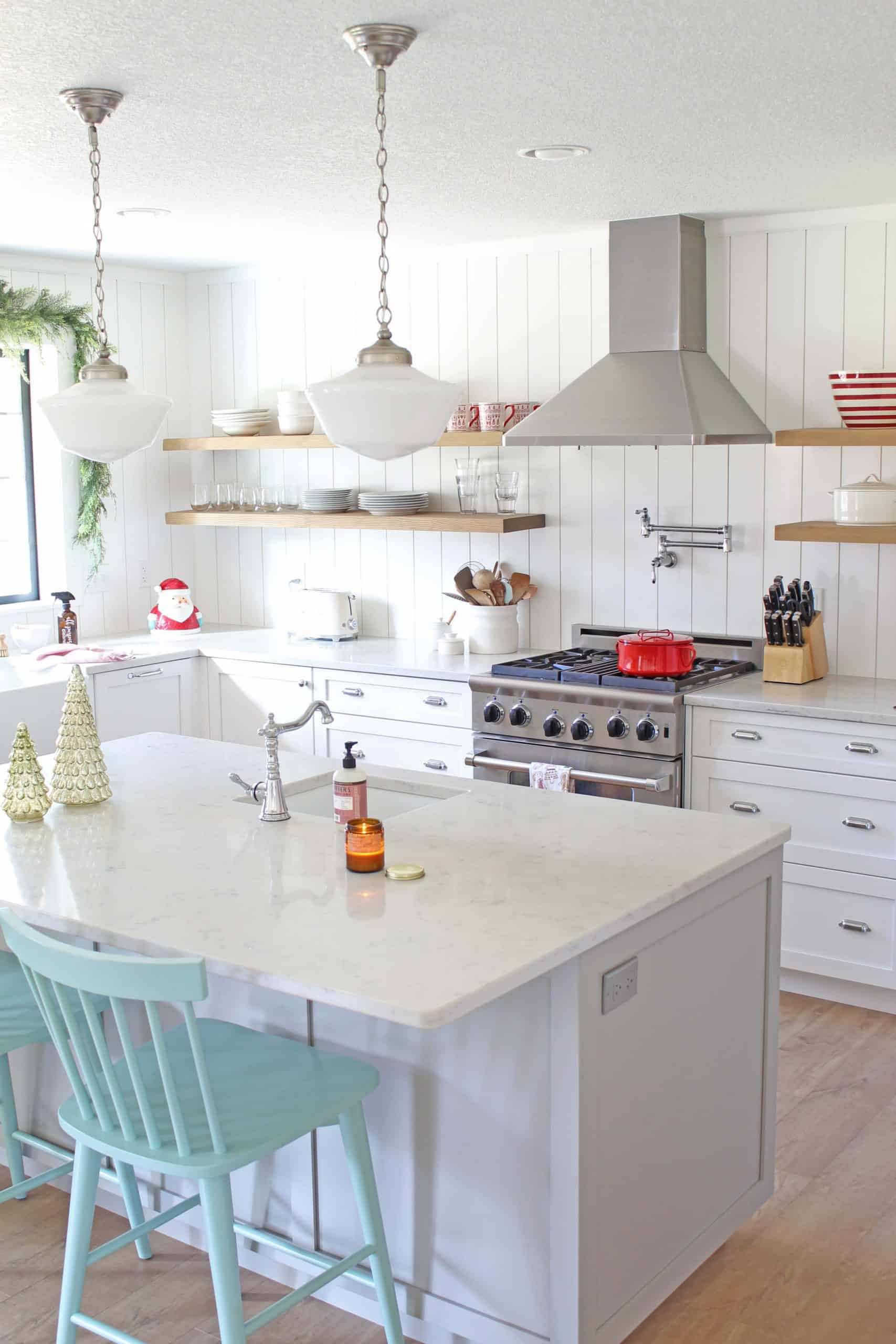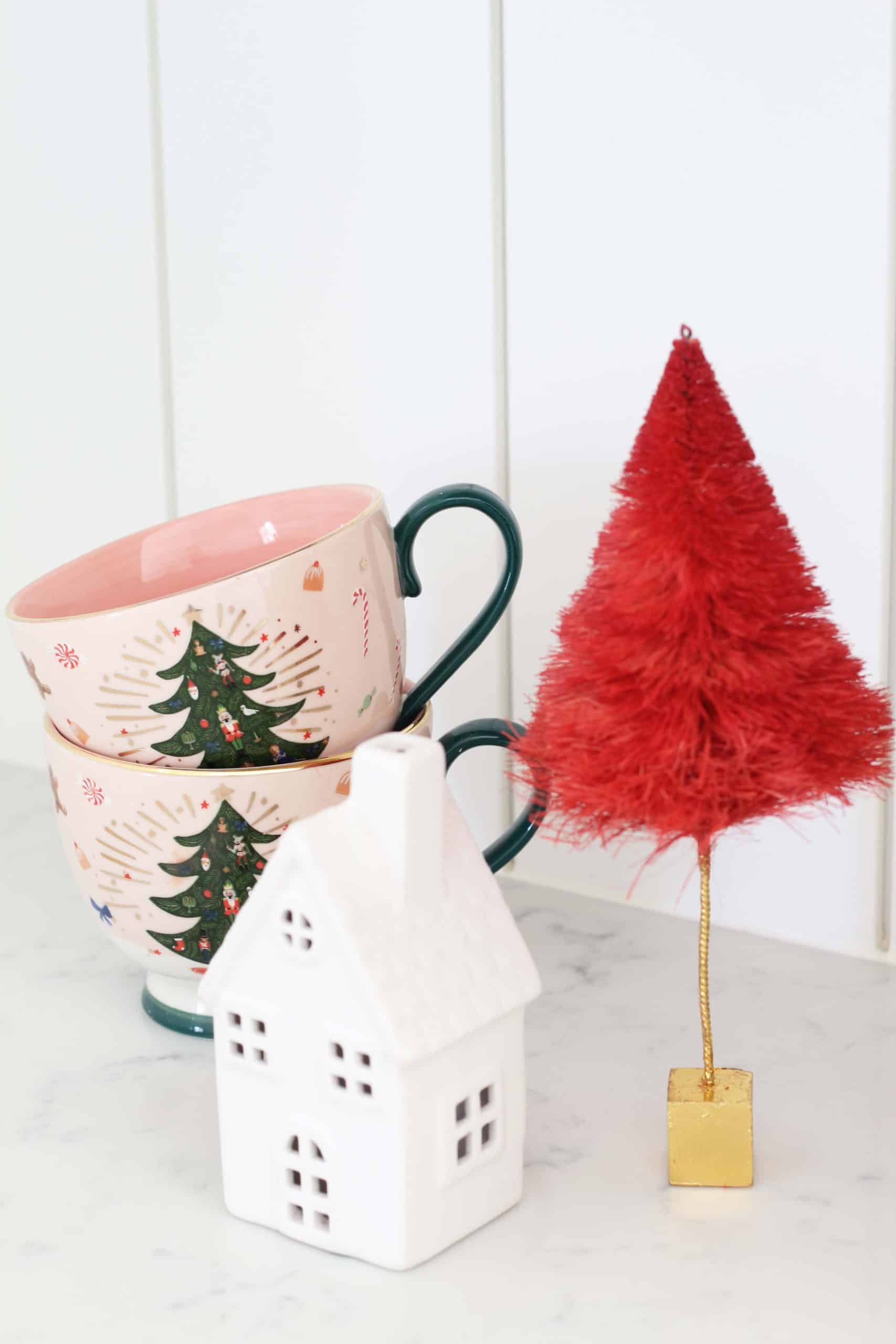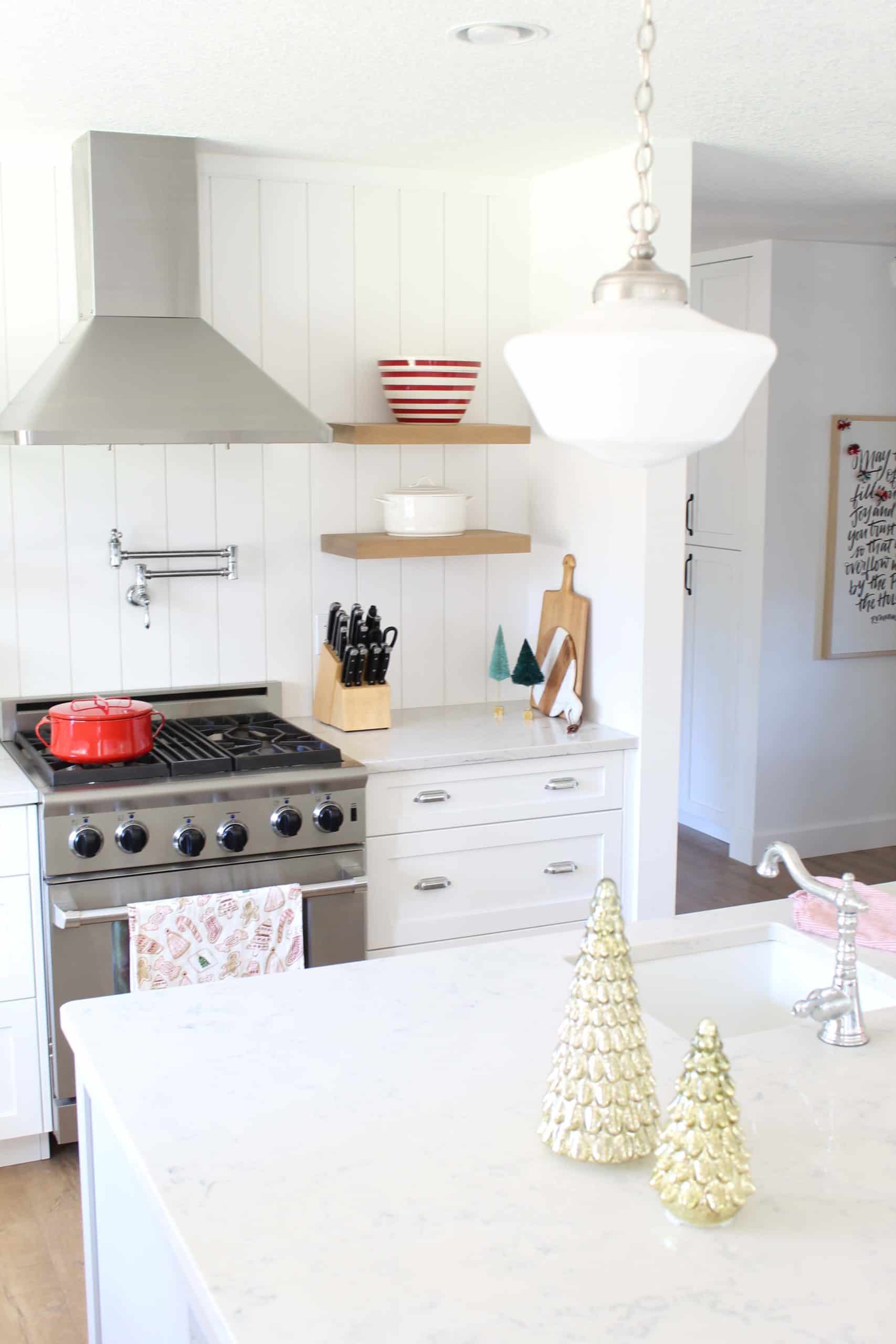 Mercury Glass Trees // Striped Mixing Bowl (old but this is their latest version) // Gingerbread Towel // Red Casserole Dish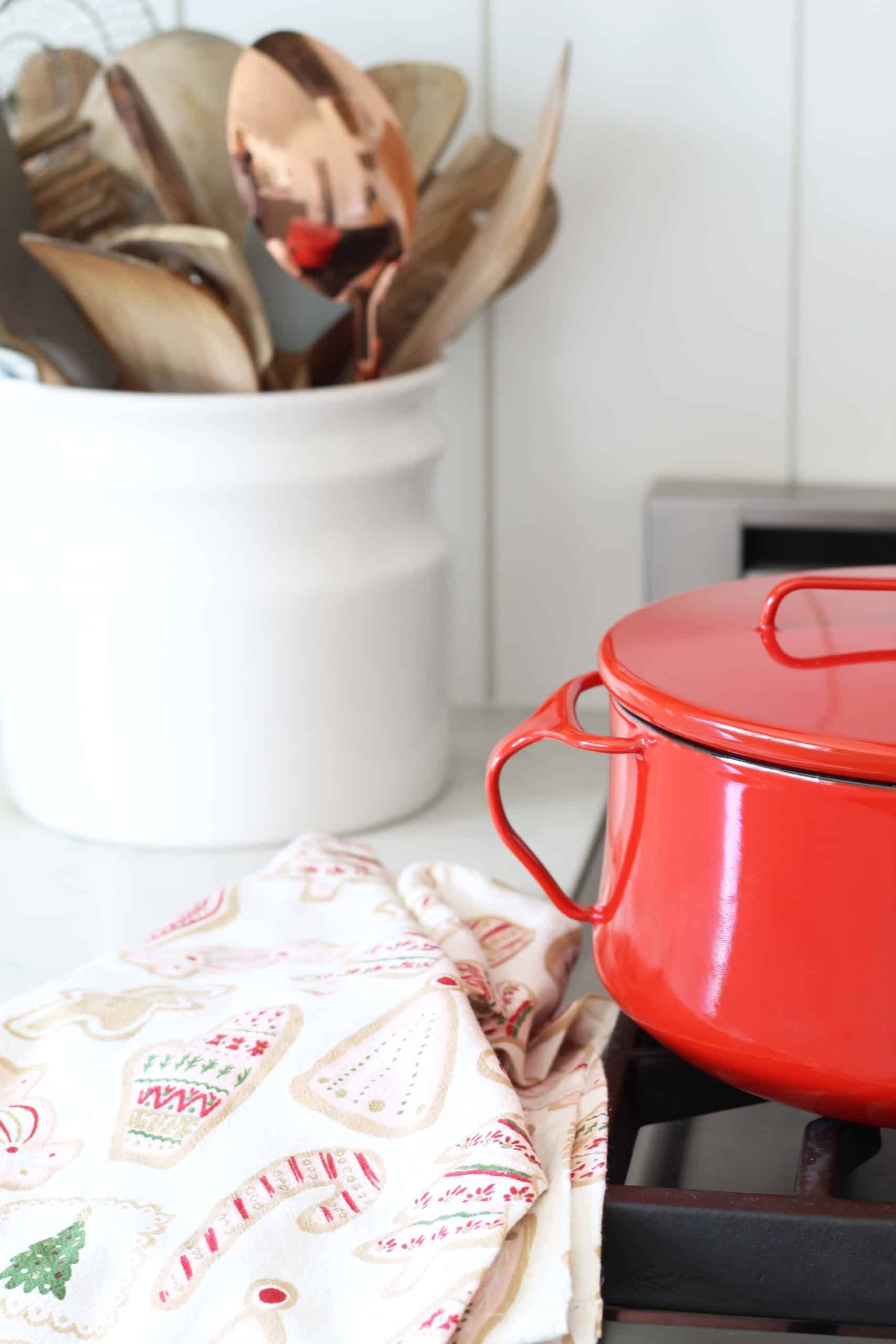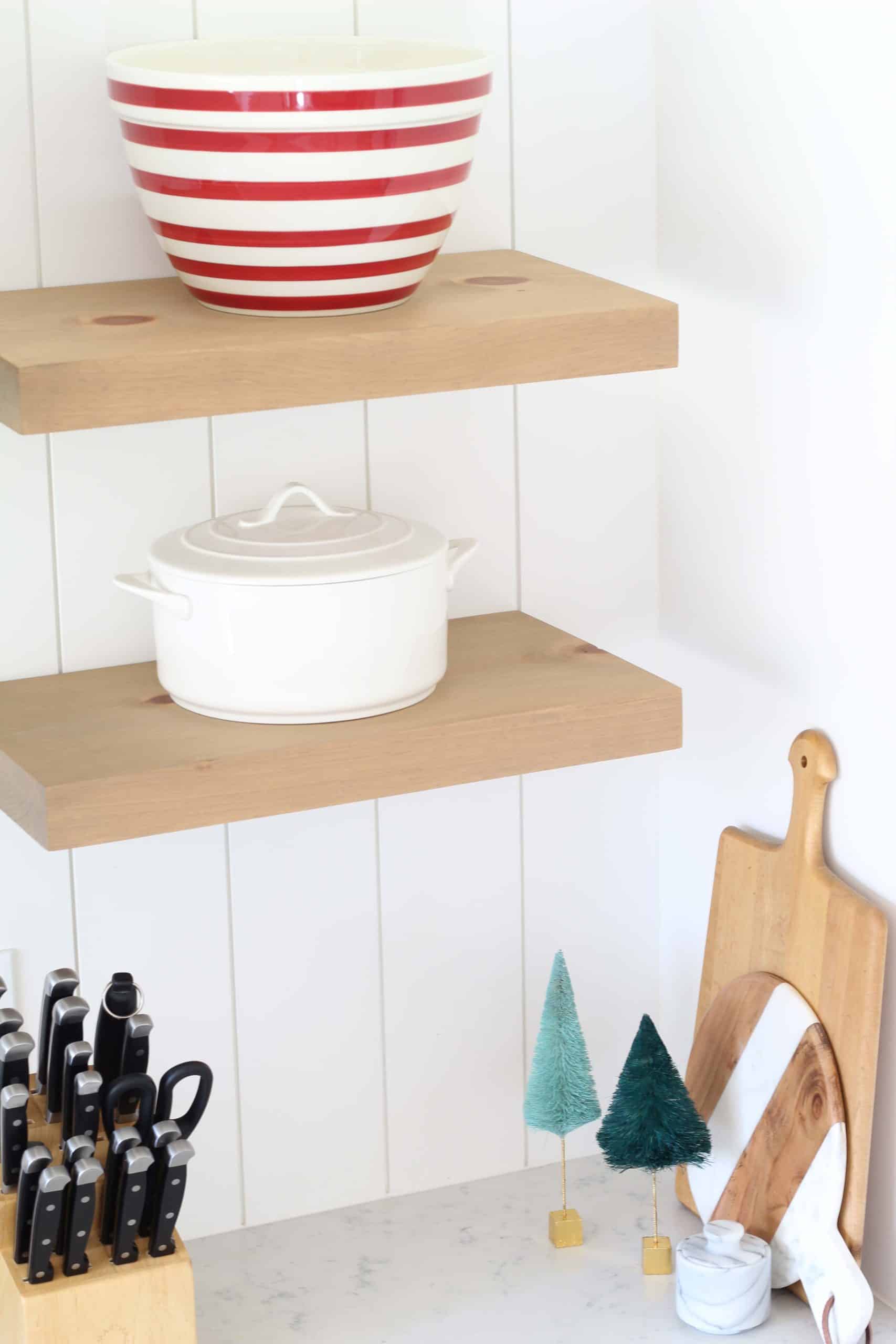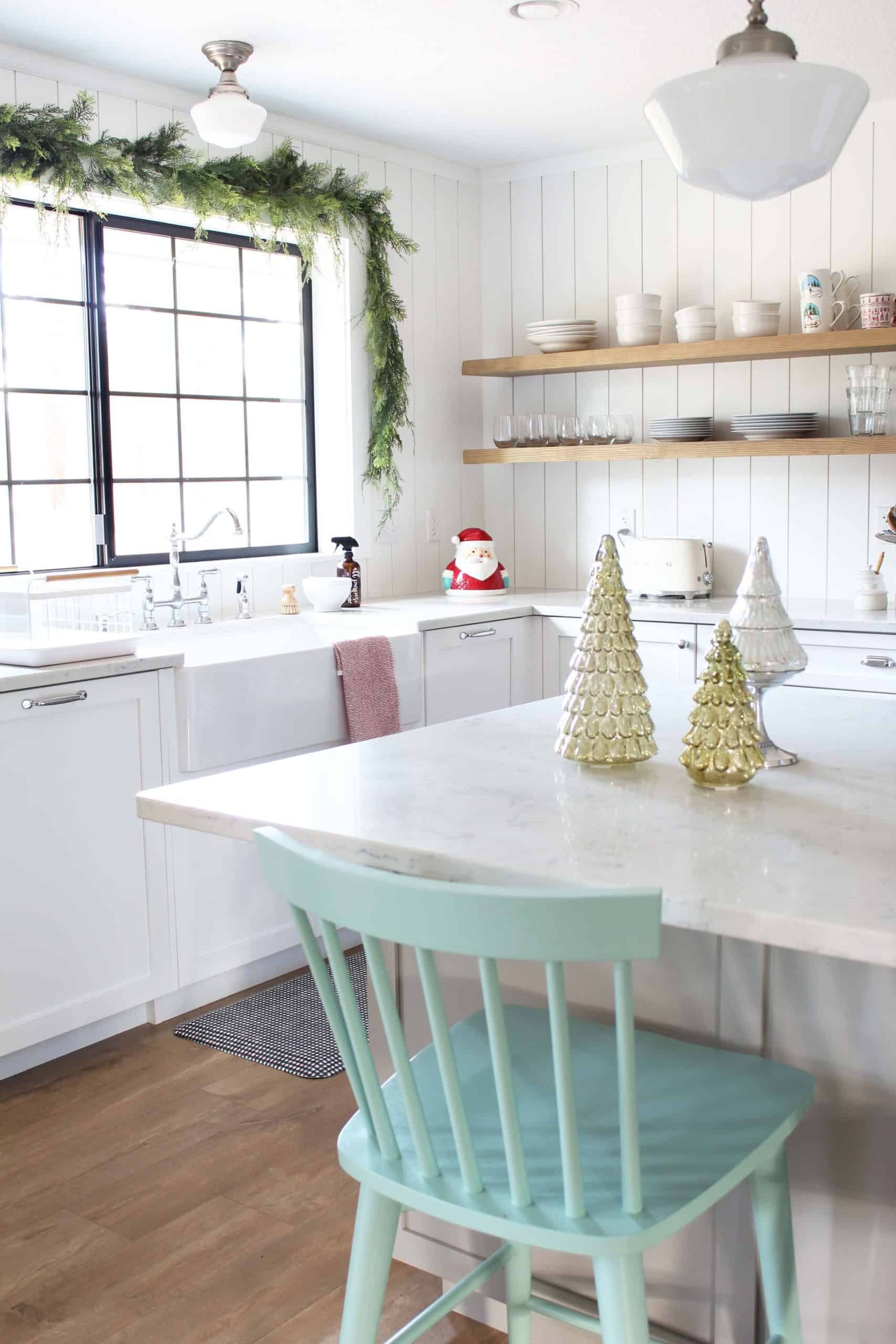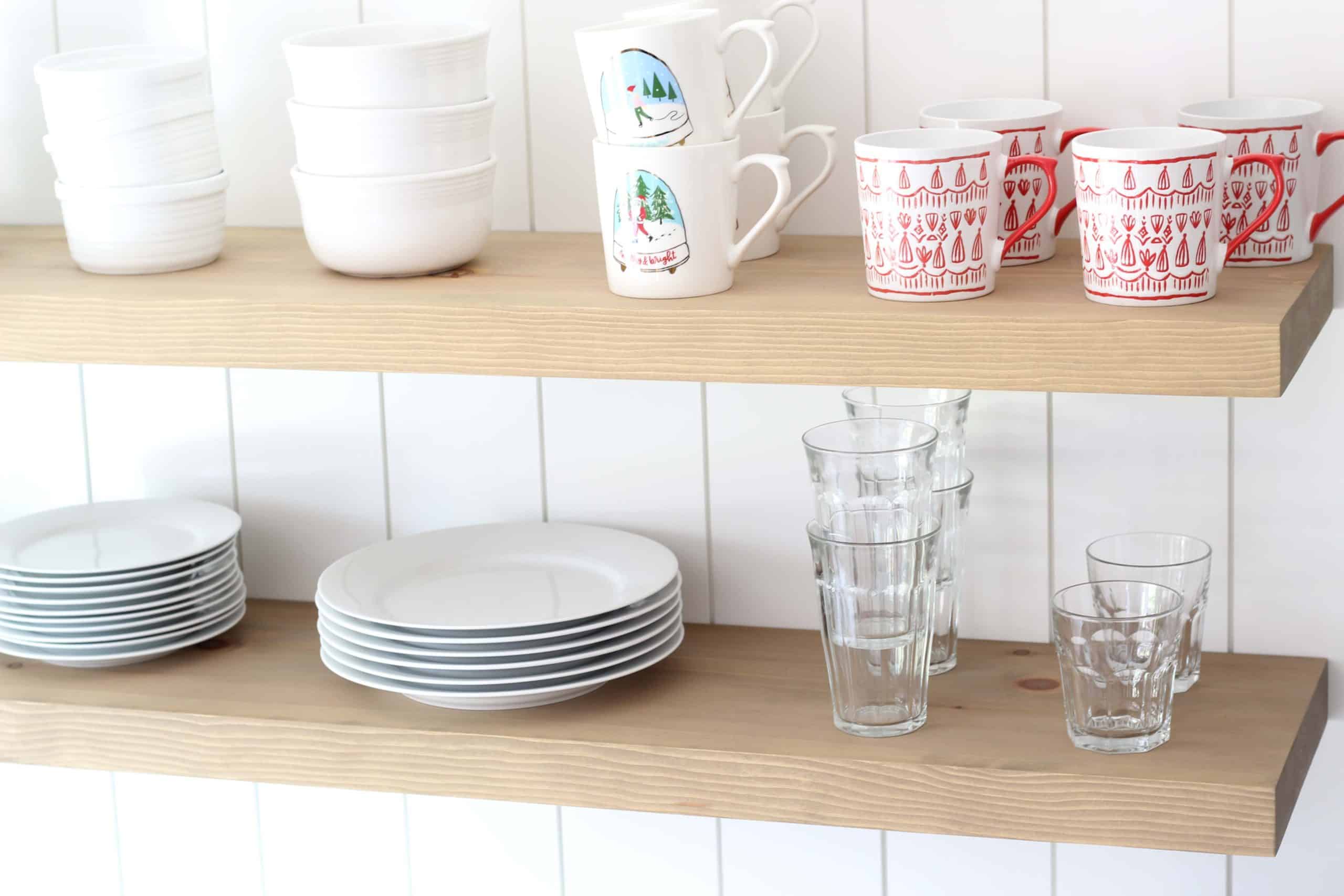 These Christmas mugs are from Target last year. I scooped them up at the after Christmas sale and it was so fun to take them out and actually use them this year. They have kind of a Scandinavian vibe going on, which I'm always drawn to, especially at Christmas!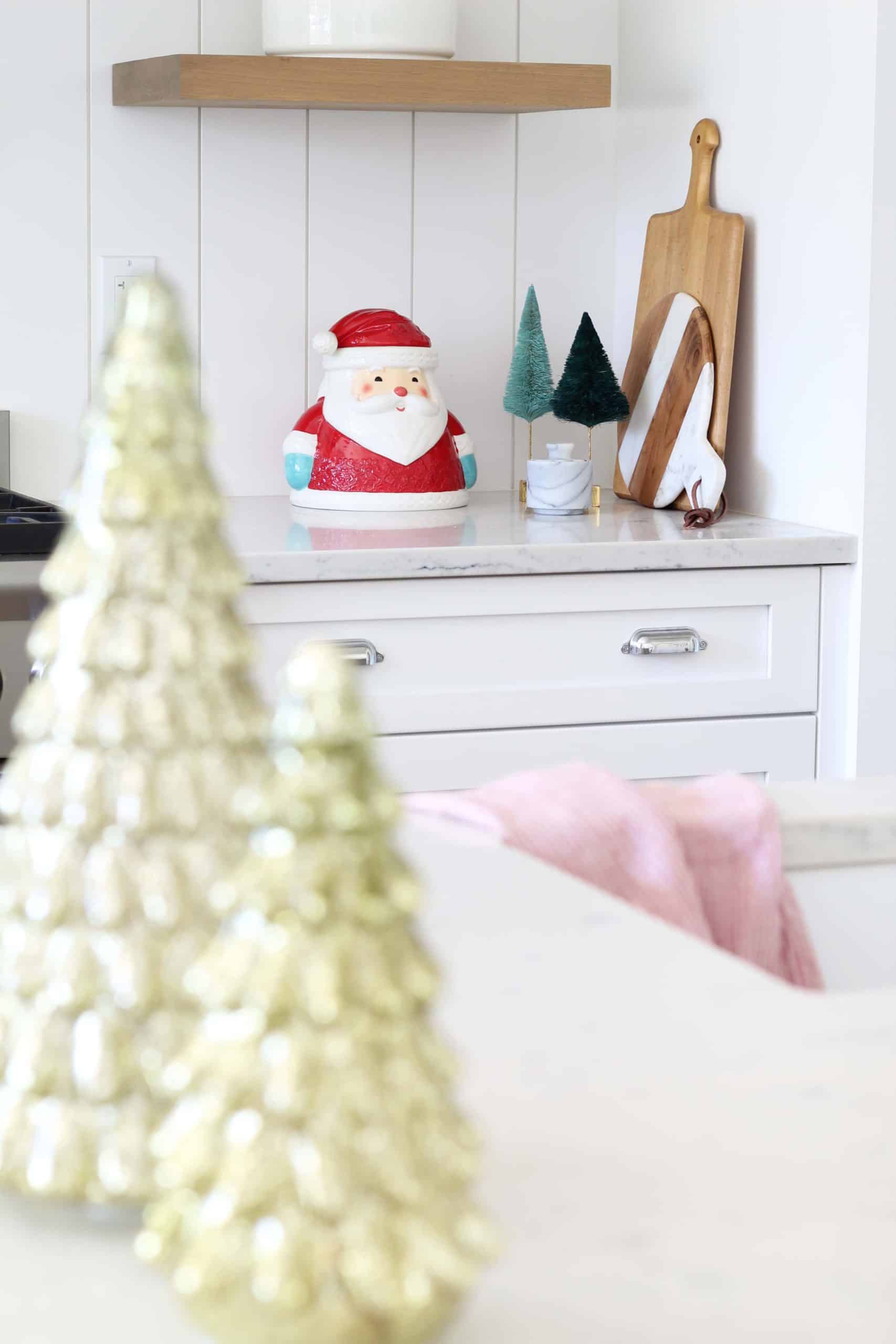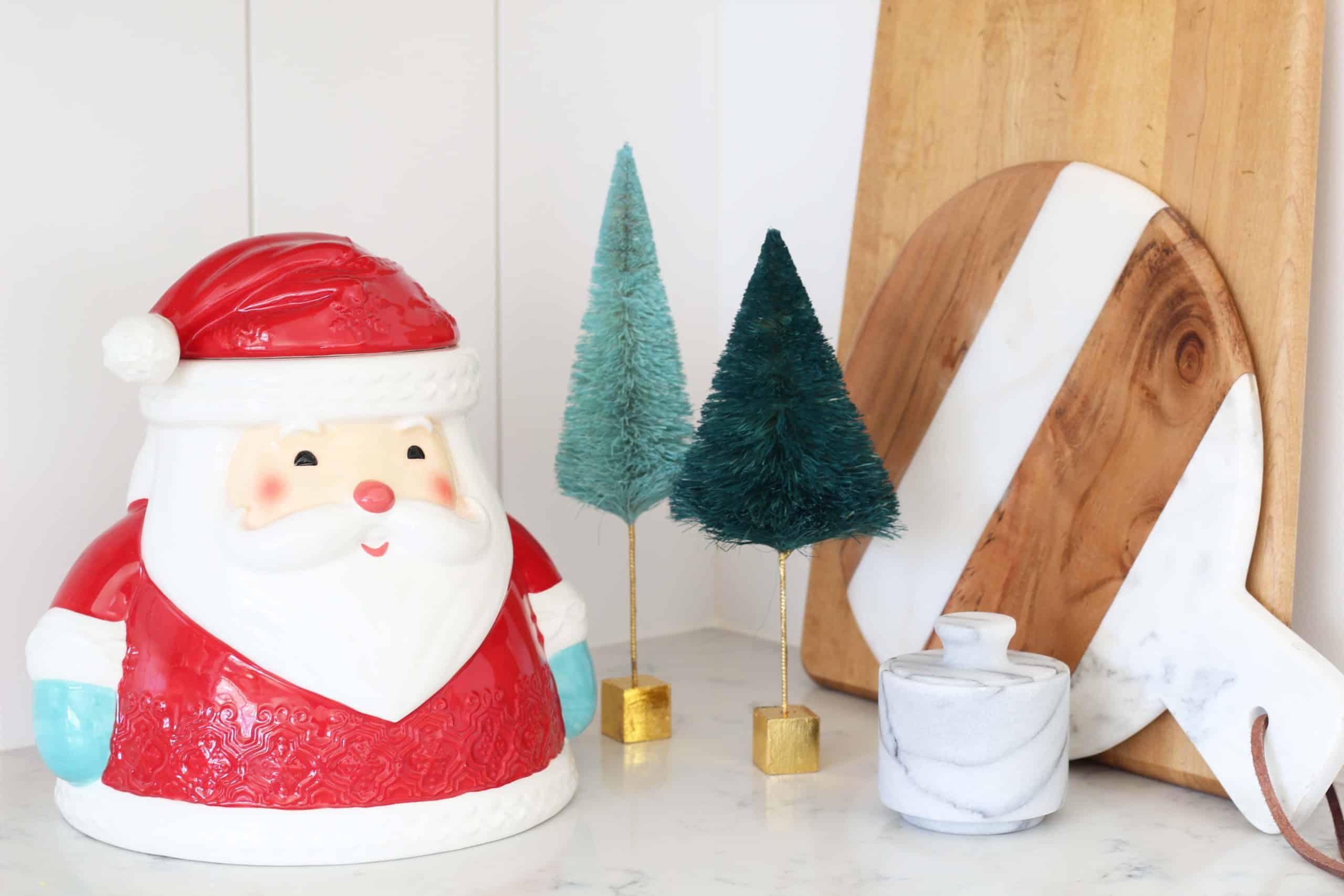 This Santa cookie jar is from Hallmark a couple of years ago. They seem to come out with a different one each year in addition to other characters. I thought their snowman cookie jar was especially cute this year.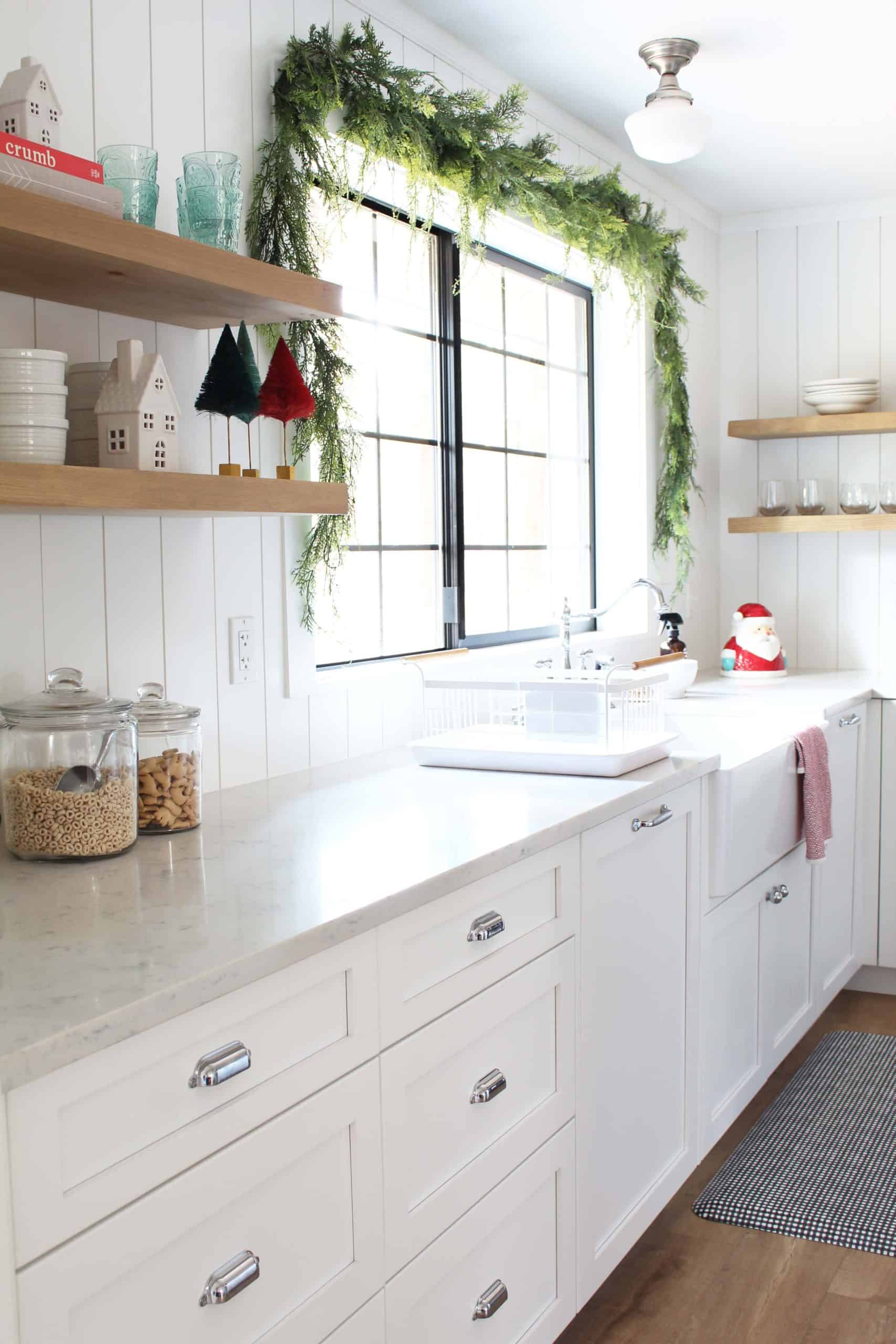 Garland // Crumb Cookbook // Nordic Baking Cookbook // Similar GelPro Kitchen Mat 
Fresh vs. Faux Garland
I used a faux garland to frame the window over the sink. Let me just say that even if this is the only piece of Christmas decor you add to your kitchen, it makes such an impact! In our previous home we had a great cedar tree in our backyard that I clipped fresh greenery from each Christmas. Alas, cedar trees don't grow in the mountain climate that we now live in. So I invested in some faux garlands this year because I knew in the long run it would be cheaper than buying a fresh garland every year.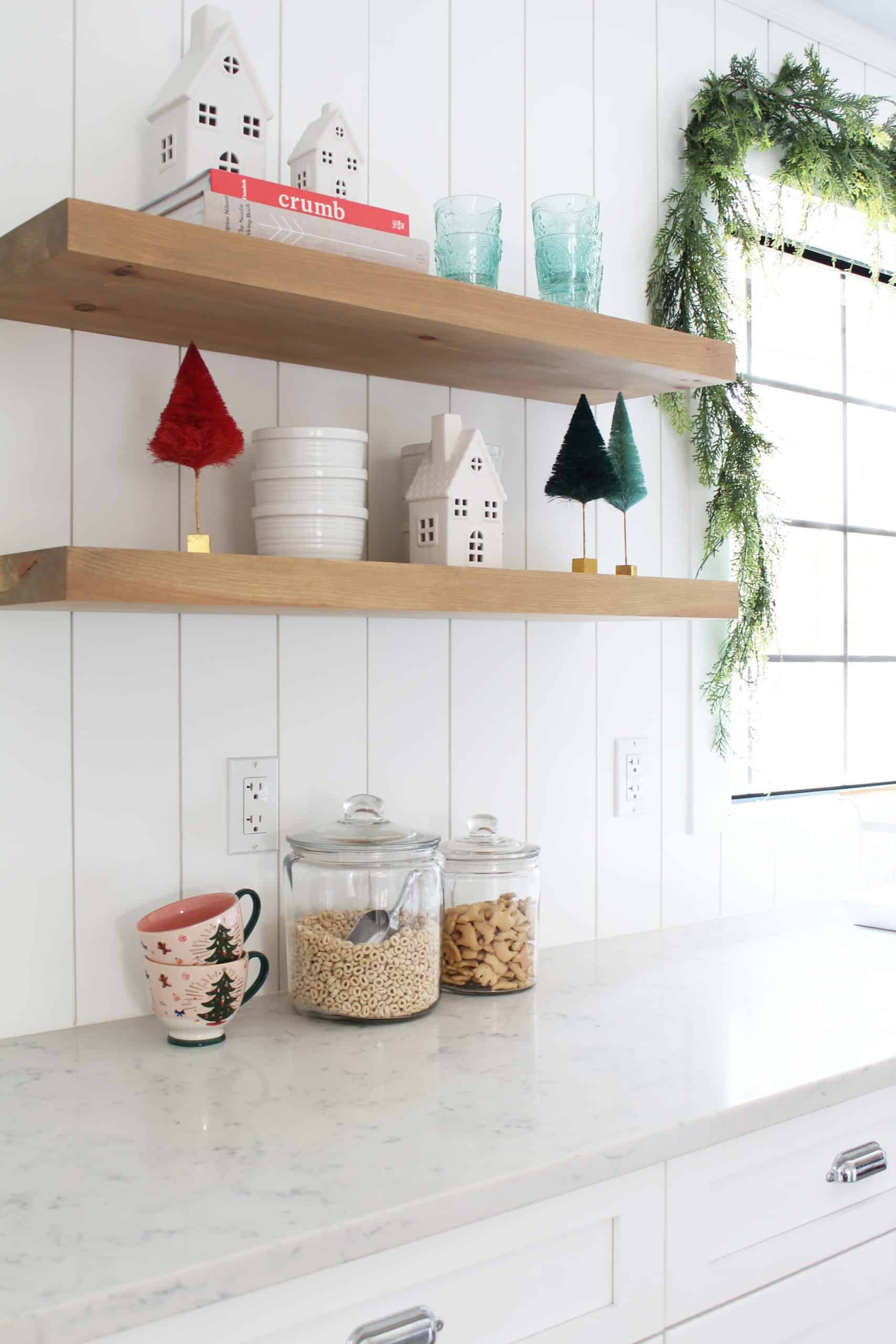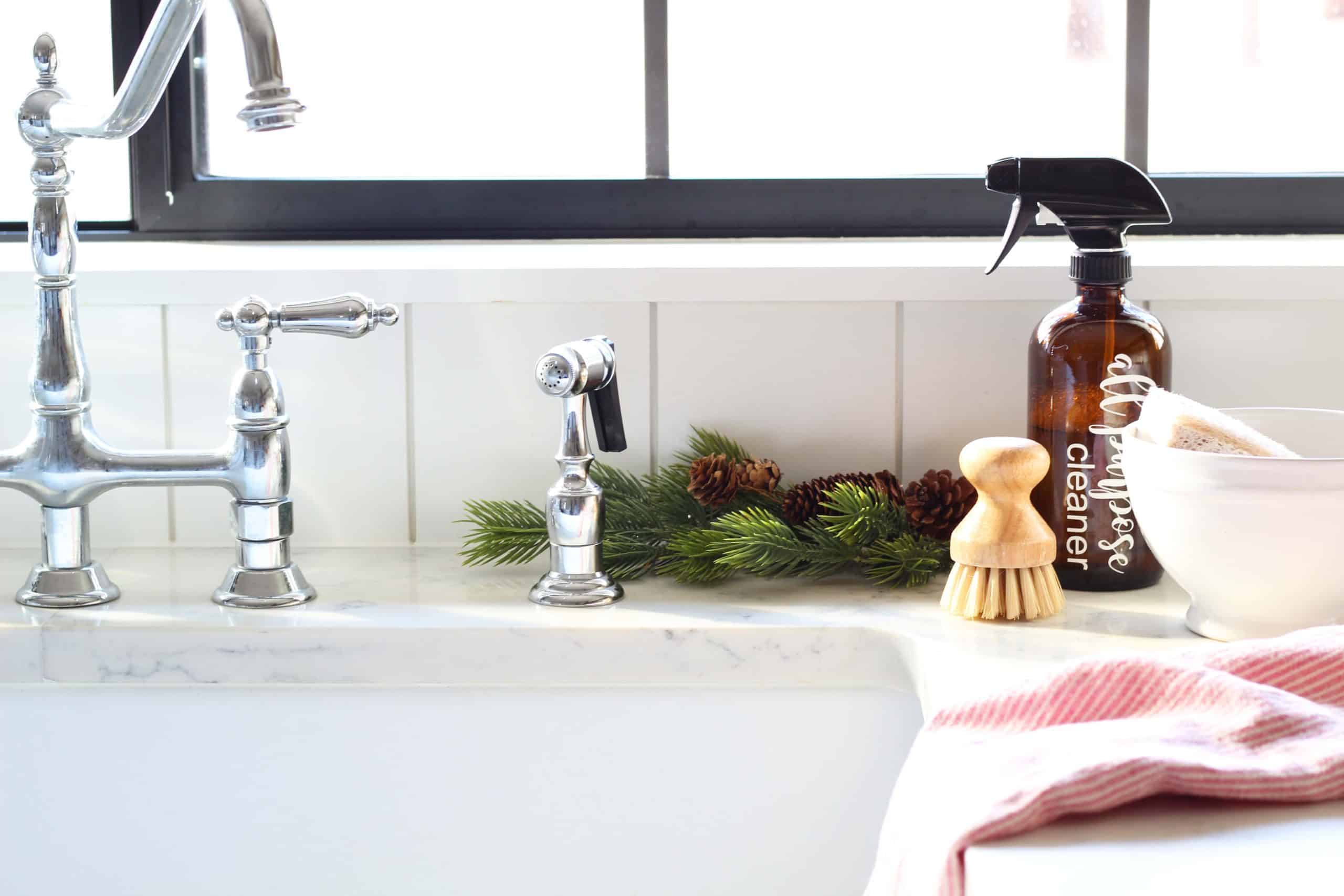 I think everyone has different thresholds on how much Christmas decor or "stuff" they put out for the holidays. The biggest tip that's worked well for me over the years is to make sure you take out as much of your regular decor as you can to make space for your Christmas decor. This keeps things from feeling cluttered and lets your Christmas decor truly shine.
Merry Christmas & happy decorating!
This post contains some affiliate links for your convenience. Click here to read my full disclosure policy.
Want to save this post? Pin it here!