These cute winter village houses add just the right amount of whimsy to your Christmas or winter decor. Check out these winter village house ideas for more inspiration!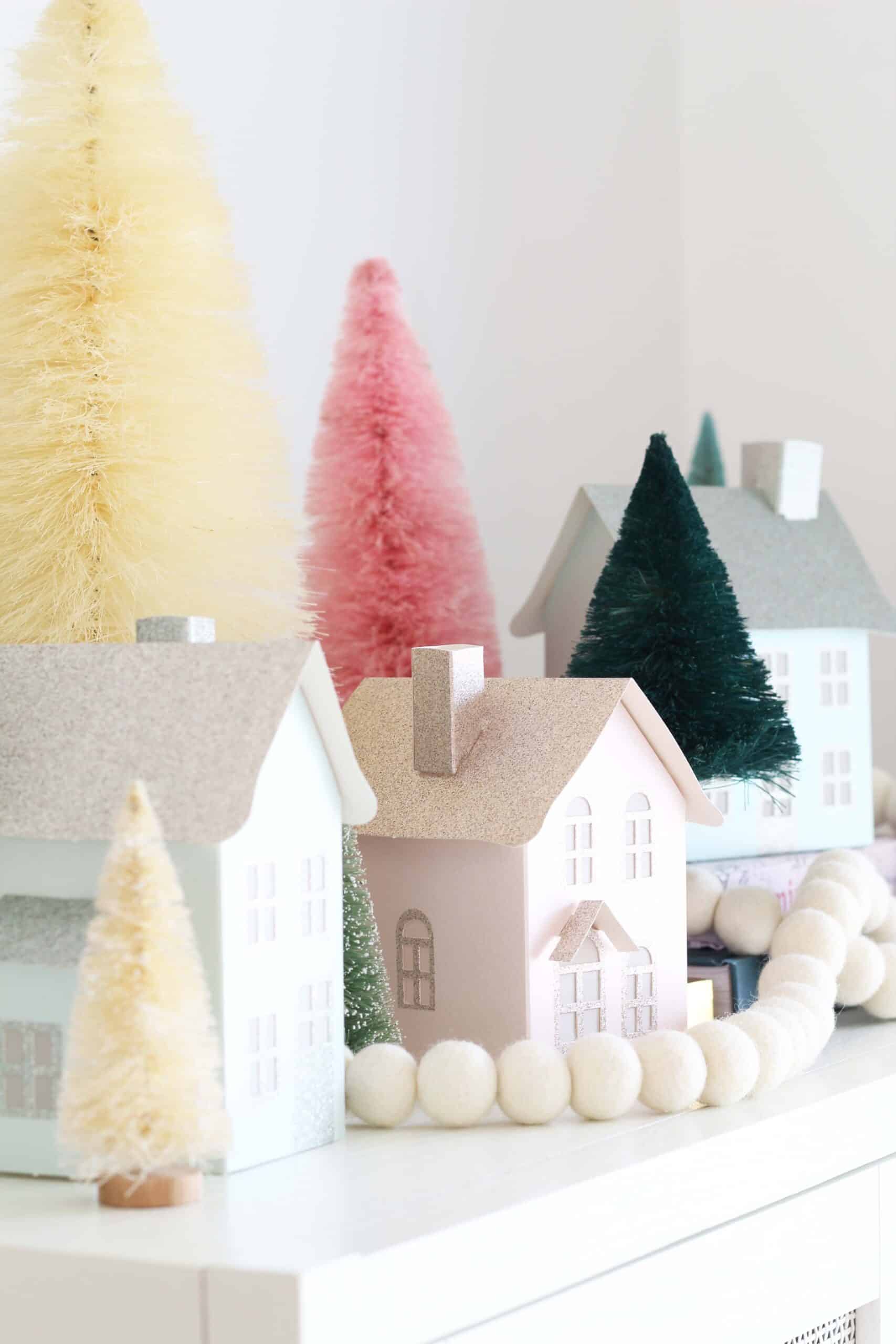 There's just something so cozy about little village houses set up in our home during the winter. I think it's partly nostalgia and partly that I love to imagine myself living it those adorable little houses covered in glitter and snow.
Winter Village House Ideas
I'll gladly admit that I probably have one too many village house sets that I've collected over the years. I just can't help myself. Out of all the options, these putz style paper village houses are probably my favorite. The cute vintage charm and the ability to fold them up and store them easily at the end of the season won me over.
There are so many different options out there for village houses that you can find one for just about any style there is from vintage to modern.
Another thing to keep in mind when looking for village houses is what they are made out of. Ceramic is the most traditional medium, but there are houses made out of paper, cardboard, and even gingerbread. Imagine getting to eat your village up after you finish admiring it!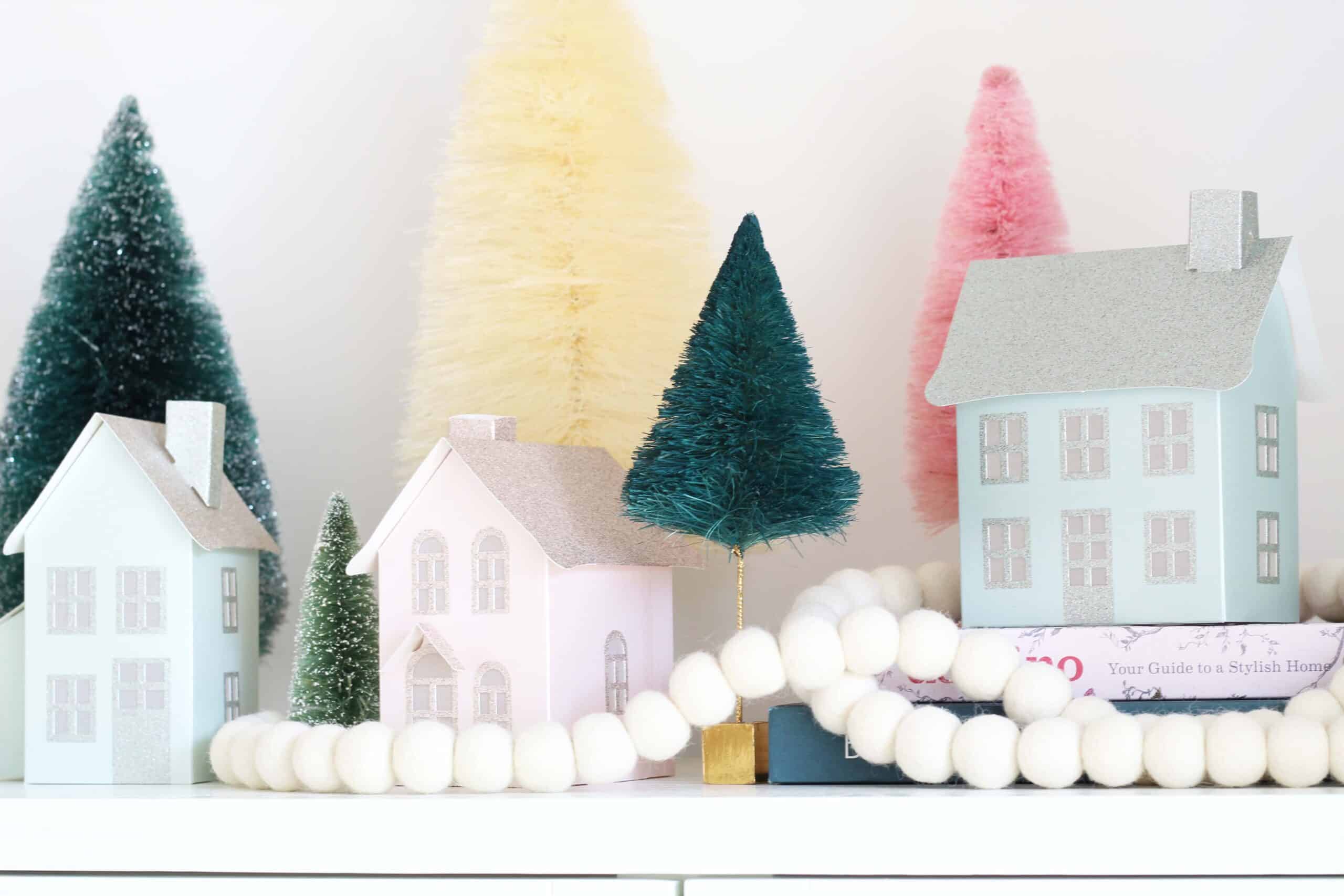 Paper Putz Village Houses
I found these paper putz style houses on Etsy a few years ago. If you haven't heard of putz houses before, they were the original Christmas villages popular back in the 1800's.
Christmas villages or putz houses were originally nativity scenes placed under the Christmas tree. By the early 19th century putz villages became more elaborate scenes atop tables and fireplace mantels and grew to include scenes from the Bible like Noah's Ark.
The homey style of putz houses is still popular today with reproductions. A lot of putz houses are made of paper mache and cardboard with paint and glitter. As I mentioned above, my putz houses are made out paper and collapse down flat for storage, which was a major selling point for me. I've linked to some similar options in the post sources below.
Post Sources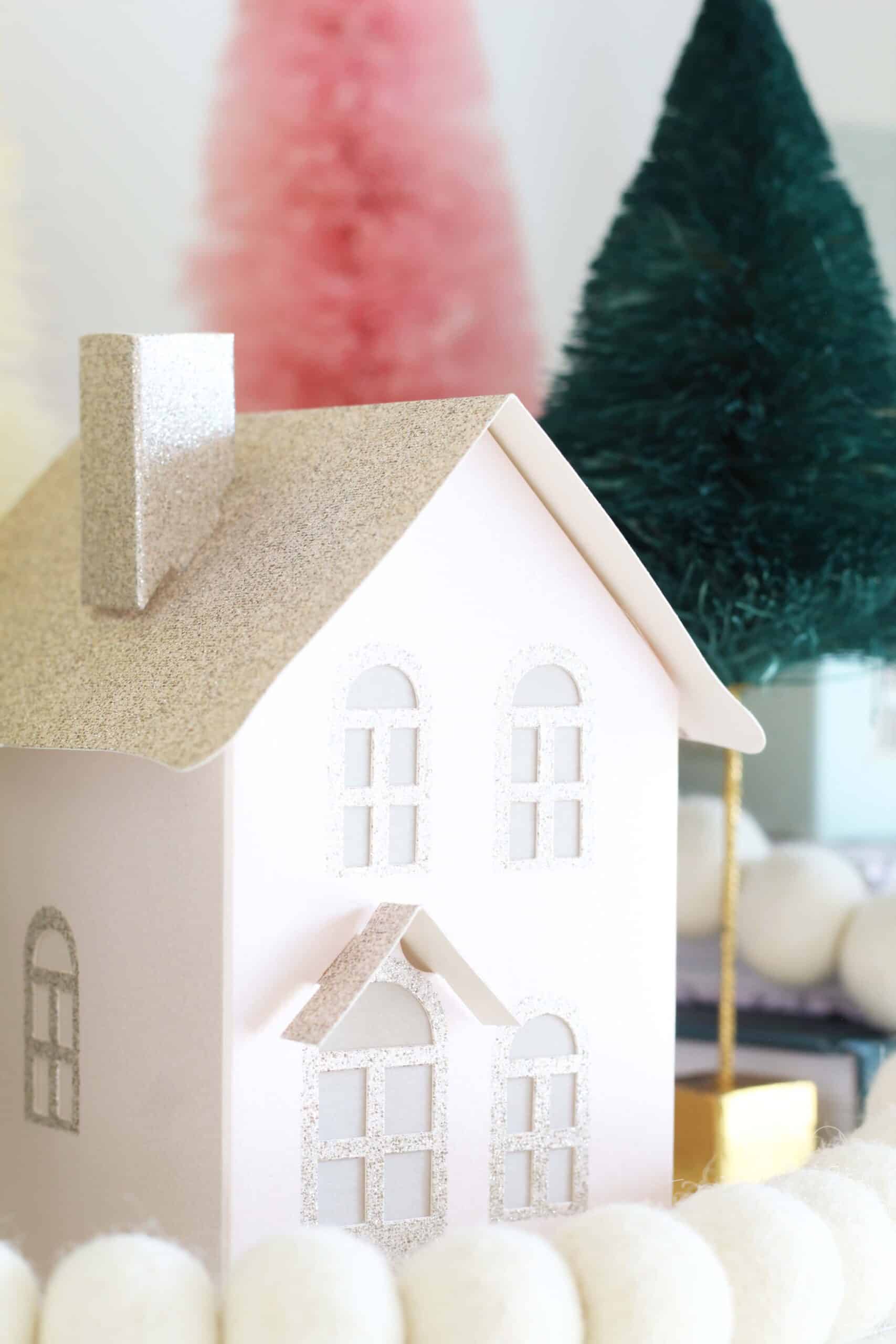 Village House Accessories
To make a cozy feeling village it's nice (but not necessary) to add a few accessories. Here are just a few ideas:
Surround your village with sparkly faux snow for a magical feel.
Use a felt pom pom garland to add texture and a cozy snowy feel.
Use colorful books for added height.
Add bottle brush trees for a whimsical forest look.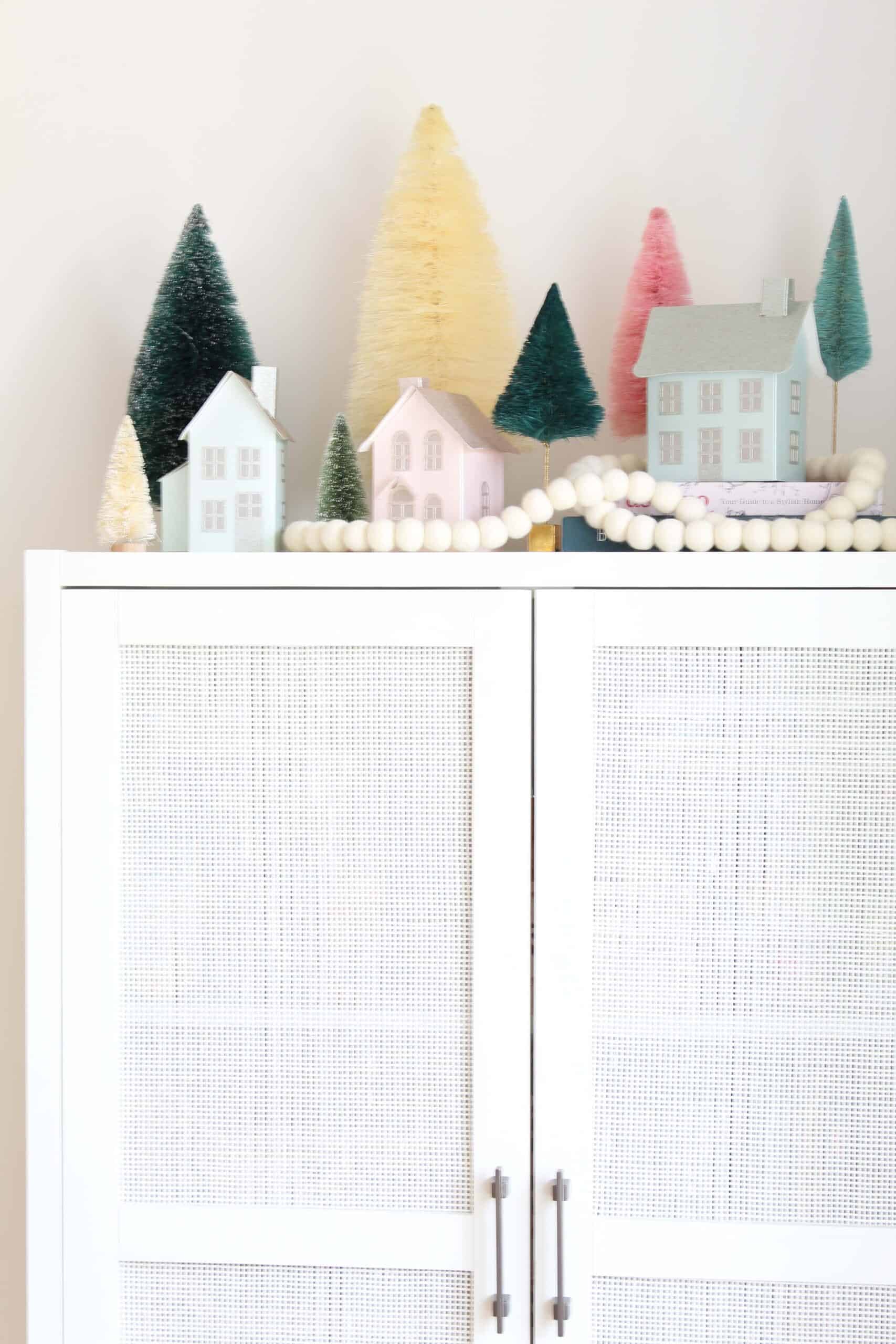 Bottle Brush Tree Forest
Bottle brush trees are a great way to add dimension and color to a village of houses. The texture and the height makes the whole scene feel complete. It's my favorite touch.
You can buy bottle brush trees at just about any home goods store or find them online. They can range quite a bit in price. My favorite place to find affordable trees for just a few dollars are Hobby Lobby and Target. Both places have a new selection each year and the prices really can't be beat.
Keep color in mind when you are looking for bottle brush trees. Think about the type of palette you are looking for before you start. I used greens, creams, and pinks for this putz house village since the houses are pink and mint in color. Traditional Christmas colors or a set of neutral bottle brush trees would be equally as pretty!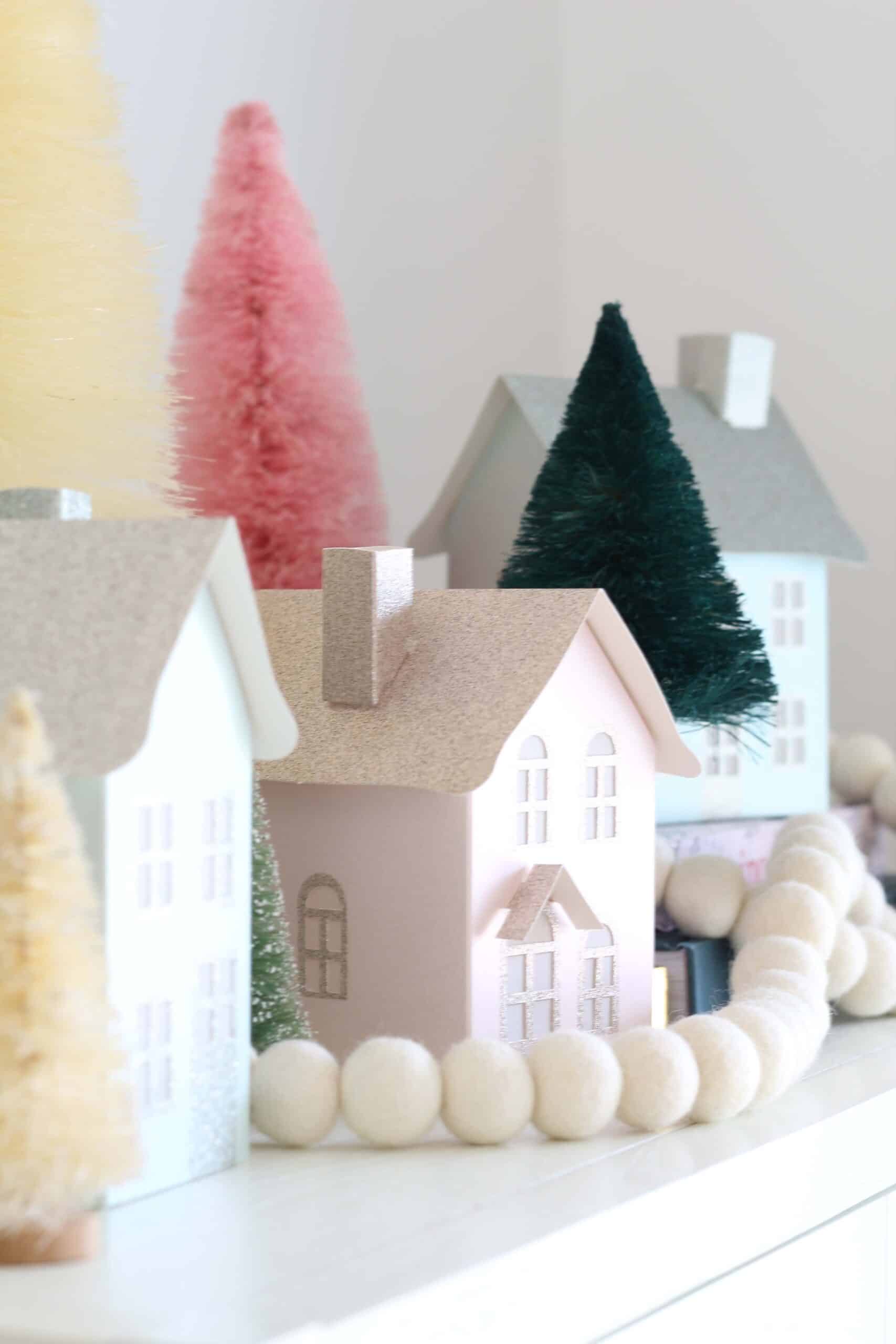 The best part about cute village houses? They work all winter long as decor and don't have to be used exclusively as "Christmas decor."  They really are the perfect cozy hygge decor!
Like this post? You might enjoy these:
Post Sources

This post contains some affiliate links for your convenience. Click here to read my full disclosure
Want to save this post? Pin it here!