This winter snow scene jar is basically a giant version of a snow globe that will instantly put you in a cozy state of mind!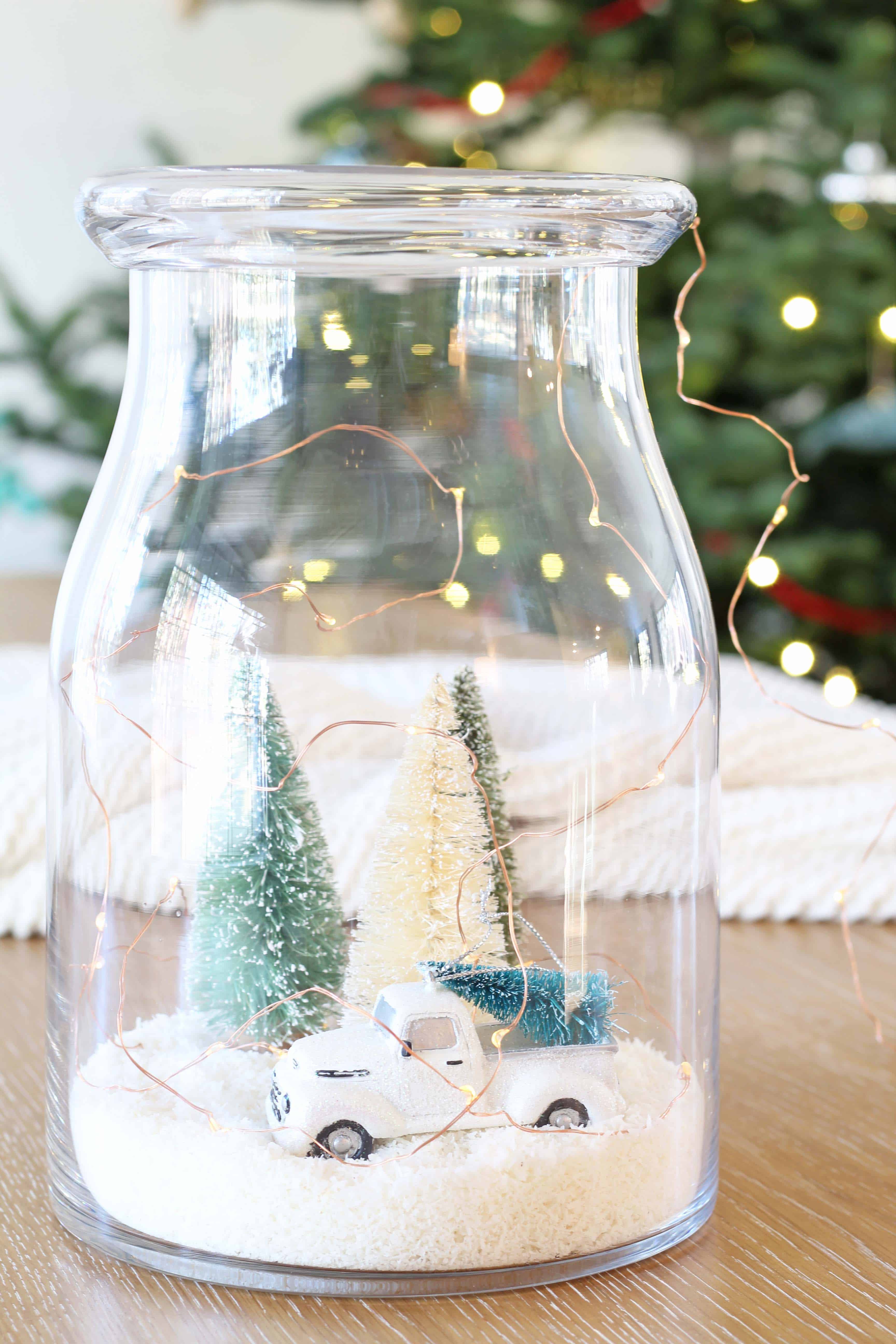 This post contains some affiliate links for your convenience. Click here to read my full disclosure policy.
We have a tradition in our family of spending Christmas Eve service at the little country church down the road from the ranch I grew up on. It's a tiny white church with a bell steeple (that they still ring every Sunday morning!) that harkens back to horse and buggy times.
The Christmas Eve service has the traditional candle lighting and hymns, and the little white church is decked out in fresh greenery and wreaths. There is something so basic and simple about it all. It makes you feel like home.
I have a hallmark gold crown snow globe that I pull out each Christmas that gives me a similar feeling. It's a simple white church scene with trees that seems to instantly bring on the nostalgia of those Christmas Eve church services.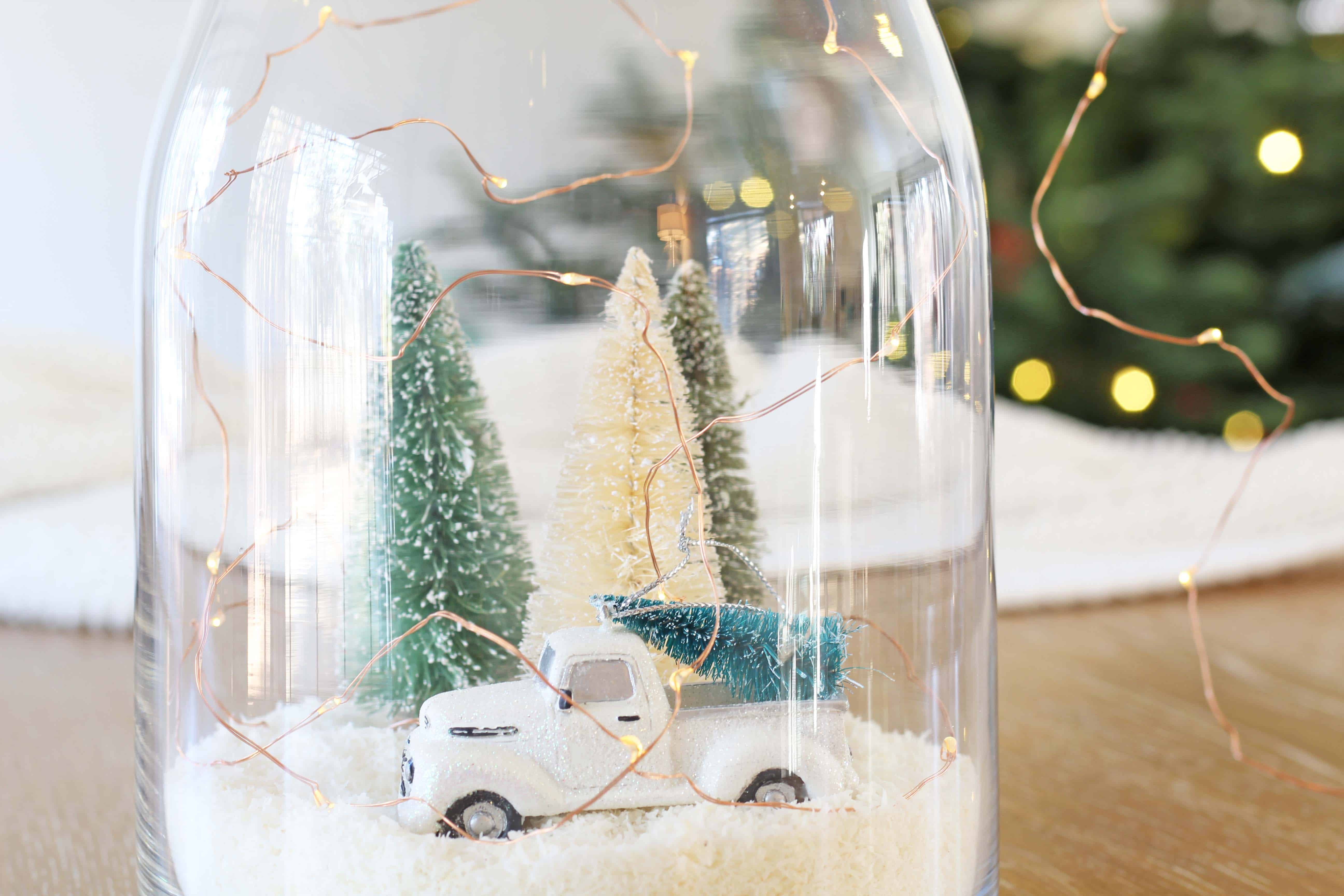 Winter Snow Scene Jar
I thought it would be fun to make this winter snow scene jar with the idea of recreating that same feeling of nostalgia from the church snow globe – but on a slightly bigger scale.
There are only a few elements to it, so it's simple to make.  Any large vase you have would work as the jar, I used a large vase I had from Ikea.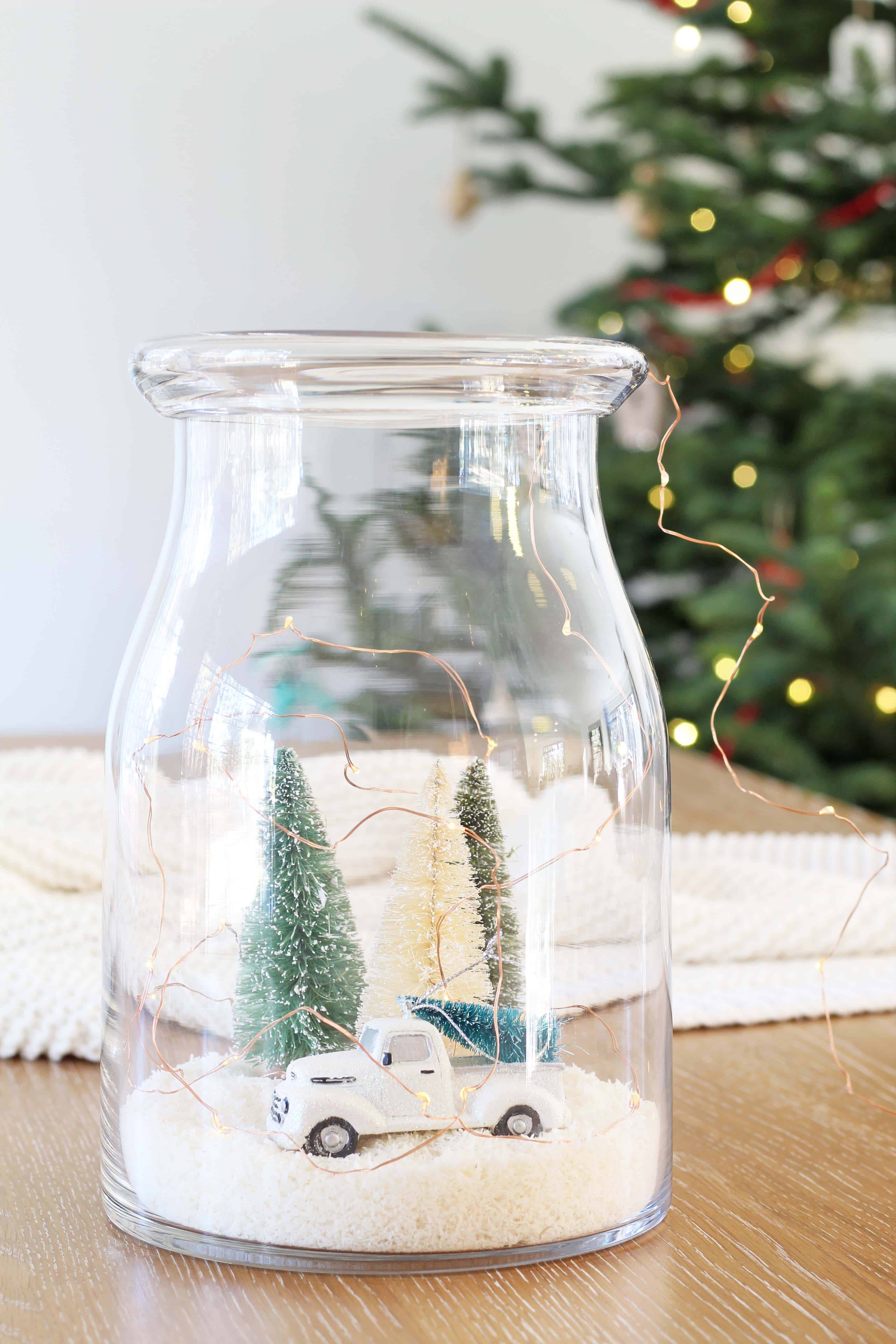 For the "snow" I used a bag of shredded coconut we keep around for baking and smoothies. Bonus – it smells so good, plus once you're done you can reuse it!
Next I added in a few bottle brush trees from the dollar store. I've had these trees forever and I just keep finding new ways to use them! If you don't have any, I think for a couple of bucks they are a great item that you can reuse in a ton of different craft and decor projects.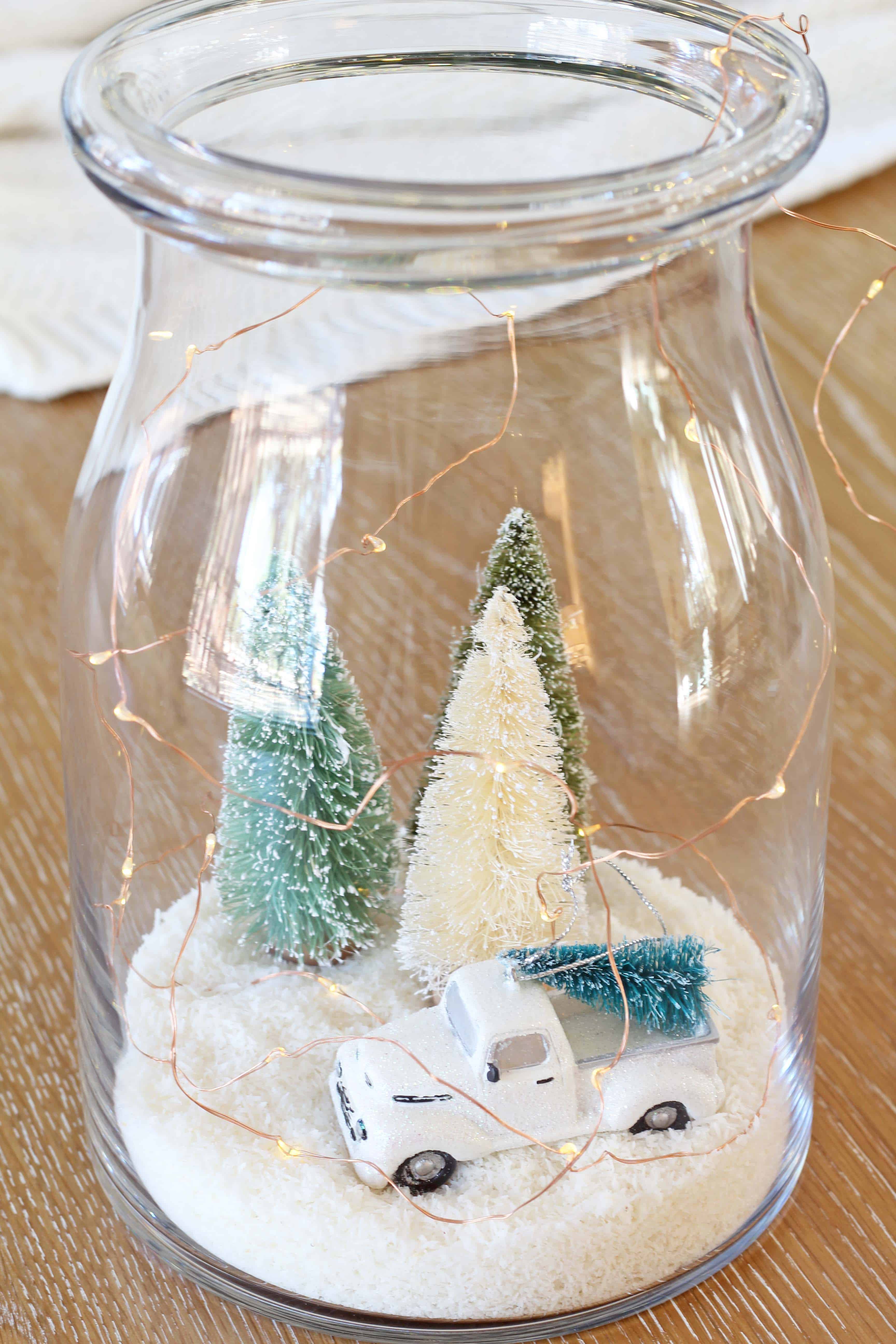 Adding A Focal Point
Once I had the snow and trees set, I needed to decide on a focal point. It had to be something small enough to fit in the vase, but I didn't want to have to buy something new that wouldn't really get used again. Then it dawned on me that a Christmas ornament would be the perfect size 🙂
I bought this vintage truck ornament during the after Christmas sales at Target last year. (I was in Target a couple of weeks ago and saw that they are carrying it again this year if you're looking for something like it).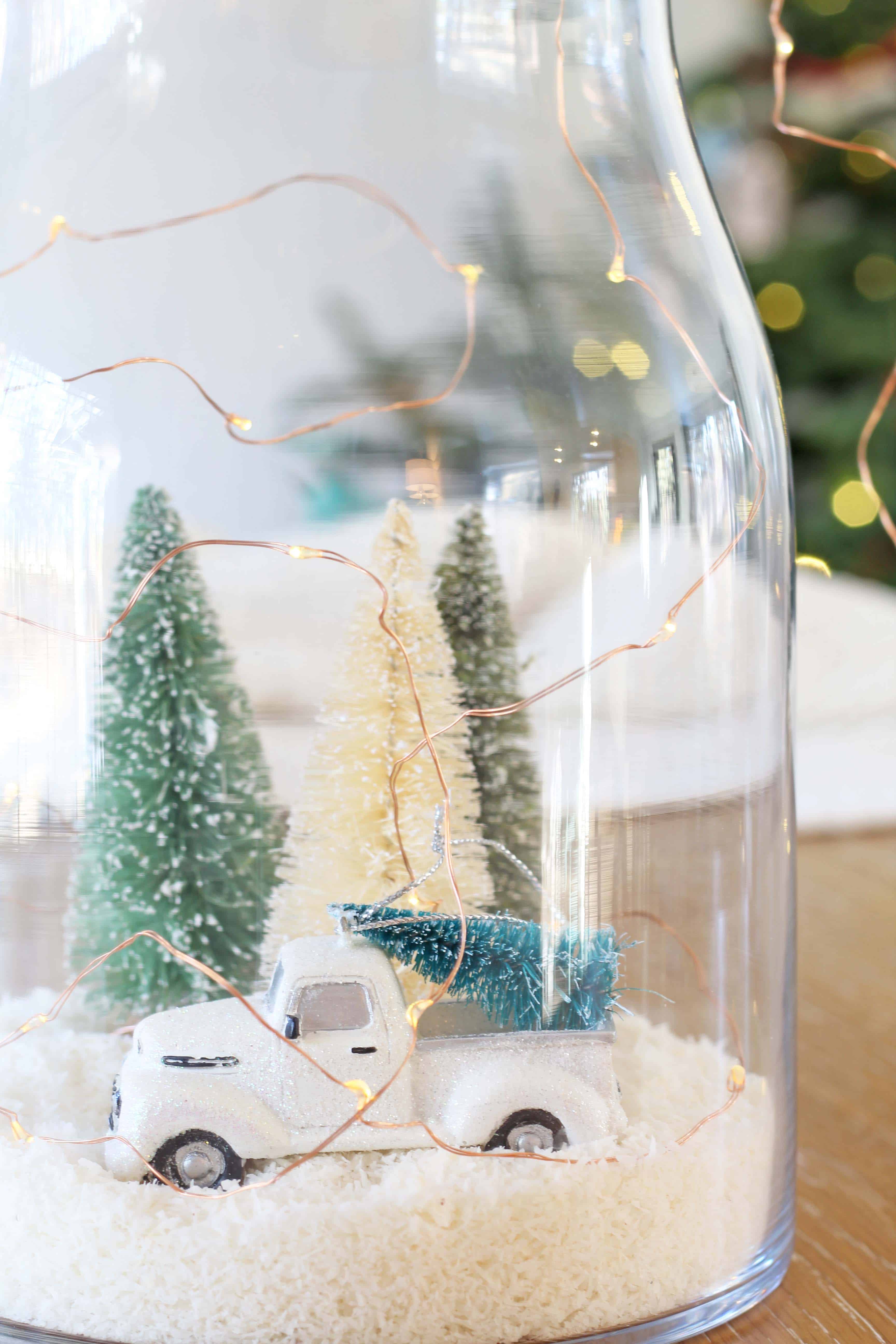 Lastly, I added in a strand of fairy lights for a little bit of sparkle and glow at night. Fairly lights are right up there with bottle brush trees for their multiple uses! Seriously, I use them for decorating during just about every holiday and just for fun in between as well 🙂 I use this kind.
I love how it turned out, nostalgic and little bit whimsical. It would look great tucked up on a shelf with a stack of books, on the kitchen counter, or even as a coffee table centerpiece…the possibilities really are endless!
P.S. If you enjoyed this, you might like these other Christmas crafts:
Washi Tape Christmas Card Holder
Want to save this post? Pin it here!