These fragrant orange & clove pomander balls are perfect for holiday centerpieces, gifts, tree ornaments, or even as air fresheners!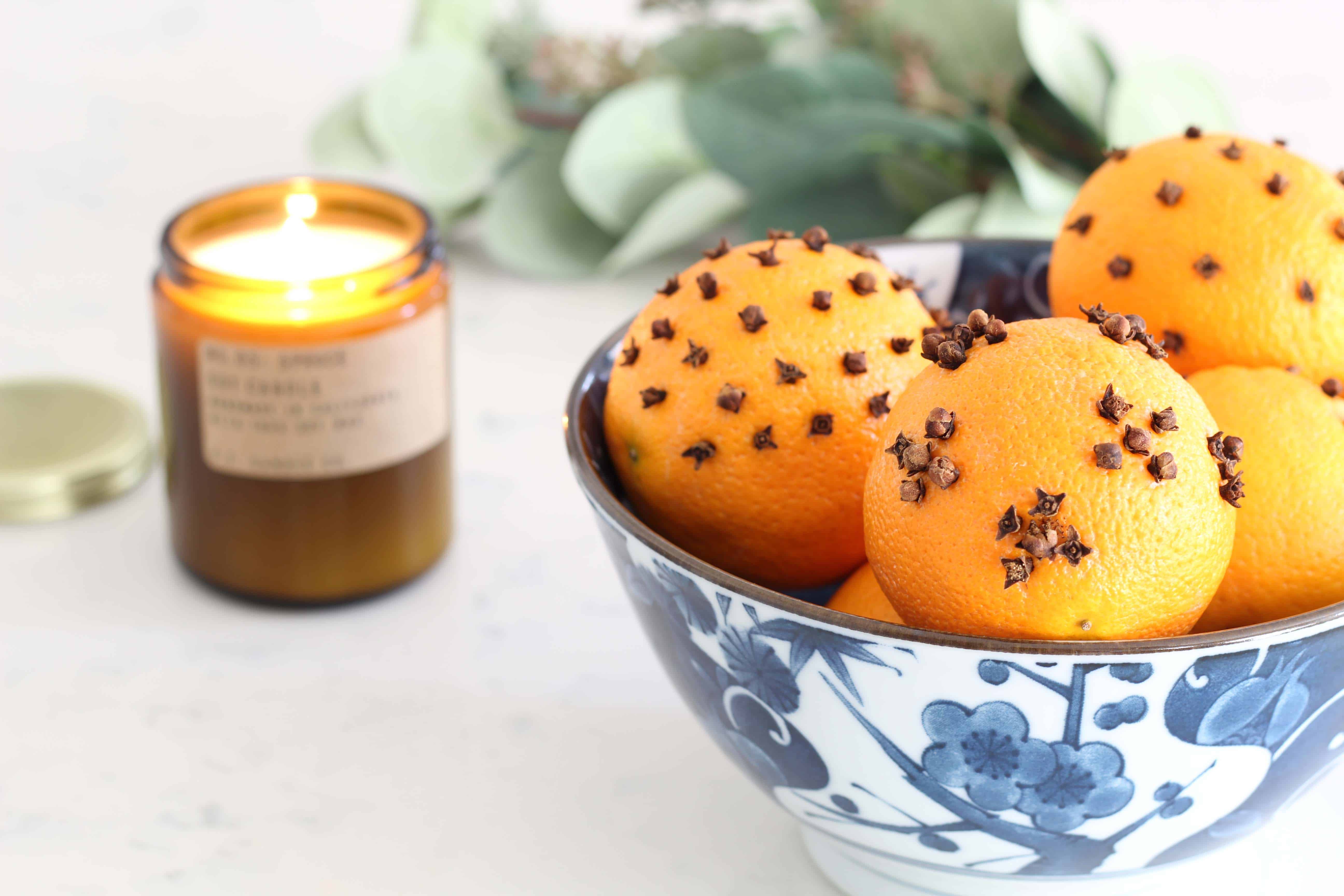 I love the smell of oranges. They are the first thing I stock up on at the grocery store and the essential oil I diffuse the most in our home. There is just something so pure and fresh about their scent. Scent triggers so much of our emotions and memories as humans. Nothing can elicit a memory (good or bad) faster than scent. Have you ever smelled something that brought back emotions so quickly you could hardly believe it? I know I have.
I've made it my goal to make scents a focal point as the seasons change in our home. I want my children to remember what fall feels and smells like. That the scents of cinnamon and nutmeg evoke memories of winter in a cozy home where they were happy growing up.  Ultimately, I want the story of our family to be remembered at random throughout their lives every time the smell of baking apples wafts past them, or when they happen to catch the aroma of oranges and cloves.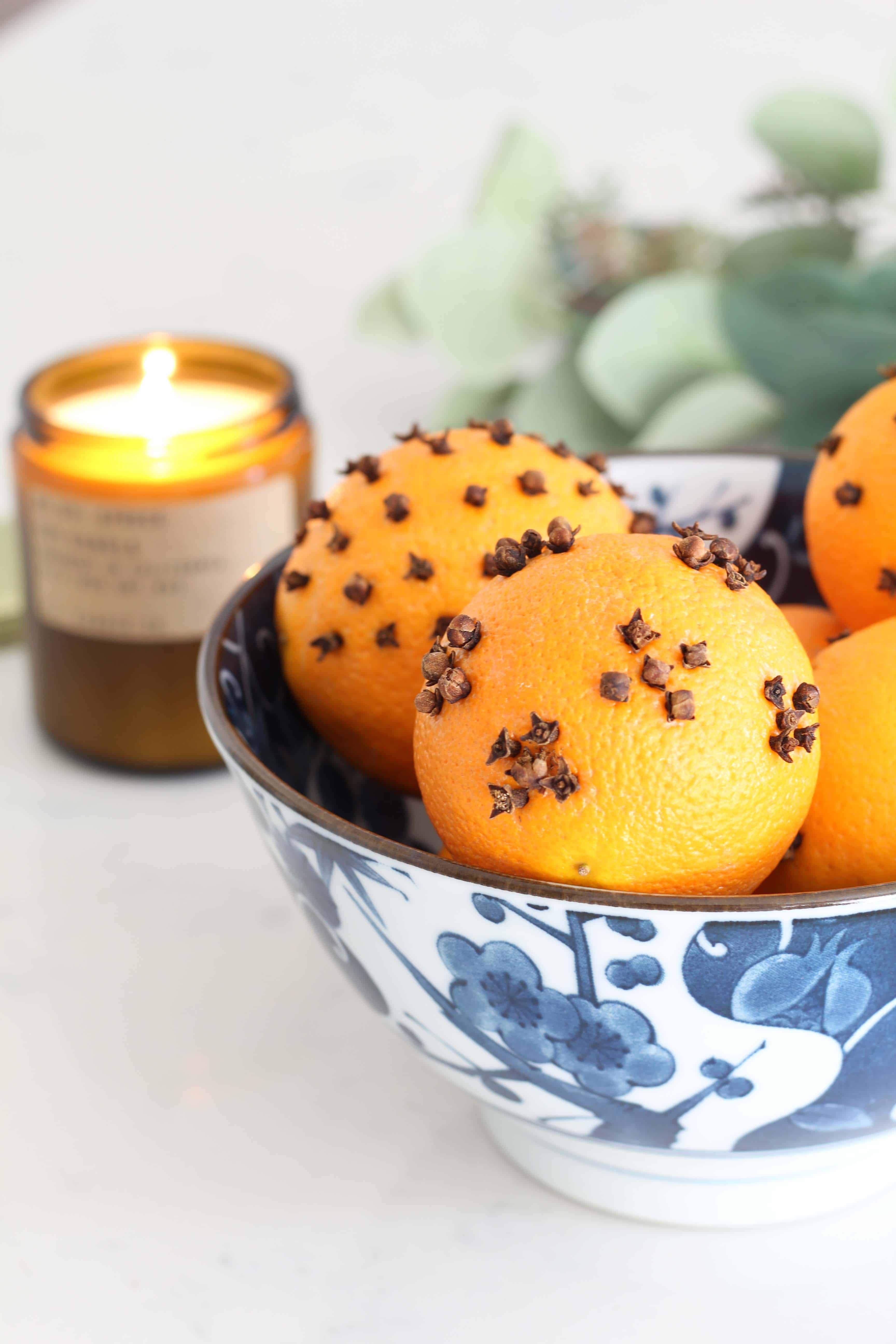 Candle // Similar Bowl // Eucalyptus Stems
Fragrant Orange & Clove Pomander Balls
One of the easiest ways to make scent more of a focal point in our home has been through easy seasonal crafts. This orange and clove pomander ball craft is particularly simple and perfect for little hands. It's also sophisticated enough to display throughout fall and winter as a fun and easy seasonal centerpiece.
Pomander balls have been around for hundreds of years and were originally used for medicinal purposes. The current day pomander balls you see are mostly oranges (either fresh or preserved) pierced with whole cloves. They are super simple to make and oh so satisfying to look at while you sip cider by the fire.
Here are some of my favorite ways to use them:
Piled in a colorful bowl as a kitchen table centerpiece.
As stocking stuffer for a new take on the old tradition of oranges as stocking gifts.
In a basket as teacher gifts during Christmas time.
If you're really adventurous, you can dry them to use year after year!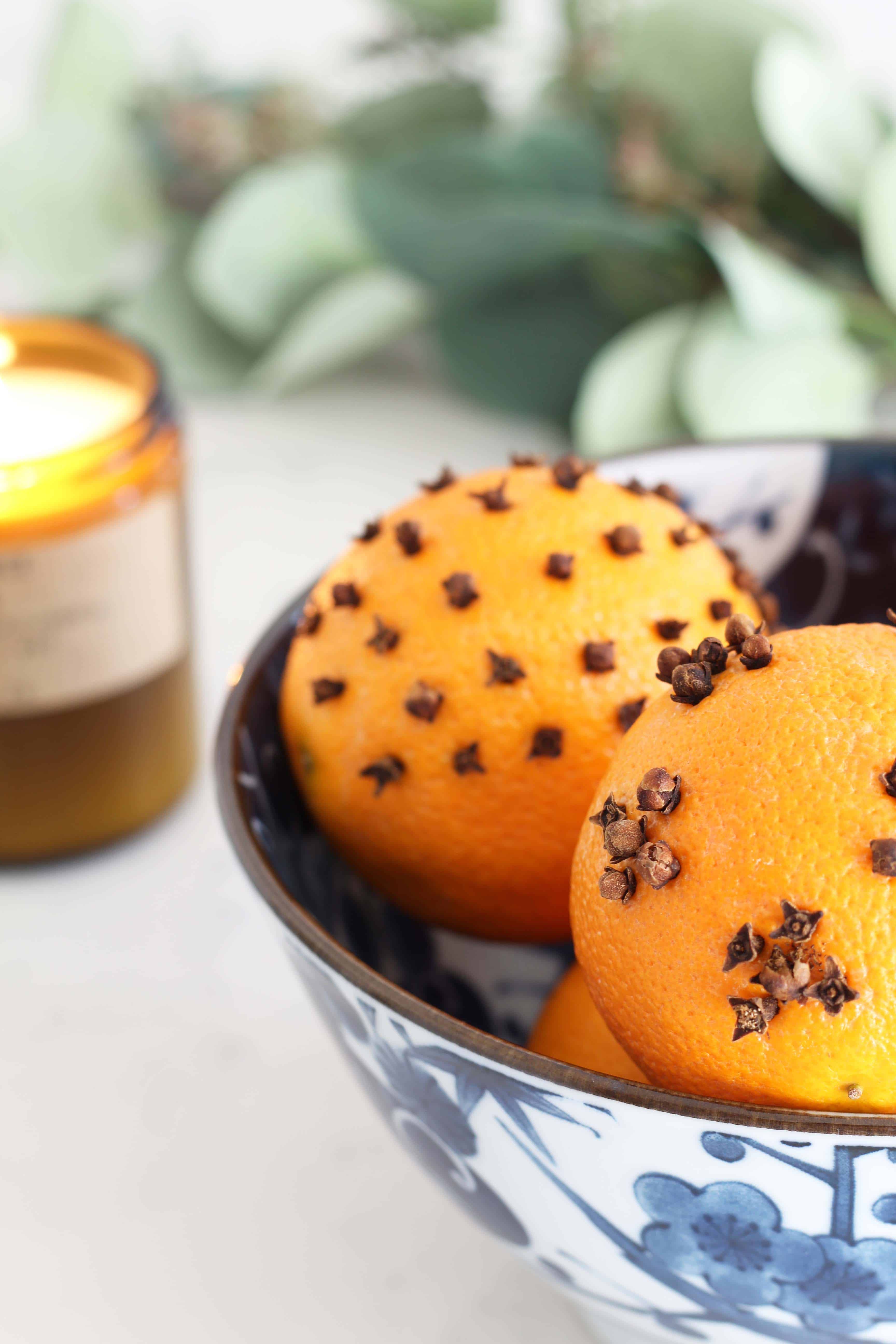 How To Make Orange Pomander Balls
Take fresh oranges and pierce them with whole cloves. So simple!
Whole cloves are surprisingly sharp. You may want to use a toothpick to make pre-made holes, especially if children are going to be doing it.
Be as creative as you want with the patterns you arrange your cloves in. I'm all about the star patterns, polka dots, or even diamonds. As the orange dries with the cloves in it, it will release a delicate, spicy fragrance.
I don't normally do this, but if you want to preserve your pomander: cover the entire orange with cloves, and then roll it in a mixture of spices made up of: 1 teaspoon ground cinnamon, 1 teaspoon ground cloves, 1 tablespoon ground nutmeg, 1 tablespoon allspice, ¼ cup powdered orrisroot. Leave the orange in the mix for a week, turning once a day.
If you want your pomanders to last but don't want to got though the hassle of preserving them fully, store them in a paper bag for a few weeks. Use a lot of cloves, which act as a natural preserving agent. The cloves will draw out the juices and they'll shrink in size. Finish by dusting with cinnamon.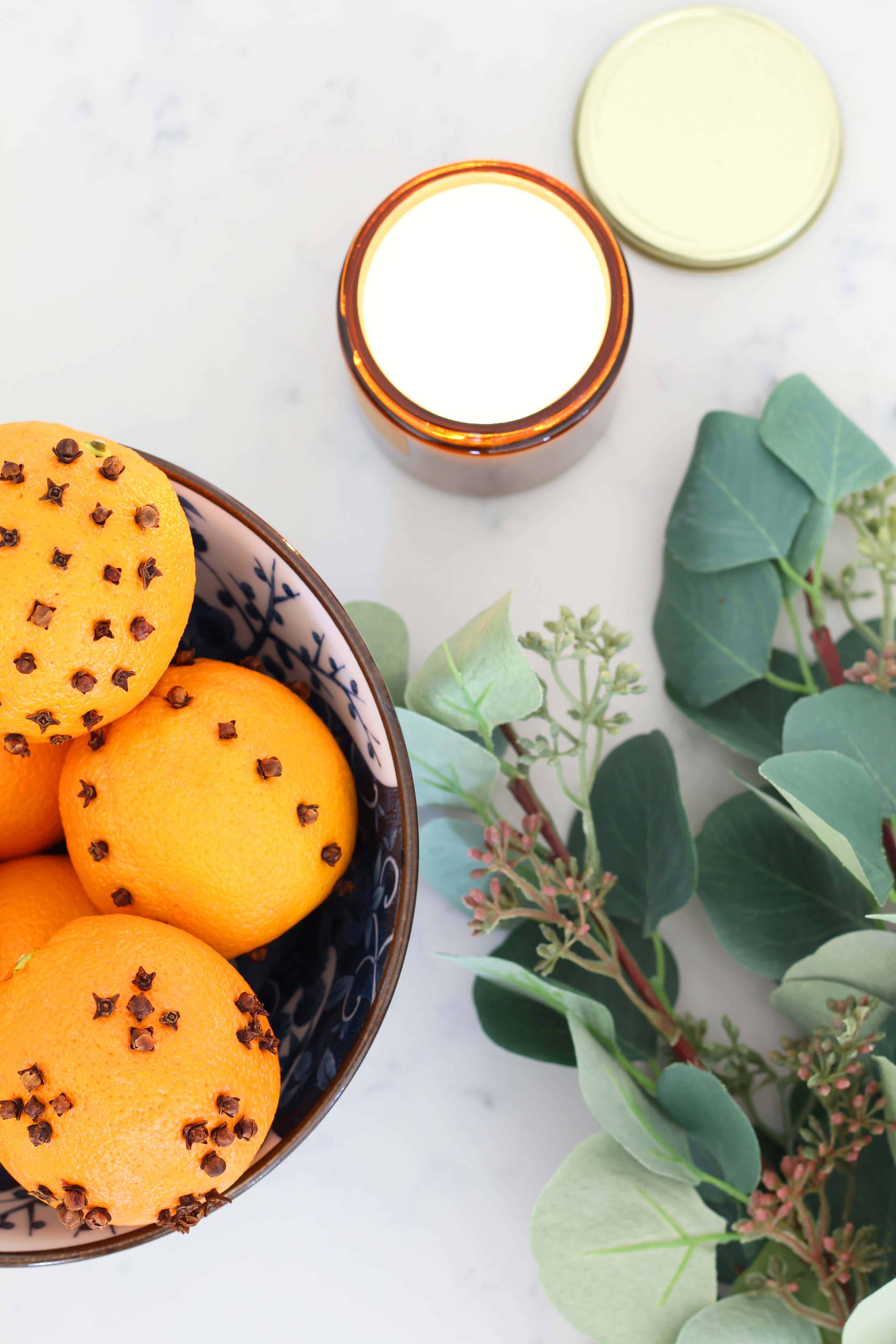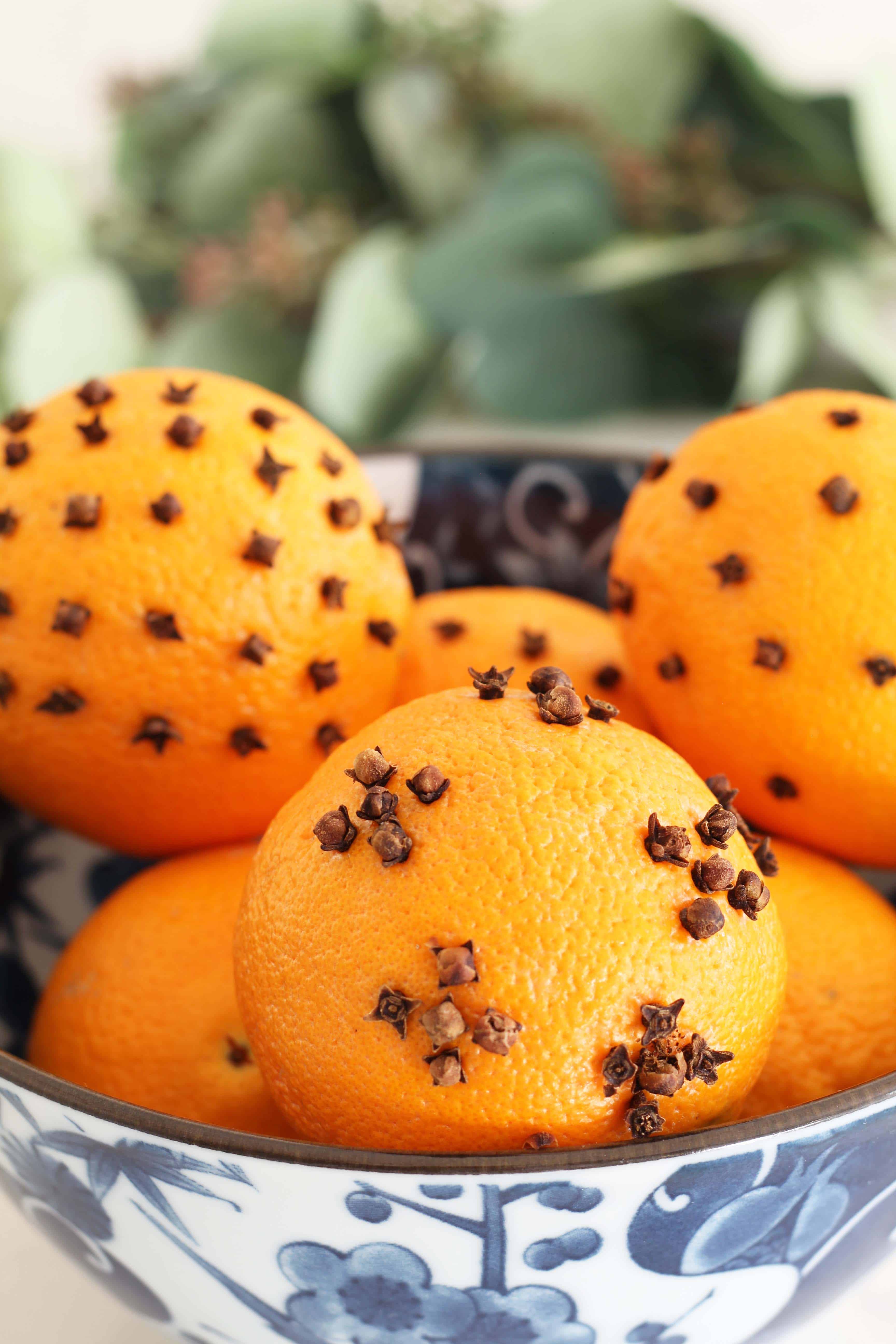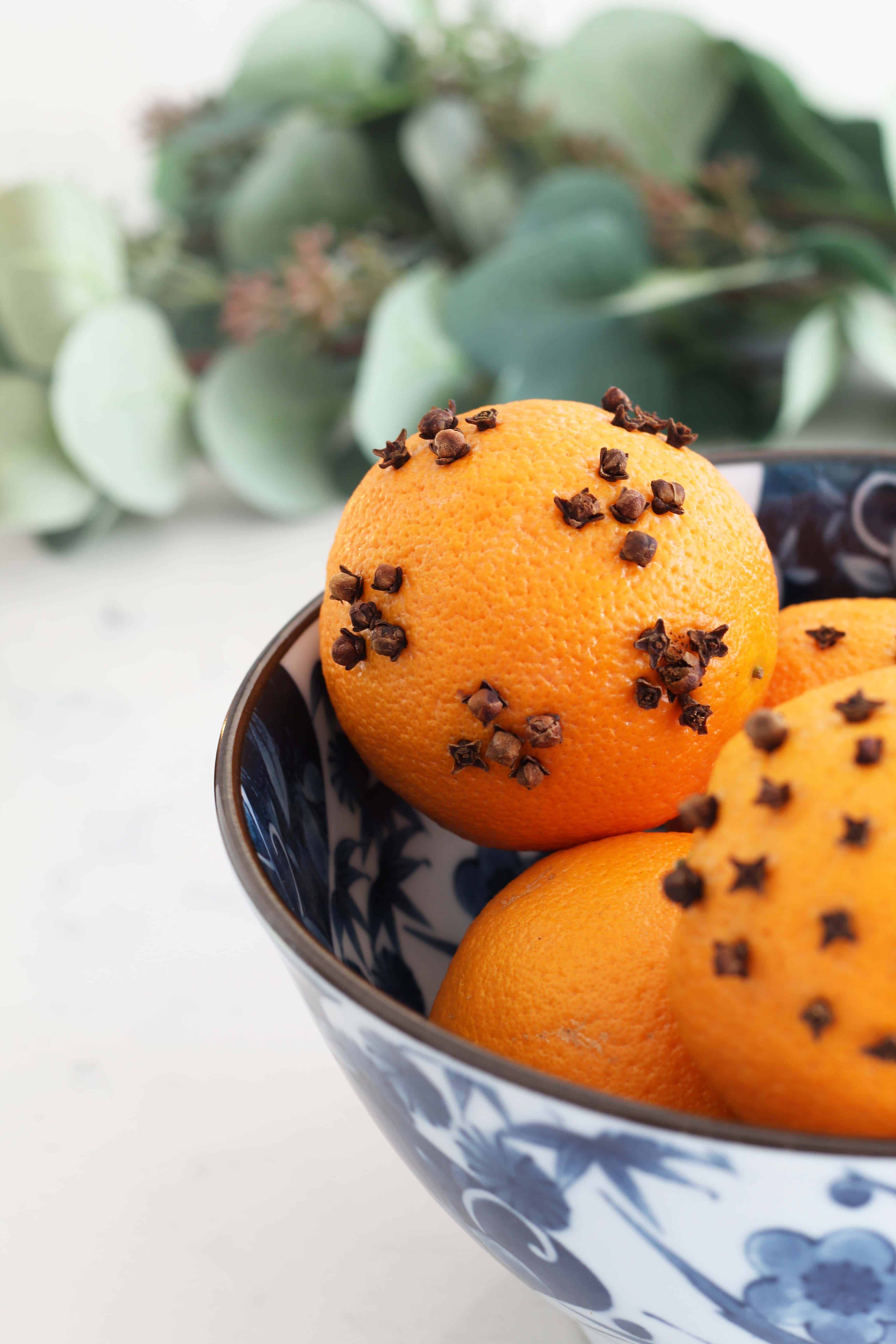 Creating New Traditions
It's never too late to start a new tradition. I think one of the biggest ironies of our times is the fact we have so many ideas at our finger tips (thank you social media) but we seem to be actually enjoying very few of them. For me this tends to be due to sheer overwhelm. The best way I've found to overcome it is by making a point of picking just a few things, a couple of traditions to focus on for each holiday or season.
In our mad dash for perfection, I think we try to do it all and instead end up burnt out and doing nothing at all. So pick out 1 or 2 crafts or activities you want to do this season and concentrate on those. Bake gingerbread cookies. Go to the nutcracker ballet. Make a snowman. Press homemade apple cider. Craft some orange pomander balls 😉 But by all means, don't feel like you have to do it all to make it special!
This post contains some affiliate links for your convenience. Click here to read my full disclosure policy.
Want to save this post? Pin it here!