This whimsical pink guest bathroom combines classic design with fun patterns and pops of color.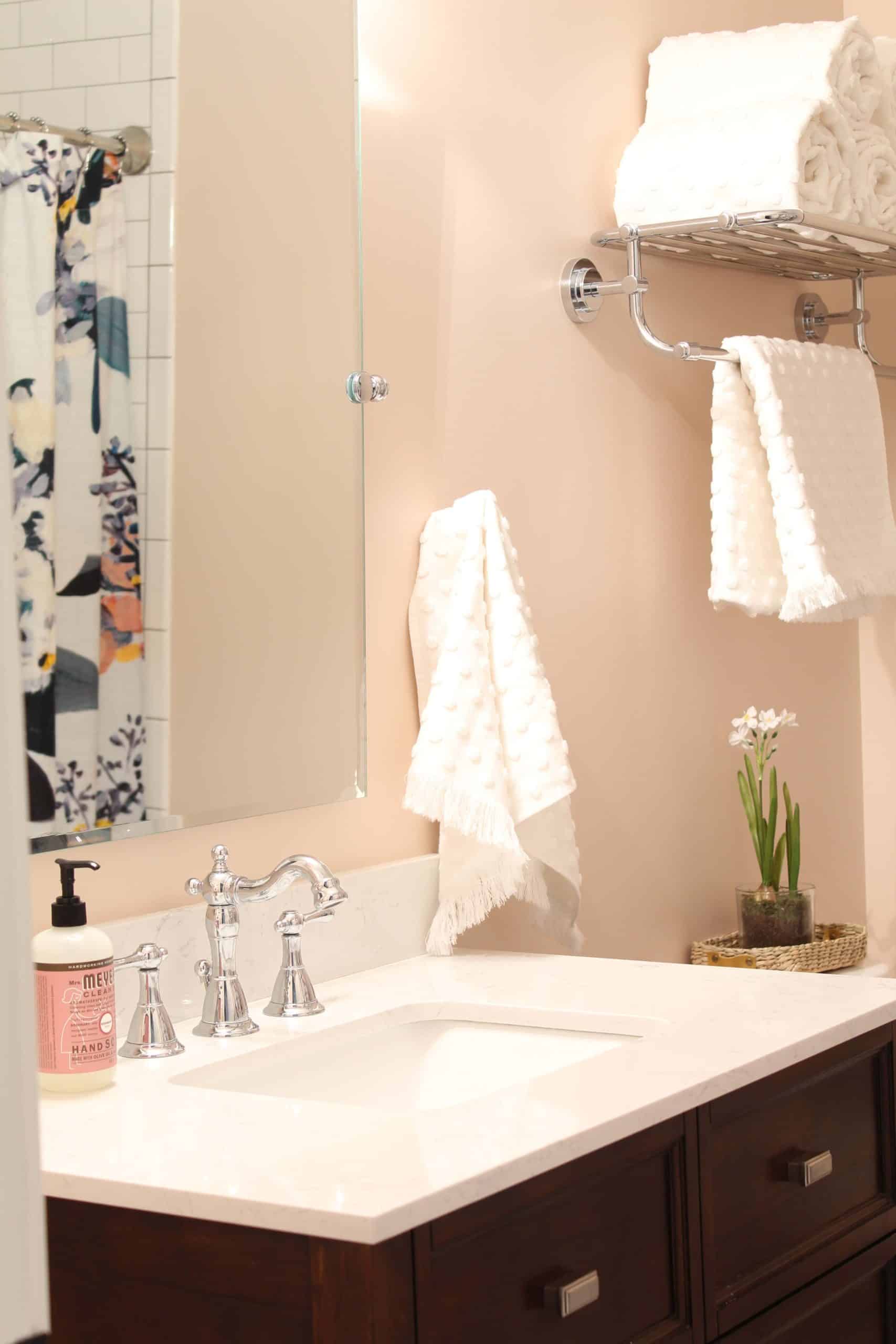 Welcome to the guest bathroom in our home! Like a lot of guest bathrooms or powder rooms, it doesn't have a window and therefore, gets no natural light. And while it is our guest bathroom, it's also the girls bathroom, so it gets a hard workout each and every day. 
Whimsical Pink Guest Bathroom Reveal
This room was honestly one that I never really had much of a plan for, and the lack of natural light and small space had me pretty stumped for the last year and half. Let's start at the beginning, shall we? Below is the guest bathroom when we bought our house. It had a couple of layout issues, the main one being that the door only opened 2/3 of the way before hitting the shower wall. Not only did this make getting in and out of the room hard, but it also kept you from being able to open cabinet doors when the bathroom door was open. Not the end of the world, but not ideal.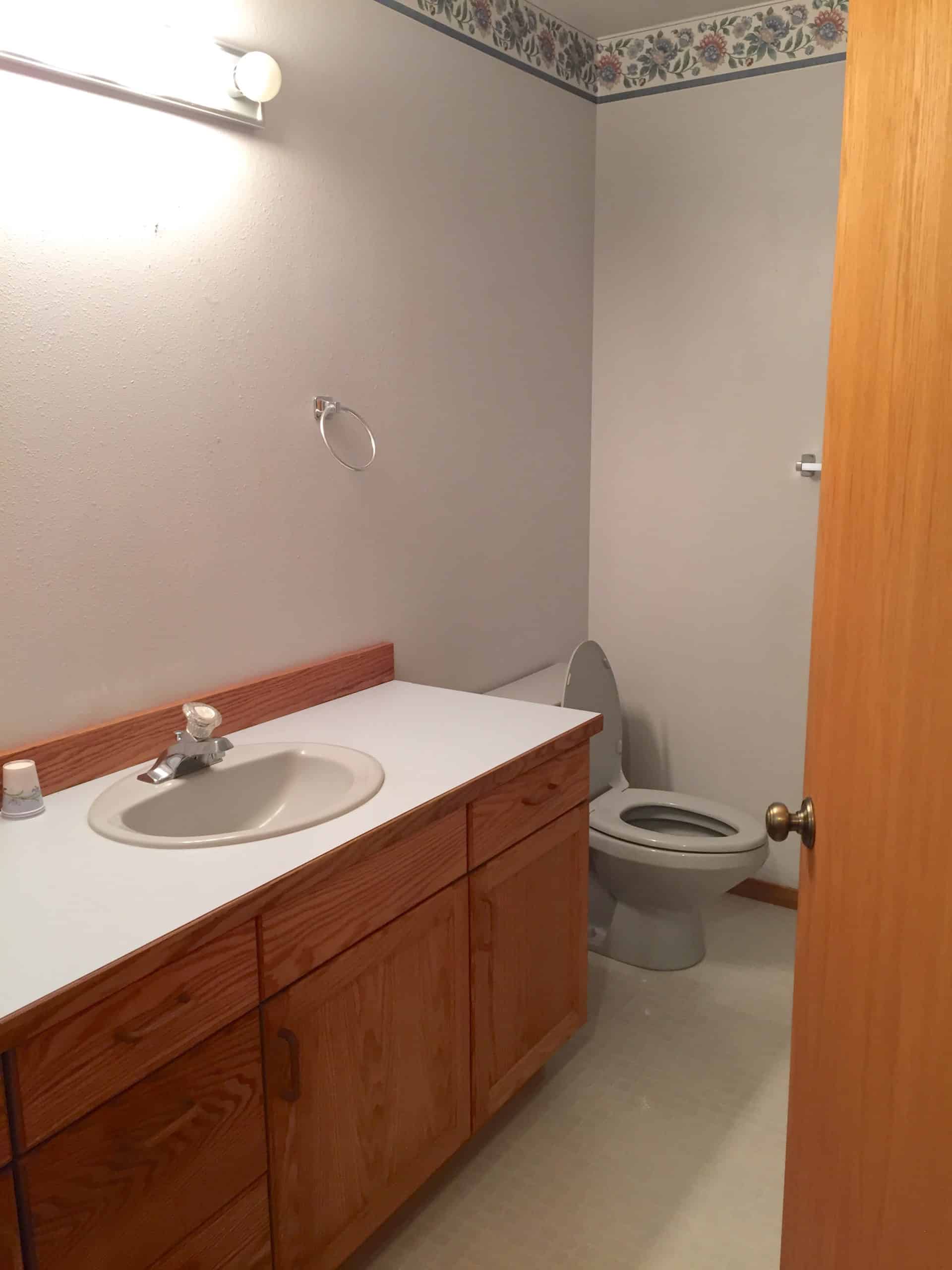 When we did our initial remodel one of the main goals was to straighten out the wall and doorway into this bathroom so that it was fully functioning. Once that was done, we drywalled, tiled, and put the vanity in. It was really just a mad dash to get a working bathroom so we could move in at that point. We had the whole interior of the house (including this bathroom) painted white (BM Chantilly Lace) and called it good.
And that is how this bathroom has sat for the last year and a half. Totally functional, but lacking any special  touches, color, or personality. Fast forward to this May. After a couple of months of walking past this blank, white bathroom multiple times a day during quarantine, I was ready to spruce it up a bit!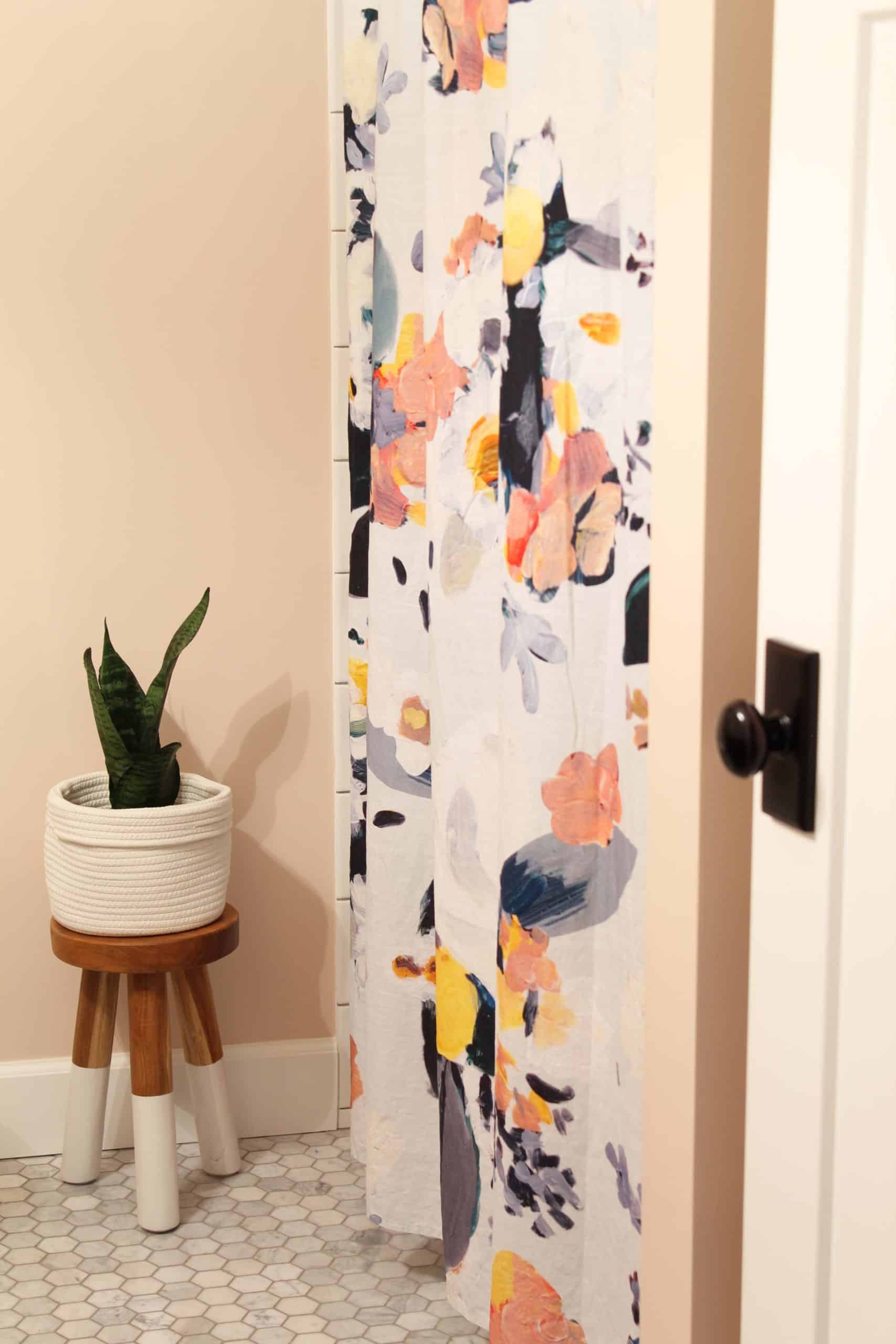 When In Doubt, Paint It Pink 
The main thing I struggled with in this bathroom was the walls. I knew they needed something – a wall treatment of some kind? Wallpaper? Paint? After a lot of back and forth on different options, I realized it was the color that was bothering me so much. White walls with no natural light are hard to pull off. In our bathroom the white was coming off as stark and cold rather than light and airy. 
When I finally understood this, I knew what this room needed was some color. But what color? I thought about going dark, but again, with no natural light that wasn't a gamble I wanted to take. Gray or beige can look really lovely in a bathroom, but I knew I wanted something fun to bring warmth to this otherwise cold feeling space. 
And then I started thinking about the accent colors that repeat throughout our home. Navy blue is a main one, and so is pink. Pink is honestly a color I have never really considered outside of a nursery, but for this bathroom is just felt right. I feel like finding the right pink with a hint of peach to it was the key to getting a more sophisticated look and warm feeling. We ended up painting it Ella Rose by Magnolia paint, but Shermin Williams Quaint Peche is a near identical color match.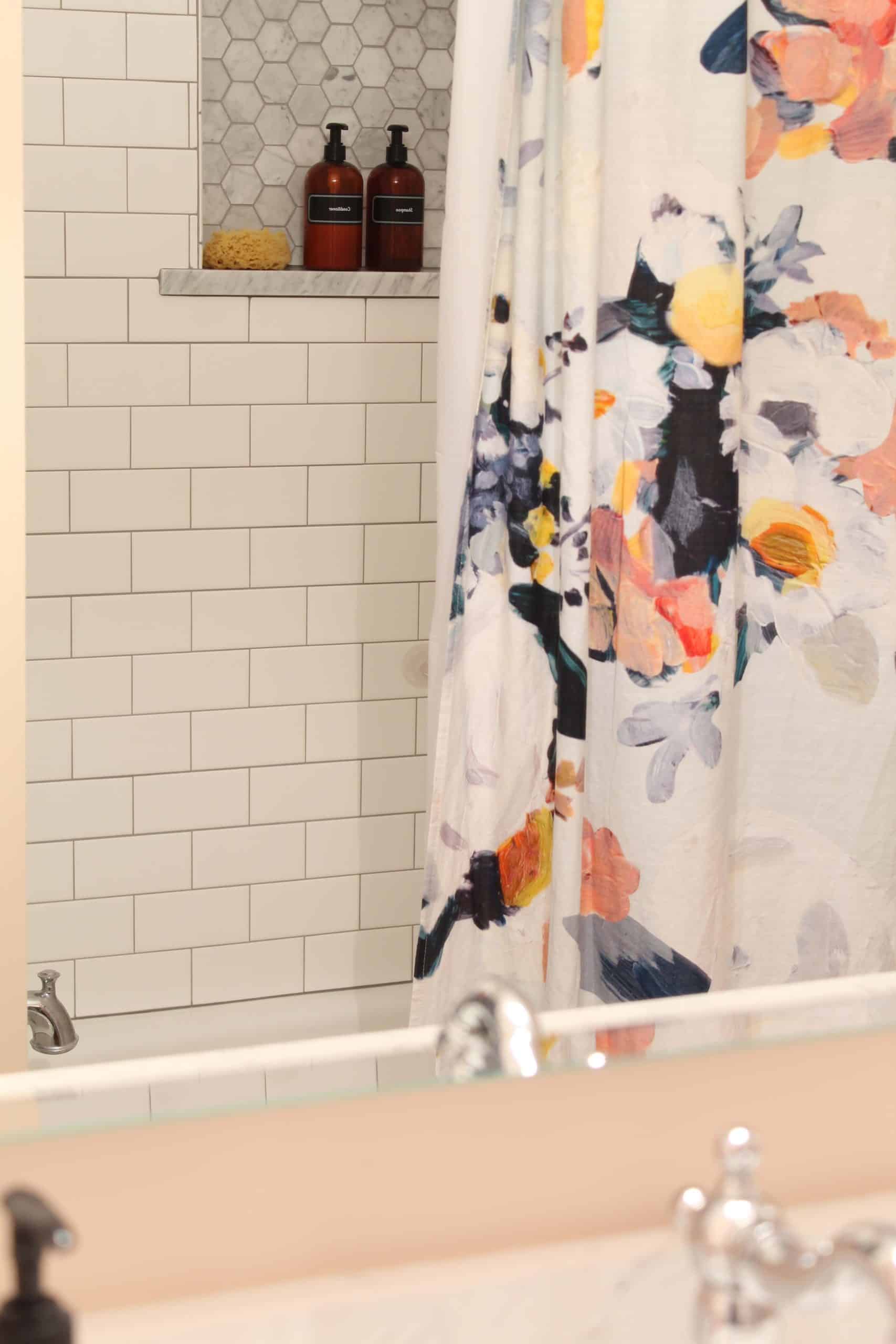 Fixtures & Accessories 
Aside from the paint we carried the same tile throughout this bathroom that we used in our master bathroom. The white subway tile and marble hex tile felt like a good fit with the flow of the house and allowed us some wiggle room design wise since we knew we would be finishing it later.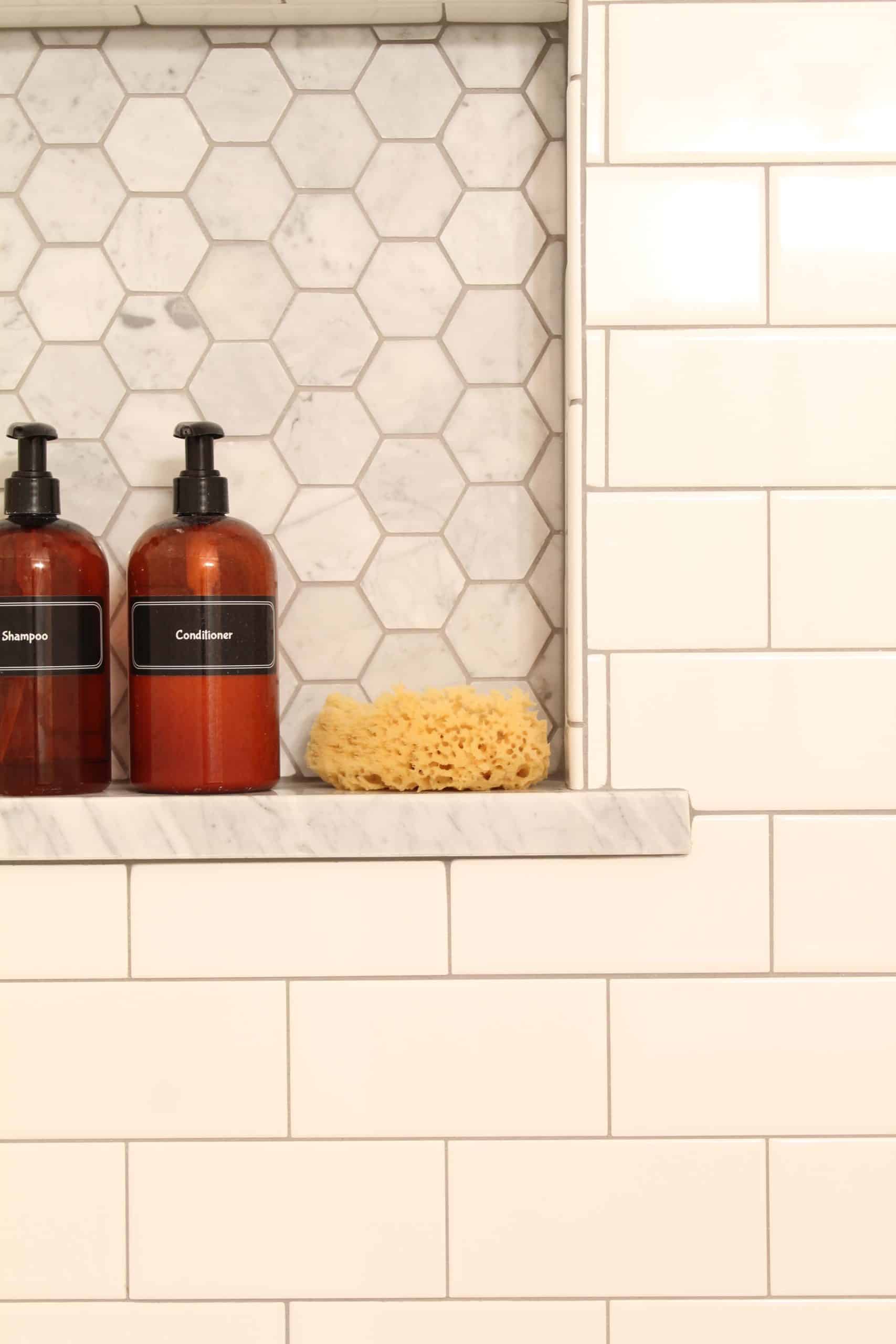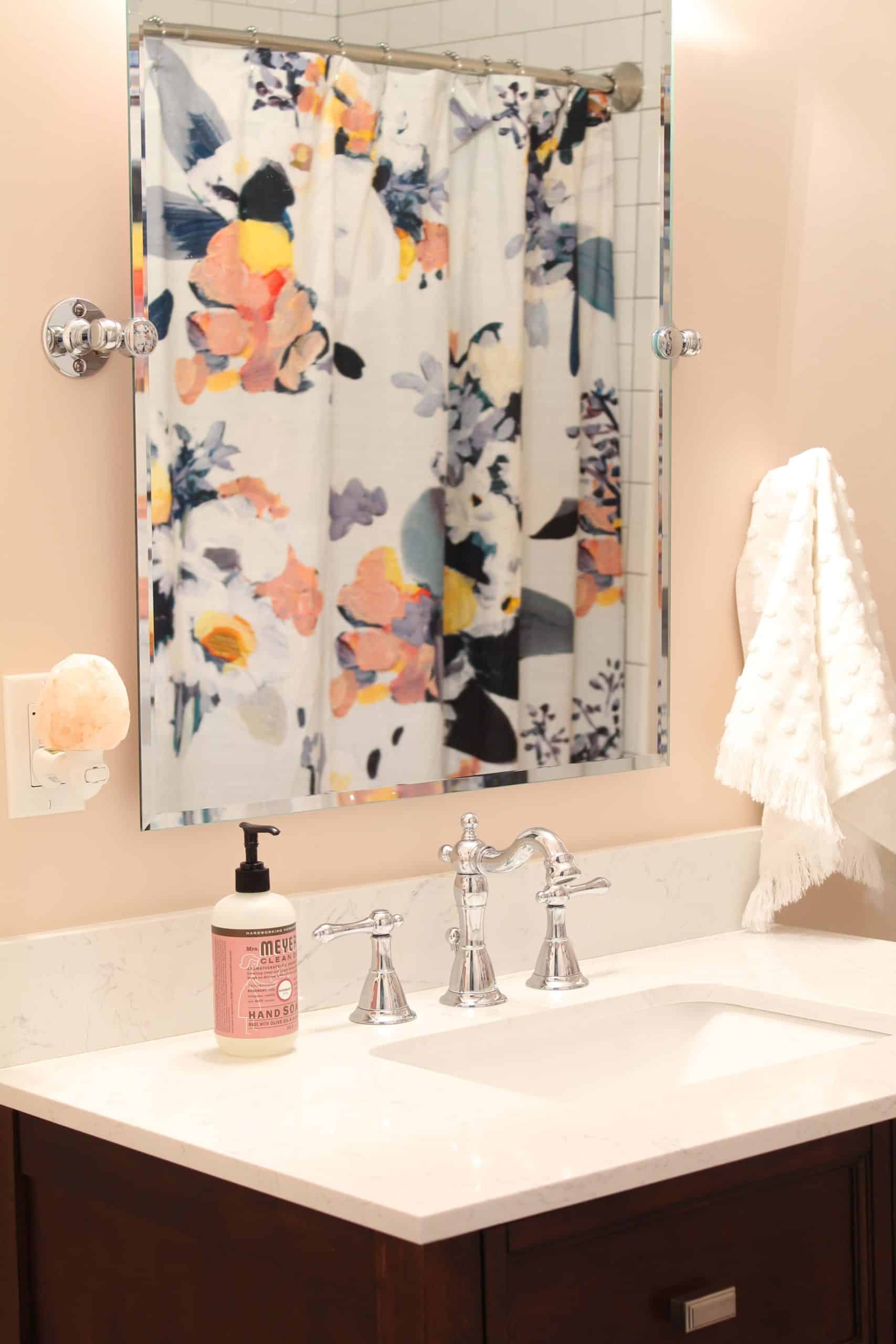 We went with a frameless tilting mirror since the space is small, and classic fixtures that will hopefully stand the test of time. The botanical shower curtain helps add a bit of blue in this bathroom and gives it some interest and depth. Plus, our oldest daughter loves all things floral, which made this an easy decision. 🙂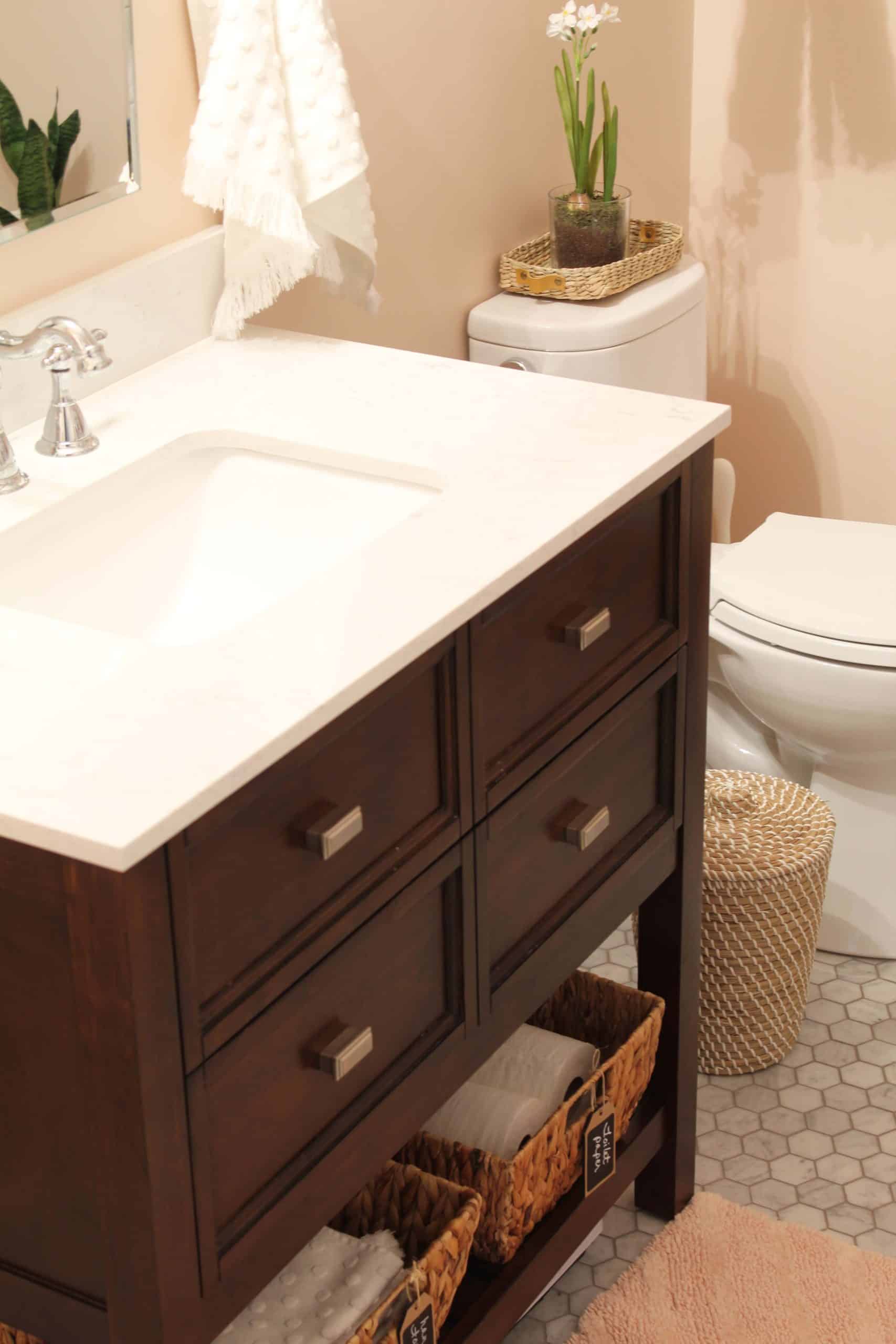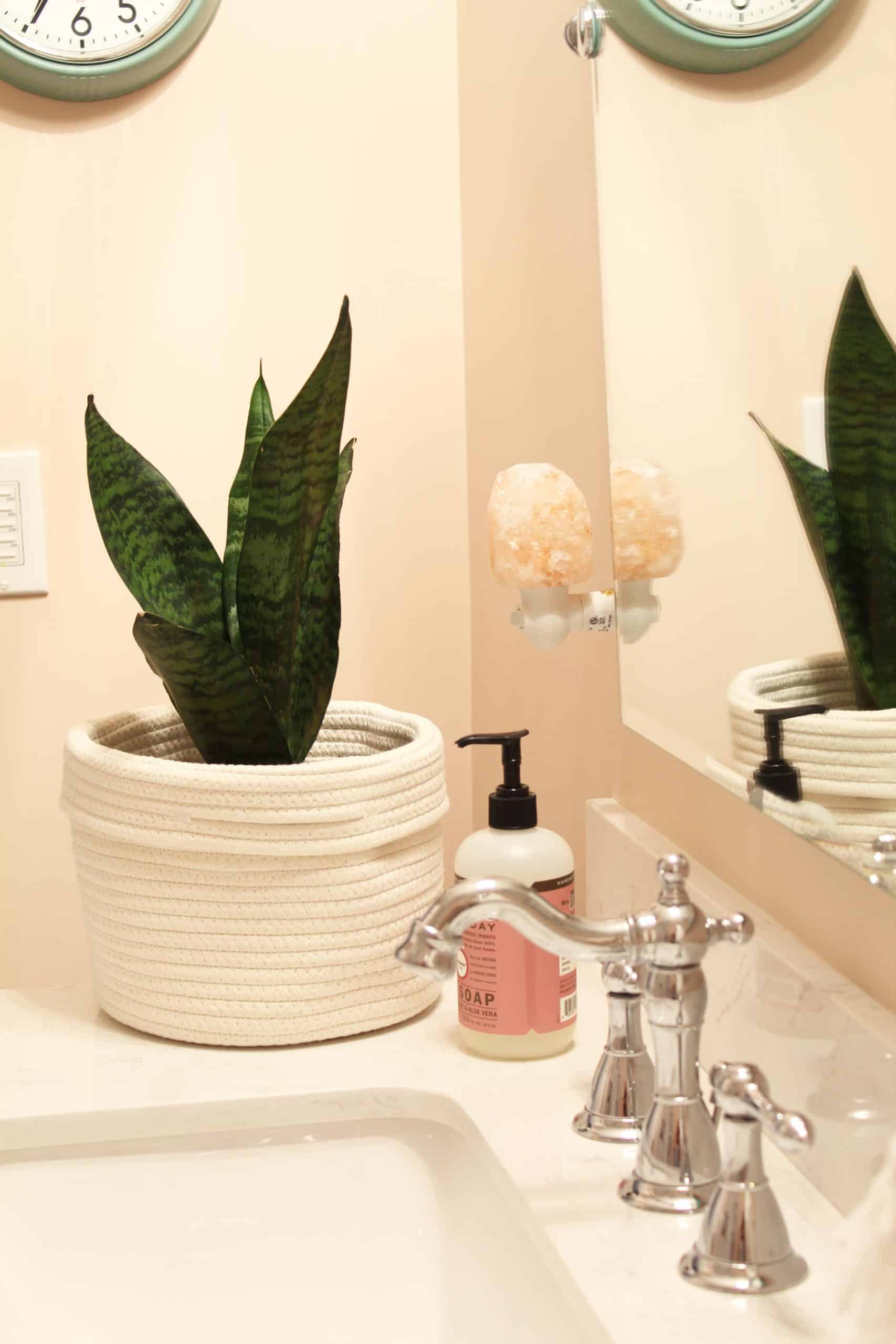 I believe that little things like plants, towels, and accessories can really change the way a bathroom looks overall. So even if your bathroom is functioning just fine, or it's not in the budget to do a full remodel, refreshing just a few main items (like a shower curtain or paint) can have a big impact on the feel of the room.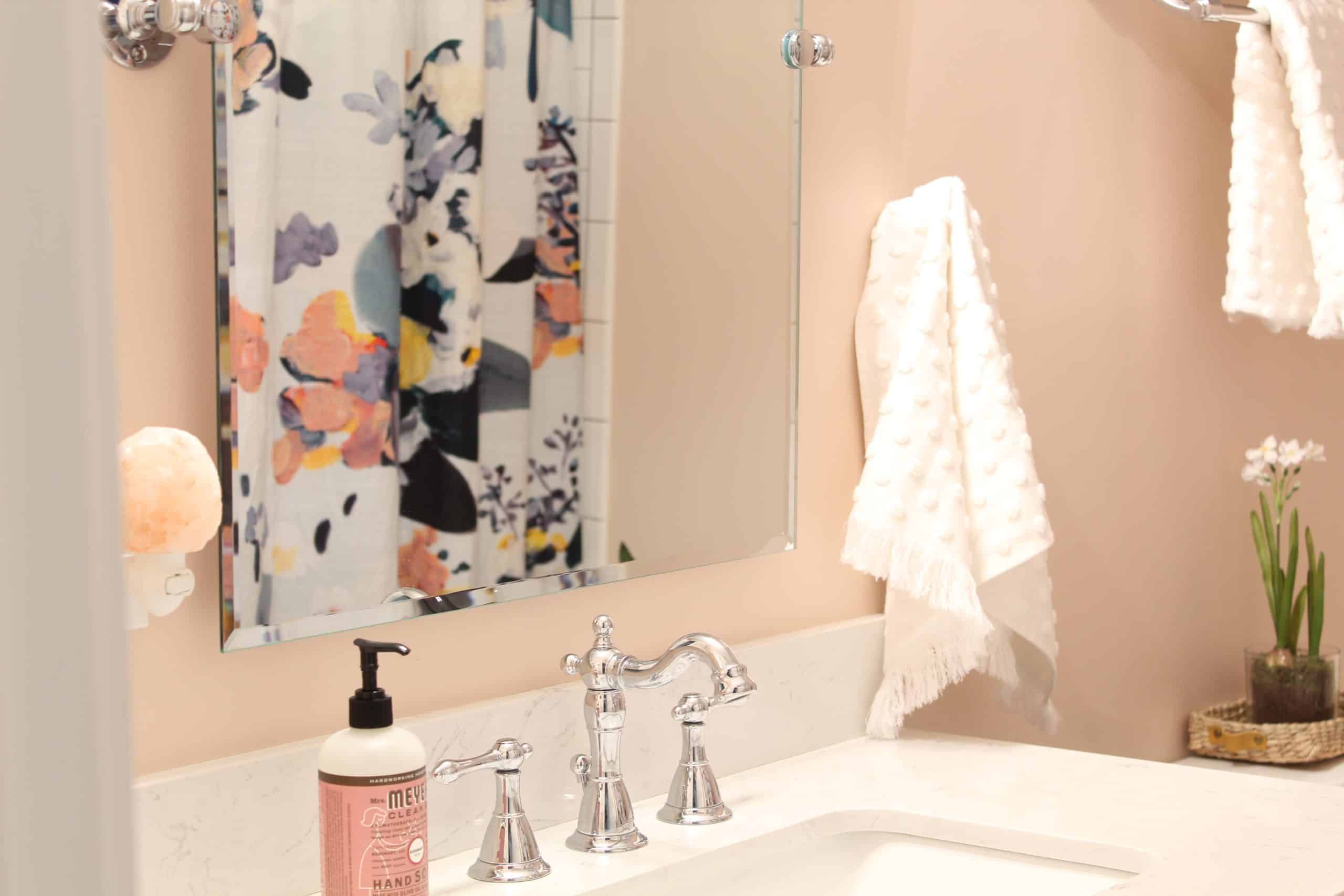 Now when I walk by and catch this room out of the corner of my eye, it makes me smile. Ah, the power of paint! Tell me, have you ever had paint totally change the way you felt about a certain room? 
Shop The Post 

This post contains some affiliate links for your convenience. Click here to read my full disclosure policy.
Want to save this post? Pin it here!