Open kitchen shelving is a popular choice right now in kitchens. If you're considering them, here is my full review after over a year of using them daily.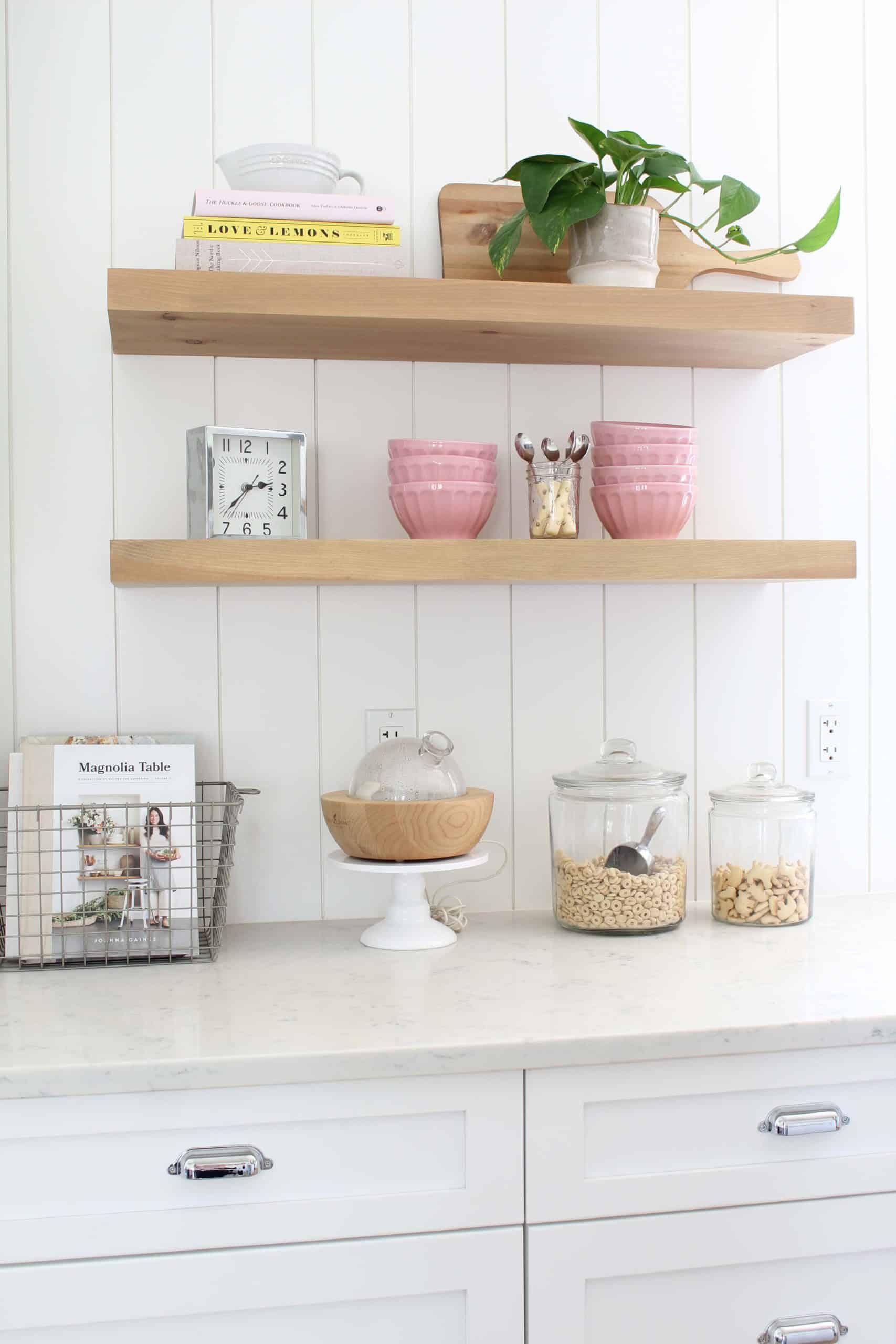 When we were in the midst of our kitchen renovation I had moments of serious doubt over whether open kitchen shelving was the right decision. Even though I had seen so many examples of it done well on the internet, I hadn't actually ever seen it in someone's kitchen in real life. Do you ever feel like that about a design element in your home? Like you've seen it everywhere, but haven't actually seen it in "reality"?
I knew I loved the look of it, and I thought I would love the functionality – but who really knew? This was especially nerve-racking because we weren't just planning on doing an open shelf here and there, we were doing open shelving in place of all of our upper cabinets. It was a big decision and a big investment both time and money wise.
After living without upper cabinets for a couple of months midway though the renovation, I just had to bite the bullet and go for it. And you know what? I'm so glad I did.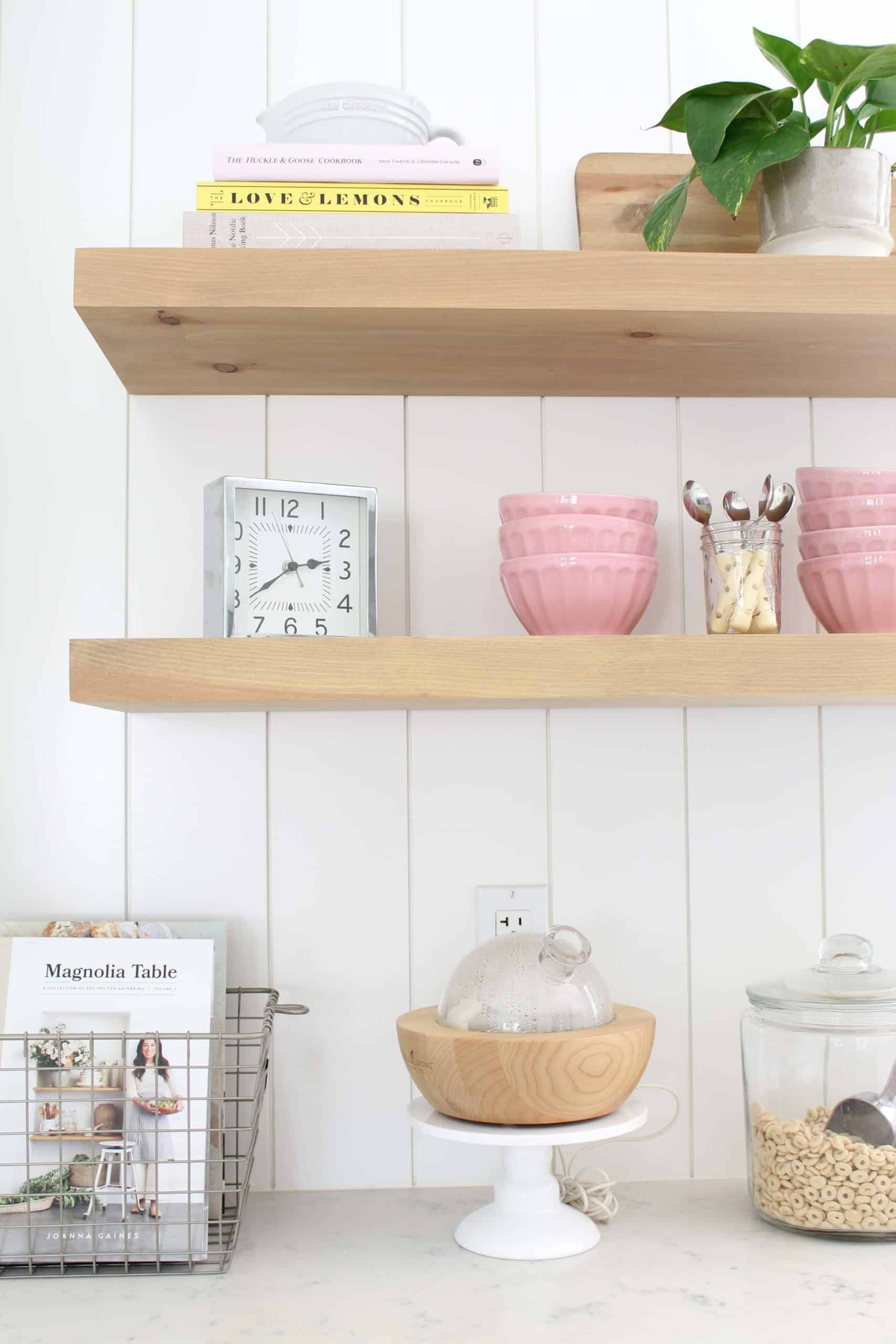 Open Kitchen Shelving
Open kitchen shelving might be the bravest design choice I've ever made. As a normally pretty conservative choice maker, this was a big deal for me. Mostly I was worried I was doing something that was too trendy. But I worried for other reasons as well. Would I get tired of it? How would it stand the test of time? Would my dishes get dusty? These were all concerns that actually kept me up at night during the renovation process. In hindsight I laugh about it now, but when you're in the middle of a renovation these decisions feel monumental!
Budget, aesthetic, and your kitchen layout can all help you decide if open shelving is the best choice for your kitchen. In our last kitchen I longed to do open shelving, but the layout, size, and the possibility of moving ultimately kept me from doing it. An open concept kitchen in this house along with two full walls allowed for what I felt was an ideal space for open shelving.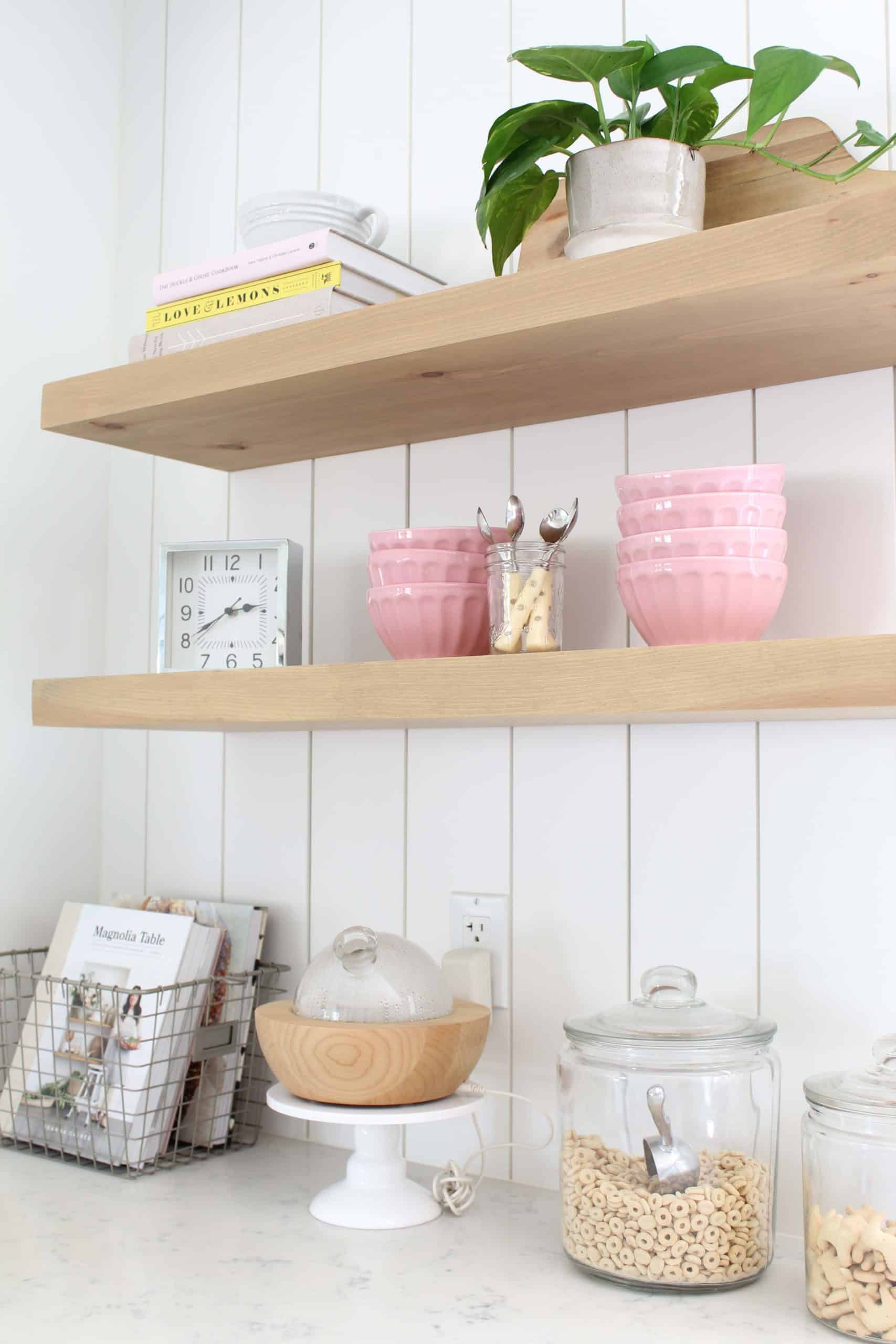 The Pros of Open Kitchen Shelving
After over a year of living with our open shelving, I thought it might be fun to do a little review of all the things I've learned/noticed over the past year when it comes to using them day in and day out.  It's no secret that I personally love open shelving in kitchens, but I know they aren't for everyone and they certainly don't work in every kitchen.
Pros
The aesthetic. If you love the look of open shelves you can't beat the statement they make in your kitchen.
Cost. Depending on how you install them and whether or not you do it yourself, open shelves are (in my experience) a lot cheaper than the upper cabinets you would be paying for in their place.
Ease of use. It may sound silly, but not having to open a cabinet door every time you want to get a dish out really does save you time/energy and it's so nice to be able to see everything you have right there in the open (as opposed to tucked away in the back corner of a cabinet).
Open & Airy. Having open shelving it your kitchen really does make it feel bigger. If you have a smallish kitchen that allows for it, open shelving could really make it feel larger and airy.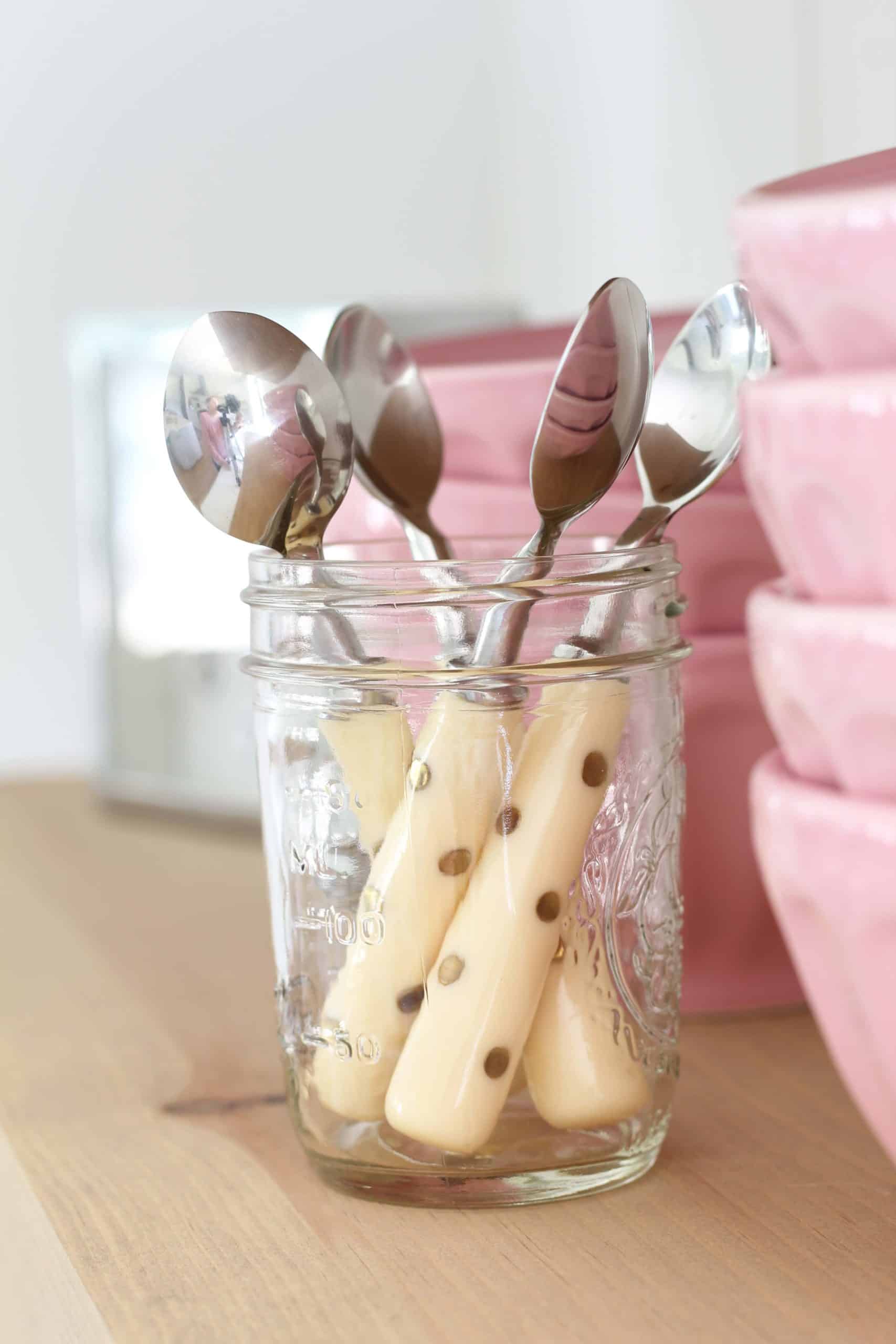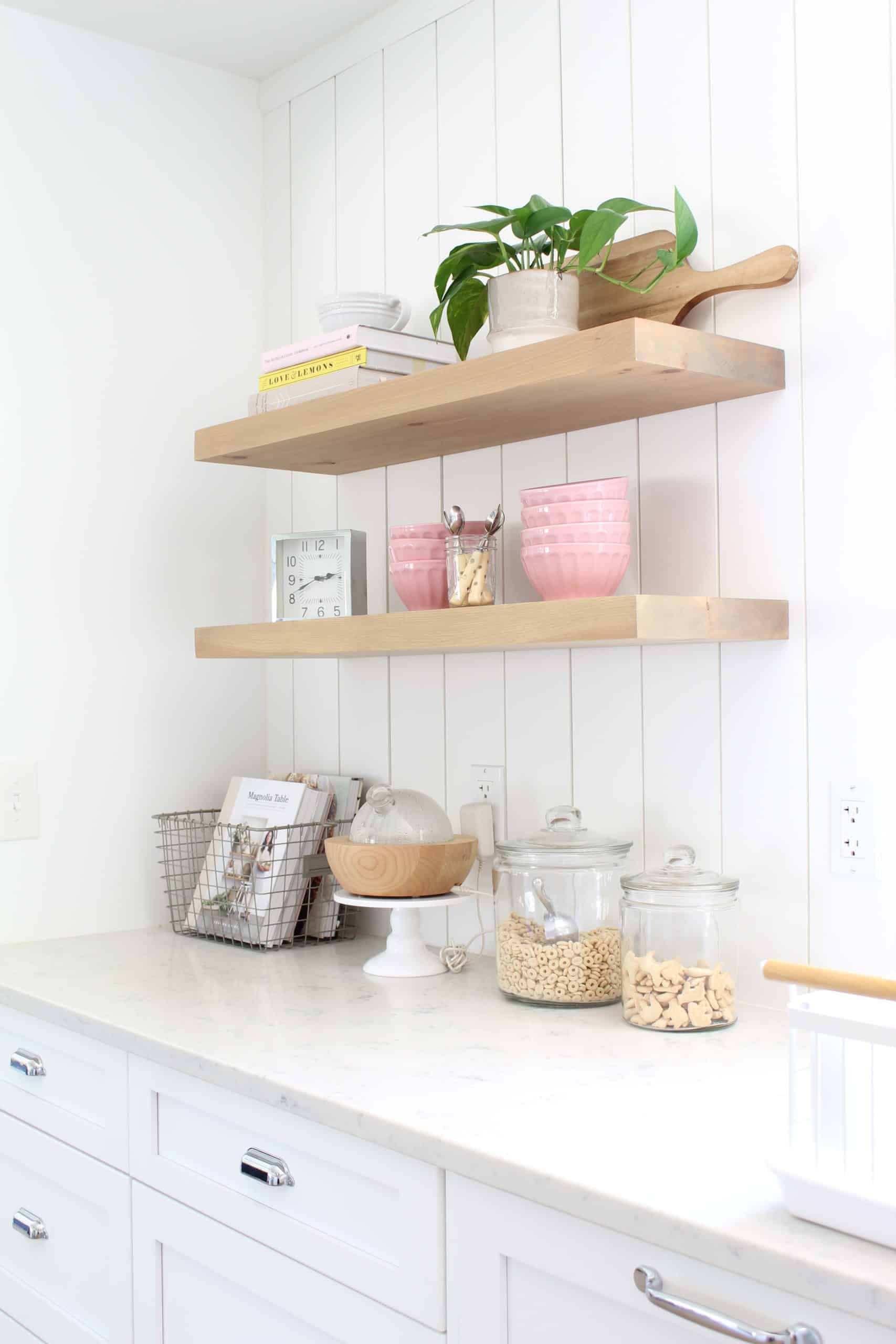 The Cons of Open Kitchen Shelving
There aren't a whole lot of cons to my mind, but I've tired to list everything I can think of including what you might encounter if your kitchen leans toward the more cluttered end of the spectrum.
Dust. People ask about this a lot and here's what I've noticed; the shelves themselves do get dusty since they are open to the air. Our dishes don't get dusty because we use them on a daily basis. I dust the shelves every 4-6 months.
Installation. We found the installation of our floating shelves to be the trickiest part of our kitchen reno. It definitely took a lot of time and effort to block into studs, line everything up, and make sure it was all level. Open shelving using brackets would be much easier, just a whole different look.
Clutter. Open shelving causes immediate "visual clutter" in your kitchen. Meaning, the minute you start adding everyday items and clutter to your countertops your kitchen seems to look twice as cluttered compared to if you had cabinet uppers hiding all of your dishes and other items. This is just my own opinion, and obviously what someone considers "cluttered" is totally personal preference.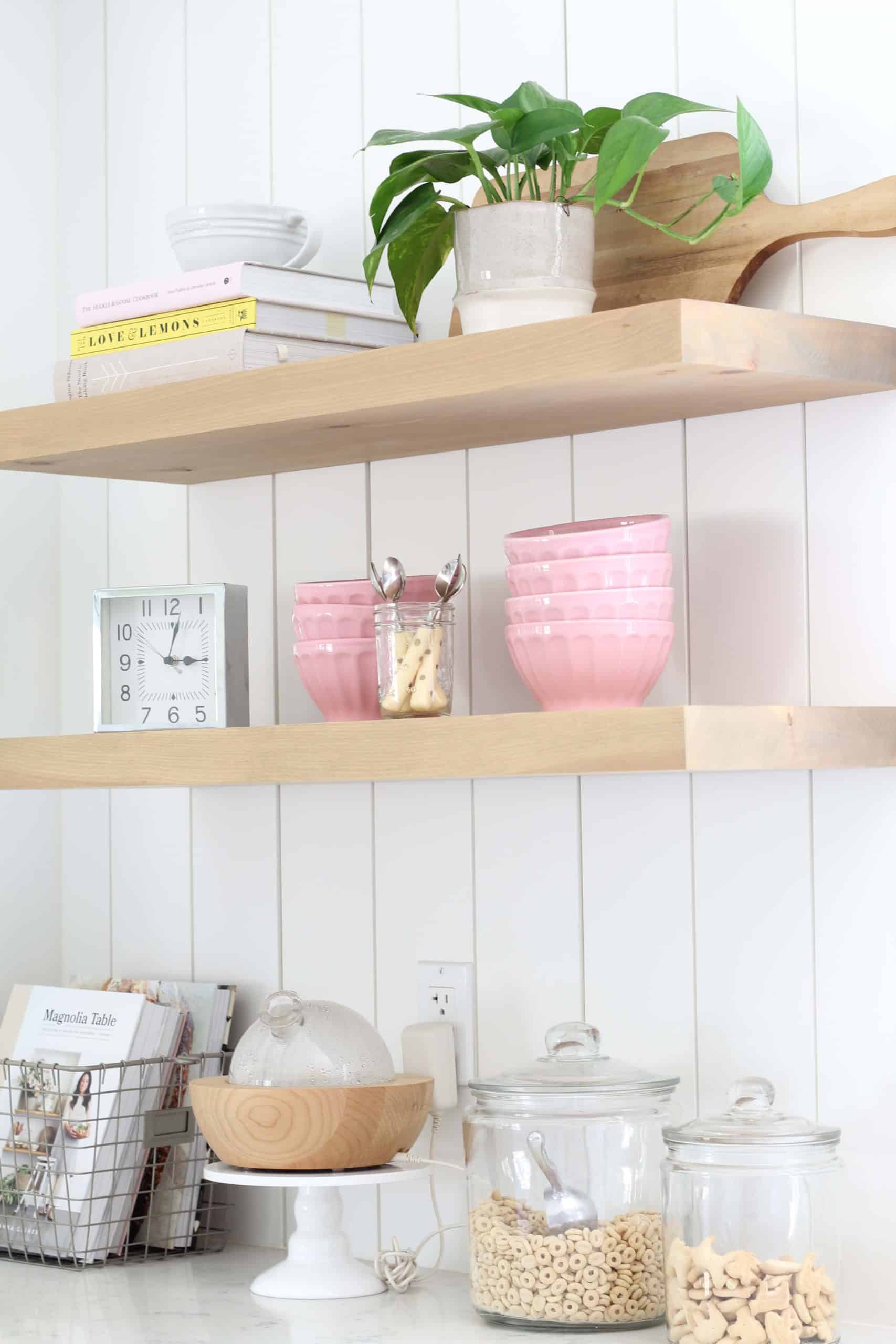 What To Consider When Choosing Open Kitchen Shelving
I touched on them a little bit above, but I think the most important thing to remember when you're doing any sort of renovation or change to your home is that you are the one who lives there, so ultimately you should do what you love. If you love the look of open shelving and you feel like it would improve the way your kitchen functions, I say go for it. That being said, here are a few things I found helpful when I was debating open shelving:
Do you want to do all open shelving or just do a couple of accent shelves in lieu of a set of cabinets (like this example)
Research open shelving options based on your kitchen's basic layout. For instance if you have a galley kitchen, search google for "galley kitchens with open shelves" if you have a small kitchen you would search for "small kitchens with open shelving" and so on.
Figure out what style of open shelving your like. There's everything from floating shelves (what we have) to shelving with exposed brackets, and even open cabinet shelving (which is super cost effective because you just take your cabinet door off!)
Lastly, look at lots of inspiration pictures. Start a pinterest board or file to save images of shelving combinations and kitchens you are drawn to. You'll be amazed at the patterns you'll start to see when it comes to what you're drawn to.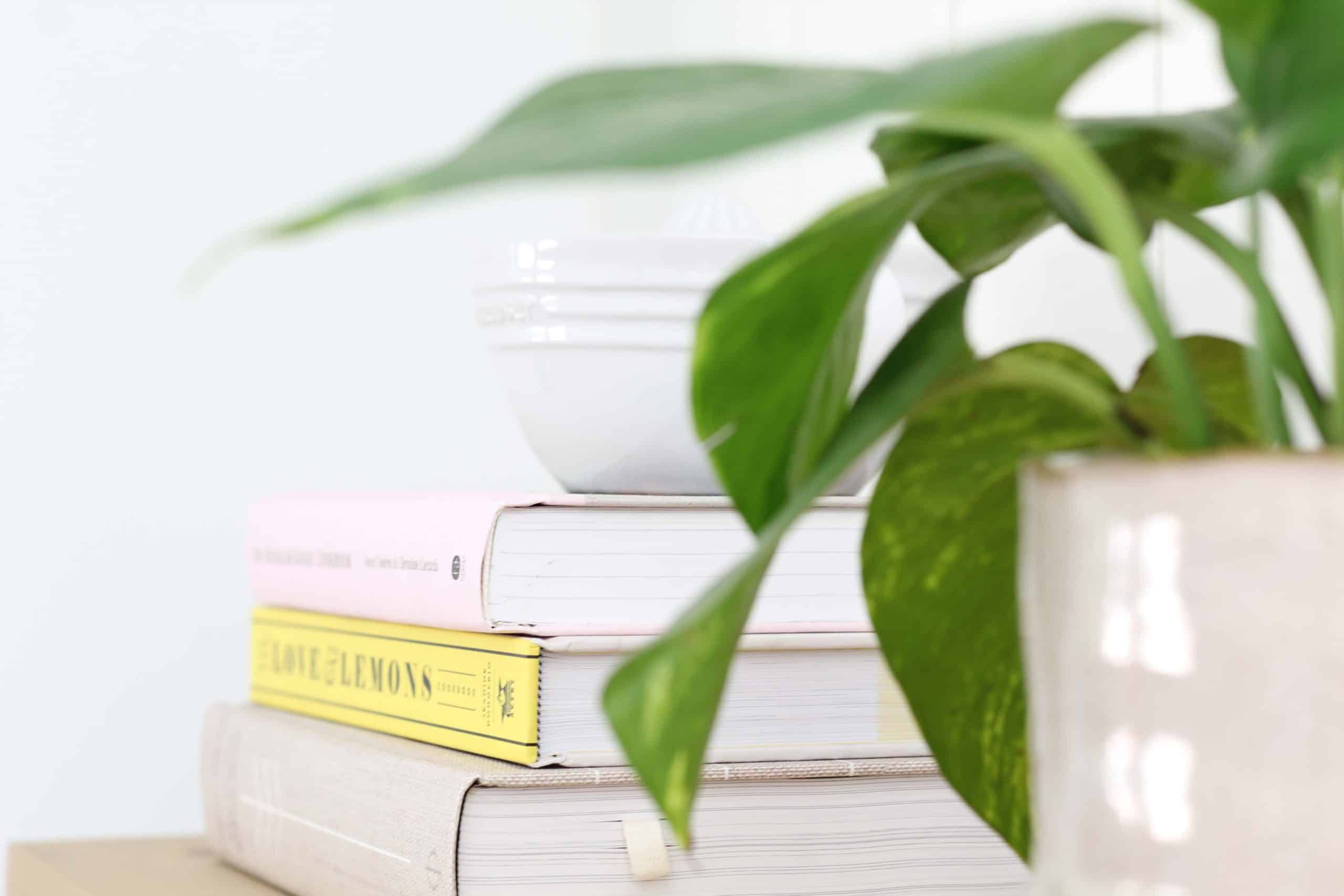 I hope this review helps you in some way if you're thinking about doing open shelving. If you have any more questions be sure to comment below!
P.S. You can see our full kitchen tour here.
Want to save this post? Pin it here!