Bathrooms are often times the last place we think about when it comes to comfort, when really they should be one of the first! Here are 10 ways to make your bathroom feel like a spa.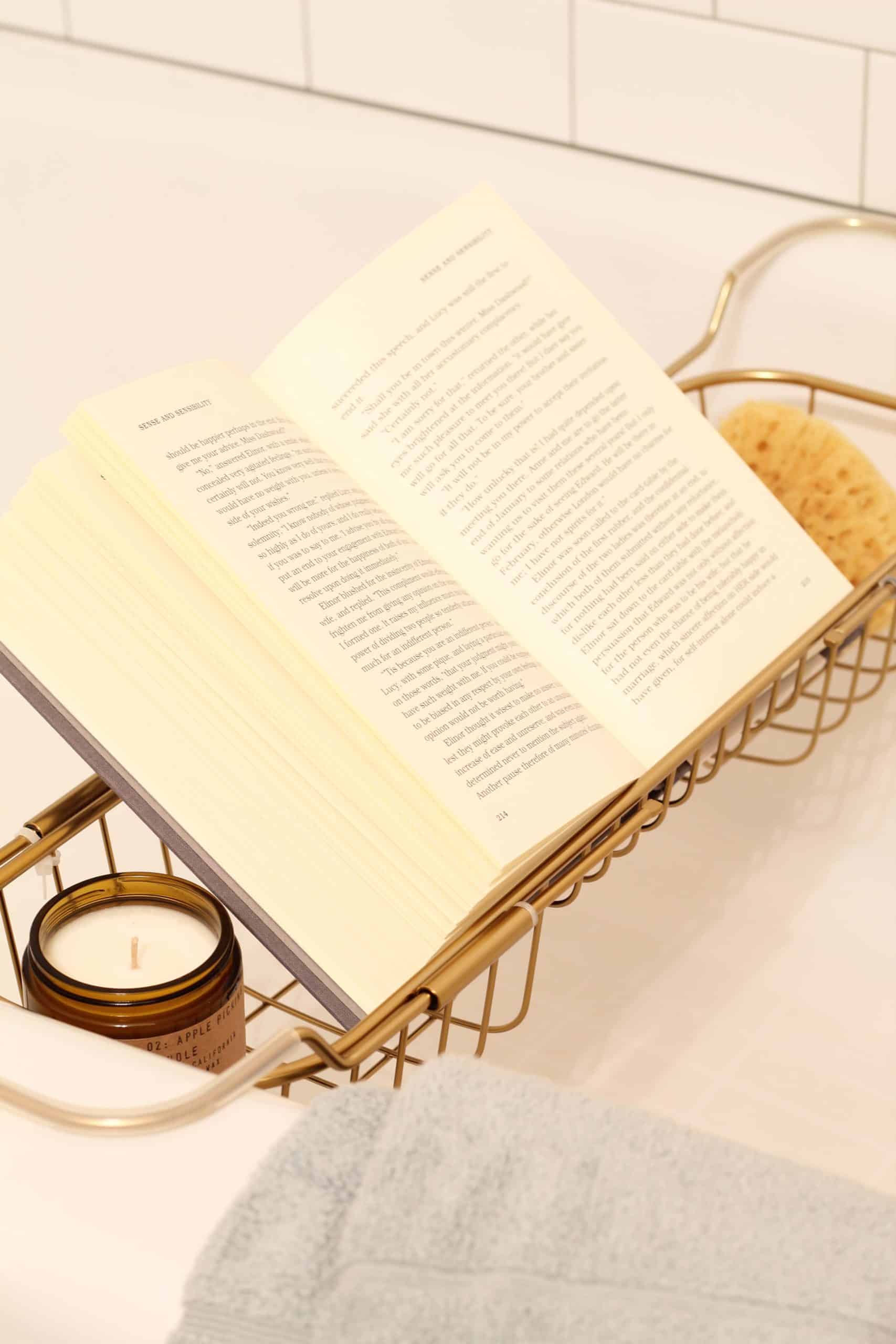 After recently finishing up Our Guest Bathroom it seemed like it might be fun to explore what makes a good bathroom great, especially for the people who live there. 🙂 So much of the time I think we focus on how guests in our home think and feel (which is great!) but with all of this time at home, doesn't it seem like the perfect opportunity to do some self-reflecting on how our home makes us feel?
Along those lines I've rounded up some of the things I think help a bathroom feel spa-like and relaxing. To me, these are things that really make it a joy to use everyday. Obviously, everyone has their own perception of what spa-like is, but I hope these suggestions spark some ideas for you and your home!
Use Candles or Diffusers
A good beeswax or clean burning soy candle will go a long way toward making even the most uninspiring of bathrooms feel luxurious. Candle light is also one of the most relaxing (and forgiving) lights around. Try lighting a few candles and turning off those harsh overhead lights. The effect is immediate and soothing.
If you haven't jumped on the diffuser bandwagon, they are another great way to add scent to your home without any toxic chemicals. Diffusers have come a long way over the last few years – you can even buy ones that flicker like a candle! We have a small diffuser that we move between the bathroom and bedroom for just this purpose!
Add An Expandable Bathtub Tray
Investing in a small addition to your bathroom, like an expandable tub tray, is another great way to create an atmosphere where you want to spend time. Add a candle and a good book and you've already set the tone for a relaxing hour away to yourself. Side note: I personally prefer my Kindle over a paper copy of a book…..because, water.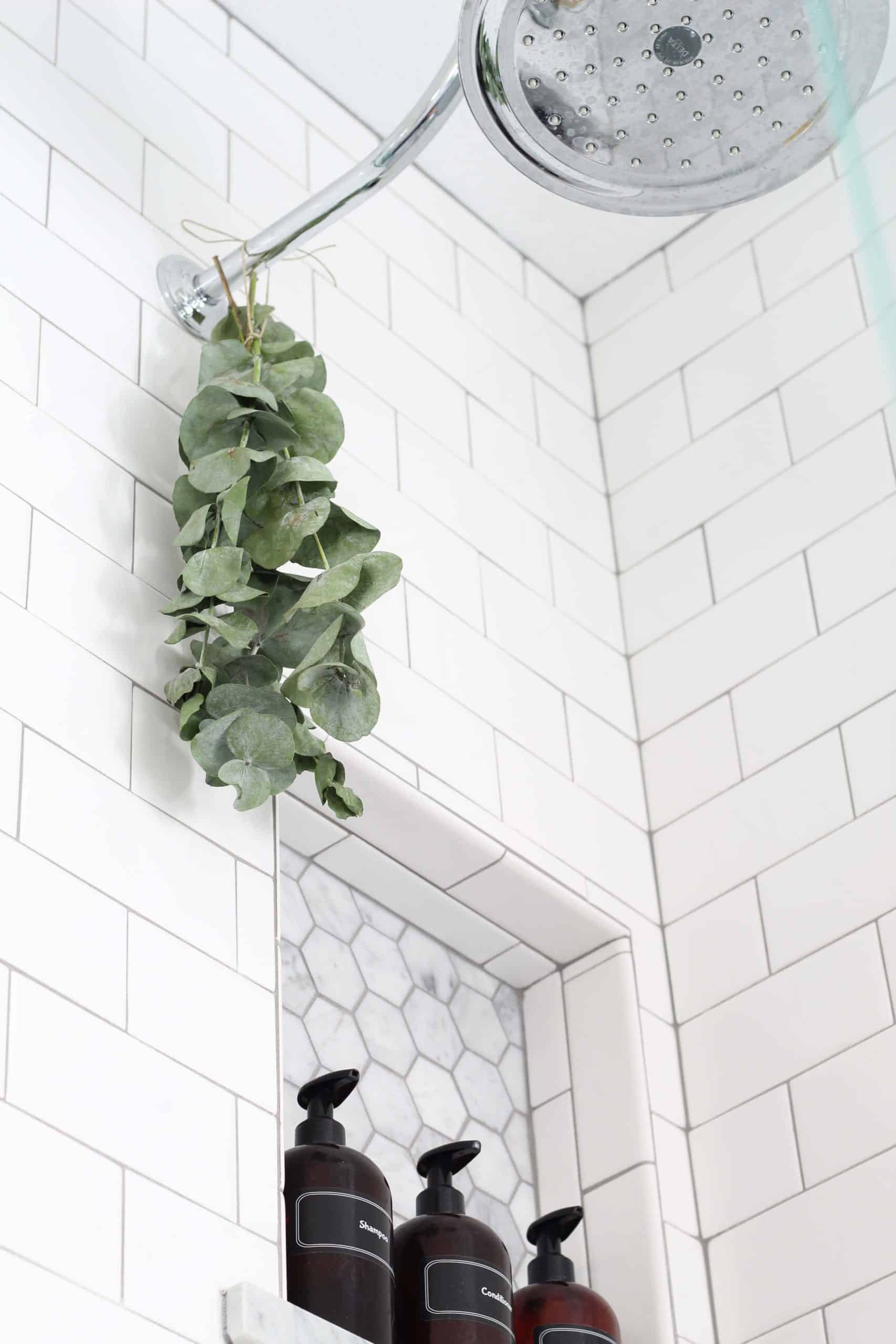 Add Fresh Eucalyptus
So this one is a little new to me. I tried tying a bunch of eucalyptus to our shower head last fall and I must say, it's a little addictive. To me this is the ultimate luxury when you're taking a shower, there is really nothing else that smells as good as fresh eucalyptus in a steamy shower.
In our area of the country (PNW) Trader Joe's is the cheapest place around to buy bunches of eucalyptus or other greens. For a couple of dollars you get instant gratification every time you step into your shower. And if you're really ambitious, once they dry out they can be used to make sachets for clothing drawers or closets.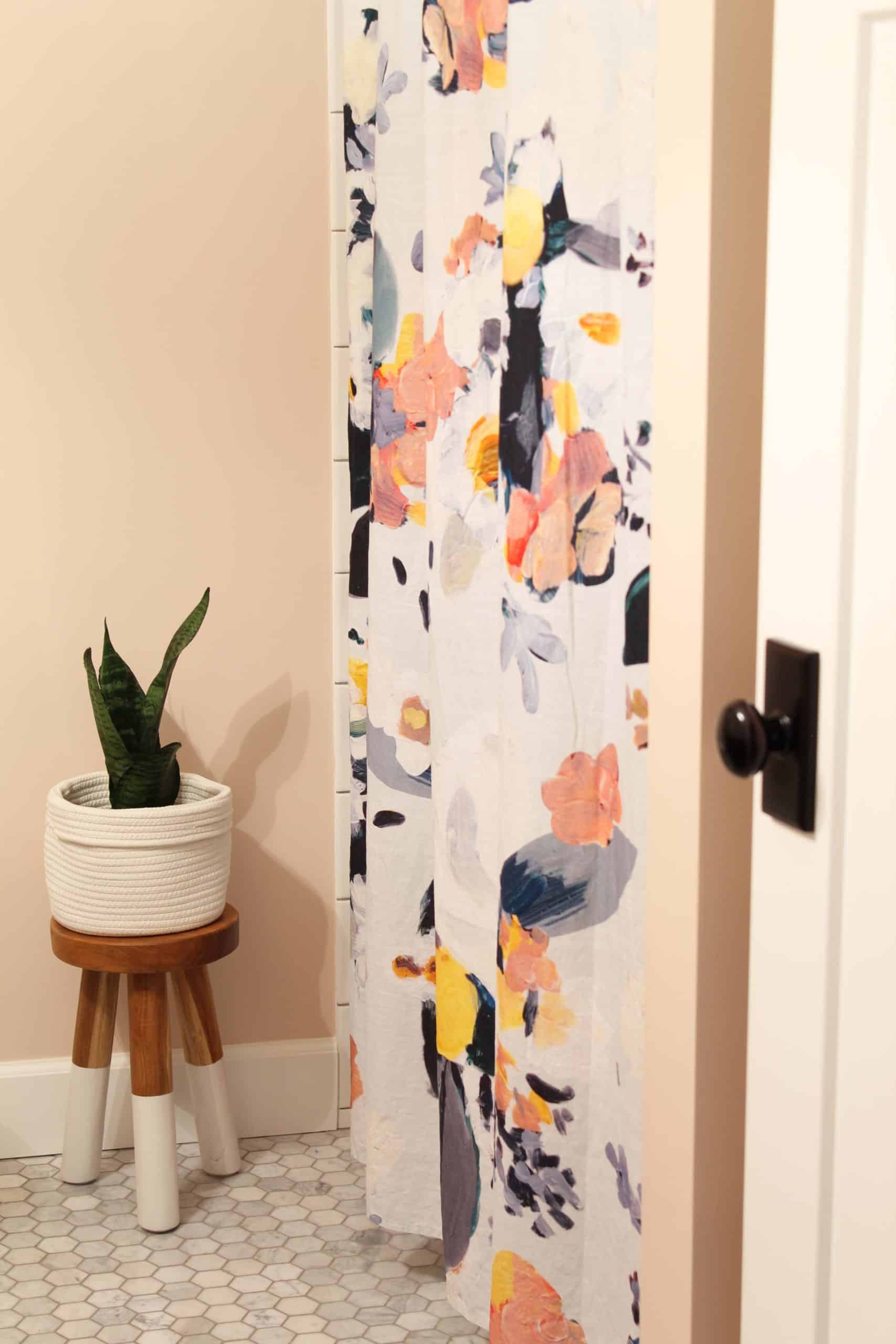 Freshen Up With A Cute Shower Curtain
I talked about this a little bit in my guest bath post, but it bears repeating. If you want big impact at little cost, a shower curtain is one of the best ways to do that. For our guest bath, I chose a colorful botanical shower curtain, but depending on the feel you want, you could easily pick a soothing neutral curtain or something that fits with your home's style. I think the biggest thing to remember is that it's just a shower curtain (or paint, or ____ fill in the blank). Don't be afraid to try something new!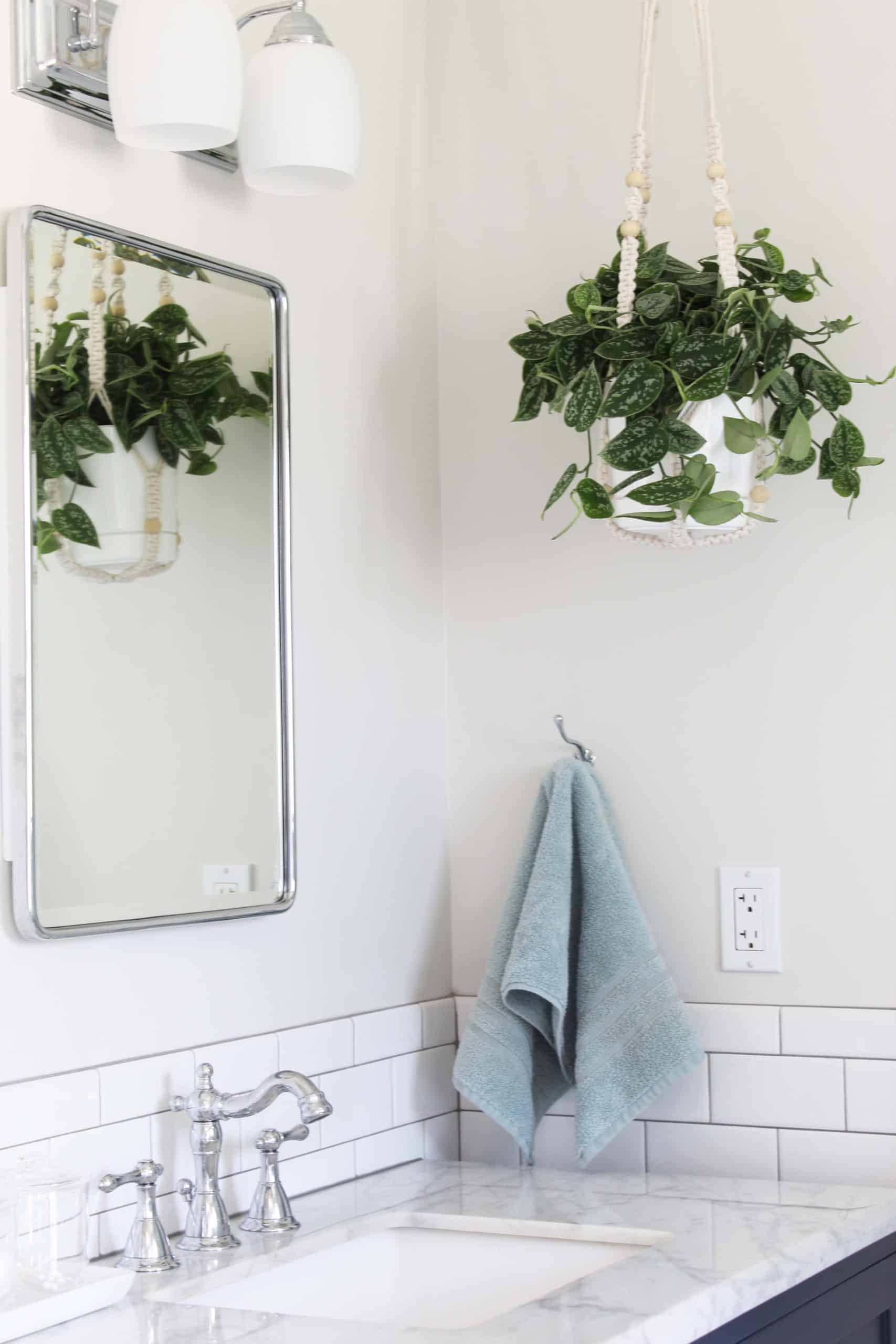 Add Plants
I feel a little bit like a broken record with this one since I've been harping on plants a lot lately…..but they are so good in a bathroom. I'm especially in love with hanging plants in a bathroom. I'm not sure why it took me so long to jump on the plant lady train, but I've officially bought my ticket and taken my seat!
Pathos plants seems to do really well just about anywhere in our home and I love the way they trail over the edge of pots and hang down. I think they look especially good in bathrooms for that very reason, they bring that organic feeling along with whimsical lines to a room that is otherwise all about right angles and hard surfaces. Ferns are another great bathroom plant. They love moist air and moisture in general, plus they have that great lush, spa-like feel to them.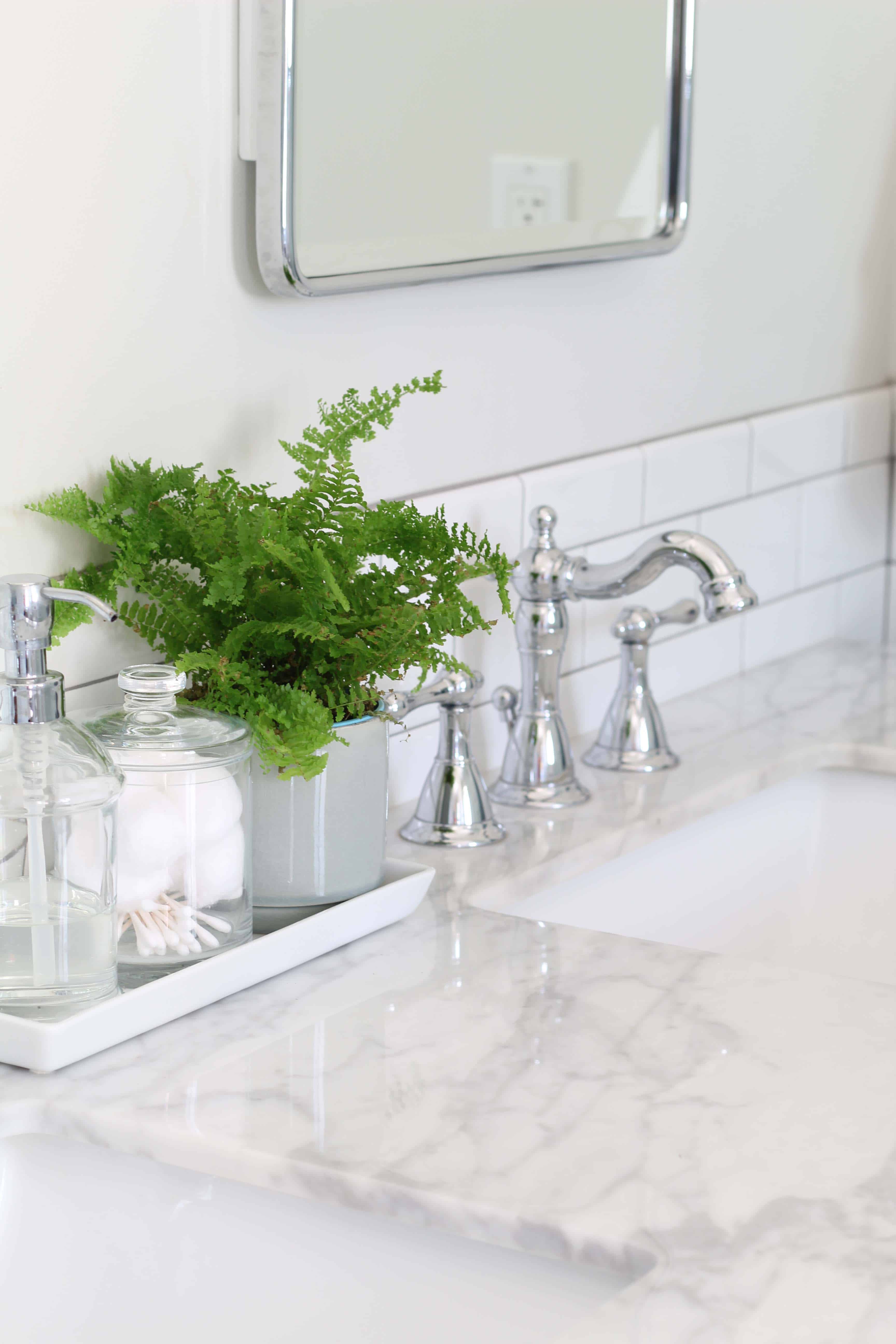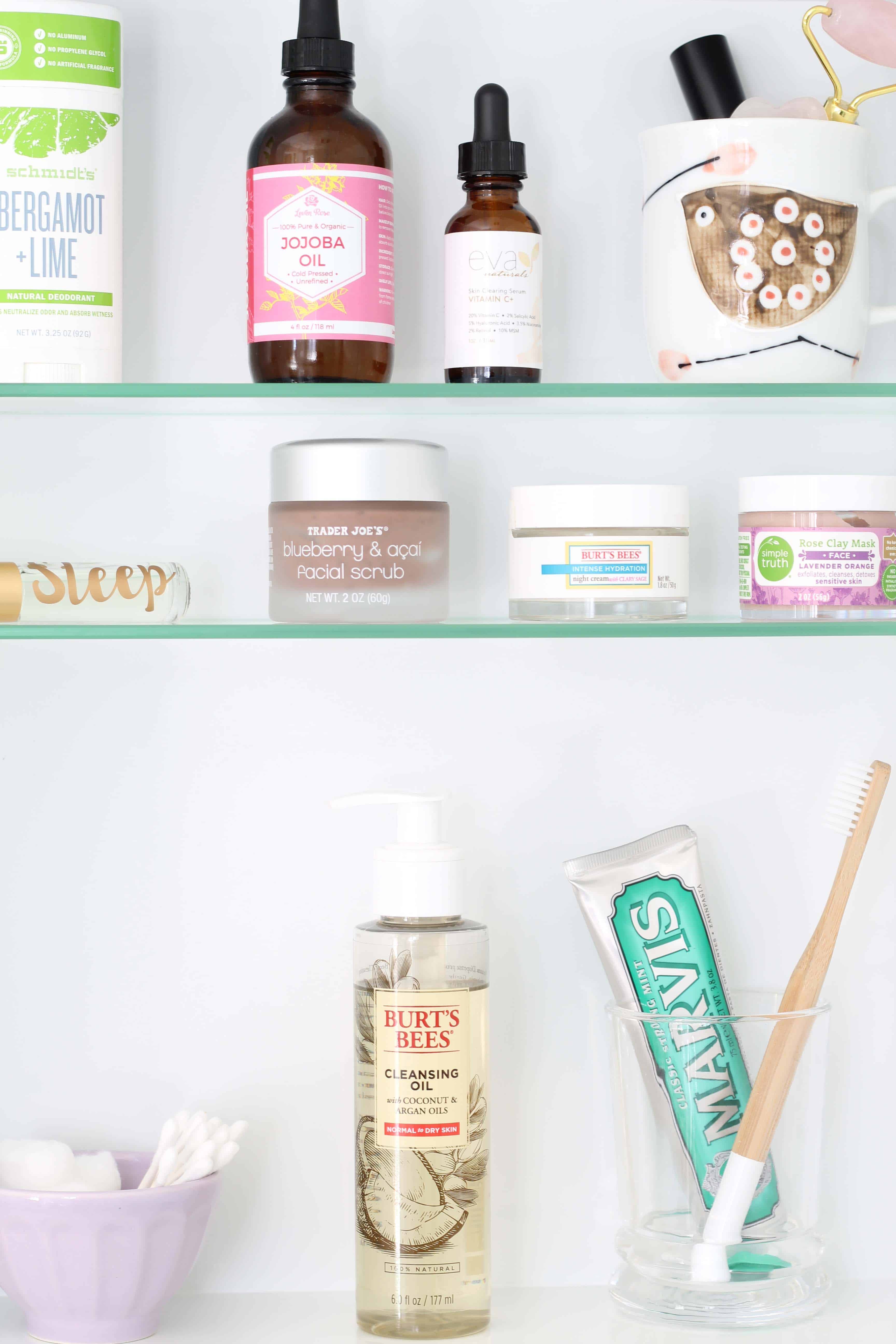 Organize & Purge All The Little Stuff
Really, purging and organizing should be the first thing you do to any room before you give it a refresh or makeover. It may not be the most fun, but it's critical to laying the foundation for any room makeover. If you have a bunch of clutter laying around it's going to be hard to see what you're really working with. And let's not forget that decluttering alone can go a long way towards making your bathroom feel more welcoming and usable to you.
Clean out drawers and medicine cabinets
Find containers to corral small items (and big)
Try adding some colorful containers or drawer inserts so that you get to see something pretty when it comes to the everyday mundane tasks (like brushing teeth or getting ready for bed)
Add an item to your medicine cabinet that feels like luxury. This could be anything from a special face scrub to a favorite hand cream. It doesn't have to be expensive to be special, just something you enjoy!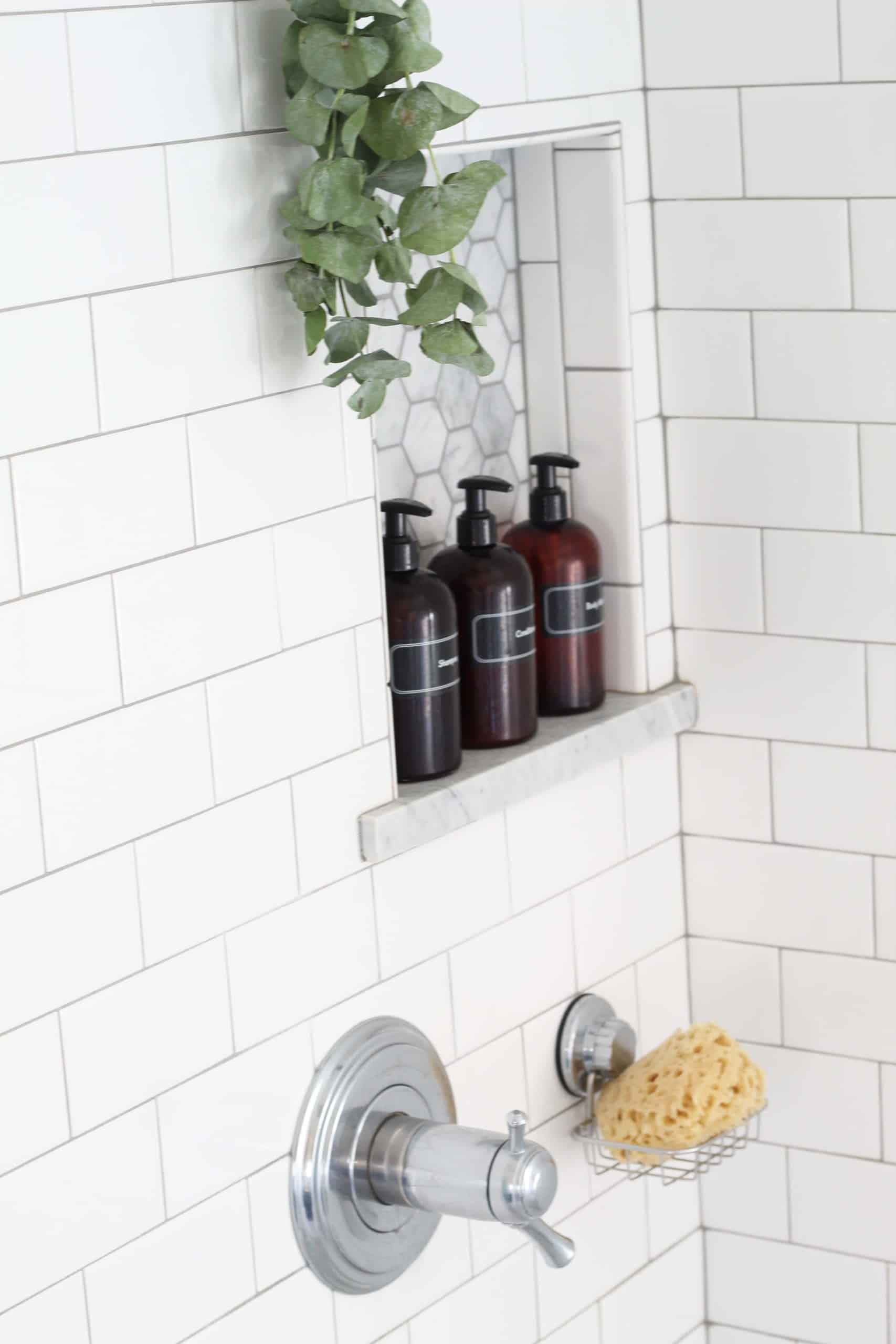 Make Bottles & Containers Cohesive
This is an often overlooked, but really great way to give your bathroom that truly spa-like feeling. Decanting your shampoo, conditioner, and body wash into a matching container set is an easy way to bring a cohesive, visually calm feeling to your bathroom.
I love the look of amber bottles but there are a million different styles out there to choose from. And it really does make you feel like you're in a hotel every time you use them. 🙂
Add Natural Materials (Like Sea Sponges)
We switched to sea sponges years ago after I read an article about how much waste was caused by using plastic loofahs. What I didn't anticipate was how much better they were going to look in our bathrooms as well. Like plants, they add a nice organic feel in a room that is traditionally a little on the cold side (especially when it has a lot of tile).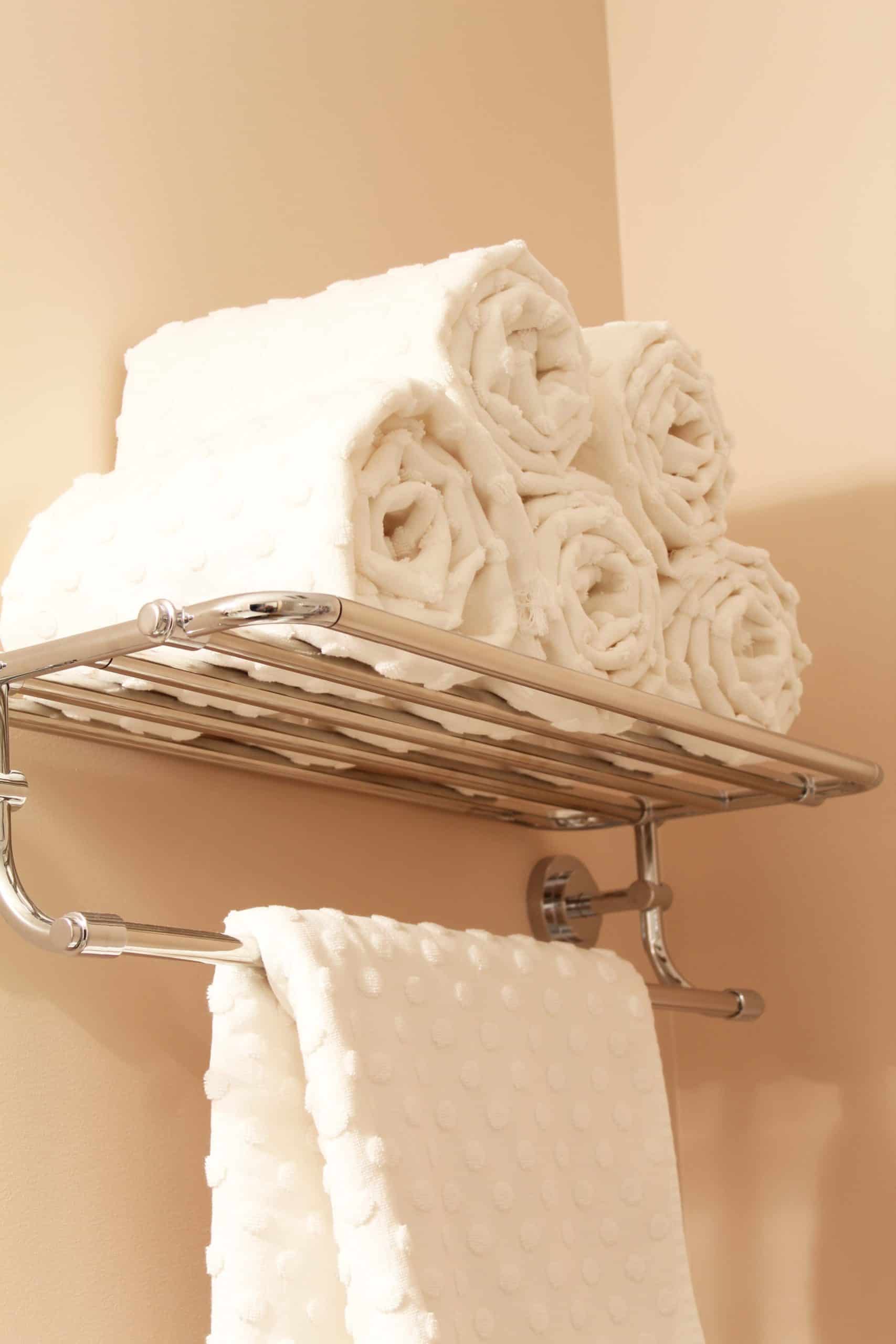 Roll Your Towels
This one is pretty simple, but very effective. Rolling your towels saves space and allows you to store more towels in your bathroom all while helping contribute to a spa-like atmosphere. It's also a great way to store towels if you're short on linen closet space. Just add a cute basket full of rolled up towels to your bathroom.
Consider Installing A Hotel Towel Rack
We added a hotel towel rack to our guest bathroom for the very reason I mentioned above – lack of space. If you have a small bathroom, and things are feeling cramped, I can't recommend them enough. It allows us to store all of our guest towels in the bathroom that they are actually used in and saves us so much space. And it could just be me, but a hotel towel rack feels, well, a little like a fancy hotel bathroom. And who doesn't want that?
Shop The Post

This post contains some affiliate links for your convenience. Click here to read my full disclosure policy.
Want to save this post? Pin it here!