Creating a home that feels inviting and feels like YOU can be tough sometimes. Here are some of the little things that make our home feel homey to us.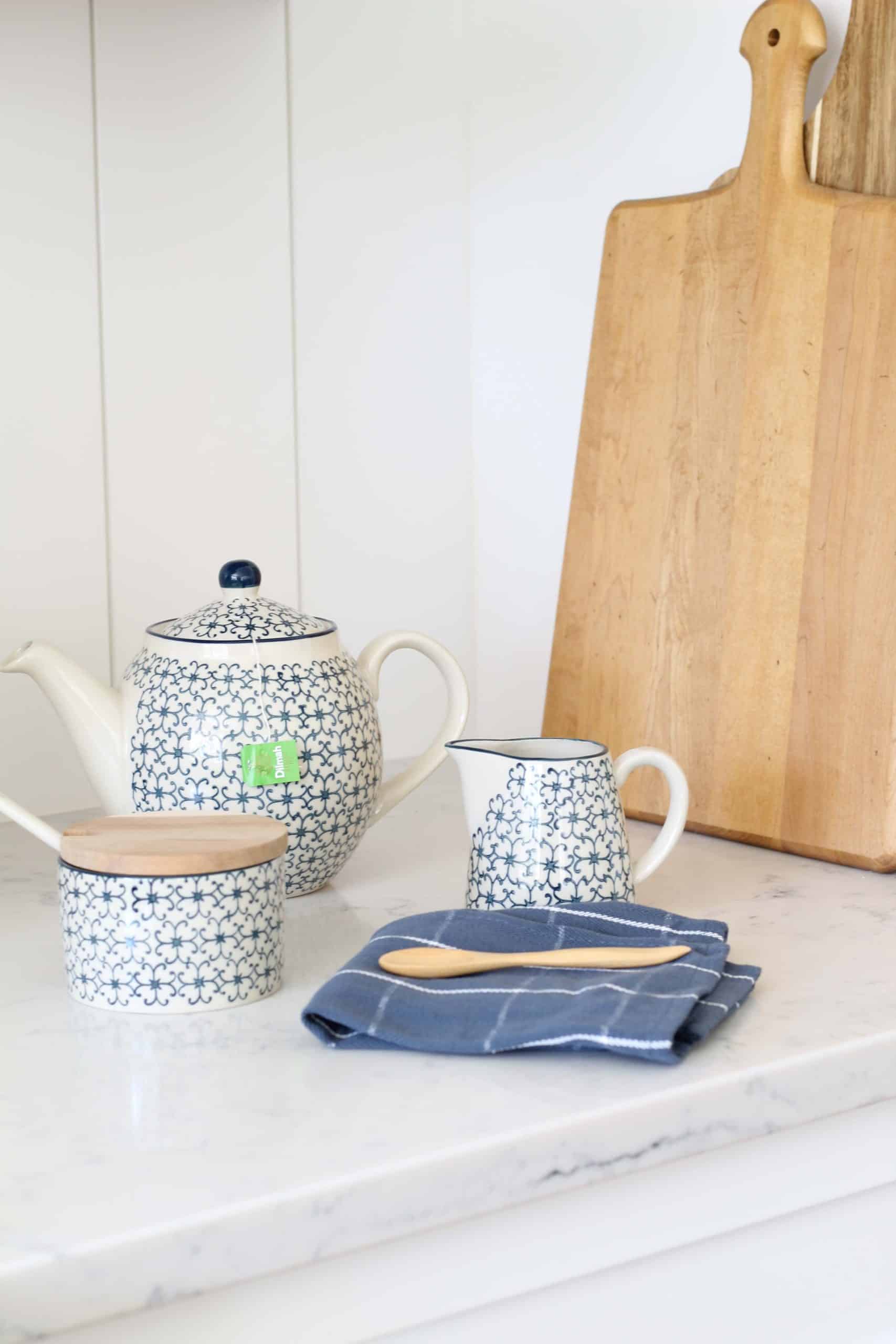 Teapot // Creamer // Sugar Bowl
With the amount of time we're all spending at home now isn't it feeling especially important to look inward towards our homes and how they make us feel? Our family is home a lot normally, but this season of sheltering in place has made us (and everyone else) even bigger homebodies than we were before.
As the days have turned into weeks and the weeks into months, I've found myself falling into rhythms around our home. They help keep me on some sort of schedule, give our family a routine that focuses us on the beauty of home, and keeps our minds from dwelling on the stresses of the world.
Below are some of the rituals, routines, and items that have been giving me all of the home feels lately.
The Ritual Of Afternoon Tea
I know I've talked about my love of tea here many times before, but being home all the time has taken it to a whole other level. While I've always been a morning tea drinker, afternoon tea has now worked it's way into my daily routine. Being home with nowhere to go now means an afternoon cup of tea using my favorite tea set.
It's become a ritual I look forward to each day and one that keeps the days from running together endlessly. I will also never cease to be amazed at how a cup of tea can brighten your outlook on life. I truly think it's the ritual of sitting down, slowing down, and calming your mind that has so many mental benefits. Whether you drink tea or something else, I think setting aside time each day to go through that ritual is important now more than ever.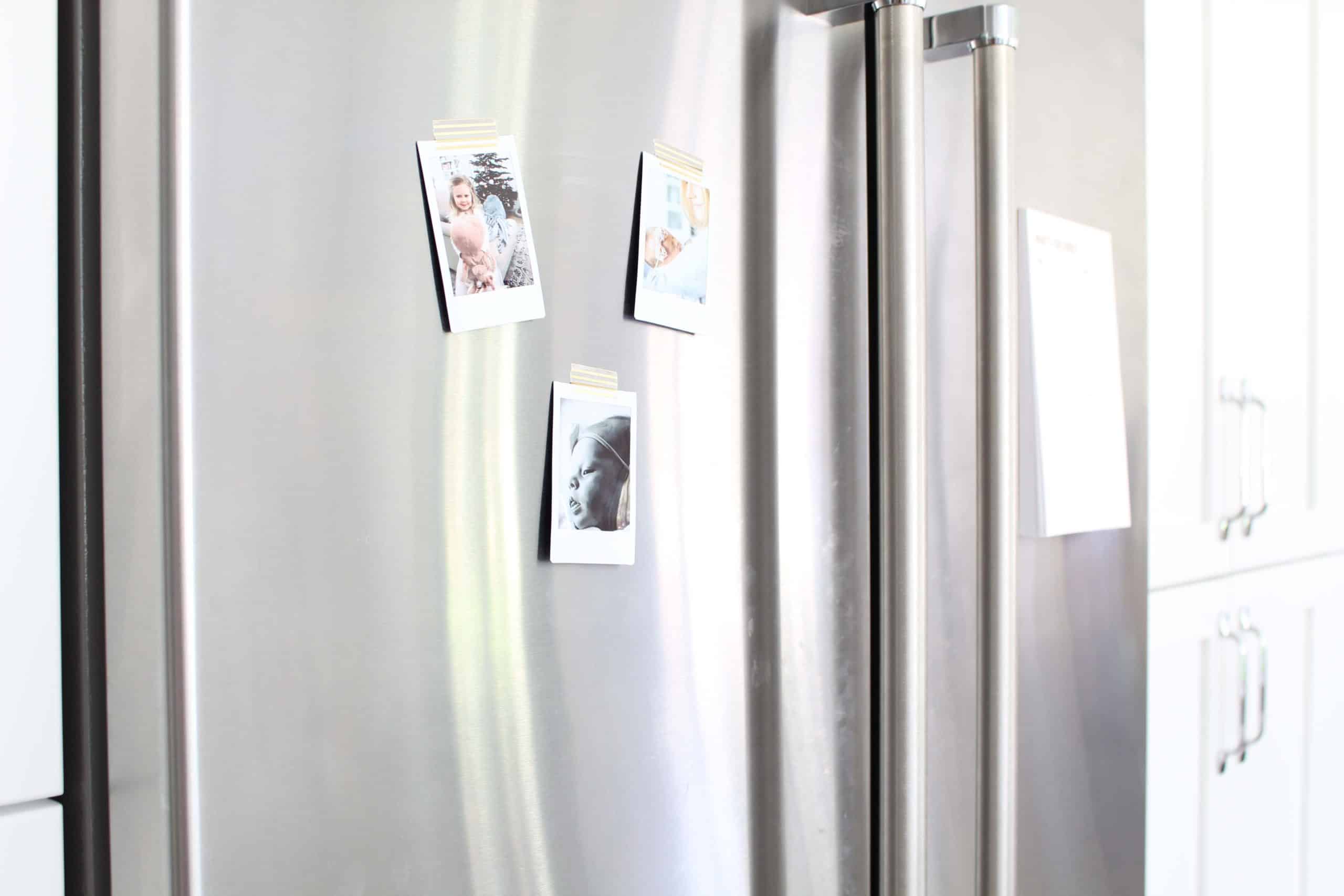 Instax Printer // Instax Fuji Film // Fridge Dinner Planner Pad
Printing Photos & Memories
My husband got me a instax printer as a Mother's Day gift a few years ago and I've been using it just about daily recently. With some extra time on my hands, now has been the perfect time to print out some cute photos of my girls and catch up on baby books.
If you haven't heard of it, the Instax printer  prints 2″x3″ photos from your phone. For me it's a really convenient way to get photos off of my phone and into actual physical copies. They aren't a replacement for large, studio quality pictures, but they're a fun way to have pictures made quickly and with a sweet vintage vibe (I've found close-up pictures work best quality wise).
Here's how I've been using them so far:
on our fridge attached with some washi tape
some to go in baby books
using them as bookmarks (so cute!)
printed off to send in cards to family
The pictures on the fridge might be my favorite. I think it's a cute, simple way to add some fun memories and reminders about what's really important in life.
Meal Planning
For me, nothing says home more than the food you eat there. Meal planning has become a bigger part of my routine than ever before these last two years. With limited trips to the grocery store, we've only been making it there once a week or once every two weeks. We live about 45 minutes from the nearest large town, so while this isn't something new, it's become even more necessary with current events.
I started using this meal planner last year and have come to depend on it for all of my weekly meal planning. I love that it not only breaks the meals down by day, but also has a detachable grocery list for each meal organized by food type. It makes my little organizing heart happy (and makes grocery shopping so much easier).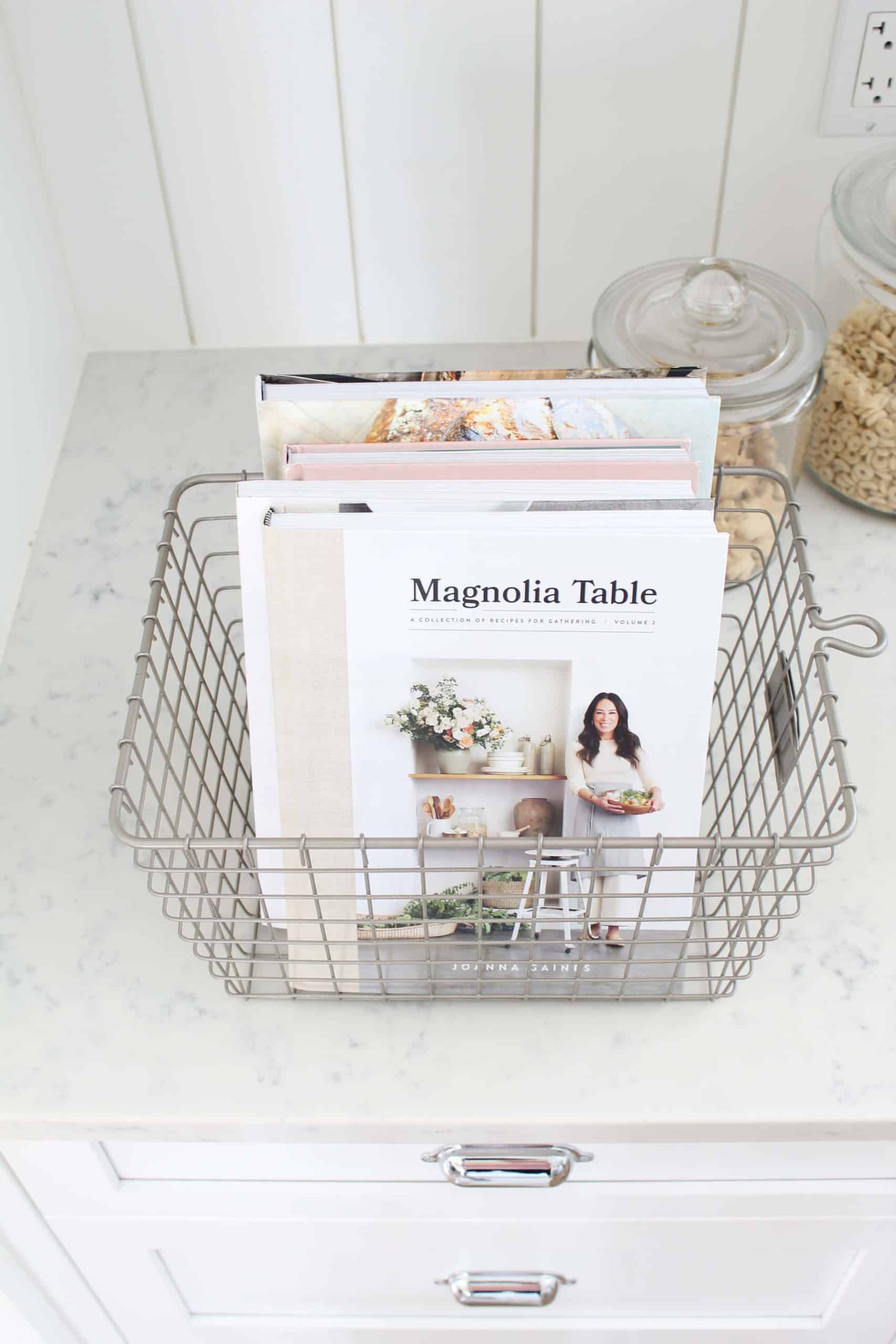 Magnolia Table Vol. 2 Cookbook // Locker Basket
Trying New Recipes
I've also been using all this extra home time to try out some new recipes. We eat dinner together as a family every night, which means I need to have some tried and true recipes that work hard week after week. Over the years, I've found that for every 5 recipes I try, one of them is probably a winner that will stay in our regular meal rotation. How long it takes to prep a meal, how complex/simple it is, and whether or not everyone will eat it (insert eye roll) all play a factor in a recipe earning a permanent place in our recipe box.
The Magnolia Table Vol. 2 cookbook was my mother's day gift to myself because I loved the first Magnolia Table cookbook so much. Volume 2 does not disappoint. So far I've made the french onion soup (which I ate completely on my own) and the french silk pie. As a french onion soup connoisseur, this was by far the best french onion soup I've ever made at home. The french silk pie was equally as good and will probably make a reappearance at Father's Day.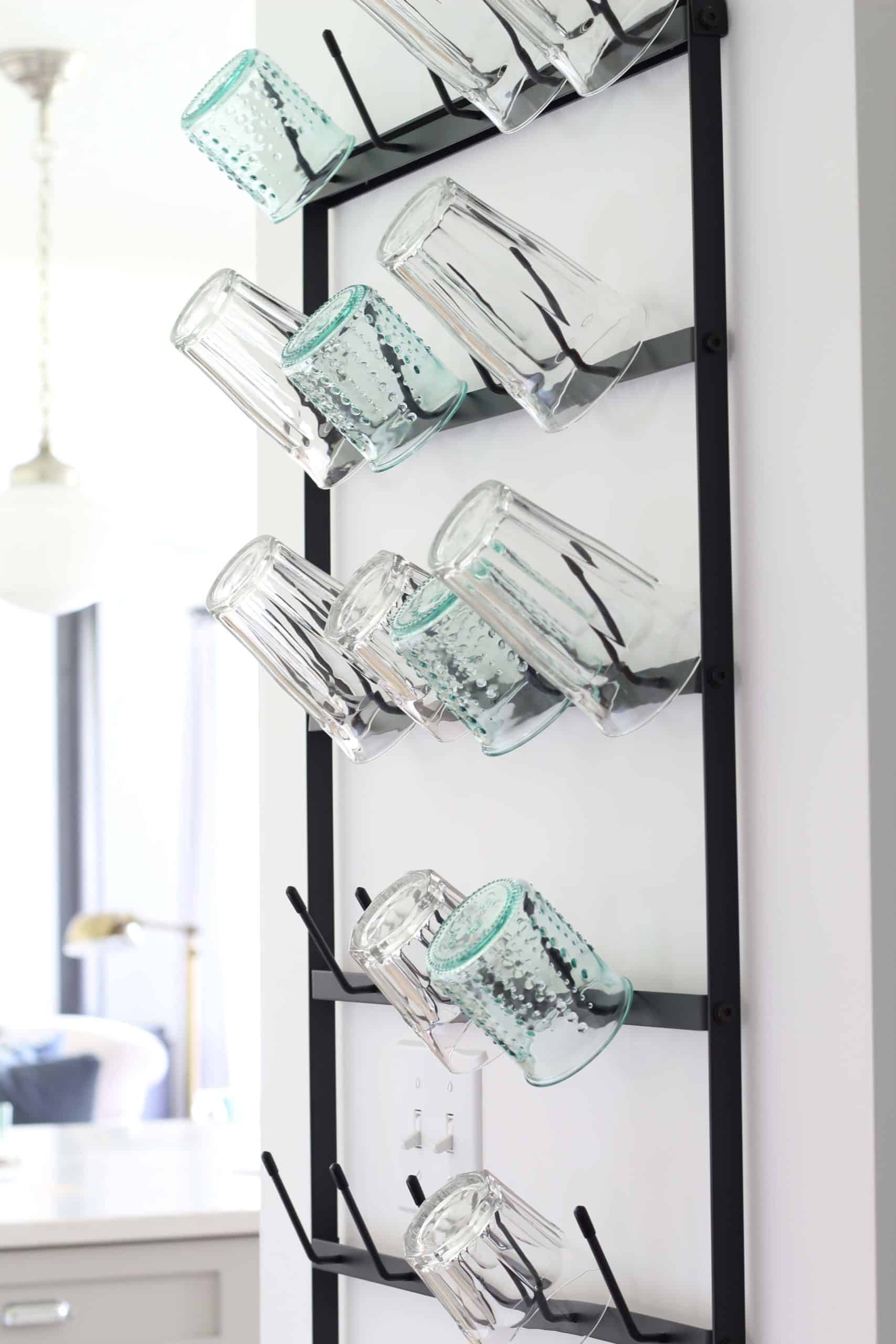 Mug Rack // Green Glasses // Bistro Glasses
Finding New Ways To Organize
As someone who has a goal oriented personality, I love to find little ways to make our home feel cozier and more functional. Since we have open shelving in our kitchen I was looking for ways to maximize our space by going vertical with our drinking glasses. We have a blank wall coming into our kitchen that was just begging for something to go on it. Enter the wall mounted glass rack.
It ended up being the perfect solution to our glass storage conundrum as well as the perfect way to add some vintage charm to an otherwise bare wall.
Adding Wallpaper To A Room
You may have seen our laundry room reveal and thus my ode to the beauty wallpaper brings to a space. I personally think it's one of the single biggest impact ways to bring a homey, cozy feeling to a room. When I look at pictures of our laundry room before the wallpaper, I'm just floored by how much warmth it brings to the space.
It also makes me want to wallpaper everything. I've been admiring this peel and stick wallpaper for a while now and trying to figure out where I can get away with adding it next. How much wallpaper is too much wallpaper? Asking for a friend 🙂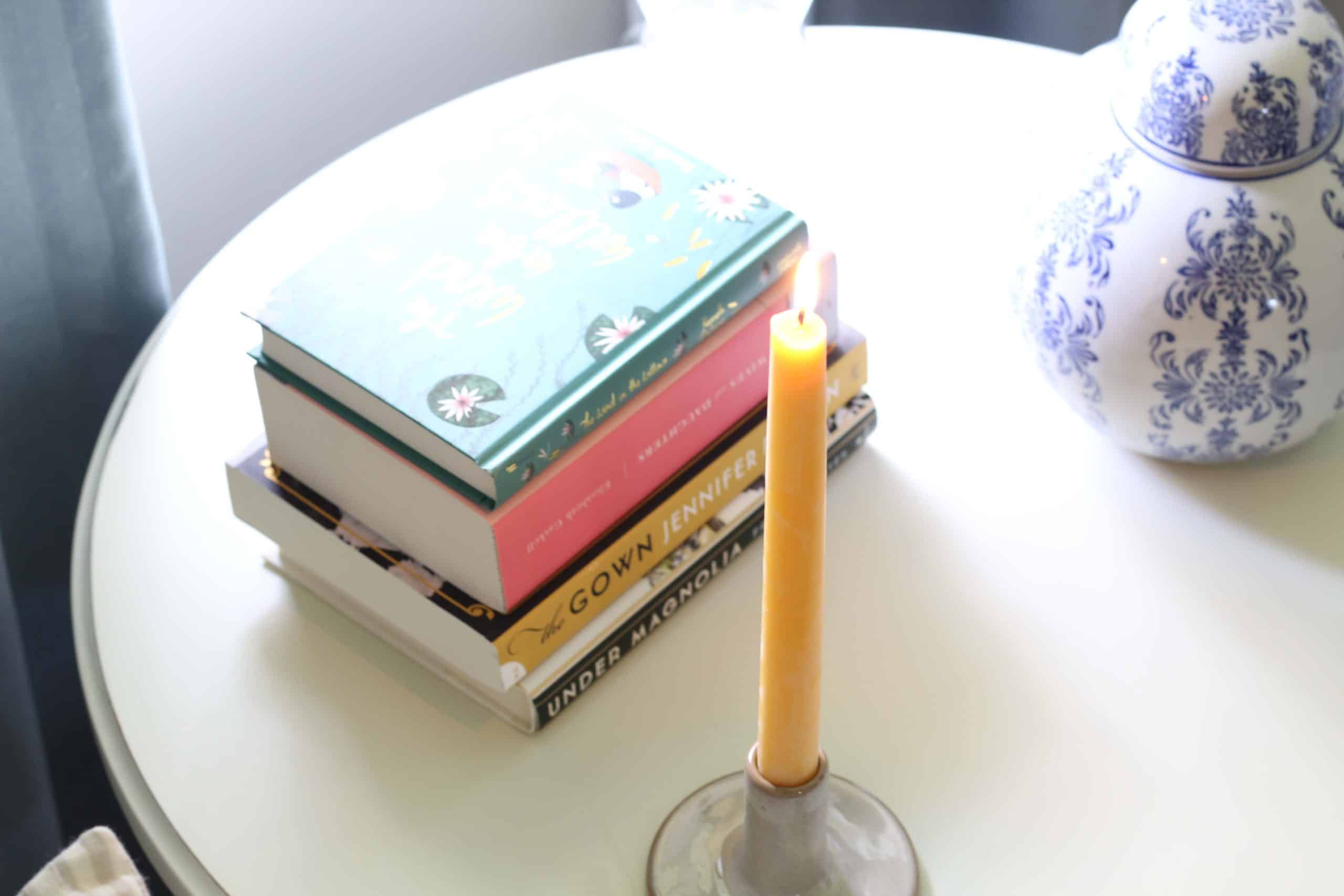 Beeswax Candles // Candle Holder // Wind In The Willows //Wives & Daughters // The Gown // Under Magnolia
Lighting Candles
Ah, candles. Forever and always my favorite way to get that instant homey feeling. Also, candles and books, is there any better combination? I think not. Along with our nightly dinner ritual of lighting a candle, I've been taking advantage of our rainy spring days to light one in the morning or early afternoon while I have a cup of tea or prep for dinner. There really is nothing better than a candle giving off that warm glow and the faint scent of beeswax on a rainy spring night.
How have you been spending all of this "home" time lately? Are you the type to dive into house projects or are you taking some time to savor this slower pace of life?
This post contains some affiliate links for your convenience. Click here to read my full disclosure policy.
Want to save this post? Pin it here!