These 10 minute coconut caramels are easily made in the microwave, and have a hint of coconut flavor and a lower sugar content than the average caramel recipe.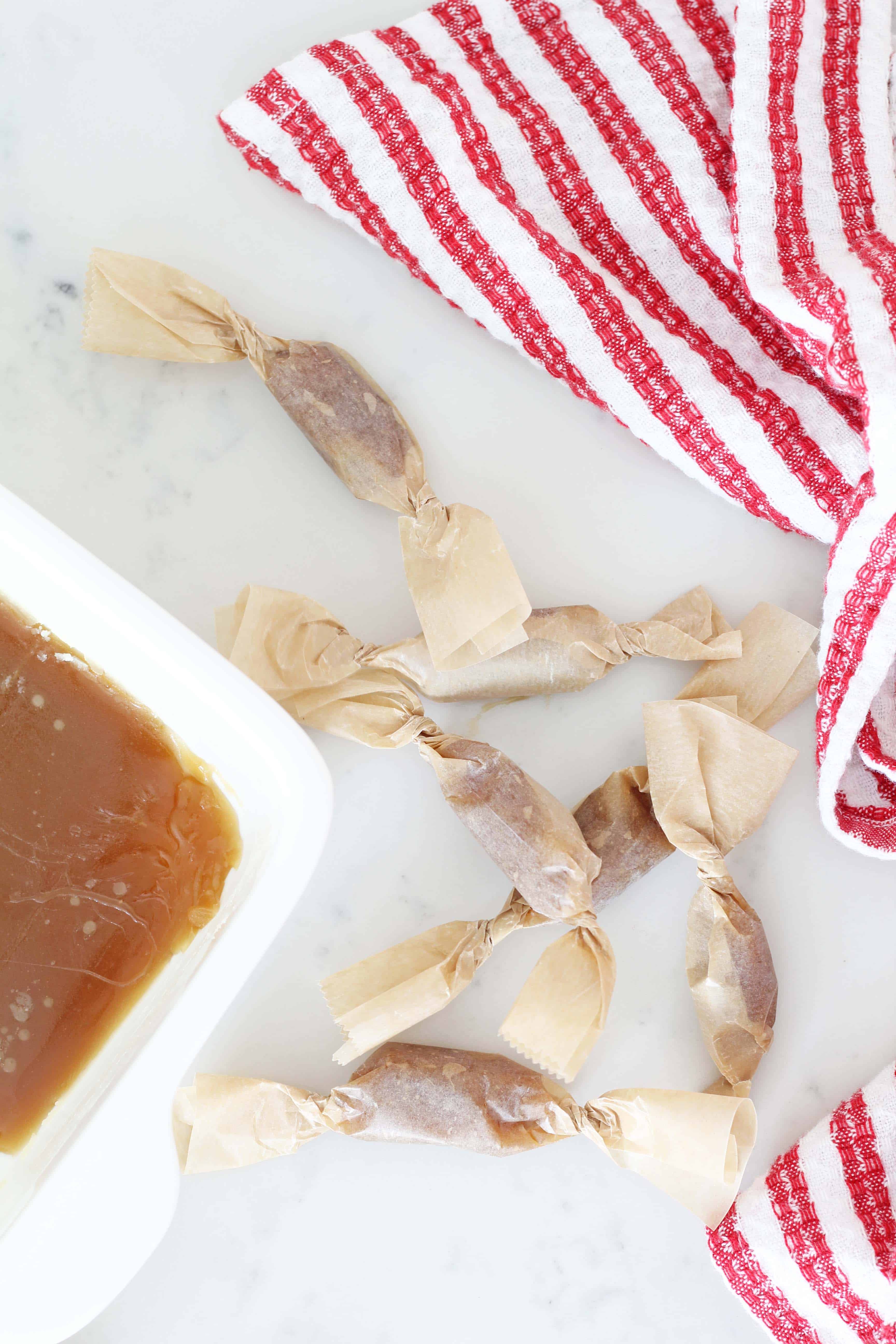 Caramels are one of my favorite candies out there, and they are such a great treat to make for neighbors this time of year! For many years I shied away from making them because the process was so time consuming and messy. Then I realized you could make them in the microwave. What!? So much easier, but with the same homemade result.
I tweaked my standard recipe by substituting unsweetened coconut milk for the condensed milk normally used in caramel recipes. The coconut milk adds a hint of coconut flavor and cuts down on the sugar since it's unsweetened. Obviously, caramels are by nature pretty much pure sugar, but taking some out makes me feel a little better 😉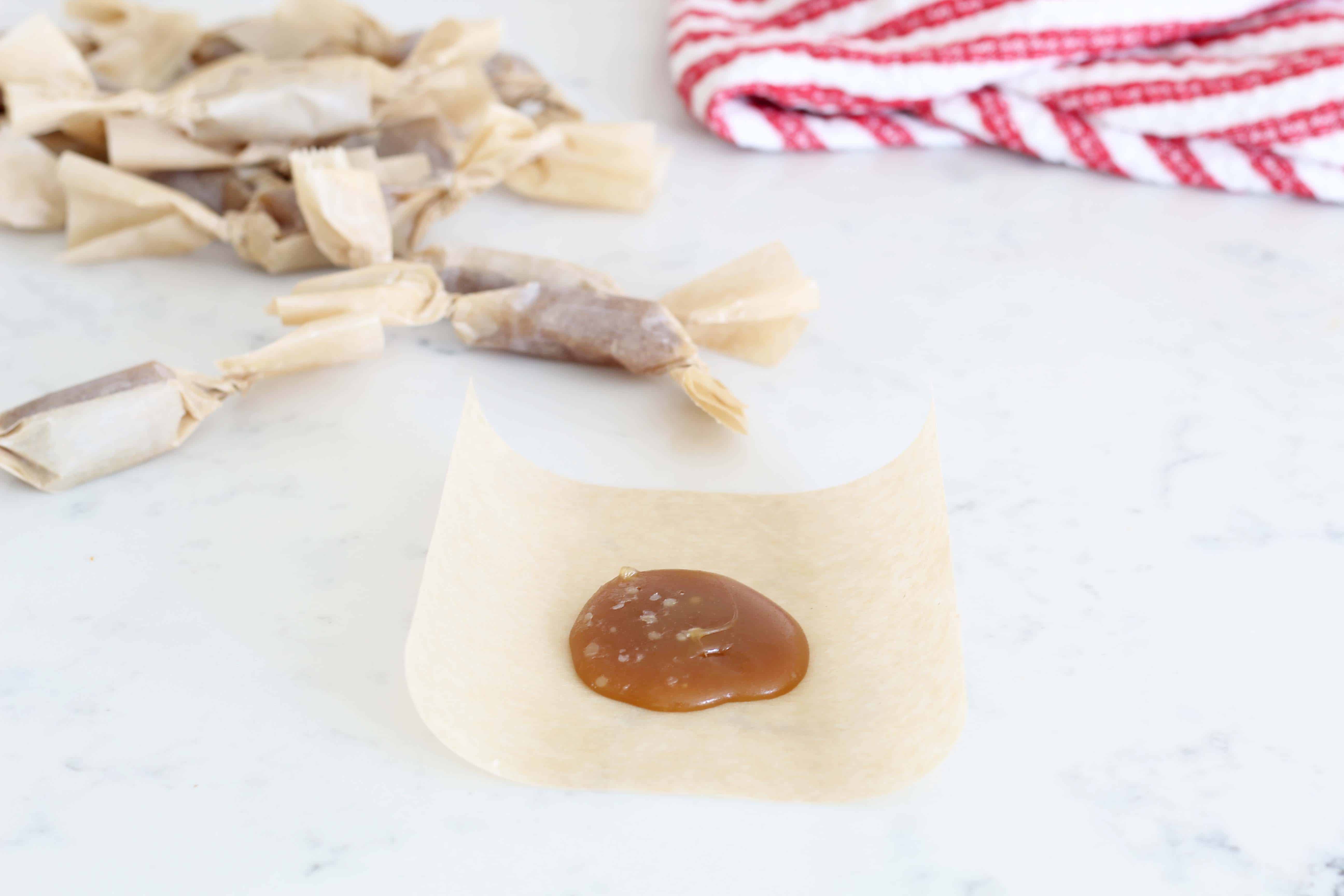 Cooking Caramels in the Microwave
I would recommend that you plan on testing out a couple of batches if this is your first time making caramels with a microwave. The wattage of your microwave will really determine how the caramels cook and taste in the end. Too long and you can pull a filling out, too short and your caramels turn out more like a sauce.
This recipe uses a 1200 watt microwave, so add or subtract time based on your own microwave wattage. Make sure you check the caramel thickness throughout the cooking process at each 90 second interval.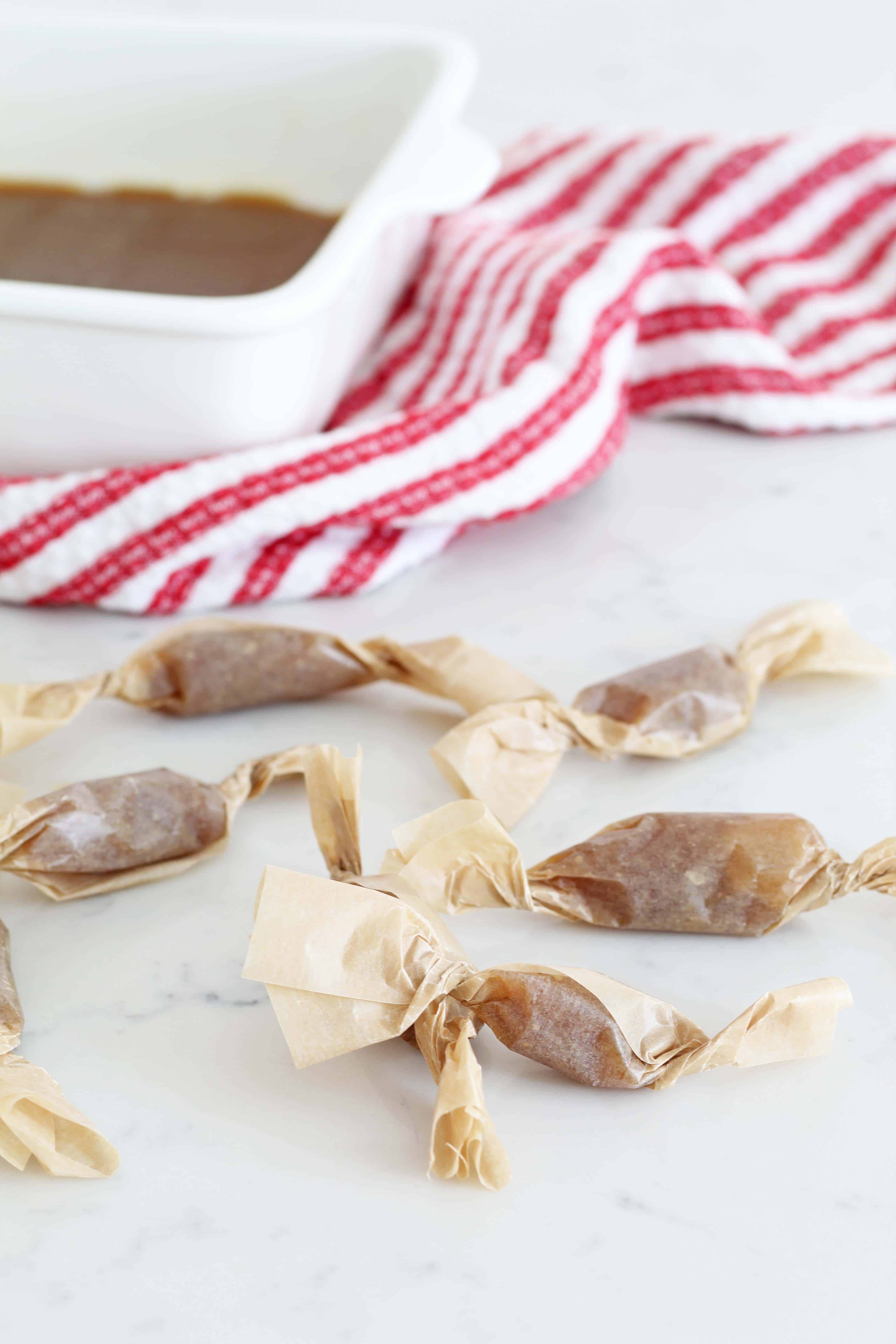 Make 'Em Fancy
Once the caramels have cooked and cooled, I like to cut them into squares. If I plan on giving them as gifts, I like to wrap them in brown parchment paper. It makes them seem a little bit fancy, plus they look great in a tin or treat bag. If you do end up wrapping them individually, placing them in the fridge after they're wrapped helps them firm up nicely.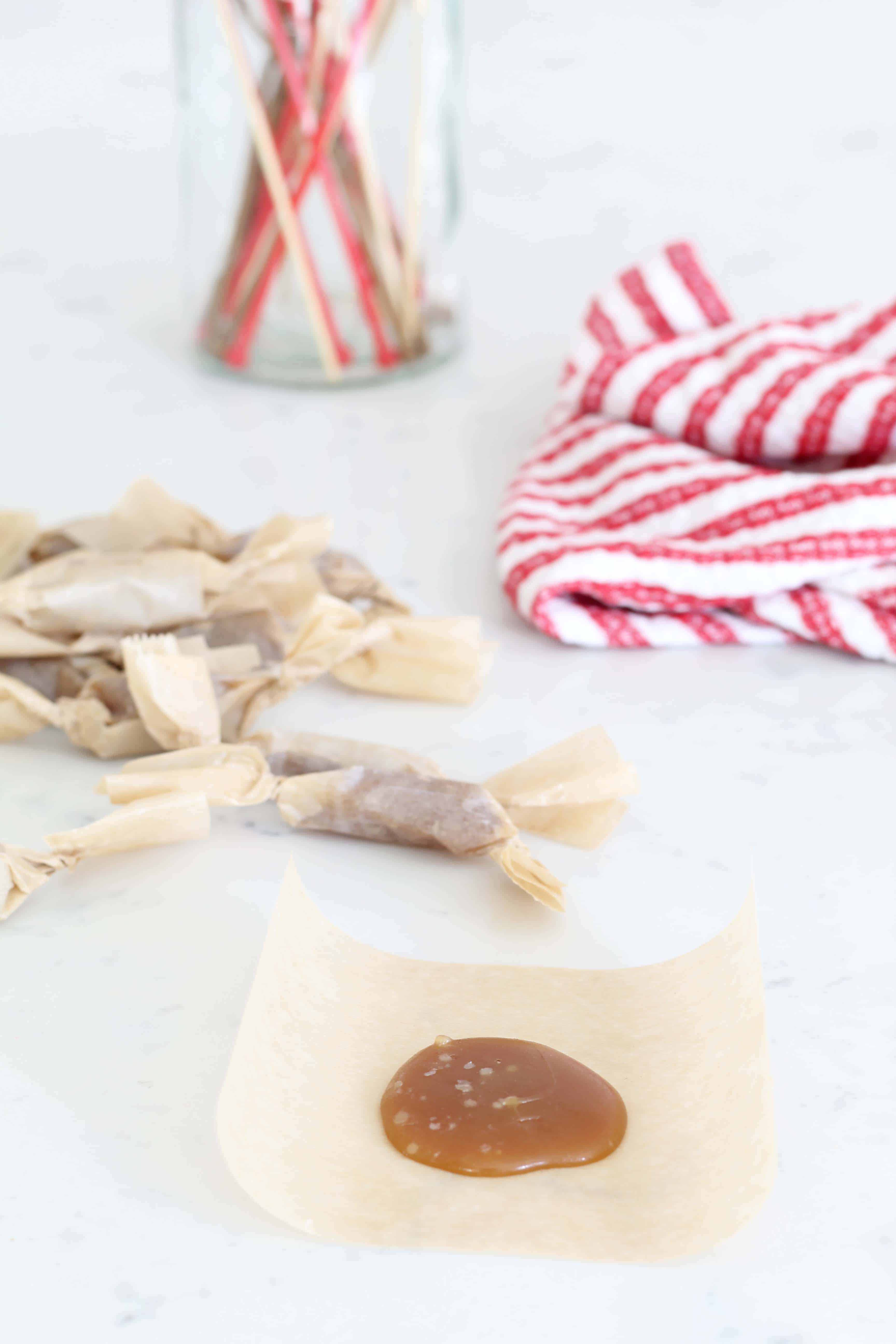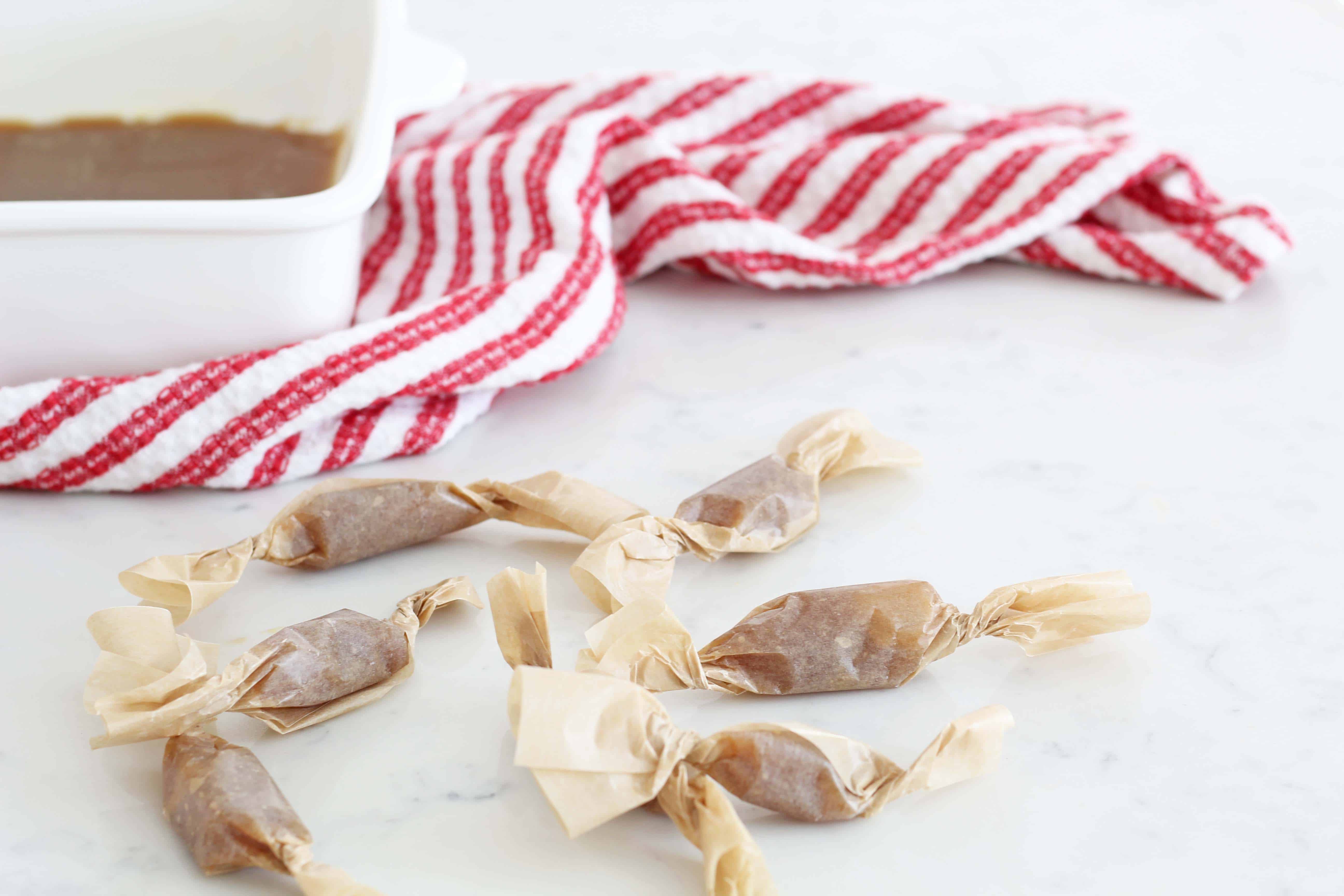 Hopefully this helps if you're looking for some last minute treat ideas 🙂 I currently have a big batch of these sitting in my fridge that I don't expect to last more than a couple of days!
10 Minute Coconut Caramels
Recipe Type
:
Candy, Dessert
Author:
Prep time:
Cook time:
Total time:
These 10 minute coconut caramels are easily made in the microwave and substitute coconut milk for condensed milk for a lower sugar content.
Ingredients
1/4 Cup Salted Butter
1/2 Cup Brown Sugar
1/2 Cup White Sugar
1/2 Cup Corn Syrup
1/2 Cup Full Fat Unsweetened Coconut Milk
Instructions
Combine all ingredients into one bowl.
Microwave for 5 minutes in 90 second intervals (this recipe uses a 1200 watt microwave).
Stir mixture between each interval.
Pour cooked caramel mixture into an 8×8 buttered pan.
Allow to cool and cut into squares (placing pan in fridge can speed up cooling process.)
Interest in more? You might enjoy these:
How to Plant a Day Apple Picking + A Simple Apple Tart Recipe
Want to save this post? Pin it here!