Your home is a sacred place, a place where you get to control how it feels. Ultimately, home is all about the small stuff, the stuff you may not even realize you're missing out on.
These past two weeks have left me feeling a bit drained. Drained from the news, drained by the events in our country, and if I'm totally honest, just feeling sad. For me, aside from my faith, our home is one of the places I recharge and renew during times of trial or stress. I believe this is true for most people, no matter what stage you're at in life. Home is a powerful force in your life and in the life you are choosing to create.
A Million Little Things
Making a home can seem a little trite when the world outside seems to be going crazy, but I would argue that's probably the time when we need to buckle down and concentrate on it the most. Just to clarify, when I use the phrase "making a home," I'm not talking about decorating it (although that part is fun!) I'm talking about all of the small things that we do on a daily basis that make a house a home. Have you thought about those things lately?
When I started to really concentrate on those small things this past week, I realized that most of the time I do them without even thinking, which means that most of the time I'm missing out on the small everyday rituals that bring joy into our home. As a way to track all of the small rituals around our home that give me joy each week (and help me slow down and enjoy them more) I kept a running list as I went about my week. Below are some of the things I noticed and mentally marked as "the little things".
Everyday Home Rituals
Create a morning ritual. One of the daily rituals I love is making homemade hot chocolate first thing in the morning.  A few years ago I bought my husband a milk frother for his morning lattes as a way to save money via the Starbucks drive thru. While I'm not a coffee drinker (I normally have a cup of earl grey in the morning) I have always been a life long hot chocolate lover.
I recently started using the frother to make homemade hot chocolate in the mornings and it's something that makes me smile every time I do it. There's just something about the slow ritual of frothing the milk and stirring in the chocolate powder that just screams slow down and enjoy.
Pick up daily clutter. This might be as simple as going through last week's mail, or maybe clearing off a cluttered kitchen counter. In our home the biggest challenge is toddler toys. Now stick with me on this one. If you've ever stepped on a plastic toddler toy while walking through your living room, you've probably uttered a few choice words. You've also probably picked them up more times than you can count throughout the day.
This everyday chore changed for me when I stopped trying to hide all of my daughter's toys out of sight. Instead I tried incorporating them into our home. I started putting small toys and figures in woven bowls around the house. Now I'm not saying she miraculously started cleaning up every last toy, but when they're within easy reach and plain sight, it seems to go a long way towards cleaning up the general household clutter. And every time I walk past one of those bowls I give those toy animals a mental high five.
Family Rituals
Lighting a candle at dinner. This might sound overly simple, but one of our goals as a family is to have dinner together every night. I've found that doing something small and uncomplicated (but special feeling) helps. For us, lighting a candle at dinner makes everything feel a little magical and signals that it's time to slow down and enjoy each other.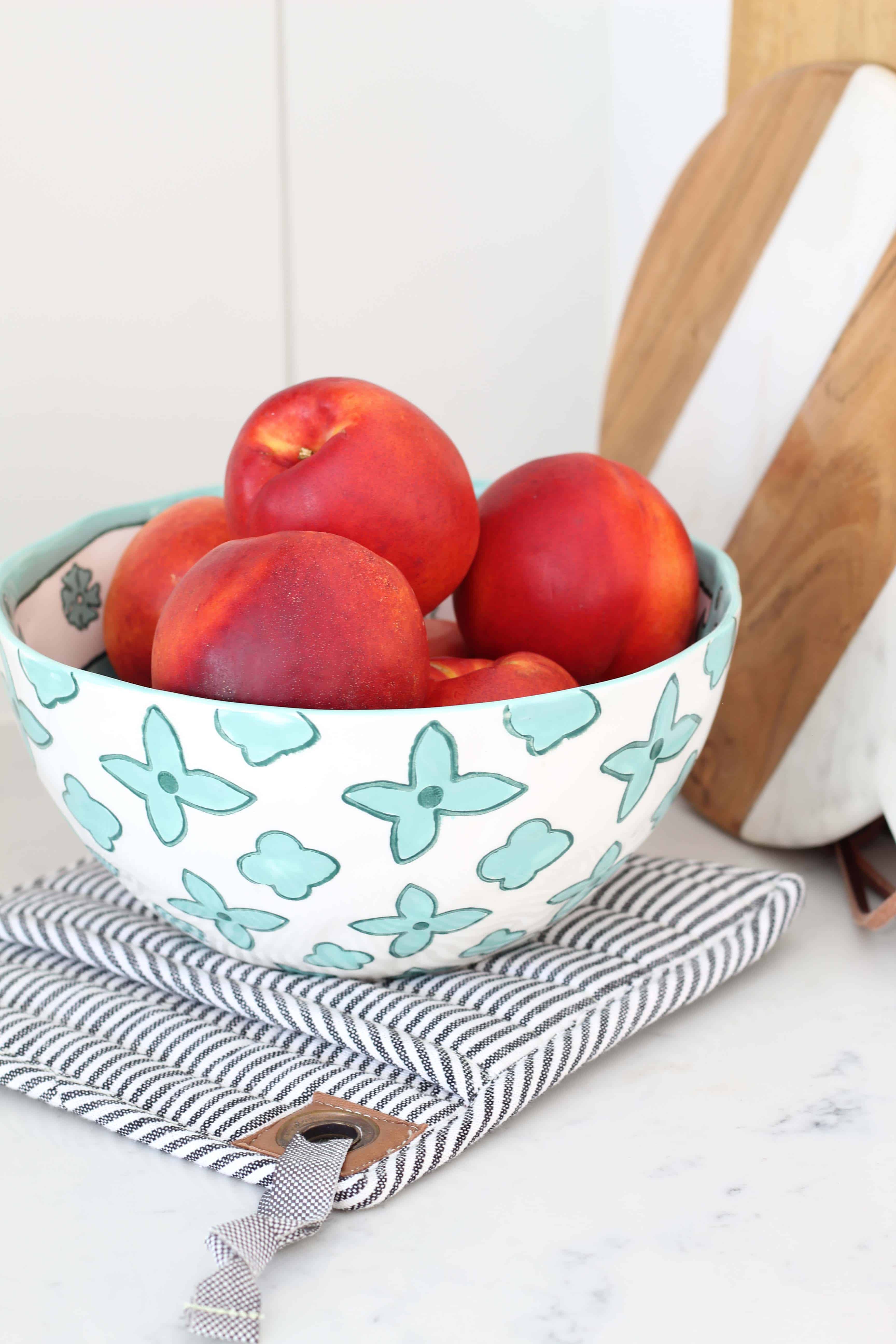 Reading books together. I never realized how much I would enjoy this ritual until I had children. If you haven't read The Read Aloud Family yet, I cannot recommend it enough. In a world where technology is constantly at our finger tips, there is something so liberating about reading together.
Enjoy the small seasonal things. I've mentioned this a couple of times before, but keeping some type of seasonal fresh fruit or vegetable on hand in your home is such an easy and fun way to slow down and actually enjoy the season you are in (hurray for summer fruit!) For me, this is something as simple as a bowl of nectarines courtesy of Costco. They smell amazing as they ripen and everyone in our family looks forward to the bowls of fresh fruit and cream after dinner every night.
So tell me, what small things do you like to do to make your house a home? We could all use some more ideas!
This post contains some affiliate links for your convenience. Click here to read my full disclosure policy.
Want to save this post? Pin it here!