Summer is just around the corner, which means longer days and more outdoor time. Are you stuck on where to start with your outdoor space? Try these 5 simple patio makeover ideas.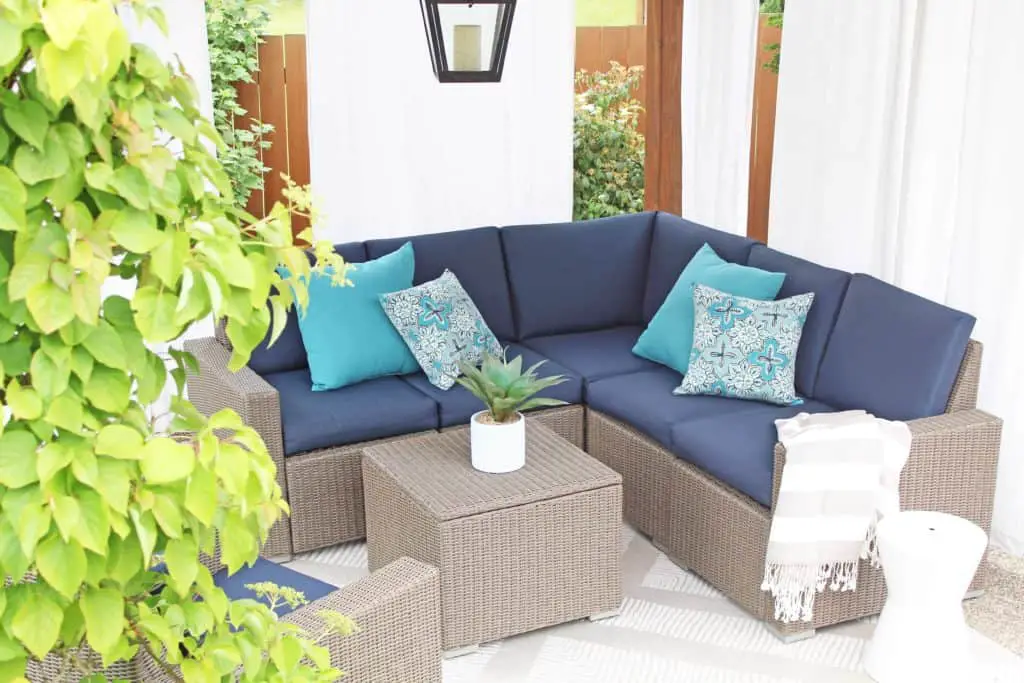 We've had an unusually warm and dry spring here in Oregon. Normally is seems like summer doesn't really start until July, and even then I remember quite a few 4th of July's with rain! Since the weather has been so nice, we pulled out the patio furniture early this year, and have been working on cleaning up the yard.
Each year I go through a routine at the end of spring to get our backyard and patio ready for summer. It's quite a bit of work up front, but I'm always glad I do it because it really makes our patio an extension of our home, almost like an extra room. Since I feel like we have a pretty good system down, I thought I would share what works for us and how we make our patio space work hard for us!
1. Clean and Then Clean Some More
This probably seems like basic common sense, but I think sometimes we get use to looking at our own messes because we look at them day in and day out – they almost become part of the landscape (no pun intended;) Look at your patio or outdoor space with fresh eyes; pretend you're a potential buyer looking at your yard, what do you see?
Taking the time to power wash, weed, pick up debris from winter, and add some fresh bark dust to flower beds is really the biggest bang for your buck, because it's mostly just your own sweat equity making it happen!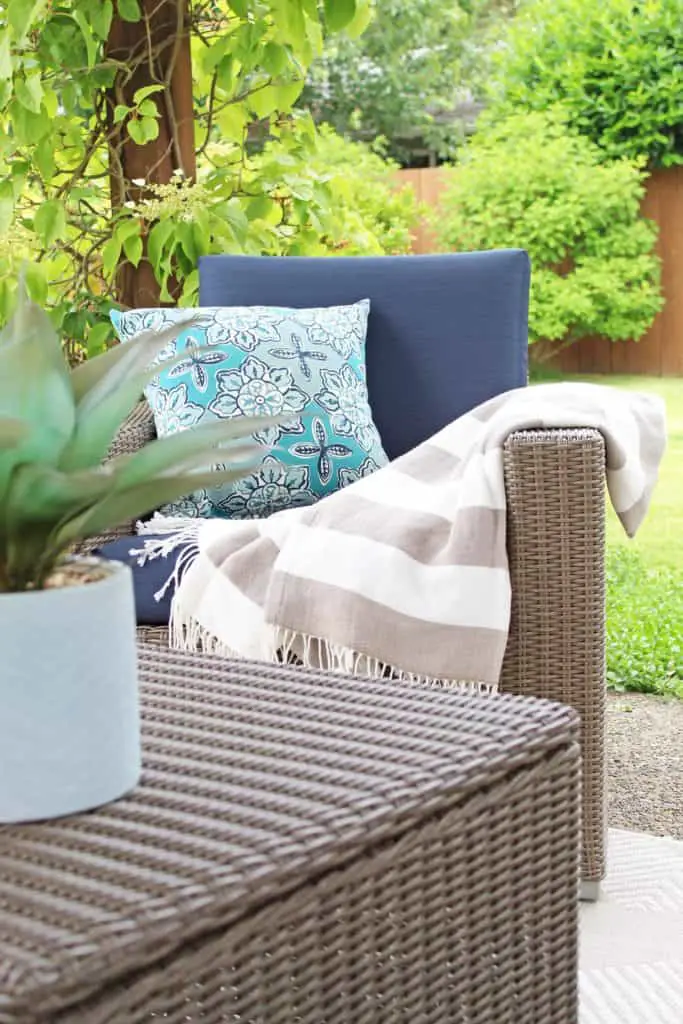 2. Make a Gathering Spot
Whether you have a grassy backyard, a patio, a deck, or some combination of them, creating a gathering spot is what makes the space inviting. If you have friends or family over, having a natural place to congregate will go a long way towards making your outdoor space an extension of your home. In my experience, the best parties and gatherings happen spontaneously. Having a place ready for people to sit and spend time will make those spontaneous gatherings more likely to happen!
You don't have to have fancy patio furniture to make a gathering spot, if you're looking for a budget friendly way to DIY your outdoor furniture check out these cute outdoor sofas.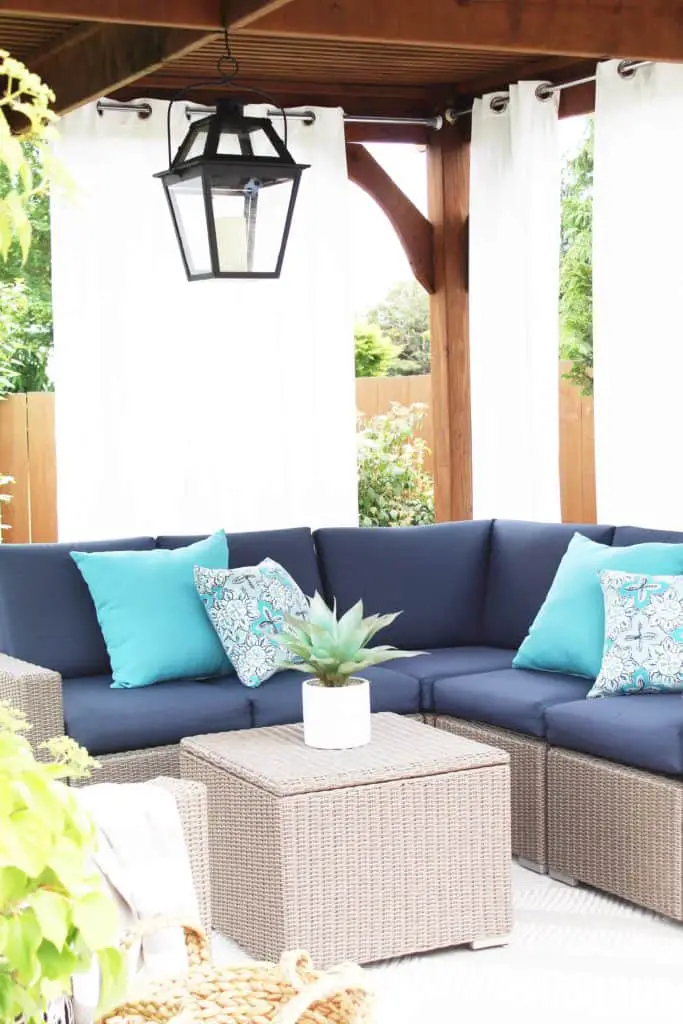 3. Make it Cozy
Cozy isn't just for fall and winter, it's a must for summer too! The same elements that make our homes feel so inviting and cozy during the winter months can be applied to outdoor spaces as well. Adding items like blankets for chilly nights, or pillows to lounge against will soften outdoor furniture and make your outdoor space feel more like that extra room we talked about above.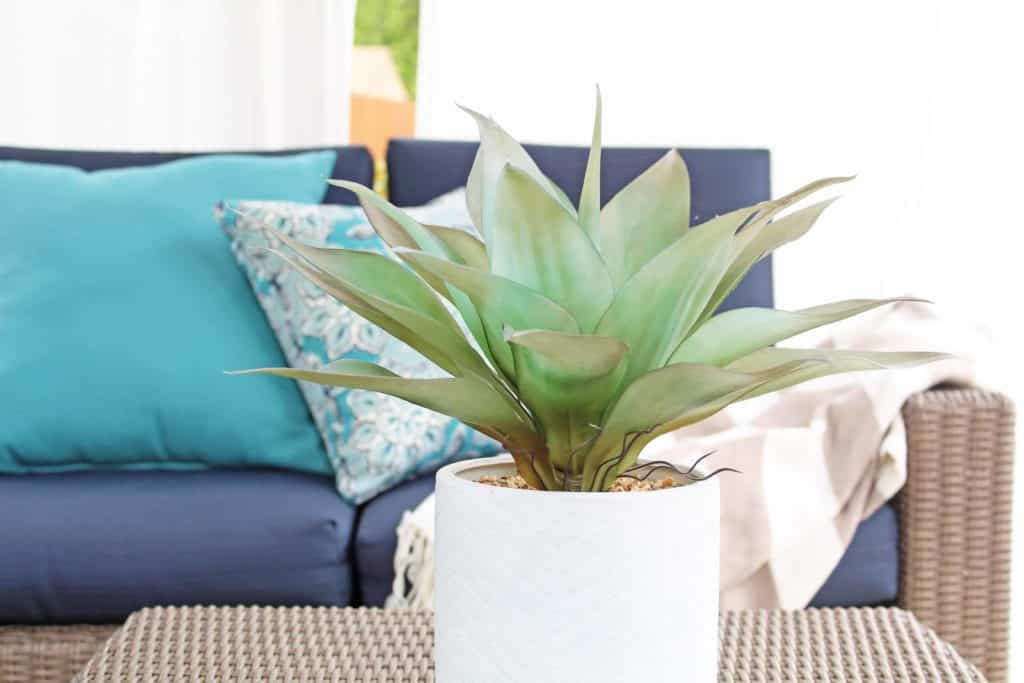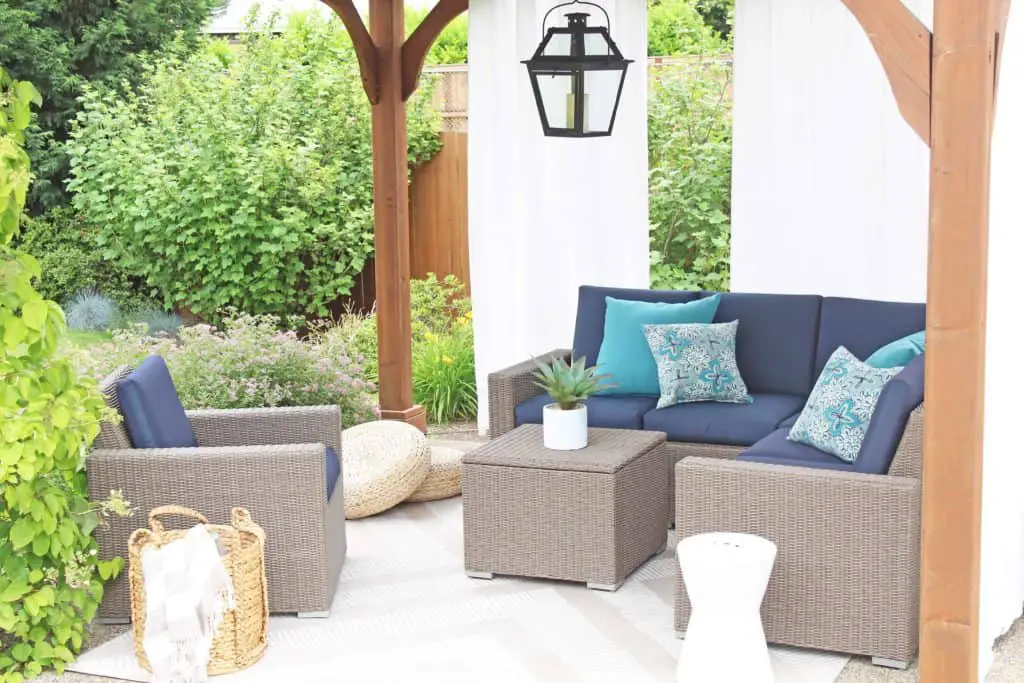 4. Add Color
To me, nothing says summer like some pops of color. This is your opportunity to go a little wild and maybe add brighter colors than you normally would inside your home.
For outdoor furniture base cushions I generally stick with a darker color, like this navy blue. While white is beautiful, and normally my go to, I don't want to spend all of my time worrying about them getting dirty. I also like to that the navy blue is a foundation that allows me to mix and match different pillow colors.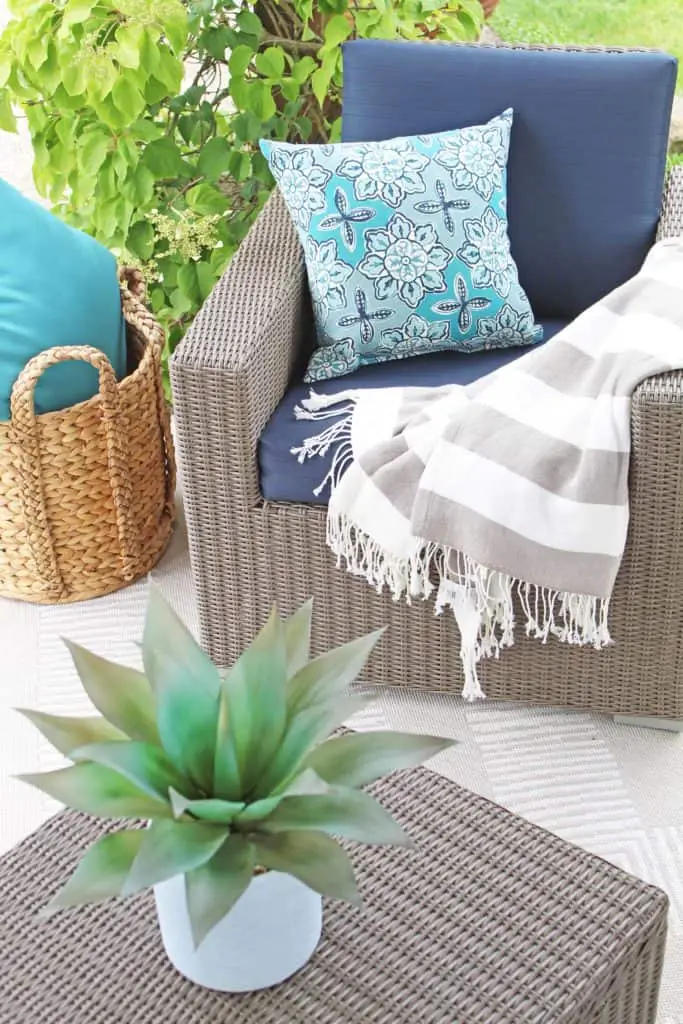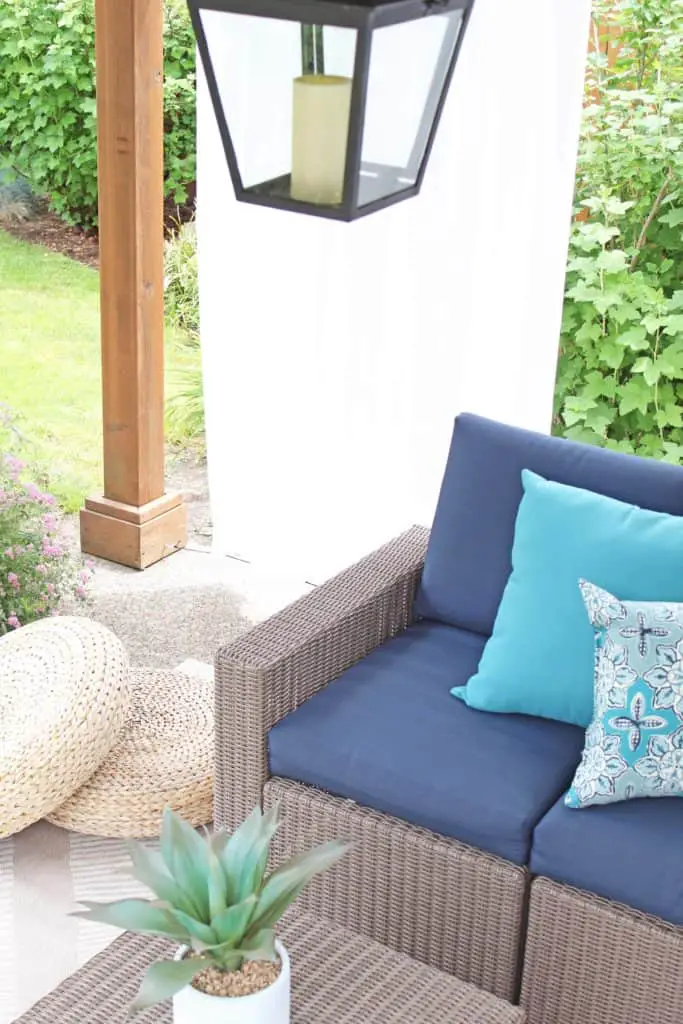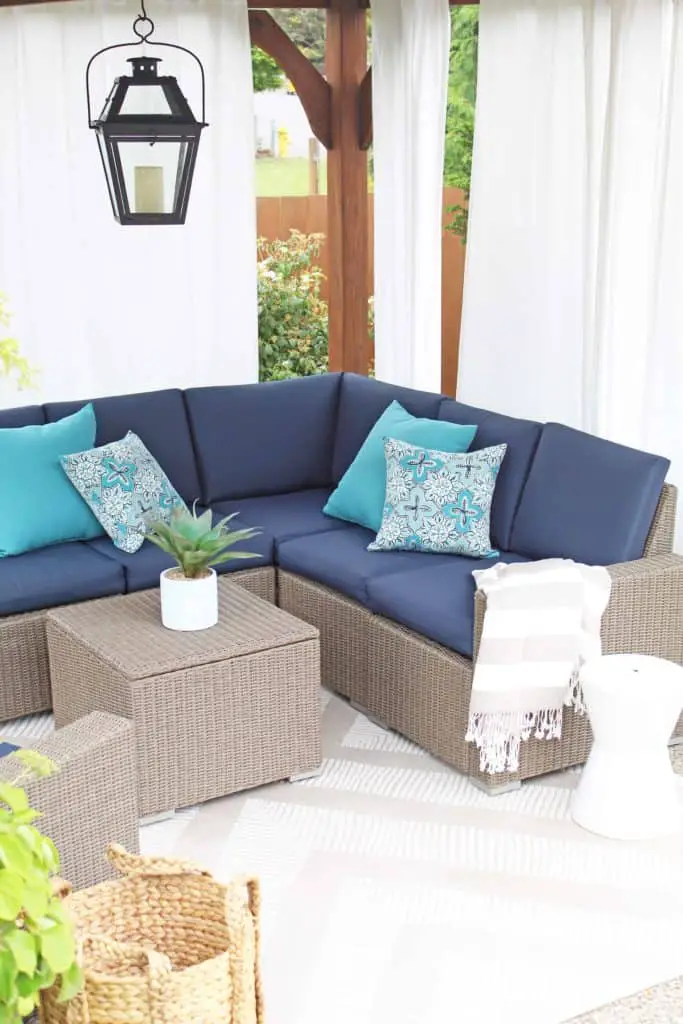 5. Make Sure There's Shade
Depending on where you live, shade can be a big deal. While our part of the country isn't known for it's heat waves, we do have our fair share of 90 degree days. Since our patio doesn't really have any shade to speak of, I added these Ikea canvas curtains (mounted with a shower curtain tension rod) as a budget friendly way to get the shade we needed. My favorite part about them, other than the price, is the fact you can hem them to the exact length you need.
It has made such a difference. You can now sit out here in the middle of the day without feeling like you're going to bake like a muffin. Plus, they define the gathering space, add softness, and make it feel like a regular room!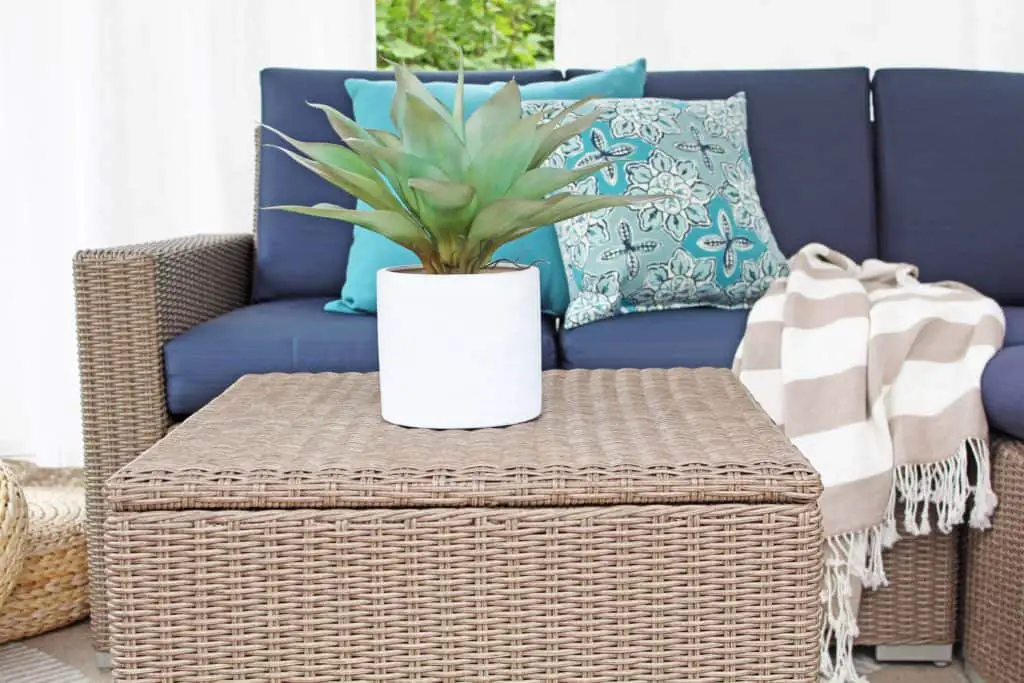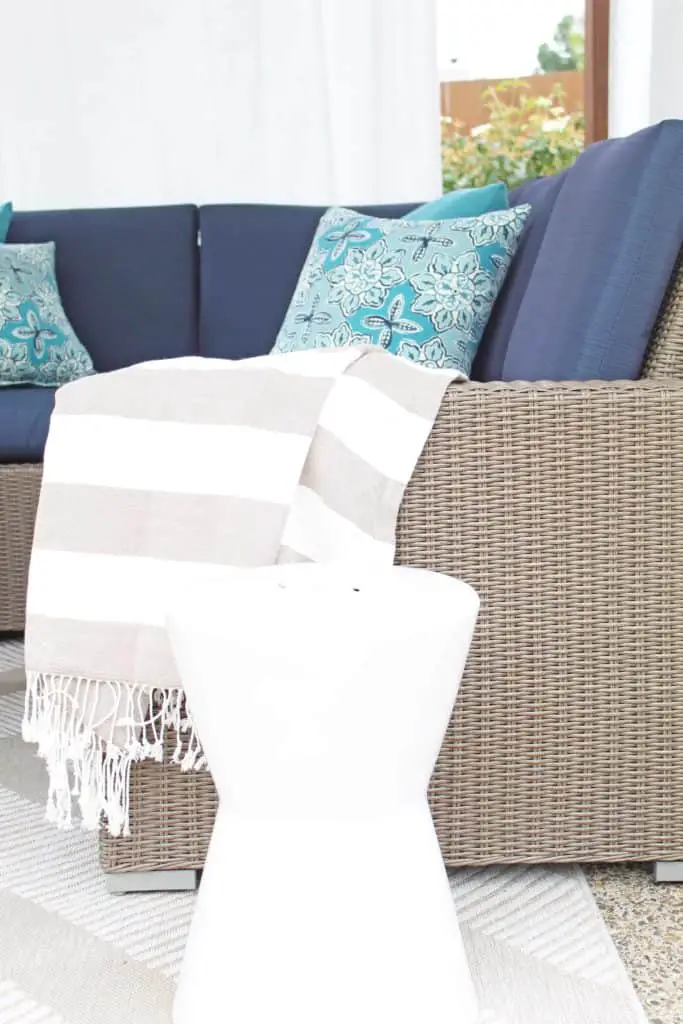 What about you? Do you have a routine you go through each year to get your outdoor space ready for summer?
Like this post? You might enjoy these:
Want to save this post? Pin it here!