Arranging a stylish bookshelf can be a little tricky sometimes, especially when you have a lot of books. Here are some tips and tricks to arranging the books you have so they're pretty to look at!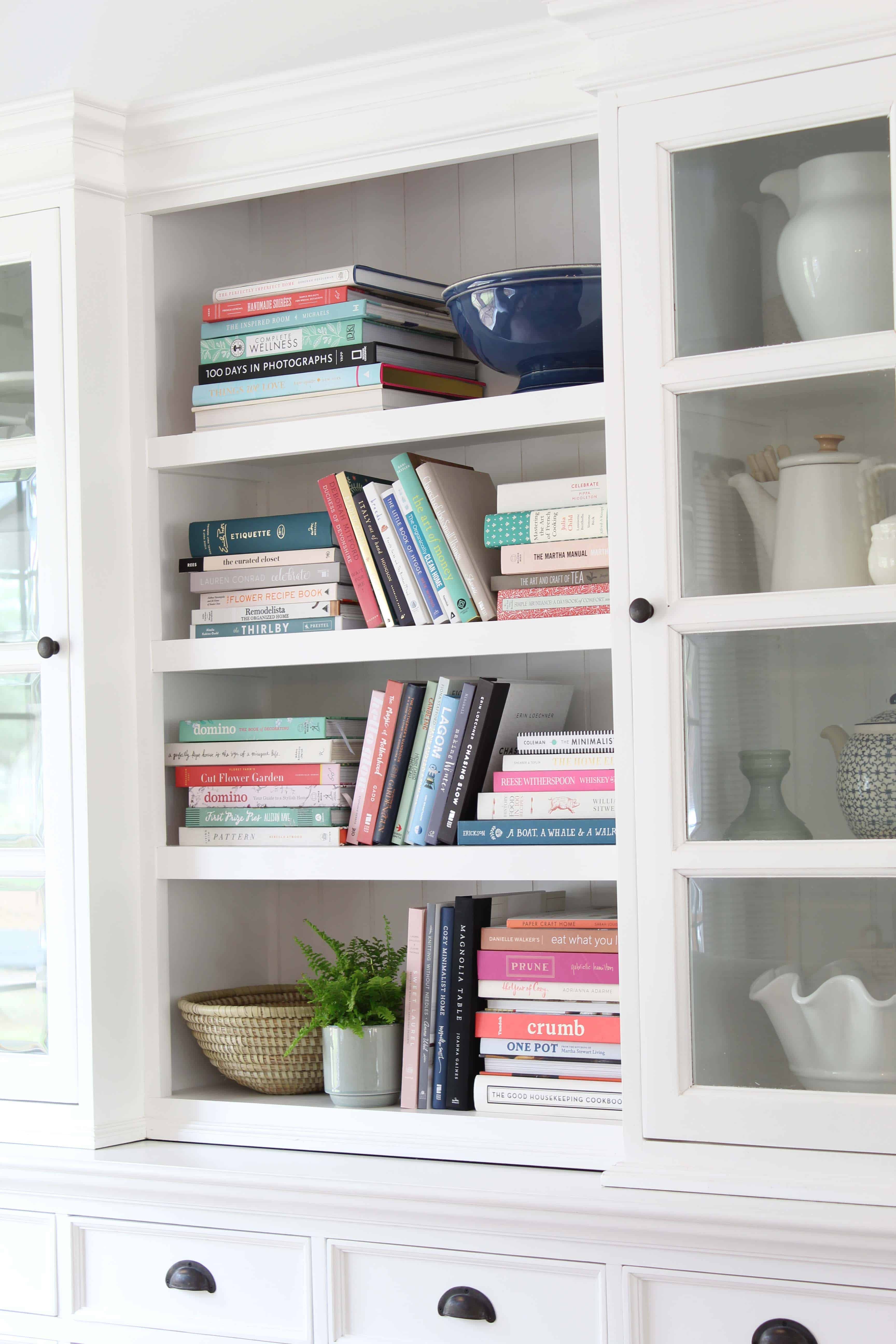 I love everything about books; reading them, collecting them, even arranging them. If you're a fellow book and design lover like me, you may have run into the some of the same book collecting issues I have over the years. So I thought I would do a round-up of some of my favorite tips and tricks for arranging and displaying my book collection. After all, just because you love books and want pretty display shelves doesn't mean you have to hide all of your books away.
How To Style A Bookshelf When You Have A Lot Of Books!
Like any part of design, personal preference plays a large role. I love pops of color throughout our home, so a colorful bookshelf is a perfect addition to our home. If you don't like a lot of bright colors, or prefer a more neutral home, then a toned down, more subdued display of your books might be in order. While this post is about my own colorful bookcase, there are so many great ideas out there if you're looking for something more neutral (from making your own book dust covers to turning books around backwards). Keep searching until you find something that fits your home, something you love to look at. There is no one size fits all when it comes to making a home you love!
Ok, on to our colorful bookshelves. When we moved last summer, I did a serious purge of my book collection. With most home items, I lean to the less is more side, but books are another story. Books have always been one of the few things I tend to horde. So before we moved (because books are so heavy and such a pain to move) I did a serious clean out of my book collection. Once we were settled in our new home and actually had a bookshelf set up, I pulled out the books left and got to work.
Also, if you want to see more about where else we store books in our home, check out this book storage post!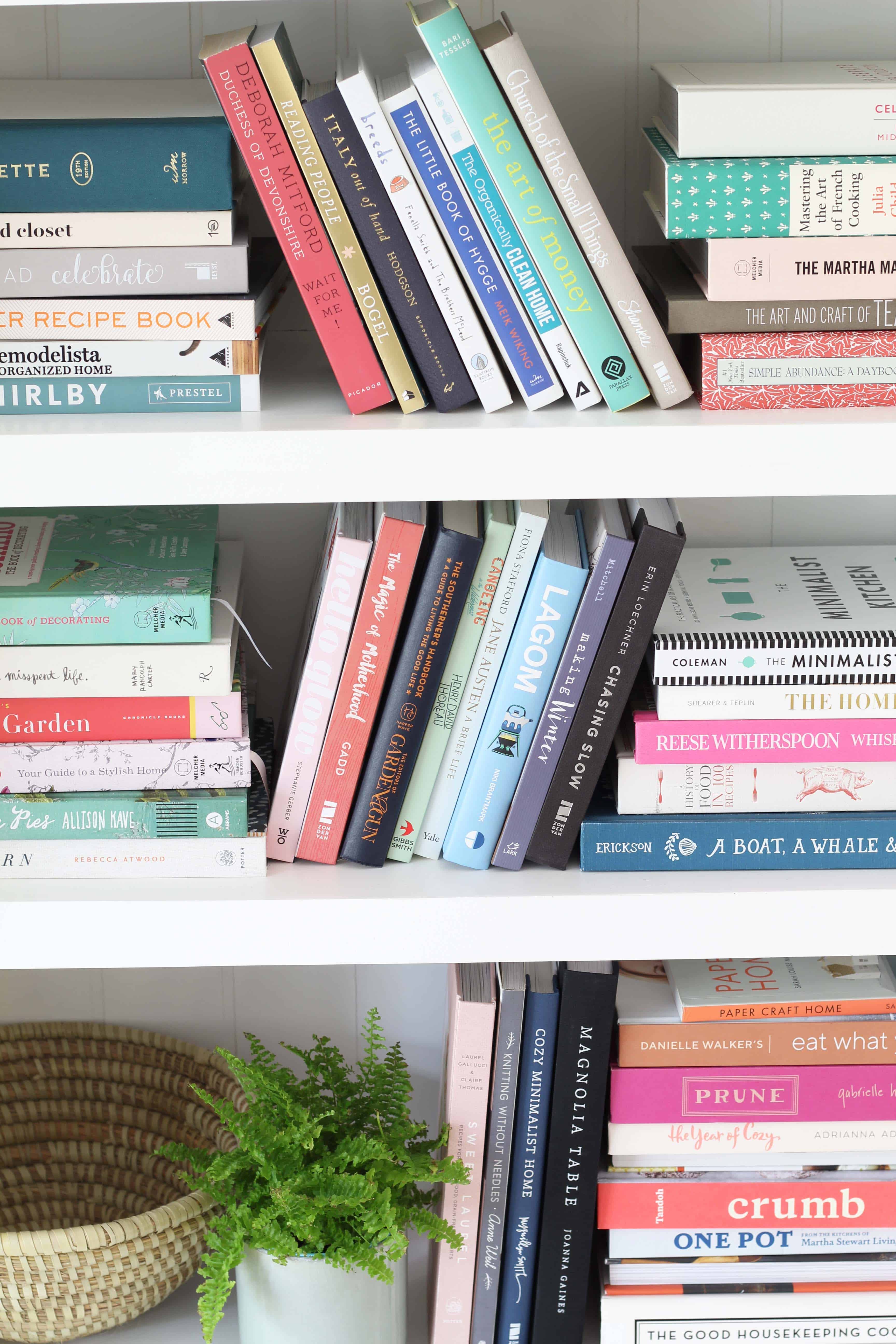 Take The Dust Jackets Off
Part of the challenge was, once again, our new open living space. Because of the open layout of our home, the only option for displaying books was in our great room, which would basically mean we would be seeing a lot of these books. I decided to embrace the colors already throughout our home (blues, black, and pops of pink) when I arranged my books.
The first thing I did was look at each book individually. If I didn't care for the busyness or color of the dust jacket, I took it off. Removing the dust jacket is a great option, and often times gives your books a totally new look! I found some beautiful, simple book covers underneath those dust jackets, and it created some quiet space for the eye to rest among all of the other busy book covers.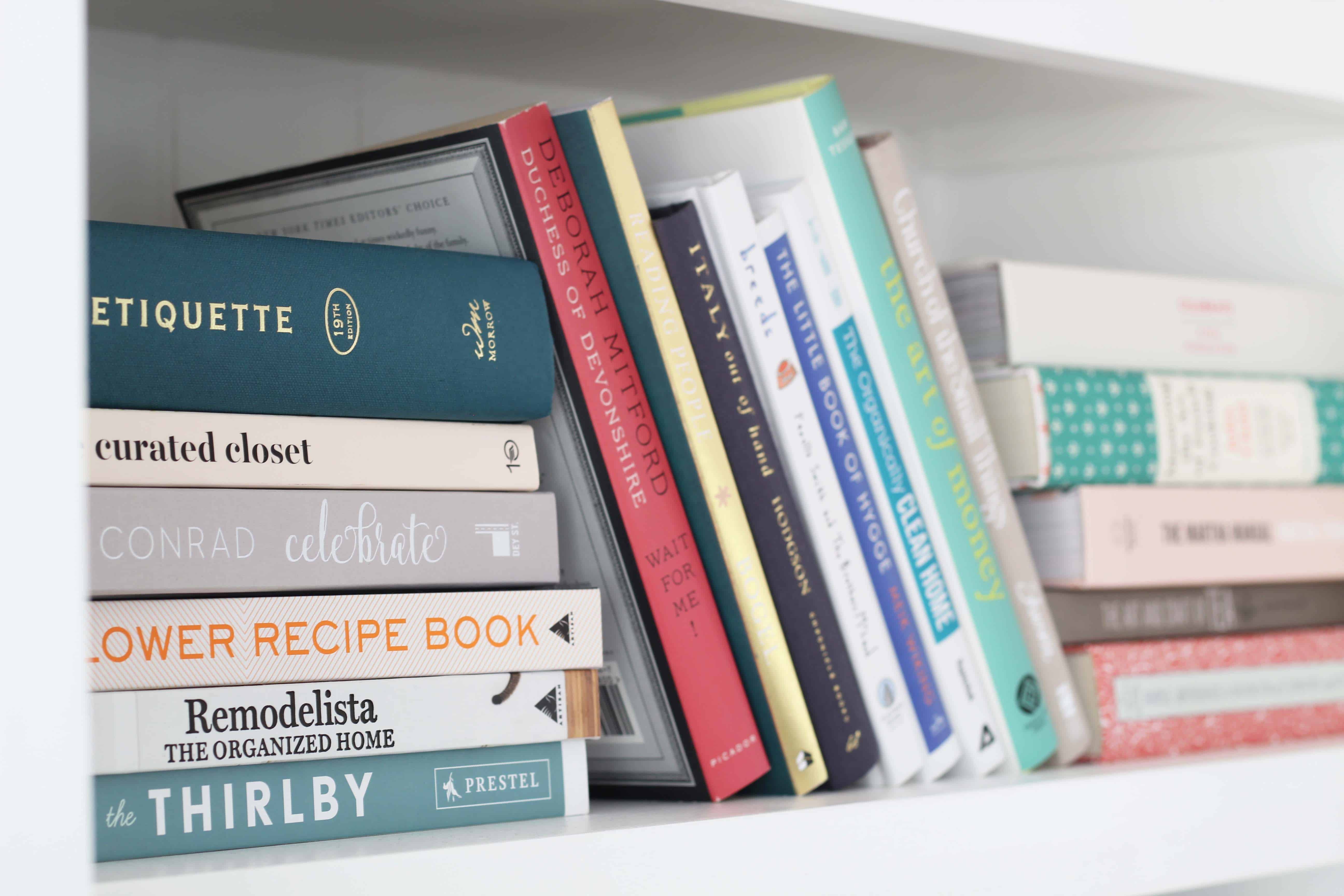 Arrange By Color
Next, I started putting the books on the shelves not by genre, but rather by how colors looked together. Every once and a while I would step back and look at the shelves overall and move a book if it didn't look right. For instance, if I ended up with too many aqua colored books in one area, I might move a book with more neutral color in between them. It's really about tweaking the colors until they look good to you, there is no right or wrong way to do it.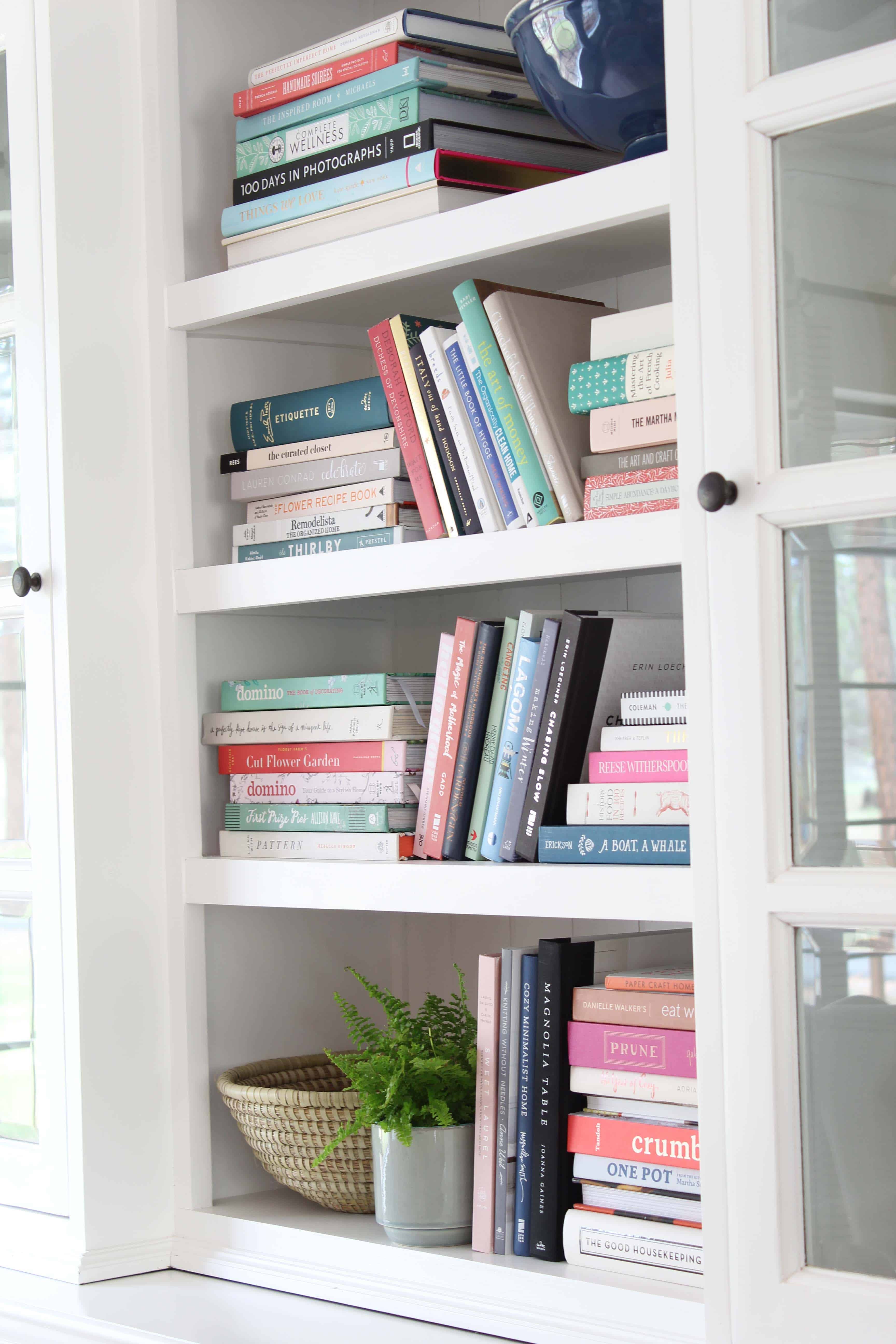 Stack Books In Different Directions
To me, this is one of the key secrets to arranging a stylish bookshelf. Stacking books in different directions so that everything doesn't look perfect makes a bookshelf interesting to look at. This was also a necessity when it came to our bookshelf since the shelf height isn't adjustable. Since the taller books wouldn't fit upright, I stacked them on their sides, which I ended up really liking. Smaller, shorter books were then put between them, creating a collected over time look.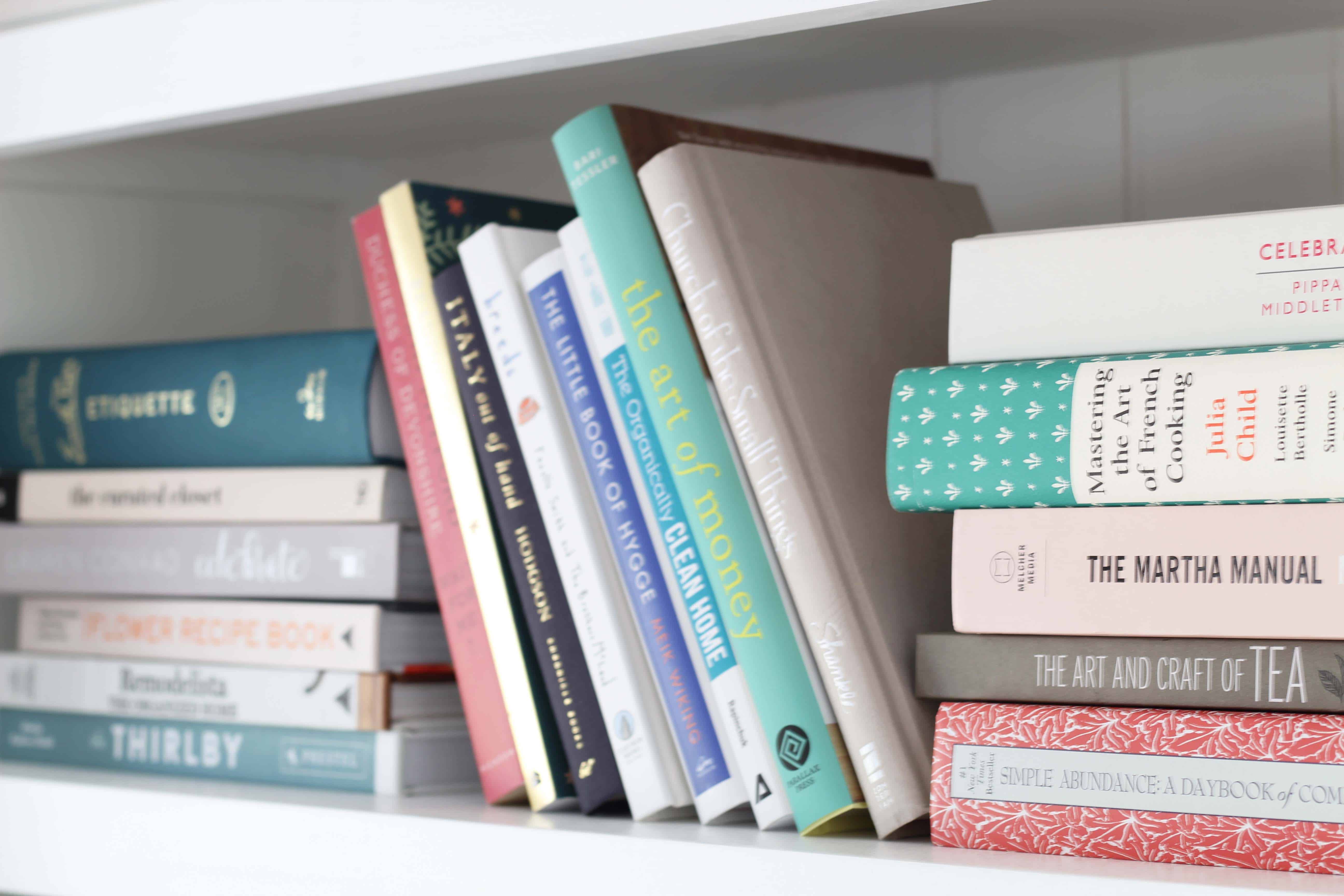 Add Accessories In With Books
Once I had my books in place I started adding a few accessories in to break it up a bit. A wall of books can be beautiful to look at, but it never hurts to add something a little extra in. Some tried and true items that look good on any bookshelf:
Plants; ferns are always a favorite of mine.
Ceramic bowls, which are great for hiding little things in.
Woven items like baskets, I used a woven african basket.
Keep in mind that your bookshelf can do more than hold books, especially if it lives in a multipurpose room! When I was looking for a bookshelf for our great room, I knew it would need to play double duty since it would be on the dining room side of our great room. I wanted it to have a library bookcase feel and be able to double as a dining hutch for storage as well. I ended up  finding this one, which was perfect for our needs.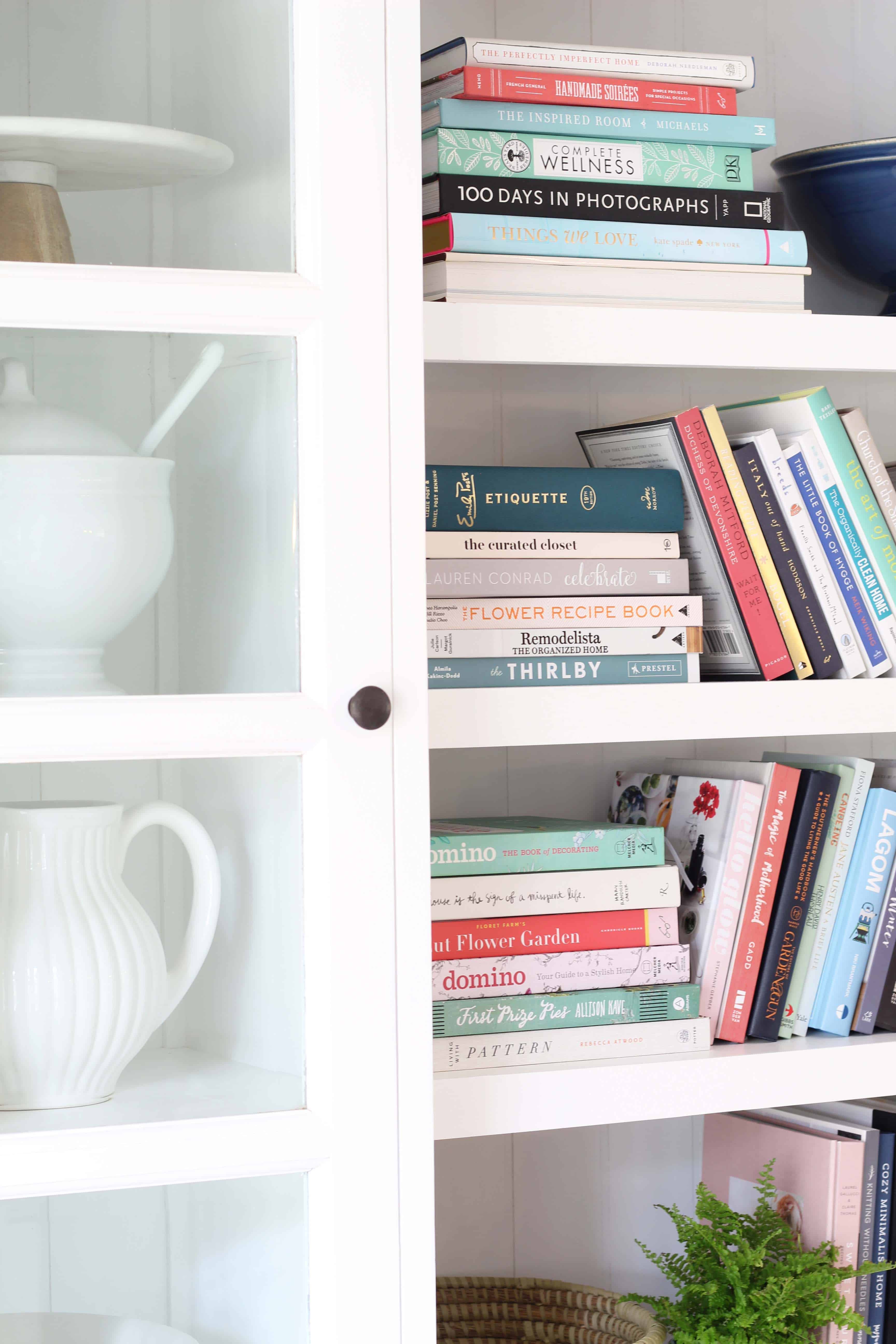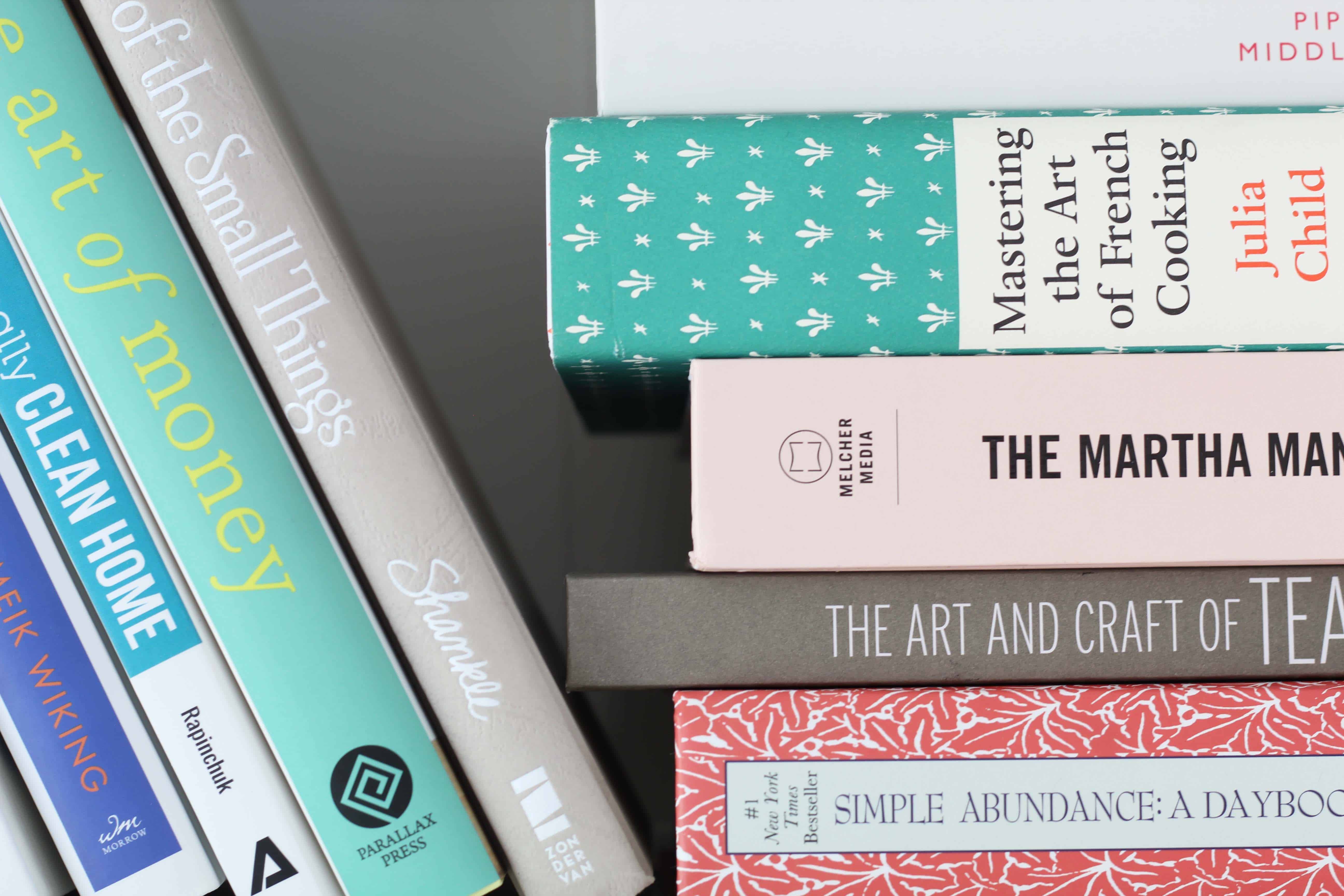 Curate What You Love
Lastly, and most importantly, use what you love! Books are like old friends you get to see everyday. Every time I catch a glimpse of this bookshelf as I walk by, it makes me smile. Chuck the rules out the window and create a bookshelf that makes you smile, whether that means arranging your books by rainbow color, making cohesive dust jackets for them, or even turning them around backwards! 🙂
Want to save this post? Pin it here!