The Ikea Flisat dollhouse is an affordable way to create a custom dollhouse on a budget. Check out this Ikea Flisat dollhouse makeover for inspiration!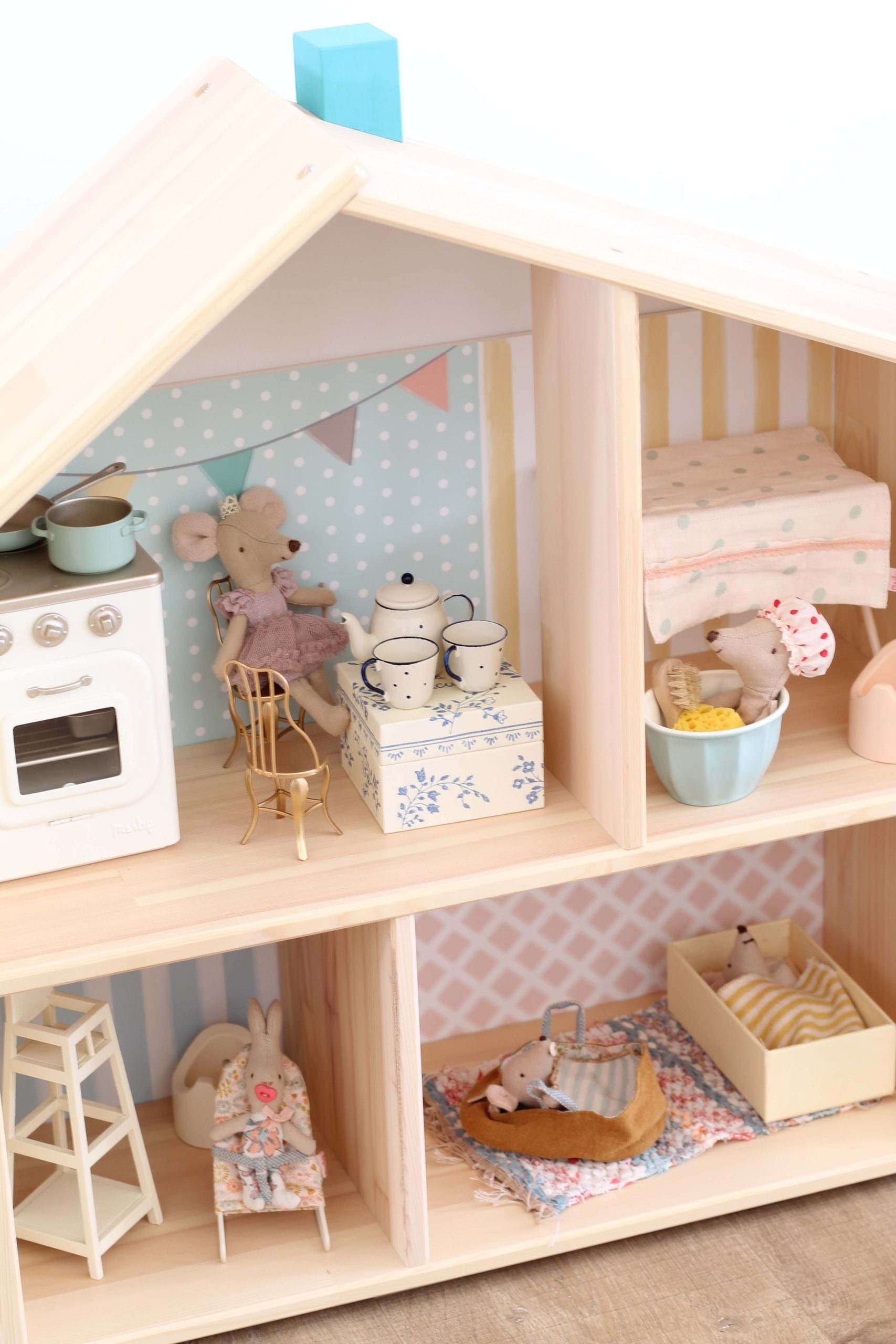 We discovered Maileg mice this past spring and I'll admit, we went DEEP down the Maileg mouse hole. We planned on gifting our oldest daughter some furniture and more mice to add to her family collection for Christmas, but didn't really have a plan for what kind of dollhouse to use with them. 
If you know anything about Maileg, the dollhouses aren't cheap. Enter the Ikea Flisat dollhouse. I actually had one still in its package from way back when my oldest was a baby. I dug it out of the garage, and lo and behold, it was a great size for her little mouse family!
The Ikea Flisat is a great option for a dollhouse, not just because it's affordable, but also because of how easily you can put your own stamp on it. Here's how we gave ours a little mini makeover!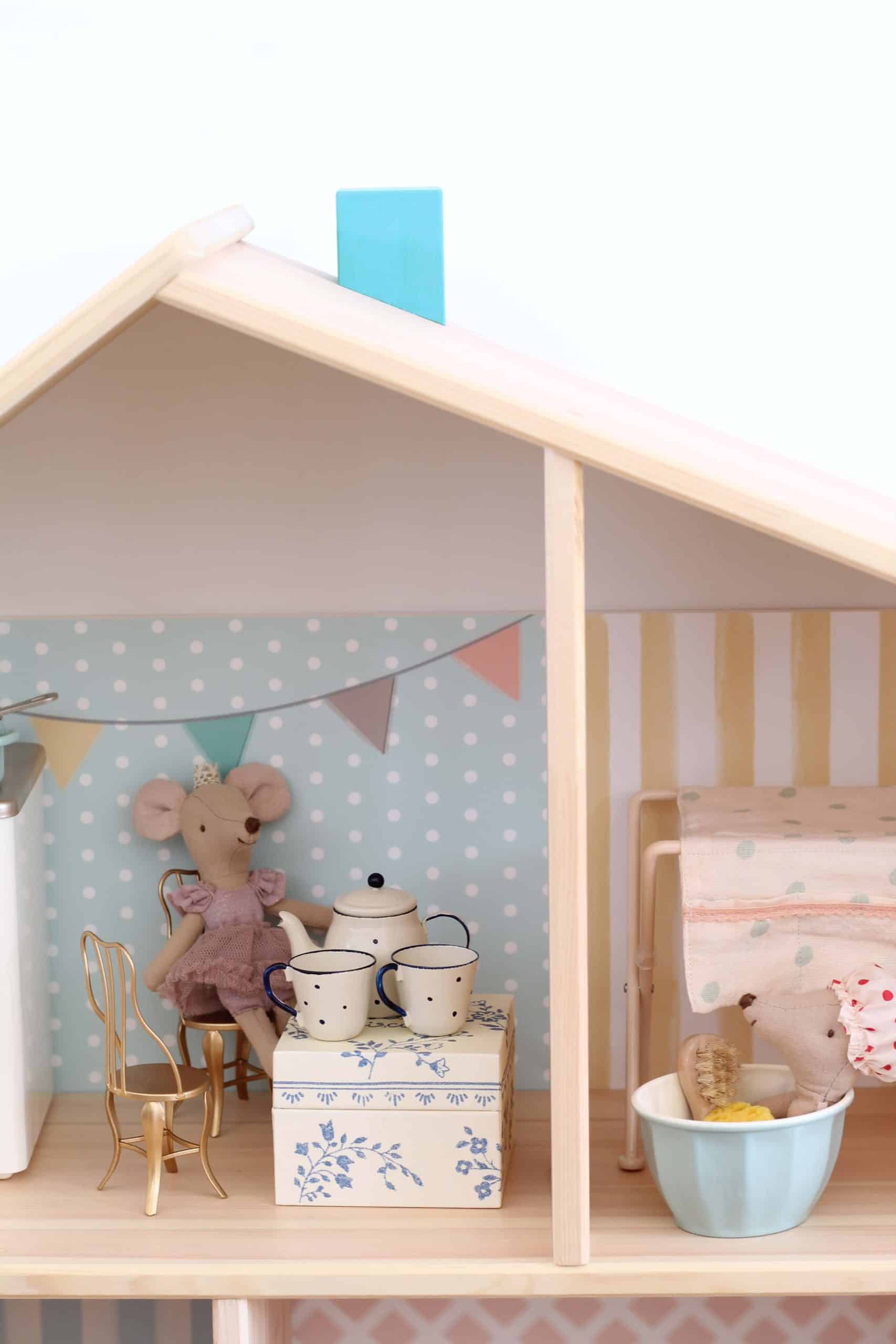 Ikea Flisat Dollhouse Makeover
If you're familiar with the flisat, you know it's pretty much a blank slate – unfinished wood with a green chimney. I ended up painting the chimney before I assembled it with some aqua paint I had leftover from another project. It made it pop a little more and fit in with the other colors I knew we would be adding to the house. 
I toyed with the idea of painting the whole house, but ultimately decided that I liked the unfinished light wood.  If you do want to paint your flisat house, the possibilities are endless! I would recommend figuring out what you're going to to use on the interior walls and using a color complementary to that to make everything feel cohesive.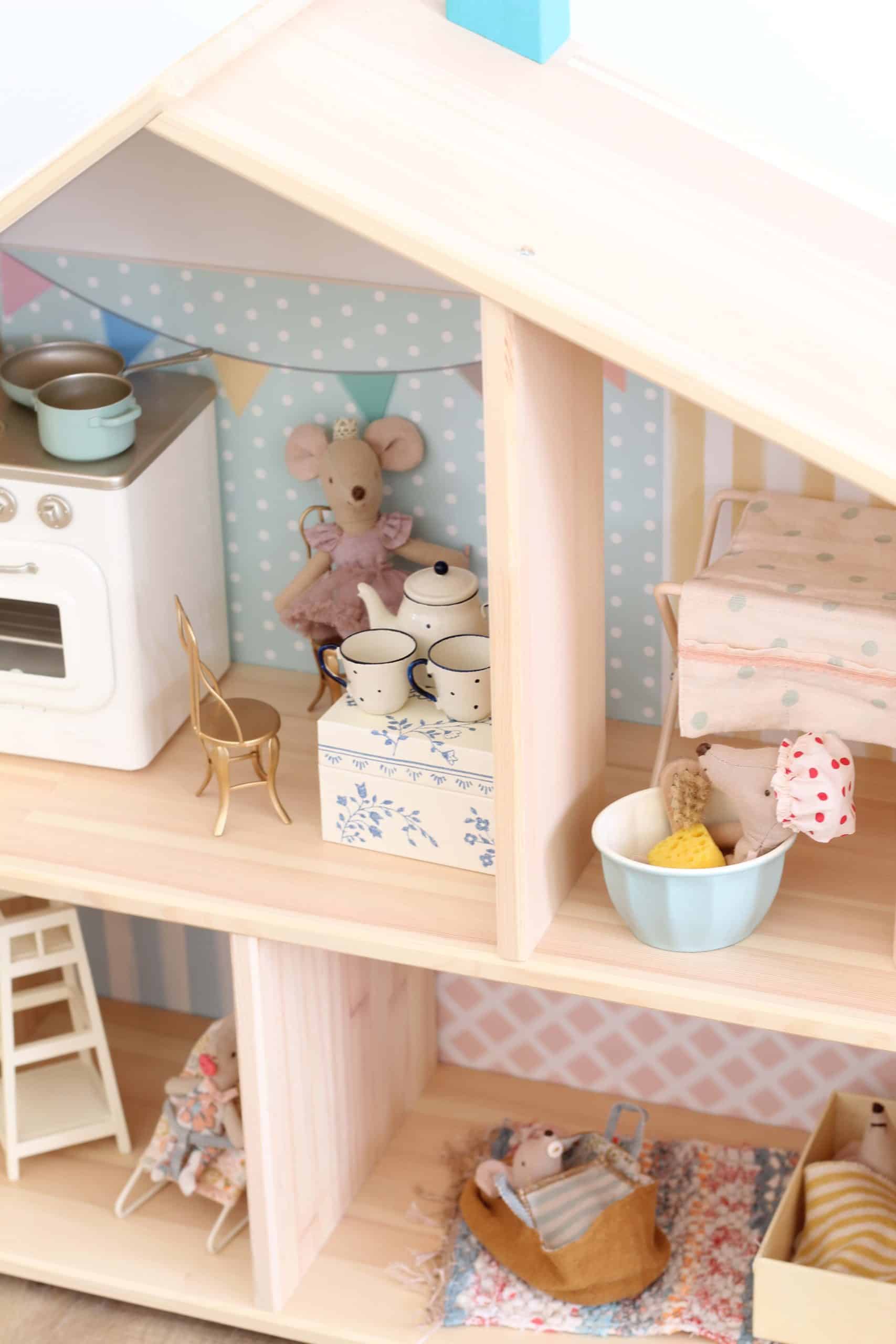 Using A Pre-made Wallpaper Decal
While I was researching dollhouse ideas, I discovered that there is an entire industry devoted to making wallpaper decals just for the Ikea Flisat. I guess it's one of the perks of buying something so heavily mass produced, because there are so many different options to choose from! 
I ended up ordering this one and applying it to the backboard of the house before I assembled it. Are you seeing a theme here? It's so much easier to do any add ons before you assemble the house!
I think it adds so much character and helps separate the rooms.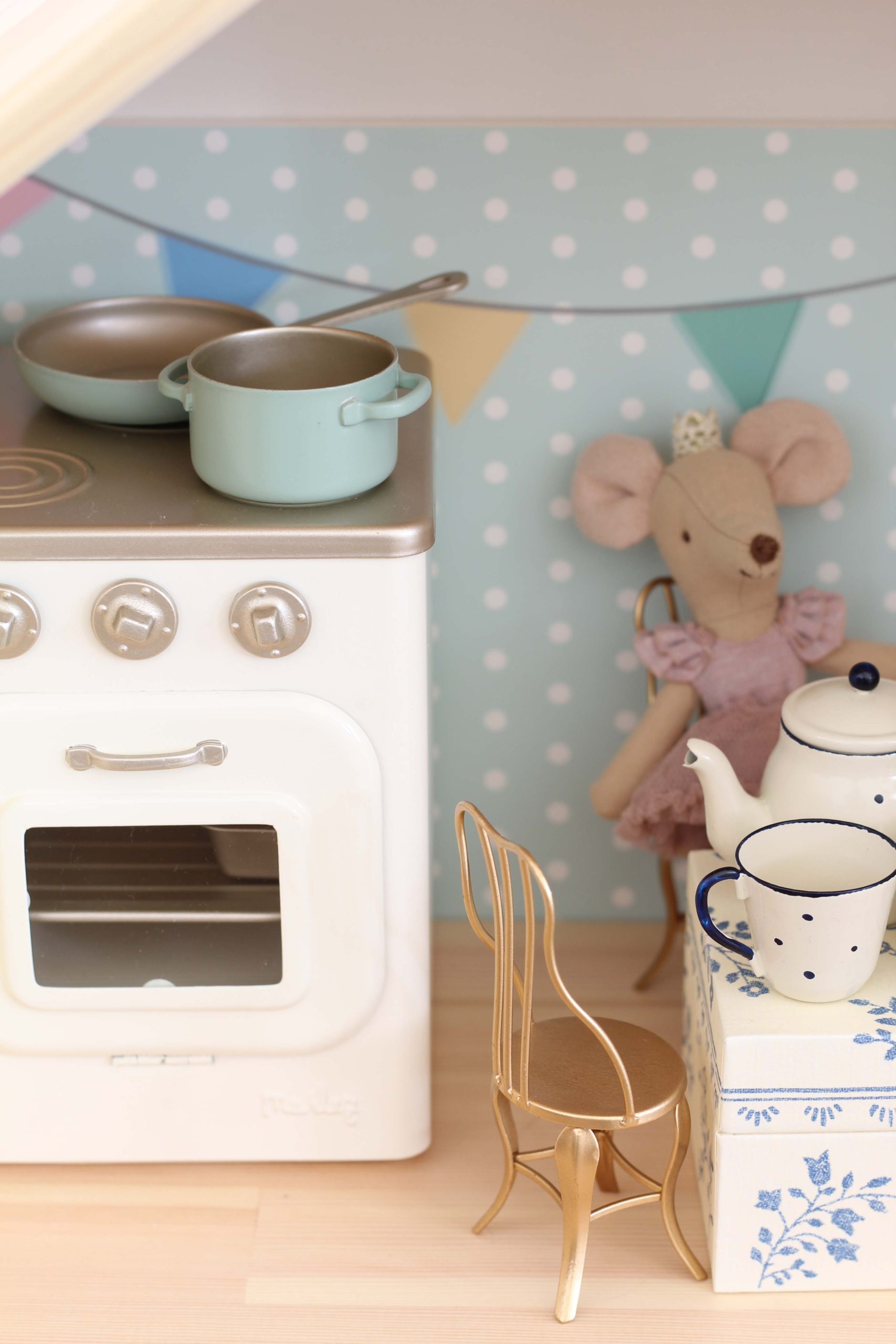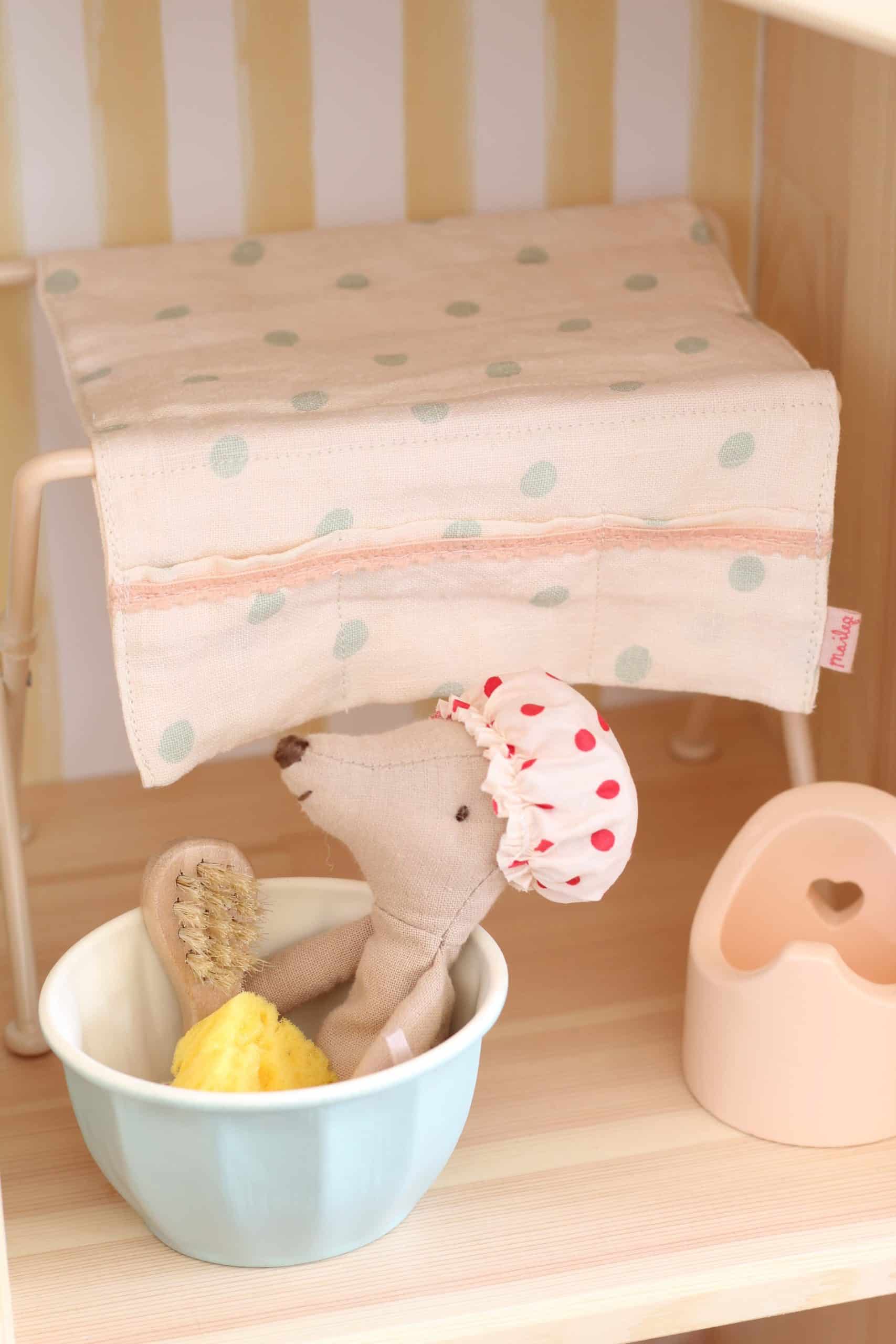 Additional Ways To Decorate The Ikea Flisat
I mentioned earlier that one of the perks of the Flisat house is that it is a blank slate. Which means it would also be great to use for just about anything you can imagine. I've seen it turned into a farmhouse, a fire station, even a barn! 
The Flisat can be decorated a million different ways. Here is just a small sampling of different ideas you can use for changing out the backdrop for all kinds of imaginative play:
Use wallpaper samples. This would be really cute with some wallpaper samples from your favorite designer. 
Removable wallpaper. Peel and stick wallpaper, also known as removable wallpaper is everywhere right now. Take advantage of all the affordable options out there!
Adhesive drawer liner. A great budget friendly dupe for wallpaper and normally available at your local home goods store. This isn't your grandma's adhesive drawer liner – there are so many cute options.
Paint or draw a backdrop. Try bringing out your inner artist and draw some cute background scenes yourself!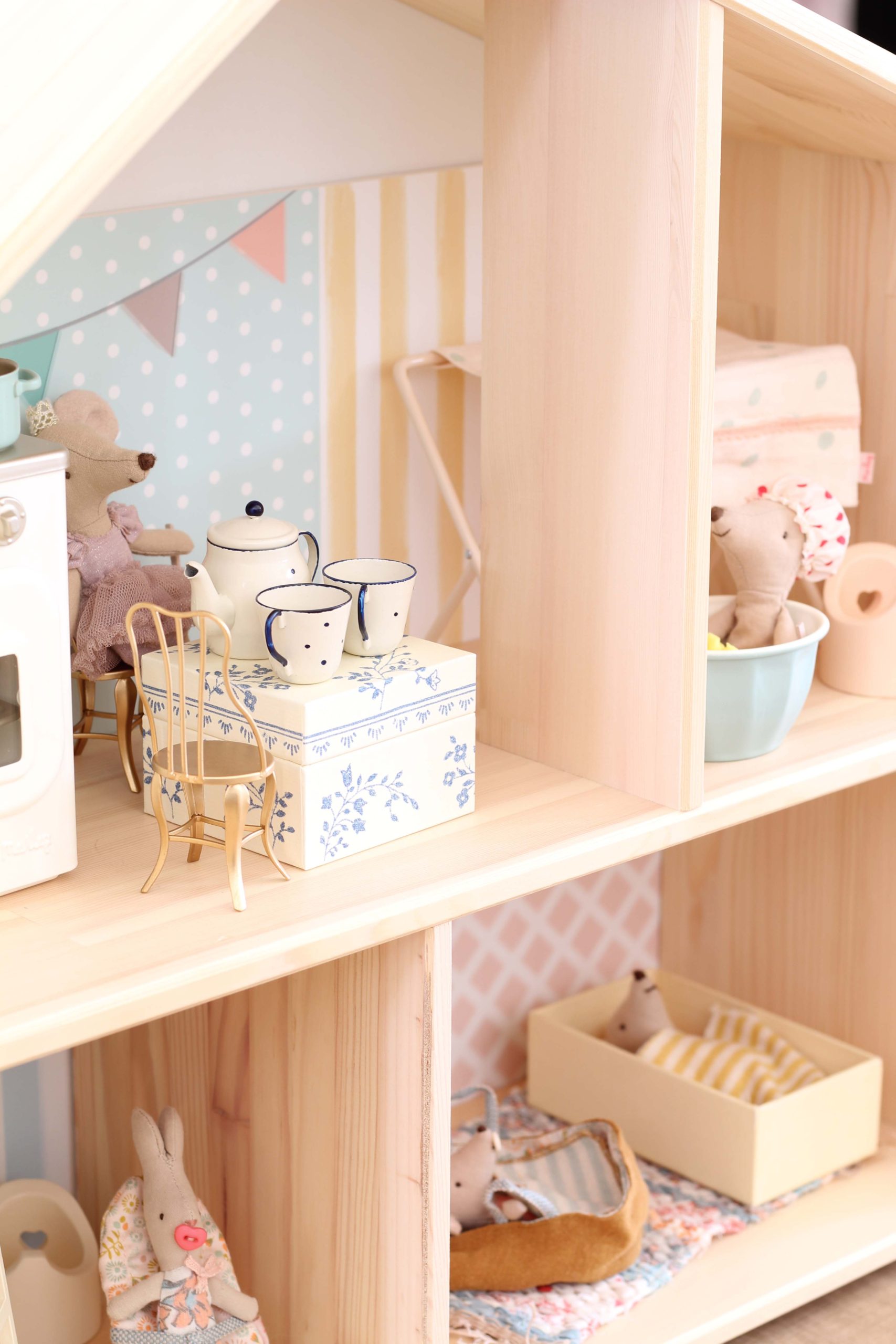 I hope this simple Ikea Flisat makeover gave you some creative ideas for making over your own dollhouse! Happy making! 
Shop The Post

This post contains some affiliate links for your convenience. Click here to read my full disclosure policy.
Like This Post? You Might Enjoy These:
Want to save this post? Pin it here!