These adorable diy yarn hearts are simple and quick to make. They are perfect for Valentine's Day decor or as a homemade gift!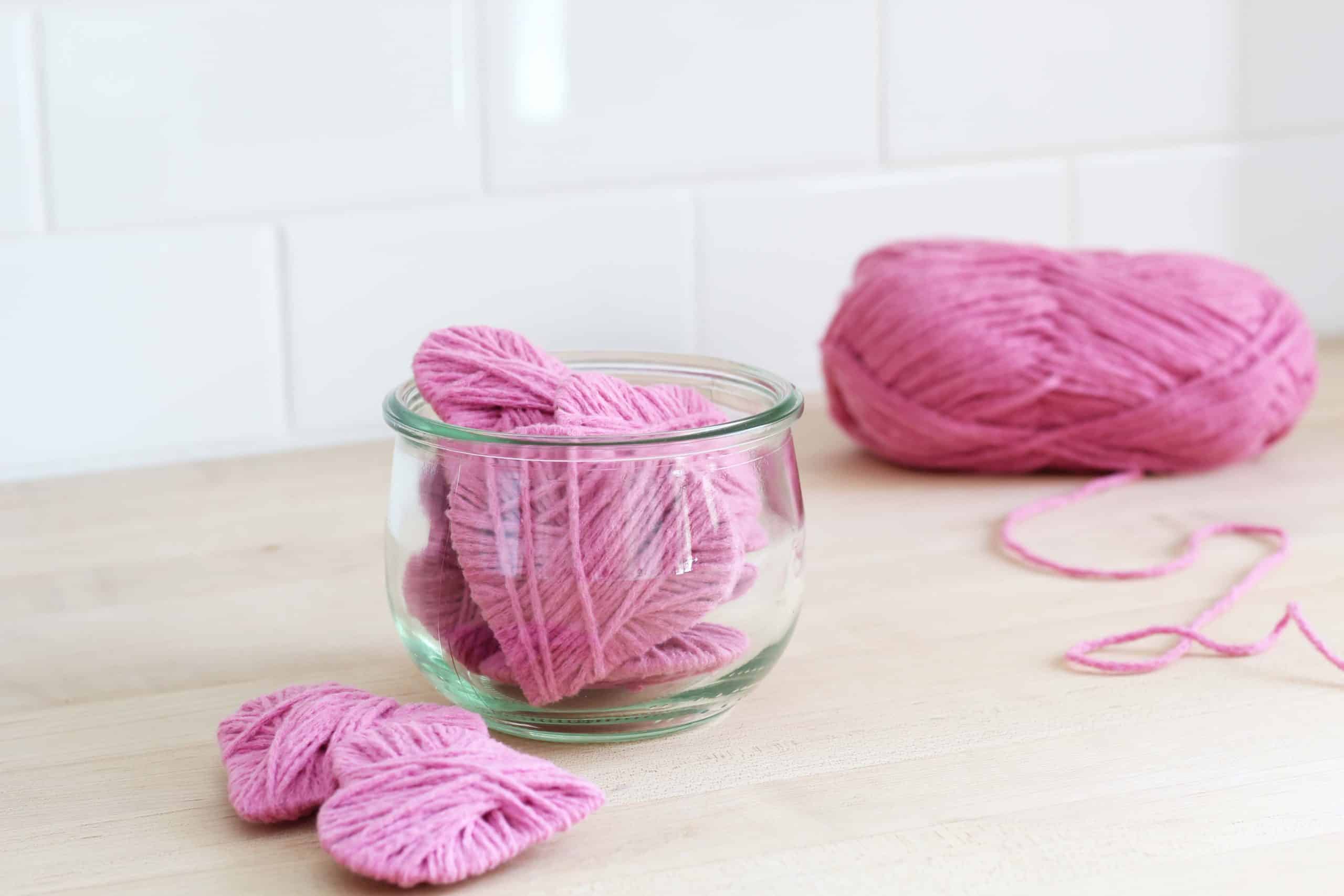 Do you decorate for Valentine's Day? It seems to be one of those holidays that people either love or hate. I can tell you, I definitely fall into the love category. I don't deck our entire house out in hearts or anything, but I do love to add touches of the holiday with some pink dishes and a garland or two here and there. 
Adorable DIY Yarn Hearts
This year, I added these yarn hearts to my Valentine's decor rotation. I've been meaning to make them for years and just never got around to it until now. They are so easy to make (my kind of diy project) and make for the cutest touch of Valentine decor that doesn't take up much space and is easy to store when you're done!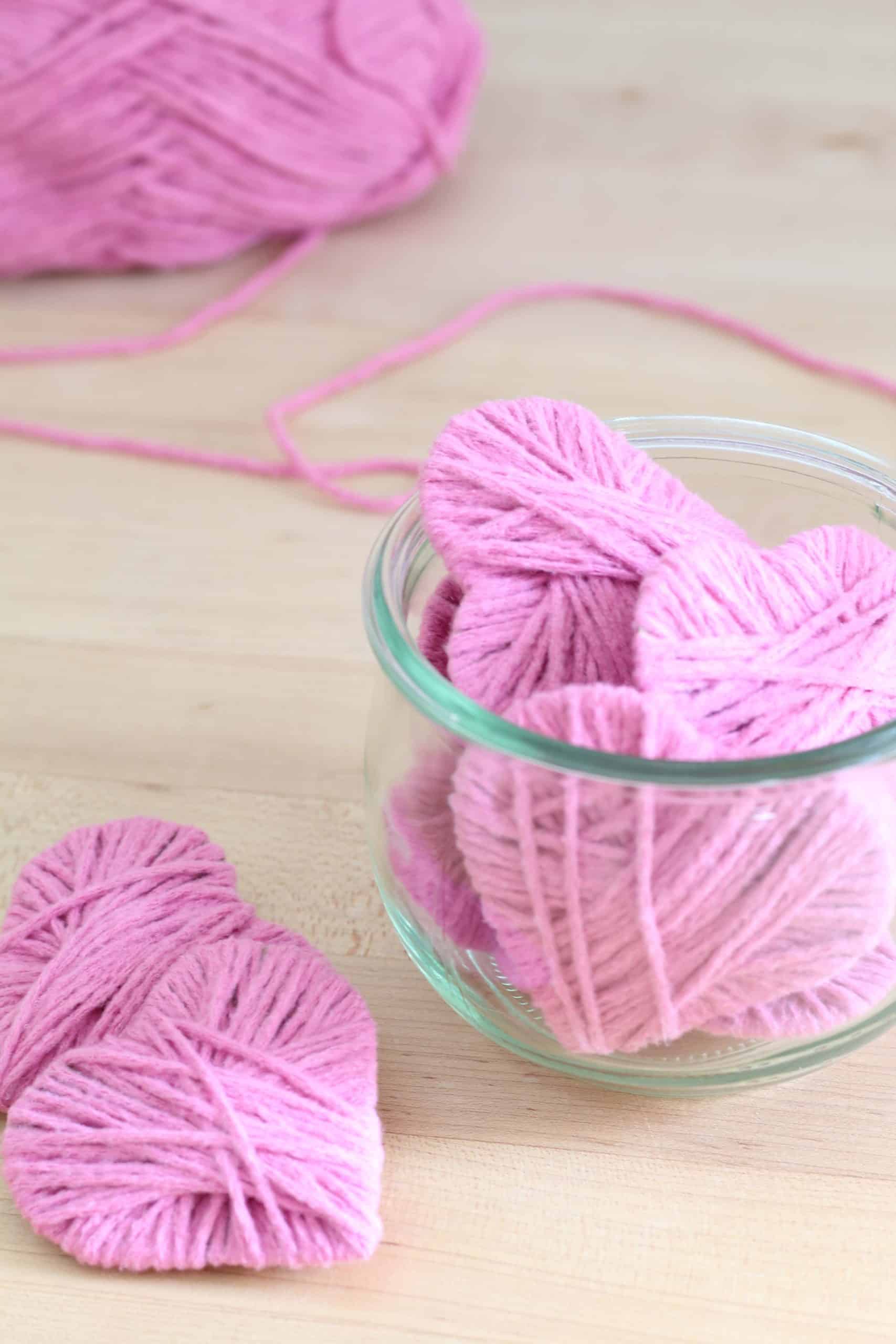 These yarn hearts are simple to make, but there are a few tricks that will make your life easier if you want to make some! Below are the steps I took to make some easy yarn hearts: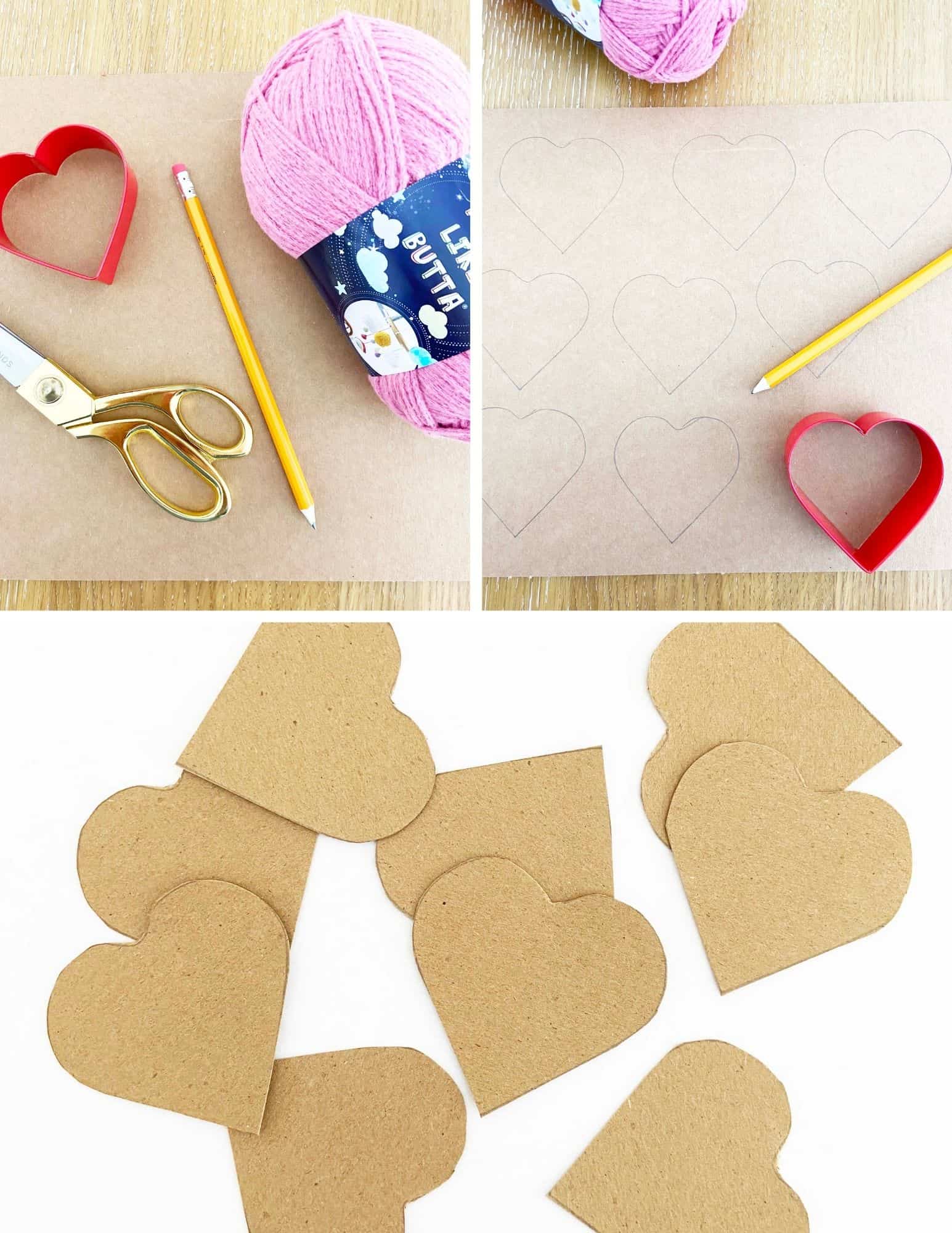 How To Make Yarn Hearts 
What you will need:
Note: I used a heart cookie cutter I already had, but if you don't want to buy one just for this project, you could easily make your own heart template out of a piece of cardstock. 
Using a heart cookie cutter or your template, trace out as many hearts as you can onto your sheet of cardstock (see above example). A side note on the cardstock, at first I tried using some leftover cardboard for my heart cutouts. I found it really difficult to cut through. In the interest of saving your fingers, I recommend cardstock – it's still rigid enough but so much easier to use. 
Once you have your hearts traced, start cutting them out!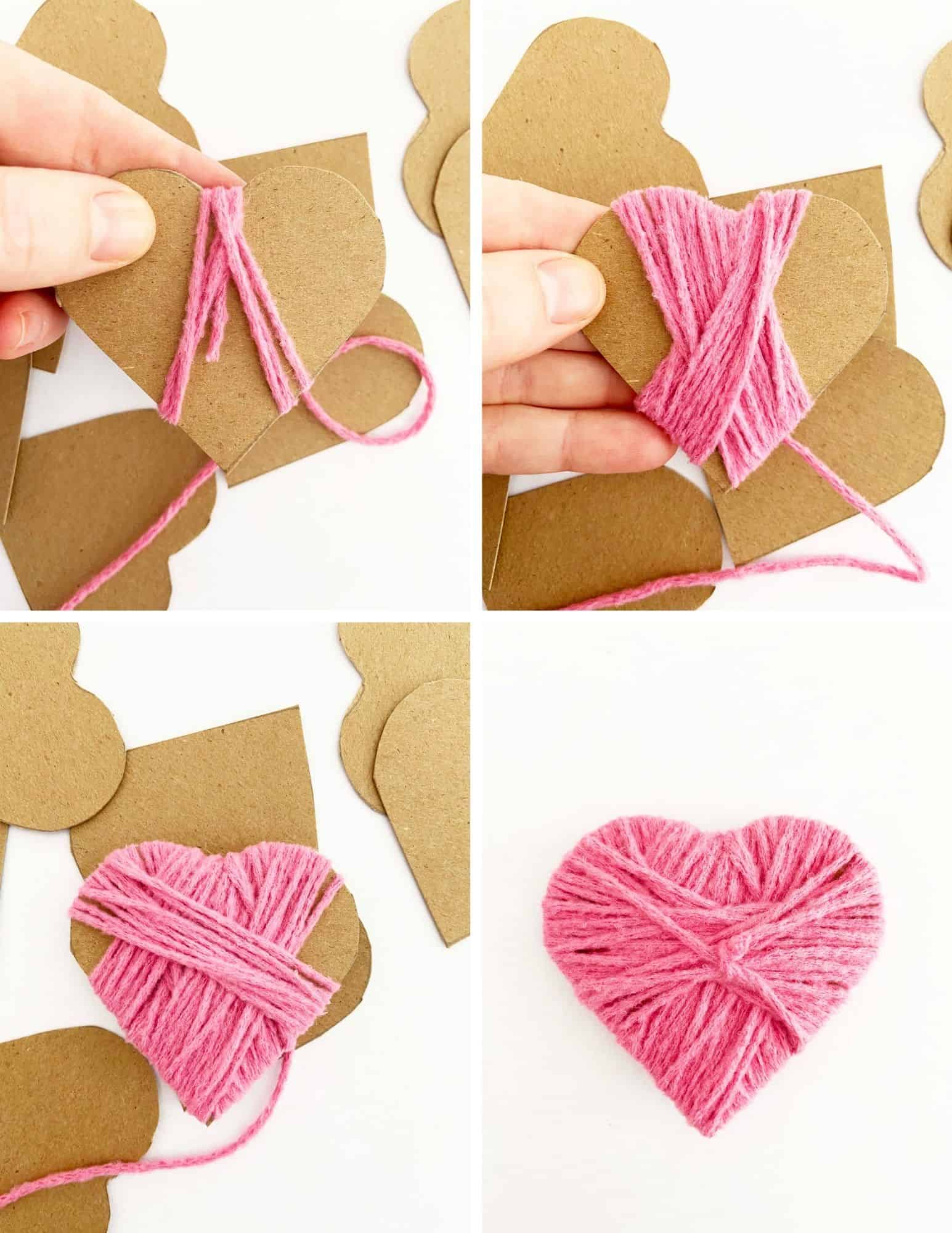 3. Unravel a good amount of yarn, but don't cut it yet. Take your heart cutout, and start the yarn by placing a piece of it over the top of your heart (where the dip is). Wrap some yarn around it to keep it in place (see example in top left picture above). 
4. Continue wrapping the yarn around the heart cutout. I chose to keep wrapping from the top of the heart out, but you can wrap it any direction you want to. Part of the beauty of these hearts is the fact that the yarn kind of criss crosses every which way on them. It adds to the cozy, homemade factor! 
5. Continue wrapping your heart until the cardstock is completely covered. It's important not to cut your yarn off until you are done. It's really hard to tell how much yarn you're going to need to cover the heart, so save yourself the headache and cut at the end!
6. Once the heart is covered completely, cut the yarn and tie it off to one of the pieces of yarn already wrapped around the heart (see example in last picture above).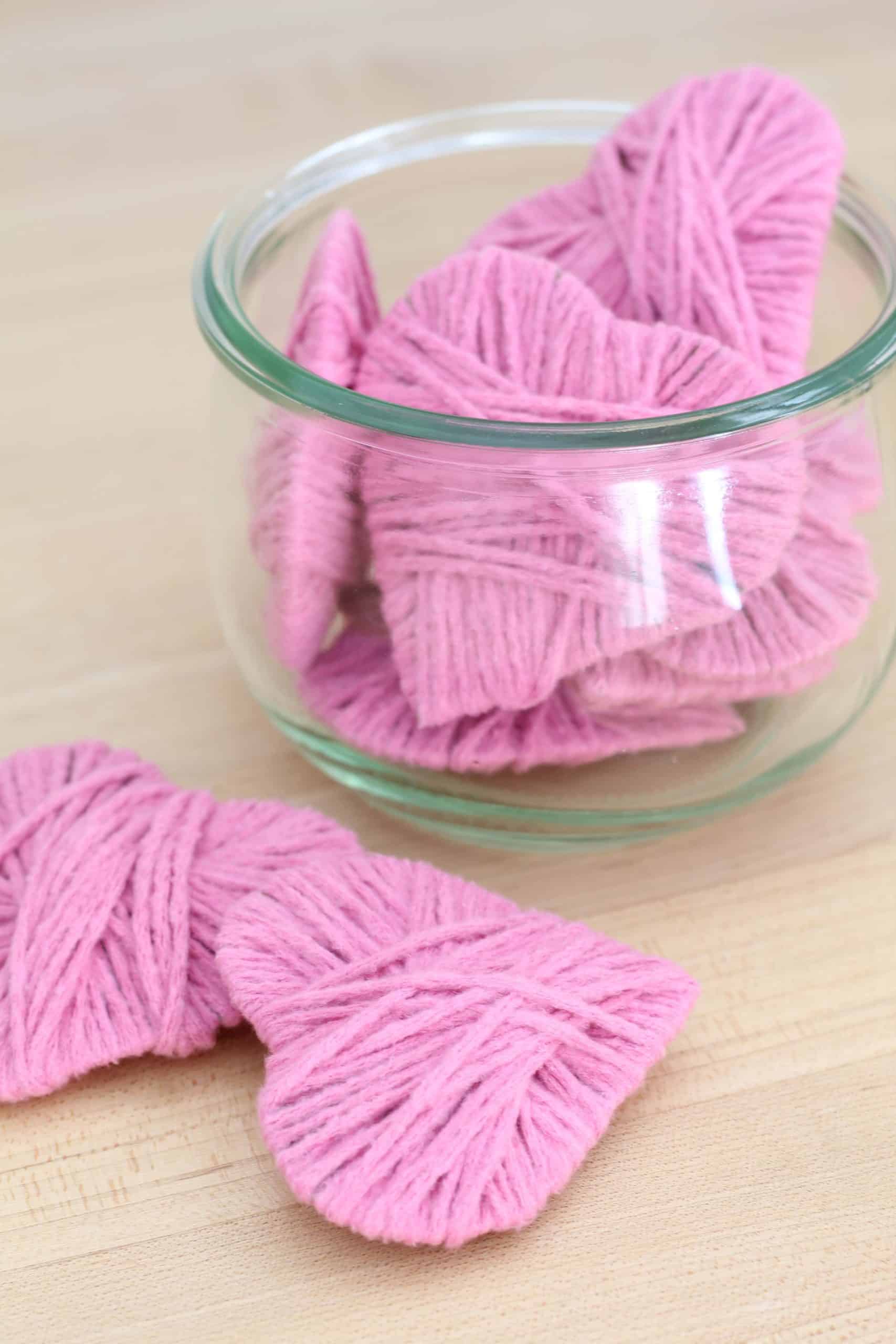 What To Do With Your Yarn Hearts
Here are some of my favorite ways to use these hearts: 
In a glass jar displayed on a shelf or kitchen counter.
Given as gift to make someone's Valentine's Day.
Displayed in a wooden dough bowl or dish.
Tucked in a card to brighten a friend's day. 
I have these stacked inside my glass wreck jars on some open shelving in my kitchen right now. They're a fun little reminder that there is love and brightness in the world, we just need to look for it!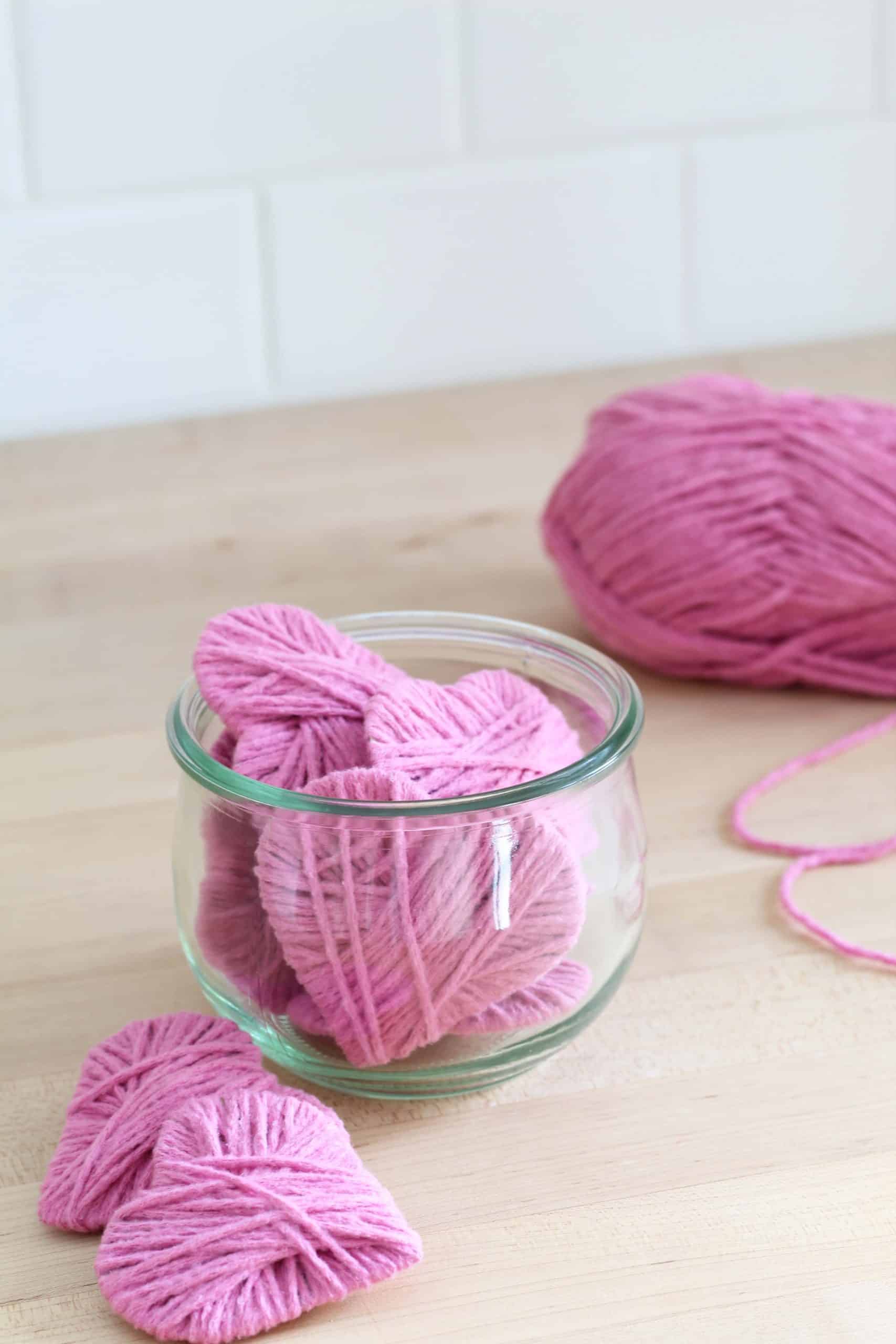 I think what I may love most about these is how easy they are to make. They're the perfect craft to make on a Saturday night while you sip a hot chocolate and watch a Hallmark movie. Enjoy! ?
Shop The Post

Enjoy this post? You might like these:
This post contains some affiliate links for your convenience. Click here to read my full disclosure policy.
Want to save this post? Pin it here!