The entryway is the first thing people see when they enter your home and their last impression when they leave. Here's how we added character to our entryway.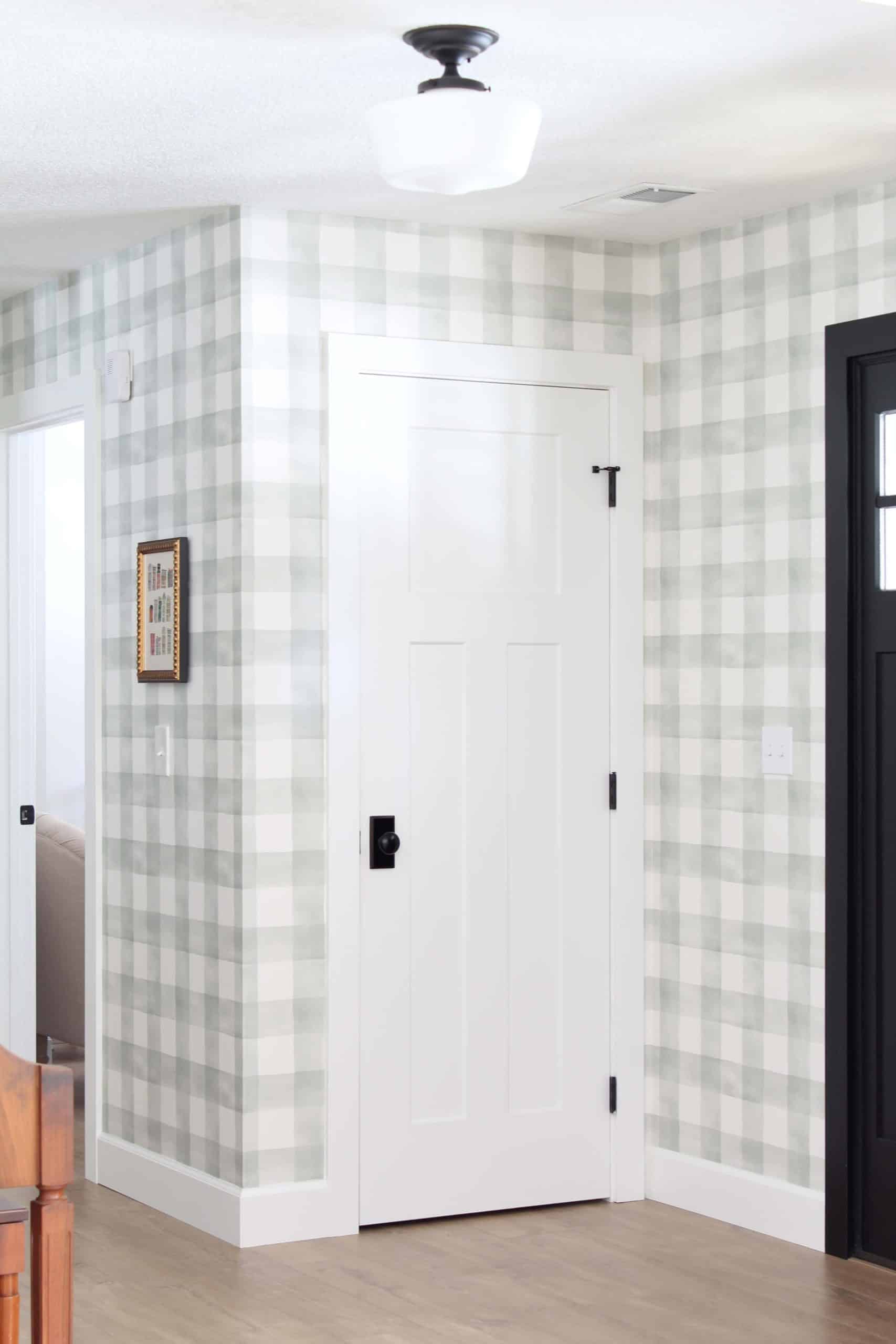 The entryway in our home has been one of the last areas to get attention since we move in. Which really shouldn't be the case since we walk though it multiple times each day and it's the first thing you see when you come into our home. But a combination of general busyness and a lack of inspiration have kept it less than finished for the past couple of years.
A couple of months ago, I finally got a plan together for the general direction I wanted go with the area. I knew I wanted it to be as light and bright as possible and I wanted to add some character to a space that was pretty much a blank canvas with white walls. Below are five ways we added character to our entryway.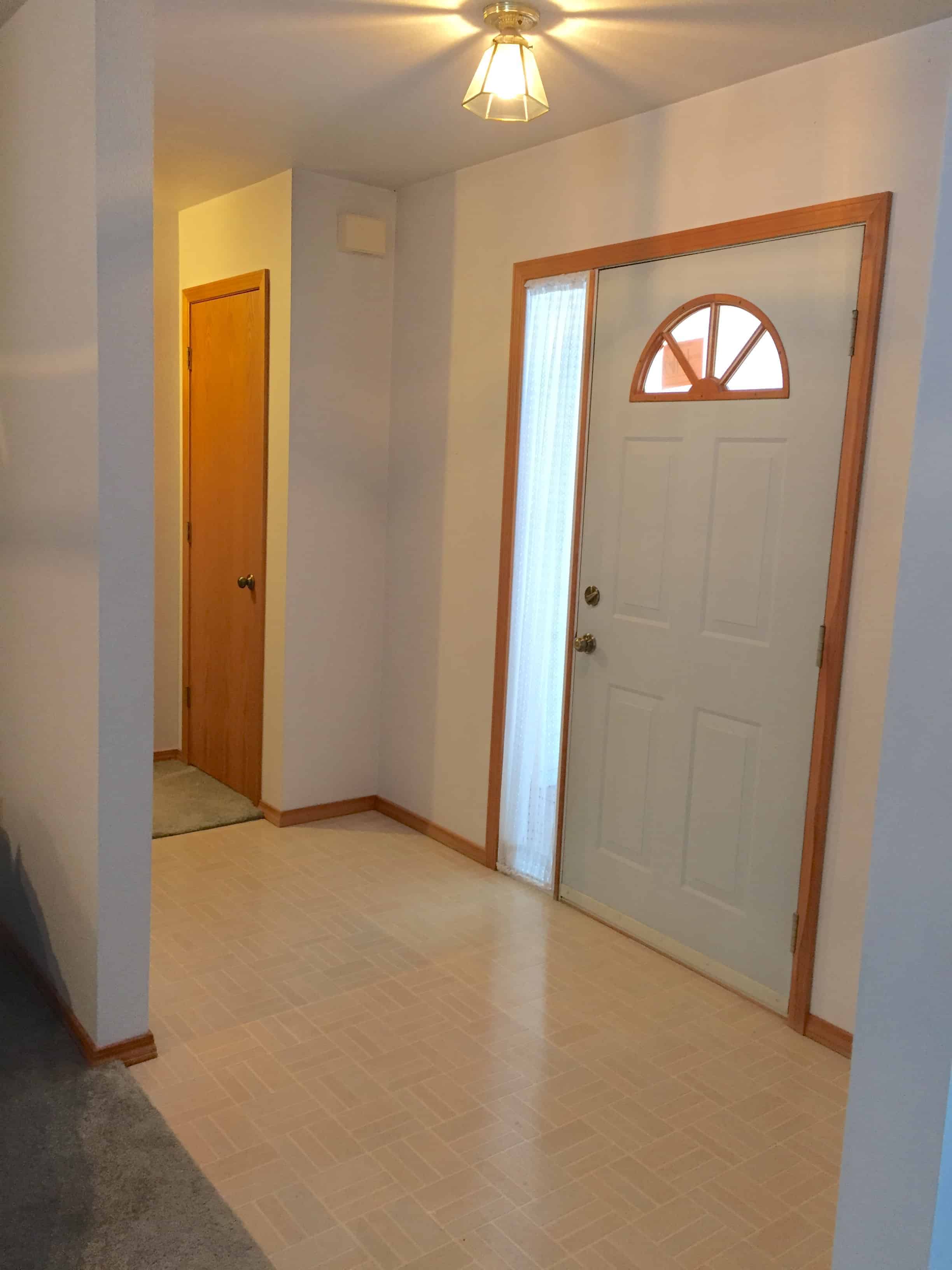 Annnnnd, a quick before/pre-renovation picture so you can see how it all started. We took space from the former dining room to make the entryway a larger space and added a wall to make it feel like it's own room. The wall also provided a spot for our piano.
1. Bring In A Big Ticket Design Element
If your entryway feels plain or underwhelming, a design element that makes a statement might be just what you need. For me, this was wallpaper. But is could also easily be a fun paint color, wall decals, a stick on mural, etc. What you end up choosing will depend on your own style and aesthetic and how busy, colorful, or serene you want your entryway to feel.
I ended up choosing this watercolor check wallpaper  in the sky color (which is kind of a soft mint). I love how it fits in with the colors throughout the rest of our home and plays nicely off of our modern floral laundry room wallpaper.
It makes our entryway feel like it's own designated space and really made if feel less sterile and more cozy.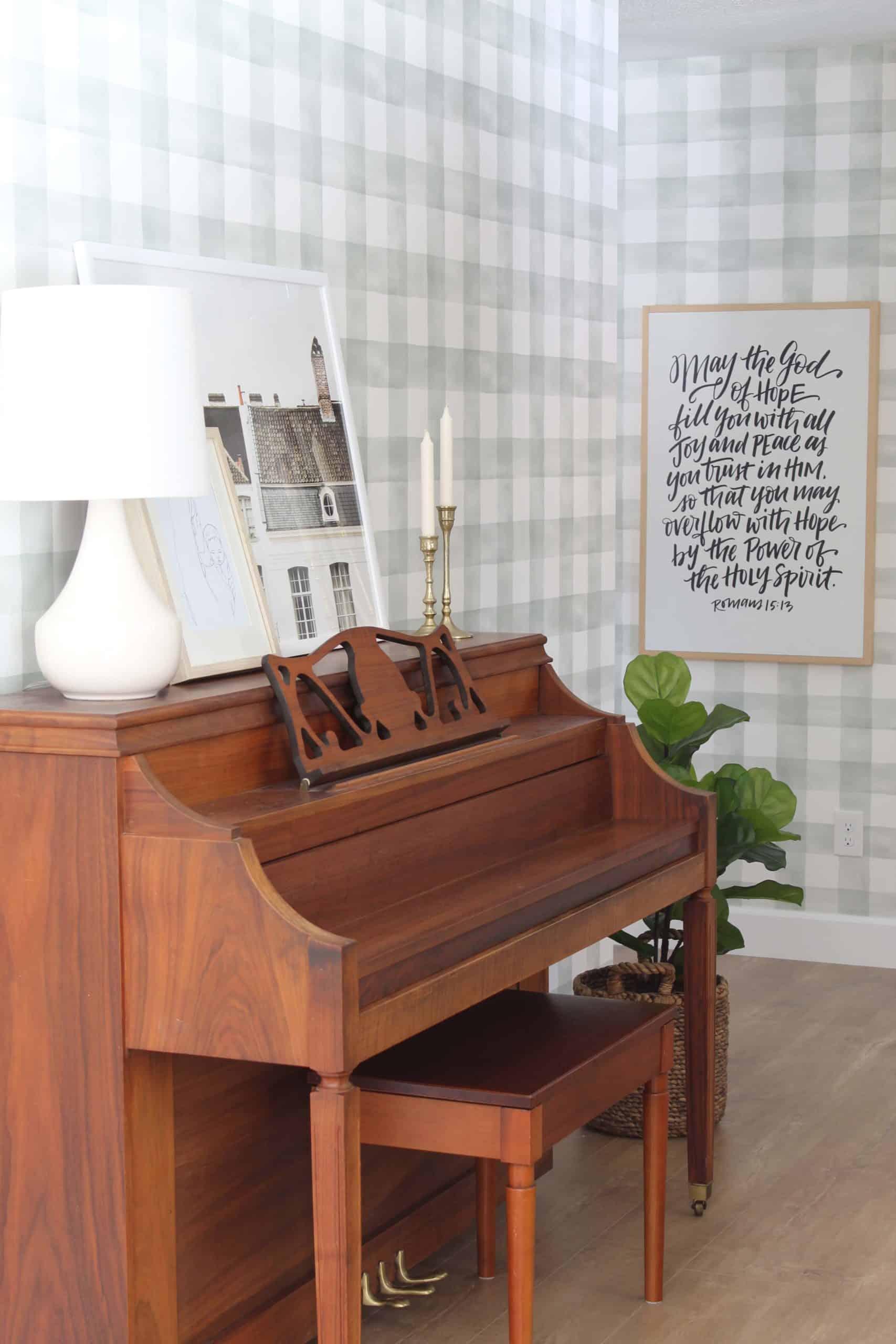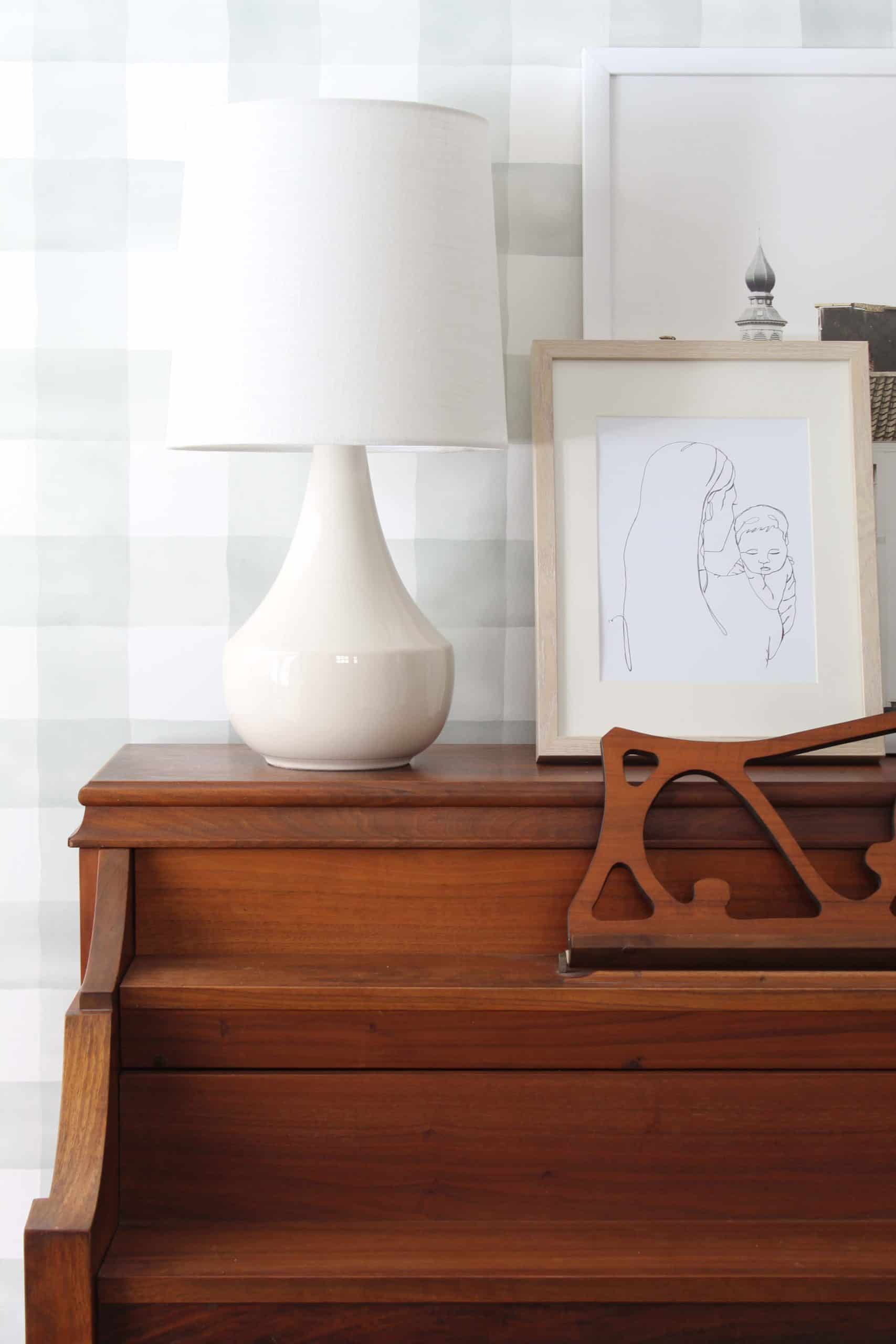 2. Use Art To Tell A Story About Your Home
I believe art is an opportunity to bring something into your home that is uniquely you. Whether you buy it or make it, art is so personal. It tells the story of you, your home, your family. I used a mixture of european  architecture art and word art in our entryway to remind us of magical past vacations and the family values we hold close.
Figure out what kind of art you love, the story you want to tell. Shop your home and look for art you may have tucked away in closets or spare bedrooms. Collect 3-4 pieces that speak to you and try them out in different spots in your entryway. Here are some ways to display your art:
Leaned against a wall on an entryway table
Layered over each other to create depth an interest
Hung as a group to create a gallery wall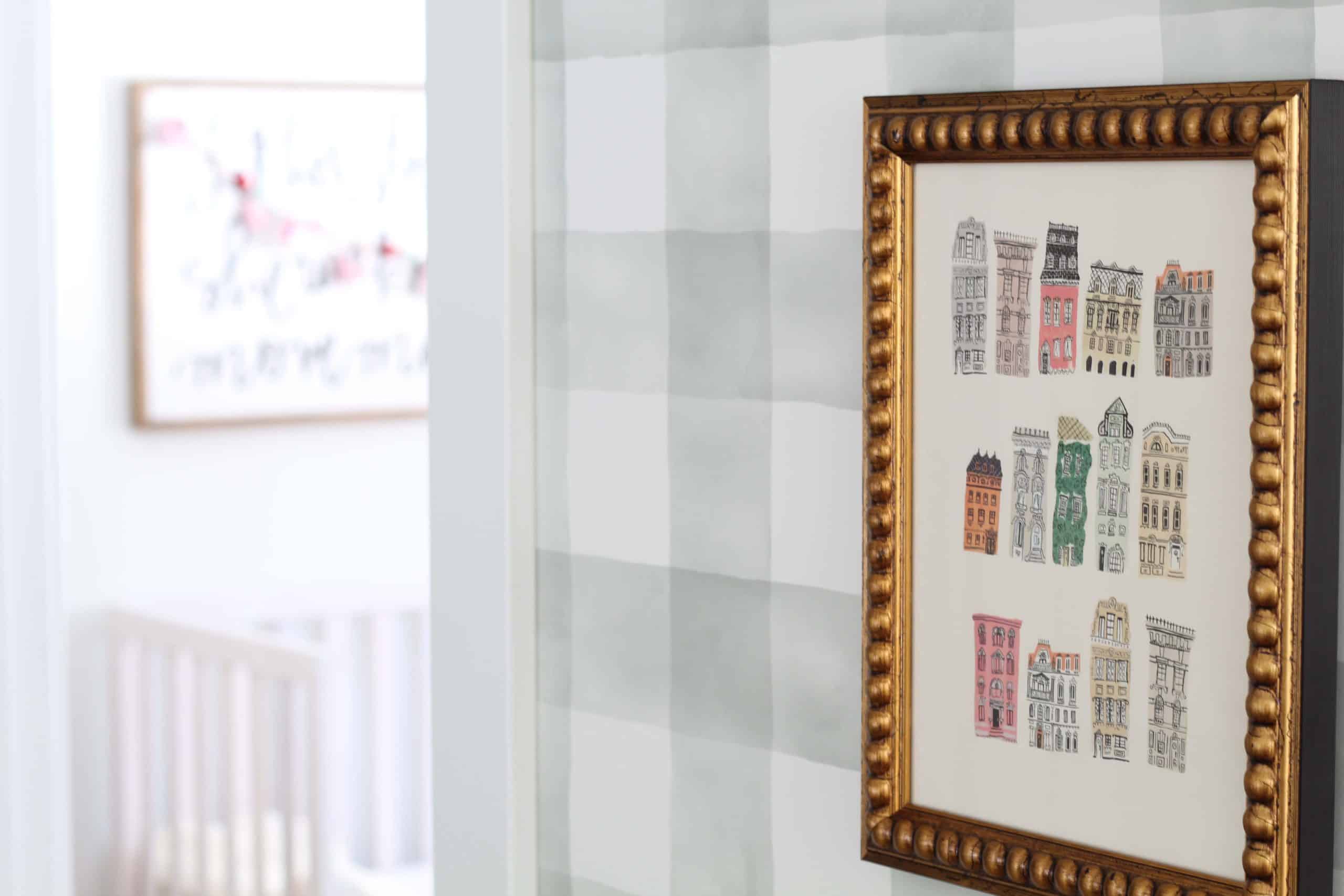 Upgrade Builder Grade Knobs & Doors
If you have it in your budget, upgrading doors or fixtures is a great way to add instant character. Changing out door knobs to something unique to your homes style, vintage, or a different finish can add charm to something that's normally overlooked.
We looked for door knobs that had a panel back to them to mimic something you might see in an older home. Same with the doors, three panel craftsman style doors weren't much of a difference in price from a standard six panel door, and they lend a little charm where there wasn't any before.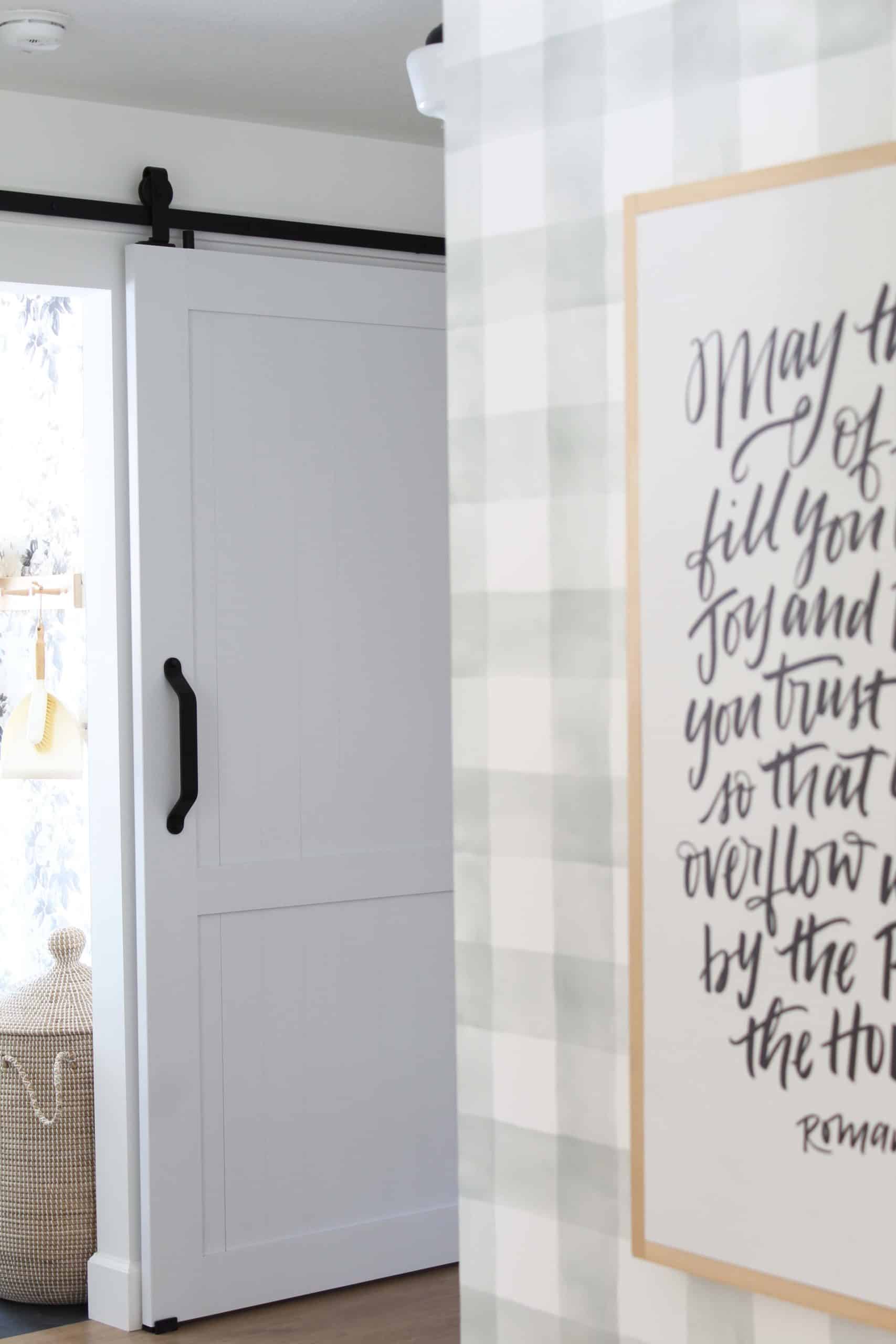 Add Interesting Lighting
Lighting can sometimes be underestimated when it comes to its impact on a home. There are so many different and affordable lighting options out there, take advantage of them! If you love something that is out of your budget, keep searching, often times there are really good dupes available at a much lower price. My favorite places to shop affordable lighting are Amazon and World Market.
We have school house flush mount lights throughout our entryway (and home) rather than can lights. That decision was based on a deliberate attempt to add some character through lighting, and I've never regretted it!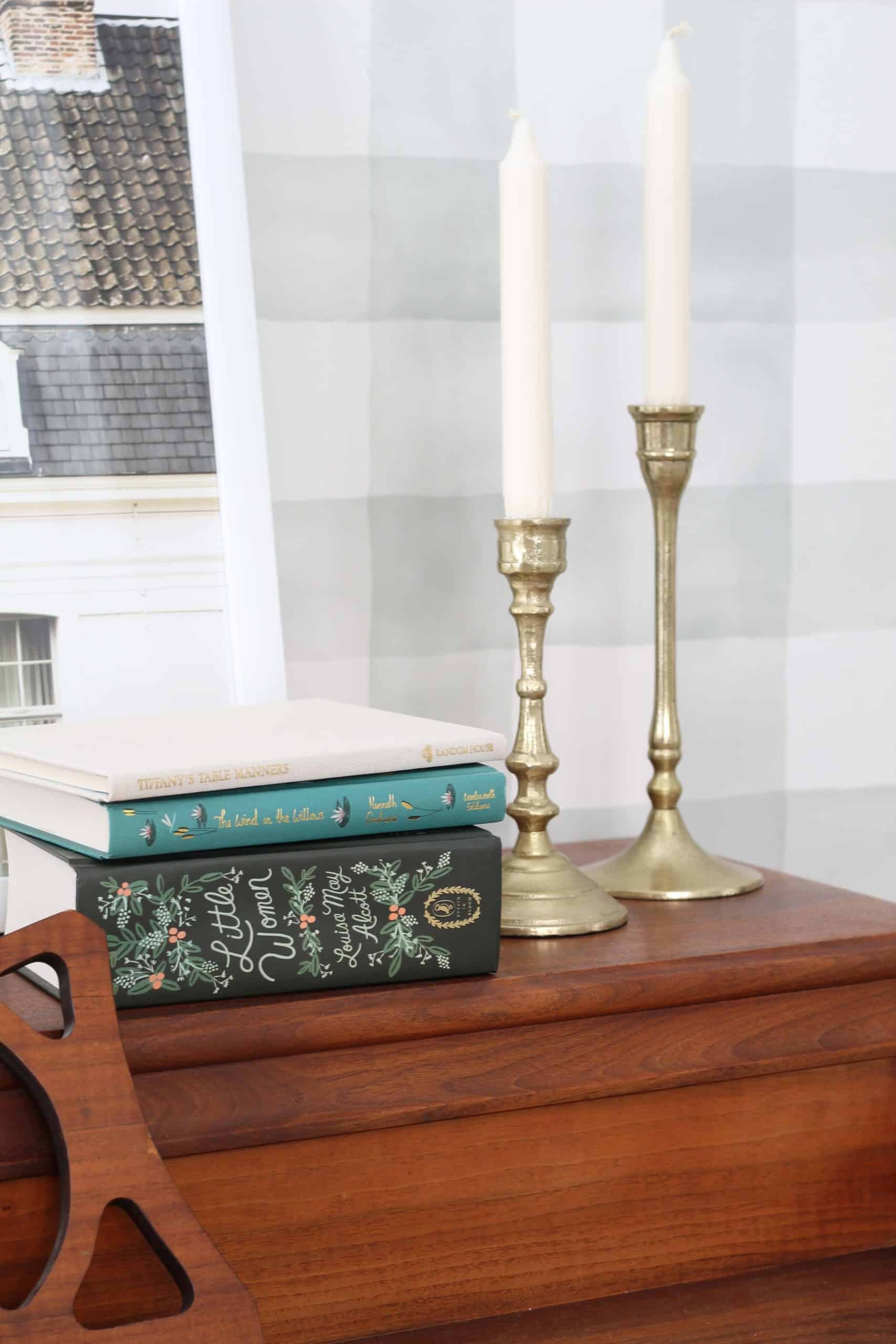 Give Your Entryway A Purpose (Besides Hanging Coats)
Entryways can run the gamut when it comes to size. If you happen to have extra space in your entryway, think about how you could put it to good use. We have our piano in our entryway, making it into a sort of pseudo music room. Since we live in a two bedroom home, this provides us with space we wouldn't otherwise have.
Try thinking outside of the box when it comes to how you use your entryway. Could it provide you with extra space you need? Or serve a purpose you may never have considered before?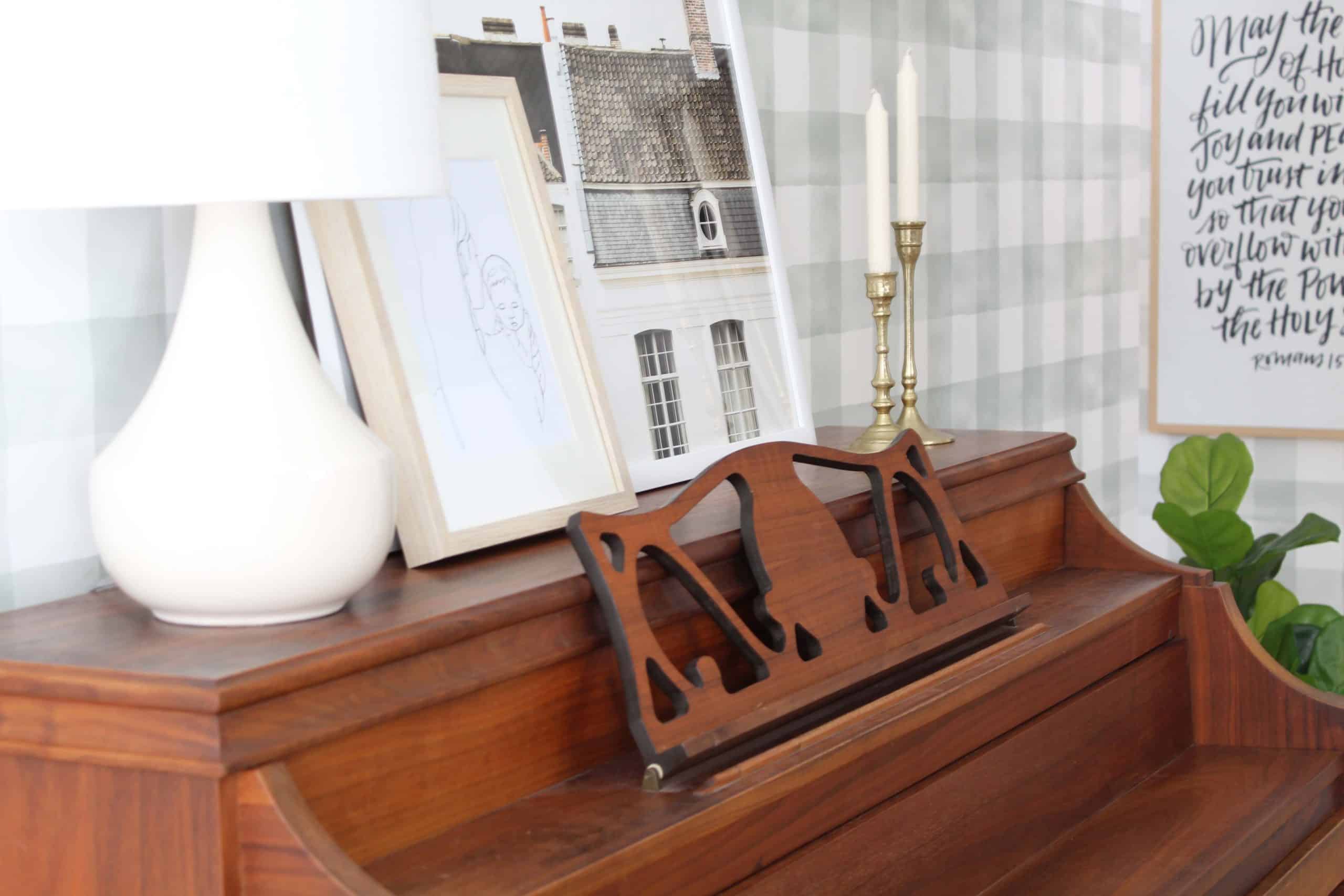 I'm not sure our entryway will ever be completely "done" because I believe a home is ever evolving. But I I'm so pleased with the way everything is coming together and feeling cozier and more homey!
Shop The Post

Like this post? You might enjoy these:
This post contains some affiliate links for your convenience. Click here to read my full disclosure policy.
Want to save this post? Pin it here!