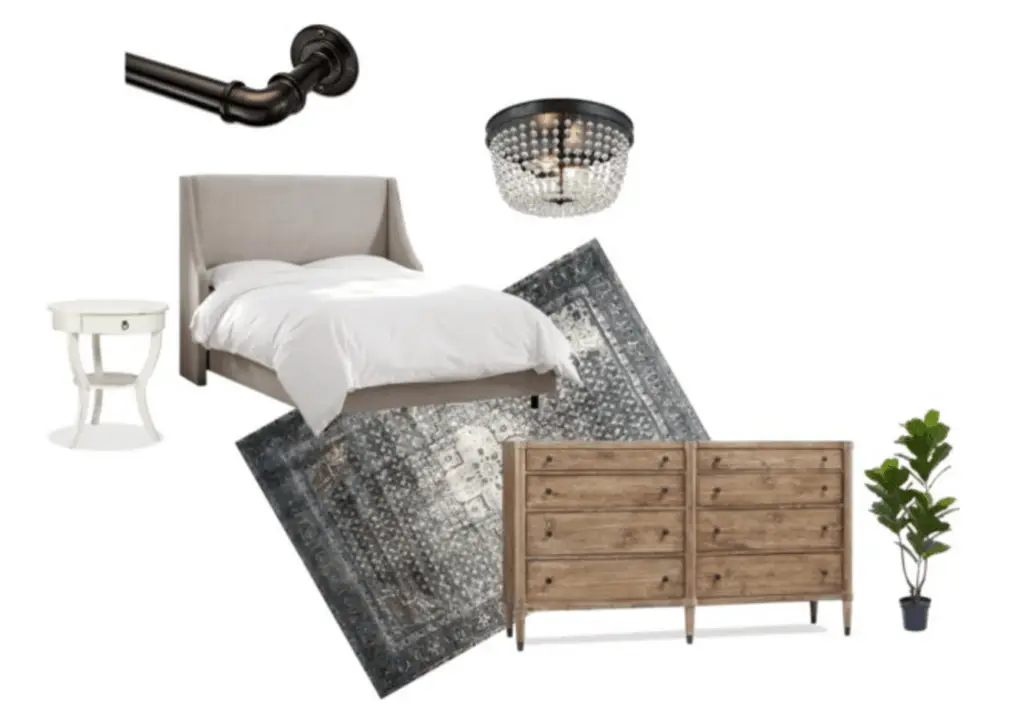 Bed | Side Table | Rug | Dresser | Flush Mount Light | Curtain Rod | Fiddle Leaf
I hesitate to tell you how long I've been working on this design board and how many times it's changed. I might sound a little crazy. Or OCD. Or both. Needless to say, I've lost count of what version I'm on.
Design boards (or mood boards) are great because they help you see all of the elements of the room you are designing in one place. This is especially helpful if you're trying to visualize the finished product but don't have everything in front of you. Which, let's face it, who does?
For months I've been trying to narrow down how exactly I want our master bedroom to feel in our new home. Our house is in the woods, so I want it to be a little bit moody, but I also want it to feel light and bright. Which, honestly, I'm not sure it's even possible to have both of those things at the same time. I think I'm close to at least getting the basics down – bed, rug, etc. Once we've actually lived in the space for a while I'll have a better idea on the finishing touches – paint, curtains, etc.
Which brings us to the above design board. The main furniture is fairly neutral, which doesn't mean the room will be neutral. I know neutral rooms are a big trend right now, but I love color, particularly different shades of blue and green with some pops of pink. It's tempting sometimes to get sucked in by the different trends I see out there, but I always ultimately come back to what I love.
Our master bedroom isn't huge, but it's bigger than the one in our current home. I'm excited that we'll have room for a full size dresser (which we don't have currently) as well as some decorative accents like plants and art. All in all, it's coming along and I know at a certain point everything will  start to "click" from a design standpoint.
Stay tuned for more updates to come as we get closer to finishing this room!
Want to save this post?  Pin it here!