This Christmas gift guide is a compilation of some of my favorite, most used, everyday items!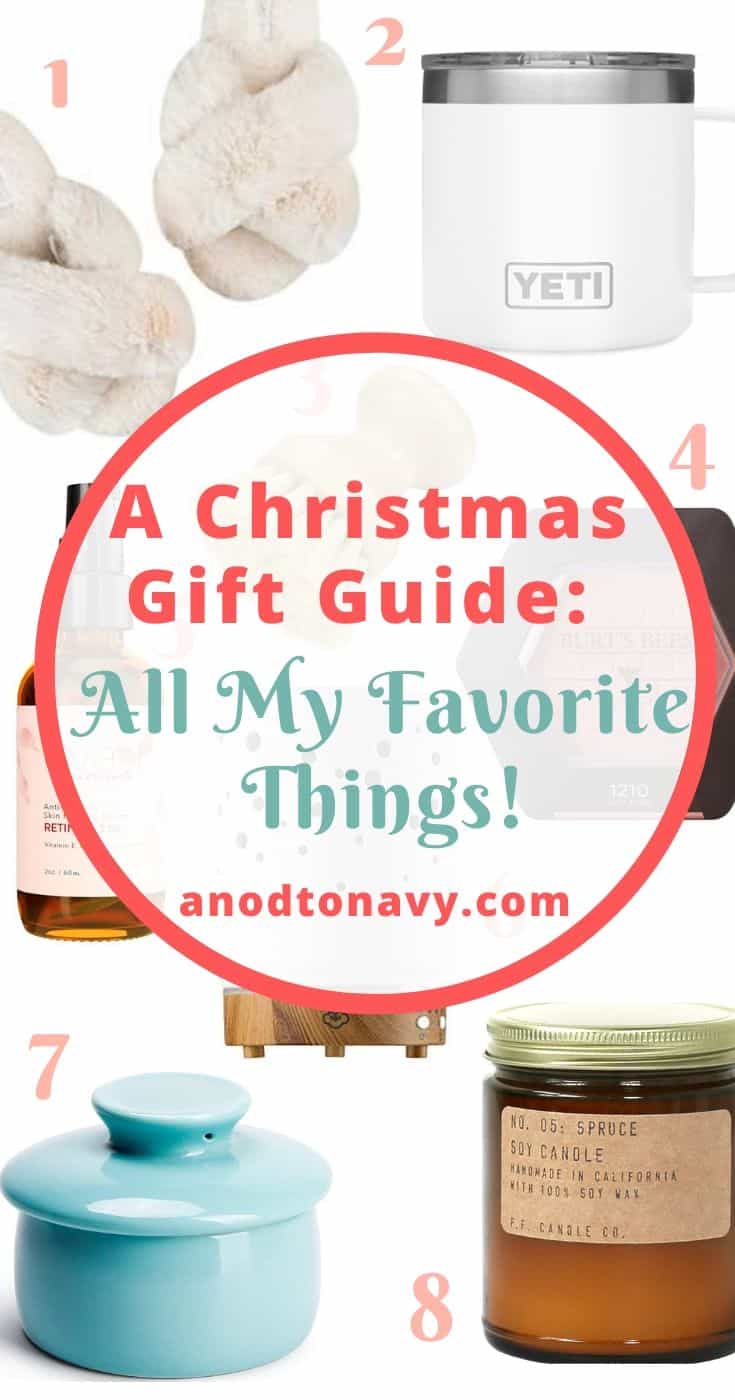 Black Friday is just around the corner and I know it probably seems like everybody and their mother has a gift guide out. Trust me, I know the feeling. Our family works hard not to get too caught up in the consumerism of the Christmas holiday season (especially since it seems to start earlier every year!) And it is a constant struggle to readjust our focus and remember the real reason that we celebrate this season.
That being said, some of my favorite Christmas purchases over the years have been based on recommendations from some of my favorite bloggers. So, I feel like if I can give a review or recommendation on something to my readers that's helpful and not just about pushing stuff, it might make your gift giving experience just a little bit merrier.  🙂
Gift giving is one of my love languages, and finding the perfect gift that someone will use and enjoy brings me so much joy.  So, at the risk of releasing one more gift guide out into the internet I'm going to give you my abbreviated gift guide. These are some of my most loved, most used items over the past year or years. These are all items I own and have bought, and would buy again. I hope you find something useful!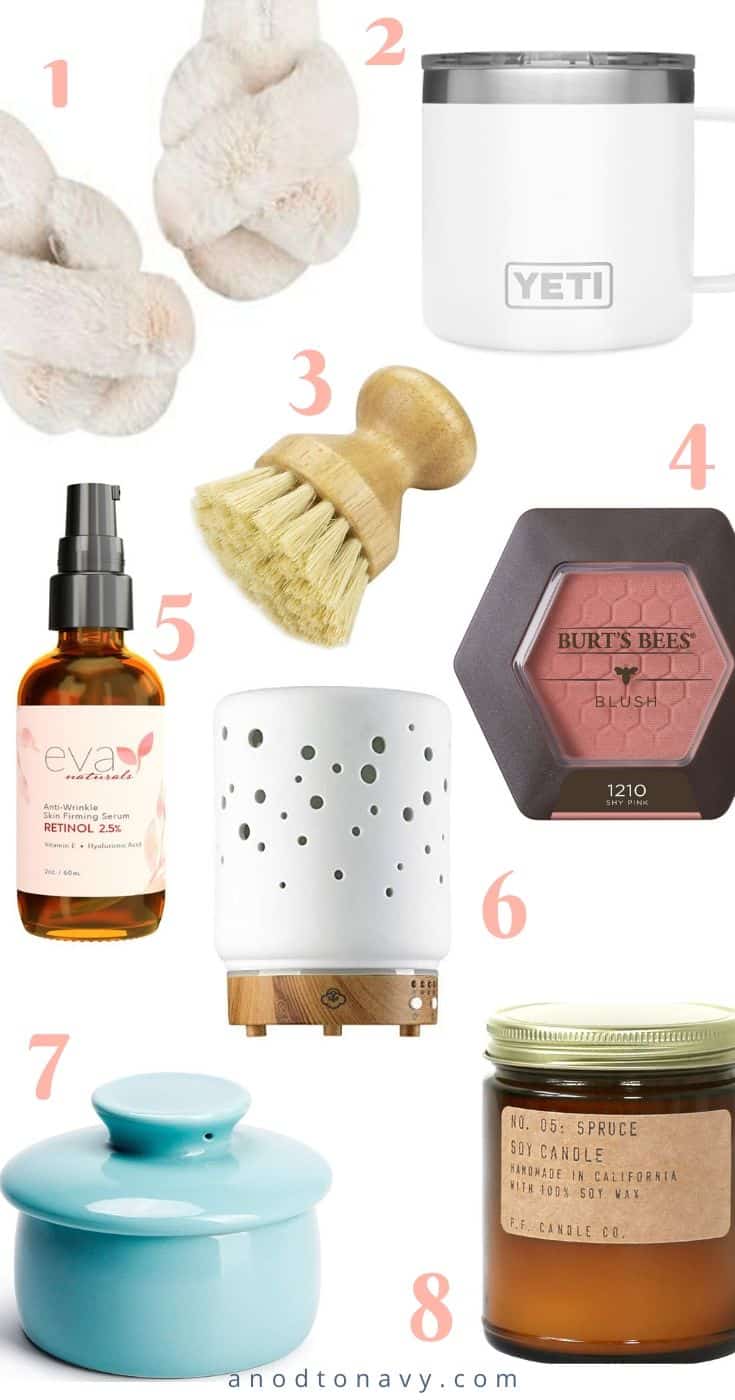 1 // 2 // 3 // 4 // 5 // 6 // 7 // 8
Christmas Gift Guide: My Favorite Things!
I'm not going to lie, I wear slippers for probably 90% of most days. We don't wear our outdoor shoes inside in our house. Compound that by the fact that I'm home all day with kids, and you have the perfect recipe for an avid slipper wearer. These plush fleece slippers are so soft and look so pretty! The price point is great and I love the fact that I feel cute wearing them despite the toddler oatmeal on my shirt most days.
I started using an insulated coffee mug approximately 3 days after having a baby. While I love a great coffee mug, keeping my morning tea warm has become one of those things that seems just about impossible most mornings. I've been using this Yeti insulated mug for the past 6 months and I love it! It has a more tradition coffee cup shape along with a handle, which makes it stand out from the crowd of standard coffee thermoses.
In an effort to reduce the plastic consumption in our home, I switched to these wooded dish brushes last year. We use mostly cast iron for cookware, and these are amazing on them! The coconut bristles are strong enough to use on cast iron but soft enough to scrub our daily dishes with as well. Plus, they look beautiful sitting out on your counter in-between uses.
I switched to using this blush a couple of years ago and I've been so impressed. It's natural mineral blend is 100% natural and free from the toxic ingredients that a lot of make-up contains. The color selection is beautiful (I use the shy pink color). It also lasts forever – I finally just bought my second one.
Any dermatologist will tell you that retinol is one of the best ways to combat fine lines, wrinkles, and age spots. I've been using this Ava's naturals retinol serum for a couple of years now as a precursor to my night cream. It's not a super high strength so it doesn't irritate my skin. And of course, it doesn't have anything icky in the ingredients.
If I could recommend any brand of diffuser, it would be Serene Home. They're high quality and the perfect blend of form and function. The starlight diffuser looks like a piece of art on our dresser and I look forward to turning it on every evening. There's nothing like diffusing some orange or grapefruit oil while I get to unwind with a book and some music.
Three years ago we switched to just using regular butter for our cooking and general use. The only downside? Hard butter out of the fridge. Who wants that on their toast or scone? Enter the french butter bell. I saw these everywhere when my husband and I went on a European trip years ago. If you haven't seen one of these before, it allows you to keep your butter out on the counter (and soft) while still keeping it fresh! Such a simple, genius invention that we use in our kitchen daily.
I love candles, and I love making my own, but if I'm not up for making a batch of my own, these are the candle I buy as a treat. The soy candle and cotton wick don't have anything toxic in them and the high quality fragrance oil used to scent them isn't overwhelming. I've been burning the spruce scented one on our kitchen island to add a little winter ambiance to our home.  The sweet grapefruit candle just might be on my Christmas wish list as well!
I hope this gift guide gives you some ideas without being overwhelming! And may you find peace and joy in this season of celebration!
This post contains some affiliate links for your convenience. Click here to read my full disclosure policy.
Want to save this post? Pin it here!