The Christmas season is great time to revisit old classics, one way we love to do this is by pulling out our favorite children's Christmas books!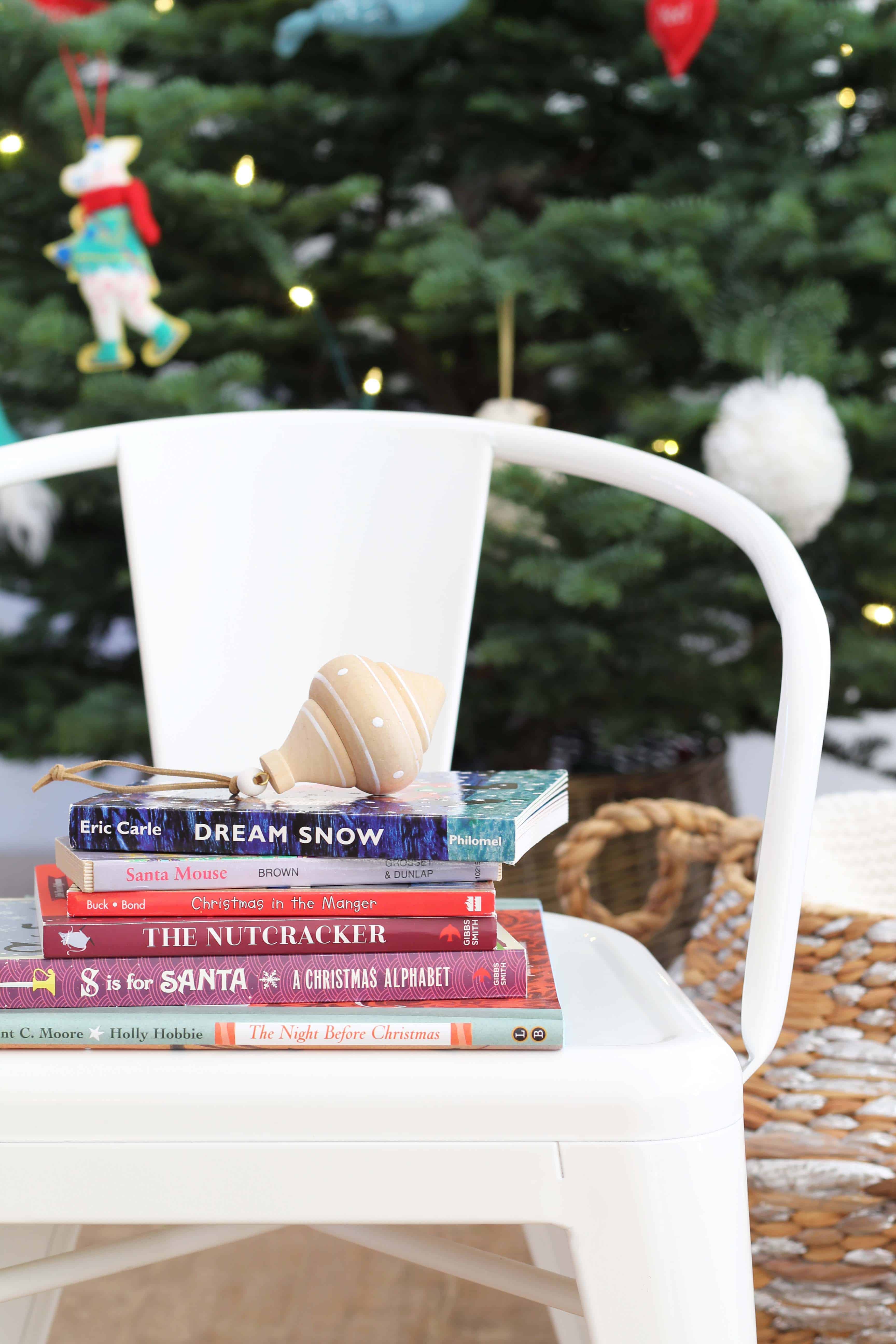 This post contains some affiliate links for your convenience. Click here to read my full disclosure policy.
As a book lover it's my fondest wish to pass on my love of reading to our daughter. One of my favorite ways to keep books front and center in our home is to curate different book lists to read throughout the different seasons and holidays. It's nothing fancy, sometimes it's as simple as pulling out the books for that season and putting them by our reading chair in the nursery so they're ready to pull out and enjoy.
There are so many different ways you could incorporate this into your home; here are some of the main reasons it works so well for us:
Makes old books new again as you rediscover them each holiday/season.
Helps rotate the books in your collection.
Gives us something special to look forward to that we already have!
I do this for a few major holidays throughout the year and put together a more general stack of books each season as well. Obviously Christmas is a holiday that has a huge amount of literature surrounding it, so there are certainly plenty of children's books to choose from on the subject!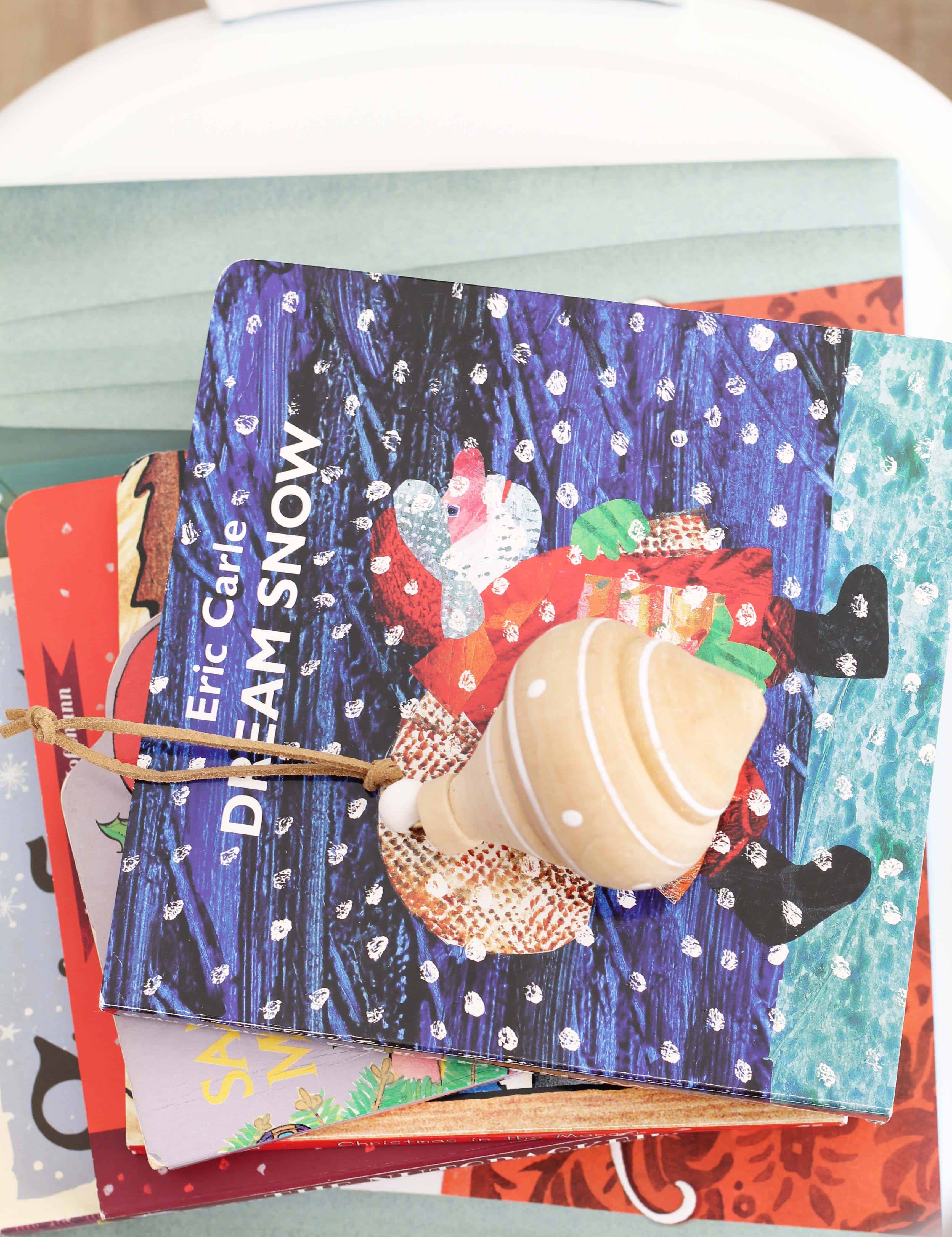 For the Love of Books
We started our collection of children's books by asking friends and family for them as gifts, and over the last few years our little children's library has slowly but surely grown 🙂 Getting books as Christmas gifts is one of those traditions that truly is the gift that keeps on giving throughout the year! Plus, in my experience, books seem to outlast even the flashiest toy when it comes to how long and how often we use them.
If you're looking to add to your children's Christmas book collection I've put together a short list of a few of our go to Christmas favorites. These are tried and true favorites that are well on their way to becoming family traditions year after year.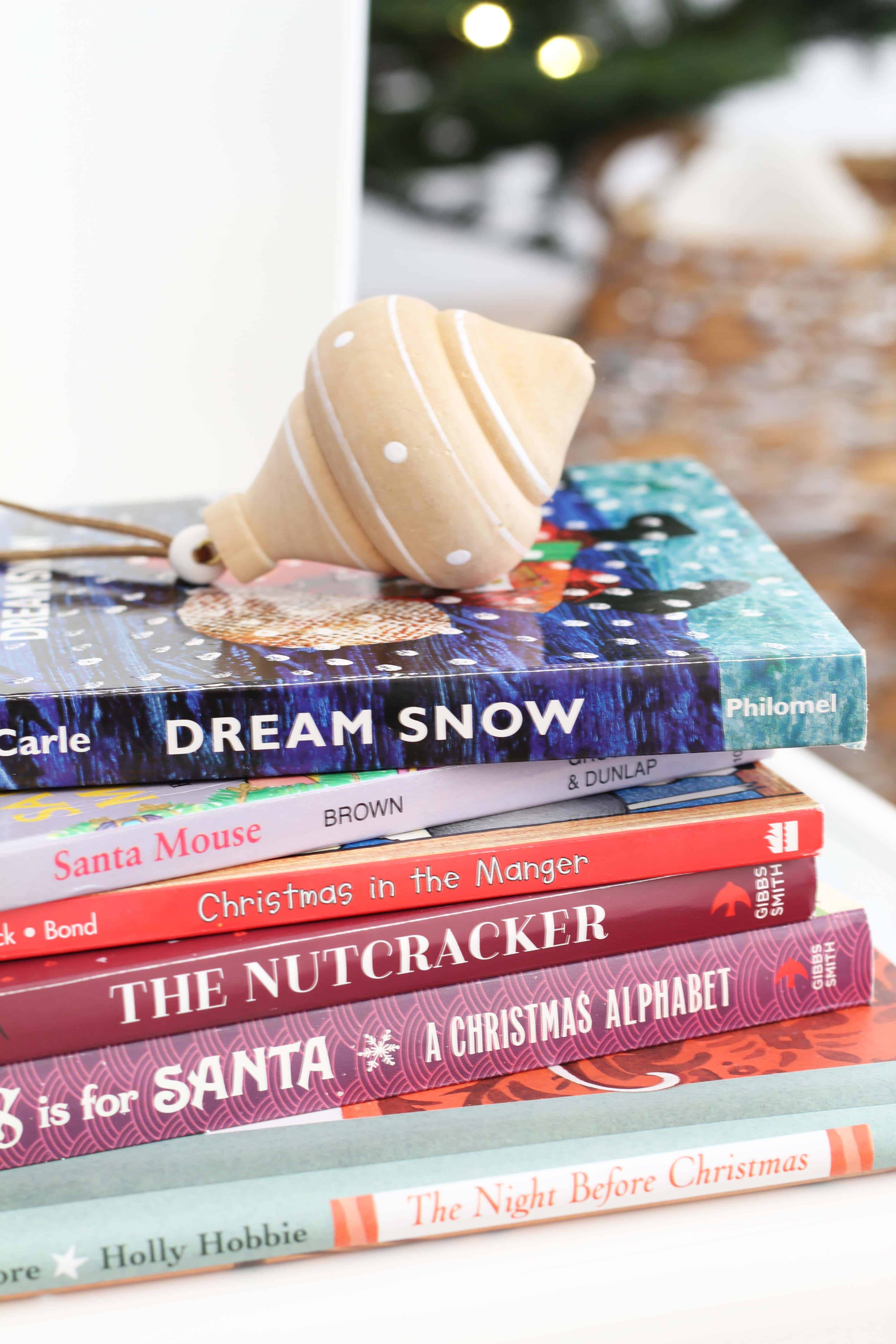 Our Favorite Children's Christmas Books
Dream Snow – Dream Snow is by the same author, Carle, who wrote The Hungry Caterpillar, an all time classic children's book. The illustrations alone are enough to make this book worth the read. They're vibrant and colorful and marked by the same unique style that Carle uses in all of his art. The storyline is simple and cozy, but also a unique take on Christmas that stands out from more traditional Christmas tales.
Santa Mouse – This story is about a thoughtful and caring mouse who has no name. One Christmas he decides to leave a gift for Santa and is surprised by what he receives in return! The storyline is cute, but I think one of the main reasons kids love it so much is the rhyming throughout the book. It really is a heartfelt story that captures the true joy of the season!
Christmas In The Manger  – This book is a super simple take on the Christmas story through the eyes of the main characters (including the animals!) It has great rhyming and alliteration as well as simple art that is easily understandable for toddlers. The Christmas message that the birth of Jesus is the reason for Christmas as well as the hope he brings us is the main theme throughout the story.
The Nutcracker – The Nutcracker is part of the "babylit" series, which is a cute series that simplifies and reimagines more complicated adult literature (we also own the Pride and Prejudice version). This was   one of the first Christmas books I read to our daughter when she was a baby. The pictures are simple and big and the story equally as simple. Don't expect a true storyline with these books, but rather pictures to look at and talk about.
S is for Santa – S is for Santa is an alphabet primer with Christmas as its subject. What I love most about it is the retro take on the subject of Christmas.  It feels like a book from the 50's and the illustrations are detailed and numerous. Your child could flip through this for hours and still not see everything in the art.
The Night Before Christmas –  This is another retake on an old Christmas classic. The story is as timeless as ever, but with a fresh new spin to it. This book is a little longer and more suitable for older toddlers. The watercolor illustrations are minimal with a beautiful blue and red theme throughout. It's one of those classic Christmas stories that makes you believe in the magic of the season.
Interest in more? You might enjoy these:
A Creative Alternative to a Christmas Mantle 
Want to save this post? Pin it here!