I love colorful spaces that have an inviting feeling when you enter them. This casual and colorful cottage living room design board is full of ideas to capture that feeling.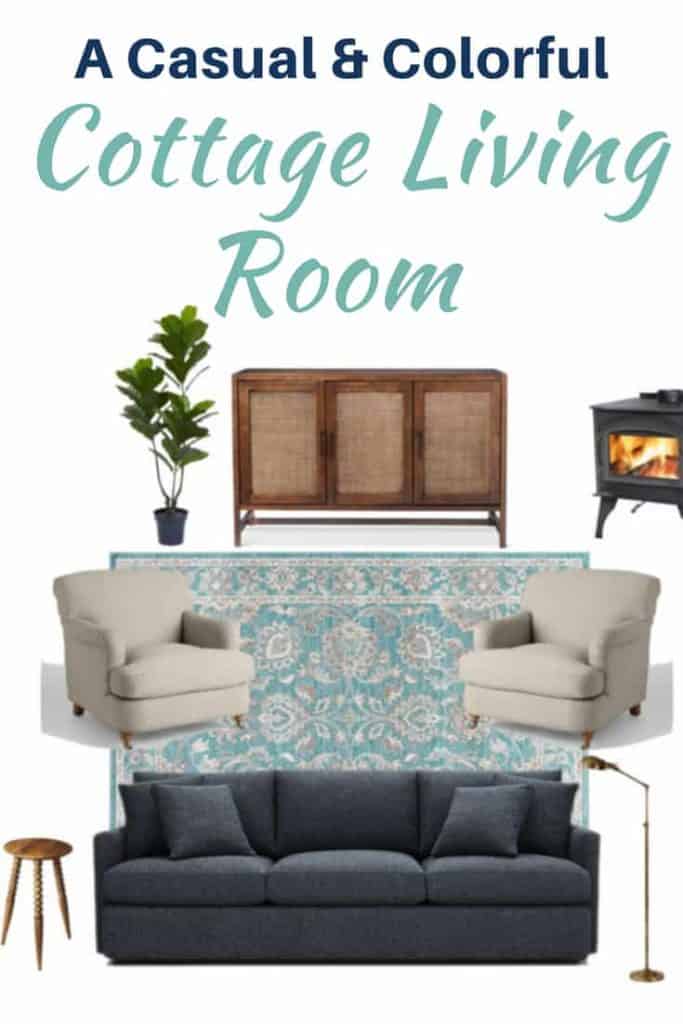 We are currently in the process of moving into our new home, which means it's time to start thinking about how we actually want to arrange rooms and what we want them to feel like. Since our walls and flooring is pretty neutral, I'm excited to bring some color into the spaces, starting with our living room.
The Sofa
For the last eight years we've had a white slipcovered sectional from Pottery Barn in our current family room. While we've loved it, it's time to move onto something less white since the rest of the room will have so much of it. The white has been so versatile (which I will totally miss, btw!) and if I'm being totally honest, I'm kind of nervous about not having that neutral base in our main living area.
Since a sofa is really the centerpiece of a living space, and the piece of furniture we probably spend the most time sitting on, it's a big decision! Enter the navy blue sofa. I've been contemplating a navy sofa for a while (probably way more than I should be) and have been hesitant to pull the trigger because it's such a big purchase, plus there's been a lot of research to do and reviews to read! So far the top contender is the Crate & Barrel Lounge II sofa. I'll let you know when I finally make a decision;)
The Other Design Elements
As with most of my design boards, I've included the items we already own so that I can see how they work with the other elements I'm thinking about adding. We already own the media console, brass apothecary lamp, and side table; so really it's mostly about deciding what the main furniture and rug  will be.
I'm always drawn to shades of blue for our main decorative items, and as you can see, this design board is no different. At one point I tried to change the colors throughout our home because I felt like I was in a design rut. But you know what? I just didn't love the changes; I love blue, so why not stick with what I love rather than trying to change for no other reason than because I feel like I should? So blue it is.
Lastly, let's talk about the feel of the room. Each home has its own personality, and a room is really no different. I've found that the easiest way to determine the personality of a room or home is by living there for a while. You can plan and do design boards all day long, but in the end actually living there tells you what you really need to know. So that's my plan, get the basic pieces down (so we have something to sit on), and then layer in the character and feel of the home as we live there and get to know it.
What about you? Do you decorate all at once or do you take the wait and see approach?
p.s. If you're interested in more design boards you might enjoy these:
Cottage Kitchen Design Elements
Post Sources
This post contains some affiliate links for your convenience. Click here to read my full disclosure policy.
Want to save this post? Pin it here!