Try out these 6 ways to add summer to your home for effortless ideas on bringing this light and airy season indoors.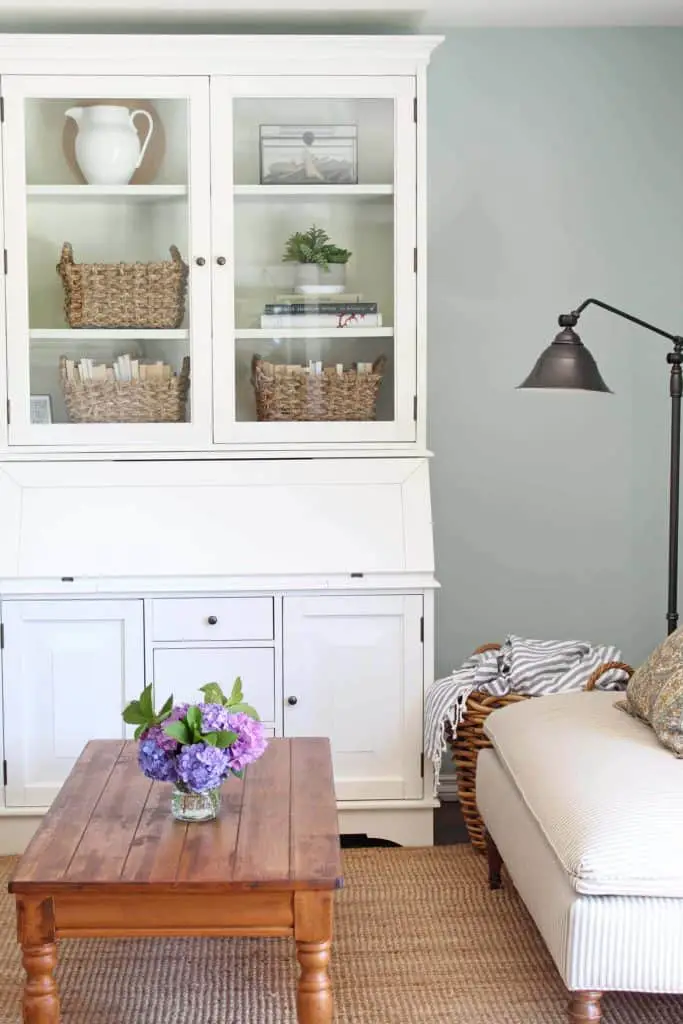 This post contains some affiliate links for your convenience. Click here to read my full disclosure policy.
Summertime is the decorating season that gets a little bit lost in the shuffle for me. I'm really good about fall (bring on the cozy!) but summer can be tricky, and if I'm not careful it can get kitschy fast! Over the years I've tried to define what summer in our home looks like and I keep coming back to the same elements over and over.
I've outlined these elements below, but I think it's also important to note that there is one characteristic that underlies them all, and that's simplicity.  Nothing feels more like summer to me than decluttering our home and silencing all the visual noise. Once the clutter is gone, we have the space to enjoy the simple stuff; long days swimming at the pool, popsicles in the backyard, and simple homemade meals.
By eliminating what doesn't have to be there  I think we get to focus on the little stuff, which often times makes life the sweetest. I hope these tips help you feel good about your home, but I also hope they remind you that it's about more than just decorating your home, it's about creating a haven for you and those around you.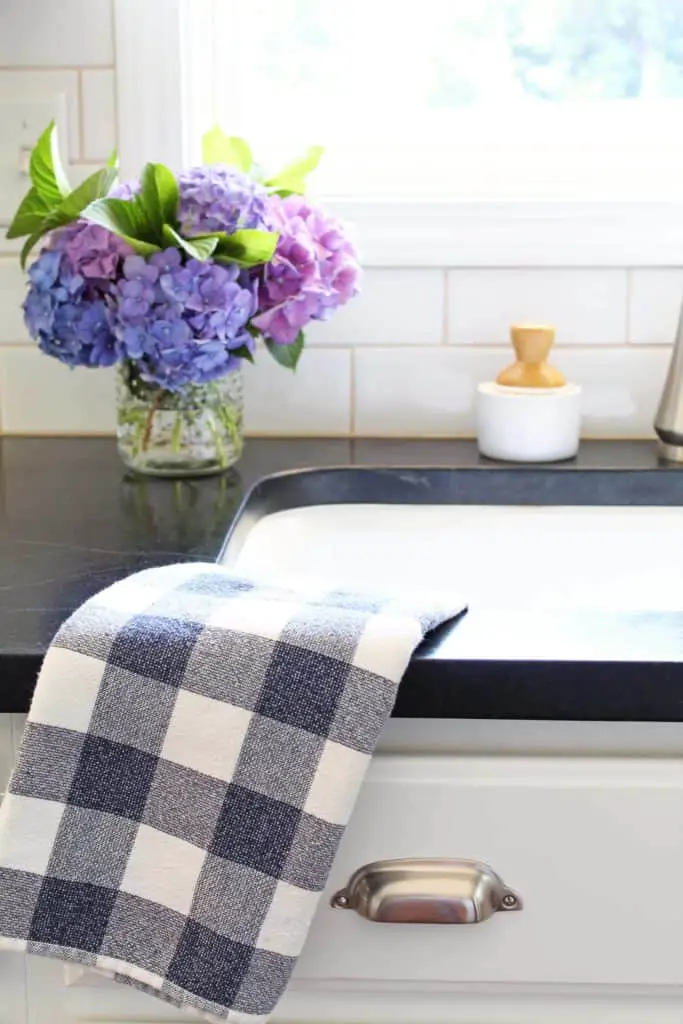 Add Fresh Flowers
My number one favorite way to add life to any room during any season is with flowers. Summertime is by far the most cost effective time to do it though. Not only are seasonal flowers like peonies and hydrangeas at their lowest prices, but if you have room for a container garden or regular garden, you can grow your own all summer long!
When we first got married I planted a hydrangea bush in our back yard, and let me tell you, it really is the gift that keeps on giving. With very little maintenance and effort it gives off these beautiful bluish/purple/pink blooms, with the added bonus that they seem to last three times as long as the hydrangeas I buy in the store.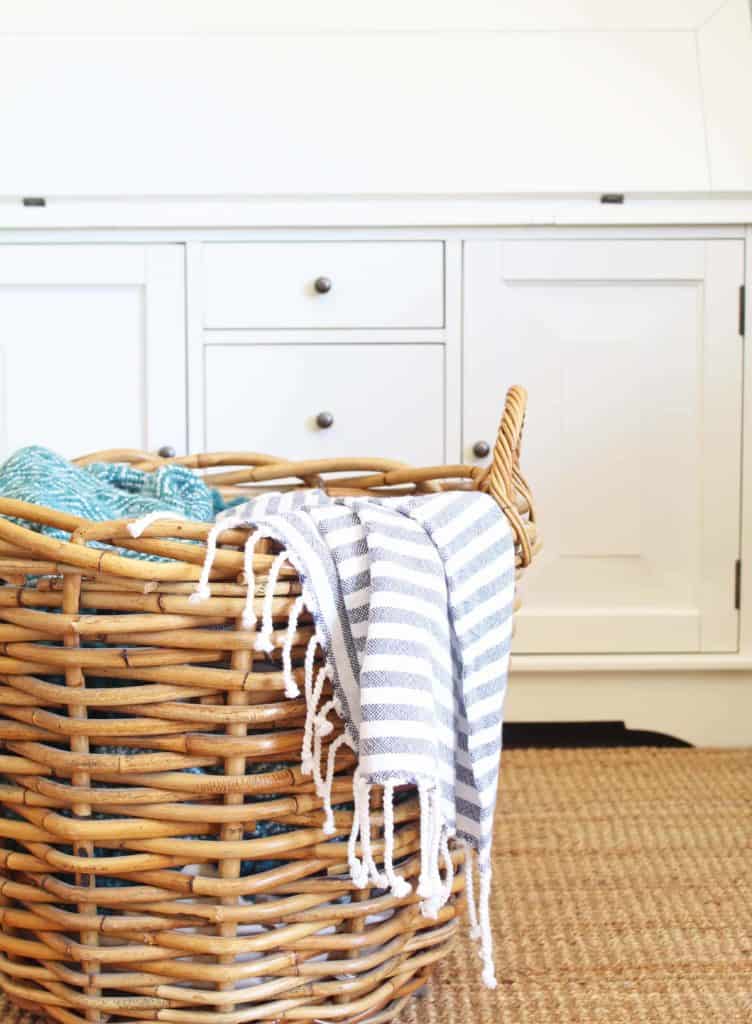 Add Lightweight Blankets & Throws
Most people think of blankets or throws as a fall/winter item, but I'm all about hygge in the summertime too! Just because it's warm out and you're decluttering doesn't mean your home can't feel cozy. At its heart, cozy is a feeling, not just added warmth, and adding cozy through light layers is one of my go-to ways of achieving this feeling.
Lightweight blankets are the easiest way to do this. Here are my favorite ways to decorate with them:
A basket full of them ready to use for a cool summer evening sitting out on the porch.
Draped over the back of a sofa or chair (which changes up the look of furniture at no cost!)
Draped over a blanket ladder so they're both stylish and functional.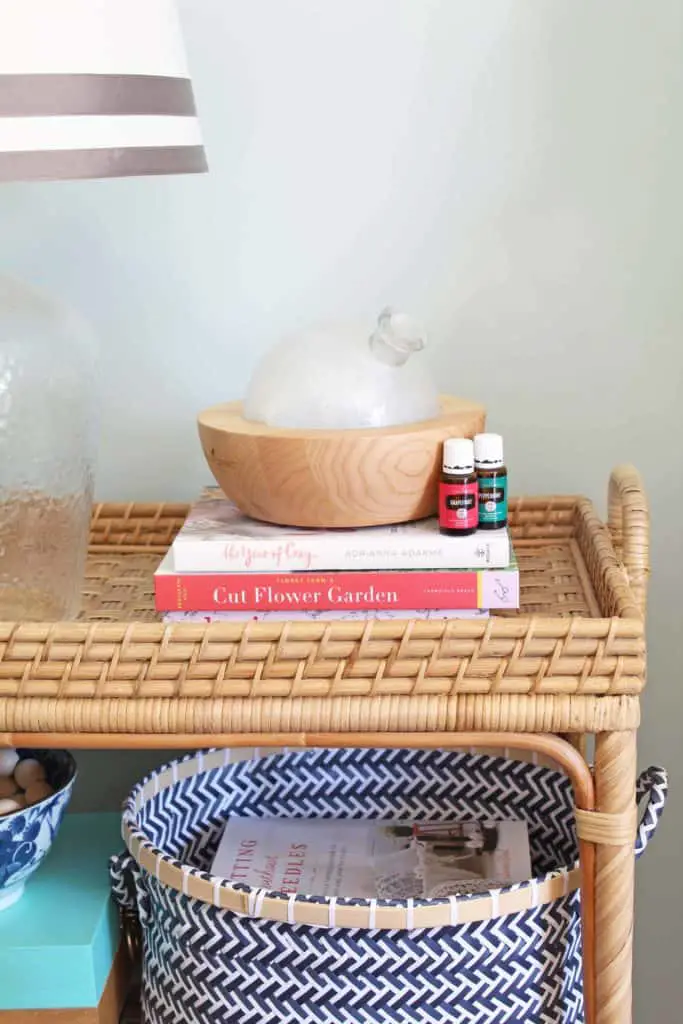 Add Summer Scents to Your Home
Maybe it's just me, but the first thing I notice about a home then I walk into it is the smell (which has led to a small obsession with the diaper pail in our own home ;). For our family, essential oils are hands down the only way we add any type of scent into our home. One of the perks of using a diffuser is the endless combinations of scents you can come up with. My favorite oils to use during the summer are grapefruit, peppermint, and orange.
If you don't have a diffuser, making a stovetop potpourri  is another easy way to add scent to your home. While the recipe I linked to is for wintertime, you can easily adapt it for summer by using citrus fruits, coconut extract, rosemary, or mint. Yum.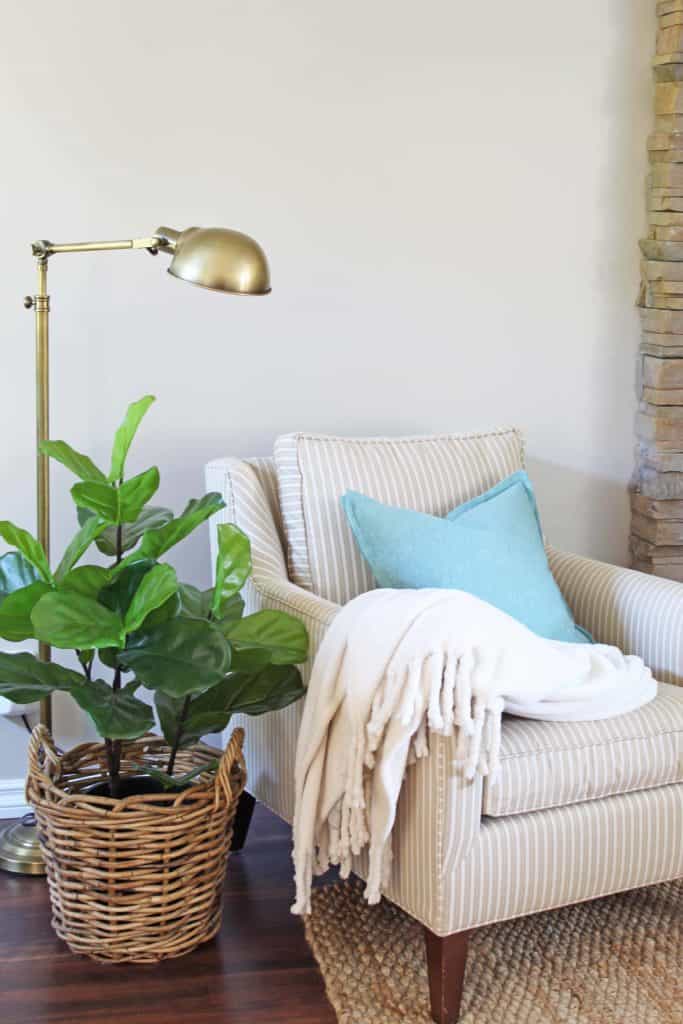 Add Some Greenery
Plants are a big decorating trend right now, but honestly – did house plants ever go out of style? If they did, I don't want to know about it. You can't really go wrong adding some fresh (or faux) greenery to your home. Plants add life, color, texture, and airiness to a room; plus, they go with everything. It doesn't matter what your decorating style is, a plant will always work with it.
I've had a couple of the live fiddle leaf figs that I just couldn't manage to keep alive (I think it's the lack of light in our house) so the third time around I opted for the faux version from Target. Say what you will about faux plants, but this thing always looks good, can be easily moved around, and adds a pop of color to any room it's in.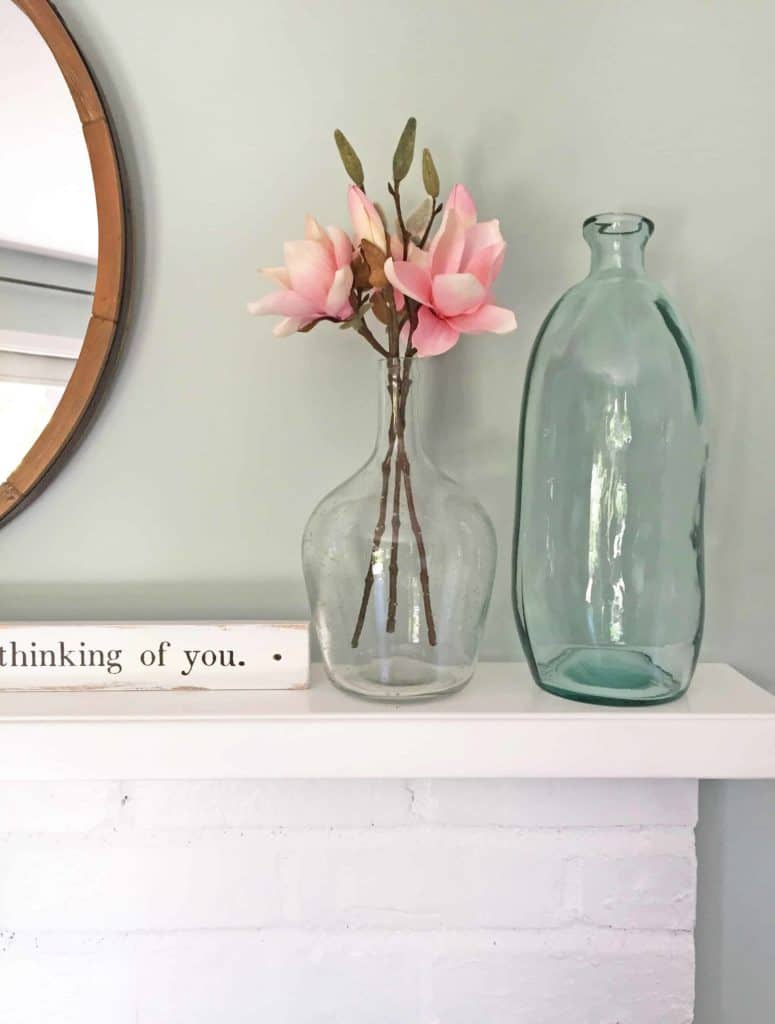 Add Decorative Glass Objects
Glass vases, bottles, or jars are great ways to add a touch of summer to your home without overdecorating. I actually use these two vases in both my spring  and summer decor and I'm continually amazed by how versatile they are. Sculpturally they look great with nothing in them, or add a few stems of whatever flower is in season to easily update them.
These types of handblown vases use to be hard to find and expensive, but that's changed in recent years! I now see these all the time at Home Goods, World Market, and even Target on occasion.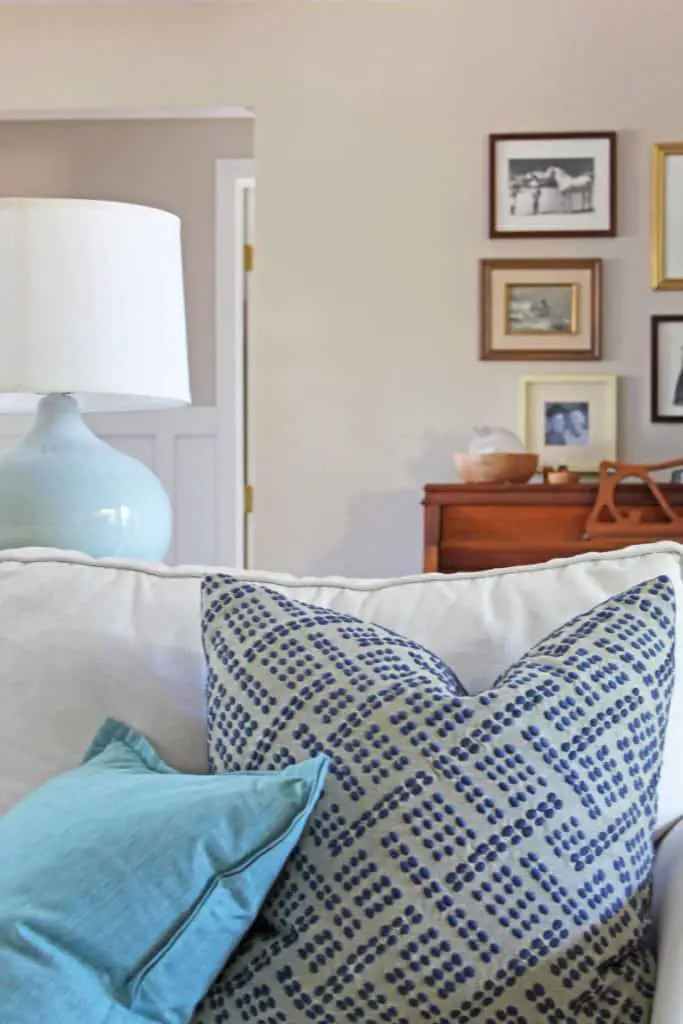 Add Colorful Throw Pillows
Add color and texture by changing out your throw pillows. There are so many things that are expensive to change in your home decor wise; sofas, chairs, even rugs can get spendy. Throw pillows are one of those items, that while not alway cheap depending on where you shop, are certainly an easier seasonal investment.
My biggest advice on throw pillows is to buy inserts and then use removable covers on them (I use these down inserts). This saves time, money, and the space it takes to store a bazillion pillows for different seasons. My favorite time to shop for covers is at the closeout of seasonal sales. For instance I'll check Pottery Barn, Target, or World Market midway through a season (for example, mid-december for Christmas) and often times their seasonal decor is already on sale.
I hope these tips have sparked some ideas on ways to enjoy your home this summer, and remember, it's about more than just decorating your home, it's about creating a haven for you and those around you to enjoy!
Want to save this post? Pin it here!