Making your own grocery store bouquet is a simple way to add fresh flowers to your home that look way more expensive than they actually are.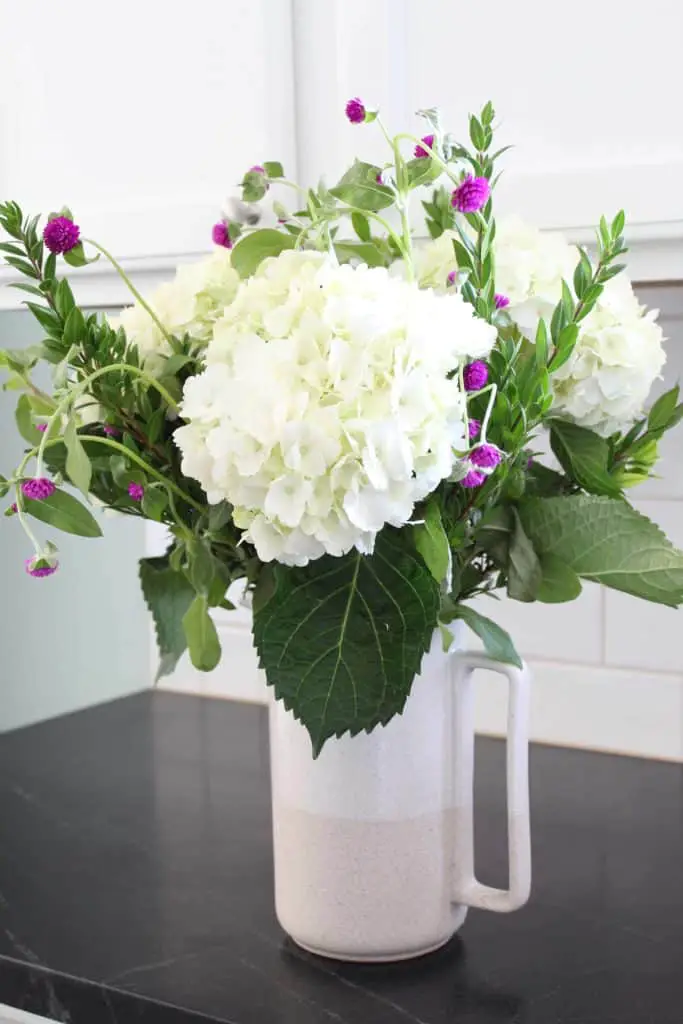 This post contains some affiliate links for your convenience. Click here to read my full disclosure policy.
Fresh flowers are one of my favorite things to buy for our home. They feel a little bit luxurious and they're one of the easiest ways to add a touch of seasonal decor to a room (think mums in the fall, or peonies in the spring). I think we all have little things that we do regularly for ourselves that boost our mood; some women get their nails done, others buy a latte every morning…..for me it's fresh flowers from the grocery store.
After years of buying flowers at the grocery store I've come to the conclusion that you can make a pretty decent grocery store bouquet from the fairly humble flower section at your local grocer. Trader Joe's is my favorite local place to get flowers from for a couple of reasons; they have a great selection and their prices can't be beat. Most of the time I can make my own bouquet for under $10, which is about what this one cost. Here's how I do it: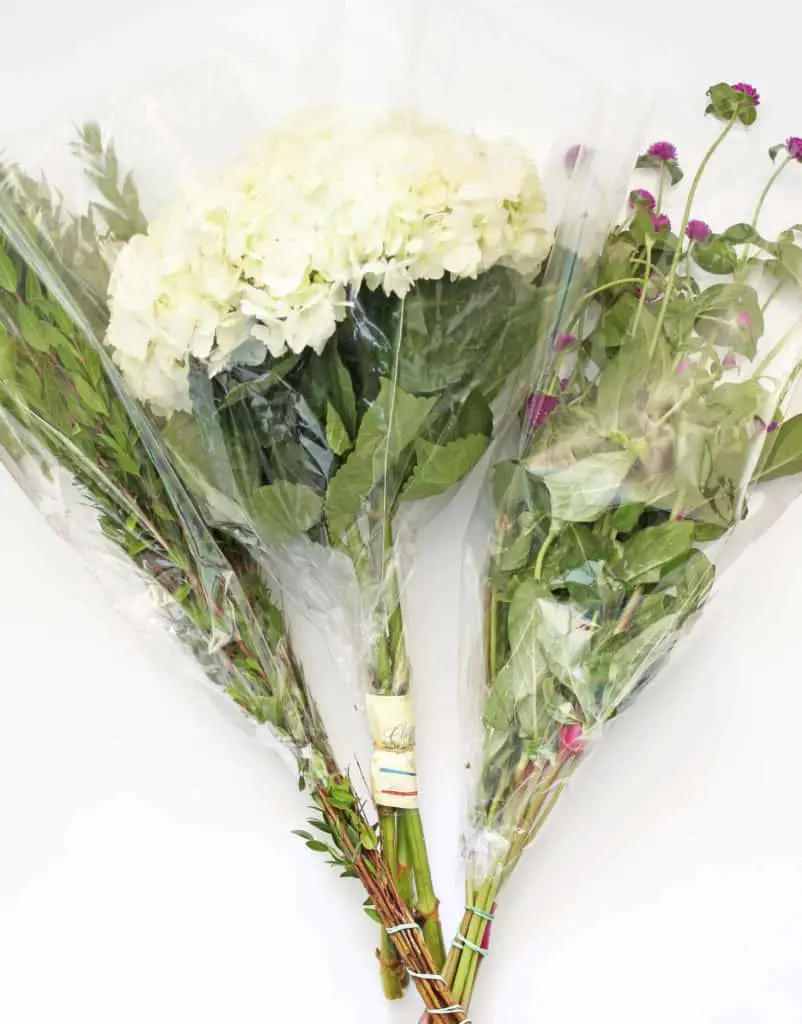 2 Kinds of Flowers + 1 Filler = A Fancy Grocery Store Bouquet
Just like styling a mantle,  the rule of odd numbers is your friend – in this case three. I like to use two different kinds of flowers and one kind of filler. A filler is basically just foliage; eucalyptus is a good example of a filler that has become pretty popular on it's own or in flower arrangements. Fillers are great because, as the name implies, they make your bouquet bigger and fuller without the cost of filling it entirely with flowers. Plus, it give the eye space to rest, just like you would use blank space when designing a room.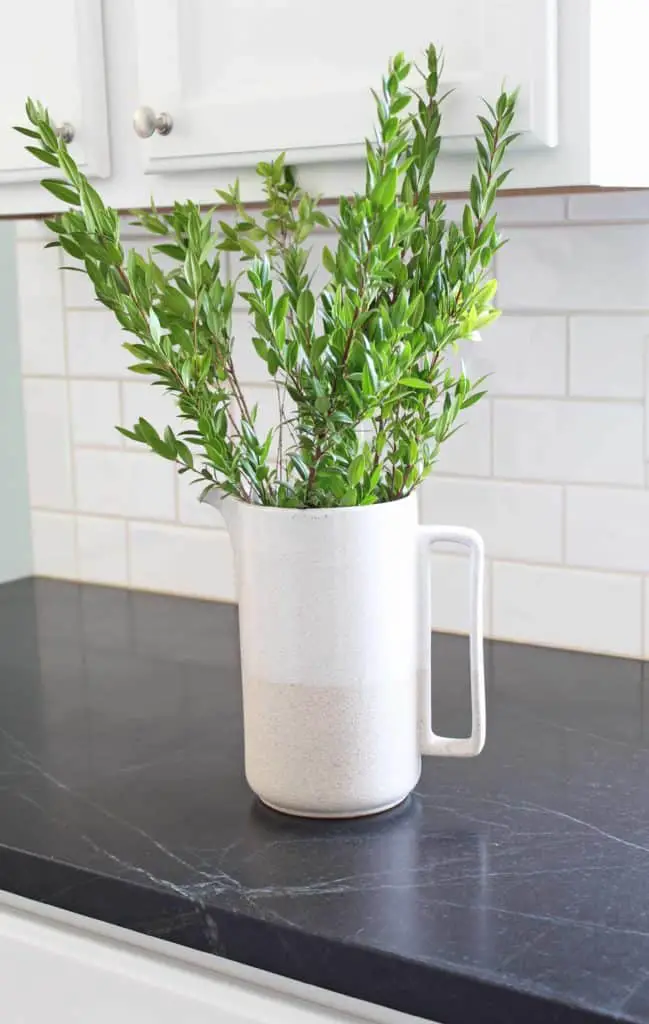 I like to add the filler first, kind of like a foundation for the bouquet you're building (this is a tip from my sister, who actually worked at a florist shop for a while). I bought the pitcher I'm using here.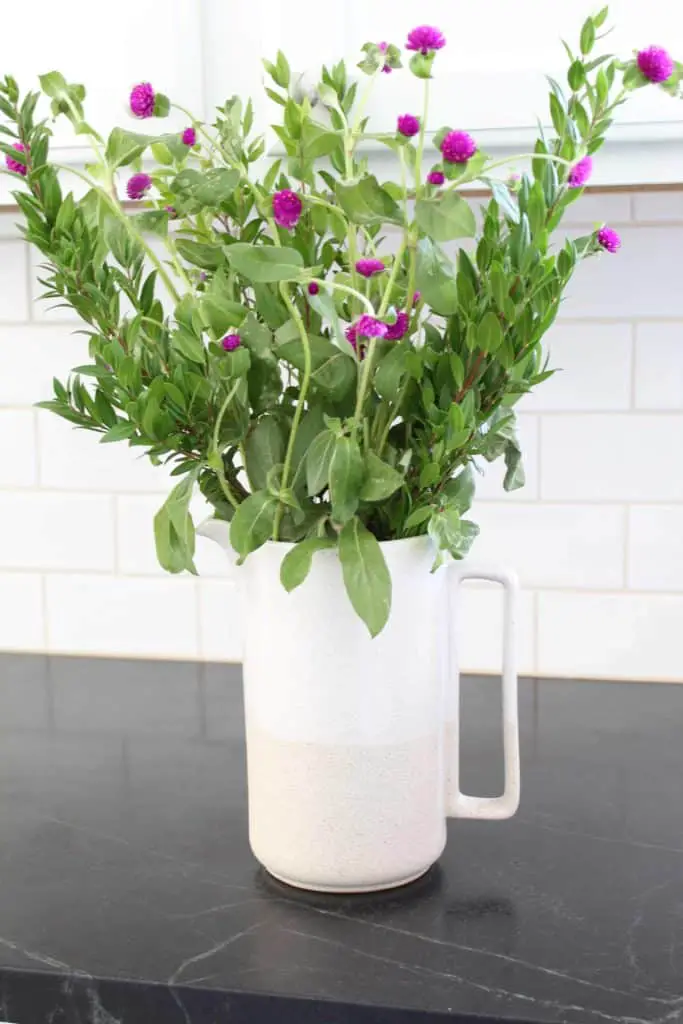 Add Height & Interest
Once I have my filler ready, I add in the first set of flowers. When I'm picking out the flowers I like to get two totally different kinds. One that's smaller and adds height, and one that's fuller and is the focal point. These purple flowers were literally labeled "farm mix" at the store. I have no idea what they are, but they fit the bill by being small, colorful, and cost effective.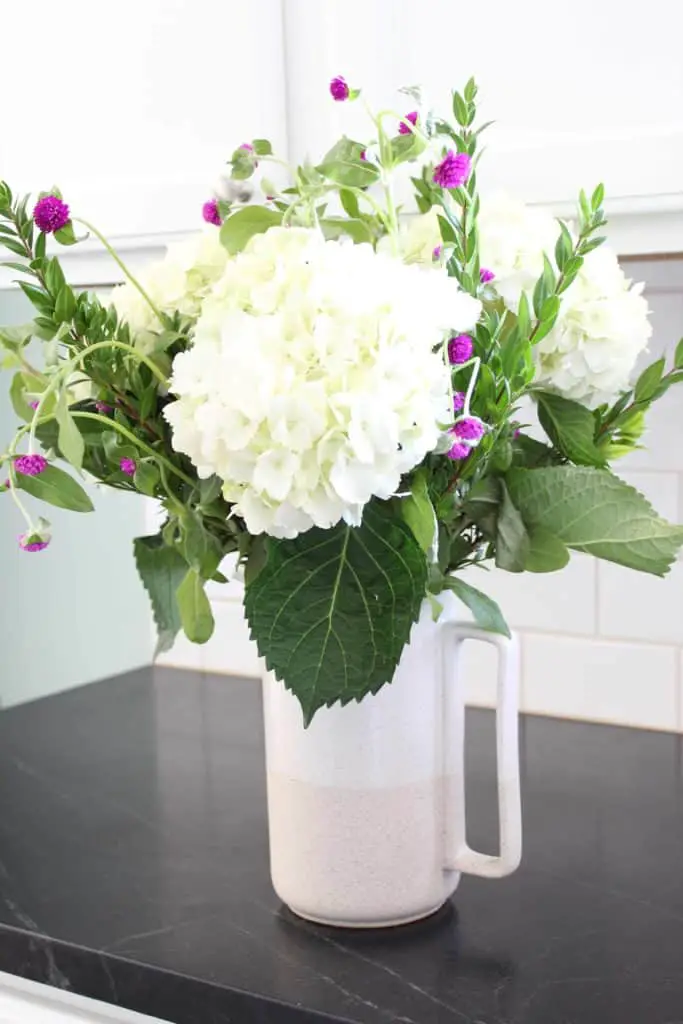 Add Your Focal Flower
Last, I add in the focal flower. This is probably going to be the most expensive flower in the bunch and the one that's the largest. In this case, I used three hydrangea blossoms. They had other colors, but I chose white ones because they really make the purple in the other flowers pop and they don't complete with anything else. Plus, hydrangeas are in season, so they were a great price!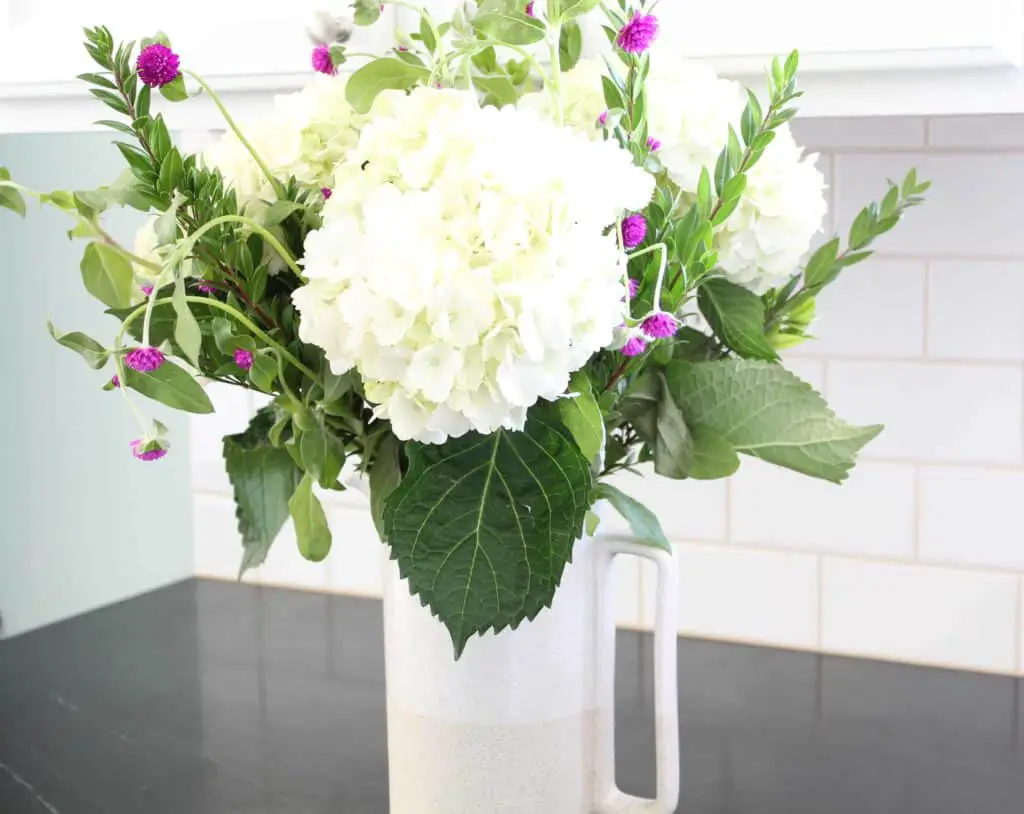 Some basic tips to make your bouquet last longer:
Clip off any leaves/foliage that will go below the water line; they just get icky and rot, making your flowers fade sooner.
Change out the water in your vase every other day or every day if you can. Fresh water means fresh flowers!
Always cut your flower stems at an angle, this helps your flowers absorb more water.
And that is the easiest and fastest way I know of to put a bouquet together that's relatively cheap but doesn't look like it! If you have any other bouquet tips or tricks that you use, I'd love to hear them 🙂
Want to save this post? Pin it here!