Try making this DIY candle sweater cozy for a simple way to add some seasonal cheer to your home this fall and winter!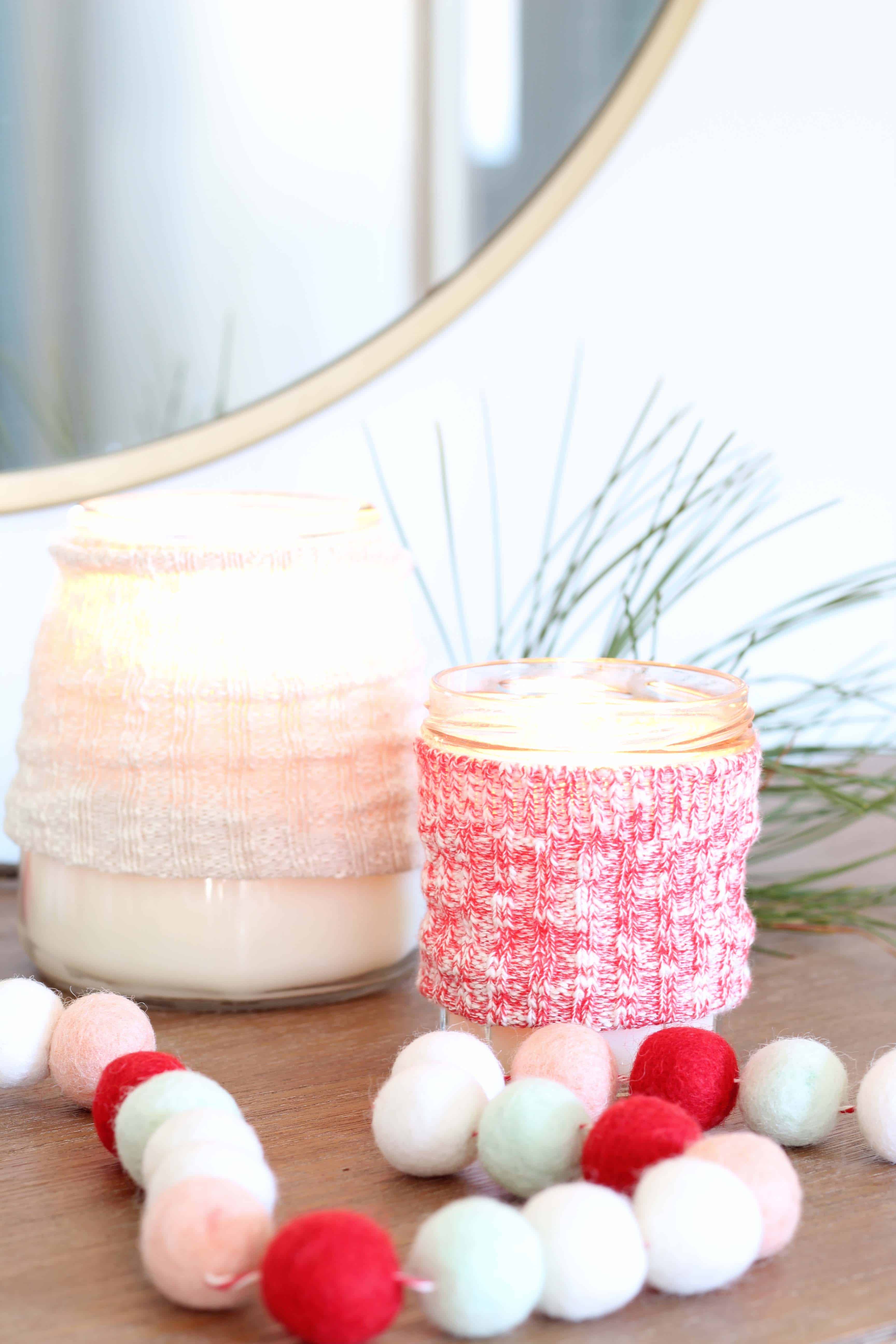 This post contains some affiliate links for your convenience. Click here to read my full disclosure policy.
My love of candles is long and well documented in our family. Part of the reason I love them so much is because candles in and of themselves can create such a warm and inviting ambiance in your home, no matter what time of year it is. Fall just begs for a candle to be lit in the evening though, doesn't it?
My second favorite thing about fall is the sweaters. Give me a warm, cozy, oversized sweater to curl up in and I'm a happy camper. Which brings us to today's DIY project: candle sweater cozies. I've seen some really cute candle cozies over the years, most of them knitted or crocheted. Since I don't possess either of those skills, I was on the hunt for a similar look without the need for knitting needles 😉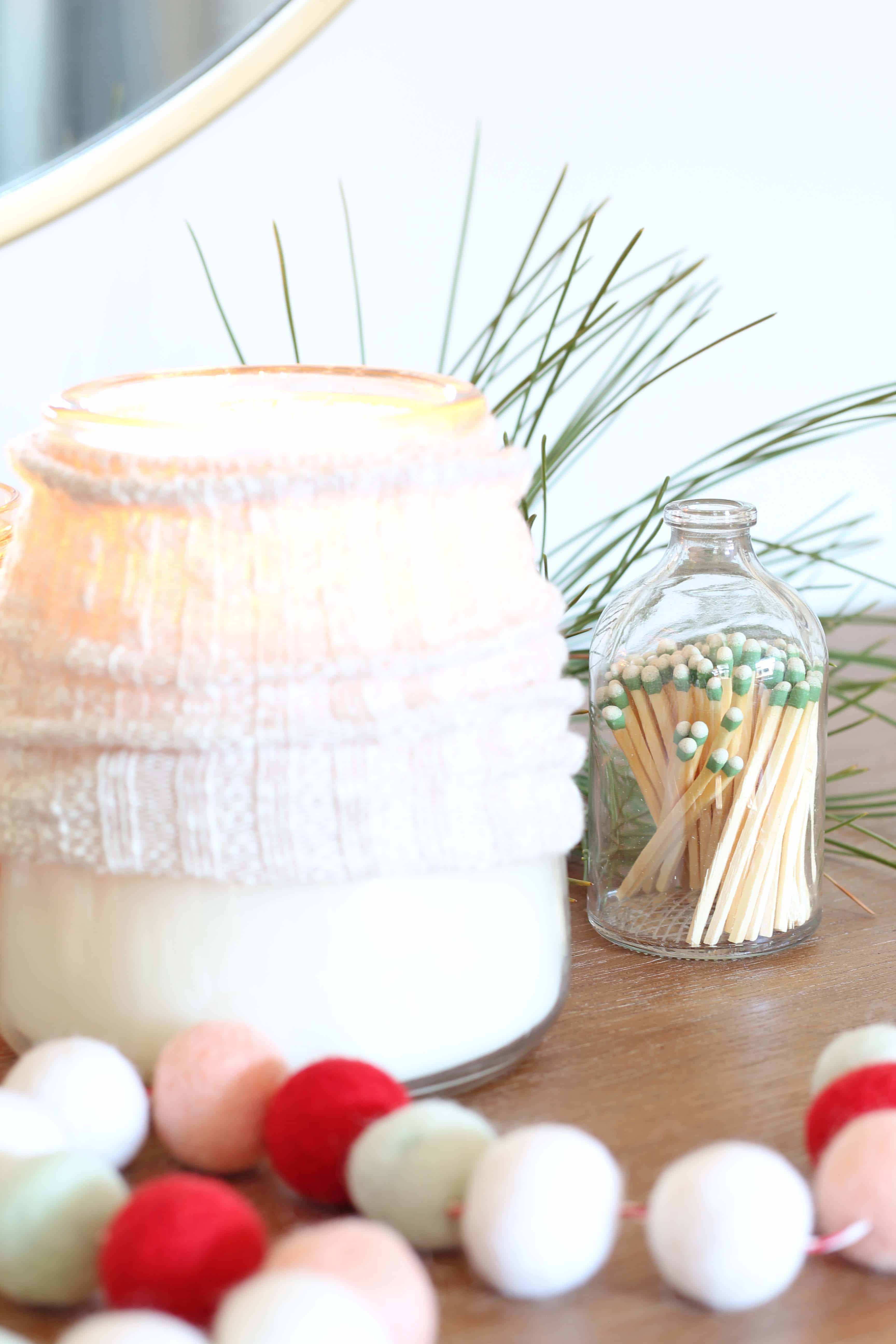 Enter The Sweater Sock
While I was unpacking what seemed like the millionth box of stuff since our move (which has made me realize we have way too much stuff!) I came across some sweater socks that I've had forever and have never really worn. I think technically they're called camp socks and J Crew Factory seems to carry a similar version of them every year.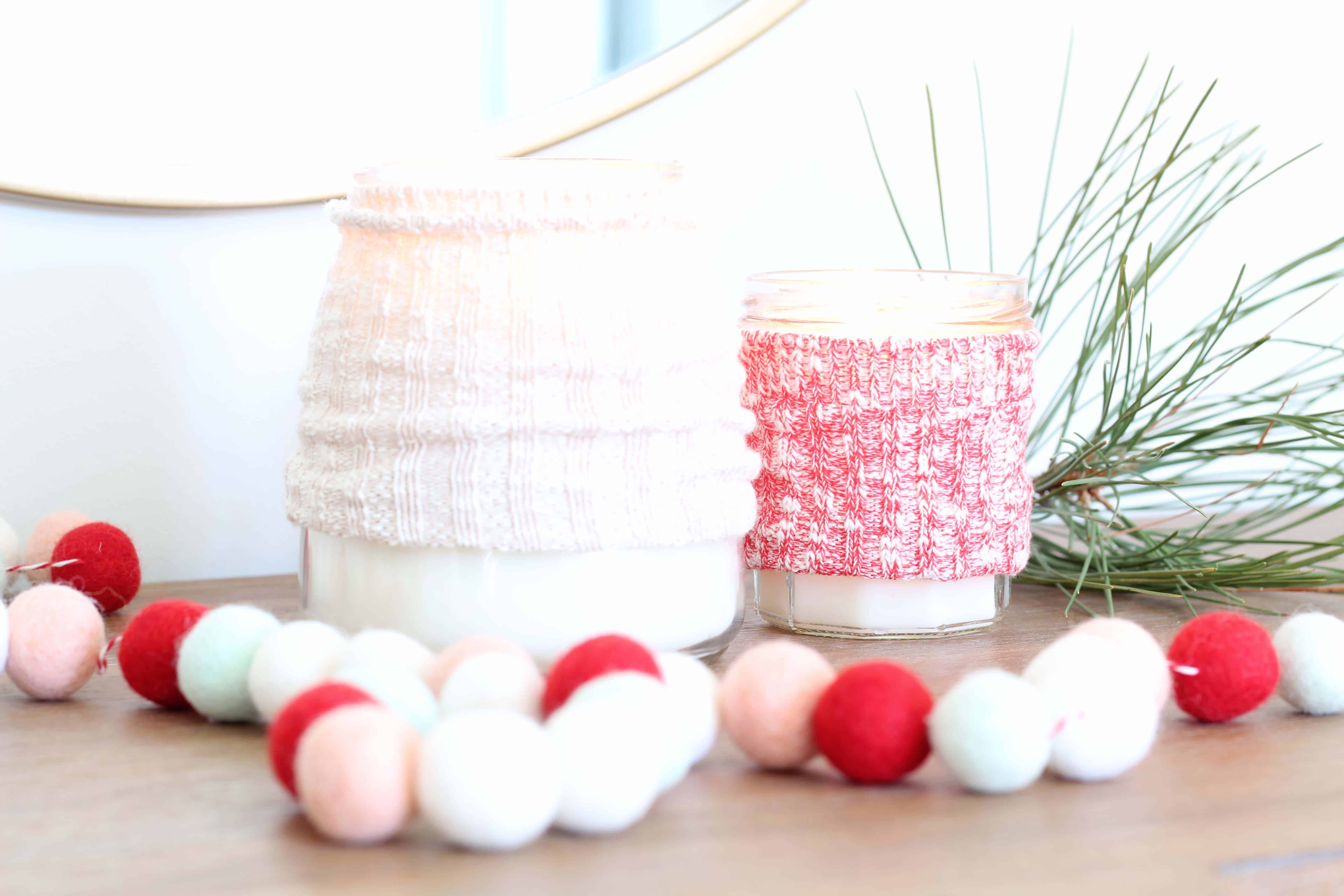 While they aren't technically knitted or a sweater, I thought they might make a great substitute! The best part? They were so simple to make and were such an easy way to update a candle I already owned with a little seasonal cheer.
How to Make A Candle Cozy
To make them I just cut the foot of the sock off, slid it over the glass jar of the candle, and then adjusted as needed (i.e. cut more fabric off or scrunched it up for a cozier look).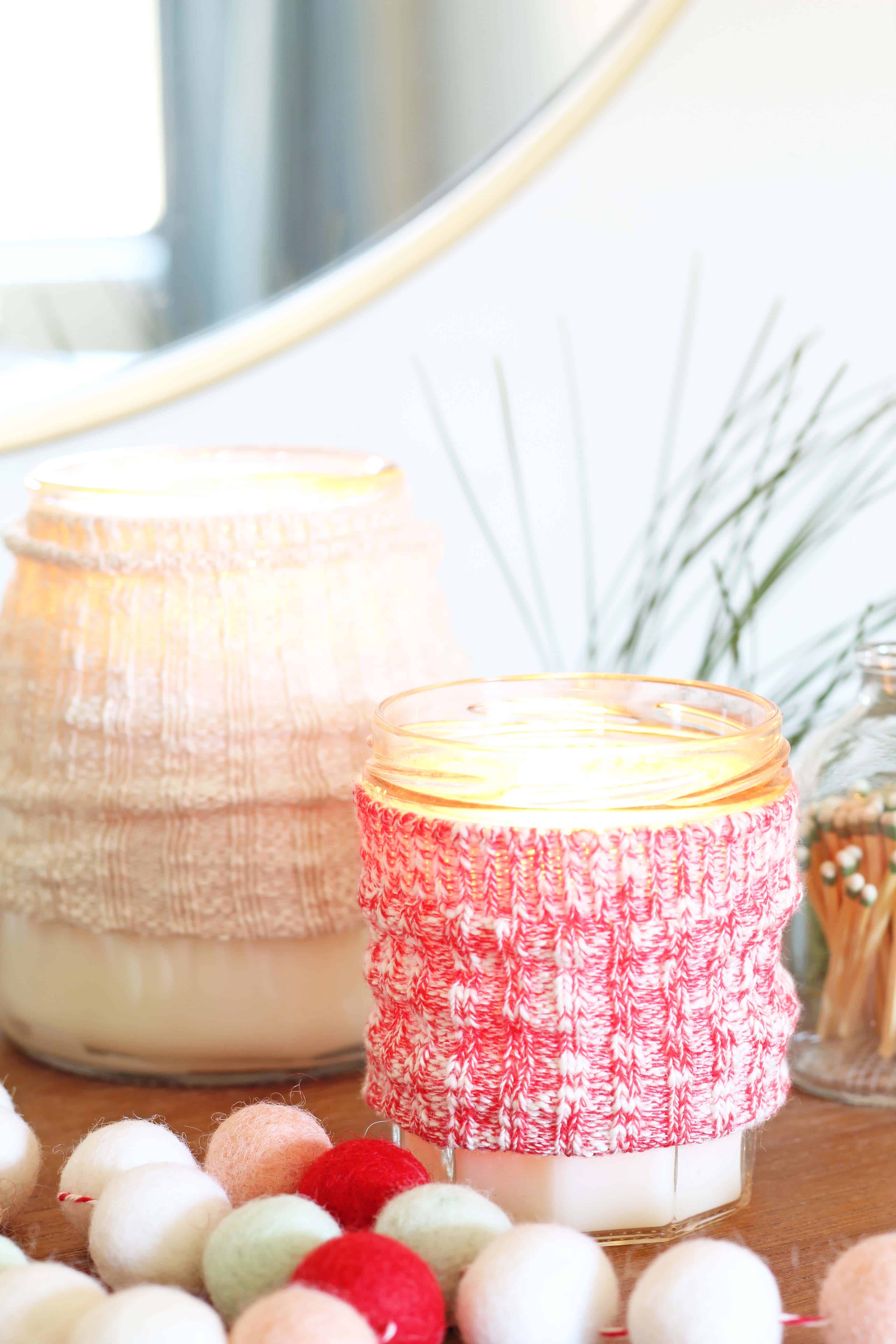 Aren't felt pom pom garlands just the best? I normally get mine from Etsy. I've been eyeing this really cute fall garland  as well as this Christmas inspired one.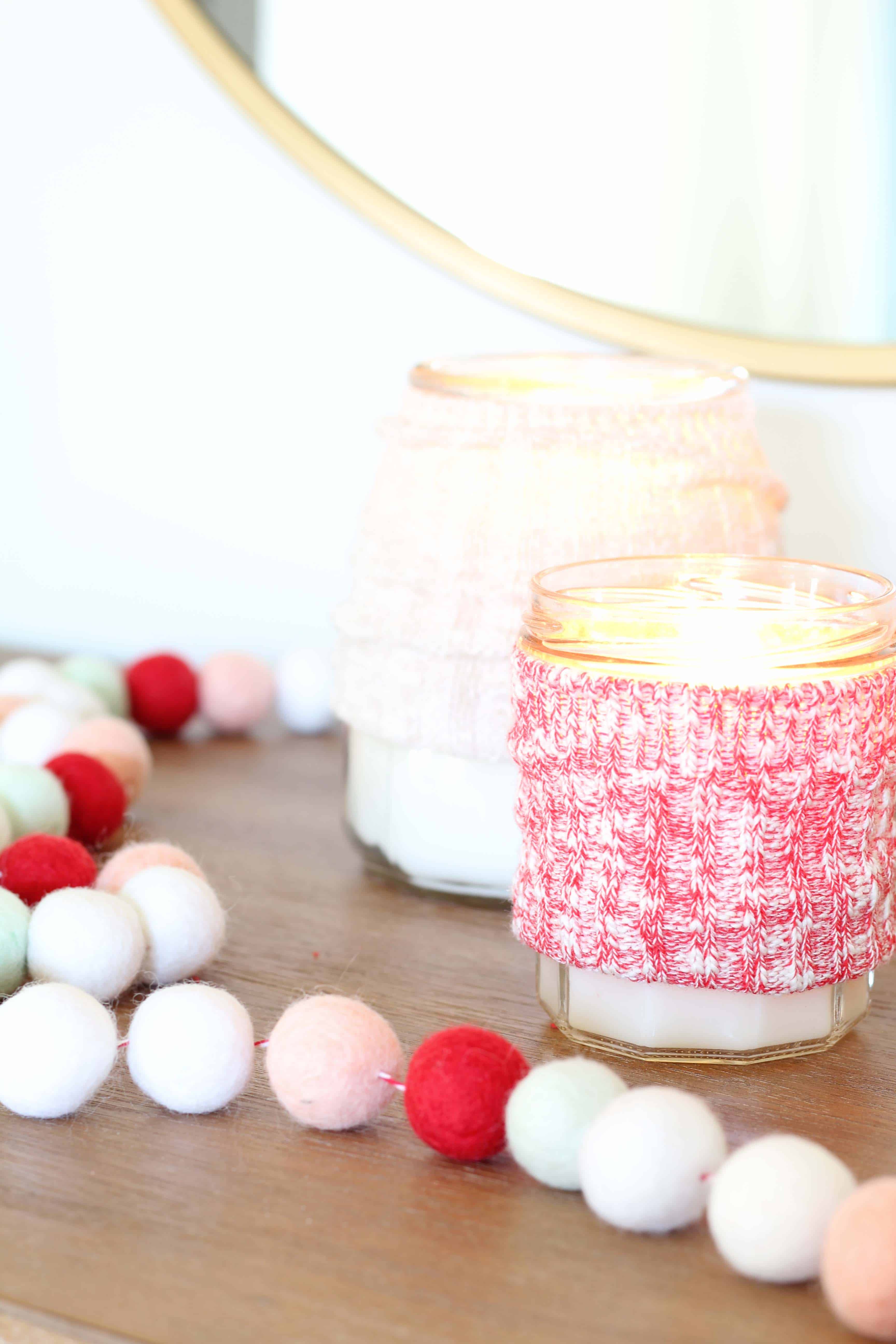 I normally make up a batch of beeswax candles once or twice a year using old jam jars. I use four different scents based on the seasons so that I have one ready to go when the mood strikes! In honor of fall, I pulled out my pumpkin spice candle 🙂 If you're interested, my full tutorial on making your own beeswax candles (as well as essential oil combos to scent them with) is here.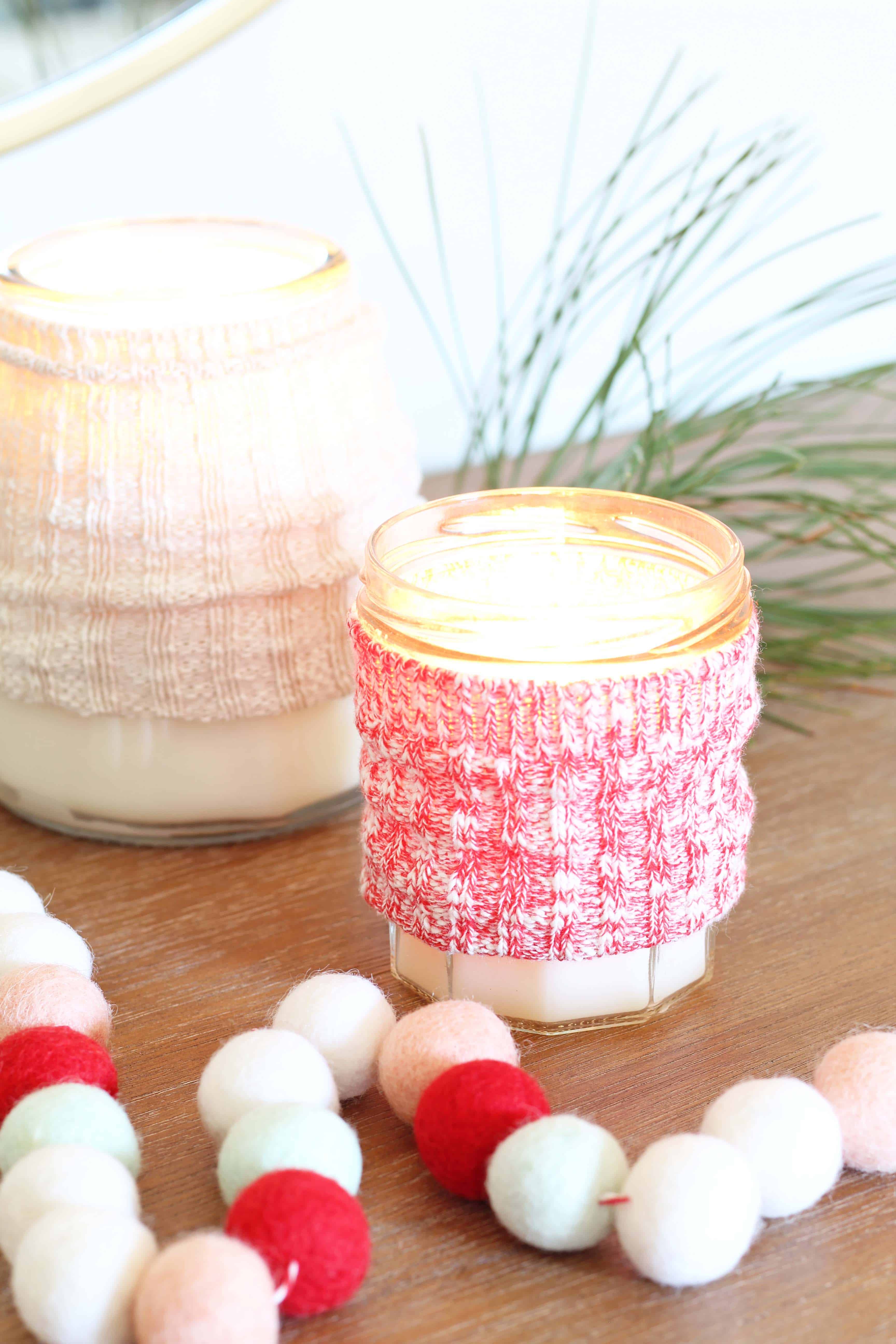 I talked a little bit about enjoying the small things in my fall hygge post a couple of weeks ago. To me, this is a perfect example of a small way to add some simple, cozy touches to our home.
Our homes are an important part of how we live our lives, especially in the fall and winter months when we spend so much time indoors! Do you have anything you like to do to make this time of year extra special?
Want to save this post? Pin it here!