With the popularity of podcasts, audiobooks, and streaming music services, an affordable bluetooth speaker is a handy thing to have in your home. Below is a round up of some cute vintage bluetooth speakers for under $50.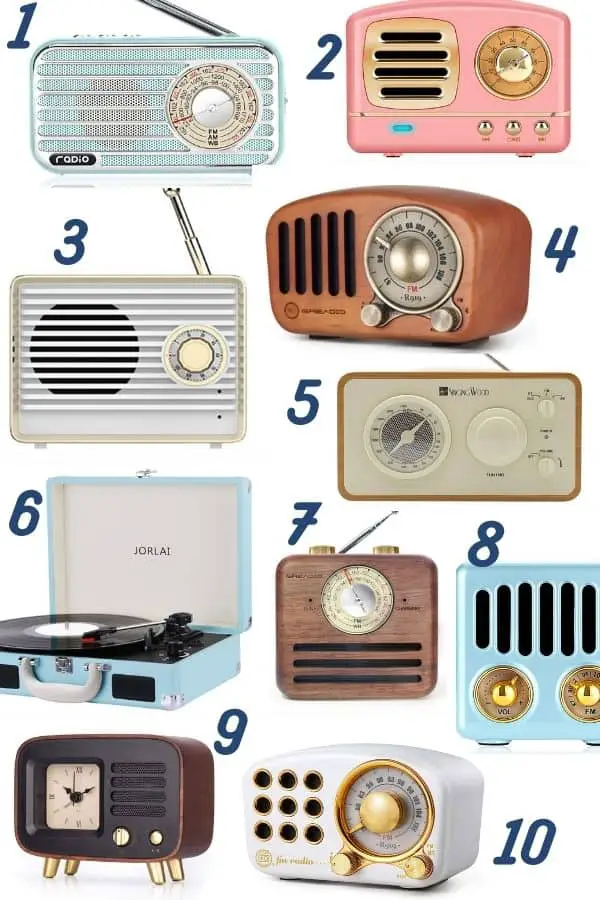 1 // 2 // 3 // 4 // 5 // 6 // 7 // 8 // 9 // 10
I've been a little late to the game when it came to understanding how handy a bluetooth speaker could be in our home. Until the past year I listened to all of my podcasts on my computer and any music streaming was done through our TV.  After having a minor epiphany (why wasn't I listening to audio books while I fold laundry?) I bought a small bluetooth speaker that could easily be moved around the house for just such instances – folding laundry, while I'm nursing a baby, making dinner, etc.
Since I did a lot of research before I bought mine, I thought I would share what I found in the way of affordable, easy on the eyes, bluetooth speakers. 🙂
Why A Bluetooth Speaker?
I know a lot of people listen to their streaming music or podcasts with airpods now, but my personal preference is to listen with a speaker. When I set out to find a bluetooth speaker it had to meet a couple of criteria:
Be affordable (for me that was under $50)
Small enough to easily move to different spots around the house.
And if possible, be nice to look at while doing the above.
After reading a lot of reviews and doing some research, here are a few things I found that were helpful to look for in a bluetooth speaker:
Make sure it has a rechargeable battery option. This means you can plug it in to recharge rather than having to A) have it plugged in all the time, or B) have to keep replacing disposable batteries.
Check the reviews for sound quality. Depending on how big your home is, or the location you want to use the speaker in (i.e. a garage, larger space, etc.) may determine what kind of sound quality/sound projection you need.
Determine what size you want based on how you are going to use it. As you'll see in the round-up, there are so many options. There are a ton of small, portable one, as well as some bigger stationary options (the vinyl record player one is too cute!)
Cute Vintage Bluetooth Speakers For Under $50
Overall, I was amazed at the selection you could find for bluetooth speakers under $50. I chose to look for vintage style speakers because I love that style. If vintage isn't your cup of tea, make sure you search for one that is, you'd be amazed at what's out there.
I ended up getting this  small vintage style bluetooth speaker (#7 above) and I've been using it for the last four months. It's super handy and it's really upped my audio book game. Being able to easily listen to music or books in any room of the house has been such a treat!
If I had a spot for it (and fewer little hands wanting to touch it!) I would totally invest in this vinyl record player with built in bluetooth. I love the idea of marrying vintage charm with modern technology. Can't you just see it being used in a cozy living room or sitting on a shelf in a home library?
Part of my goal for our home is always to make it a soft place to land when the world makes us weary, but also to add small touches here and there that make it a place we want to spend time. Hopefully, small ideas like this one can help you make your home the kind of place where you want to spend more time too!
Shop The Post

This post contains some affiliate links for your convenience. Click here to read my full disclosure policy.
Want to save this post? Pin it here!