Fall is here! Check out these simple fall favorites to cozy up your home.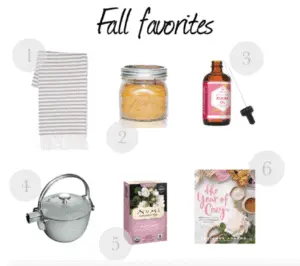 1. Cozy Blanket  2. Beeswax Candle  3. Jojoba Oil  4. Staub Tea Kettle  5. Numi Tea  6. Coffee Table Book
This post contains some affiliate links for your convenience. Click here to read my full disclosure policy.
With fall officially here in Oregon, it's time to pull out the blankets, candles, and generally get that hygge feeling going around the house.
What I use to get that hygge feeling hasn't really changed much over the years, but the products I choose to use definitely have. I've always tried to be conscious of the chemicals brought into our home, but after having my daughter this past year, I realized there were still things I was bringing into our house that were counteracting all of the good I was trying to do – one of these was candles.
I love a good candle, so when I read about all of the artifical fragrance and pollutants that are dispersed into the air when we burn candles in our home, I was disappointed to say the least. Do you ever feel like that? Like when is my next favorite thing going to be ruined for me? Sometimes knowing more isn't as fun as blissful ignorance.
Finding an Alternative
Burning candles in the evening throughout the fall and winter months seemed like a lot to give up, so in an effort to find a substitute I did some research, which is where I found out about beeswax candles. Ah, the honey bee, I should have guessed. So many good things come from bees, and beeswax candles are no exception. They release negative ions that actually clean the air in your house, they burn slower than traditional candles, and best of all, they smell like warm honey. Etsy has a great selection of handmade beeswax candles, which is where I've bought all of mine so far.
To help you get in the spirit of bringing the hygge feeling into your home, I've rounded up some of my fall favorites above, all of which I own and love: A cozy blanket to curl up with, my favorite beeswax candles, jojoba oil for that dry winter skin, the last tea kettle I'll ever have to buy, my favorite tea brand, and a beautiful coffee table book.
Enjoy!