These simple ideas for organizing a spice drawer will help you maximize space and keep your spices readily available for cooking!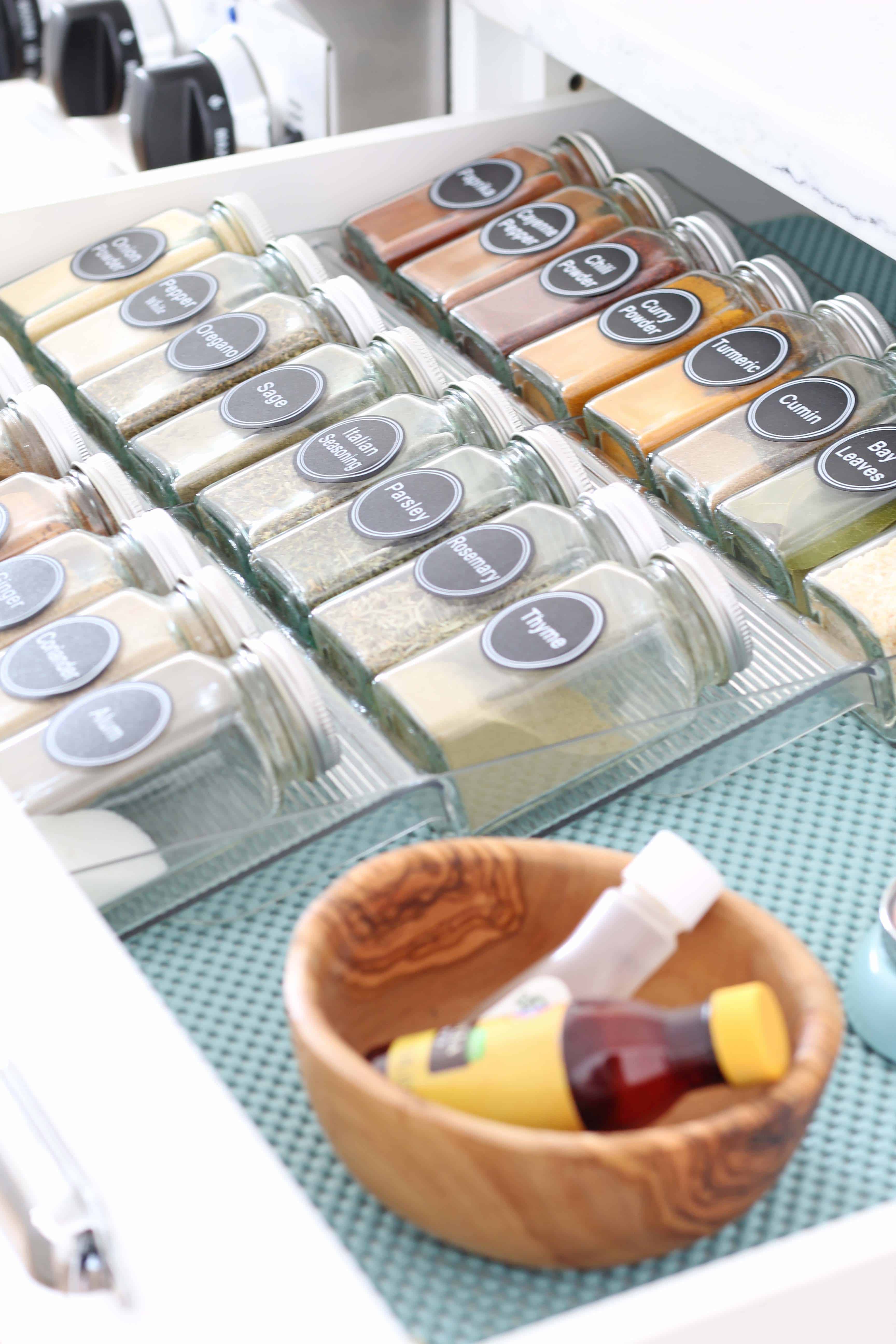 For some people, organizing your spice drawer ranks right up there with a trip to the dentist. For others, like me, there's nothing like opening up a pretty, organized spice drawer to make me smile. There's just something about seeing all those little bottles lined up with matching labels that makes my heart happy. And I'm betting that if you're reading this, that's the kind of thing that makes your heart happy too 😉 .
The best part about this project? It's simple to do yourself, and easily completed in an afternoon. Plus, with a few items, you can completely transform this hardworking drawer in your kitchen into something that truly serves you and your family – all while being pretty to look at!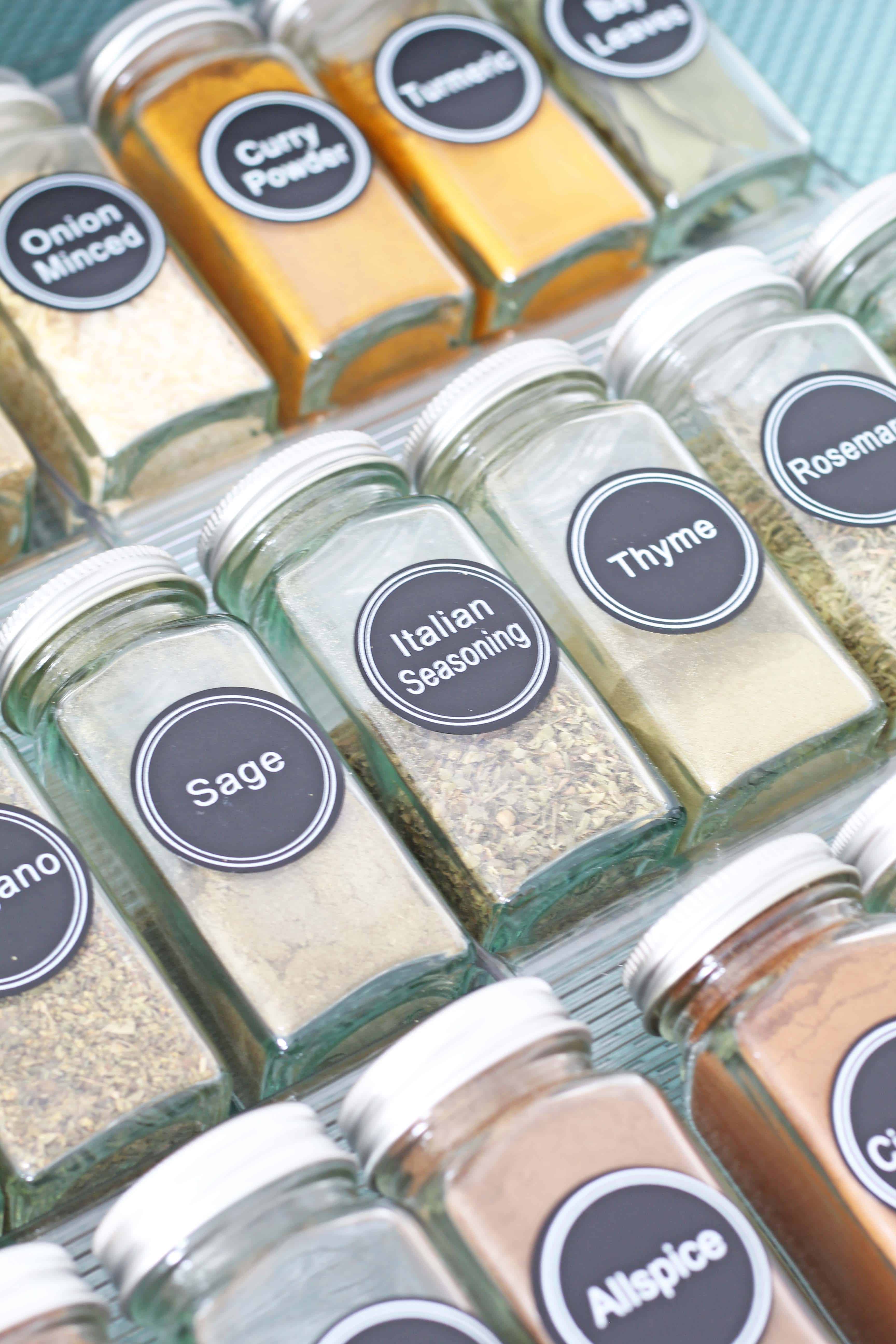 Uniform Bottles & Labels
So let's get to it! I started by making all of my bottles and labels the same size and type. This creates a cohesive look when you open up the drawer. It makes things easier to find, easier to look at, and uses the space more effectively.
There are a couple of ways you can make this happen without having to go out and buy all new spice bottles. Take a look at what you have, maybe you already have spice bottles that you like but they have different types of labels or tops on them. This was the situation I was in. My bottles were all the standard 3 oz glass square style that a lot of stores commonly carry their spices in (Trader Joes, Simple Organics Line, etc). If you don't have a set of spice jars already, or want to change yours out, these are a great option as well. 
I started by removing the store labels and used these labels to help give the bottles a more uniform look. To help further create a cohesive look, I changed out my mismatched lids for these stainless steel lids. These two changes alone made such a difference! All of a sudden my spice collection looked more intentional, and made things easier to see and find.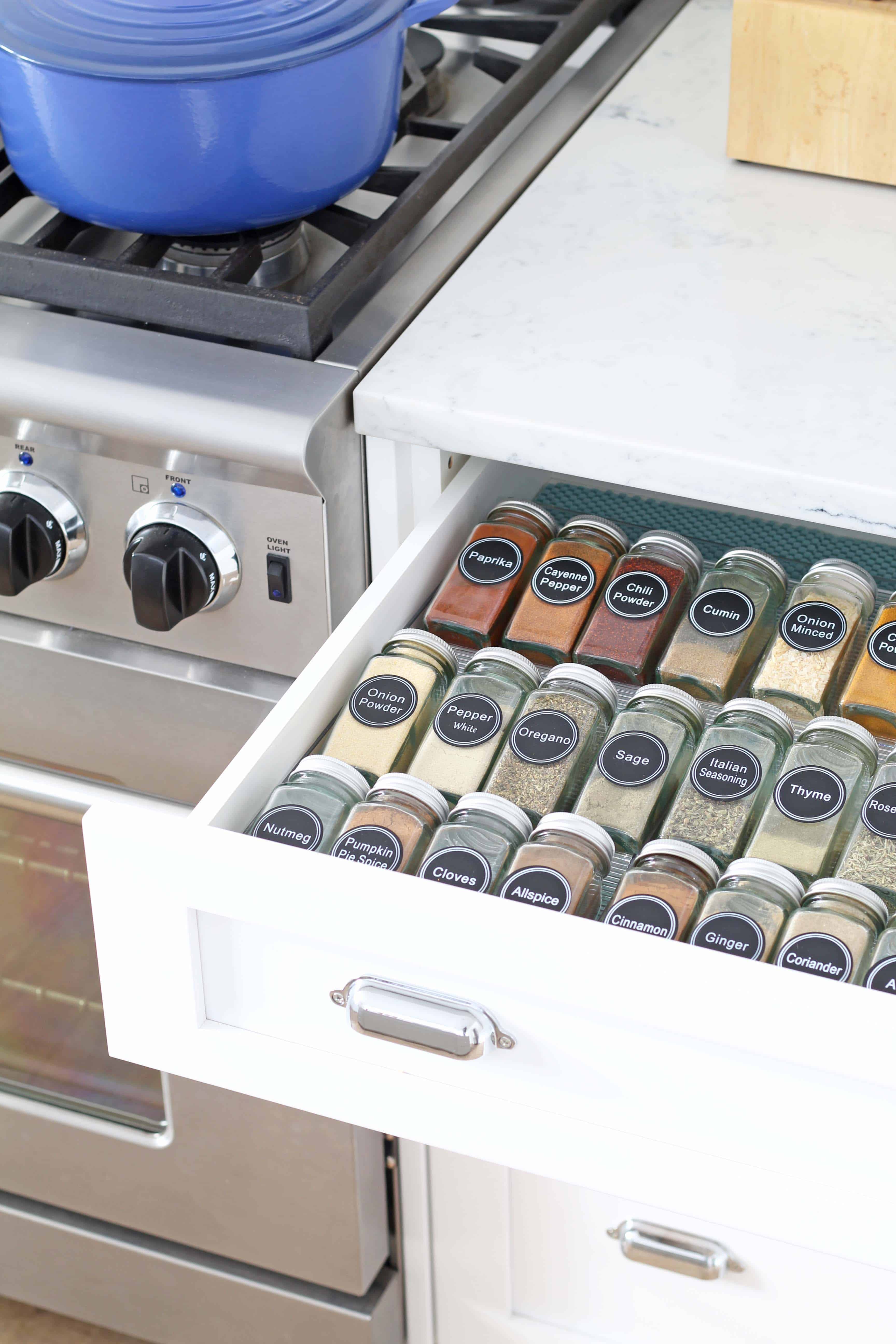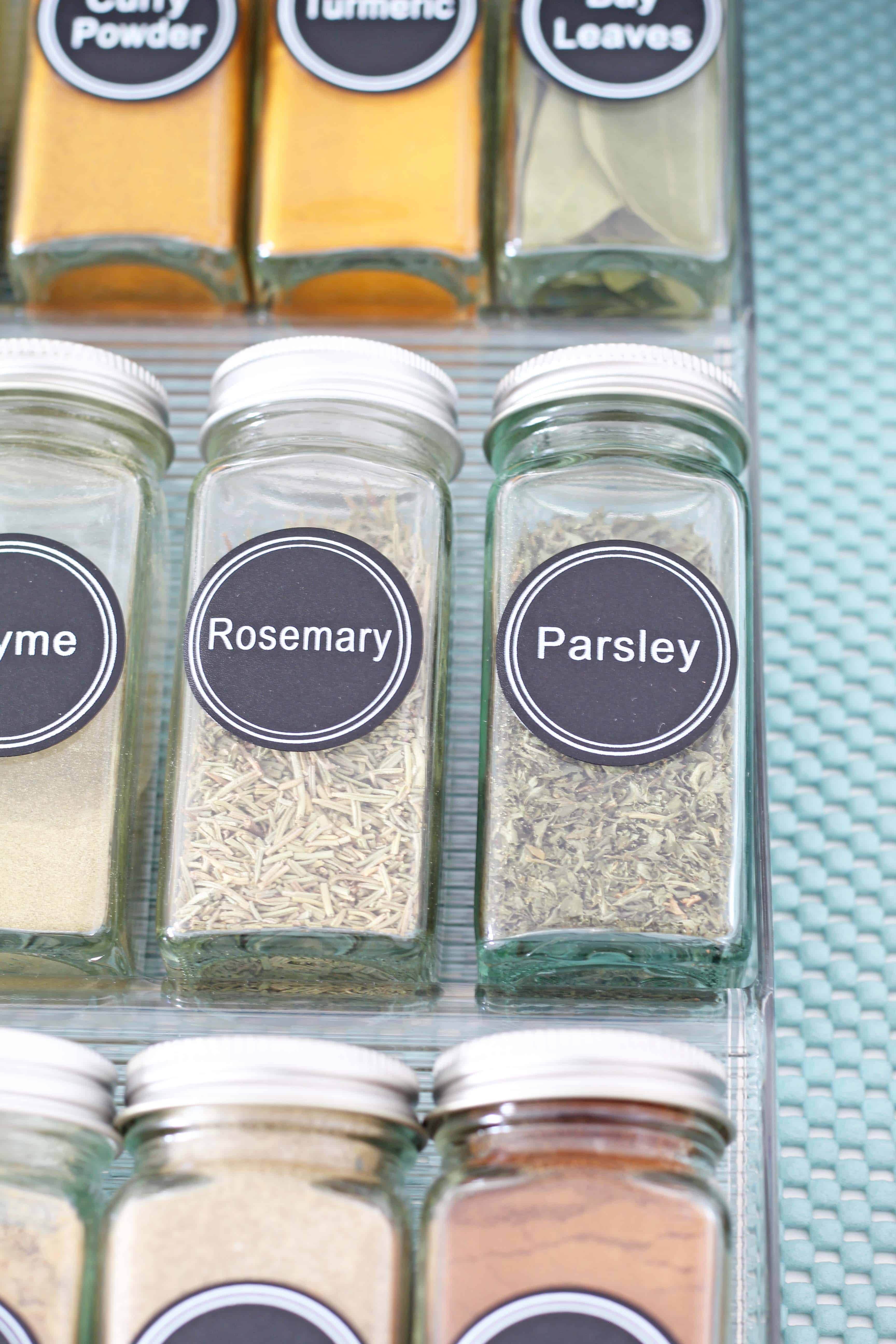 Find The Right Spice Drawer Organizer
After I had my bottles situated, I moved onto how I was going to actually organize them in the drawer. I'd had a plastic drawer organizer I had been using for the last 10 years, but it had a couple of issues. It was too high, so if I used the last row in the back the spice bottles were too tall, keeping the drawer from closing. Not being able to use that last row also meant I couldn't fit all my spice jars on the rack, leaving some of them floating around loose in the drawer. No ideal.
After a lot of review reading, I found this spice drawer organizer and it has solved all of these problems! It's low profile enough for spice jars to fit all the way to the back and still have the drawer close comfortably. It is also expandable, so you can make it as big or as small as you need. Now all of my spice jars fit comfortably, nothing left rolling around on the side. 🙂 For reference, I use mine fully expanded and it fits 24 (3 oz) glass spice jars.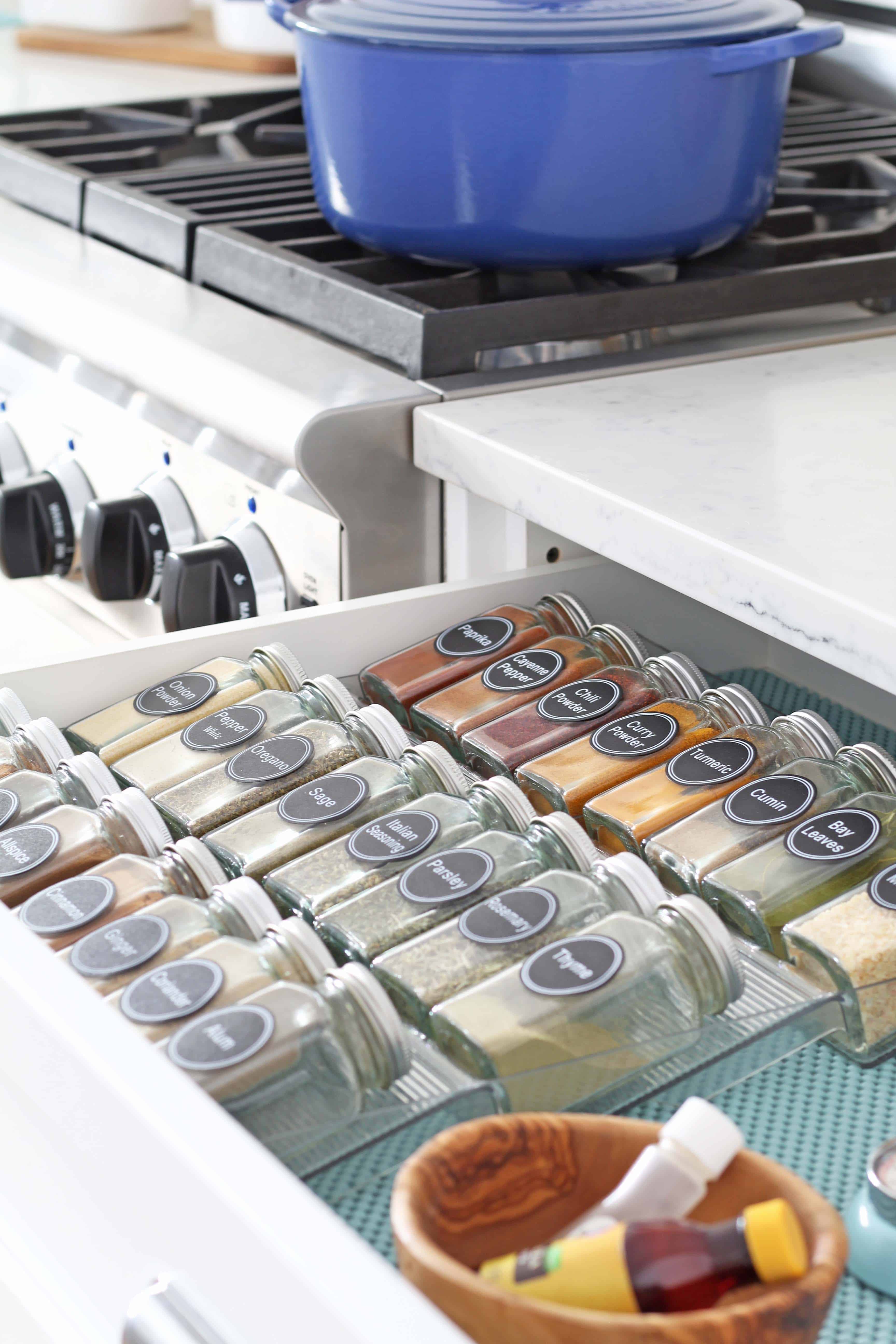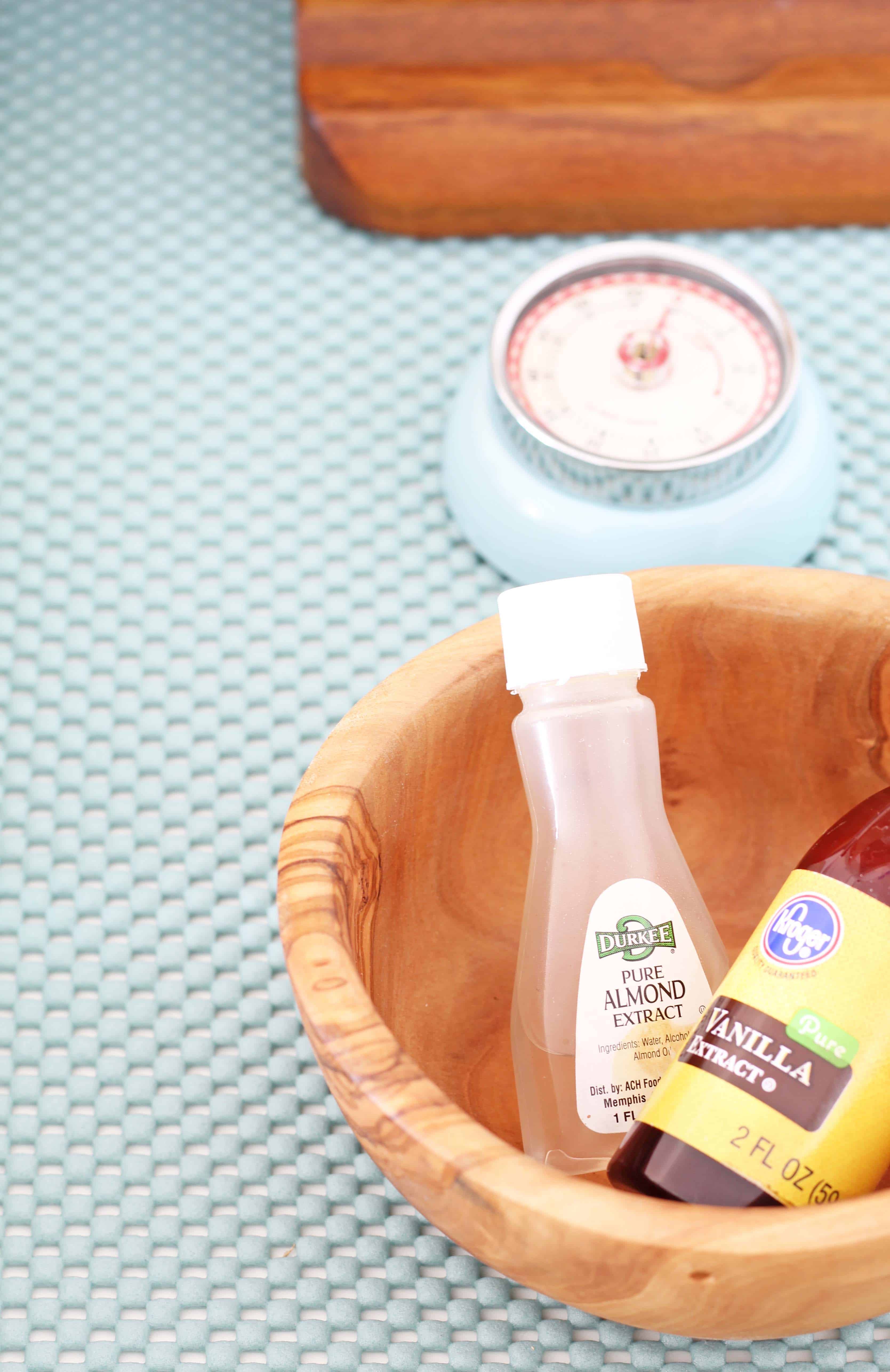 Keep Items From Shifting
Lastly, I cut this drawer grip liner to fit the inside of the drawer. It keeps the spice organizer from moving or shifting with the added bonus of keeping anything else laying around from moving as well (and adds a cute pop of color!) This worked out perfectly for me since I had space left over to the right of the spice organizer. I'm using it to store other items I use by the stove; my kitchen timer,  tablet stand,  and a small wood pinch bowl that holds some vanilla and almond extracts.

Overall, I'm so exited about how this project turned out! It's a simple example of how organizing one small drawer can make such a difference for items you use on a daily basis. And can you blame me if sometimes I just look at it for fun? 😉
This post contains some affiliate links for your convenience. Click here to read my full disclosure policy.
Want to save this post? Pin it here!