Winter can leave your skin, especially your lips, feeling  parched and dry. Try this easy exfoliating grapefruit honey lip scrub for a refreshing way to kick winter skin to the curb.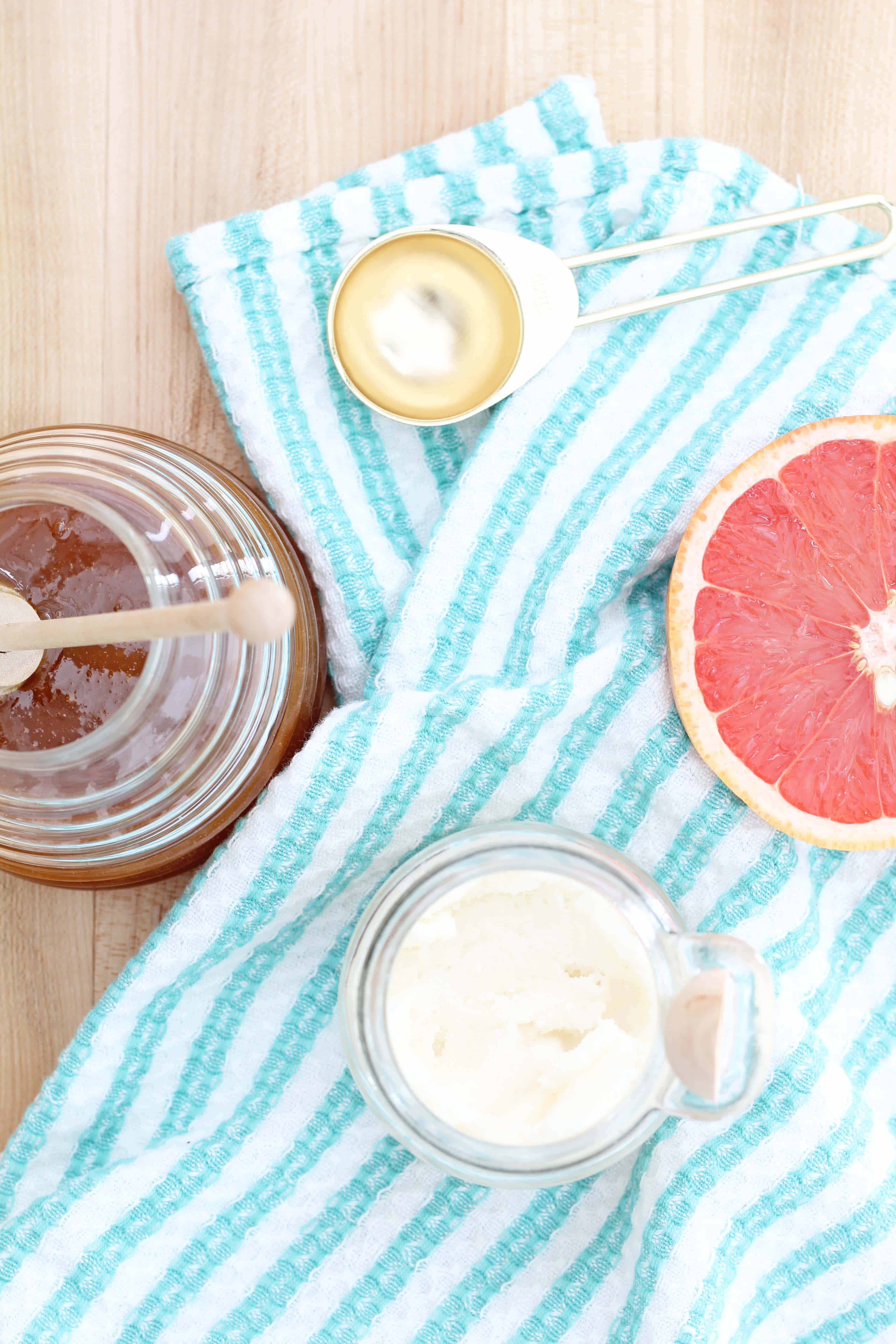 It's no secret in our house that grapefruit reigns queen. If I could choose to eat just one fruit for the rest of my life, pink grapefruit would be it. I love to diffuse it as an oil, eat it for breakfast, juice it, use it in my chapstick…… you get the picture. Which is why it comes as no surprise that grapefruit is the star ingredient of this easy and natural DIY lip scrub recipe.
When we moved to the mountains this past year we were so excited for winter and all the things that come with it: snow, sledding, hot chocolate bars, and cozy movie nights in. What I didn't think about were any of the downsides of winter: what shoveling four feet of snow in two days can do to your muscles, ice dams blocking your house gutters, and dry peeling lips.
Grapefruit Honey Lip Scrub
Fast forward six months and we've just about made it through our first winter here. Although the lingering two feet of snow outside might suggest otherwise. I can almost taste spring through my dry parched lips 😉 Which means it's time to scrub winter and all the dryness that comes with it away. In keeping with my efforts to make our home as natural as possible , this DIY lip scrub uses only four ingredients that you probably already have on hand in your pantry.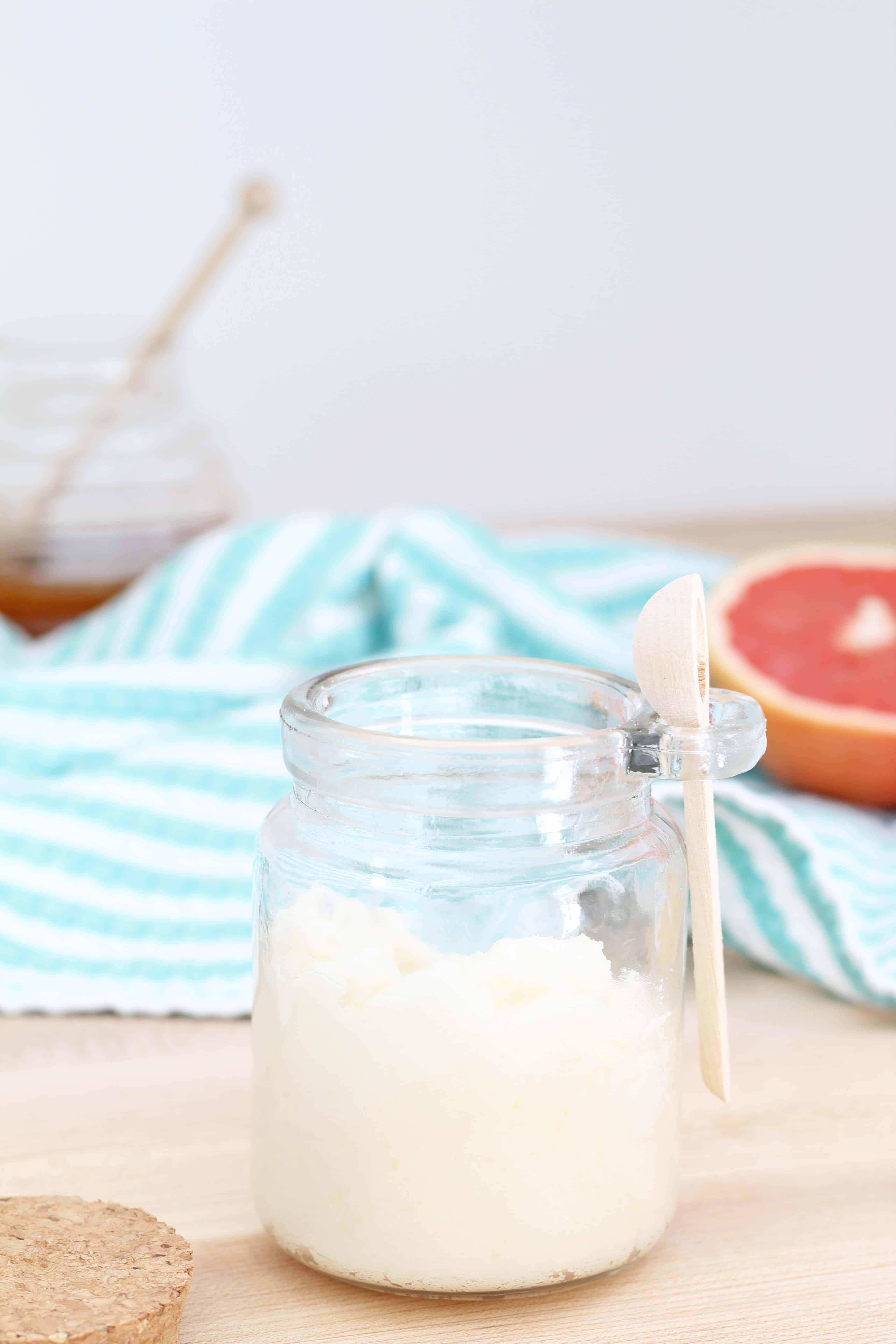 Once of the things I love most about this lip scrub recipe is how easily it can be altered. If grapefruit isn't your favorite, try substituting lime or peppermint essential oil instead. Although it should be noted that if your lips are sore, cracked, or split, you should probably skip any type of citrus juice or essential oil as it can irritate open cuts. Try adding honey instead, it has natural healing properties and along with the coconut oil will help soften and heal dry, cracked lips.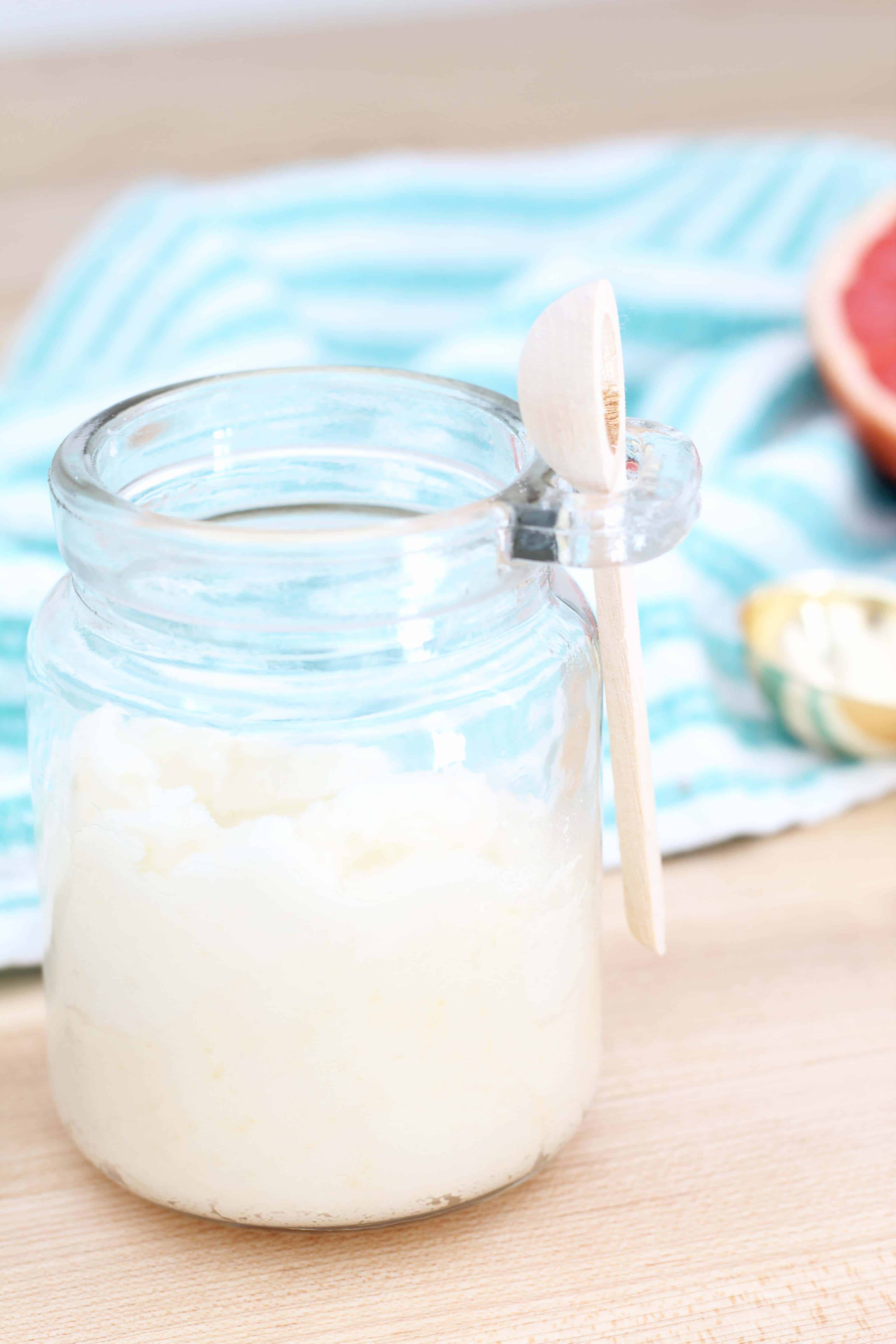 Tips For Making Scrubs & Salves
A couple of things to remember when you're making your own scrubs and salves at home:
Since the ingredients are fresh and don't contain preservatives, you should generally refrigerate and use them within a week.
As with any type of exfoliation, it can be too much of a good thing. Limit exfoliating use to about twice a week to keep lips healthy and smooth.
Our skin is a delicate thing, alway make sure you test a small patch of skin before applying something all over. Better to know if something irritates or causes a reaction before it's all over your face or body.
I like to use glass jars like this one for lip salves and body scrubs. The cork lid keeps things fresh and the little wooden spoon is handy for scraping that last little bit out. Plus, it's a little prettier to look at in your fridge than a plastic food container.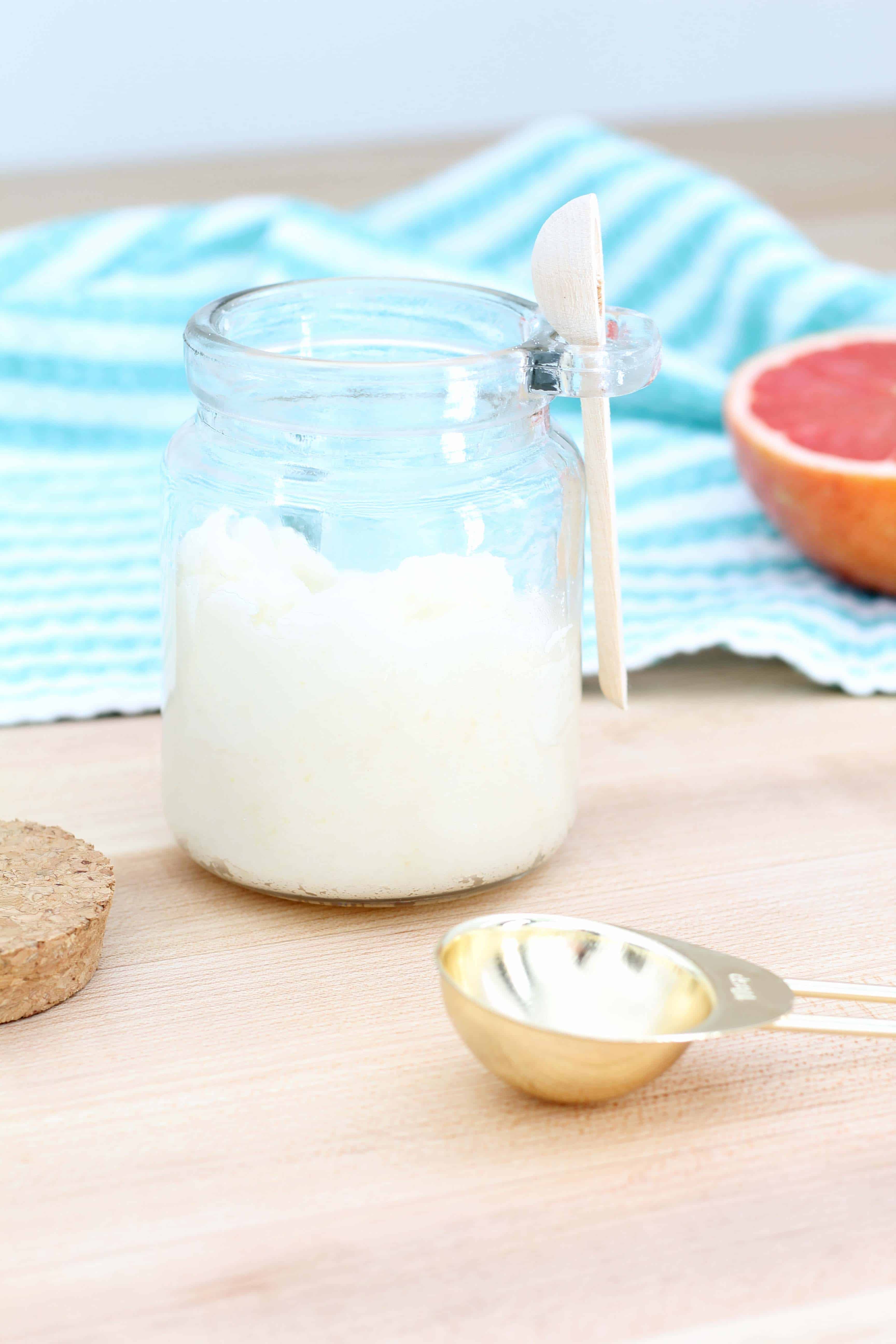 I hope you love this scrub as much as I do! If you have any favorite lip or body scrub recipes to help banish the winter blues, I'd love to hear about them. Happy making!
Recipe & Instructions
Grapefruit Honey Lip Scrub
Author:
Prep time:
Total time:
Winter can leave your skin, especially your lips, feeling parched and dry. Try this easy exfoliating grapefruit honey lip scrub for a refreshing way to kick winter skin to the curb.
Ingredients
1 Tablespoon sugar
1 Tablespoon coconut oil
1/2 grapefruit, or 1 drop grapefruit essential oil
1/4 teaspoon honey (optional)
Instructions
Measure and combine sugar and coconut oil.
Combine until you have a smooth paste.
Add optional 1/4 teaspoon of honey and blend completely.
Juice 1/2 grapefruit into the mixture or add 1 drop grapefruit essential oil.
Blend all ingredients together a final time.
Refrigerate and use within 1 week.
To Use: apply paste with clean fingers to your lips. Gently massage into lips to get rid of dry, flaky skin. Rinse with warm water. Apply lip balm afterward to seal in moisturizer.
This post contains some affiliate links for your convenience. Click here to read my full disclosure policy.
Want to save this post? Pin it here!