This small linen closet makeover is all about maximizing space and making your small closet work hard for you!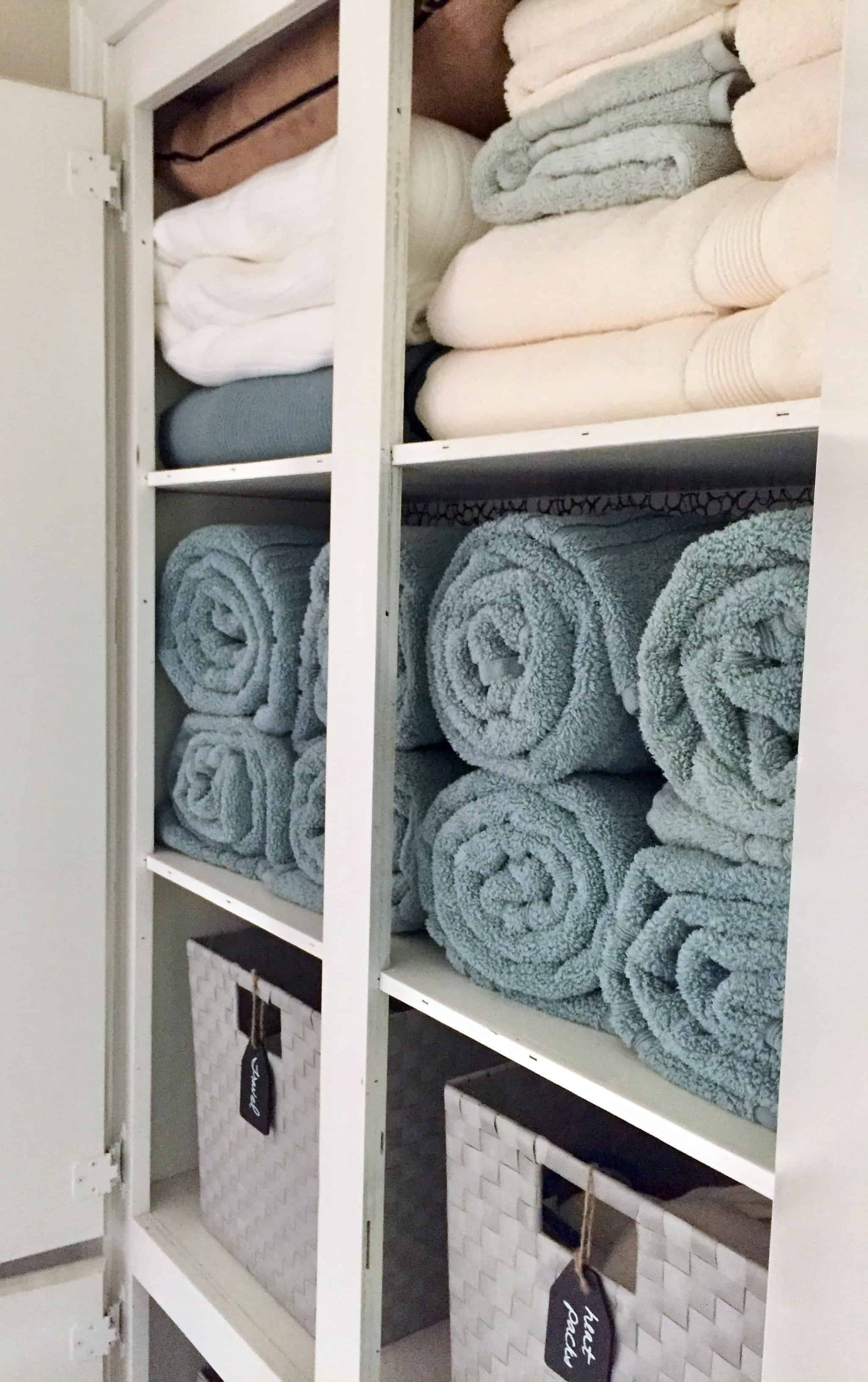 Welcome to our linen closet….or should I say our everything closet. I think I've mentioned before that we live in a small ranch stye bungalow, a cute little house with equally cute little closets. In fact, other than a small coat closet when you enter the house, there are no other main catch-all closets…this is it. Which means this five shelf, narrow closet that's tucked away at the end of the hallway has to work hard. Really hard.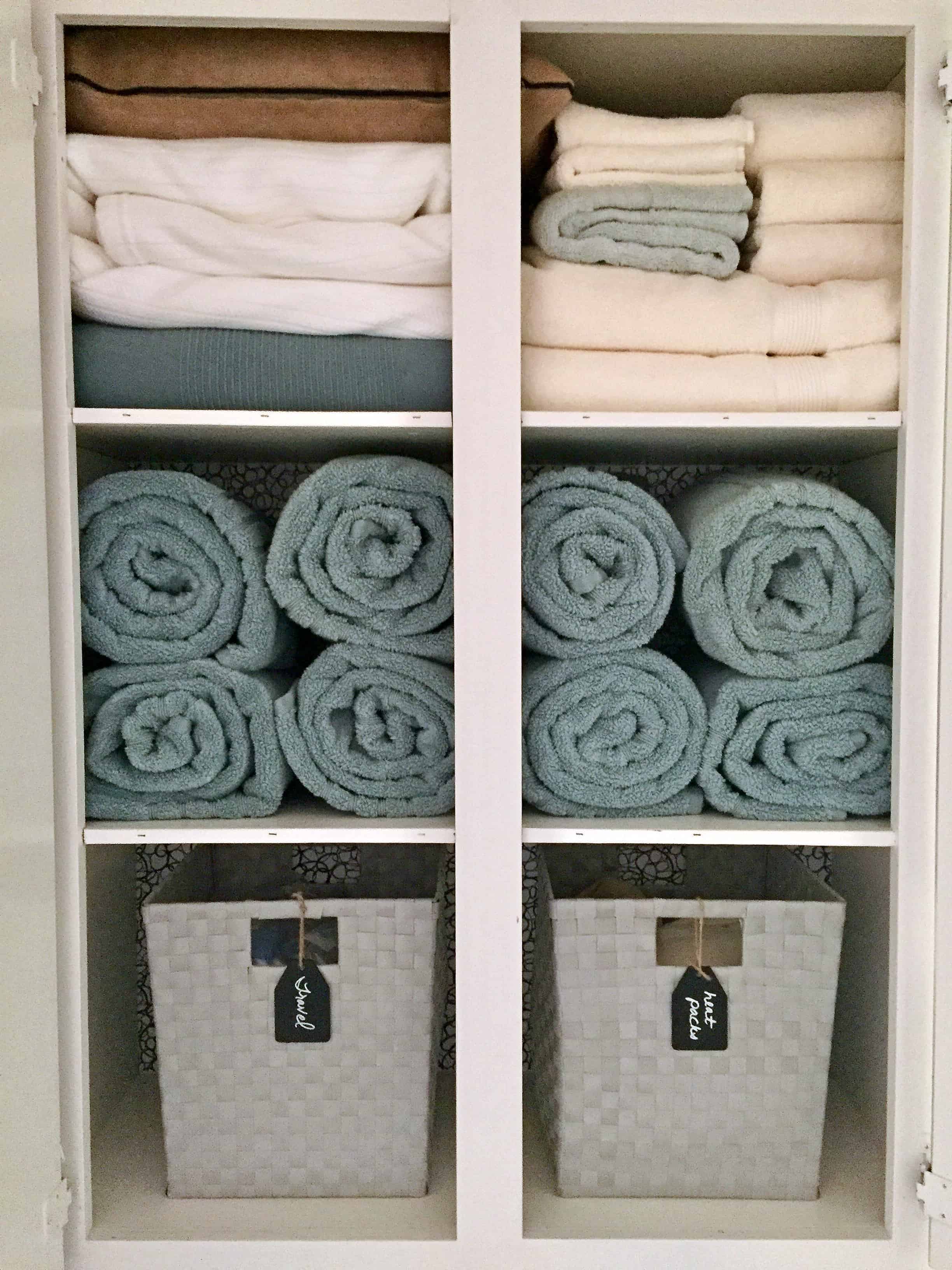 This past year, with the addition of a baby to our household, we lost our office (aka storage room) when we turned it into a nursery. Having to find a new home or purge all of the items in that room made me realize how important it was for everything to have a spot. I no longer had the luxury of throwing stuff into a room and shutting the door.
In a desperate effort to find more space, I turned to the main closet in our home. This closet is what you would traditionally call the linen closet. In our case it needed to work as our everything closet. It needed to store not just extra linens, but also towels, first aid supplies, toiletries, ironing supplies, and other random extras.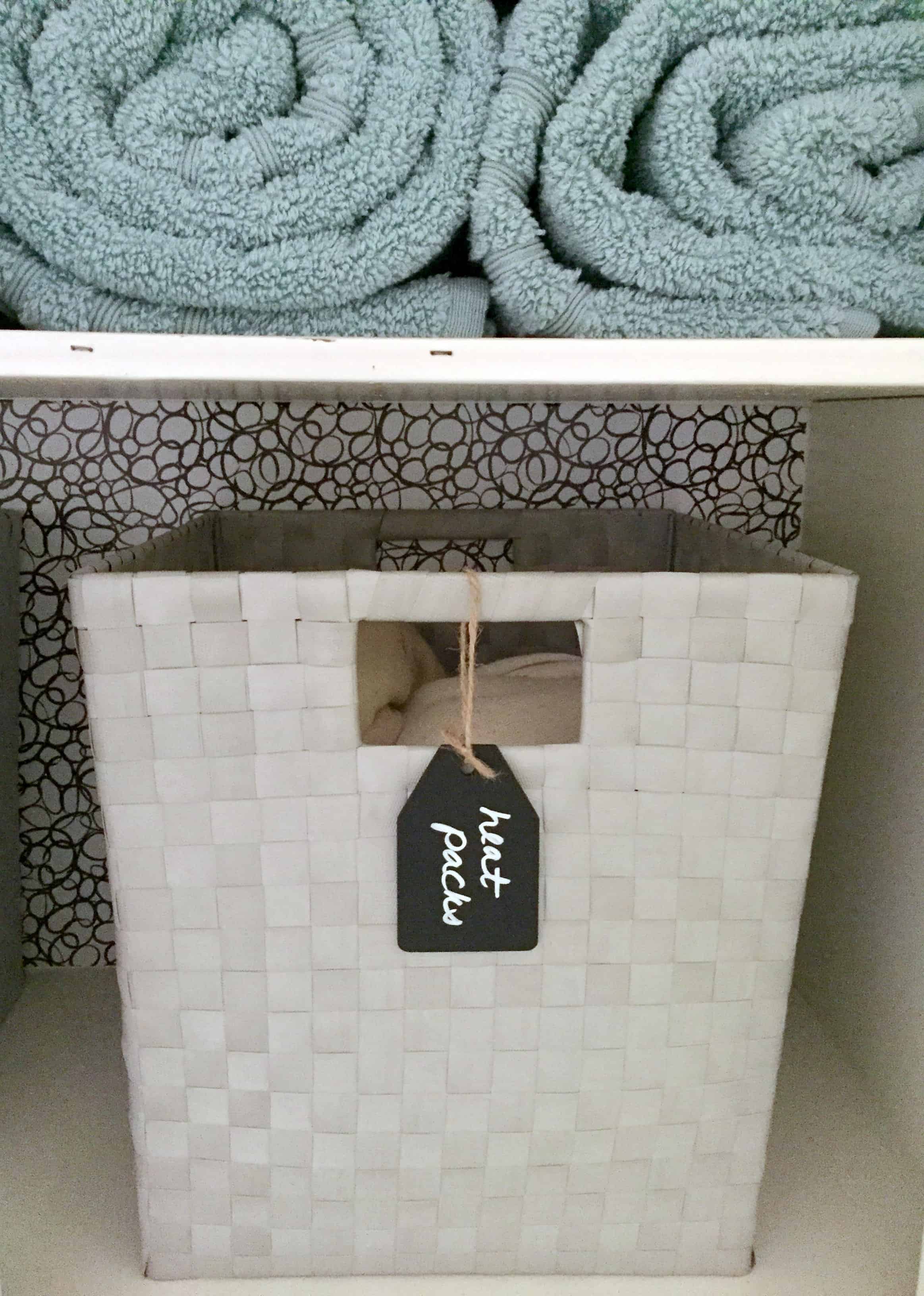 Edit & See What Fits
I started by re-designating what each set of shelves would need to hold. This helped me figure out what I was actually going to be able to fit in there. For instance, I would love to have a bunch of extra sheets and towels in here, but the reality is I could only justify one shelf for our household towels and one extra set of sheets. So I downsized our collection of those items until only what would fit was left.
Speaking of fit, you may notice the towels are stored rolled up rather than folded, which is because the closet is so shallow it doesn't fit a traditionally folded stack of towels. While they are a little bit of a pain to put away, it maximizes our use of space and looks cute, so no complaints here. And yes, we do have a whole basket devoted to holding heat packs – priorities, right? I listed one of my favorite heat pack brands in the sources link at the bottom of the post.
Maximize Space
Once I had figured out how I was going to organize the linens and towels, it was on to the matter of finding bins or baskets that would fit the shelves in a way that maximized the space. I found the gray woven bins at Target for a really budget friendly price. They have handles that make them convenient to pull out and are made of an easy to clean plastic material.
For a final touch I added something pretty, because why not make the inside of your closet pretty to look at? It's like a nice little pop of happy every time you open the doors up. For this closet I added some graphic black and white contact paper to the back wall. It adds interest and pattern while complimenting the gray and aqua color palette. I bought the contact paper at Target, but couldn't find a link to it online, so I linked to a similar one below.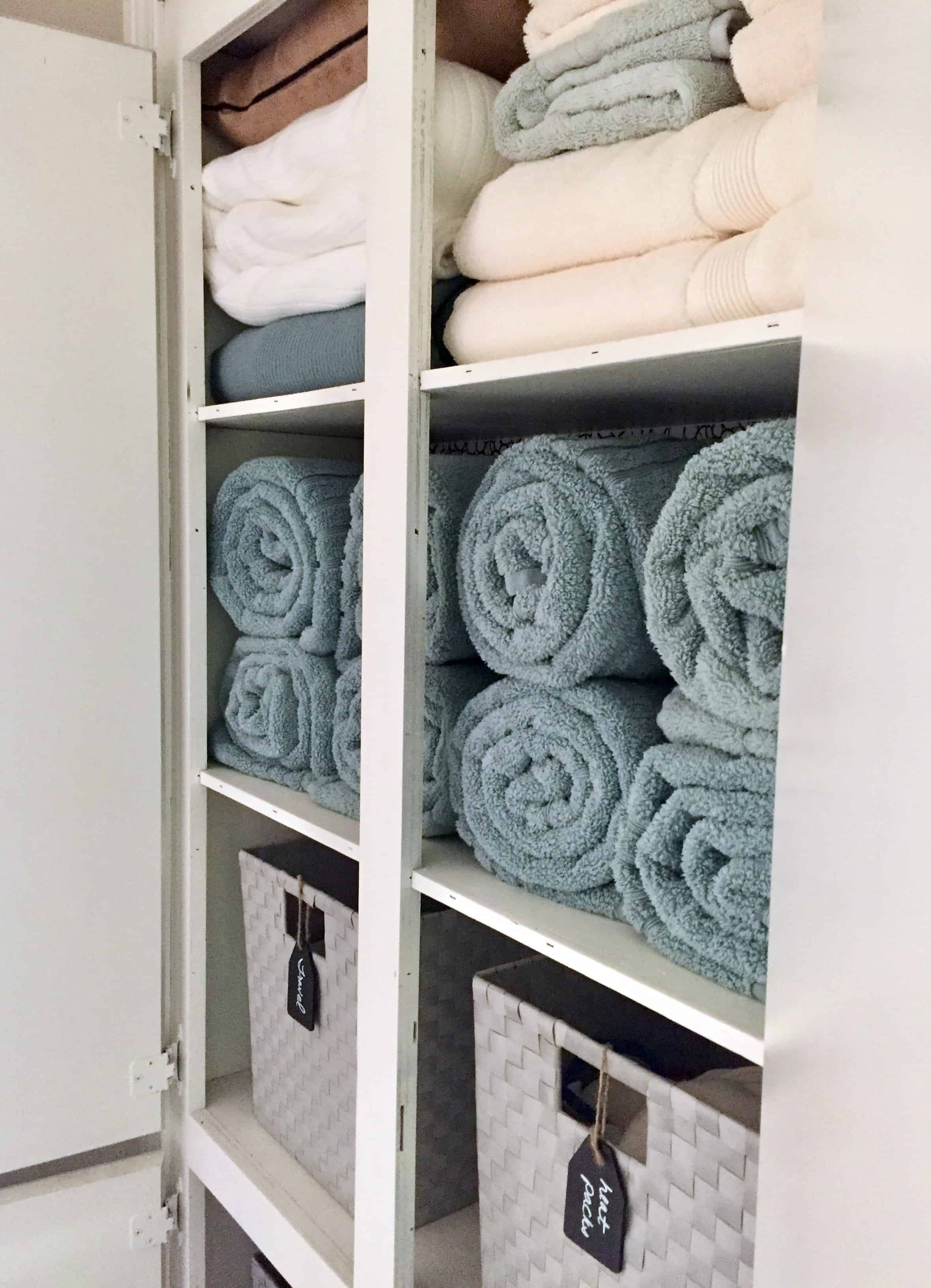 For me, this tiny space was the perfect way to start the new year with small organizing baby steps. What about you, have you tackled any new year organization projects yet?
Post Sources 
[slide-anything id='873′]
Want to save this post? Pin it here!