A couple of posts back I talked about making your home cozy for fall by adding some hygge touches around the house. Today I want to dive into some of the actual elements we can use to start giving our homes that feel as well as share some design inspiration for blending styles into our homes.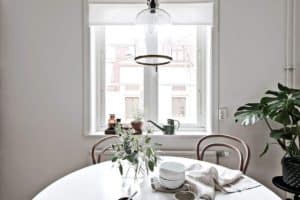 via Bjurfors
What if I like a bunch of design styles?
Now, if you're like me, maybe your decorating style doesn't necessarily fall cleanly into one category…or even two or three. Sometimes I feel like I just like too many different styles, how can they possibly all go together? Do you ever feel that way? But wait, there's good news – with thoughtful choices I believe we can merge multiple styles in our homes and come up with a beautiful end result. If you think about it, isn't that actually the heart of what makes a room interesting to look at – being able to look at it and see the layers of style and how they work together?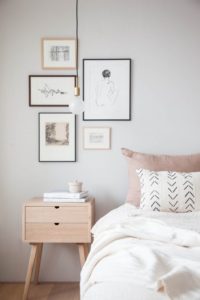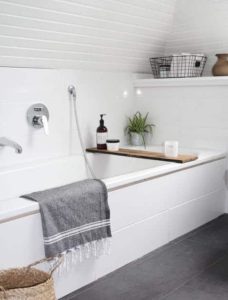 Via Droominterieu 
Scandinavian design is something that I've always been drawn to, but let's be honest, I'm far from the minimalist aesthetic it demands. But the elements I love about it can still be used throughout my home – the key is pinpointing what attracts you to that particular style and then applying touches of it to the rooms throughout your home. For me this means editing clutter, using fresh greenery and cozy linens, and adding the occasional pop of whimsy to a room.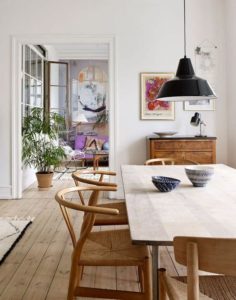 Below is a collection of Scandinavian design elements that I either have or have my eye on. I think the wallpaper would be great in a powder bath or mudroom for that added pop of whimsy. The pillow, throw, and candlestick all add that cozy feeling we crave in the fall and winter. The coffee tables are versatile with clean lines and small enough to be moved around if you have company. Lastly, the lamp I actually own and love, it's great for adding that warm pool of light in the evening, and you can't beat the silhouette!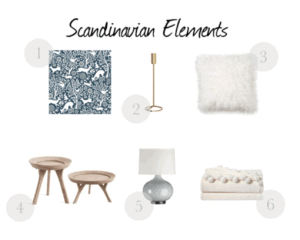 1. Wallpaper  2. Candlestick  3. Pillow  4. Coffee tables  5. Lamp  6. Throw