Welcome back for week 3 of the One Room Challenge. Below you'll find an update and progress report on our kitchen renovation as well as the plans for next week!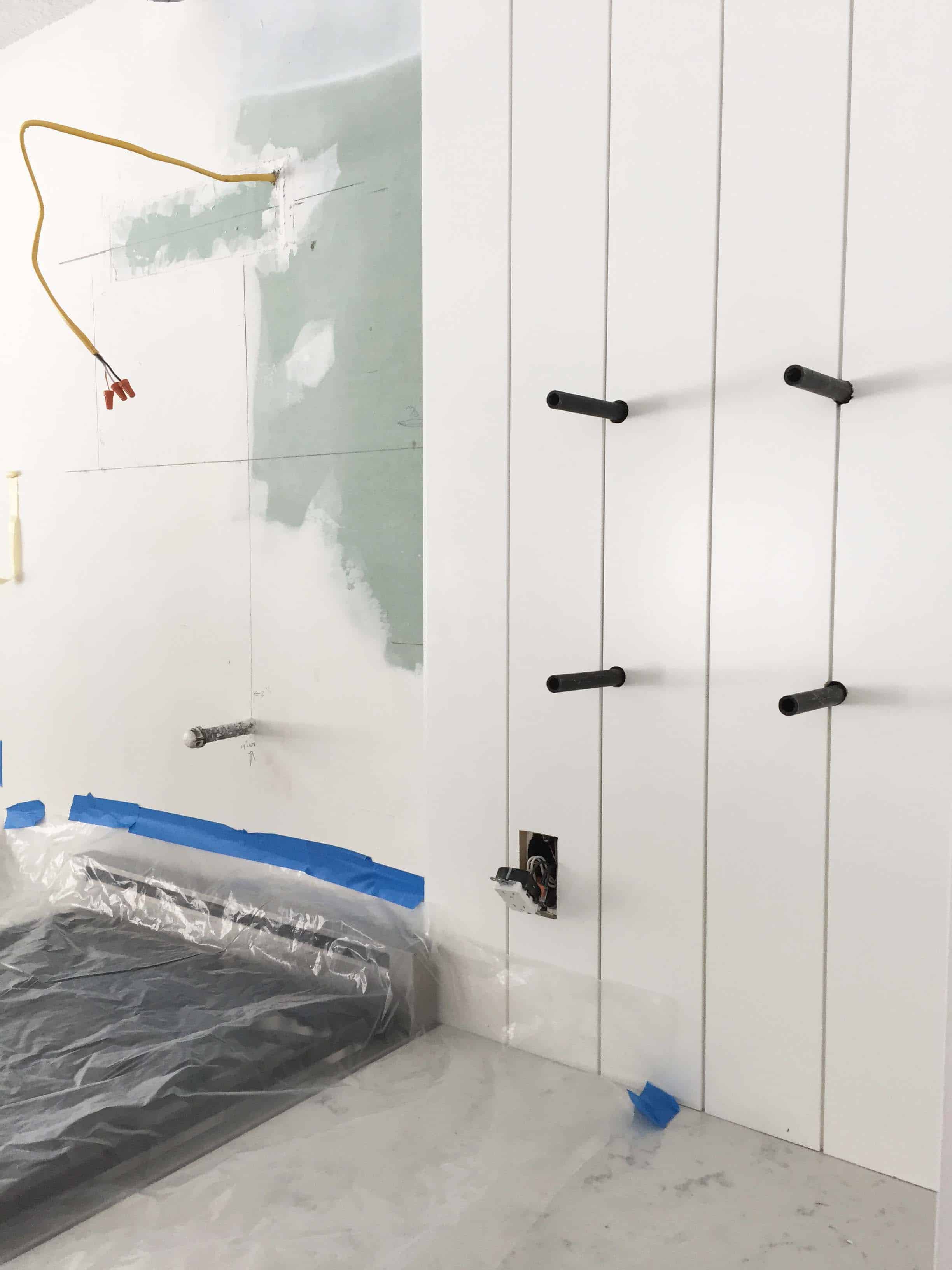 This week was all about the prep work for our open shelving and getting some of the backsplash in so we could see what we were working with. You can see the original design board for the kitchen here. The biggest thing you'll probably notice is that I totally changed my mind on the type of backsplash we were going to do. Originally I had planned on traditional white subway tile with gray grout. I know this is a popular option right now, but we had white subway tile as our backsplash in our last kitchen for 10 years and I never got tired of it. I'm a firm believer that you should put what you love in your home, whether it's trendy or not.
Kitchen Backsplash Plans
So back to the backsplash, I was all set to do the subway tile when I had a bit of an anxiety attack over the amount of subway tile we currently have in our house. We had already done both of our bathrooms with white subway tile and had plans to do our laundry room backsplash in it as well. Is there such a thing as too much subway tile? If there is, it felt like we might be getting kind of close to crossing that line.
Then to compound my anxiety, I had been agonizing over our open shelving. We plan on doing open shelving on two out of the three main walls in our kitchen – essential over all the counter spaces in our kitchen. That's a lot of open shelving, and while I love open shelving, I also worried about the visual clutter. Basically I was worried about the busyness of the gray tile grout combined with the visual clutter of all those plates and dishes – would it be too much for me? I specifically mean me because I think all of us have differing levels of what we think looks busy. What feels too busy in my home might feel perfect to someone else – it's all about personal preference.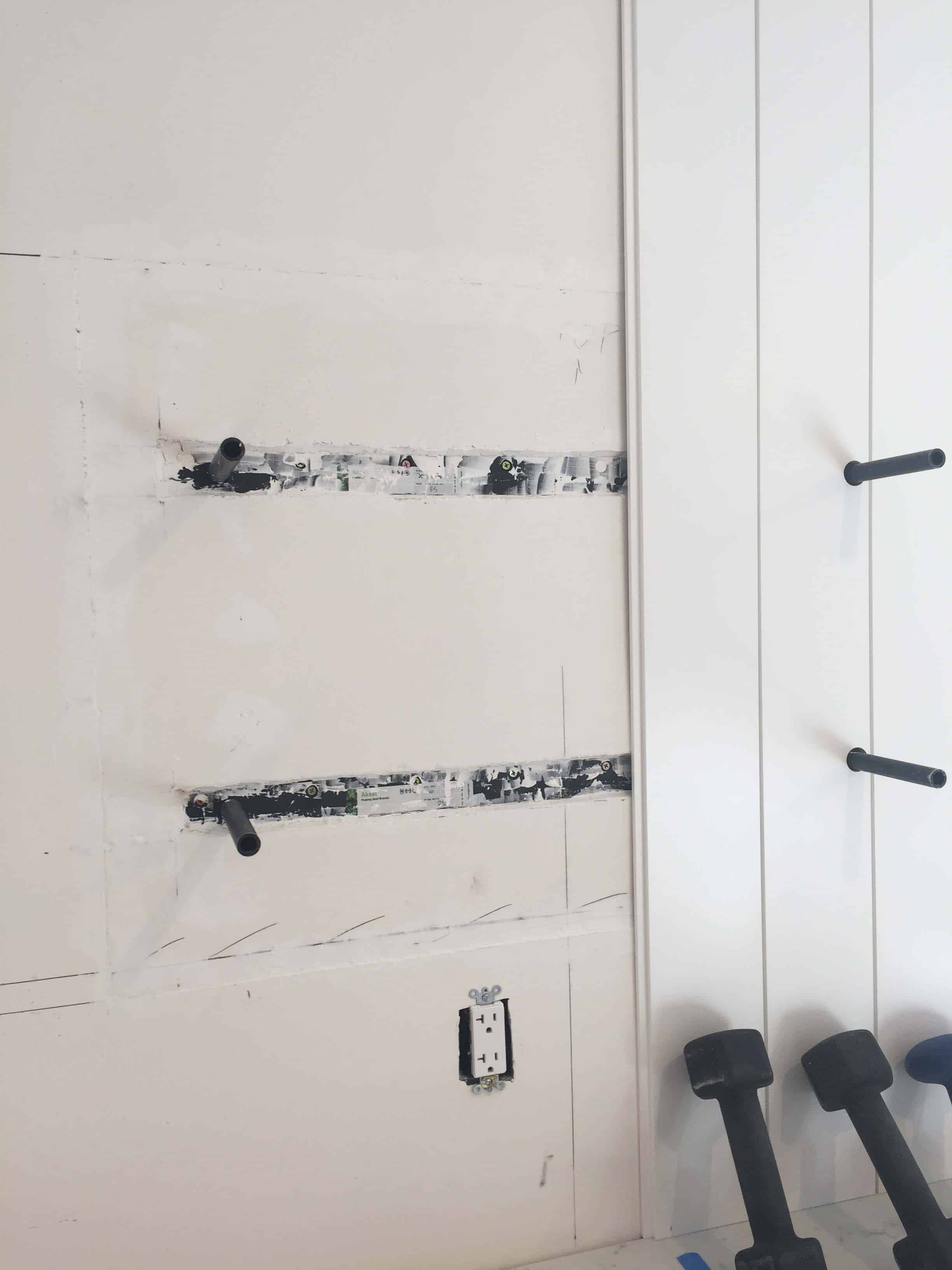 Metrie Vertical Shiplap
Which leads us to the decision to do a vertical shiplap backsplash instead. I had this epiphany late one night while I was scrolling through some inspiration images I had save. I noticed two things: one, the majority of my kitchen inspiration pictures come from Studio McGee (ha!), and two, a ton of them have vertical shiplap in them.
Shiplap seemed like a good option for a few reasons. We haven't used it anywhere else in our home, so it would add a new element to our overall home design. Also, installing it vertically rather than the traditional horizontal way feels fresh to me (and a little bit Scandinavian farmhouse, which I love). Plus, it would solve some of the visual clutter problem I was worried about. No grout lines and a simple white background really appealed to me when I pictured the natural wood floating shelves up against it.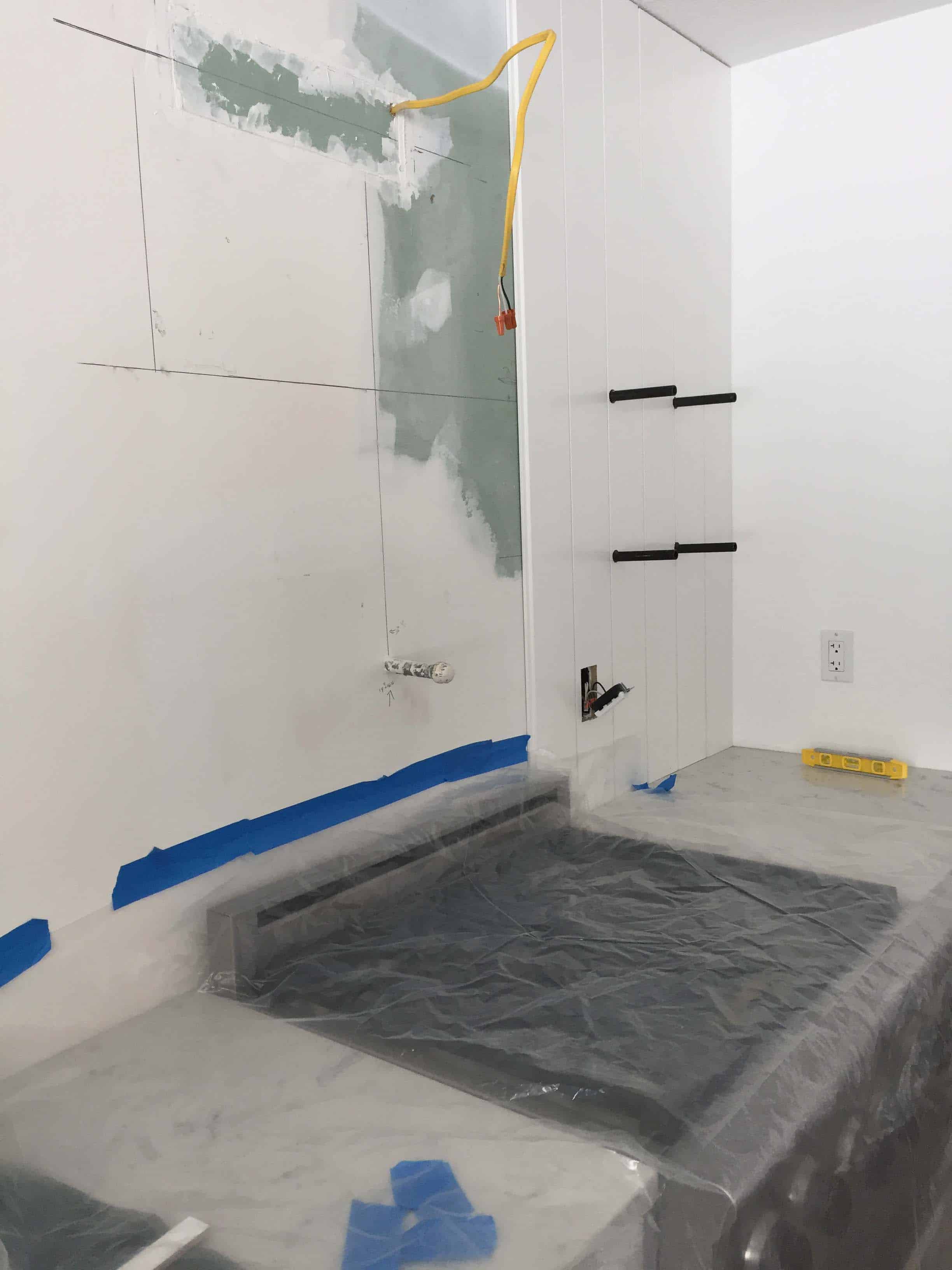 Backsplash Cost Savings
The last thing that really pushed me through my backsplash indecision was the cost savings. Our walls (like a lot of homes) are not square or even. One section of wall is particularly bad, so much so that we knew we would need to hire someone to come in and float it out to fix it (if it was going to have tile on it). Shiplap is a lot more forgiving when it comes to wavy walls. We really wanted to save some money on this backsplash by doing it ourselves, so the wonky wall was kind of the final decision maker.
Overall the installation process has been a little slow, mainly because of the installation of the brackets for the floating shelves (which has to be done before any shiplap is installed). We underestimated the complexity of cutting the drywall out and installing them into studs and blocking in the wall. Not to mention making sure they are all even and level. My husband is definitely starting to doubt my spiel about this being easier than overhead cabinets 😉
I'll be back next week with an update on how the backsplash install is going as well as more about our open shelving plans! Don't forget to check out the other One Room Challenge participants as well!