Ever wondered how to add character to your kitchen without any major remodeling? These cute retro kitchen accessories are an affordable way to add a little whimsy to any kitchen!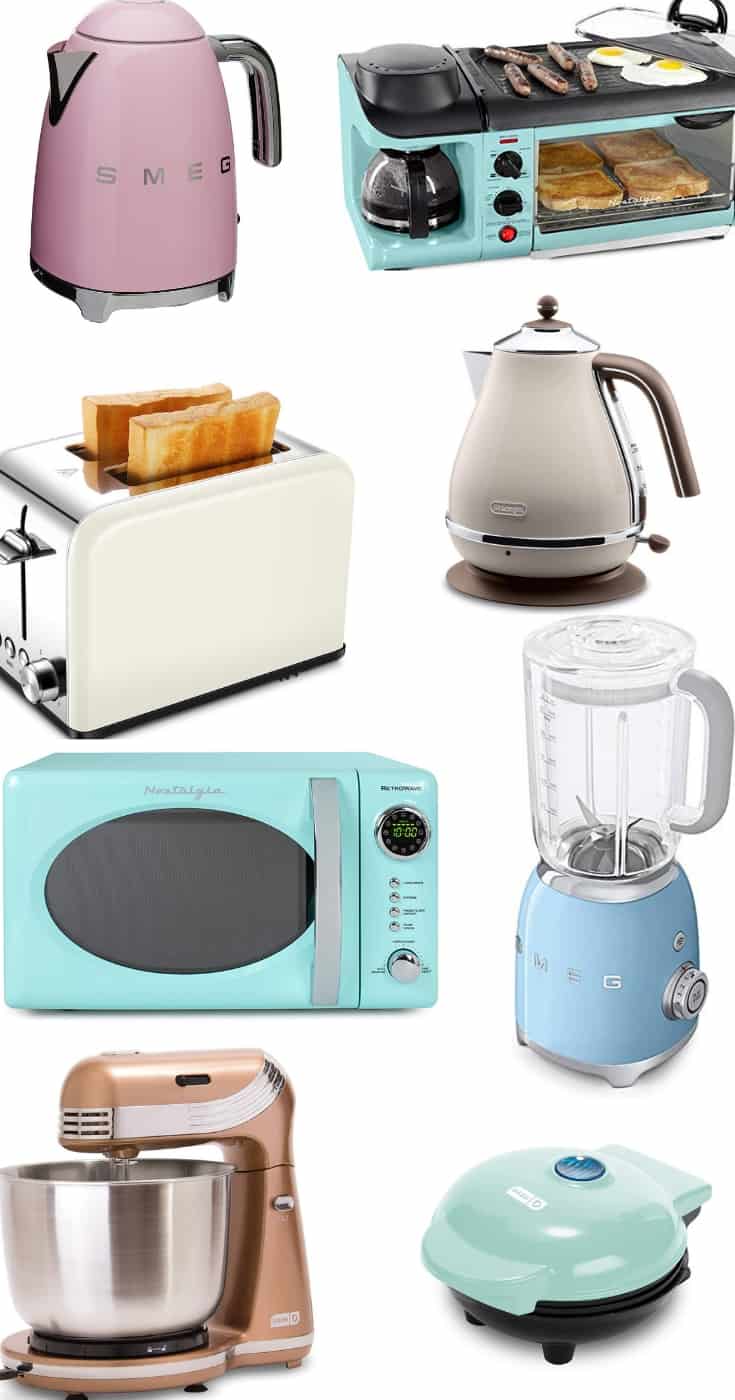 1 // 2 // 3 // 4 // 5 // 6 // 7 // 8
I've always loved the look of retro kitchen appliances. I remember flipping through Country Living as a teenager and admiring a vintage style Smeg refrigerator someone had used in a beach house kitchen remodel that they featured. It was mint green, and had those great rounded corners and chrome handles (insert heart eyes). I have no idea how much they paid for that fridge, but I would guess it was a pretty penny – and it totally made that kitchen.
Adding Character & Whimsy
Fast forward to current day, and vintage inspired kitchen appliances and accessories have never been more readily available to consumers. Which is good news for anyone who wants to add a little retro style to their kitchen. It's also especially good news if you want to add some retro style, but don't want to commit to buying a whole set of appliances (or even just one) because there are some great smaller items out there as well (toasters! electric kettles! waffle makers!) You name it and they've made it in retro form. 🙂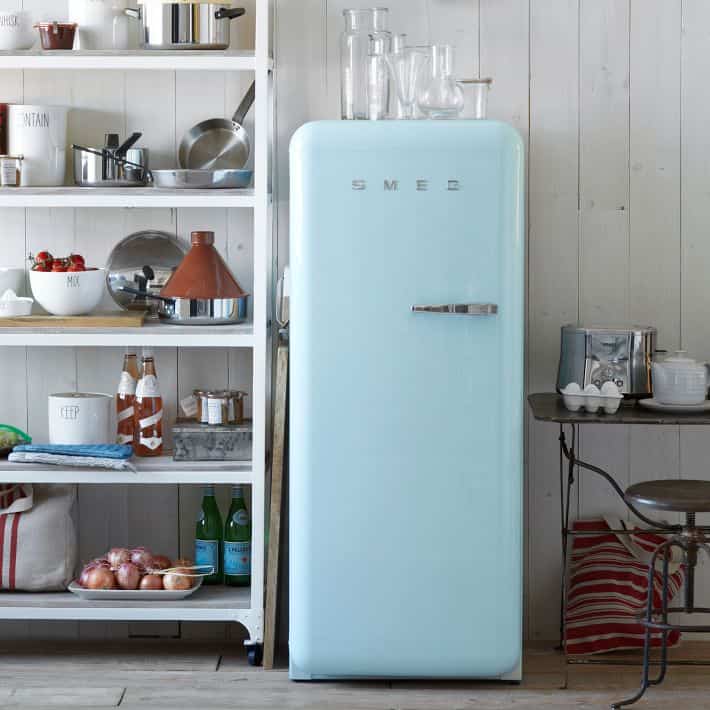 We are currently embarking on our kitchen remodel (you can see the design board here) which has taken us about 6 months to get to (tour to come!) Now that I'm finally seeing the light at the end of the renovation tunnel, I'm excited to add a few cute retro elements to our kitchen (probably in the form of a toaster or something equally small). While I wish I was investing in a cute Smeg fridge, I'm just not sure it would a) be big enough or b) fit in with the flow of our home. So small accessories for now!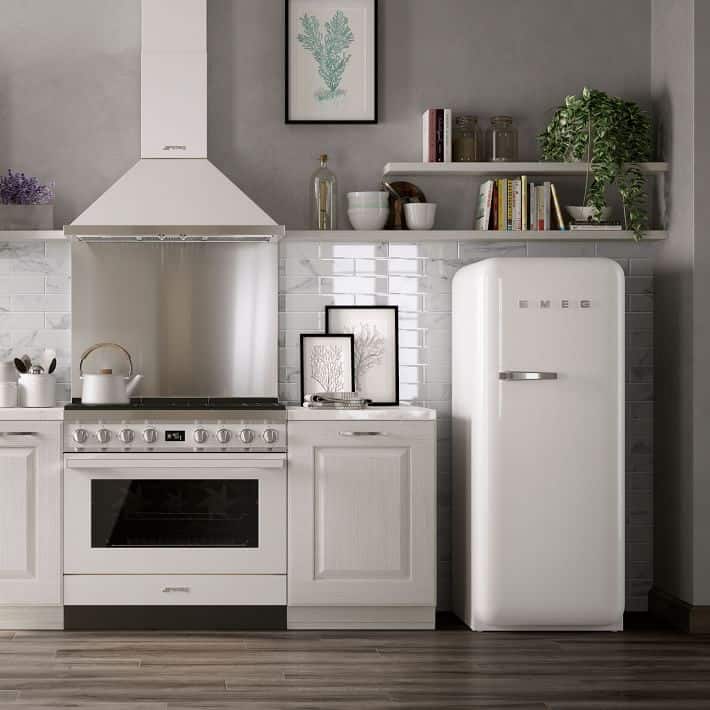 If you're like me and you're in the mood to add some retro whimsy to your kitchen, I've done a round-up of some of my favorite vintage inspired kitchen items. This list only scratches the surface, so if you're looking for something specific in a retro style, make sure you check around. You never know what you might find!
Cute Retro Inspired Kitchen Accessories
Smeg Electric Kettle – As an avid tea drinker, I've been contemplating an electric kettle for our kitchen  for a long time. This one is so cute it almost (almost) makes me want to trade in my tea kettle.
Retro Breakfast Station – I first saw one of these in a B&B we stayed in while we were in England. So. Stinkin'. Cute. And especially useful if you live in a small apartment, or just have a small kitchen!
Vintage Inspired Toaster – Definitely on my list. We love our Saturday morning bagels, and this toaster would look so cute out on a kitchen counter.
Delonghi Electric Kettle – Another electric kettle that doubles as eye candy on your counter. I love the idea that it could transition out to the breakfast table for refills as well!
Nostalgia Microwave – Microwaves can be an eyesore. There are entire blog posts devoted to hiding them and making them less noticeable, but sometimes necessity and convenience demands that they be front and center. If this is the case for you, why not embrace your countertop microwave and make it a cute one?
Smeg Blender – Smeg definitely has the market cornered when it comes to color selection. I'm partial to the pastel green, but this blue color would be beautiful to look at while you make your morning smoothie.
Dash Retro Mixer – Not only is the price point amazing on this mixer, but the copper color is right on trend!
Mint Green Waffle Maker – This would be fun to whip up waffles in on Sunday mornings, plus it's small enough to easily store the rest of the time.
So what do you think? Are you a fan of this retro trend, or would you rather go more modern?
This post contains some affiliate links for your convenience. Click here to read my full disclosure policy.
Want to save this post? Pin it here!