Try this DIY natural all purpose spray for a budget friendly and healthy alternative to store bought cleaners.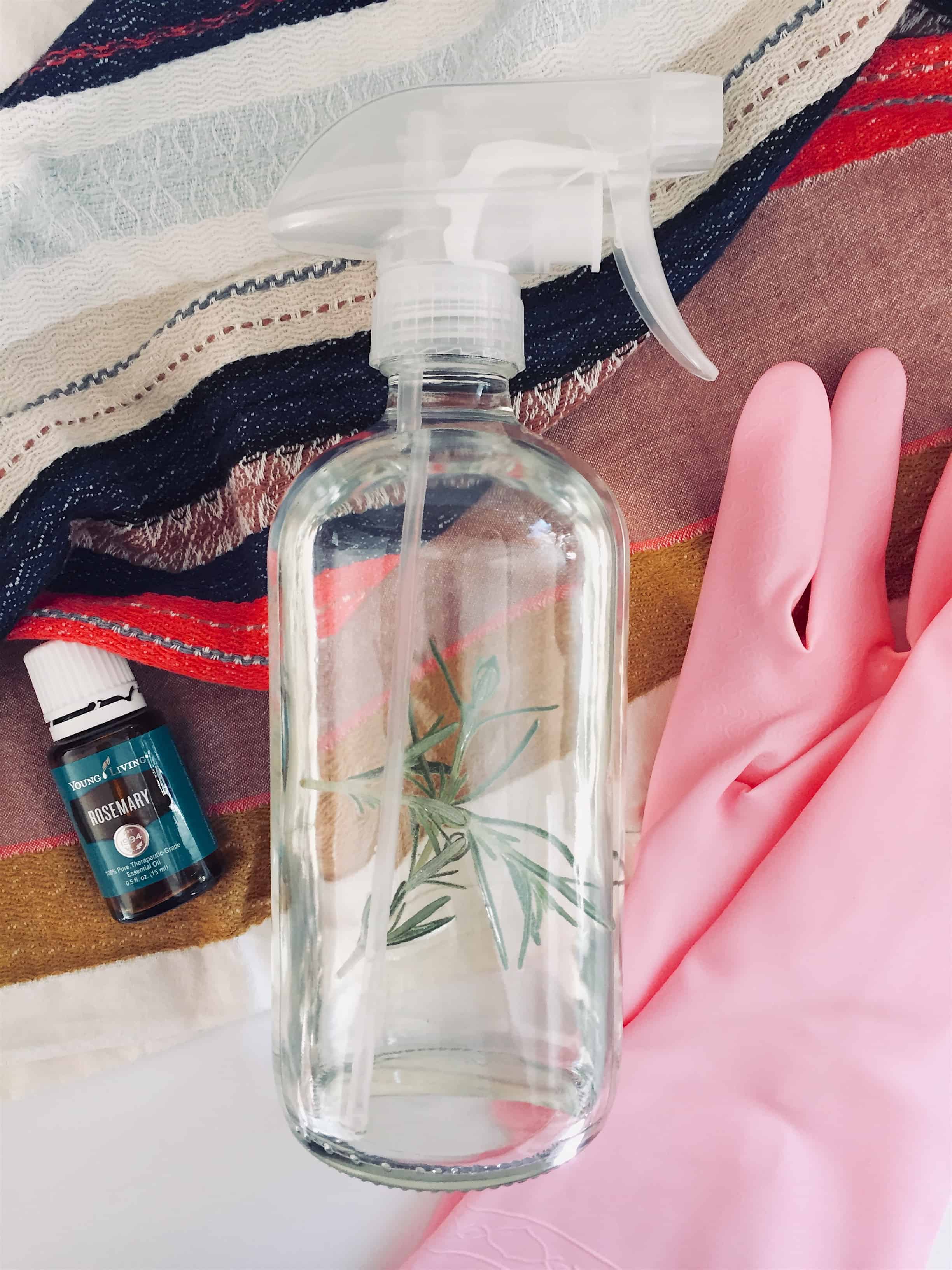 Over the past year I've been doing a major purge and replacement of our household cleaners in an effort get as many toxins as possible out of our home. It's kind of a trendy thing to do right now, but I actually grew up in a home where my mom tried to eliminate items she thought were harmful, so it's not a totally new concept to me. I also had my first child this past year, and I like the idea of not having to worry about her crawling through something toxic I used to disinfect the floor.
While there is so much more information out there now than there use to be, it still takes a bit of effort and research if you want to go natural with you household items and stay on a budget. I thought I would pass along the tools that have been helpful to me as well as the products we use and like. I wanted to make sure these products stood the test of time, so all of the products I'm going to highlight we genuinely like and have been using for the past year on a regular basis.
Tools
There are two main tools I've used to research and vet products. Basically, I would concentrate on one household area at a time, for instance laundry, and then research different options for detergent, whitener, dryer sheets, etc. The first tool I use mostly at home to compare products, the Environmental Working Group's (EWG) website. If you haven't heard of the EWG, they test and rate products based on their toxicity levels, as well as provide a list of alternative products based on the category you are searching.
The second tool I use mostly when I'm out shopping, it's the Think Dirty app. This app is basically an extension of the EWG website in that it pulls all it's data from there. The beauty of it is it's ease of use. When you're out shopping, you don't want to have to search through the EWG's website in the middle of the detergent aisle, and that's where this app comes in. It allows you to use your phone as a scanner. You just scan the barcode on the back of the product, and Think Dirty automatically pulls up its rating and any know toxins, what they are, and potential harmful effects. The caveat is that this works great as long as the product is in Think Dirty's system, if it's not, they have an option for you to add it so their researchers can look into it and add it to their database.
Our Favorite Products
Below is a round-up of our favorite cleaning and household products as well a simple recipe for a disinfecting/all-purpose spray that happens to smell amazing (I use this everywhere – the floor, the counters, highchair trays, you name it). Keep in mind this list is by no means comprehensive, and there are a lot of great alternatives to the ones I have listed below. I hope this helps, I know sometimes it can seem like the product choices are overwhelming. Thank you, as always, for stopping by!
Post Sources
[slide-anything id='528′]
DIY Natural All Purpose Spray Recipe
20 drops Rosemary essential oil
20 drops Lavender essential oil
Fill the remainder of a 16 oz glass spray bottle with distilled water. Make sure you shake before each use.
Enjoy!
Want to save this post? Pin it here!