Today I wanted to follow up on my earlier promise to share the guest bath design board  for our upcoming home remodel (you can read more about the whole story here).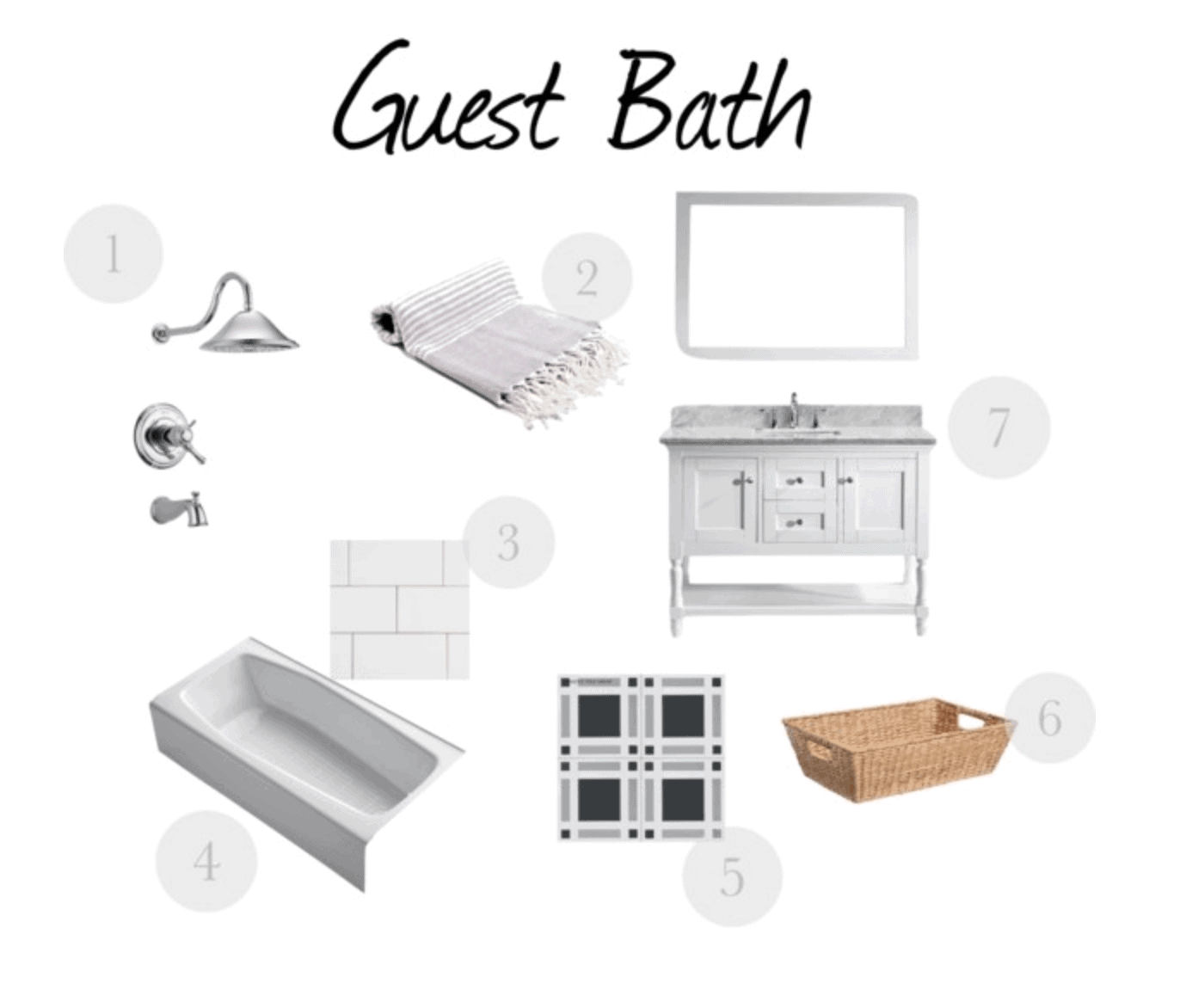 Bath & Shower Faucet Set  2. Turkish Towel  3. Subway Tile  4. Bathtub  5. Floor Tile  6. Baskets  7. Vanity
As the new year approaches, I'm starting to have a little bit of anxiety about the overwhelmingness that remodels can entail, particularly budget. What I don't want is for us to get so caught up in everything big picture that we forget to plan ahead – because planning ahead can save money, especially with finishes. Waiting until your finishes go on sale can add up, after all, $100 here and there can make the difference between coming in under, on, or over budget.
Why use a design board?
So where do you start? For me this means making design boards. Design boards help me figure out what feel I want for a room, as well as catalog the sources I want to use. There is no faster way to break your budget than to just walk into a store and buy a faucet on the spot (or whatever your looking for) because your plumbing is scheduled to be installed the next day. Figuring out what faucet style you want, reading reviews, and checking prices all takes time. Add waiting for something to go on sale to the equation, and you can see how budgets and timelines get broken all the time.
For me, a design board helps me track what I'm looking for as well as helps make sure I don't impulse buy something just because it looks good to me at the moment but doesn't actually fit with the room I'm shopping for – which is exactly what I'm trying to do with the above guest bath. This is just a preliminary board to try and gather the "feel" I'm looking for. Our new (to us) house is set in the woods at the base of mountains, so I'm trying to give it a modern cabin/mountain house feel, but still keep it light and airy.
Statement tile
What I am sure about it is wanting some sort of statement tile either in the guest bathroom or the laundry room. Since a guest bath is used by everyone, but not necessarily seen constantly (like a main living space is) it seems like the ideal place to be a little adventurous with my flooring choice. Enter the plaid tile. I think it's modern, a little whimsical, but still gives a nod to the cabin vibe we want to inject throughout the house. What do you think? Is statement tile too permanent for you or would you take the plunge?