Picking out a dining table can be a challenge. Below I've sourced a variety of farmhouse style dining tables at different price points.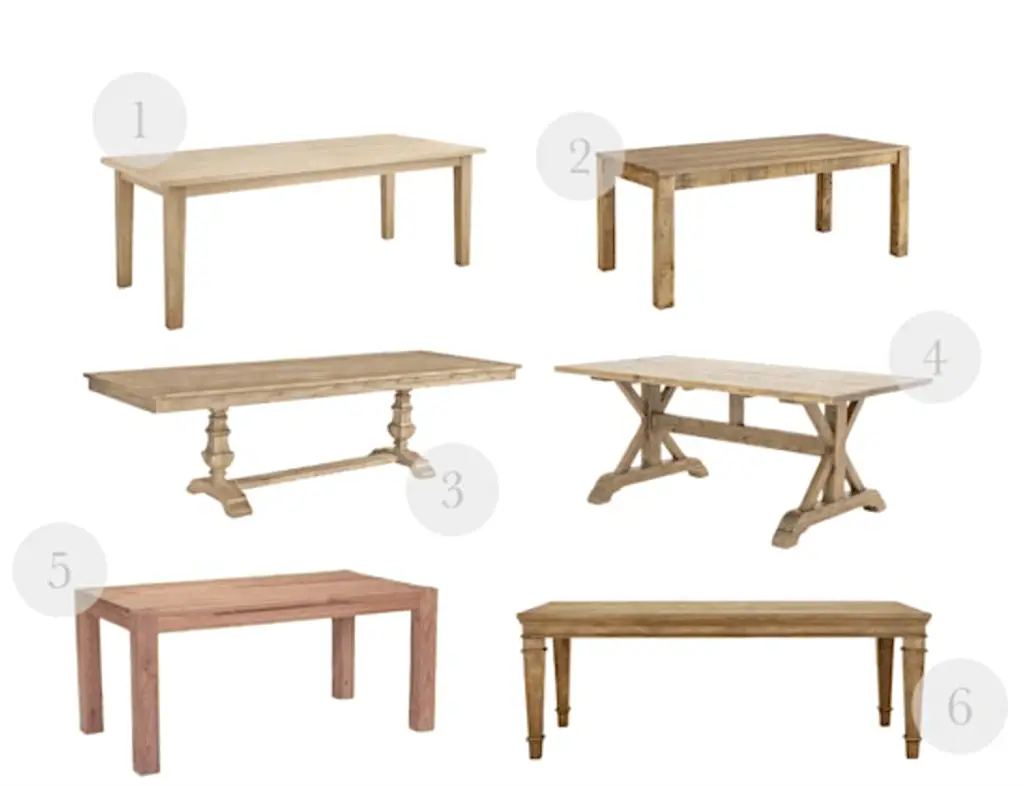 1 | 2 | 3 | 4 | 5 | 6 
Hello! I thought I would share some dining room table sources with you all today. As you may know, we have a move coming up this summer and there are a couple of big ticket furniture items that are on my mind. One of those items is a large dining room table, ideally in a natural wood finish, between 65 – 84 inches long. You wouldn't think that would be so hard to find, right? Well, apparently it is. Why is it the simplest things are always the hardest to find?
Picking Out The Perfect Dining Table
Our (new to us) home has an entirely different layout than our current home, which has a lot of separate rooms. The new house has more of an open concept with the main living area consisting of the living and dining rooms combined off of the kitchen. All of this means no formal dining room and no eat in kitchen.
The dining area will be visible from three main areas of the house and will be the only eating area. In other words, it needs to be pretty and seat a decent amount of people. For months I've been searching for a table to fit that criteria, and I think I've found some good ones. I've rounded up my favorites in case you happen to be in the market for the same thing!
I normally lean a little more traditional, but I surprised myself by really being drawn to the parsons style tables (#2 and #5). I think the clean lines blend well with a multitude of design styles, and the possible chair pairings are endless. I also really love option #6, it's the perfect size and has a nice traditional feel without being stuffy.
So which one did we end up picking? Ultimately we went with #1. I'm a little bit nervous about how light the wash is, but we'll see how it looks in person. It's a good blend of modern and traditional with an almost Scandinavian feel to it, which I love. The next step is to find chairs for it!
What do you think? Are you more traditional or modern when it comes to picking out a table?
Want to save this post? Pin it here!