This dark chocolate mug cake is a quick and easy way to satisfy your chocolate craving in less than 5 minutes!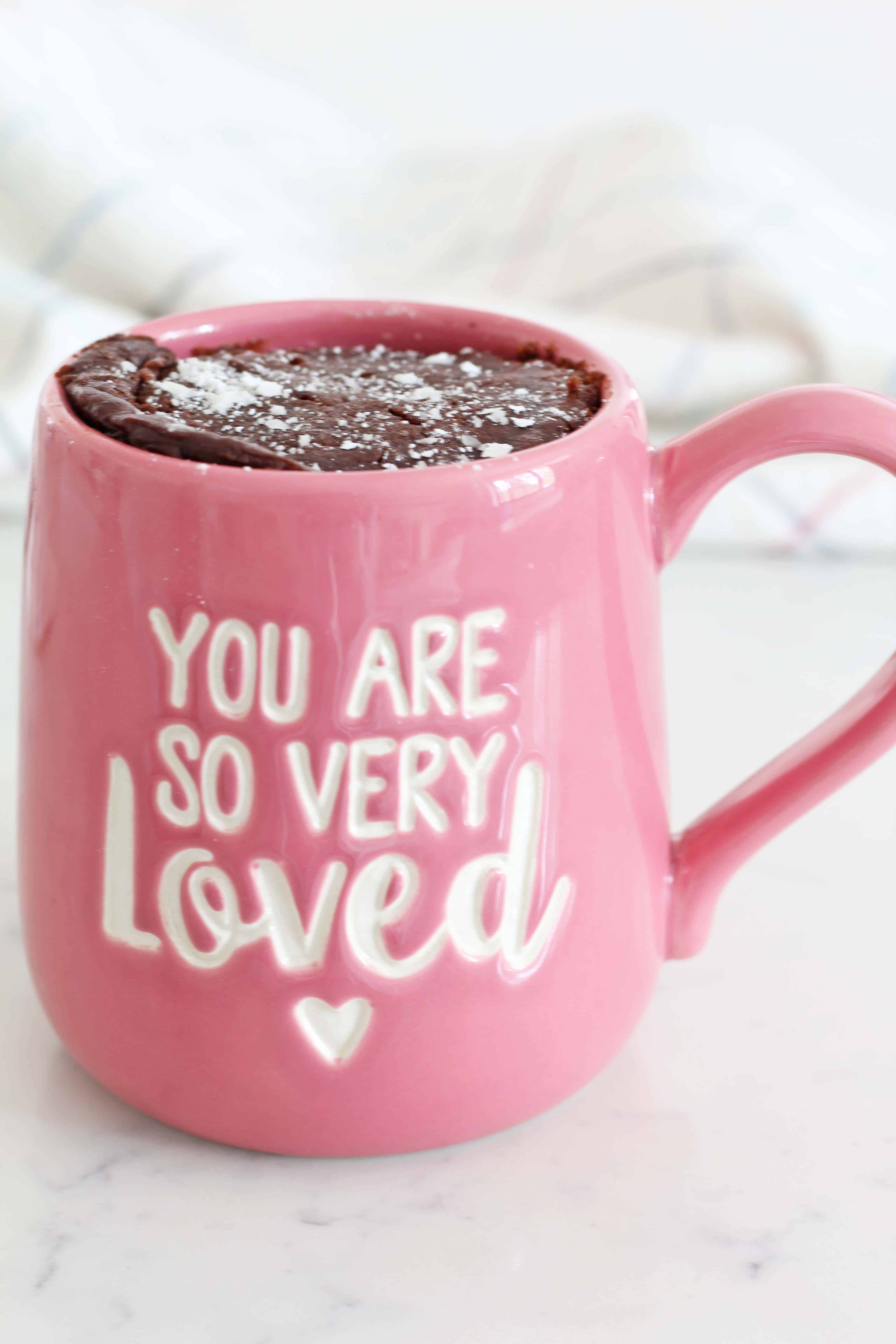 We're finally into the snowy part of our winter here in the Pacific Northwest and it feels like it took forever to get here! With that snow has come all of the usual winter cravings: soups, warm drinks, and cozy desserts 🙂 To me, nothing is more cozy for dessert than a mug cake. Maybe it's the mug, maybe it's the cake…but it is coziness personified.
There are a lot of mug cake recipes out there and I have tried quite a few of them! While there are plenty of great ones to try, I tend to like my desserts on the slightly less sweet side (and the darker the chocolate the better). Both of those things can be surprisingly hard to find in the dessert department. So I came up with my own not too sweet and darkly decadent chocolate mug cake. Yum.
How to Make Chocolate Mug Cake
Mug cake is generally meant to be one of those desserts that's easy and quick to make in the microwave. While I don't generally make dessert in the microwave, coconut caramels  and chocolate mug cake I can get behind. 😉
Making a mug cake is as simple as combining your dry ingredients and then slowly adding the wet ingredients in. Once you have your batter made, divide it between two coffee mugs and pop it in the microwave! The main trick to making sure your mug cake turns out nice and cake-like rather than overdone depends on two things:
The wattage on your microwave
How long you cook it
If you're unsure what wattage your microwave is or how fast it cooks, better to error on the side of caution. Simply put your mug cake in the microwave at 20 second intervals until the top layer starts to rise and get a   crusted look to it (similar to the way a pan of brownies or cake looks when you take it out of the oven). The cook time for this recipe is based on the 1200 watt microwave I used.
I'm a sucker for a cute coffee mug, and  this one  was just too cute to resist. I think it would make a great gift filled with candy as well.
Once your mug cake is done, you can sprinkle it with a some powdered sugar if you're in the mood for something a little extra special. Enjoy!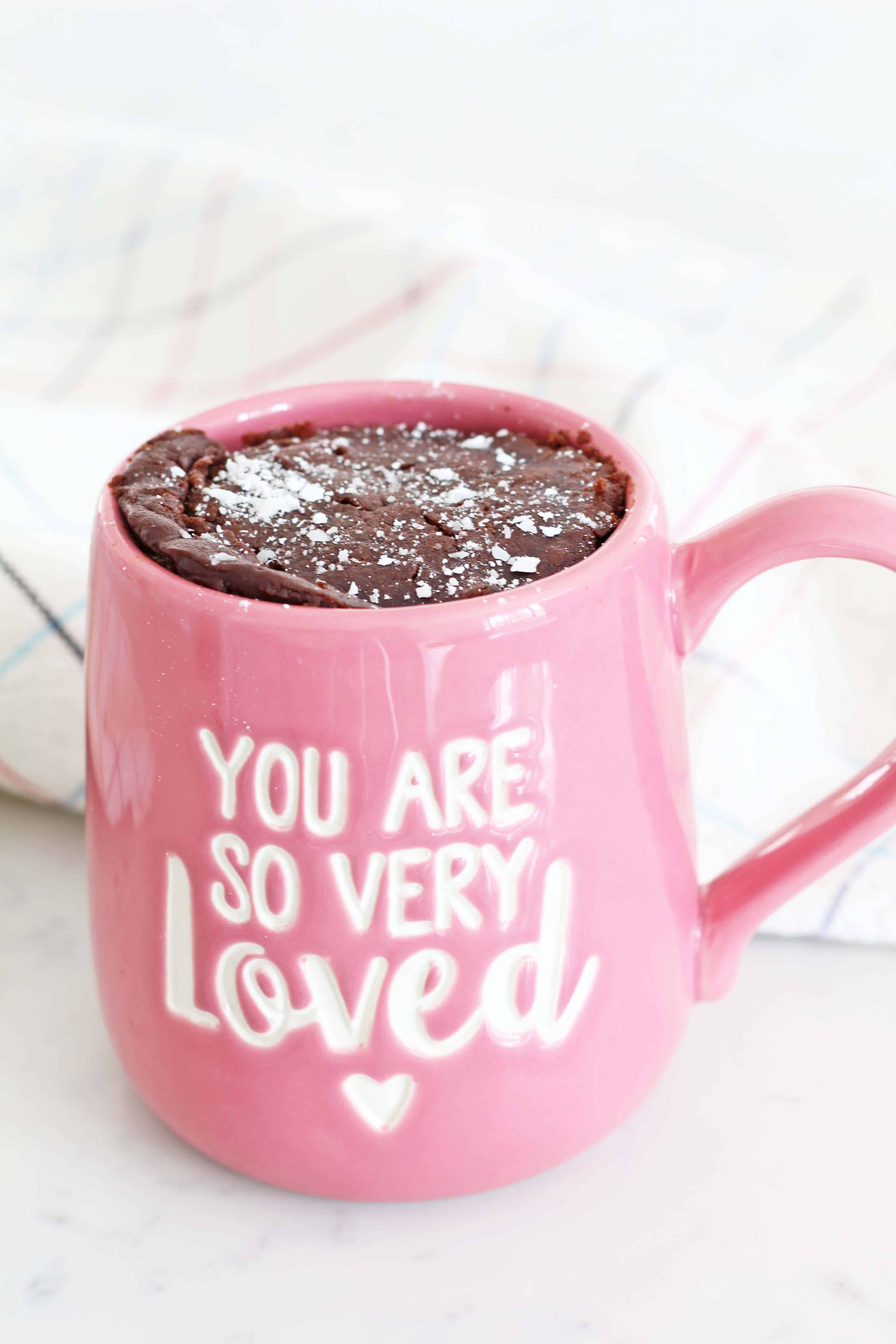 Dark Chocolate Mug Cake
Recipe Type
:
Dessert, Sweets
Author:
Prep time:
Total time:
This dark chocolate mug cake is a quick and easy way to satisfy your chocolate craving in less than 5 minutes!
Ingredients
3 Tablespoons of flour
2 Heaping tablespoons of Coco Powder (high quality dark chocolate works best)
1/4 teaspoon if baking powder
2 Tablespoons sugar
Pinch of salt
2 Tablespoons of Canola Oil
6 Tablespoons of Milk
Powdered Sugar (optional)
Instructions
Combined dry ingredients together is a small bowl.
Whisk until fully combined and blended.
Make a well in the center of your dry ingredients.
Slowly add Canola Oil, stirring as you go until fully blended.
Slowly add milk, stirring as you go.
Keep stirring mixture until fully combined, the final batter should have a shiny/glossy appearance.
Divide batter in half and pour into mug.
Microwave each mug for 45 seconds on high (this recipe uses a 1200 watt microwave, so add or subtract time based on your microwaves wattage).
Sprinkle with powdered sugar for something a little extra special.
If you liked this post you might enjoy these as well:
9 Reading Nooks to Curl Up in With a Good Book 
This post contains some affiliate links for your convenience. Click here to read my full disclosure policy.
Want to save this post? Pin it here!