Have you ever read a book that was so good you just couldn't stop thinking about it, even after you finished it? Here are 3 books you won't be able to put down this fall.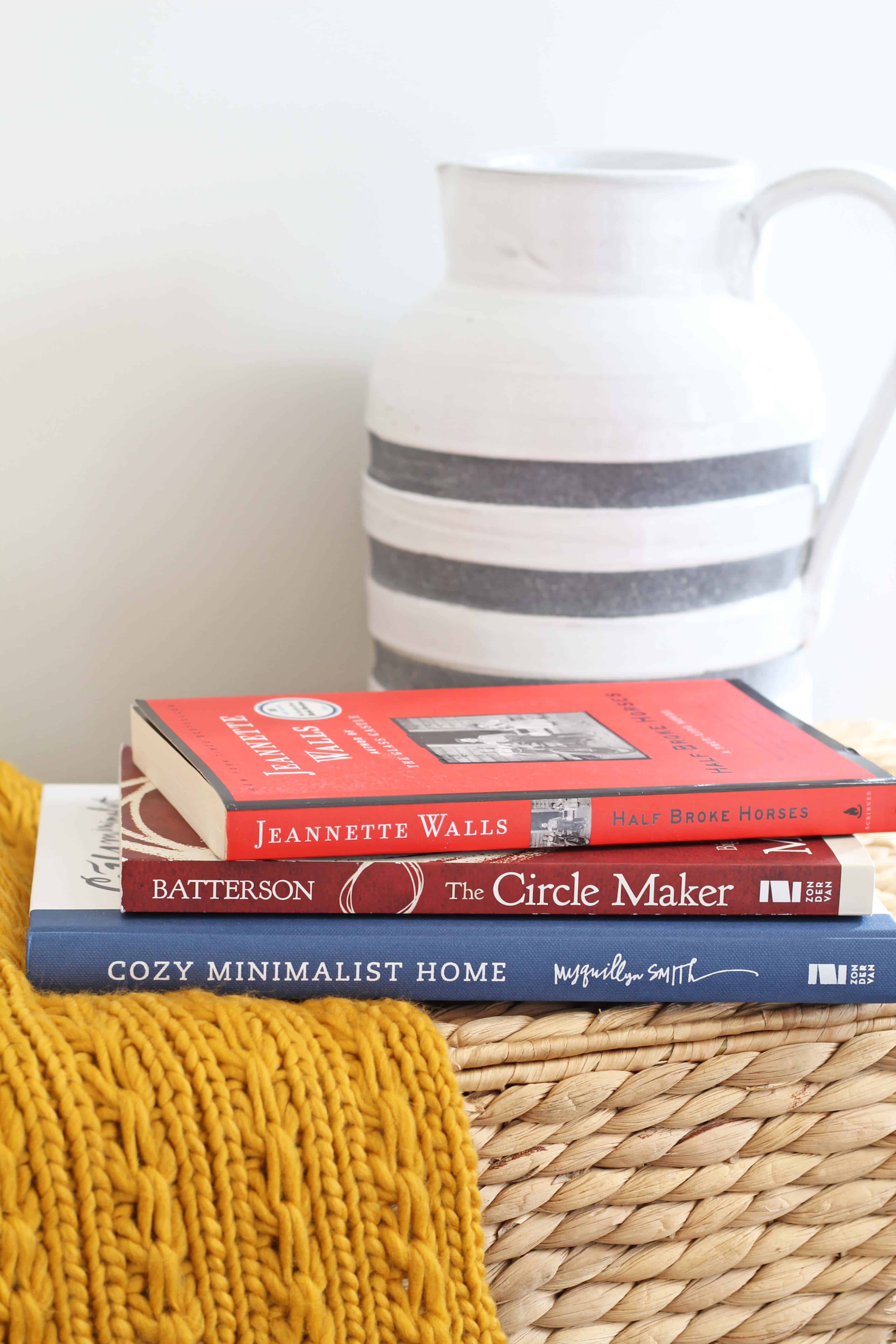 This post contains some affiliate links for your convenience. Click here to read my full disclosure policy.
Fall can be a busy time of year, but it's also the time of year when I tend to read the most. I blame it on all the rain and fluffy blankets 😉 In honor of the season of nesting, I thought it would be a good time to do a round-up of three books that I'm reading (or just finished) and just can't stop thinking about this fall.
3 Books You Won't Be Able to Put Down This Fall
Have you ever have a book do that to you? Keep you thinking about it and pondering it during the quiet moments in your day? When I think about all of the books I've read over my life, and how many of those books I can recall or apply to my life at any given moment – the list is pretty short. As humans, we only retain a small percentage of what we read, so when a book makes you stop and think, much less keep thinking about it, you sit up and take notice.
Here's what's been keeping me up and reading late into the night 😉
Half Broke Horses is what they call a "true life novel" written by Jeannette Walls about her grandmother, Lily. Lily was born in 1901 and grew up on a ranch in West Texas. To say her life was hard by our modern standards would be an understatement. Her family lived in a dirt dugout, ran cattle on next to nothing, and she left home at 15 to teach in a frontier town (she rode 500 miles alone on her pony to get there!)
I love this book because I love generational family stories. I think we can learn so much about ourselves by knowing the stories behind our ancestors. Often, it's amazing to see how certain traits or streaks run throughout a family – most of the time without them even realizing it.
This novel is everything a good story should be, it makes you laugh, makes you cry, and leaves you feeling amazed at the tenacity of the human spirit. The fact that Lily was a real person and her granddaughter wrote her life story makes this book just that much better.  Plus, quite honestly, there are fictional books out there that are more believable than Lily's story. It's that amazing.
For me, The Circle Maker  is one of those books that kept me up thinking as I lay in bed at night. It has literally changed how I think about prayer, and what it means to pray. The basic premise of Batterson's book is that more often than not, we pray small, we pray half heartedly, or we are afraid to pray for what feels like the impossible.
What really resonated with me as a believer, is the idea that our prayer life can be so much more than what it is. It's ok to dream big and pray big. This isn't some blank check to getting what you want from God, but when God's will for you and your prayer life align, amazing things happen.
If you've ever felt like you've been praying for something that's never going to happen (which, let's face it, most of us have), read this book.
I've been a longtime fan of The Nester  and her "cozy minimalist" style. Her newest book, Cozy Minimalist Home  is no different. I'm a big fan. I know minimalism is kind of trendy right now, and I get it, it's not for everyone (I'm not a minimalist by any stretch of the imagination). But, I do believe that we can all use a little bit of minimalism in our lives.
In a world where we are constantly trying to make our homes "homey" there is the tendency to just keep acquiring. In the beginning it's not that noticeable, but over time our homes become more and more full…. until one day we look around and start to feel suffocated. Even if you don't necessarily feel suffocated, taking care of all that stuff takes time, time you could be using to do something else.
Myquillyn does such a good job of articulating why more style and less stuff can free you and your home. She also addresses what I believe is one of minimalism's biggest downfalls – how to make a minimal home feel cozy. I think everyone wants cozy, no matter the season, no matter the stage in life and this book is your guide to making that happen.
And that's what I've been reading lately! I hope you find some inspiration here, and if you have any good books you've been reading lately, let me know. I'm always looking for the next good read 🙂
Want to save this post? Pin it here!